This post may contain affiliate links. That means if you click and buy from that link, I may receive a small commission (at zero cost to you), which helps me maintain the quality of this blog. Please see my full disclosure policy for details.
Wearing the right pair of pants can be tricky, especially if they look similar or quite the same. It can be even more challenging if you don't know the subtle distinctions between some types. For example, when it comes to dress pants vs suit pants, do you know when to wear both?
Being educated on different pants types is crucial to making your outfit look great without making obvious fashion mistakes. Sometimes choosing the correct pants is not that easy, especially if you don't think about your outfit as a whole.
To ensure you don't make any mistakes, I will explain the difference between suit pants vs dress pants and how to choose between both of them.
Dress Pants vs Suit Pants
Are dress and suit pants the same? No, they are not. They can be similar and sometimes confusing, but slight differences make them distinct. So let me first explain what they are for you to have a better idea.
What Are Dress Pants?
Dress pants intend to accommodate a range of semi-formal and formal events, and you have quite a few types of dress pants on the market.

Dress pants are usually made of wool, cotton, linen, or synthetic materials. They also have a thicker texture and you can wear them without a matching coat. You just need to ensure you style it right, combining the correct colors.
Dress pants look great with a button-down shirt or even a polo shirt (if it's a semi-formal occasion). A cashmere sweater can also look great. When it comes to footwear, a pair of derby, brogues, or my favorite option, a pair of oxfords.
What Are Suit Pants?
Suit pants intend to accommodate a range of formal events, and you don't have as many types on the market.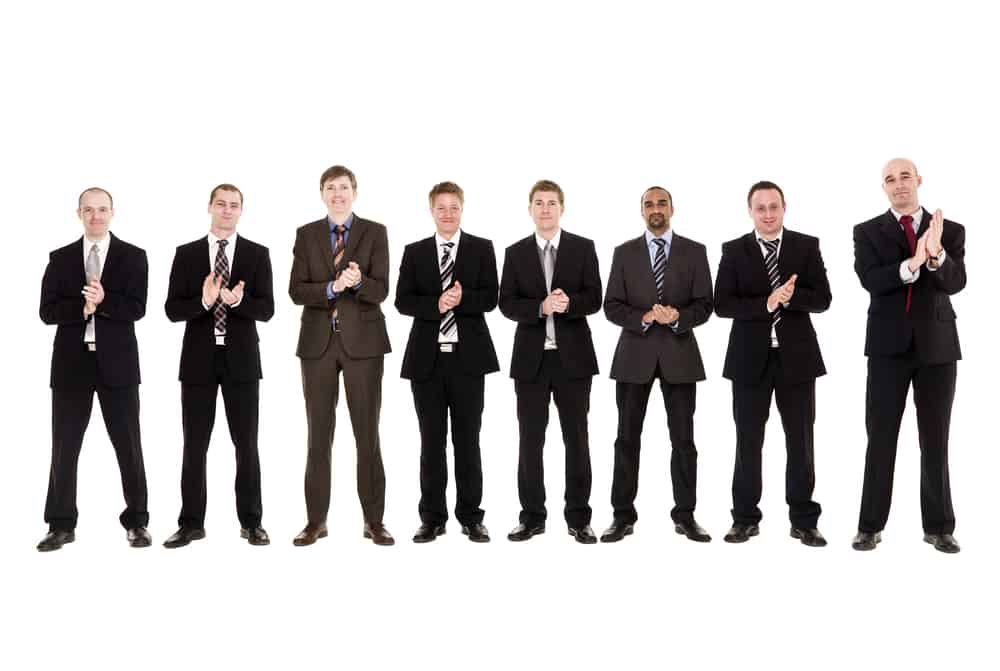 Suit pants are usually made of wool, linen, cotton, or polyester. They also have a thinner texture and tend to be softer. Generally, you wear suit pants with a matching suit jacket.
You can wear your suit pants with a dress shirt, tie, and a pair of oxfords or derby shoes. You want to ensure the entire outfit looks formal, so no item should look casual.
What Is The Difference Between Suit Pants And Dress Pants?
Many people tend to say the suit pants are a type of dress pants. I understand why they think that since everyone associates dress pants with formal events. However, I wouldn't say the suit pants belong to the dress pants category because they differ in certain aspects.
Read: Why Do Men Wear Skinny Jeans?
The Texture
Even if the dress and suit pants use the same materials like wool, linen, and cotton, the texture from each pant is different. If you touch both, you will check that dress pants are thicker than much thinner suit pants.
The jacket that will match the suit pants is made of the same materials and looks and feels the same. With dress pants, the top outwear can be made of similar or different materials (but don't go crazy on the distinguishable), and look and feel slightly differently.
The Outfit
You can wear dress pants along with a shirt or a sweater, but when it comes to suit pants, you usually need a matching jacket (preferably the same color). Wearing suit pants without a dress shirt, tie, formal pair of shoes, and a jacket makes the outfit appear incomplete.
I would also say when you wear suit pants you are expected to wear only one color. So if the suit pants are blue, the suit jacket should be exactly the same color. However, when you wear dress pants, you can mix the rest of your outfit with different shades.
How To Choose Between Dress Pants and Suit Pants?
When choosing between a suit and dress pants, you need to be aware of the occasion and your look. Of course, you can always think of additional tips, but in my opinion, you should only bother to question what type of occasion it is and what outfit you will be wearing.
Check The Dress Code
Since suit pants must be worn as part of a complete suit, you have less appropriate events to wear one. Suit pants are perfect for formal events like weddings, funerals, business meetings (especially if it's a board meeting or a new client), interviews (depending on the job position), etc.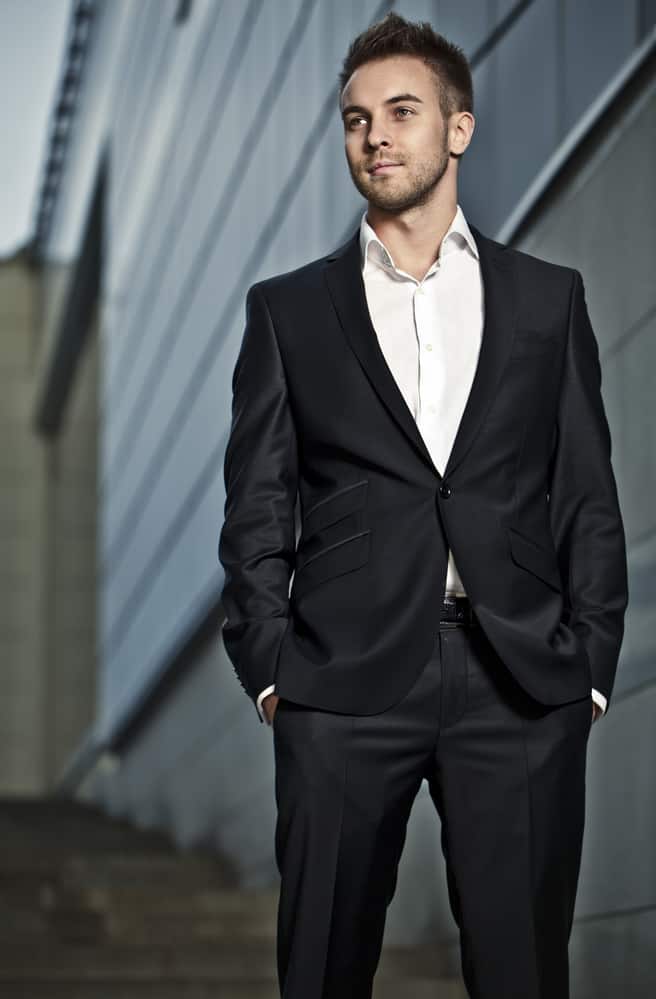 Dress pants can be worn at formal and semi-formal events. You can wear dress pants when you go on a date, a birthday party, to nice restaurants, to weddings, etc.
When choosing between dress pants and suit pants, think about the message you want to pass to others. A full suit will give a sharp, professional image, and dress pants can pass the same idea with the right outfit, but more in a semi-formal way. If you are invited to an event, the invitation should tell you how to dress, or you can just ask the host.
Check Your Style
Your style can also influence what type of pants you will wear. For example, if you are a suit guy, you want to ensure you wear suit pants with the rest of the suit. If you don't wear a full suit but still want to dress smart, you can opt out for dress pants and then choose if you're going to wear a jacket or not and match the rest of the garments.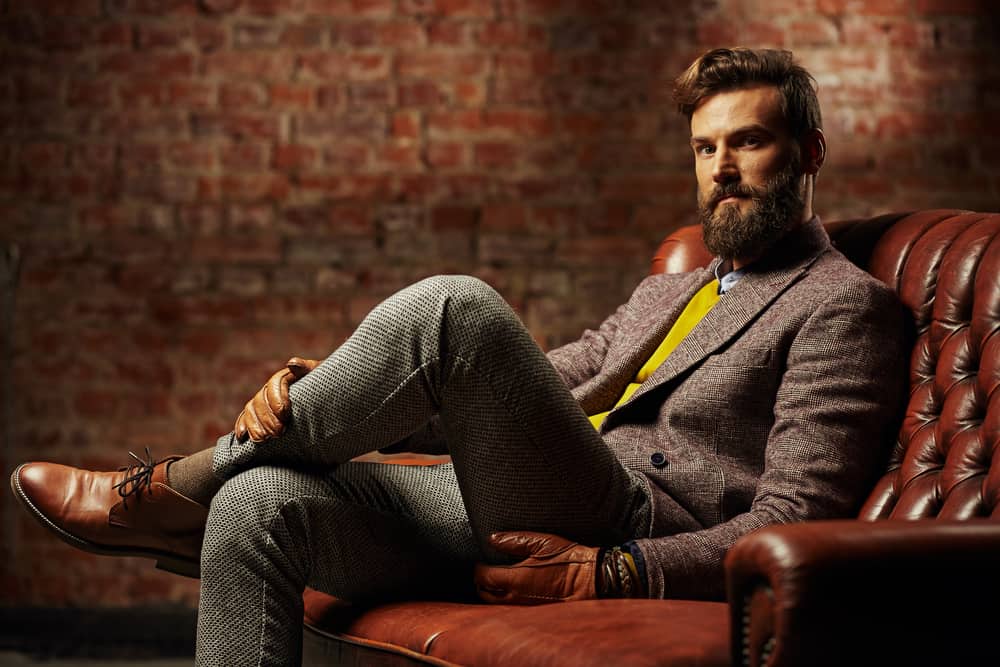 When you wear a suit, you want to keep it simple. Some accessories you can wear with suit pants are a tie, belt, pocket square, tie clip, a watch, or suspenders. But the more minimalist your look is, the best. You can wear a bit more and mix more accessories with dress pants.
Common Questions About Suit Pants vs Dress Pants
These are the most common questions about dress pants vs suit pants.
Are Suit Pants And Dress Pants The Same?
No, dress pants and suit pants can be similar but are different. They differ on the texture, the type of events where they should be worn, and the rest of the outfit should be considered.
Can You Wear Any Dress Pants With A Suit?
This is very subjective, but in my opinion, you can't combine any dress pants with a suit. A suit is a jacket and trousers intended to be worn as an ensemble. If you wear the suit jacket with different pants, you will have distinct materials combined, a different texture, and colors that don't match the suit intent.
Are Khakis Dress Pants?
No khakis are not considered dress pants. The reason is that khakis pants can be worn formally, semi-formally, or even casually. However, khakis don't work on every formal occasion, but I do think they can be great for formal business purposes.
Conclusion On Dress Pants vs Suit Pants
When choosing between dress pants vs suit pants, you need to consider if the occasion is formal wear or semi-formal, and the rest of your outfit, since suit pants are intended to be worn with its suit jacket.
When in doubt, think about how you want to be perceived by others. If you want to be perceived as a professional, go for a full suit. If you want to be perceived as semi-formal, and the environment is a bit more casual, rock a pair of dress pants.