This post may contain affiliate links. That means if you click and buy from that link, I may receive a small commission (at zero cost to you), which helps me maintain the quality of this blog. Please see my full disclosure policy for details.
Do you have no-show socks that keep slipping off your feet? No shows are designed to be as low profile and invisible as possible, but they often come with the side effect of slipping off. That's why you need to learn how to keep no-show socks from slipping.
I was a store manager for a Skechers store in London, and we were often the number one store selling socks for the company. We were used to overcoming all customer's questions since they were always the same ones. The most common one was about no-show socks. How to prevent no-show socks from slipping?
Read: How To Wear No Show Socks?
It's true that not all no-show socks are good, and some will keep slipping from your heel. That happened to me too, but now it doesn't happen anymore, because I know what to look for when buying them. By the end of this article, you will know too, and socks will never slip from your feet ever again.
Let's learn how to keep no-show socks from slipping.
Why Do No Socks Slip In Shoes?
There are many reasons why no-show socks slip off your feet. These are some of the most common ones:
You bought a cheap pair
The sock doesn't have silicone grips
You purchased the wrong size
The sock doesn't provide enough coverage
The sock have reached their natural end
Read: How Many Pairs Of Socks Should A Man Own?
All my customers from the shoe stores where I have worked would complain about all those aspects and would be very septical to repurchase no-show socks. So I had to explain the features and the benefits of the no-show socks we were selling (they were excellent quality, by the way). Many of them return to the stores to tell me I was right, and the socks don't slip.
You just need to know what features the no-show socks should have to not slip from your heel to your shoe.
How To Keep No Show Socks From Slipping?
These are the seven points you need to check before buying no-show socks that don't slip.
1 – Buy High-Quality No Show Socks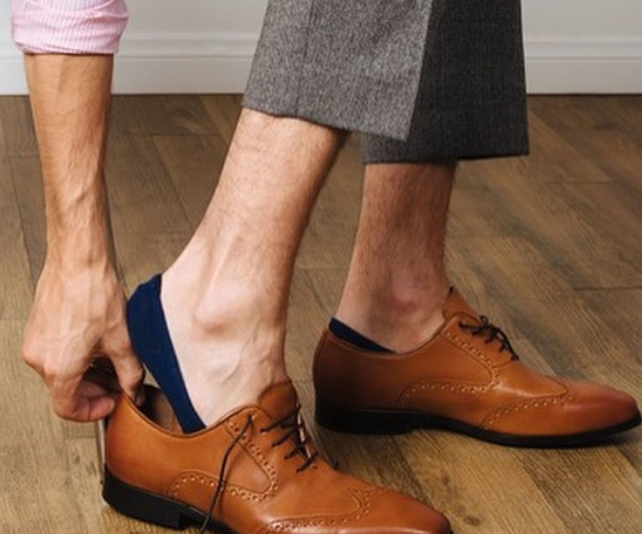 The first tip is to buy high-quality socks. There's nothing wrong with getting inexpensive products, but you cannot expect them to satisfy all your needs.
It's not that you need to pay $100 for a good pair of no-show socks. You can find it much cheaper than that and have a good pair. But, on the other hand, you can't expect to pay $10 for twelve pairs and think they will be great.
You want to buy socks with quality fabric, features like silicone grips, and a deep heel pocket. Also, ensure the socks cover your feet and do not slide inside your shoe. Quality has a price for some reason.
2 – Buy The Right Size
It's so crucial for you to buy the right size of no-show socks. I have lost how often I have served a customer with a pair of shoes with X size, just for the customer to appear with size Y of socks on till. When I asked them why they were choosing a different sock size from the shoes, the answer was often "like I told you, my feet swell, and I need extra space."
If the socks are too big or too small, you can't expect them to stay on your feet properly. You may get lucky and have the socks on for a short period, but eventually, they will not fit well and will keep slipping. That's going to be a very uncomfortable experience for you, but also, the worse part is that they won't provide enough coverage and protection.
3 – Select The Right Fabric
People often don't care about the fabric of their socks (I know I didn't for many years) unless it is for something specific like running or football.
If your socks are made of cotton (the chances are very high since cotton is the most common sock material), you should know that they absorb moisture and are a terrible choice if you sweat a lot from your feet. The sweat can make your socks lose their grip (if they have any) and keep sliding down the rest of your day.
Read: How Long Should Socks Last?
Merino wool is a great choice instead since this material keeps your feet cool when it's warm and provides warmth when it's cold, so your socks don't slip.
Bamboo no-show socks are also great since this material keeps your feet dry and breathable, wicking the moisture away from the skin and letting your no-show socks stay gripped.
Not all socks are made from the same fabric, so you need to try different materials and check what is best for your feet, shoes, and needs.
4 – Wear No Show Socks With Silicone Grips
How to keep no-show socks from slipping? Simple, ensure they have silicone grips.
The best no-show socks have anti-slip silicone grips on the heel area (these can be rubber dots or patterns) that stay attached to your foot and don't move when you walk, run or move.
No-show socks with silicone grips were also the number one reason we sold so many socks on my Skechers store. The customers could touch the silicone and check the pattern and grip. They often come back to buy more since they experienced the socks didn't slip.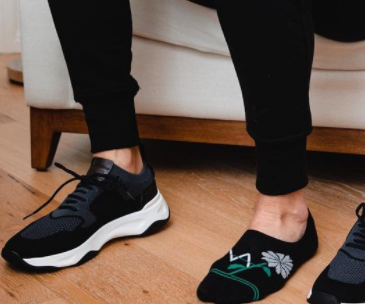 I couldn't find the Skechers no-show socks we sold in-store, online, but I did find them for the ladies.
5 – Wear No Show Socks With A Deep Heel Pocket
Having a pair of no-show socks with a deep heel pocket can be a great way to prevent them from slipping since they will somehow stay attached to your feet.
When you walk, the sock can securely hold around the heel and prevent any sliding. Sometimes, if the socks have no heel pocket, you will feel them slipping only a few seconds after you start walking because they don't hold (presuming you have a pair without silicone grips).
With a heel pocket, no matter how much you walk or move, the no-show socks won't slip from your feet. This is one of the features I look for when I choose my socks, especially if I plan on moving a lot (like running).
6 – Ensure The No Show Sock Has Coverage
The coverage is essential to prevent your no-show socks from slipping. The lower the coverage, the higher the probability that they will slide right off your feet.
I personally prefer my no-show socks with a curve just under the ankle, since it provides more support when walking. However, sometimes, depending on the shoe you wear, you can see a little bit of them, so it all depends on the shoes you will wear.
If you want to be entirely sure that your no-show socks won't slide off, pick a pair with a coverage area that covers the back of your heel and the front of your ankle.
What Is The Point Of No Show Socks?
The point of wearing no-show socks is to be able to wear your favorite pair of shoes without worrying about any sock showing. The point is also to provide a way for your feet to breathe and make sure they are not smelly.
Some looks need to be sockless since you don't need to show socks, or you can ruin the look. I personally don't like to be sockless. I never feel comfortable. I love to wear shorts and sneakers in the summer, but I always wear no-show socks, because you don't want to show your socks. It doesn't look good, and it ruins your outfit.
Some people prefer ankle socks (I also do) over no-show socks because they provide more ankle and arch support. You can always buy a new pair and compare both.
My No Show Socks Top Pick
I have tried these no-show socks I am recommending to you, and they didn't slip when I walked or ran.
These socks are merino wool material, seamless opening to reduce pressure around your foot, and intern silicon gripping around the heel to prevent socks from slipping. These socks have a gender-specific fit to help your foot feel snug.
Conclusion
Whether you are going for a run in the morning, hitting the gym after work, or needed a sockless look, no show can be your best friend.
Keeping your no-show socks from slipping is a simple and easy task when you know what type of no-show socks to look for. By following the advice in this blog post, you will be able to wear your no-show socks with confidence! No more awkward moments when an ankle becomes exposed or having to adjust them constantly.
Do you have any extra tips on how to keep no-show socks from slipping? Share with me in the comments.