This post may contain affiliate links. That means if you click and buy from that link, I may receive a small commission (at zero cost to you), which helps me maintain the quality of this blog. Please see my full disclosure policy for details.
Nothing is worse than visit someone's house, remove your shoes, and have sweaty and smelly feet. There's no reason to keep living in fear because I will show you the best socks for sweaty feet.
It doesn't matter if you are in the gym locker room or going to someone's house after a day at work, you will sweat. Fortunately, unless you have hyperhidrosis (a medical condition that causes excessive sweating), the problem with you having sweaty socks and smelly feet is that you are making a poor choice when you buy them.
There are many socks on the market, but it doesn't mean they are all the same, and any pair will be the best one for your sock needs. You need to look for moisture-wicking socks or sports training socks. You can wear these socks for any occasion, work, sports or. daily
Let me show the best socks for sweaty feet and which socks are the best at fighting foot odor.
What To Look For When Buying Socks For Smelly Feet
Socks don't get a lot of appreciation, but they can save you from some awkward moments when you get them correctly. These are some of the features you need to pay attention to when buying socks to keep your feet dry and avoid any smells.
Material
Most of the basic socks you find on the shelves are made of cotton, known to be a material that absorbs moisture. Is it just easier to buy a pack of six pairs of socks, right? Who cares if they are moisture-wicking or not? They are cheap and should do the job.
That's the wrong mentality. You need to pay attention to the material, and merino wool is the best choice.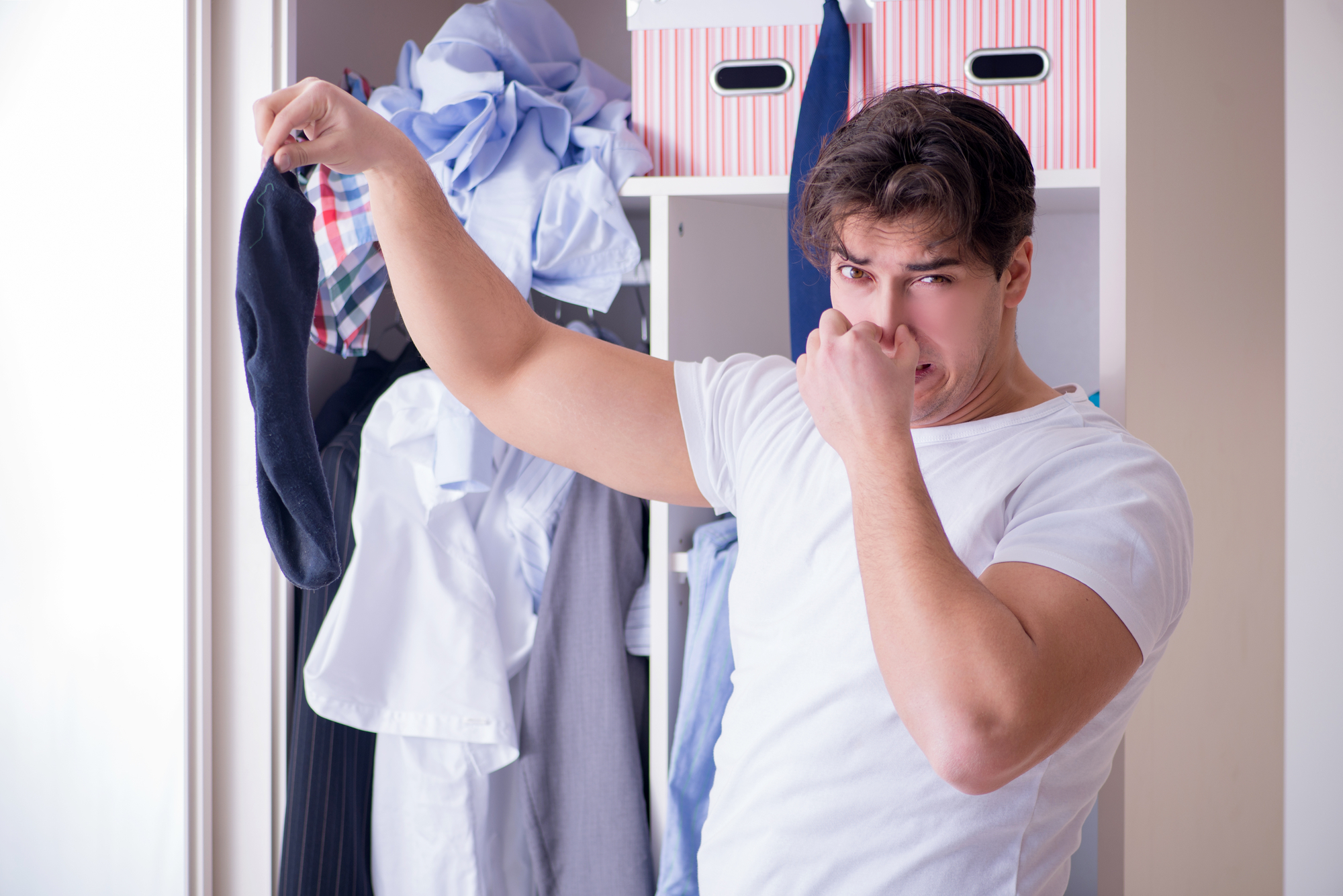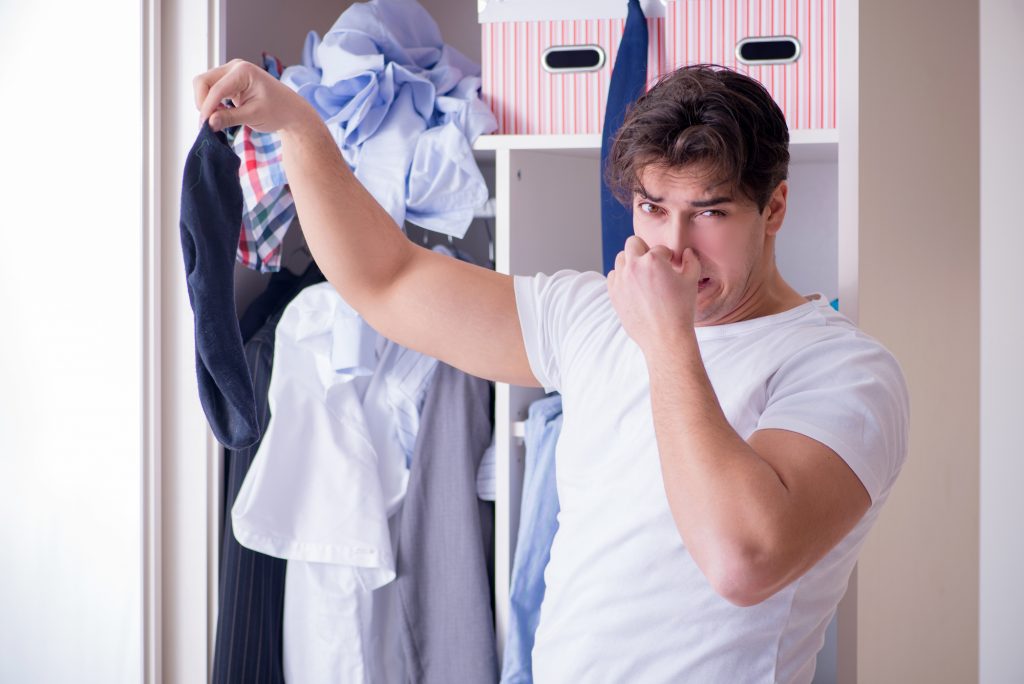 Read: What Is The Best Material Between Cotton and Polyester?
Merino Wool is a thermostatic (temperature-regulating) material that is great for a range of temperatures, whether cold or warm. Merino wool keeps you cool when it's warm and provides warmth when it's cold. Absorbs and wicks moisture keep your feet dry. It's also a naturally antibacterial material fighting any bacterias and reducing foot odor.
Synthetic materials like polyester, nylon, and lycra are also good choices because they wick moisture and dry fast. Not my favorite option for hot weather, and I don't find them so comfortable like I find merino wool.
Silk is also good at wicking moisture but not very durable.
Thickness
Thick and padding socks are great for cold weather or high-impact training where you need cushioning to protect your ankles and knees. They might not be the best idea when it comes to warm weather.
I am not a big fan of thin socks when I am running. I like to feel the padding and cushioning since I have bad knees and ankles (thank you, football). I am Portuguese, so I am used to hot weather. As discussed, if you choose the correct material, you can wear thick socks without being worried about sweaty and stinky feet.
Read: What are the best socks to keep your feet warm?
Length
The length of your socks is more of a personal preference. Ankle and invisible socks are a great choice since they are not heavier and provide little coverage.
If I am wearing shorts, I like to wear ankle socks since I don't want them to be visible. When my socks are not visible, I don't really mind the length.
Best Socks For Sweating Feet
Fortunately, there are some excellent sweat-wicking socks for just about every activity.
These are my top choices for choosing the best socks for stinky feet and keeping your feet dry.
1 – Danish Endurance Merino Wool Cushioned Hiking Socks
Features
Merino Wool fabric for comfort and dry feet. The natural thermoregulation of the merino wool blend ensures that your feet will be fresh in the summer and warm in the winter due to moisture-wicking technology. Ventilation mesh lanes wick away sweat, increasing breathability while promoting odor control.
Targeted cushioning and padding reduces the risk of getting blisters, aches and aid in shock absorbance.
These socks are great for hiking, trekking, outdoor adventures, walking, traveling, or everyday wear. The cushioning of the socks also provides comfort in work boots.
These hiking socks are developed with mountaineer Rasmus Kragh, the first Dane to climb Mount Everest without supplemental oxygen, in May 2019.
Danish Endurance is my top pick of the best socks for sweaty feet. They are incredible, and I am absolutely in love with the pairs I have. You can spend an entire day sweating, and these socks will still keep your feet dry.
I have offered one pair to my dad since he works in hot clime with steel-toed safety boots on 12 hours shifts. All my dad's feet problems stopped when he started wearing Danish Endurance. These socks are very comfortable (they are padded), keep your feet dry even if you sweat intensely (merino wool material), and they are some of the best socks for sweaty feet in boots.
2 – Saucony Men's Mesh Ventilating Performance No-Show Socks
Features
98% Polyester, 2% Spandex
Run dry moisture management provides superior moisture transport with our ultra-wicking fibers. So, whether you're in the gym or on the road, your feet stay fresh.
Airmesh venting. Mesh ventilation construction creates maximum airflow to keep your feet cool and dry in any running conditions.
Targeted arch compression is engineered with just the right amount of compression to keep your arch stable and secure. The arch support system also prevents bunching and helps keep your sock from slipping.
Saucony is a well-known running brand worldwide, and its socks are unique. If you are looking for the best socks for sweaty feet when running, you have found the pair you need.
Read: How To Wear No Show Socks?
Saucony socks provide superior moisture transport with their ultra-wicking fibers, mesh ventilation constructions that create maximum airflow to keep your feet cool and dry in any running conditions, and they provide a great cushion to protect your knees and ankles from any impact.
If you have some ankle problems like me, these socks provide the right amount of compression to keep your arch stable and secure. Keep your feet dry and comfortable without any odor after an intense run.
Read: Best Socks For Football
3 – Rockay Accelerate Anti-Blister Running Socks for Men
Features
100% Recycled Materials- Featuring Econyl, a premium quality regenerated Nylon yarn made from recycling Ocean waste and landfill fabrics. Plus, a new Polygiene coating means you can wear them more and wash them less, better for the planet.
Say goodbye to blisters and chafing. These accelerated socks are made with ventilation zones that wick away sweat. Enjoy a super breathable sock that's built to last mile after mile whether you are running, hiking, or walking.
Keep your feet bone dry and blister-free no matter what you are doing.
Added tech prevents after-use odors, meaning you can wear more and wash less. Simply leave the socks to air dry and use them again and again.
If you are looking for the best socks for sweaty feet and help the environment simultaneously, you have found Rocky. These socks are very comfortable and wick moisture pretty well.
The socks use a technology that prevents after-use odors, so you can trust your socks when at the gym locker room or removing your shoes at someone's house. Also an excellent choice for the warm seasons.
4 – Onke Men's Merino Wool Moisture Wicking Crew Socks
Features
Merino Wool, Acrylic, Polyester, and Spandex
Merino wool and acrylic blend use spandex and polyester knitting to deliver a snug fit and retain shape even after repeated washings.
The latest design ventilation function improves effective air circular properties and ensures you keep your feet dry and comfy.
Nylon blend knitting provides added durability in high-stress areas. It avoids holes dramatically, more protection in most extreme environments.
The advanced technical fibers wick away sweat and moisture. Moisture-wicking properties to keep smelling fresh and feet dry and breathable.
Full cushioning to reduce foot pain during your wearing. It helps you avoid blisters during daily activity, provides max protection in most situations.
Onke men's socks are the best socks for sweaty feet in the winter. Merino wool (best sock material for sweaty feet) regulates your feet' temperature to never be too hot or cold in most weather. The merino wool fabrics sweat moisture to keep your feet dry and ventilation.
Onke brand full cushion crew socks are reinforced toes and heels for both durability and relaxation.
5 – Prince Men's Low Cut Performance Athletic Socks
Features
95% Polyester, 3% Rubber, 2% Spandex
The cushioned sole gives Prince athletic socks shock-absorbing protection in high impact areas, where you need it most, and the spandex blend forms to your foot for superior shape retention, support, and compression.
Moisture Wicking: Breathable zone mesh design coupled with our lightweight synthetic blend increases ventilation to control moisture and keep your feet cool and dry during sports and exercise.
Smooth Toe Seam: Eliminates bulky seams to reduce abrasion and provide extra blister protection.
Breathable zone mesh design coupled with their lightweight synthetic blend increases ventilation to control moisture and keep your feet cool and dry during sports and exercise.
6 – Darn Tough Light Hiker Micro Crew Light Cushion Sock
Features
46% Merino Wool, 46% Nylon, 8% Lycra Spandex
Performance fit and Unsurpassed durability
High-Density Knit – Darn Tough's signature knitting reinforces standard wear zones for what will seem like trail magic all its own.
Cushion – Mid-level cushion density underfoot. A warm and ultra-comfortable choice when conditions demand it.
Ribbed Support – Form fitting and designed to ensure a custom fit. Which means no slipping, no bunching, and no blisters. The smooth ribbed support for this Micro Crew height sock will keep you moving on whichever trail you choose.
7 – Kavanyiso Men's Thermal Hiking Socks
Features
Merino wool, Nylon, Spandex.
Designed with thickened loops inside, these outdoor hiking socks are super breathable and moisture-wicking, keeping your feet dry, warm and comfortable every day. No smell, no stinky feet, even after a full super-active day.
With reinforcement design in heel and toe areas, these outdoor thermal socks are super worn resistant, and the shrinking design on the sole of the foot can prevent socks from twisting, which provides an ultra-comfortable feeling for your feet.
Kavanyiso merino wool socks will be the right choice for strength and durability if you are hiking, trekking, walking, camping, climbing, running, backpacking, or traveling during spring, summer, winter, or fall.
8 – Zealwood Athletic Running Socks
Features
Merino Wool, Bamboo, Sliver ion
No matter the time of the year, use the No-Show Pure Athlete Wool Running Socks for superior performance. The thermal regulating properties of wool keep your feet at the perfect temperature – whether using as a cold-weather sock or summer running socks.
Lightweight Mesh provides superior ventilation and comfort. Reinforced heel and toe offer comfort without the bulk.
Professionally customized for Running and other all sports, mountain climbing, football, hiking, running, tennis, marathon, hockey, soccer, basketball, golf, cycling, etc.
Best black socks for sweaty feet.
Common Questions About The Best Socks For Sweaty Feet
Let's now check some of the most common questions about socks for sweating feet.
What Causes Smelly Feet?
When your feet are too hot, they get sweaty. If the sweat evaporates quickly, you will not feel any smell. When the sweat comes into contact with bacteria found on your skin, an unpleasant smell arises. That's why you need a good pair of moisture-wicking socks.
Also, poor hygiene, wrong choice of socks, excessive sweating, and warm weather will not help to prevent any smell.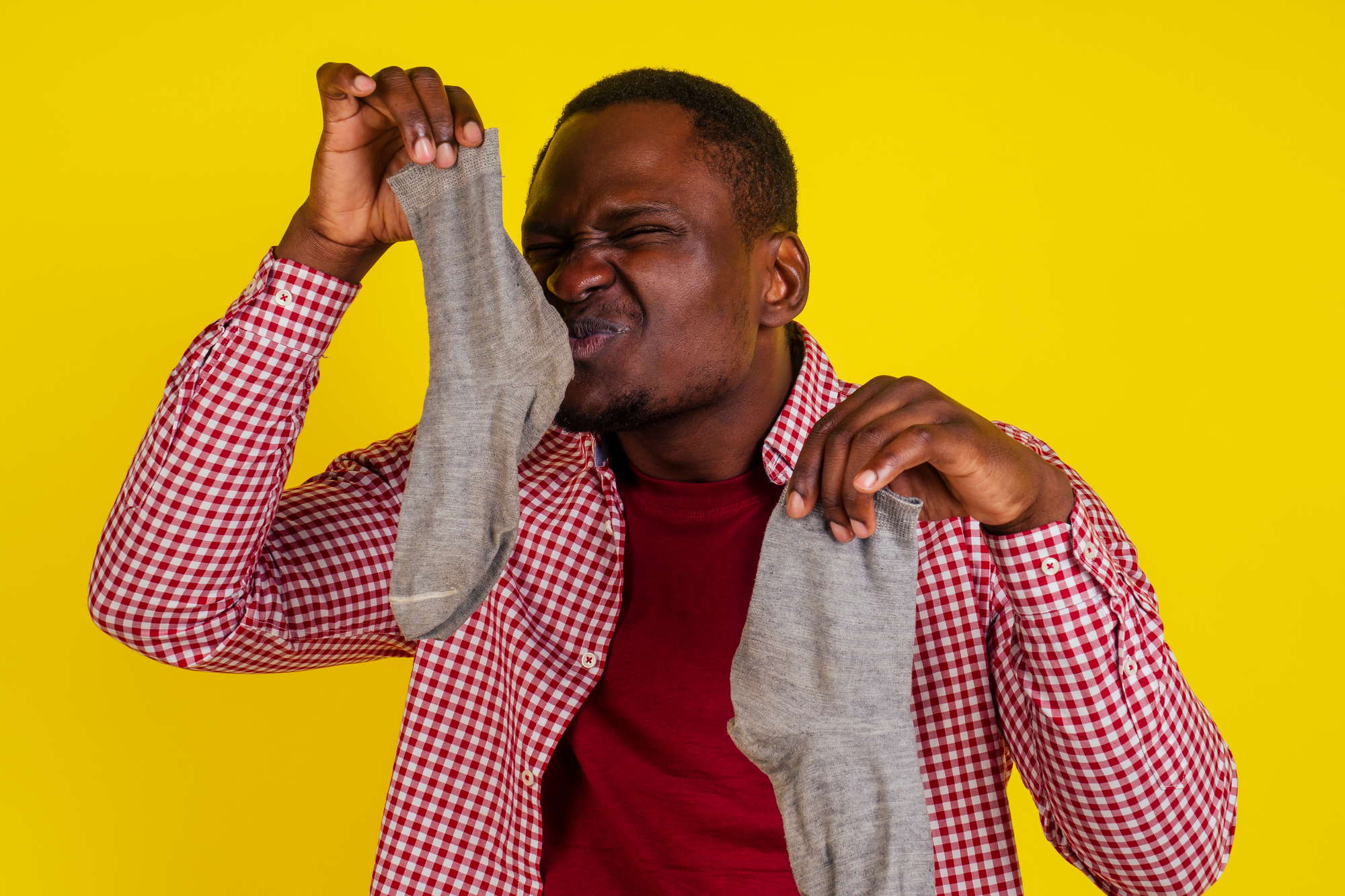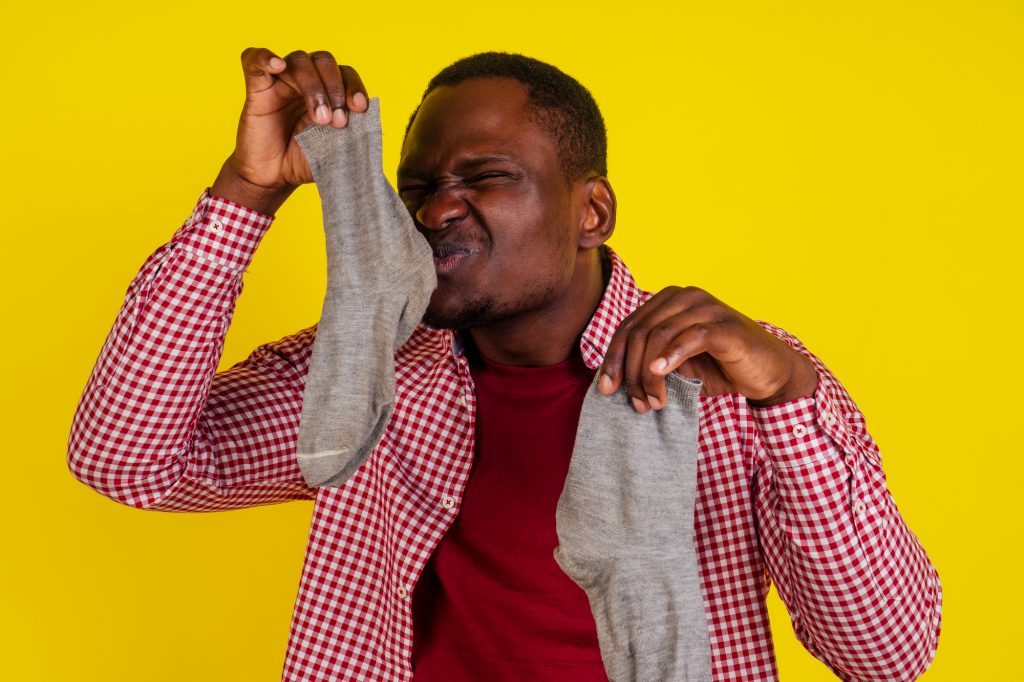 Read: When To Wear White Socks?
How Moisture-Wicking Socks Work?
Moisture-wicking socks are created to promote evaporation by allowing moisture to travel along with the fabric rather than be absorbed. This prevents sweaty and smelly feet.
What Are the Best Fabrics for Moisture-Wicking Socks?
It depends on your lifestyle and what you need. Merino wool doesn't last as long as synthetic, but they have many advantages like being antimicrobial, regulating temperature, absorbing and wicking moisture.
Why Do Thin Socks Make Feet Stink?
Some people sweat more than others and wear thin socks with their shoes. When they sweat, the absorbent capacity of the socks fills up quickly, and as the feet sweat constantly, excess sweat goes to the insoles. When socks and insoles can no longer absorb sweat, sweat comes into contact with skin bacteria, creating a particular odor that makes your feet stink.
If you wear thicker socks, the same process happens, but it occurs at a slower rate since they have a bigger absorbent capacity.
Why Do Socks Help With Sweaty Feet?
Moisture-wicking socks help with sweat and smelly feet because they absorb moisture and wick it away. They keep your feet and comfortable. As you have seen, you have a few options, including socks with wicking properties.
What Is The Best Height For Socks To Prevent The Sweaty Odor?
It depends on your lifestyle and the clime you live. Low-cut socks are the best for a hot climate, but you might want mid to high-cut socks if you work with boots. Evaluate the situation and think about what will be the best option for that day.
Why Do Black Socks Make Your Feet Sweat More?
The color black absorbs more heat than any other color, making your feet sweat more. Bacterias love a warm climate, making your feet smell bad. This doesn't mean you should never wear black socks. You need to pay attention to the material, thickness, and length.
Best Socks For Sweaty Feet
These were my choices for the best socks for keeping feet dry and odor-free. When buying socks for stinky feet, you need to pay attention to the material, thickness, and length. It all depends on what clime you live, your lifestyle, and if you sweat a lot.
My two main choices are Danish Endurance for my day-to-day or when traveling and Saucony when I run or work out.
What about you? What are the best socks for sweaty feet? Share with me in the comments.