This post may contain affiliate links. That means if you click and buy from that link, I may receive a small commission (at zero cost to you), which helps me maintain the quality of this blog. Please see my full disclosure policy for details.
When you play football, you want to focus on the game and what you need to do to ensure your team wins. That's why you need to find out the best football socks according to your needs.
I played football for six years on a "professional" team when I was a teenager and still play from time to time with friends. Wearing the right football socks can make a big difference when it comes to your comfort. You can prevent blisters, tight socks, or the wrong material.
Luckily for you, I have experienced all these problems and tried more football socks that I would like to admit to someone. However, I did find the best football socks, and I will share my choices with you.
What To Look For In Football Socks?
If you are new to football, you may buy the first and cheapest pair you find online or in-store (this can happen too if you play football regularly). That's why you need to consider some features when buying the right pair of football socks for you.
The Length
Most football socks have the same length, but there are different styles. In addition, some players choose the length of the socks according to the extent of the shin pads they wear.
The length of socks it's a personal choice. Players like Jack Grealish and Trent Alexander Arnold like to wear their football socks low, but some players like Cristiano Ronaldo and Lionel Messi prefer to wear long socks that hit below the knee. Kylian Mbappe likes to pull his football socks over his knees. As you can see, all world-class football players and all of them wear them differently.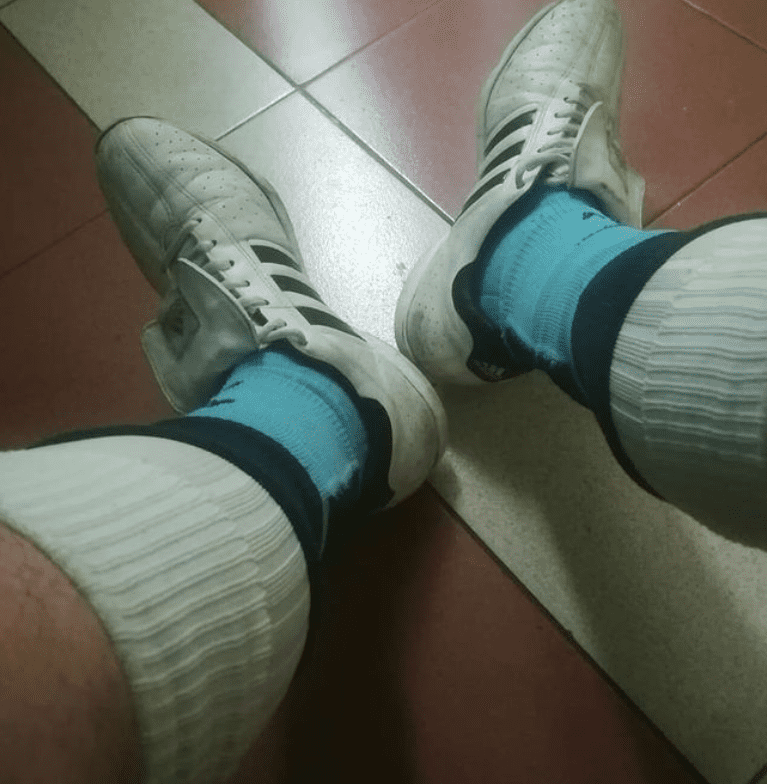 I personally always preferred to wear my socks till the length hit below the knee. I didn't like my football socks to be short in length because I felt something was missing, and I didn't want them above the knee because I believed it was restricting my movements.
Some players prefer lower-length socks because they feel less restrictive, but some prefer full length because it keeps your legs warm and compressed. You need to try different length socks and see what the ones that you feel more comfortable are.
The Fabric
Most socks you will find on the market are made of cotton or polyester. They both have their pros and cons. Cotton is breathable but absorbs moisture, and polyester is a durable but not breathable fabric.
Spandex and Elastane are two materials you want to look at it since they both provide excellent elasticity (something you will need depending on the size of your shin pads). They are also durable materials.
Read: Best Socks For Cold Feet
Nylon is another material you will find a lot on football socks since it's stretchable, has moisture-wicking abilities (some), and is durable and resilient. However, it's not the most breathable material. When added with other materials, it can be a great choice
I would personally avoid football socks made of cotton because they absorb moisture easily and increase the chances of blisters due to the friction between the wet sock and your foot.
I love merino wool as a material for moisture-wicking and antimicrobial features. Still, you will not find this material often on football socks, so I would choose a pair of socks that have nylon blended with cotton.
The Size
I know this seems obvious, but I have seen many football players wearing the wrong size of football socks. It's essential to choose the correct size of football socks because they can restrict your movements and make you uncomfortable if the socks feel too snug. On the other hand, if the socks are too big, they will bunch at the toes and make it uncomfortable to wear them.
I prefer to have the socks a bit snug than loose since the last thing I (or you) want is to keep pushing the socks up. That's annoying and a major distracting.
The Grip
The best grip socks for football will increase your foot's grip inside the football boots and reduce any internal slippage, improving your performance.
I never had any problems with my foot slipping on my football boots, but I have tried one pair of football grip socks, and I can understand the appeal. You can also gain some foot stability, and that's fundamental to focus on playing your best football.
Best Football Socks
To decide which are the best football socks for you, I decided to choose ten pairs. Unfortunately, only seven were considered good choices of those ten. I played two football games with each pair of socks and selected the best based on how comfortable I felt, the material, the padding, the grip, and the length.
Read: Best Socks For Sweaty Feet
Note: I know two games may not be enough to decide which is the best pair of football socks, but I am happy with my decision. Let's find out which are the best football socks.
1 – Adizero Football Socks
45% Nylon, 24% Polyester, 23% Polypropylene, 3% Rubber, 3% Cotton, 2% Spandex
Fits securely over the knee.
Moisture-wicking yarn keeps feet dry from sweat.
Cushioned foot and ankle with extra comfort and protection in raised cushioned pods.
Arch and ankle compression secures the foot and offers extra support.
Mesh ventilation throughout the top of the foot for breathability.
I have played hundreds of times with Adizero football socks, and they are usually the ones I buy when I need a new pair. The reason is that I love how comfortable they are, and you can feel the cushioning on your foot and ankle when playing. These socks also provide some arch and ankle support to ensure your foot is secure inside the boots.
Another feature I love about the Adizero socks is the material. You have Nylon (stretchable and moisture-wicking abilities), Polyester (durable), cotton (breathable), and Spandex (stretchable). This means these socks will not absorb the sweat and become heavy or smell bad.
2 – TrueTread Soccer Socks
97% Polyester, 3% Spandex
Secure Grips that make sure you stay stable and don't slide around on your feet and shoes.
Maximum Performance – The non-slip socks for men eliminate slippage inside the shoe and protect your feet from developing blisters.
These anti-slip socks soccer will eliminate post-exercise sore feet and blisters by reducing the amount of rubbing and slipping during exercise.
Made from breathable materials which help keep your feet dry and comfortable whether you are a player or judge.
If you are looking for football socks to prevent blisters, the TrueTread soccer socks are your best choice since they are anti-slip socks that reduce rubbing and slipping when playing football. In addition, you can feel the grip straight away when you put your boots on, and I guarantee your feet will not move with any movement.
The only thing I was not a massive fan, was the material construction since they are made of polyester, making the socks very durable. However, without cotton or nylon, you don't have a lot of breathability or moisture-wicking on the socks (My feet didn't smell on any occasion, so give them a try and see how they work for you). Also, if you like the length of the socks a bit shorter like Jack Grealish, you will love TrueTread socks.
3 – Adidas Mundial Zone Cushion Socks
98% Nylon, 2% Spandex
Targeted cushioning at heel and toe for shock absorption.
Arch and ankle support for added stability.
Lightweight construction for a close fit and excellent ball touch.
Moisture-wicking yarn keeps your legs and feet feeling cool and dry.
The cooling toe channel provides added breathability and ventilation.
I also have played a couple of times with Adidas Mundial Socks because of the targeted cushioning at the toe and heel that provide shock absorption to protect your foot every time you put your foot touches the floor. I also like the cooling on the toe area, which provides ventilation and breathability to avoid bad scents.
These socks would be even better if they blended the nylon with cotton so that the entire sock would be moisture-wicking and breathable. My feet never smelled with the Adidas Mundial Socks.
4 – Nike Academy Over-The-Calf Soccer Socks
Dri-Fit Socks: Sweat-wicking Nike socks with Dri-FIT fabric pulls sweat away from the skin to help keep your feet dry and comfortable.
Lightweight Fabric: Nike over-the-calf soccer socks are made with spandex material that provides stretch and lightweight support to keep you comfortable during play.
Durable Design: A reinforced heel and toe on Nike Academy athletic socks enhance durability in these high-wear areas, ensuring socks will hold up over time.
Supportive Fit: Nike soccer socks are knee-high socks designed to keep you comfortable and provide stability to your feet during play with arch support.
Left/Right Specific: Nike Academy's anatomically correct left and right athletic socks create natural fitting socks for enhanced fit.
The best feature of the Nike Academy Socks is the dri-fit technology that wicks the sweat and keeps your socks dry all game. They also feel very light and stretchy. You can also feel padding in the toe and heel area.
I also like that one of the socks is specifically for your left foot and the other for the right one since this enhances the natural fitting of the socks.
5 – PoTao Football Socks
75% Cotton, 17% Nylon, 8% Spandex
Strong, durable, breathable, and contain moisture control fibers.
Fabric to wick sweat away and help keep you dry and comfortable.
Arch and ankle support ensure a comfortable fit.
Targeted cushioning at heel and toe for shock Absorption.
What I like the most about the PoTao football socks is the material construction since I love nylon blended with cotton for breathability and moisture-wicking purposes. You can feel the cushioning on the heel.
6 – Vaceci Football Socks
75% Cotton, 17% Polyester, 8% Spandex
These football socks are firm and durable, with good air permeability and softness.
The fabrics absorb moisture and sweat, keep the skin dry and comfortable, and the mesh grooves improve the air permeability.
Keep feet dry and help prevent foot odor.
Arch and ankle support ensure a comfortable fit.
Precise cushioning in the heel and toe for shock absorption.
The Vaceci football socks are very comfortable, but I am not sure how these socks absorb moisture since they don't contain nylon in the material construction. The socks weren't wet, so that's a bonus point.
7 – Fasoar Football Socks
Lightweight and breathable material Nylon/Polypropylene helps your feet stay cool and dry during athletic team games or all day's wearing.
Moisture-wicking technology and air-circulating ventilation.
Lightweight construction for a close fit.
Athletic Soccer Socks with Solid Triple Stripe Pattern on the top, over the knee length, protects from impact.
Moisture Wicking yarns on the tube help keep your feet cool and dry.
The Fasoar football socks are very light, and my feet stay cool and dry, but again, I'm not sure if a more intense football match will do the same for you since the socks don't have nylon on their material construction.
Common Questions About Football Socks
These are some of the most common questions about the best football socks.
What Socks Do Professional Footballers Wear?
It all depends on the football player's personal preferences. Some professional footballers like socks with an exceptional grip, others lower-length socks, some just over the calf, and some with a specific material like nylon. Most football teams have good football socks but without any particular features that some football players need.
Read: How Long Should Socks Last?
Do Footballers Wear Special Socks?
Yes, some football players wear special socks to ensure it boosts their performances. This was the case with Gareth Bale when he decided to wear grip socks, and his performances improved significantly in terms of goal scoring.
Should Football Socks Be Thick?
I would say this is a personal preference, and in my opinion, football socks shouldn't be thick because you will have less room in the boots, which can make you uncomfortable when you play. You should find football socks that are padded in specific areas like the toe and heels to avoid any blisters.
Why Do Footballers Put Tape On Their Socks?
Most of my football teammates would put tape on their socks because it stops the foot from moving within the boot, improving the stability. I tried once, but I didn't feel comfortable with it.
Conclusion On The Best Football Socks
Choosing the best football socks can be a difficult task. I have played two games with each pair of socks to decide which is the best option overall.
The best football socks should be comfortable, have a good grip, not slip, and be made of nylon and cotton if possible. That's why I consider Adizero football socks the best football socks on the market. I am sure if you give this pair of socks a try, like me, you will keep buying them.
What are the best football socks in your opinion? Share with me in the comments.