This post may contain affiliate links. That means if you click and buy from that link, I may receive a small commission (at zero cost to you), which helps me maintain the quality of this blog. Please see my full disclosure policy for details.
Are you one of those people who can never seem to make their feet warm? Whether you are playing football, hiking, or just chilling at home, your feet are always cold. That's why you must find the best socks for cold feet.
I never struggled with cold feet till I lived in England. The winter can be freezing, and with the wrong socks, you will pay the price. The worst thing you can do is to be in bed warmer but freezing feet. You can stop all those warming feet exercises before bed if you find the best sleeping socks for cold feet, right? I know that has worked for me.
Since I am not the only person who suffers from this problem, I will share some of the best socks for cold feet and hopefully help you find the warmest socks to combat the frosty toes.
How to Choose the Warmest Socks for Cold Feet?
Whether you are buying the warmest socks for extreme cold or socks to keep your feet warm at home, you need to pay attention to certain features and not buy the first pack of socks you see in the shop.
Material
The material is essential when buying the best socks for cold feet because not every material is the same. You want your socks to be moisture-wicking because of the sweat. That's why cotton socks are a bad idea since they can absorb up moisture.
Cotton might be the most common material on socks, but you have much better choices.
Read: Best Socks For Football
Merino Wool – This material is temperature regulating that is great for cold or warm weather. It's antibacterial, absorbs and wicks moisture, and keeps the heat on your socks to keep your feet warm. It's more breathable than wool, so you will not feel itchy on your skin.
Acrylic – Acrylic is soft and quite warm material. If you want to keep your feet warm in the snow, you will choose 100% acrylic socks since the material does breathe, and your body heat will spread to your feet.
Buying socks with a mix of acrylic and merino wool is the perfect move since the first keep you comfortable and warm, the second one regulates the heat and makes your socks breathable.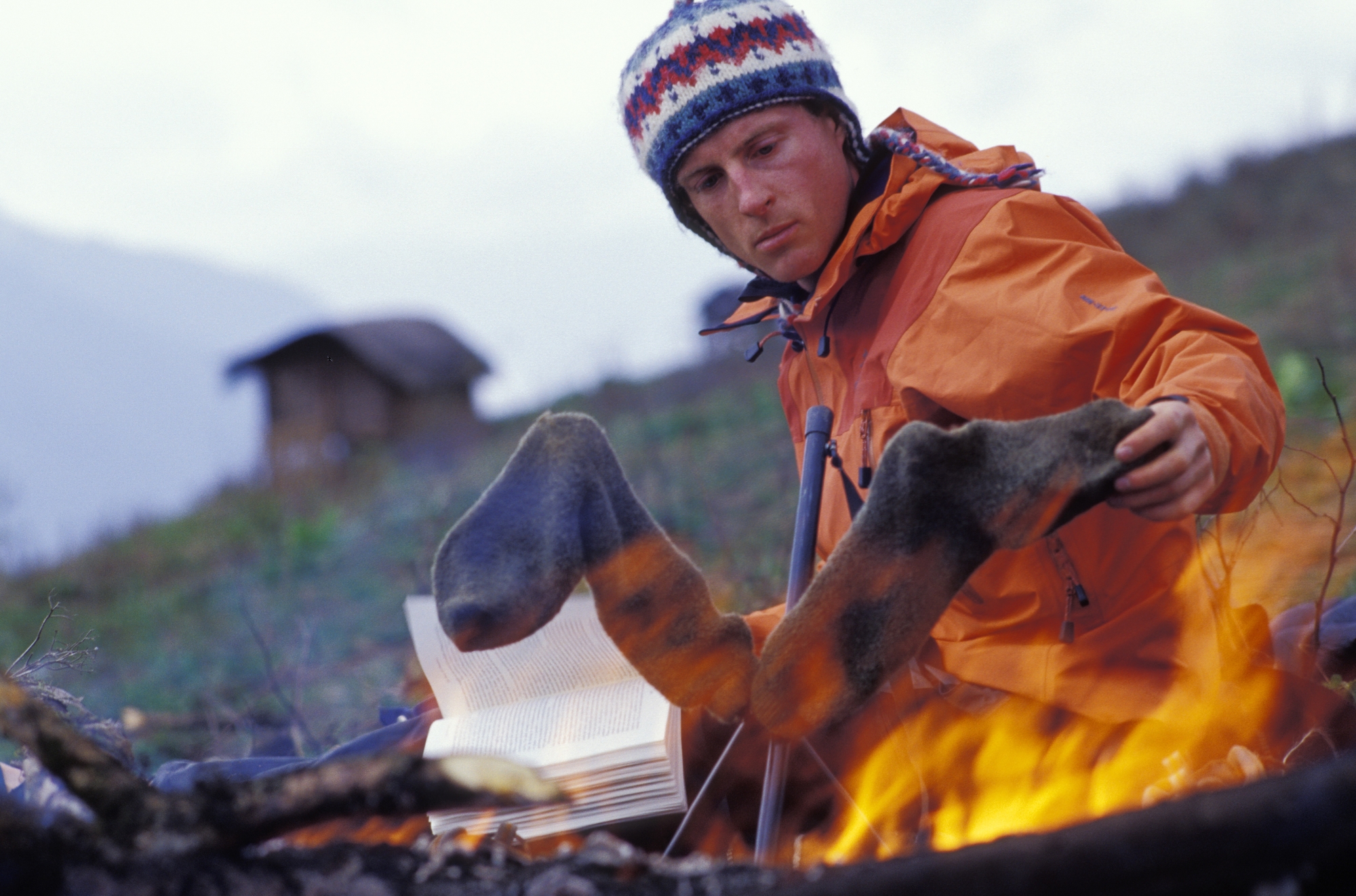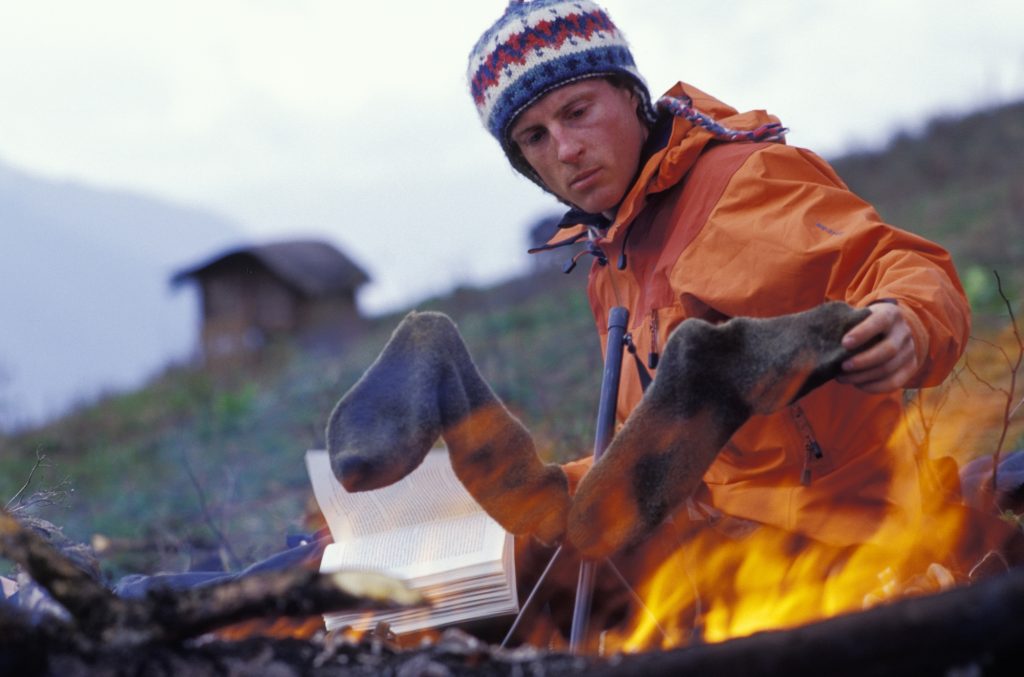 Read: Find out the best socks for sweaty feet.
Wool – Wool is excellent for keeping your feet warm and dry, adding some volume and thickness to your socks. My only problem with wool is sometimes it itches on your skin.
Alpaca – Alpaca wool is a type of wool that is derived from the fibers that naturally grow on alpacas. It contains microscopic air pockets that provide insulation keeping your feet warm during the winter and breathable during the summer.
Fabric Weight
I believe choosing the material is the most important feature when buying any piece of clothing, but in this case, you also want to pay attention to the fabric's weight.
I love to wear thick and warm socks at home during winter, but it's a different story if I have to go outside in my shoes. My feet will feel claustrophobic, and I'm not too fond of that. I will not be comfortable.
So when buying thick socks, remember you have shoes to add on, and you need the extra space, or your feet will complain (Guess who made that mistake going up on a mountain in Como Italy?).
Heat Source
Some socks provide more heat than others. You want to keep attention to that because it also depends on what you will be wearing the socks.
If you go to freezing weather, you might want proper thermal socks. If you go hiking during winter, you want a warm pair of socks but not extremely warm.
I advise you to check thermal socks with battery-powered heat because they produce a powerful heat boost warmer than standard winter socks.
Sock construction
To choose socks to keep feet warm and dry, you need to check some sock features like compression (it helps to keep your blood flowing) or the fit (some are designed to stop the sock from slipping down).
Best Socks For Cold Feet
1 – Forcool Merino Wool Socks for Men
Features
40% Merino wool, 40% Acrylic, 8% Polyester, 8% Nylon and 4% Elastane.
Moisture-wicking and fast-drying merino wool helps motivate blood circulation and relieve foot pressure and leg fatigue, ensuring swollen feet and legs dry, fresh, and healthy throughout the day, ideal for casual and dress wear of all-day comfort.
The extra-wide soft, stretchy cuff helps avoid constriction on sensitive feet and legs, not too tight to leave indention on your legs and not too loose to fall off your calves.
Non-irritating no closure toe helps keep sensitive feet and legs dry, fresh without causing blisters and pains, ensuring you healthy and comfortable; reinforced sole helps absorb sweat and shock to prevent discomfort and pains, relaxing edema, swollen feet and legs.
Forcool is my number one choice when it comes to the best socks for cold feet. 40% Merino Wool with 40% Acrylic is having the best of both worlds.
These socks will give you the right amount of warmth without your feet sweating or feeling tight. Perfect for any season of the year.
These socks are also designed for people with diabetes, if you are one, or if you have susceptible legs to any kind of pressure.
2 – Footplus Merino Wool Hiking Socks
Features
30% Merino Wool, 55% Acrylic, 7% Nylon, 5% Polyester, 3% Elastane.
The heat-insulated properties of the merino wool socks would enclose more of your own body heat, ensure your feet warm and cozy in extremely low-temperature winter.
The exclusive merino wool blend pulls sweat away from your body and keeps your feet dry and warm in winter.
Footplus thermal wool boot socks also have odor-fighting properties to keep your feet fresh and itch-free in chilly winter.
Each sock is fully cushioned from top to toe, reduce the risk of getting blisters, aching, and jarring shocks.
Looking for a new pair of socks for hiking? Don't look anymore and try Footplus They are perfect for hiking since they are itch-free and keep your feet warm. You can also wear them for cycling, winter sports, camping, running, outdoor adventures, or ice fishing.
Read: How Long Should Socks Last?
My favorite feature is that these socks provide heating to your feet without overheating them while you are on the move.
3 – Hissox Winter Thermal Crew Socks for Cold Weather
Features
91% Acrylic, 5% Nylon, 3% Polyester, 1% Spandex
Polar Extreme crew socks, extremely warm for the coldest winter weather.
Softer than wool socks! Heavily brushed fuzzy warm lining of our thermal socks would keep your feet warm during the day, whether outdoor or indoor.
Thick but lightweight socks for cold weather provide you a no worrying winter. Hissox high-quality thermal socks are suitable for different situations.
The thermal socks by 5% nylon, 3% polyester, and 1% spandex enhance durability that reinforced heel and smooth toe seam reduces abrasion and improves comfort for longer.
If you are looking for the best sock for extremely cold days, you have found Hissox. They are great to wear at home, in cold weather, in snow areas, in outdoor activities, or to wear with work boots.
They help keep feet dry and warm during intense activities as during long-term static. These socks are designed with an extra heavy thick inner brushing technique to trap the warmth inside and keep your feet warm.
4 – RealTree Men's Merino Wool Blend Socks
Features
65% Acrylic, 20% Merino Wool, 13% Nylon, 2% Spandex
Medium weight with full cushion leg and foot for ultimate comfort
High-quality acrylic and merino wool offer superior moisture control and warmth
Arch support for added fit while helping to reduce foot arch fatigue with reinforced heel and toe for added durability in high wear areas
Stay up leg and top provide secure and comfortable fit all day long
These thick socks are great for keeping your feet warm. RealTree is made of Acrylic and Merino Wool, so we know they will be suitable for any activity. They also stay up all day no matter what type of boot you wear. Even if they are 20% merino wool, they are more suitable for winter than summer since they are so thick.
5 – Warrior Alpaca Thick Boot Socks
Features
48% Alpaca, 40% Acrylic, 8% Nylon, 4% Elastic
Super thick, warm, and toasty boot socks made just for boot wearers.
100% wool-free, the natural alpaca fibers allow feet to breathe while wicking away moisture and sustaining warmth and are completely hypoallergenic.
Fully terry lined durable construction, with a soft wide elastic band for comfort and a smooth, seamless toe, these socks fit over the calf for full protection from the elements.
Excellent for skiing, motorcycle, snowmobile, even horseback riding; however, they also make a great knee-high for cozy fireside lounging too!
Need warm socks to wear with boots? Warrior Alpaca socks will do the job since they are designed especially for boot users. They keep your feet and legs warm after a few minutes of wearing.
They are long enough for you to wear when snowboarding or other snow activity, horse-riding, or motorcycling. Be prepared because these socks are long, going all way up to cover your knees.
6 – Danish Endurance Merino Wool Hiking Socks
Features
Merino Wool fabric for comfort and dry feet. The natural thermoregulation of the merino wool blend ensures that your feet will be fresh in the summer and warm in the winter due to moisture-wicking technology. Ventilation mesh lanes wick away sweat, increasing breathability while promoting odor control.
Targeted cushioning and padding reduces the risk of getting blisters, aches and aid in shock absorbance.
These socks are great for hiking, trekking, outdoor adventures, walking, traveling, or everyday wear. The cushioning of the socks also provides comfort in work boots.
These hiking socks are developed with mountaineer Rasmus Kragh, the first Dane to climb Mount Everest without supplemental oxygen, in May 2019.
7 – Time May Tell Mens Merino Wool Hiking Cushion Socks Pack
Features
80% Merino Wool, 14% Nylon, 5% Polyester, 1% Spandex
These merino wool hiking socks are made of an 80% merino wool blend. All these wool hiking socks are integrally sutured by the meticulous process. There are no spare threads inside.
Soft handle, good elasticity, strong warmth retention, and moisture absorption.
The looking is fashionable and professional hiking socks, enough for outdoor sports, camping, climbing, trekking, outdoor trail, running, walking, etc. With stylish patterns and vibrant colors perfect for everyday wear and cozy enough to wear these wool socks for you in all seasons!
8 – American Mammoth Alpaca Wool Socks for Men
Features
46% Alpaca 34% Acrylic 15% Nylon 5% Elastic
Moisture-Wicking Breathability – They use high elevation Peruvian alpaca wool for our socks that are hydrophobic and wick away sweat.
Better for hiking trails, hunting, or staying warm in the outdoors.
Non-Allergenic and Hydrophobic (Waterproof).
The hydrophobic socks boast hollow fibers to keep feet dry and warm even in the rain. The hollow fibers in Alpaca wool are much more efficient than sheep's wool at being stained and perspiration-resistant.
As well, it's very lightweight and comfortable against the skin and the fibers are exceptionally strong.
Ultra-Soft and Breathable Support
Common Questions About Socks For Cold Feet
Let me answer some of the most popular questions about socks for cold feet.
Will Compression Socks Help With Cold Feet?
Yes, compression socks can help with cold feet because they apply gentle pressure around your feet to activate the muscles that facilitate blood circulation in the veins. That's why many runners wear compressing socks when running in cold weather.
Read: How To Keep No Show Socks From Slipping?
Why Are My Feet Colder With Socks On?
It can depend on a few different factors. It can be a healthy factor-like poor circulation, iron deficiency, or diabetes. You can also be wearing socks with a poor material choice (like cotton in the winter) or the thickness of the sock.
What Type Of Socks Keep Feet Warmest?
The best type of socks to keep your feet warmer all the time is any that mixes merino wool with acrylic. You will have the best of both worlds: comfort, temperature regulation, breathability, and warm feet.
Does Wearing Two Pairs Of Socks Keep Your Feet Warmer?
No, two pairs of socks don't keep your feet warmer, and it's generally a bad idea because your shoes are designed for you to have one pair of socks. The second pair compresses your foot, cutting the blood circulation and making your feet colder than before.
I did wear two pairs of socks at home during the winter in England, but I swap them for thermal socks.
How To Keep Your Feet Warm With Socks?
Now you know how important it is to keep your feet warm and choose the best material possible for some good winter socks. Merino Wool, Acrylic, Wool, or Alpaca are the best, in my opinion.
Say goodbye to cold feet and hello to warm socks to keep you comfortable. What about you? What are the best socks for cold feet, in your opinion? Share with me in the comments.