This post may contain affiliate links. That means if you click and buy from that link, I may receive a small commission (at zero cost to you), which helps me maintain the quality of this blog. Please see my full disclosure policy for details.
Ray-Ban is one of the world's most iconic and popular sunglasses brands. This American eyewear fashion brand is among the most desirable for many due to its heritage and high quality. But where are Ray-Bans made?
I had a couple of Ray-Ban sunglasses over the years, and it's still one of my favorite brands regarding sunglasses. You have a wide range of frame styles to choose from, different colors and shades, and several price points.
To confirm, I have decided to review hundreds of product descriptions on the Ray-Ban website to verify if the brand lists where the products are manufactured. I also visited three Ray-Ban stores in London, Napoli, and Lecce and random stores that sell the brand, checking multiple items. So let's find out where Ray-Ban sunglasses are made.
Where Are Ray-Bans Made?
All Ray-Ban sunglasses and products are manufactured in Italy and China.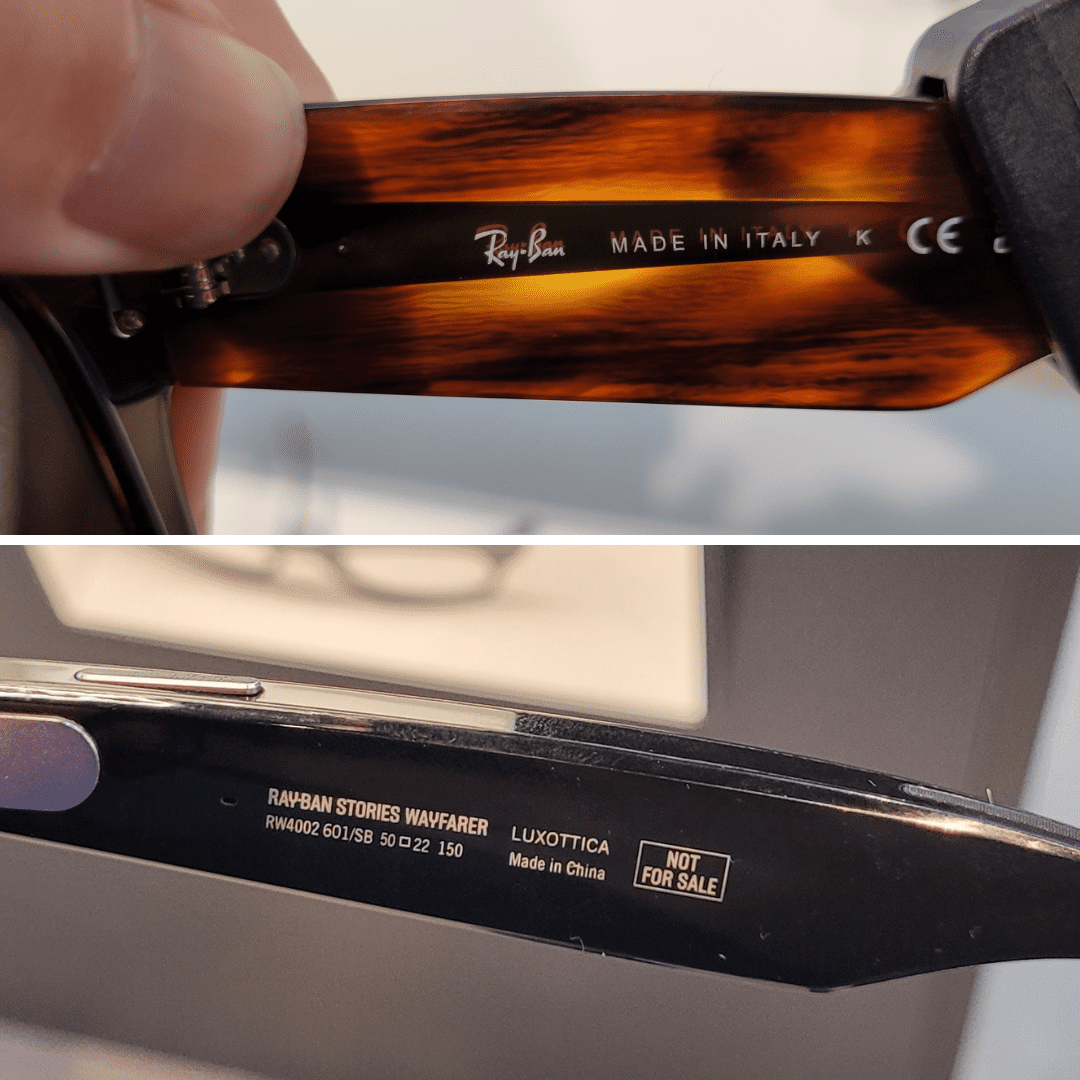 Ray-Ban's website doesn't list the country of origin for any item in the product description, which is strange considering that most products are manufactured in Italy. But since the brand manufactures some products in China, that could be the reason.
Read: Where Are Oakley Sunglasses Made?
Something I have noticed on the Ray-Ban website is that you can still check where the sunglasses are made if you check the pictures. On the right temple, the brand provides the "made in" and the country where the product was manufactured.
However, Ray-Ban needs to be more fully transparent with its customers about where its sunglasses are manufactured. The brand has no problem showing all the sunglasses made in Italy, which are the majority you will find on the website. But when it comes to the ones made in China, Ray-Ban doesn't provide any information on the right temple of the sunglasses. Just check the pictures below.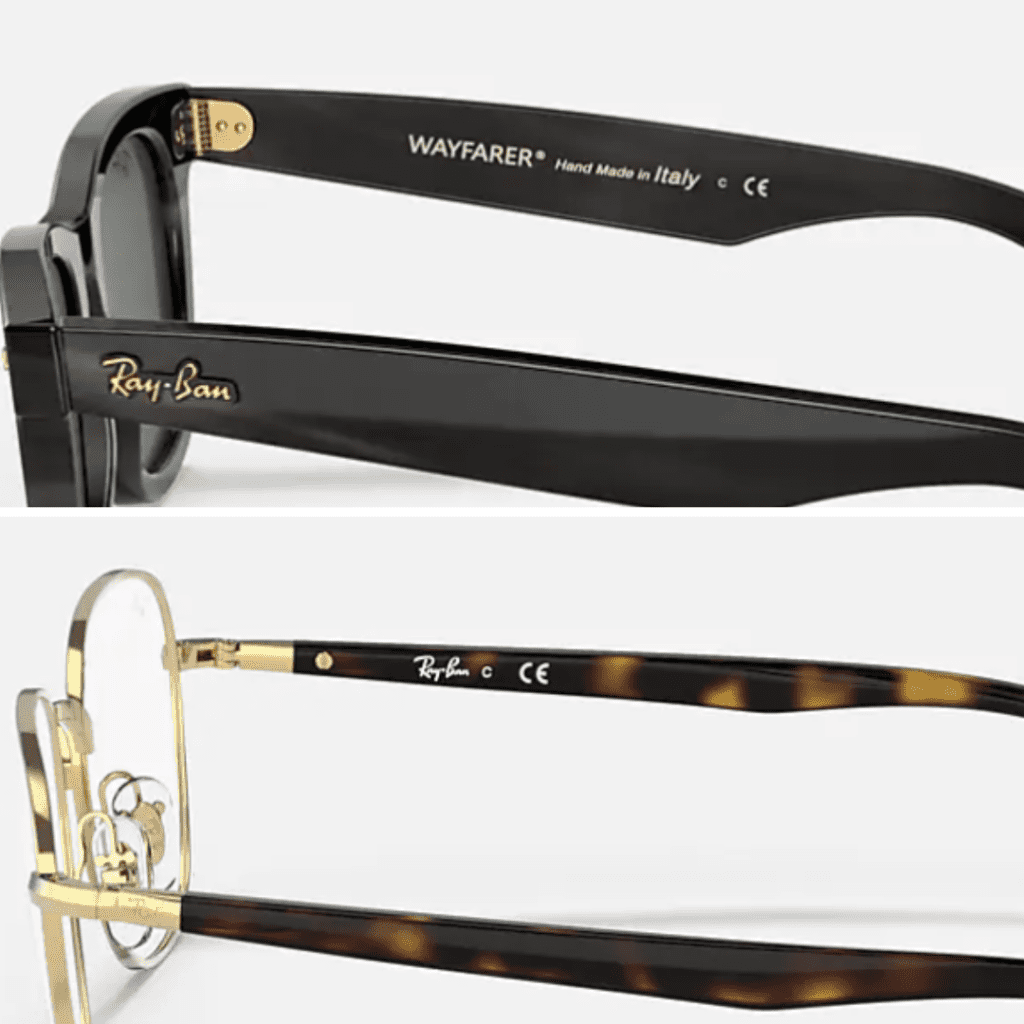 As shown in the picture above, Ray-Ban doesn't provide information about where one of the sunglasses is made. I am not sure if the brand just photoshopped that image and digitally removed the made-in-China from those sunglasses. However, I think Ray-Ban did it because every single Ray-Bans I checked in-store had the country of origin in them, no matter if they were made in Italy or China.
Also, when I checked all the different Ray-Bans sunglasses styles in-store, most were manufactured in Italy, and only a few were made in China. But don't worry if you purchase a pair of Ray-Bans and can't find this information on the brand's website because when you receive the physical product, you can check it. This is because the US and EU legislation requires brands to indicate the country of origin of any goods.
Are Ray-Bans Made In The Us?
As far as I know, Ray-Ban doesn't manufacture in the US anymore.
I didn't find any Ray-Bans manufactured in the US in-store on through the brand's website. However, on its FAQ, Ray-Ban says, "Our products are made in one of our Luxottica-owned plants in either the US, Italy, or China, depending on the product." Luxottica owns Ray-Ban and has a manufacturing site in California, US.
I don't think Ray-Bans are manufactured in the US, even after I read that, because Luxottica also has manufacturing sites in India, Japan, Germany, and Brazil, and that doesn't mean Ray-Bans are manufactured there. However, don't feel surprised if one day you find any of these countries in your Ray-Bans temples.
Are Ray-Bans Made In Italy?
Yes, most Ray-Bans are manufactured in Italy.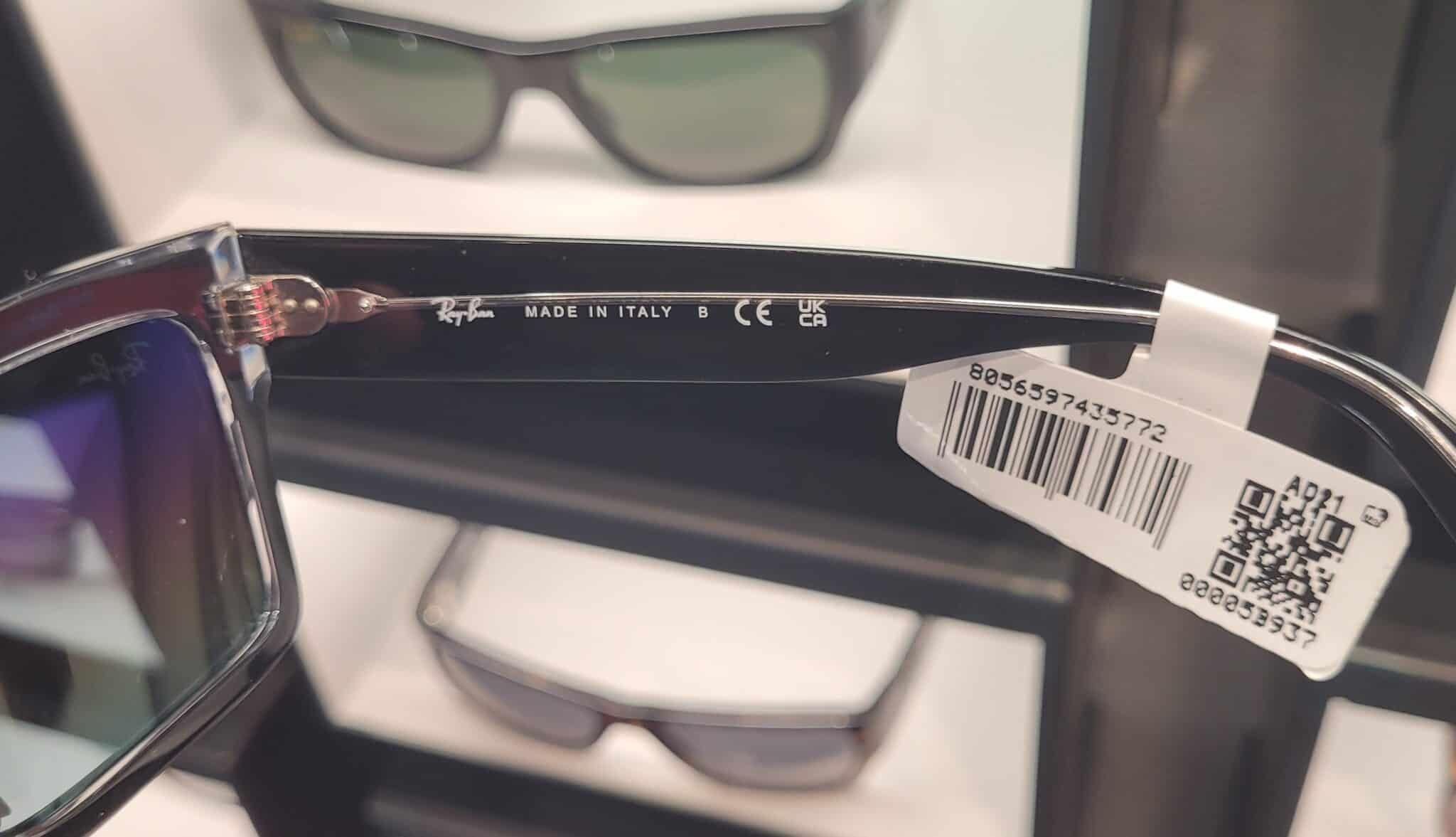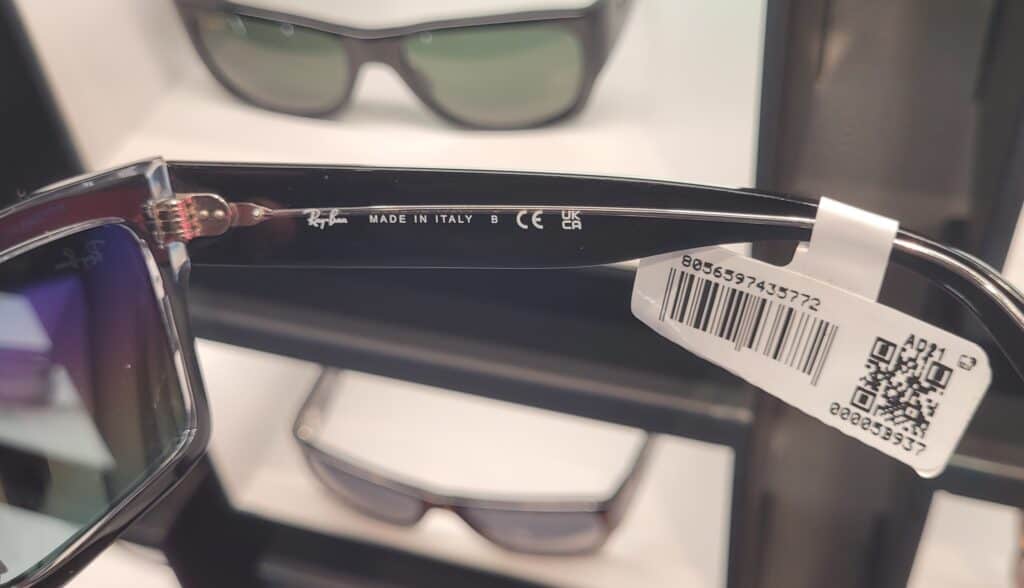 All Ray-Bans are manufactured in Italy by Luxottica. I can't tell you where precisely in Italy, Ray-Ban manufactures its sunglasses, but Luxottica owns five facilities in Northeastern Italy, where most of the country's eyewear industry is based, one in Pescara and one near Turin. So Ray-Ban products from Italy will be made in some of these factories.
The reason why Ray-Bans are primarily manufactured in Italy is due to the tradition of Italian craftsmanship and the efficiency and speed of modern automation. In addition, Italy is known to be the best country when it comes to producing glasses, and the Italian eyewear sector is number one in the global industry.
Are Ray-Bans Made In China?
Yes, some Ray-Bans are manufactured in China.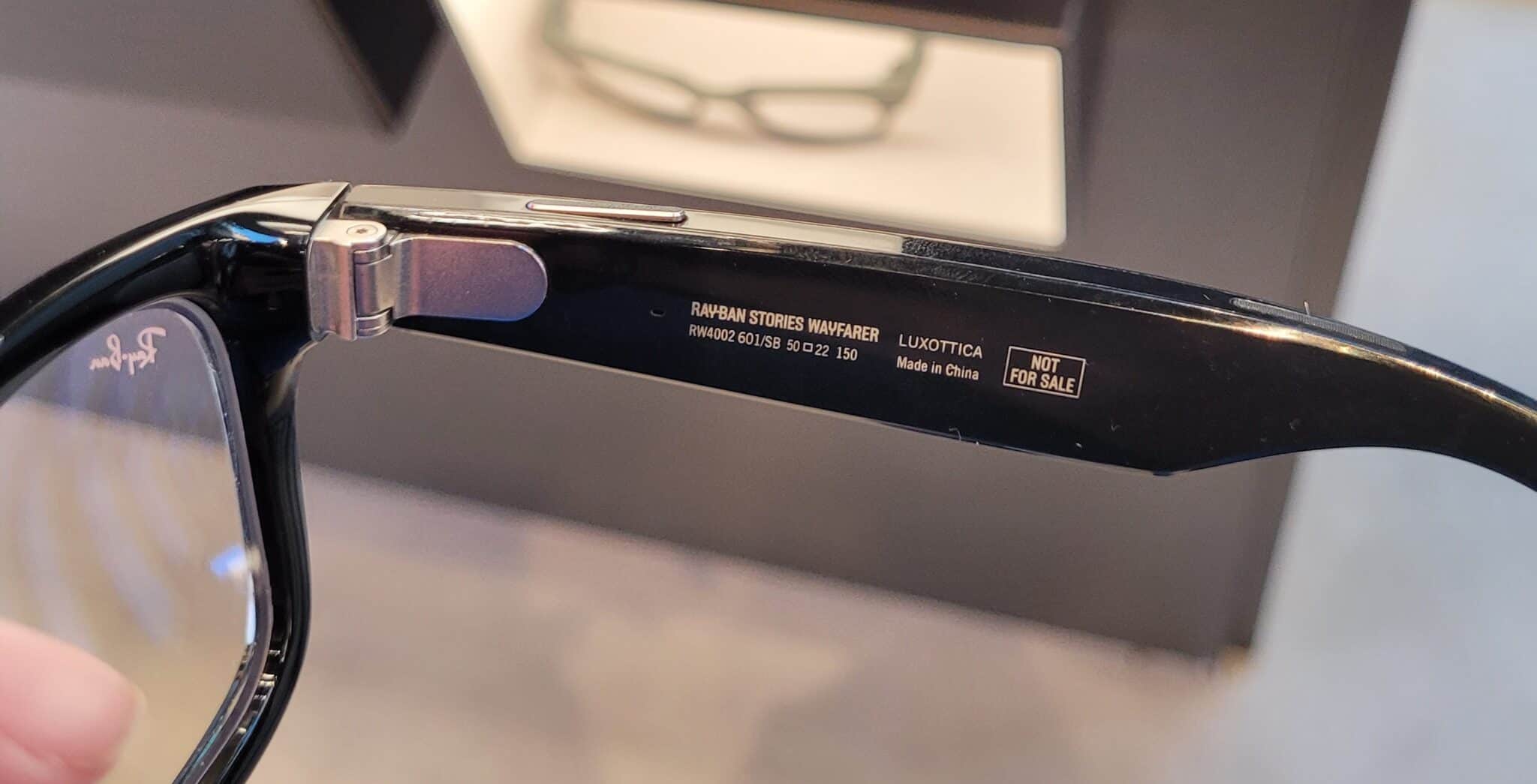 For some, it is a surprise that Ray-Ban is manufactured in China since most people expect the brand to manufacture exclusively in Italy. However, I don't blame some shoppers for thinking that since we have seen Ray-Ban sells itself as a made-in-Italy label on its website.
Read: Where Is Tom Ford Made?
All Ray-Bans in China are manufactured in Guang Dong in a Luxottica factory. I am sure the quality is as high as in Italy since the factory just needs to replicate the production system. However, some people still think purchasing Ray-Bans made in China is the same as acquiring a fake pair. I have seen quite a few Ray-Ban sunglasses with the made-in-China tag in the Ray-Ban official stores, so they are authentic.
Common Questions About Where Ray-Bans Are Made
These are the most common questions about where are Ray-Bans made.
Is Ray-Ban A Luxury Brand?
No, I don't consider Ray-Ban a luxury brand since most people can buy a pair of Ray-Ban sunglasses. For me, Ray-Ban is a premium label because luxury brands tend to be more exclusive and expensive. They are not accessible to most consumers, which is not true regarding Ray-Ban sunglasses and other products.
Are Wayfarers Made In Italy?
Yes, All Ray-Bans Wayfarers sunglasses are manufactured in Italy. At least all Wayfarers I checked in-store and on the website had the made-in-Italy tag.
where are ray-ban aviators made?
When checking Ray-Ban Aviators in-store, most were manufactured in Italy, but you can also expect a few Aviators made in China.
Conclusion
Where are Ray-Bans made? Most Ray-Ban sunglasses are products are manufactured in Italy, the most developed eyewear country. However, you can still find a small amount of Ray-Ban products manufactured in China.
Ray-Ban is one of the biggest sunglasses brands in the world, and no matter where they are manufactured, people will keep buying from the brand due to its quality.