This post may contain affiliate links. That means if you click and buy from that link, I may receive a small commission (at zero cost to you), which helps me maintain the quality of this blog. Please see my full disclosure policy for details.
Tom Ford is an American luxury fashion brand founded in 2005 by the fashion designer Tom Ford, who served as creative director at Yves Saint Laurent and Gucci. So where is Tom Ford made? Is it in the USA or Italy?
Tom Ford's brand is very recent when compared with other established fashion companies. However, it can be costly for a brand on the market for less than two decades. Maybe that means everything is made in Italy since that provides the quality that luxury brands like. You can read more about why is Tom Ford so expensive here.
The popularity of Tom Ford as a brand is growing year by year, so it's natural that people want to know where the products are made before buying them.
Read: Where Louis Vuitton Is Made?
I have checked hundreds of product descriptions on Tom Ford's website to verify if the brand lists where the products are made and researched a lot online to bring the best outcomes possible in this article. Let's find out where is Tom Ford made. You can also check out the best French and British luxury fashion brands.
Where Is Tom Ford Made?
Most Tom Fords products are made in Italy, especially when it comes to clothing and accessories. However, the American luxury brand also has products manufactured in the USA, Switzerland, Germany, Japan, Portugal, France, Bosnia Herzegovina, Belgium, and China.
Read: Where Is DSQUARED2 Made?
Like any other luxury brand, Tom Ford loves to manufacture most of its products in Italy (no surprise here). The only disappointing aspect is Tom Ford's website doesn't provide information about where some products are made, as you can see in the picture below.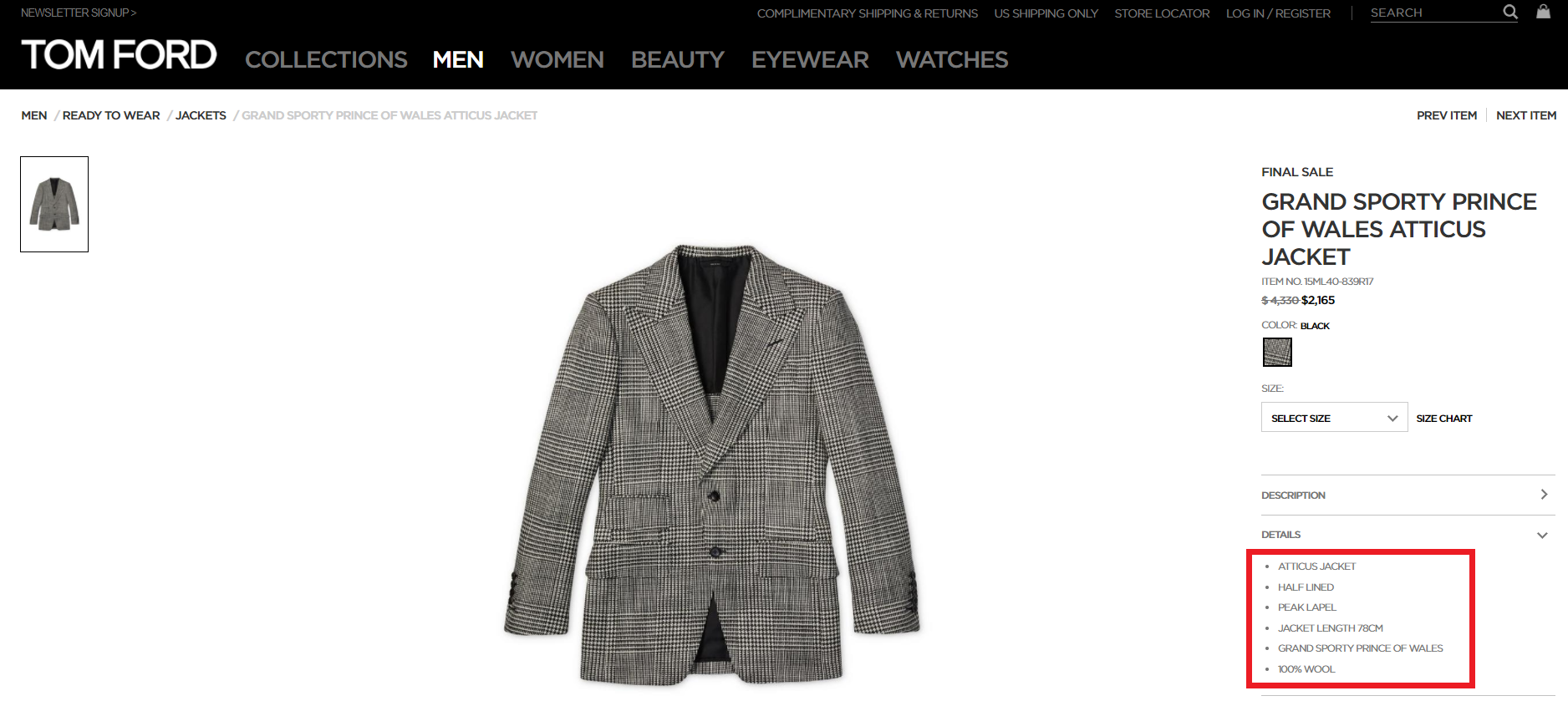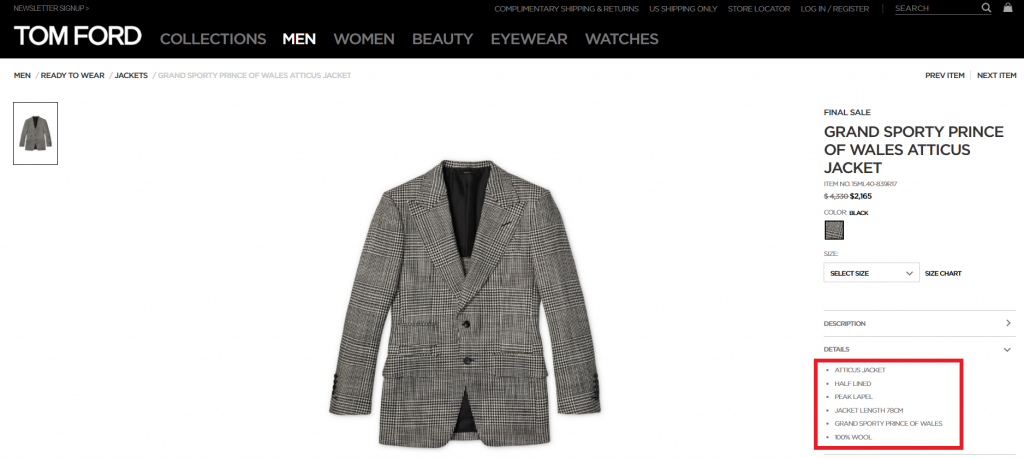 I always think brands want to hide something when they provide half of the products with the origin of the manufacturing and the other half without any information. It doesn't make any sense, especially when you are paying thousands of dollars for some products.
Read: Where Is Stone Island Made?
This is what I have found in my research over hundreds of different Tom Ford products for men, women, and accessories:
Italy – Most Tom Ford products are made in Italy, especially Menswear, Womenswear, and Accessories.
The USA – Some Watches, Almost all Denim clothing, and some Jackets
Switzerland – Watches, Some Suits, Some Beauty Products, Perfumes
Germany – Watch Bracelets
Japan – Some Sunglasses,
Portugal – Some T-Shirts
France – Watch Straps
Bosnia Herzegovina – Some Underwear
Belgium – Some Beauty Products
China – Sunglasses Cases
No Info – A lot of items don't have any info about where the products were made.
Read: Where Is Vivienne Westwood Made?
Bear in mind that I didn't check every single product on Tom Ford's website, and I could have missed some countries.
Is Tom Ford Made In The US?
Yes, Tom Ford manufactures some products in the USA. For example, almost all denim collection is made in the USA, some watches and jackets.
Read: Where Is Amiri Made?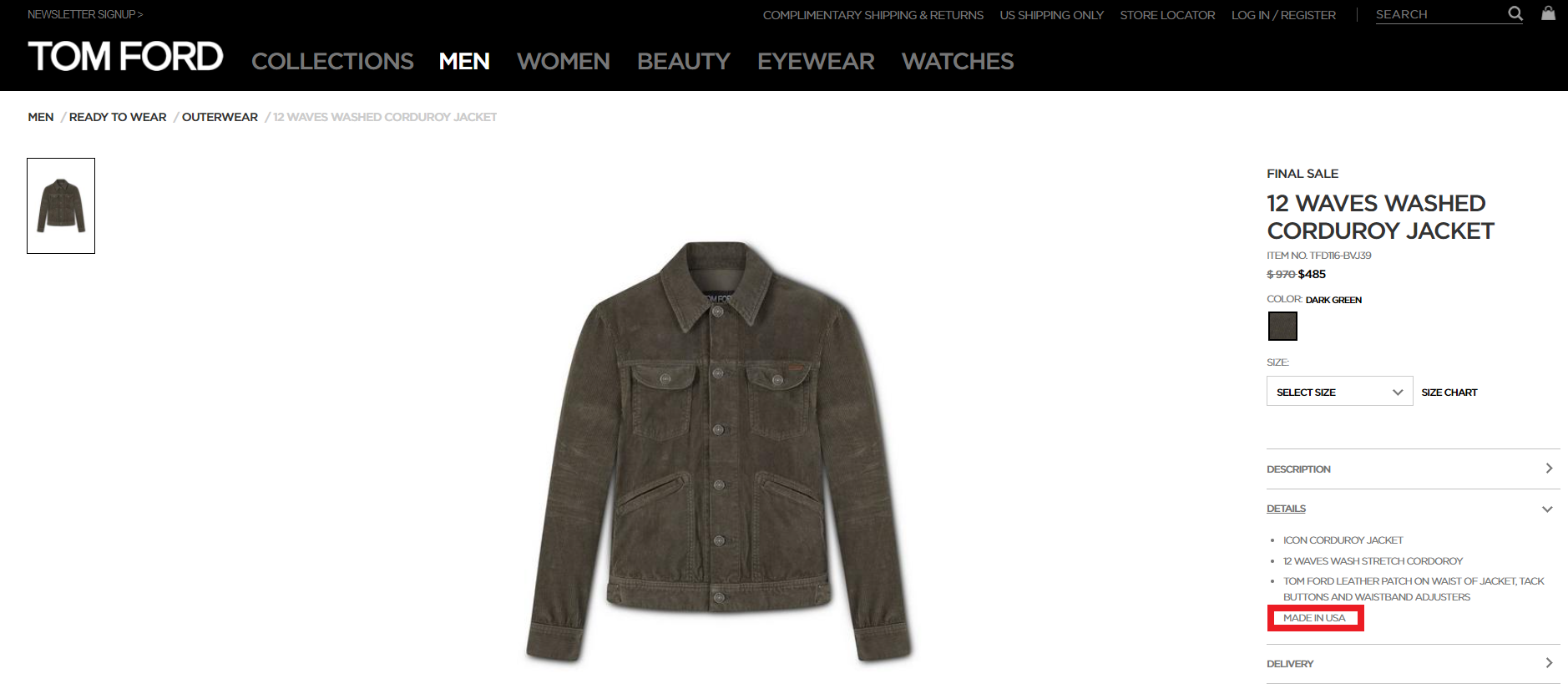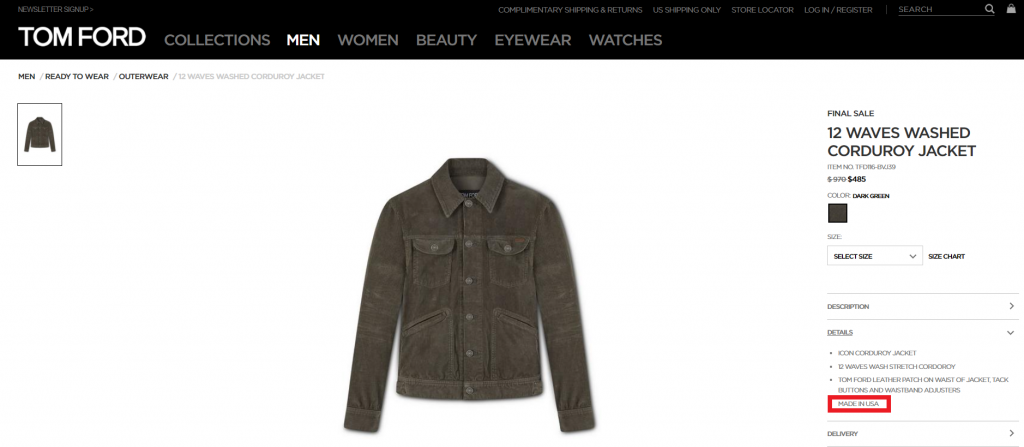 Tom Ford is American, but I couldn't find much information about where some of its products are manufactured in the USA. The only information I found about products being made in America is from the brand's website.
Read: Where Is Balenciaga Made?
Tom Ford's headquarters are in Madison Avenue, New York, United States, but I doubt anything is manufactured there. For example, Tommy Hilfiger is an American company that manufactures mostly outside of the USA.
Is Tom Ford Made In Italy?
Yes, most Tom Ford products in menswear, womenswear, and accessories are made in Italy.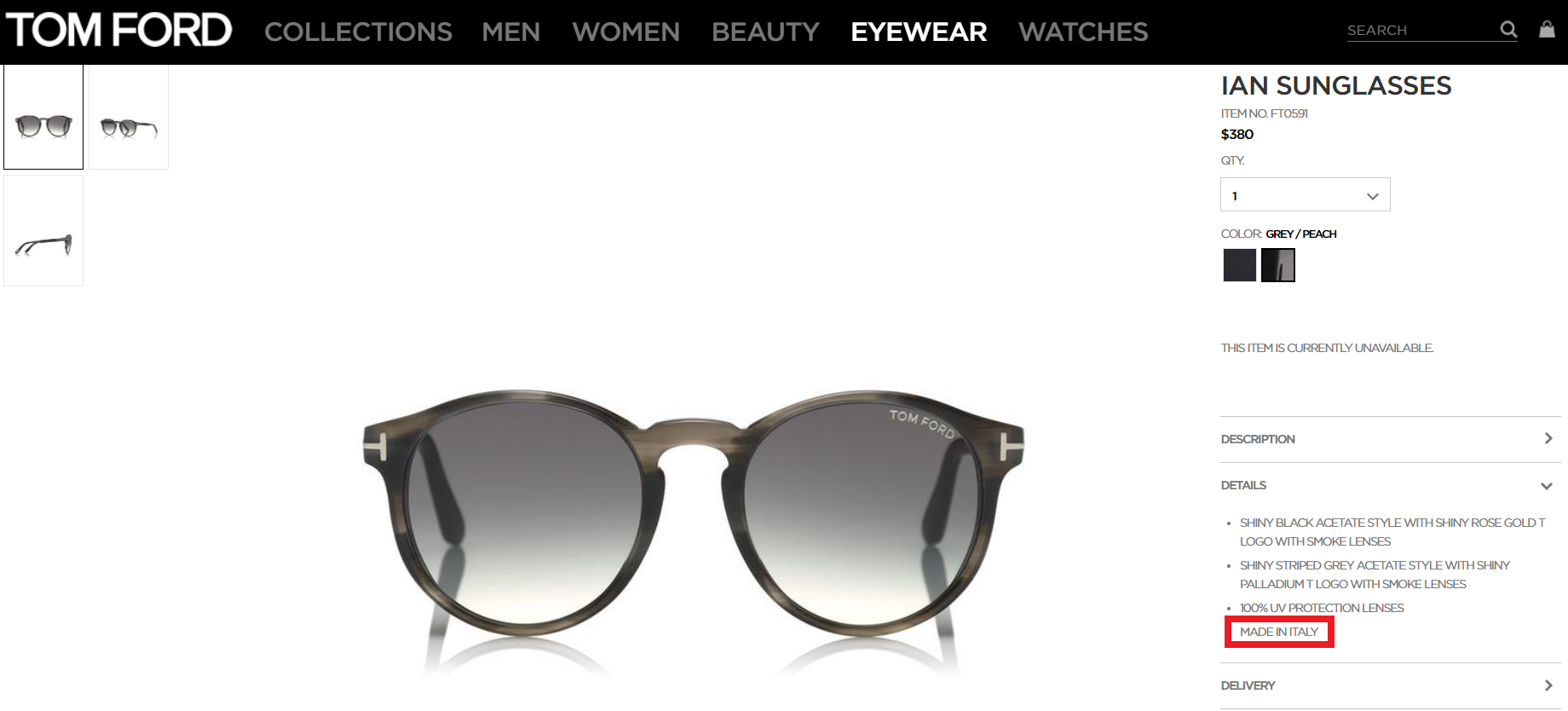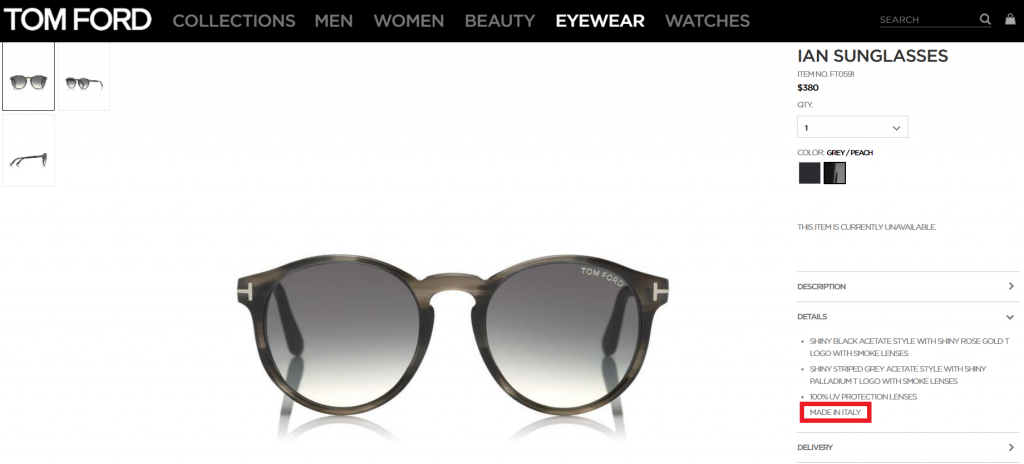 In Italy, Tom Ford has its production in Firenze (a famous city for many fashion brands) and Novara (Zegna makes some suits in this city).
Read: Where Is Palm Angels Made?
Tom Ford was recognized in September 2017 with the Green Carpet Fashion Award for Best International Designer Supporting "Made in Italy." This shows how committed the brand is to the manufacturing of its products in Italy.
The fashion designer said in an interview with Vogue that they work with artisanal factories that employ artisans who are proud of what they do and care about sustainability.
Is Tom Ford Made In China?
No, Tom Ford is not made in China. The only product that is made in China is the sunglasses case. No other products seem to be made there.
Read: Where Is Gucci Made?
When a website says the country of origin of some products and ignores others, I always assume they are Made in China. My experience says that is the rule. However, I couldn't find any information on the Internet about any Tom Ford being made in the Chinese region, apart from counterfeit items.
When the country of origin is not on the product description, I usually buy the item to check myself where they were made, but Tom Ford products are a bit expensive for me at the moment I am writing this article.
Read: Where Is Saint Laurent Made?
Common Questions About Where Is Tom Ford Made In
These are some of the most common questions about where is Tom Ford made.
Where Is Tom Ford Perfume Made?
Tom Ford perfumes are manufactured in Switzerland under the Estée Lauder umbrella. You can also find some made in the USA.
Read: Where Is Off-White Made?
Where Are Tom Ford Suits Made?
All Tom Ford suits are made in Italy and Switzerland. They are costly because they are Tom Ford, and James Bond has used a couple of Tom Ford suits in his movies.
Where Is Tom Ford Sunglasses Made?
Tom Ford sunglasses are made in Italy by the Marcolin Group. However, you can find some manufactured in Japan too. The sunglasses case is made in China, so check your glasses on the side to check which country they were made from. Some people thought the sunglasses were made in China because they were examining the case.
Read: Where Are Ray-Bans Made?
Where Is Tom Ford Shoes Made?
All Tom Ford footwear seems to be manufactured in Italy. However, many shoes don't have any information about where they were made on the luxury brand website. For example, all boots say "Made in Italy," but many sneakers don't have anything.
Where Is Tom Ford Makeup Made?
All Tom Ford beauty products are owned and manufactured by Estée Lauder. This beauty company has different manufacturing sites conducted in the USA, Belgium, Switzerland, UK, and Canada. I have found some beauty products made in Belgium and Switzerland on the website.
Tom Ford Made In Conclusion
Tom Ford is a recent luxury brand and very costly. With the majority of its products being manufactured in Italy, we can understand why. However, when answering the question "Where is Tom Ford made?" you can add some other countries like the USA, Switzerland, Japan, and some other European countries.
Read: Where Is Kenzo Made?
Do you have any Tom Ford products? If the answer is yes, check the label and share with me in the comments where they were manufactured.