This post may contain affiliate links. That means if you click and buy from that link, I may receive a small commission (at zero cost to you), which helps me maintain the quality of this blog. Please see my full disclosure policy for details.
What color socks with blue suit? This is a question that many men who are dressing for work, a wedding, or a social event might ask themselves. But, of course, the answer depends on the type of blue you wear and the occasion for what you are dressing up.
So, it is no surprise that socks are one of the most neglected accessories in men's fashion. But they don't have to be! Socks should never be an afterthought. They can make or break your outfit and play a pivotal role in creating a personal style for yourself.
Read: What Color Tie Goes With A Blue Shirt?
The right socks can provide a subtle yet stylish contrast to your outfit or maintain the pattern of your pants. Unfortunately, the wrong ones can produce an equally unpleasant effect, making you look like a clown or worse – someone who doesn't care about his looks.
I will help you check the best sock options for a man wearing a blue suit, which colors to choose, and when and how to wear them. Let's dig in.
What Color Socks With Blue Suit?
You can wear three different colors of socks with a blue suit. For example, you can wear blue socks for a professional meeting and environment, grey socks for a casual evening, and burgundy socks for a more relaxed and fun event. I also like to wear different kinds of blue pattern socks on any of the three occasions.
Many people think they should match their socks with their shoes, but that's not correct. Instead, it would be best if you match your socks with your pants since it will create an extension of them when you show the socks. This way, your look remains unified in appearance.
Wear Blue Socks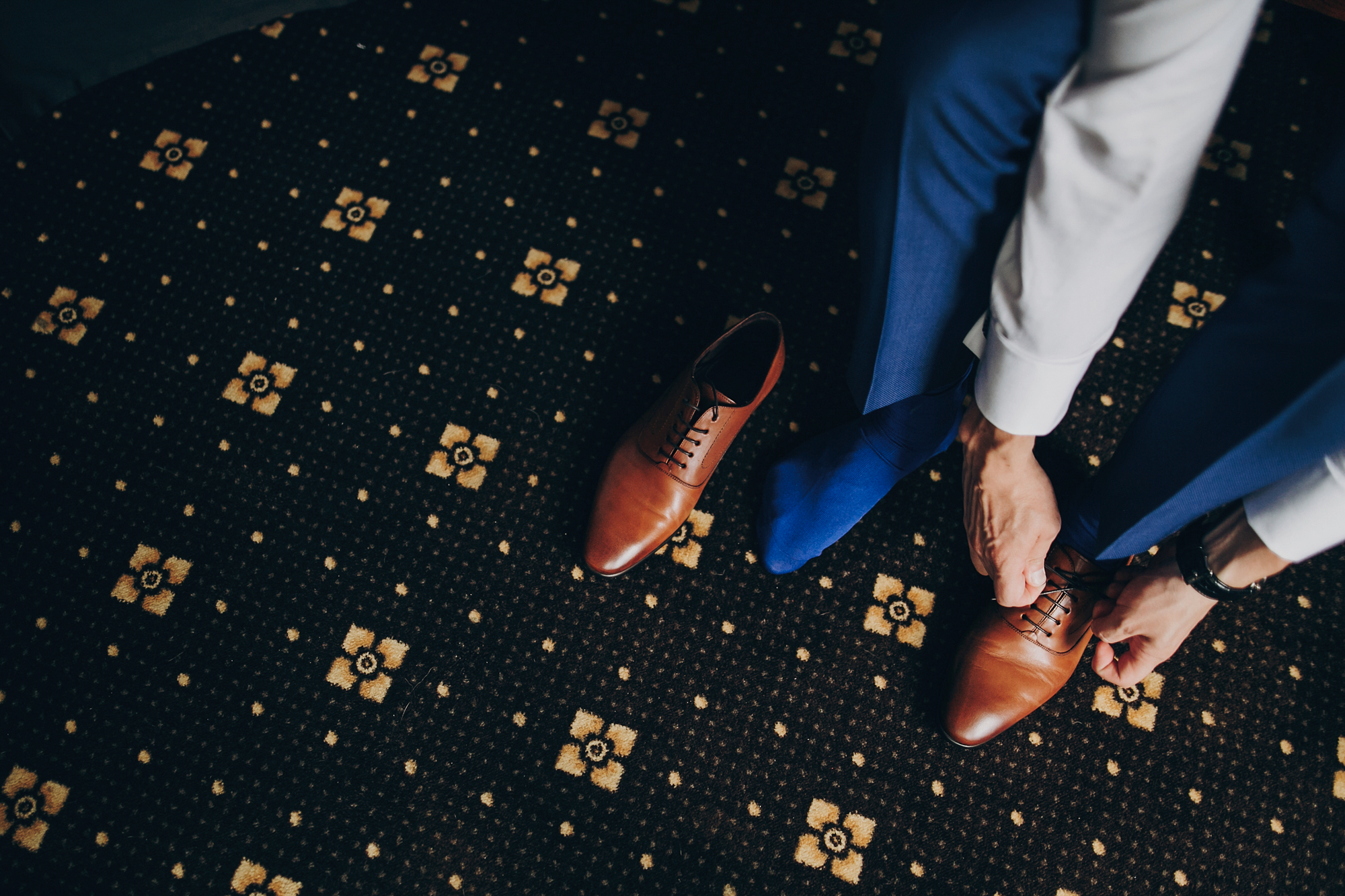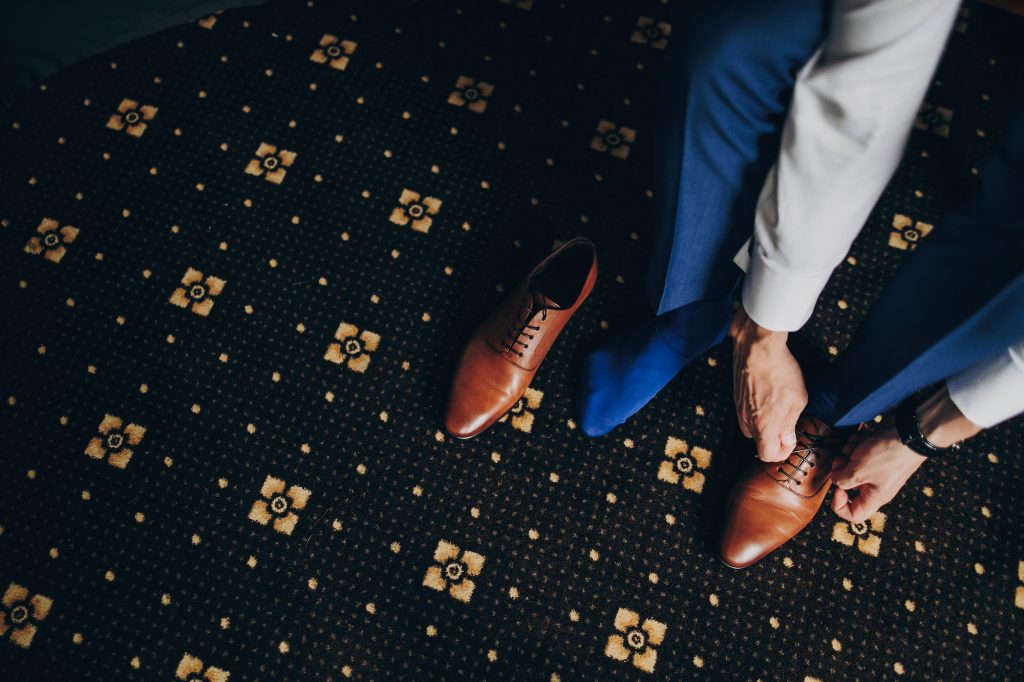 Blue Socks with a blue suit are the easiest and safest option since they can be worn anytime, anywhere. If you are going to a business meeting, office building, or pitching an idea with your boss, wearing a blue suit paired with navy blue socks will give you a professional look.
Read: What Color Socks To Wear With Jeans?
If you have a navy suit, choose navy socks. Even if it is a more vivid blue suit, I would still pick a navy pair of socks because navy is perceived as a professional color. It creates a clean visual silhouette.
If you want a professional look, wear blue socks with your blue suit.
Wear Grey Socks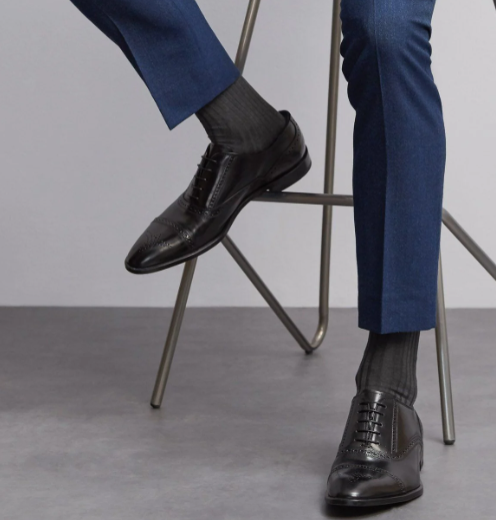 Grey socks are also a great option to wear with a blue suit. You'll find that while black is the most versatile for any outfit, grey socks can be paired with almost anything. So if you don't have navy socks, choose grey ones.
Wearing grey socks will give you a more casual appearance. For example, I would wear darker grey socks with a navy suit and a lighter grey pair of socks with a more vivid blue color suit. In this case, you can also contrast the color of your costume and socks if you want. For example, sometimes, a darker pair of socks can look great in a more vivid blue outfit.
Read: What Color Socks To Wear With Khaki Pants?
Pair them with brown (or navy) oxford shoes to wear to an evening outdoor event where you'll be more active or even for a date night.
Wear Blue Patterned Socks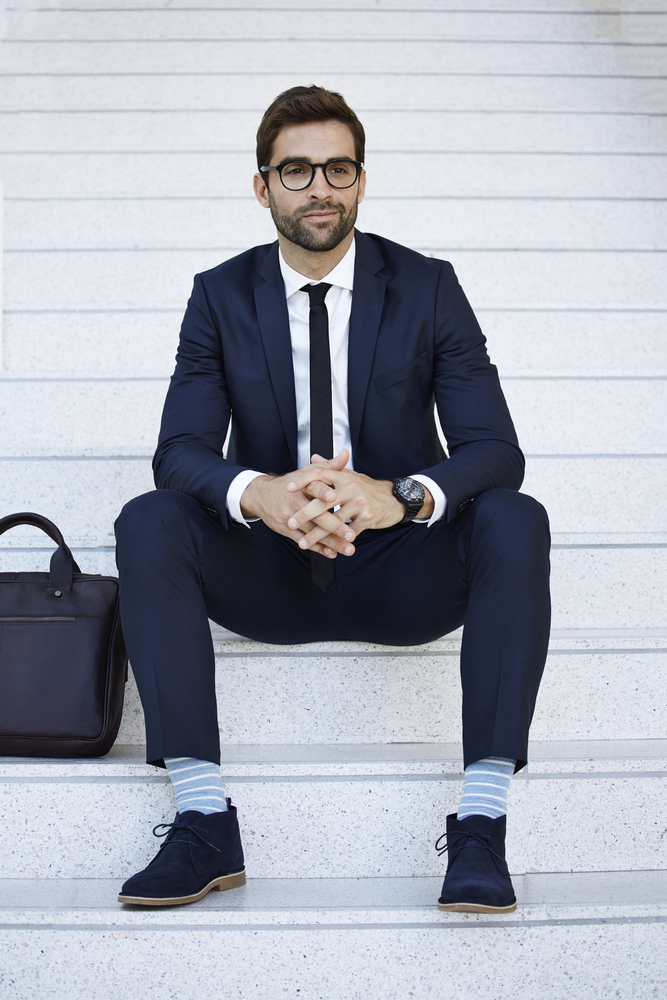 I am a huge fan of patterned socks. For example, you can wear a pair of blue socks with different patterns like stripes, dots, arrows, or whatever pattern you like.
A pattern stripe is ok for business meetings and professional environments, but be careful with other designs since they look unprofessional.
You can also match your blue pattern socks to a pocket square or tie if you want. So if you wear a navy suit with a light blue tie, your socks can be a mix of navy and light blue. It will look great for a wedding or casual evening out.
If your suit pants have a pattern, do not wear patterned socks in that case (I know I say always to match your socks with your pants, but this is the exception to the rule). It just doesn't look great overall.
Wear Burgundy Socks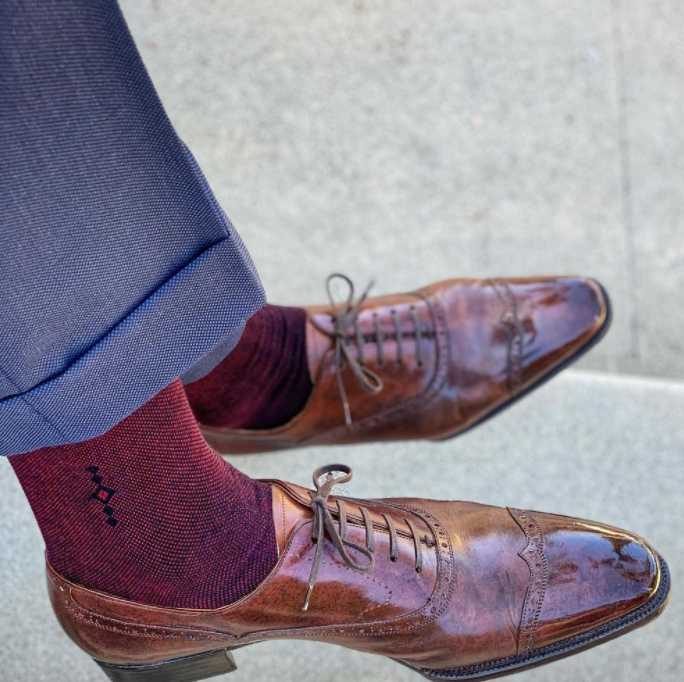 I know! I keep saying you should match your socks with your pants, and now I am suggesting burgundy socks with a blue suit. But listen to me for a second.
Burgundy is a bold contrast with the blue since they are a natural pairing. It's a great option if you go to a date or casual event and want to make a fashion statement, where people will notice your socks and you.
Read: How To Wear Colorful Socks?
I would not wear burgundy socks in a professional environment unless it is a casual business in a friendly place.
What Color Socks Not To Wear With Blue Suit?
When wearing a blue suit, should you avoid some colors on your socks? The answer is yes.
Don't Wear Black Socks
Can you wear black socks with a blue suit? If the suit is navy, I would say you can, but otherwise, no, you shouldn't. Black socks are perceived as professional and a bit boring, to be honest. So if you wear them with a light blue color suit, it doesn't give a casual or relaxed vibe, but a professional one. That's why I would avoid them.
I do read many people advising you to wear black socks with a blue suit, but you know my opinion.
Don't Wear White Socks
White socks should NEVER be worn with a suit. They belong to sports or walk around the house. Nothing more. I did write an article about when to wear white socks. You should read in case you want to wear white socks.
Wearing No Socks With A Blue Suit
It depends on the occasion. But let me tell you that I am not someone who doesn't wear socks. The only time I don't wear socks is with flip-flops, pool shoes, or sandals.
When you don't wear socks with leather shoes, they will stink, and so your feet. Unfortunately, you also increase your chances of developing athlete's foot and related infections.
Instead of going completely sockless, why don't you wear invisible socks? You can buy some with a rubber grip on the heel to ensure they don't slip when you walk. Then, you can wear them with your blue suit for a summer wedding, barbeque, or an evening out.
You should never wear invisible socks or go sockless for professional and business meetings. Always wear dress socks.
My Top Pick Socks To Wear With Blue Suits
Common Questions About What Color Socks With Blue Suit
These are the most common questions about what color socks with blue suit.
What Color Socks With Blue Suit And Brown Shoes?
You can wear any blue, grey or blue patterns socks. However, I think a pair of burgundy socks would look great with a blue suit and brown shoes.
Can You Wear Black Socks With A Navy Blue Suit?
You can use it for professional meetings, but never for a casual evening or a relaxed environment with family and friends. Remember that black socks are associated with professionalism.
Conclusion About What Color Socks With Navy Suit
In conclusion, wearing blue socks with a blue suit is one of the most popular choices and will work well for formal events. You can also wear grey or patterned blue socks to add some variety to your outfit. Burgundy is a great option to make a fashion statement when you pair your blue suit with a pair of brown shoes.
If you're not sure what color to choose, don't worry about it! Just remember that black and white are never good options when dressing up in a navy suit.
At the end of the day, you should wear whatever makes you happy. If Justin Trudeau can wear funny socks all the time, you also can. These are just guidelines in case you want to look more fashionable and make the right choices.
What about you? What color socks do you wear with a blue suit? Share with me in the comments.