This post may contain affiliate links. That means if you click and buy from that link, I may receive a small commission (at zero cost to you), which helps me maintain the quality of this blog. Please see my full disclosure policy for details.
You got yourself the perfect shoes, the right pair of jeans, and the best shirt, but you didn't think about every aspect of your look. For example, what color socks to wear with jeans?
We often don't worry too much about what underwear or socks we wear when creating an outfit, but we should because we never know what life reserves for us, and it's good to be prepared for any occasion.
Read: What Color Tie Goes With A Blue Shirt?
So when in doubt, consult this guide to know what color socks to wear with jeans. Let me show you.
How To Choose The Color Of Socks When Wearing Jeans?
These are a few tips for you to follow when choosing the right color for your socks to match your jeans.
Avoid White Socks
I always think people should wear whatever they feel happy and comfortable with, but wearing white socks with jeans is unacceptable. White socks belong to sporty outfits. Period.
It took me a while to understand why men in the UK love white socks so much, and that's because they love a good tracksuit.
Match Your Socks With Your Pants
You probably have many fashion experts saying that you should match your socks with your shoes, but I can't entirely agree with this strategy. The reason is if your socks perfectly match your shoes, it creates a lack of definition, looking like you have more oversized shoes, not making a nice contrast.
It would be best if you matched the color of your socks with your pants. Now, I am not saying that you need to find socks in the same exact color if you wear a pair of dark blue jeans. Instead, you can wear the same color with different shades.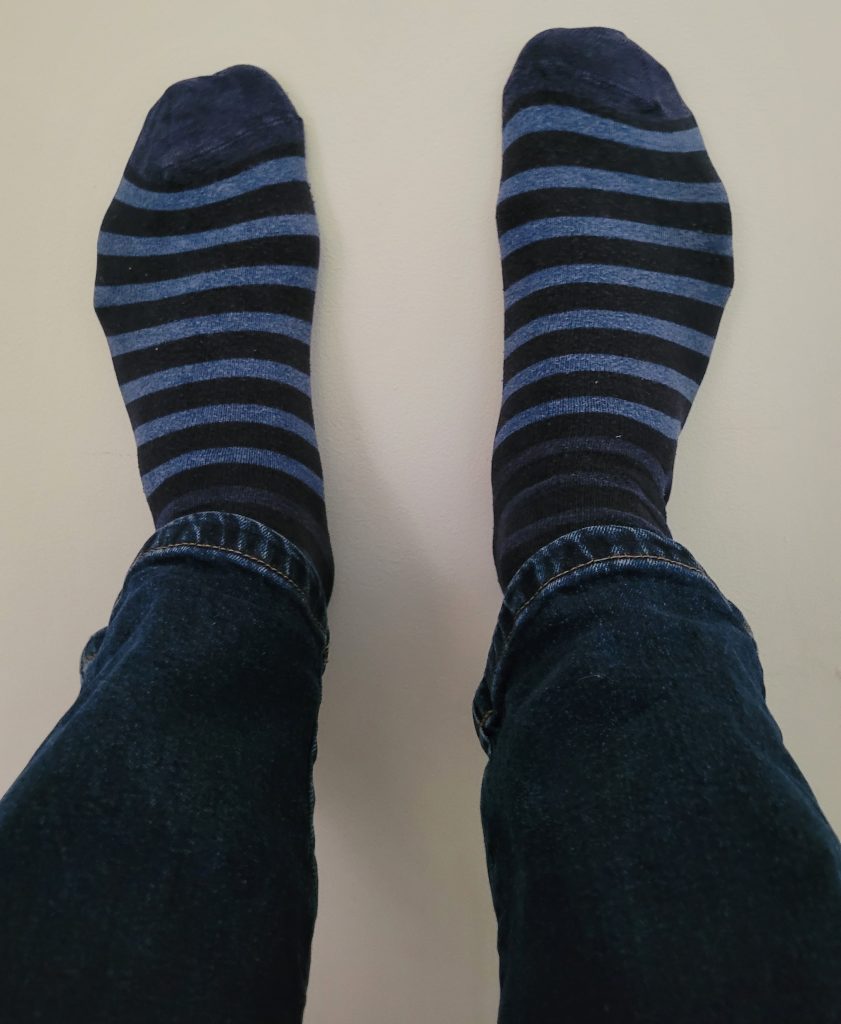 For example, if you wear a darker pair of jeans, choose lighter color socks. If you choose a more lightweight pair of jeans, go for darker color socks. You will never be wrong here if you adopt this rule.
Read: What Color Socks Should You Wear With A Blue Suit
Black Socks The Safest Choice
Now, I am a big fan of crazy socks (like the socks Justin Trudeau likes to wear), but I also have some patterned socks or just one color.
Having a black pair of socks is a safe and conservative choice because you can't go wrong, especially with black jeans. They are also a good option for darker blue jeans.
Choose The Best Sock Style
You also want to consider the style of the socks with the jeans because the color matters. So, for example, if you wear skinny jeans, you want to choose longer socks (since everyone can see your socks) to give that nice contrast we have spoken about before (otherwise, you will be showing skin).
Consider wearing ankle socks only with boat shoes or Vans since it is acceptable for a Summer look. Never with any other kind of shoes.
Read: What Color Socks To Wear With Khaki Pants?
Any other type of jeans like straight, regular or slim, you can wear whatever kind of sock you prefer. I tend to go for longer socks in the Winter and ankle socks in the Summer.
Think About Your Entire Day
When choosing what color socks to wear with jeans, you need to consider your lifestyle too. For example, do you have sweaty feet because you have a very active lifestyle, or maybe you want socks that keep your feet warmer? Keep that in mind.
Match The Socks With The Rest Of Your Attire
I don't consider this one the most crucial aspect, but have a quick look at your entire outfit and check if the socks make sense. If they don't, try another color and recheck it.
What Color Socks To Wear With Jeans?
The most popular jeans colors are blue, black and grey so that are the ones I will be giving some tips on.
What Color Socks Do You Wear With Blue Jeans?
It depends on the shade of the blue. If it is a darker blue pair of jeans, go for a lighter blue pair of socks and vice versa. I would also accept grey socks here because they will look great.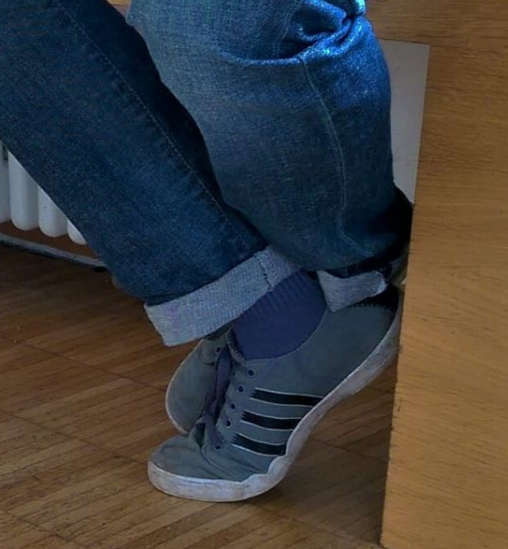 What Color Socks Do You Wear With Black Jeans?
You can wear black socks to give the illusion that your jeans reach your shoes. A darker grey or navy pair of socks would look great with black jeans.
What Color Socks Do You Wear With Grey Jeans?
If you wear a lighter pair of jeans, you can wear a darker grey pair of socks and vice versa. You can also wear blue/navy socks or even a black pair.
Common Questions About What Color Socks To Wear With Jeans
Let's check some of the most common questions about what color socks to wear with jeans.
How To Wear Crazy Socks With Jeans?
To wear crazy socks with jeans, I would choose socks with the same color base (or different shades) as your jeans.
What Color Socks With Jeans And Brown Shoes?
It depends on the color of your jeans. I would choose the sock's base color as the same as the jeans. You can also wear some patterned socks with a mix of brown from the shoes and the color of the jeans.
Should Socks Match Jeans Or Shoes?
Some people say your socks should match your shoes, but I say they should match your jeans. If you decide to wear socks of the same color as your shoes, it will create a lack of definition like wearing boots or an oversized shoe. However, if you match socks with the color of your pants (it doesn't need to be the same color, it can be a different shade), it will give better contrast and look more fashionable.
Can I Wear Socks Over Jeans?
Yes, you can wear socks over jeans, but you need to check the rest of the outfit. Your jeans need to be slim or skinny (straight and relaxed fit denim won't work here). Otherwise, they will look like a mess. You can also run this look with a pair of boots.
Conclusion
Now you know what color socks to wear with jeans, but remember, it's all up to you. These are only tips and suggestions for you to look smarter and more fashionable. At the end of the day, you are the one wearing those socks.
What about you? What are your best style tips when it comes to what color socks to wear with jeans? Share with me in the comments.