This post may contain affiliate links. That means if you click and buy from that link, I may receive a small commission (at zero cost to you), which helps me maintain the quality of this blog. Please see my full disclosure policy for details.
The heavier you are, the more pressure you put on your knees, ankles, feet, and joints. You may not notice that pressure straight away, but with time, you will. That's why you need to buy the best walking shoes for overweight men.
Finding the best walking shoes can be tricky for anyone since you need to look over a few essential factors like the padding, the material, or the stability. In addition, you want these shoes to last a long time, and you mustn't be buying a pair every month because they don't feel right.
When you wear the right pair of shoes, you also prevent problems like plantar fasciitis, supination, overpronation, and others you never heard about it. You might not even know you have these problems until the person selling you the shoe mentions it. When I worked in retail, it happened with so many customers I lost count.
So let me show you the best walking shoes for overweight men and explain why you should consider them.
What To Look For In Walking Shoes For Overweight Men?
It was prevalent to have clients entering my store and give me a paper with doctor indications on what they should look for on their shoes. I have worked for Skechers, Asics, and Sports Direct (multiple sports brand stores) in the footwear section.
Doctors advise people with weight problems to walk more and make that a daily habit to improve their health, but without the right pair of walking shoes, that can be a big challenge, especially if your feet are killing you.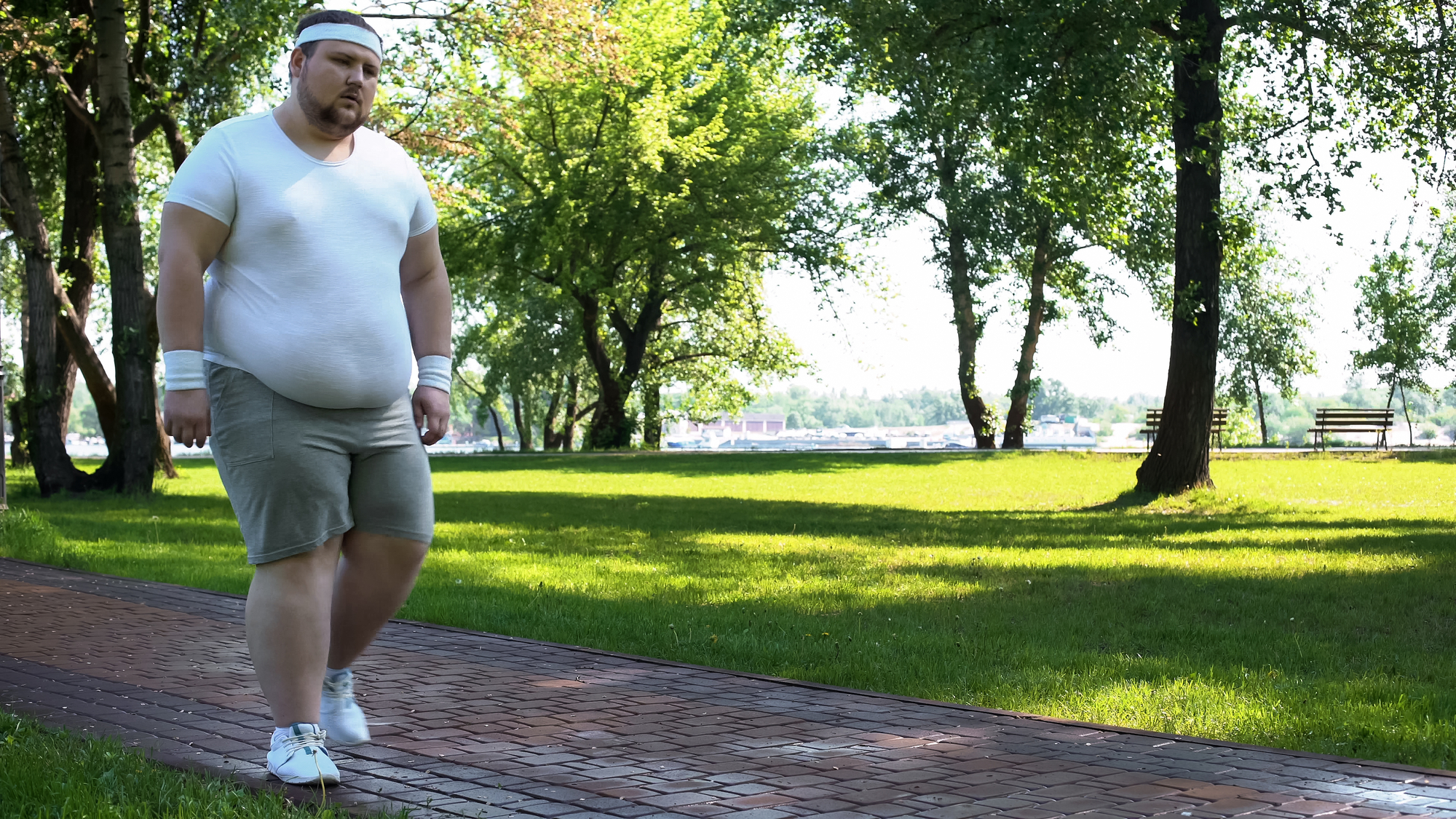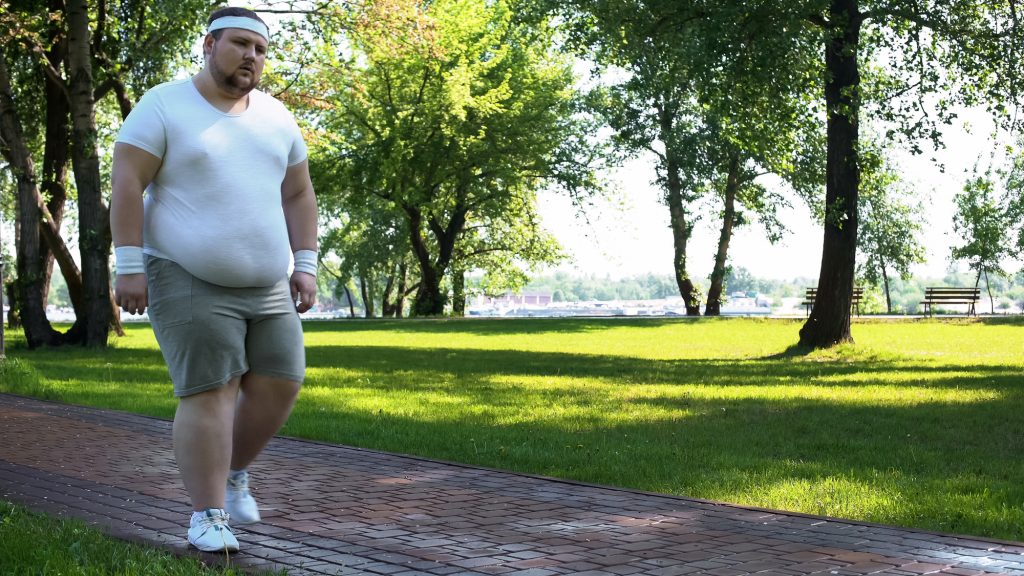 The wrong pair of shoes can do more damage than help. It can make your feet, joints, ankles, and knees hurt even more and affect your confidence. Why would you walk if you know you will be in pain during and after?
So if you are a heavy guy, pay attention to the following features because they are essential. Don't be afraid to ask for help and advice from a sales assistant if you shop in-store.
Padding
To me, this is the most crucial feature when choosing the best walking shoes for overweight men.
Every time you walk and put your feet against the floor, you put all your weight and pressure on that foot. You will repeat this for each foot hundreds of times when you walk, if not thousands of times, depending on how much you walk every day. The way you put your feet on the floor can also be beneficial or not to your feet' health.
Having cushioned shoes help you release the pressure you put on your feet and joints, providing a soft buffer between the ground and you. A good padded pair of shoes will absorb all the impact and prevent any future problems you may develop with the wrong pair of sneakers.
Material
Choosing the most suitable shoe material can be tricky sometimes because different materials can contradict each other. You have to check the material for the insole, outer sole, and upper part. Just remember that the perfect shoe material doesn't exist. What suits my needs may not fulfill yours, and that's why you need to check what material suits you the most.
Read: How Long Should Shoes Last?
Leather Walking Shoes – This material is known to last longer than others. It was very common to have people enter the store and ask specifically for leather shoes. It's a good material so that it will cope in more abrasive areas. Some cons are that leather is a heavier material.
Rubber Walking Shoes – When you walk, your foot tends to roll from the heel to the toe. You need a sole that can handle this problem. Rubber has excellent ground traction and is a long-lasting material that enhances the shoe's durability and longevity. It also prevents your shoes from slipping.
EVA/Rubber Walking Shoes – EVA (Ethylene Vinyl Acetate) is a lightweight material with excellent shock absorption properties. Allying EVA with rubber is great because you have shock absorption and non-slip soles. This is not the most durable material.
Read: Do Suede Shoes Stretch?
When looking at your pair of shoes, I would pay attention to including at least one of these three materials. Leather for durability, rubber for non-slip, and EVA for shock-absorbing.
Breathability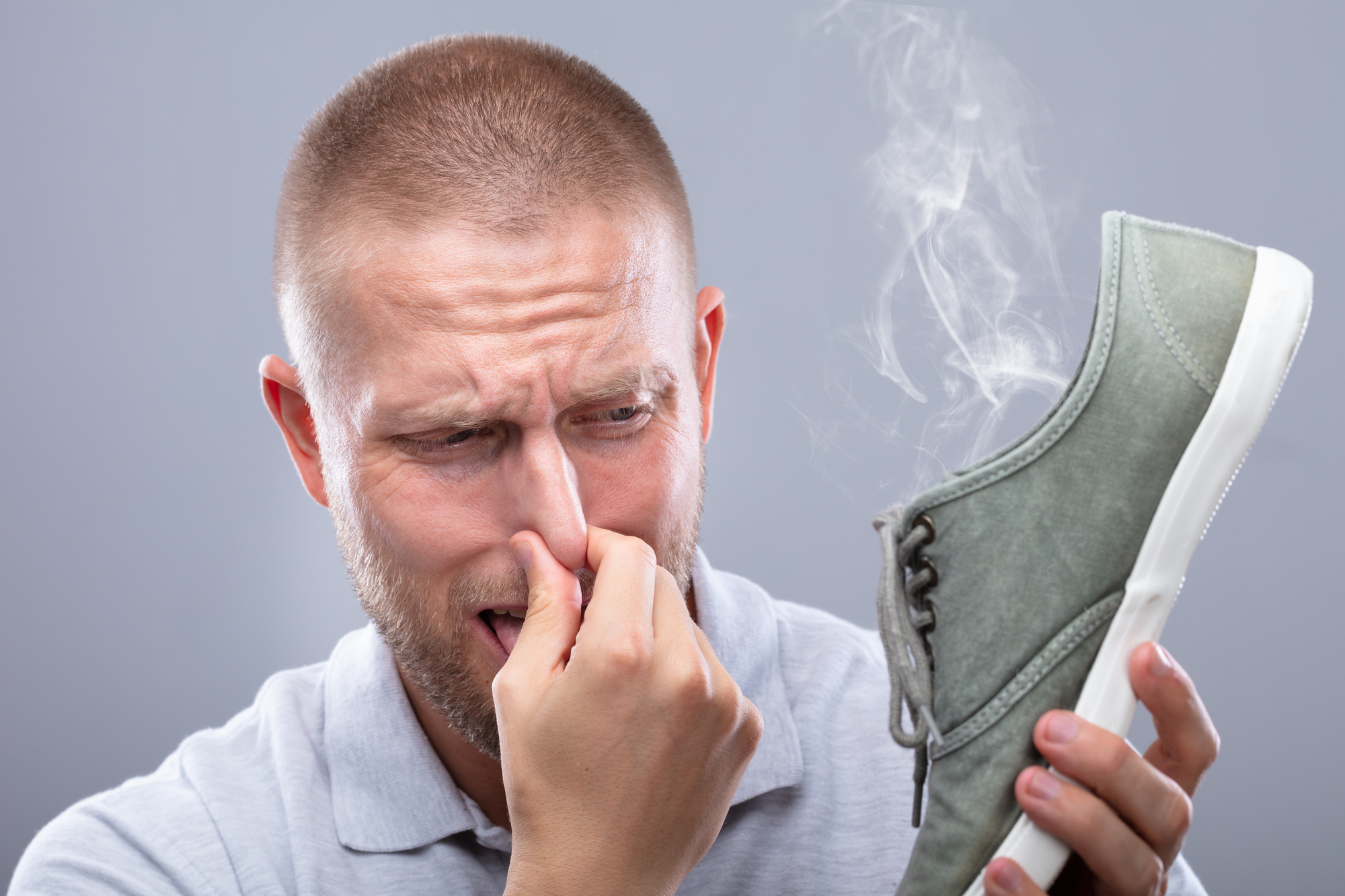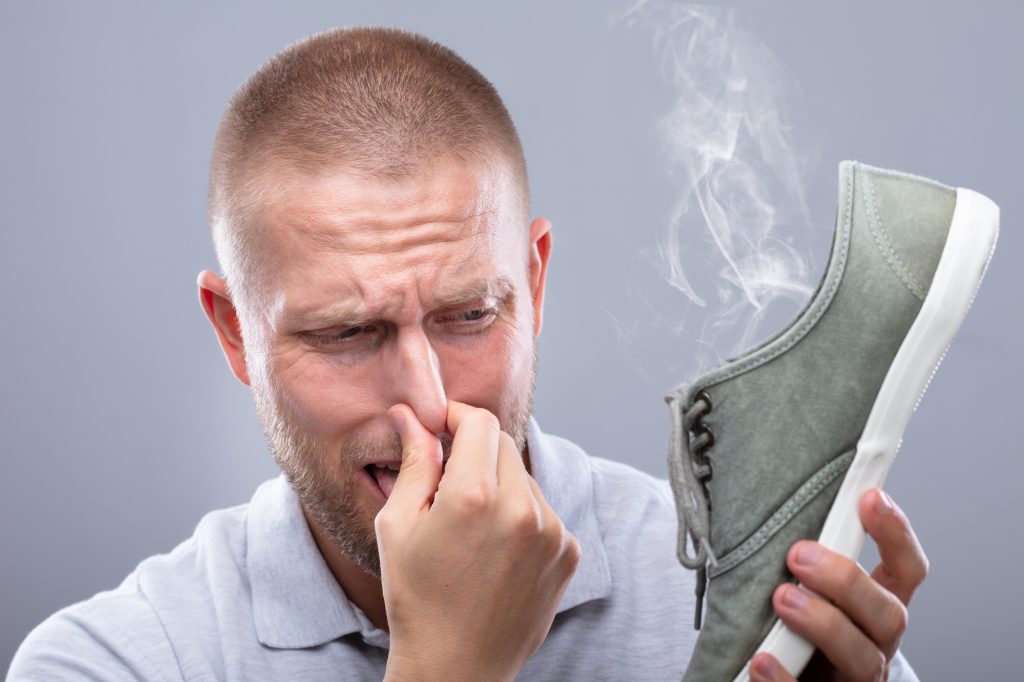 It's essential to look for shoes with cool properties that can make your feet stay dry. Some shoes allow internal moisture vapor to escape quickly and efficiently, preventing your feet and socks from becoming wet. Breathable shoes (mesh material) can also prevent athletes' feet, fungus, bacteria, and smelly feet.
Stability
Stability shoes are designed to keep your feet from rolling inward to align them with your legs better and prevent your body from overcorrecting systematically.
Do you know that sensation when you walk and your feet keep moving inside the shoes? That's because the sneakers are a size too big for you. You can twist your ankle and add more pressure to it. If you are overweight, it will put even more tension on your ankle and feet. That's why you need good stability when walking.
Comfort
Your shoes need to be comfortable. My experience says that sometimes what is comfortable for me is not for other people and vice versa. For example, I had clients saying some shoes I suggested in-store were uncomfortable for them when they were one of the most comfortable sneakers I ever tried.
Read: How To Make Your Shoes Smaller?
You should look for all these features when choosing the best shoes for you if you are overweight, but never forget they need to be comfortable because you will be wearing them when walking.
Best Walking Shoes For Overweight Walkers
As I said, I have worked with many different brands of shoes and have tried a lot in store because I like to understand the shoes I sell to clients. So I have personally tried all these shoes, and some I have purchased and wore daily.
1 – Skechers Go Walk 5
Skechers was founded in 1992 in the US. It is now the third-largest athletic footwear brand in the United States.
Many people know Skechers because of its memory foam that adapts to the shape of your foot, providing increased comfort.
The Skechers Go Walk 5 is the best seller in the entire company, and it's easy to understand why. They are ultra-comfortable.
Goga Mat Insole – This is my favorite insole from Skechers. These shoes' insole has the Goga Mat technology, which includes a high rebounding cushioning insole for better shock-absorbing. From the moment you wear these shoes, you can feel the bouncing and the cushioning on your feet.
In my opinion, the Goga Mat insole is superior to the Memory Foam because it's more resilient and flexible.
Rubber Sole – The shoe's sole is made from rubber, which will prevent you from slipping wherever you walk. It also has extra cushioning that bounces when you walk.
Breathable – The mesh fabric in the upper part makes these shoes breathable preventing any bad smells. The Air Cooled insole also makes your feet cool because sometimes your feet can become warm when rubbing against the insole.
Multi-Purpose – You can use these shoes for walking, gym, training, treadmill, workout, light jogging, or even daily activities like going shopping.
Machine Washable – You know when your shoes are so dirty that you just want to buy new ones? With the Skechers Go Walk 5, you can put them on the washing machine, and they will become like new. Very easy to clean and dry.
Extra Wide Fit Option – Compared with other brands, Skechers are already wider than Adidas, Nike, or Asics. You even have the extra-wide option with this model if you have larger feet. Many people with problems with their feet would choose the extra wide version because their feet swell a lot. Be careful when selecting the wider version since the standard version is wide enough for most people. Read: Do Skechers run big, small, or true to size.
Price – You have many shoes on the market that are very expensive. I love Skechers because of how affordable they are and how much they offer at such a low price.
The Style – I am not a big fan of the style of the shoe since it looks basic, but I would choose comfort over style every day of the year.
2 – Brooks Addiction Walker 2 Walking Shoe
Brooks is one of the best running shoes on the market, and the company was created in 1914 in the US.
Brooks shoes have been named the best winter running shoes in publications like Runner's World and Sports Illustrated.
Soft Cushioning – On your feet all day? No problem. BioMoGo DNA adapts to your stride, weight, and speed to make every step comfortable and reduce your joints' impact. Perfect for overweight walkers.
Maximum Support – The Extended Progressive Diagonal Rollbar is a support system for your entire body. The Addiction Walker 2 guides your body in its natural path of motion to keep you comfortable all day.
Slip-Resistant – The innovative outsole is slip-resistant and provides excellent traction. With a stylish look and durable design, the Addiction Walker 2 is sure to become your closet staple. If you work in the hospital, these shoes are perfect for staying all day on your feet.
Style and Color – The shoes are very comfortable and perfect for overweight walkers, but I am not a fan of this shoe style. I would like to have a little more color here, apart from white or black choices.
3 – Asics Gel-Kayano 27 Running Shoe
Asics is a Japanese brand founded in 1949 as Onitsuka Tiger. Everyone knows the brand because of its fantastic running shoes.
Products manufactured and marketed by Asics include footwear (sneakers, sandals), clothing (t-shirts, jackets, hoodies, compression garments, pants, shorts, socks), and accessories (bags, backpacks, caps).
Best Stability Shoe – Asics Kayano has to be the best stability running shoe on the market. It's incredible. If you pronate when you are walking, this is the shoe you want to wear because of its dynamic DuoMax support system, which enhances stability and support.
Excellent Cushioning – Its shock absorption (GEL technology cushioning system) is one of the best on the market (if not the best), and that's why you have a running shoe on this list because it offers a lot of padding to your heels. Kayano's feel softer and responsive. If you want to run a little bit but feel in doubt because of the weight you will put on your feet, don't worry and go ahead.
Read: Do Asics Run Small Or Big?
FlyteFoam Propel Technology – Asics energetic foam formulation that provides supreme bounce thanks to a unique elastomer compound.
FlyteFoam Midsole Technology – The FlyteFoam technology provides exceptional bounce back and responsiveness no matter the distance, utilizing super organic fibers to help reduce packing out that traditionally happens with softer, low-density foams.
Specific Style – If you don't pronate, this is not the shoe for you because you don't need so much stability. You need cushioning. The good news is that you have the Nimbus version for neutral runners and walkers.
4 – New Balance 847 V4 Walking Shoe
New Balance is an American sports footwear company founded in 1906. New Balance is one of the world's major sports footwear and apparel manufacturers.
Many people associate New Balance with running shoes, but this style is designed for walking. This brand is known for its quality, comfort, cushioning, and stable shoes.
Trufuse Midsole – This premium performance technology insole provides responsive foam cushioning for softness on the street or trail. It combines two different foams to give you the padding you need. These are very comfortable shoes, I must say.
Read: Do New Balance Run Big Or Small?
Rollbar Stability – It delivers the structure you need to have support and stability when walking. Great if you over or under pronate.
Comfort – These are some seriously comfortable shoes. The comfort collar also helps to prevent any irritation on your ankle. Perfect for distance road walking and to keep your feet ready for the next walk.
Price – You usually pay over $100 for a pair of running shoes, so this is quite expensive for walking shoes. I can understand why because they are incredibly comfortable and perfect for overweight men.
4 – Skechers Max Cushioning
Another Skechers shoes on the list, but this time the best running shoes Skechers has in their inventory.
Skechers Max Cushioning is the pair of shoes I have worn for everything, from working eight hours shifts, walking around the park, training in the gym, and anywhere possible. That's how comfortable they felt.
Goga Mat Insole – You know I am a big fan of the Goga Mat insole, and it's no different here because you can feel that cushioning from the moment you wear the shoes.
Air Cooled – The air-cooled technology keeps your feet dry and moisture-free. They also prevent your feet from getting too hot when you walk, even if you wear black shoes.
Ultra Go Comfort – Cushioned responsive Ultra Go comfort platform. When you put the shoes on your feet and jump in the air, you can feel that cushioning and bouncing when you land your feet on the floor. You can even compare having this shoe on one foot and any other on the other foot. The difference you feel is absurd. I made many clients feel the difference this way, and they all looked surprised by how much cushioning this shoe provides.
Lack Of Colors – Unfortunately, this style doesn't have many colors or any bright ones. I bought three different colors but all black, navy or grey.
Note: Asics come a little bit smaller than your normal size, so you could do it half a size or one full size above if you order the shoes.
5 – Merrell Moab 2 Hiking Shoe
Merrell is an American manufacturing company of footwear products founded in 1981.
Products currently commercialized by Merrell include both footwear and clothing products. Some of them are hiking boots, sandals, athletic shoes, jackets, gloves, knit caps, t-shirts, shorts, hoodies, and socks. Other accessories include bags, backpacks, and stuff sacks.
Vibram Sole – High-performance rubber sole with unmatched durability, stability, and slip resistance, providing confidence on your feet. These water-resistant soles will stop your feet from becoming wet and sore and the shoes from getting damaged so fast.
Gore-Tex – High-performance breathable waterproof protection to keep your feet dry and comfortable. If you live in a place where it rains a lot (Hi England), these shoes are perfect for your walks.
Read: Check Out My Review Of Amberjack Shoes
Air Cushion – Targeted heel cushioning improves overall comfort by reducing stress on your foot with each step.
Perfect For Outdoors – Since they are designed to be hiking shoes, you can use them anywhere, especially if you walk in forests, downhill, on flat stretches of dirt, pavement, or even in the snow.
Not Ideal For The Summer – This is a personal choice for me, but I wouldn't say I like this particular style for the Summer. It's great for the Winter and Autumn, but I think we have better choices for the Summer.
7 – Saucony Cohesion 13 Walking Shoe
Saucony is a North American manufacturer of footwear and apparel created in 1898.
The company offers a variety of shoes, such as running, racing, trail running, and walking. Each of these types of shoes utilizes specific technology relevant to the kind of targeted activity.
Shoes are also made by focusing on the runner's foot size, type of running, arch type, pronation, and running location.
Rubber Sole – The outsole is durable rubber, including grooves that give good grip and flexibility.
Good Cushioning For Short Walks – This shoe has excellent cushioning for short walks. If you are thinking of walking over 6 miles every day, you may choose another pair from this list.
Suitable For Different Tracks – It doesn't matter where you walk. These shoes are suitable for asphalt, grass, wet cobbles, or dusty tracks.
Lack Of Technology – This shoe is great if you are starting your walking journey and are on a budget but doesn't have a lot of technology on its insoles and soles like the other ones on this list.
How Does Extra Weight Affect Your Feet?
If you are reading this entire article, you know that being overweight will affect your feet since it puts more pressure on them. You will be more likely to experience:
Arthritis
Plantar fasciitis
Foot pain
Ankle pain
Skin problems in the feet area
Gout
Changes in the size of your feet
Type 2 diabetes
That's why many people start to walk, to prevent the problems above. I gained a lot of weight at some point in my life, and when I began walking 6.2 miles five times per week, I felt so much pain in my ankle that sometimes I would wake up at night in pain and had to put ice to relieve it. This was because my shoes didn't have enough cushioning anymore, and I didn't replace them when I should have to.
Read: How Much Do Shoes Weigh?
Having that extra weight increases the pressure on your tendons, joints, and any connective tissue in your feet and lower extremities.
Don't get discouraged if you are motivated to walk and lose weight. You just need to find the right pair of walking shoes for you, and I hope my recommendations can bring some clarity.
Benefits of Shoes Designed for Overweight Walkers
Note that brands are not designing specific shoes for overweight walkers, but you can check styles that tick the boxes on cushioning, material, breathability, stability, and comfort.
Many people wear running shoes for walking (I did this many times with Asics) because they provide more cushioning and padding for your heels. The shock-absorbing properties of a running shoe will reduce joint stress while walking.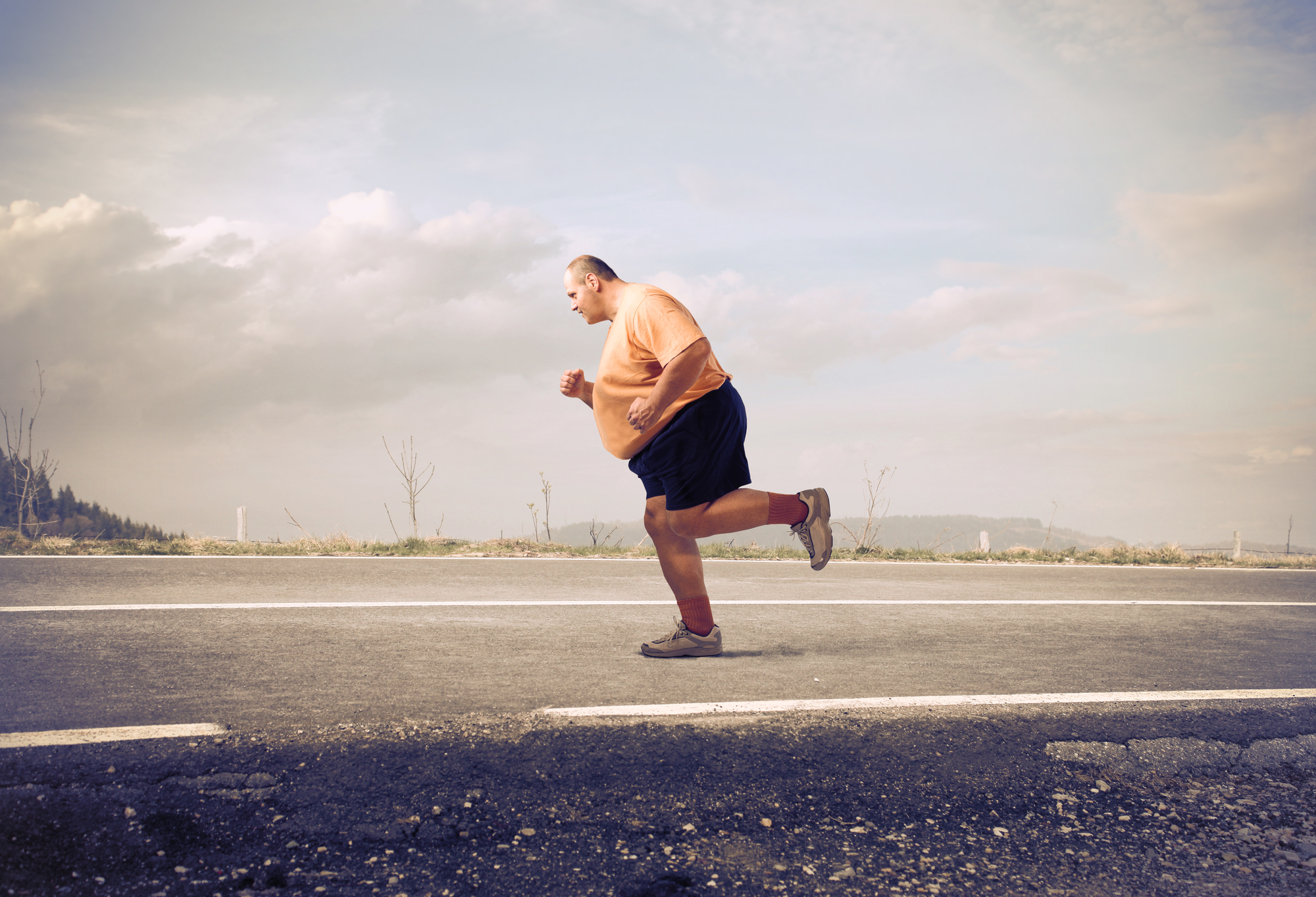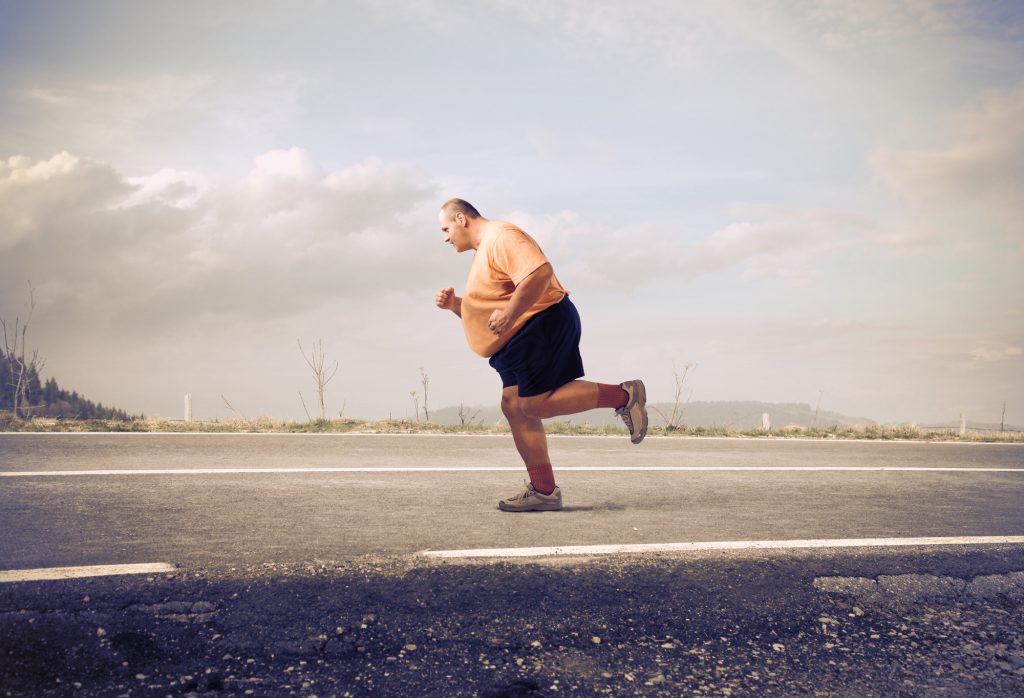 Outdoor walking shoes will be less slippery since they have a better grip on their soles. They also provide more support to both the foot and the ankle. They prevent your ankle from twisting while walking.
As you can see, two different shoe styles, running and outdoor, can be great for overweight men for different reasons.
Common Questions About Shoes For Overweight People
These are some of the most common questions about shoes for overweight walkers.
What Are Good Shoes For Heavy Men?
Men who are overweight and looking for a great walking shoe can choose between Skechers Gowalk 5 (great for its cushioning insole) or New Balance 847 V4 (for its rollbar stability). Merrell, Brooks, and Saucony also present great walking shoes since the cushioning is strong.
Is Skechers Suitable For Overweight?
Absolutely, Skechers is an excellent choice for overweight people. The uppers are soft, flexible, and very breathable with lightweight construction. They also provide ideal insoles. Memory Foam adapts to the shape of your feet, providing extra comfort, and Goga Mat offers a high rebounding cushioning insole for better shock-absorbing. I 100% recommend you to try Skechers. I guarantee you will give up on other brands.
Read: How To Find Shoes From A Picture?
Just keep in mind that Memory Foam may not be the best choice for your feet (it's perfect for some people and not suitable for others) because they don't offer much support to your feet.
Are New Balance Walking Shoes Good For Overweight People?
New Balance walking shoes are great for overweight people. Their premium performance technology insoles provide the cushioning you need to release the stress from your feet, ankles, knees, and joints. They also give excellent stability when you walk, so they are perfect if you over or under pronate.
Do Heavy People Wear Out Shoes Faster?
Heavy people wear out shoes faster because they put more pressure on the shoes when walking. The sole will be worn down excessively in some areas, the shoes don't feel quite as soft and cushioned as they once did, and they may have holes inside due to the pressure.
Are Running Shoes Good For Walking?
Running shoes are great shoes for walking because they are typically more lightweight than walking shoes and also have more cushioning and padding around the heel area, avoiding the shoe rubbing the heel. Walking shoes are great for slower and consistent pace while running shoes are better for faster movements.
Conclusion
Every person is different, and every person has different needs when it comes to walking shoes. Some need more stability than others and more or less cushioning. Different budgets can also make a difference.
It doesn't matter what you need, because when you are overweight, you put a lot of pressure on your knees, feet, ankles, and joints. So the essential thing is for you to feel comfortable walking and protect yourself from pain to keep improving your health.
We all know the benefits walking can bring to your life and the best walking shoes definitely make the difference.
What are your favorite walking shoes? What are, in your opinion, the best walking shoes for overweight men? Share with me in the comments.