This post may contain affiliate links. That means if you click and buy from that link, I may receive a small commission (at zero cost to you), which helps me maintain the quality of this blog. Please see my full disclosure policy for details.
Are you looking for a pair of dress shoes or boots that are highly comfortable and lightweight? If the answer is yes, you need to check this Amberjack show review.
Most shoe brands seek cost reductions or don't care about environmental sustainability. Most men need a pair of dress shoes that are dressy enough to wear at the office but also comfortable enough if they need to run around to different meetings and places.
Read: Find Out The Best Men's Dress Shoes For Standing All Day
Amberjack shoes combine these two concepts and provide one of the most comfortable dress shoes I have ever tried. In addition, the shoes and boots are packed with smart tech that makes Amberjack different from any other dress shoe brand.
I was skeptical about a dress shoe brand that combines a formal style with athletic shoe components, but I am very impressed with the output. So let me give you my Amberjack shoes review and tell you why you should buy a pair.
About Amberjack Shoes
"A new take on an old shoe, with obviously good style and secretly great comfort." – Amberjack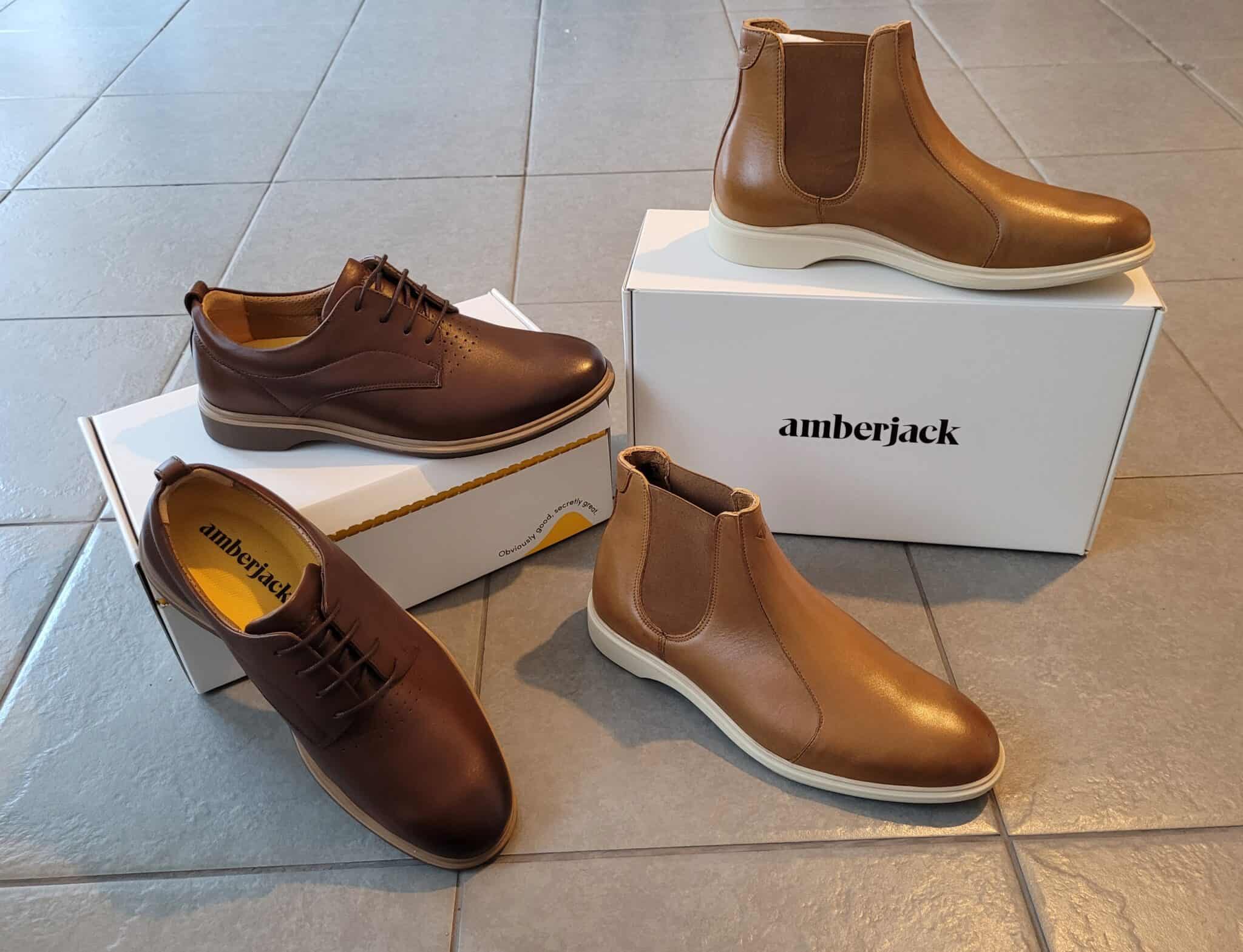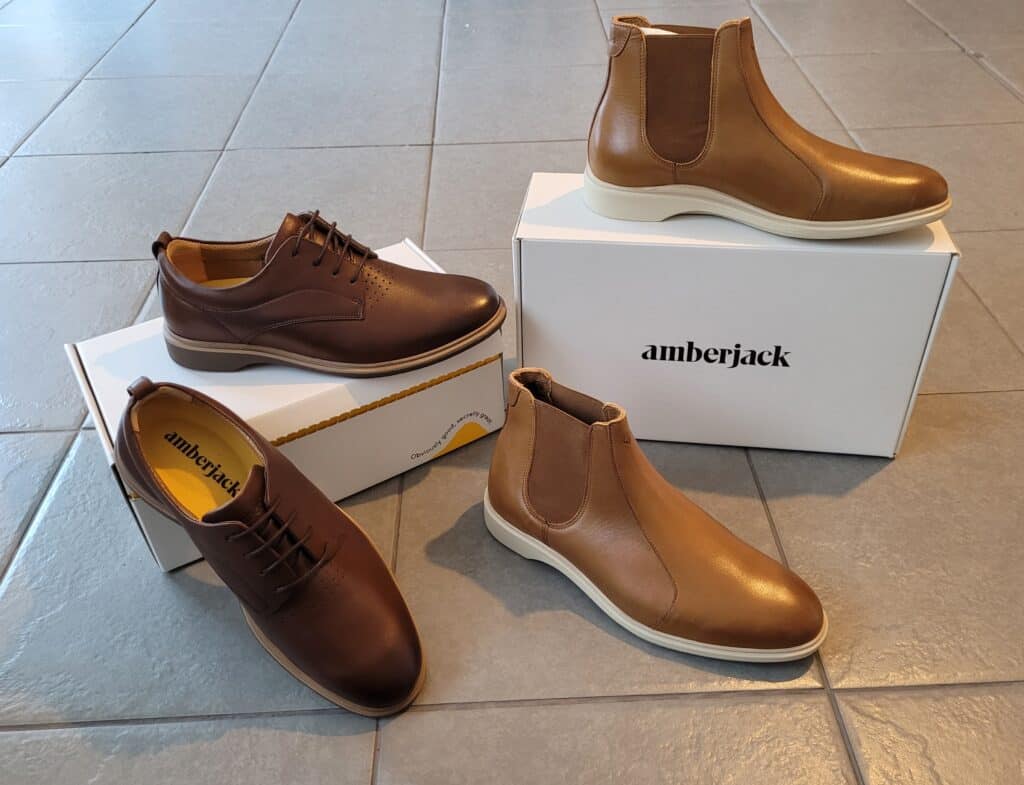 Amberjack is a new shoe company that combines new technology with a unique mixture style for any guy that needs a comfortable pair of dress shoes.
The shoe brand was created only in 2020 by Jonathan Peters, who worked for brands like Adidas, Cole Haan, and Allen Edmonds. This left him frustrated with the type of dress shoes the last two labels were creating, so he combined his experience in Adidas with the Cole Haan and Allen Edmonds to create the Amberjack shoes.
Read: Are Timberlands Good For Snow?
Amberjack is also an eco-friendly and sustainable brand since it sources all its leather from an ISO-certified sustainable tannery, is plastic-free packing, and is 100% carbon neutral. All this is to help the planet.
We can say that Amberjack is focused on two main things when creating new dress shoes: quality and sustainability. I would also add comfort since the shoes are really comfy. I find it refreshing that a label doesn't sacrifice some of its beliefs and reduce costs in production just to improve its profits.
If, like me, you are looking for a shoe label that offers comfort, quality, and sustainability, you should check The Originals collection.
Review Of Amberjack The Original
I have purchased the Amberjack original shoe in the chestnut color, which I always find it's a great color to have in your shoe collection since it matches very well with most colors.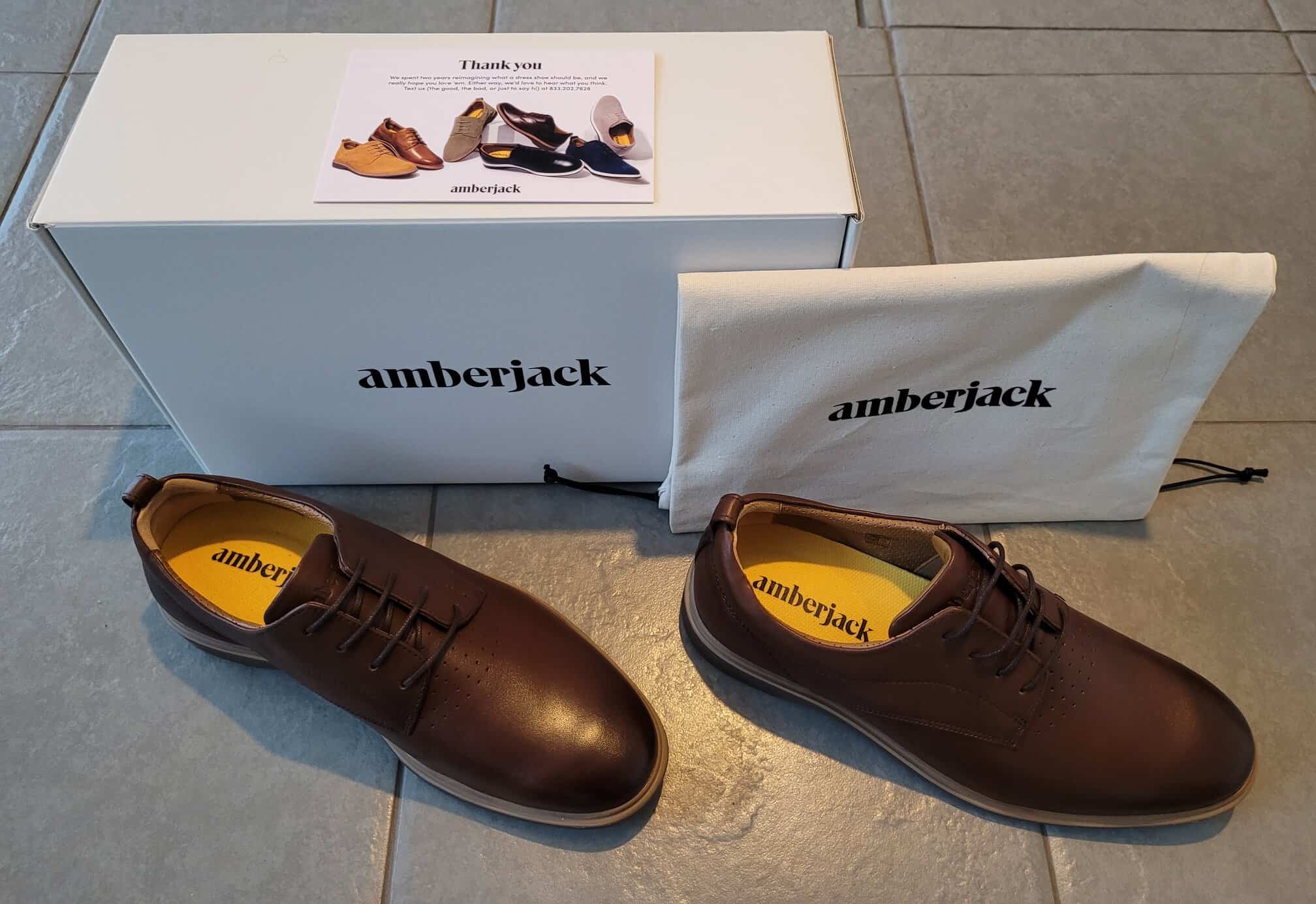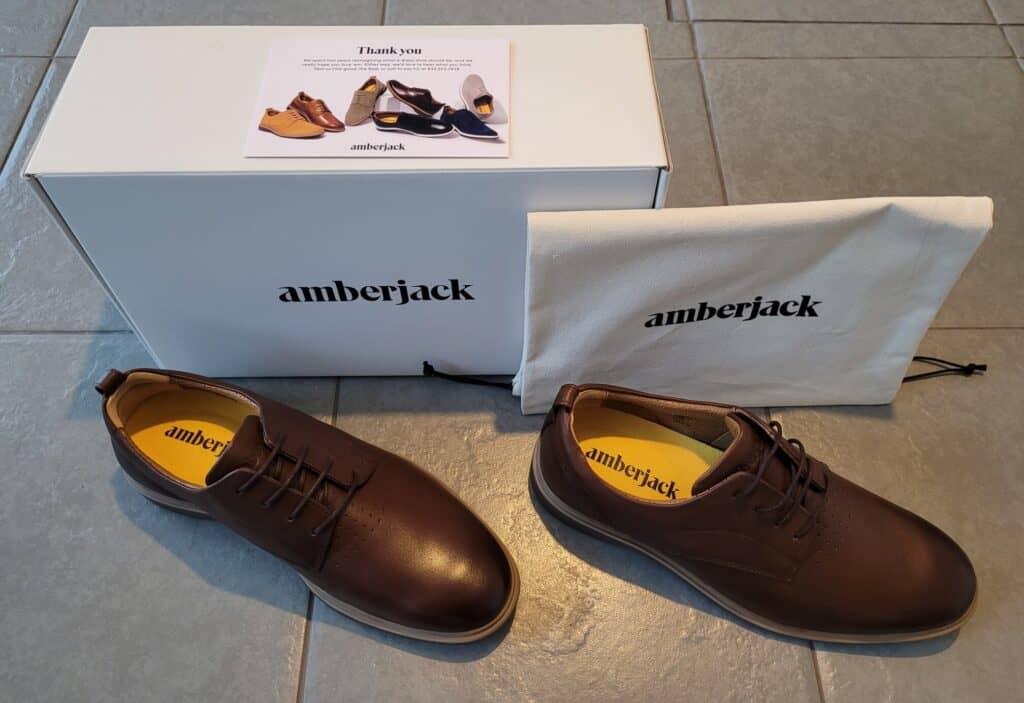 Amberjack may not be the number one choice of dress shoes to wear with a formal suit or a tuxedo. Still, they look amazing with chinos if you want that dressy-casual look, have a business meeting, or go out for a walk (they are perfect even for long casual walks).
Read: Difference Between Hugo And Boss
Unboxing
This is what you get when you unbox your Amberjack shoes.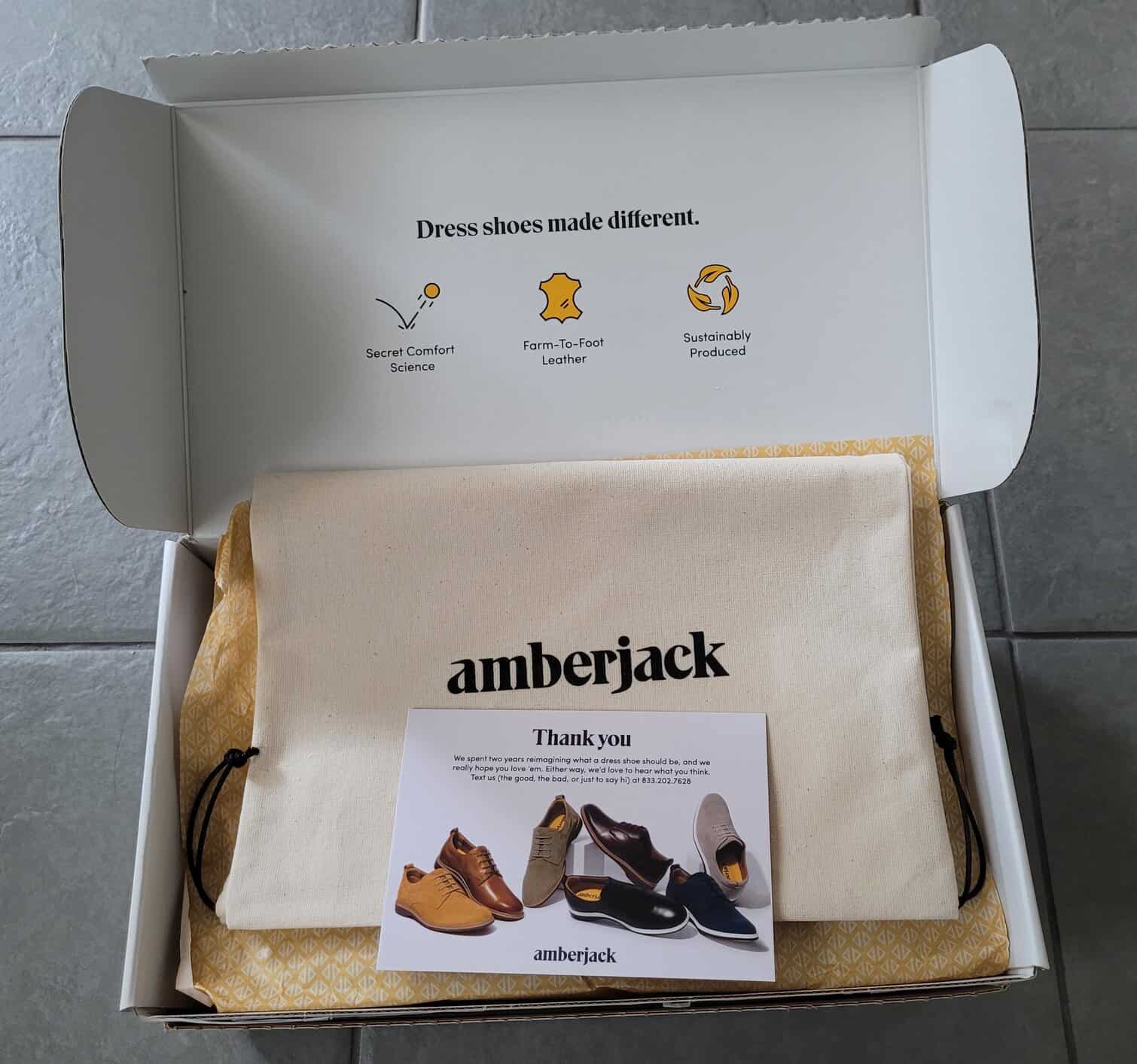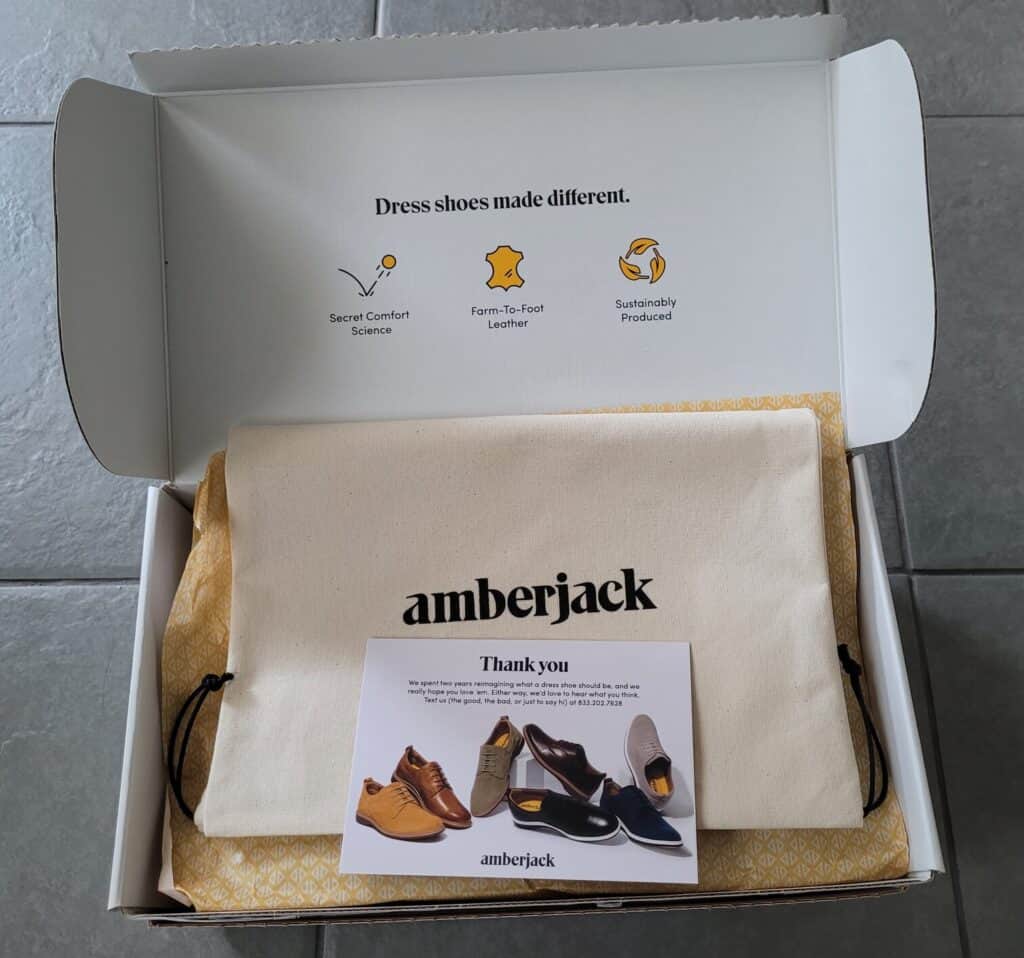 Unboxing a pair of Amberjack shoes makes you feel like you are having an experience and feel special. This is how luxury brands tend to make you feel when you unbox their items, and Amberjack nailed it.
You get a nice thank you card, a shoe bag to keep your shoes out of the dust or travel with them inside (which I love because I just traveled to Greece and put my shoes in this bag), and even the paper around the shoes strikes you as a luxury.
Aesthetic & Design
Amberjack is a less traditional dress shoe because it's a mix of casual and dress in its design. The Amberjack Originals shoe collection is so versatile that you can wear any pair to an executive meeting in the morning and party in them at night. The aesthetic is just right.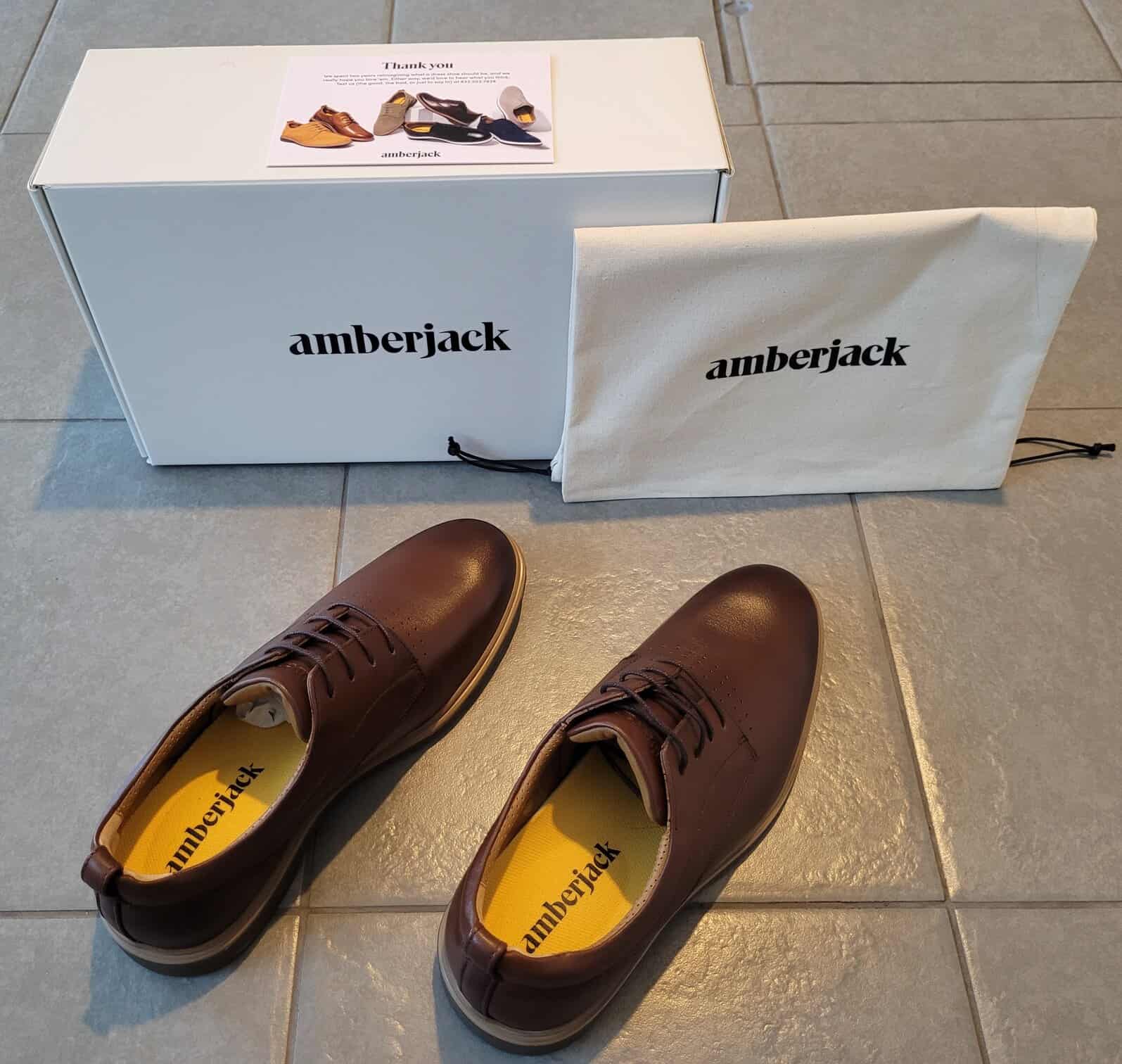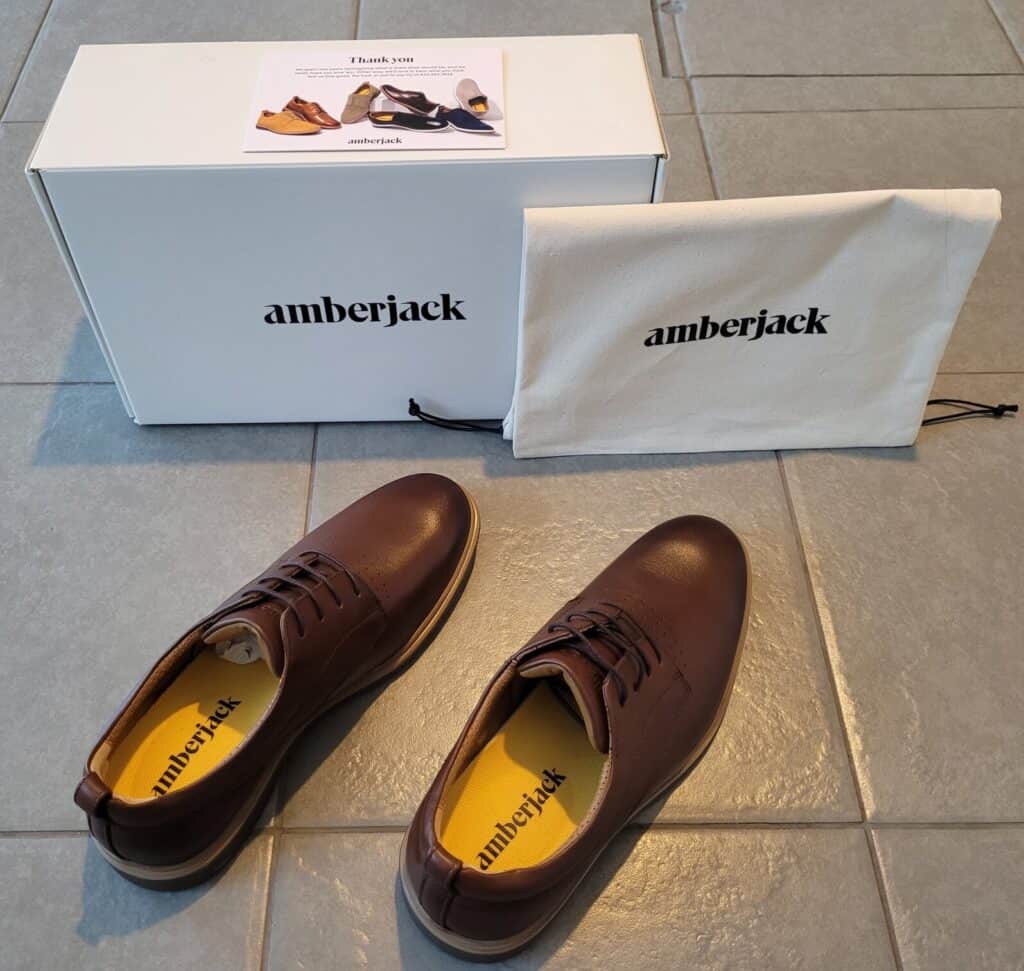 The shoe's design has this streak along the instep, which is very reminiscent of a sneaker. The top of the shoe resembles a derby shoe, which makes the concept work quite well, as an athletic sneaker and a dress shoe were combined in one, forming the Amberjack shoe.
The back of the shoe has some perforations which give your feet extra ventilation underneath the vamp. Also, the vamp has some elastic elements that keep its braces in place.
Some people may not like the contrast of colors between the outsole and the midsole, especially if you are conservative and want a dress shoe that looks like one. However, I like that distinction because it gives a more casual vibe to the shoe.
You also have a little heel loop to pull the shoe on, which is not something you see every day in a dress shoe. Usually, it's a feature you find in boots.
Technology
I wouldn't say Amberjack has some technology features as Nike has with Nike Air or Asics with the GEL™. However, I would say that the Adidas ultra boost sneakers inspire the shoe insole since it has heat-activated arch support that responds to pressure and will mold to the shape of your foot after you wear it a couple of times. Also, the outsole is made of TPU material, which I discuss further in this review.
Colors
Amberjack shoes are available in eleven colors: honey, chestnut, onyx, obsidian, slate, stone, cobalt, honey/cream, chestnut/cream, grizzly, and carbon.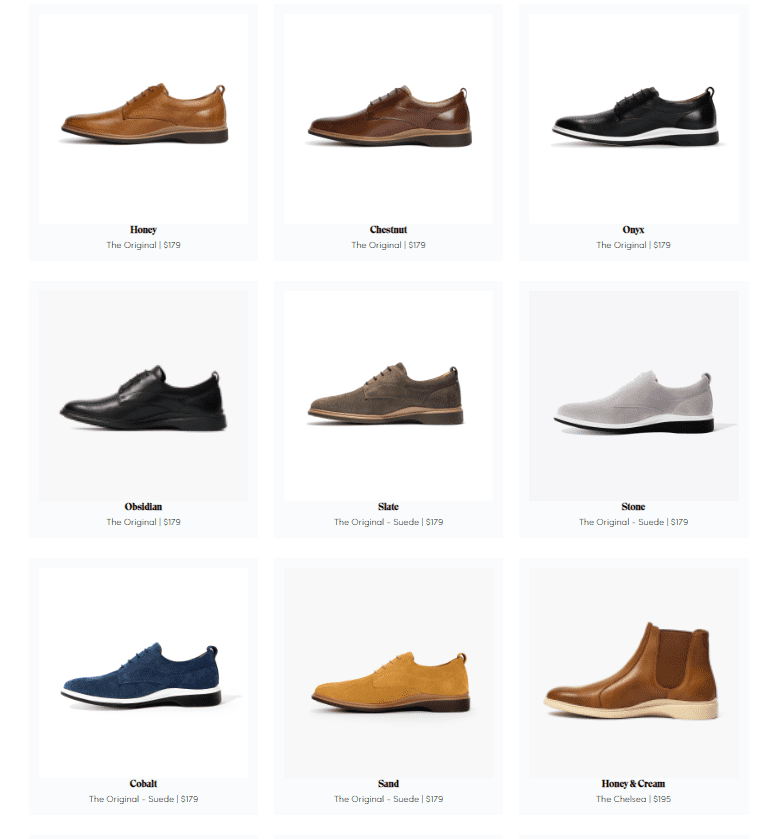 I would say that Amberjack has many different colors available for dress shoes, and the brand keeps adding new ones over time (I remember they only had five colors when I first checked them).
Read: How To Wear Blue Shoes?
If you don't like the contrast of colors between the outsole and the midsole, you can purchase the obsidian color since it has the same shade for both soles.
Outsole
It took two years for Amberjack to develop the perfect mid and outsole. They are made of TPU (Thermoplastic Polyurethane), a category of plastic created when a chemical reaction occurs between a diisocyanate and one or more diols.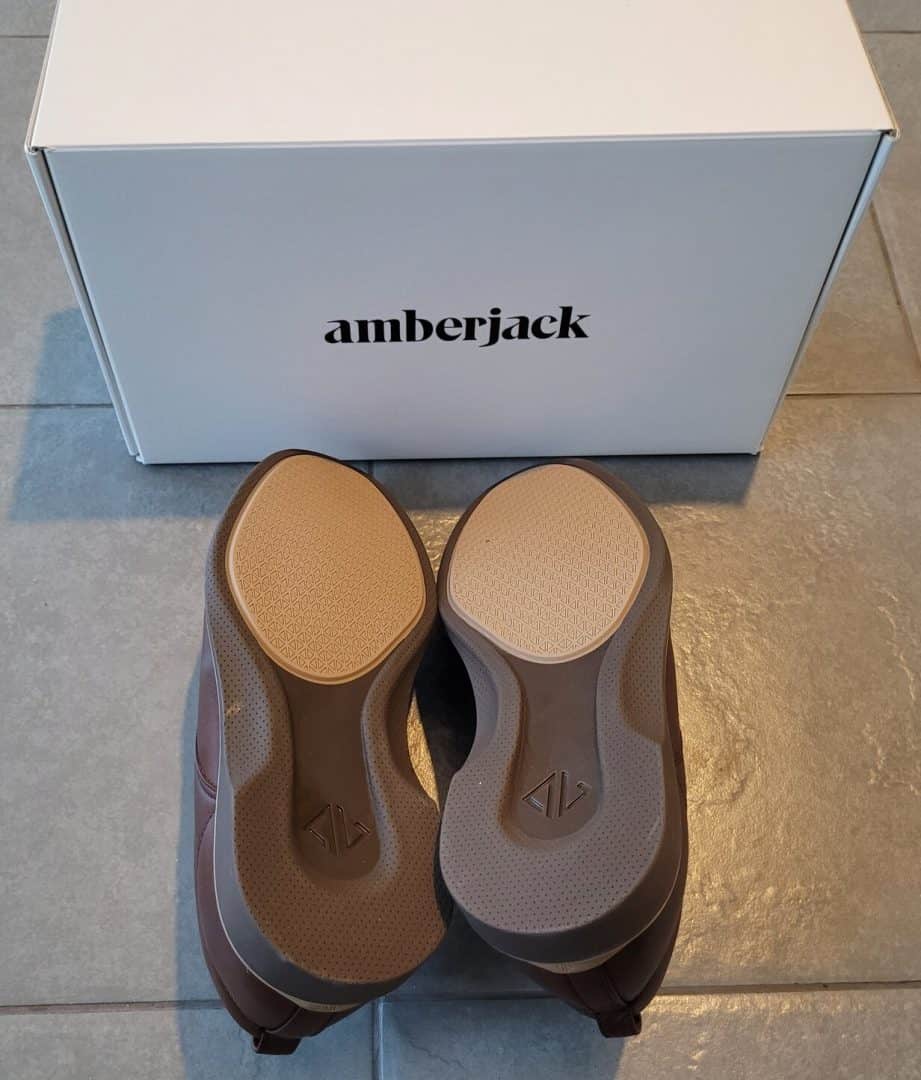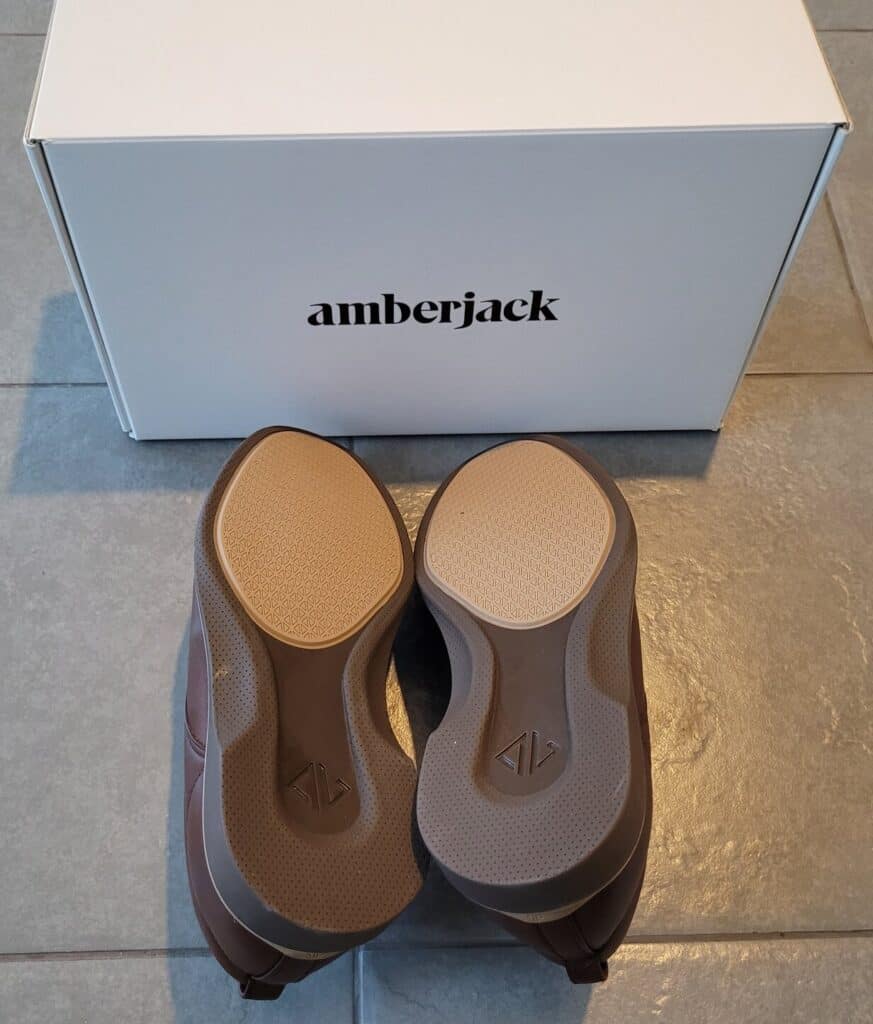 It can be an excellent replacement for hard rubber, and you feel that difference when you touch the outsole of an Amberjack shoe. The outsole is very soft but durable at the same time.
Read: How To Make Shoes Non-Slip?
You can also feel the shock absorption when you walk with a pair of Amberjack shoes because of the quality of the outsole.
Insole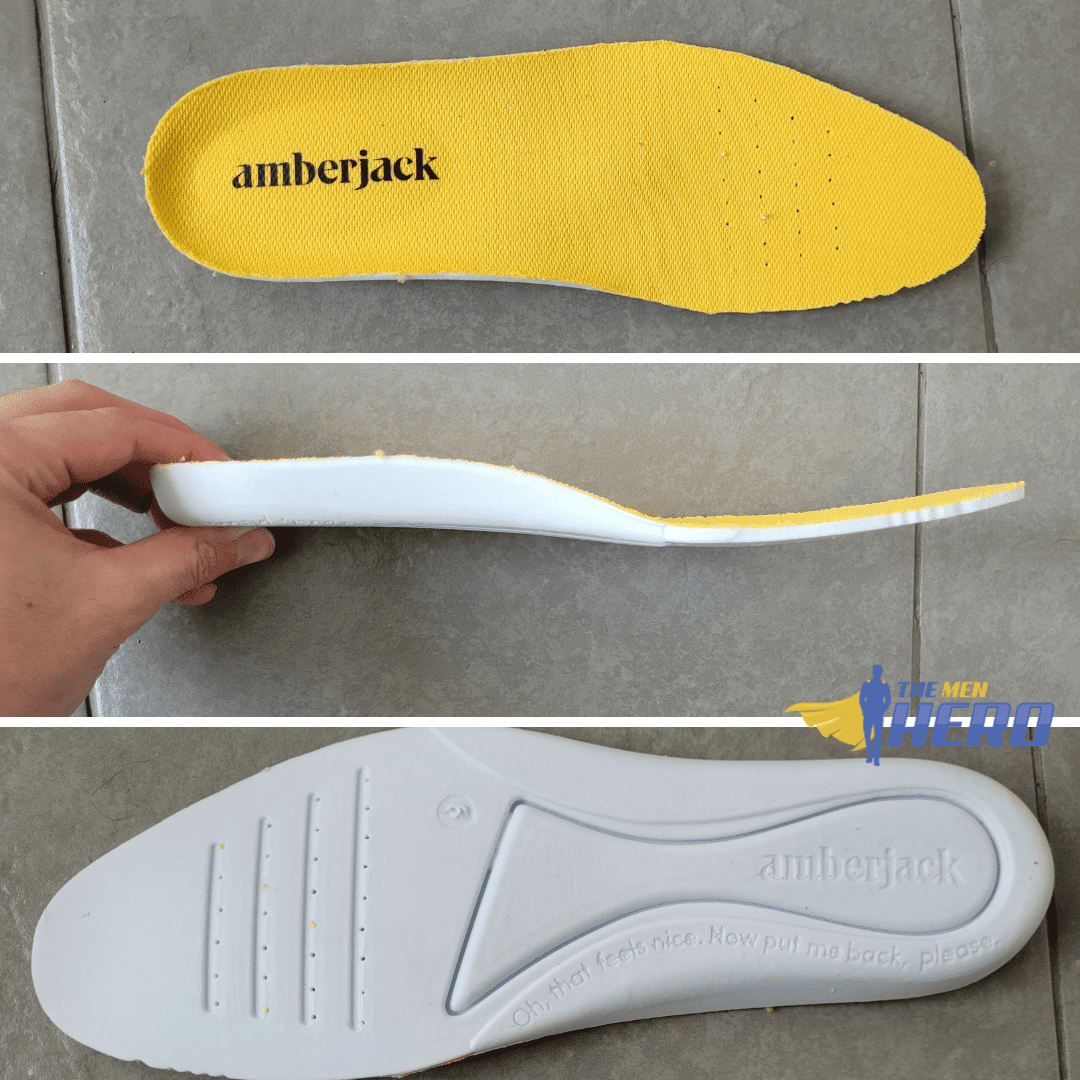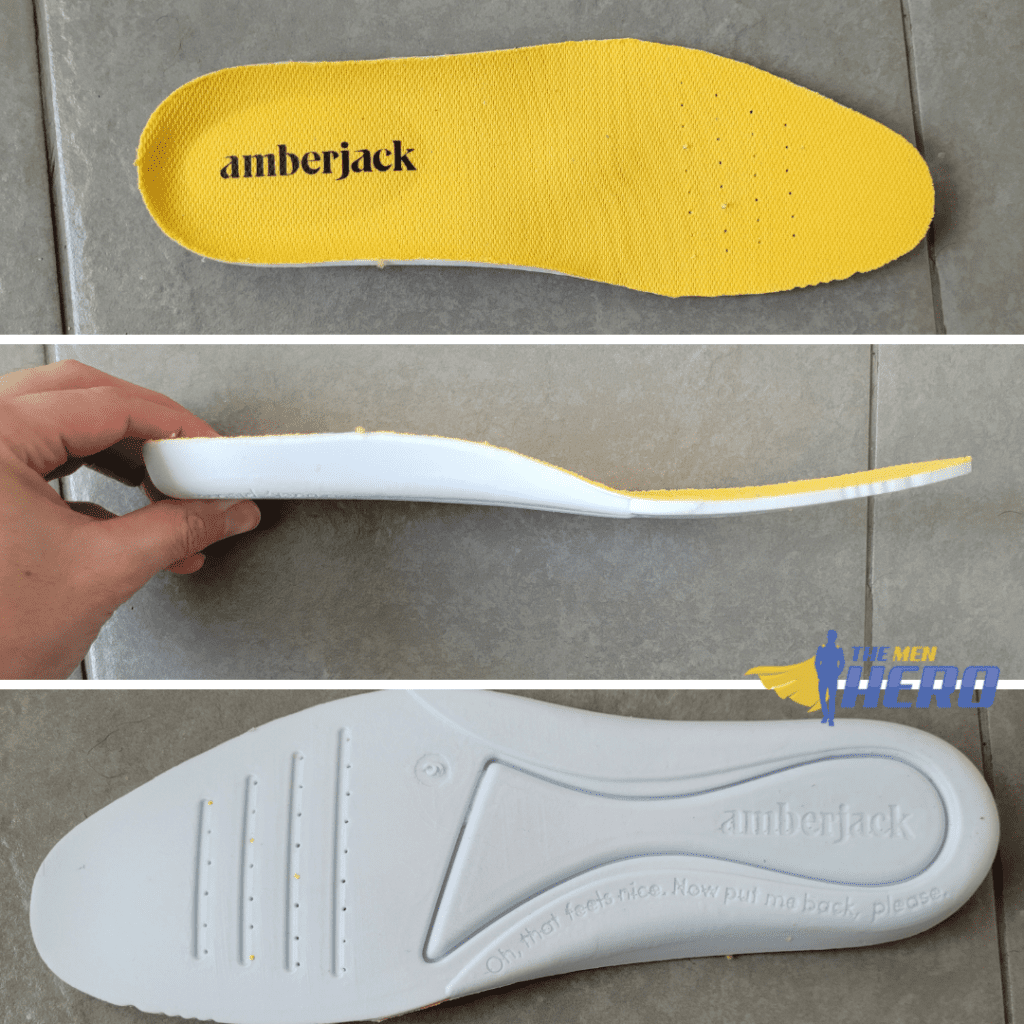 You know by now that the insole has heat-activated arch support that molds to the shape of your foot.
Read: Where Are Timberlands Made?
If you remove the insole from the shoe, you can check that the front is very flexible (inspired by athletic footwear), but its back is thick and solid. This insole makes the shoe very comfortable.
Comfort
Amberjack shoes are one of the most comfortable dress shoes I have ever tried in my life, if not the most comfortable.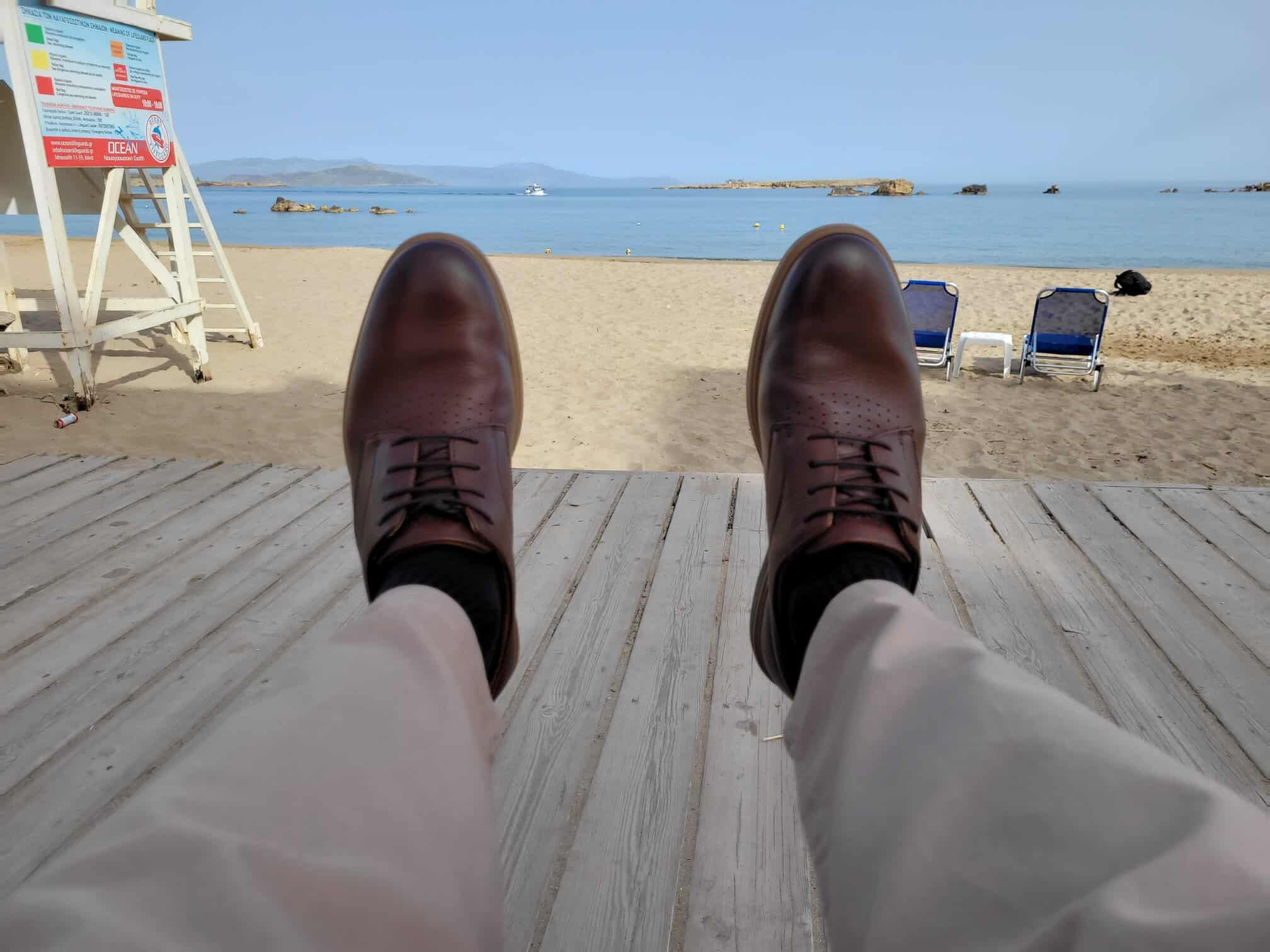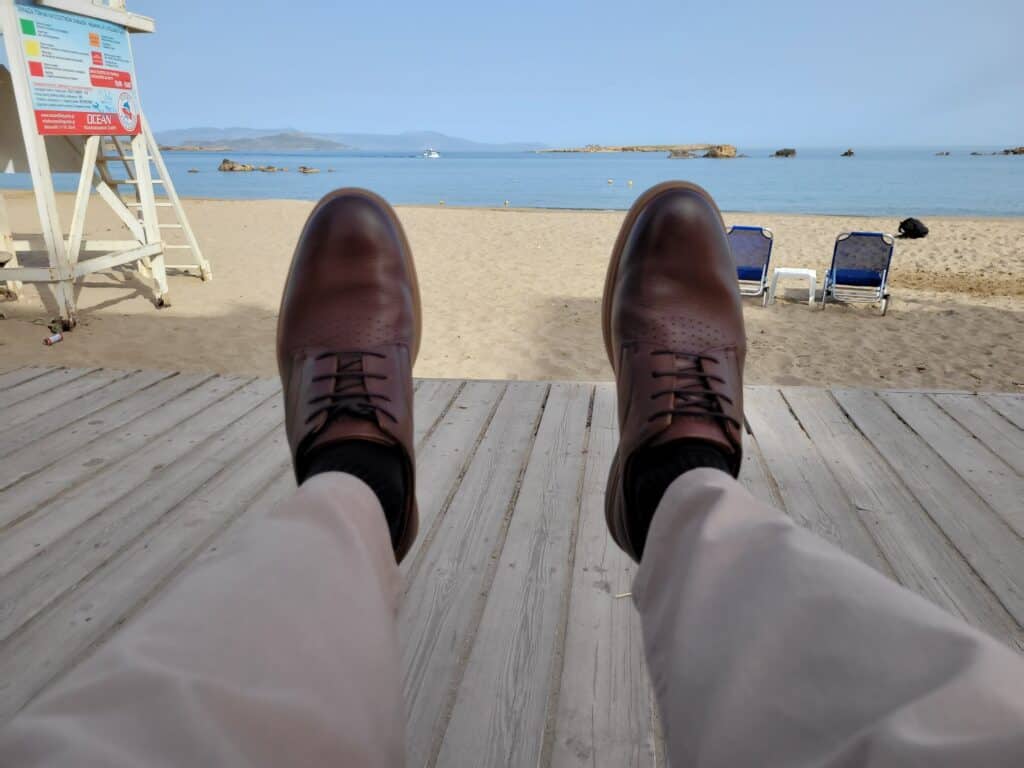 When I first tried the shoes, they felt comfortable, and I only realized how extra comfortable they were when I tried a pair of derby shoes a few seconds after. The difference was huge.
That comfort stays with you all day, no matter how long you have been using them or even if you walk for a few hours. Of course, you can also wear your Amberjack shoes without socks, which will be comfortable, but I am a huge advocate of wearing shoes with socks.
I would also like to discuss the shoes' cushioning and support on the ankle area. The extra padding is due to the thick insole in the heel area. If you have ankle problems or excess weight, you know that that extra padding can make your feet less punished when you stand or walk.
Quality
Amberjack shoes are of excellent quality, and every aspect of the shoe seems to be thought carefully. Everything seems high quality, from the stitches/glue, materials used during the manufacturing, and the shoe box like you are purchasing from a luxury label.
I have been using Amberjack shoes on and off for the last four months, and they still appear like new (of course, you need to take care of your shoes for them to last longer). I would say Amberjack shoes are very durable.
Fit And Size
When it comes to fit and size, you should go for half a size down or even one full size. I purchased the same size as I always do on most brands, a US 10.5. They were a little bit too big, but the US 10 fits perfectly. If you like a snug fit, definitely choose half a size smaller.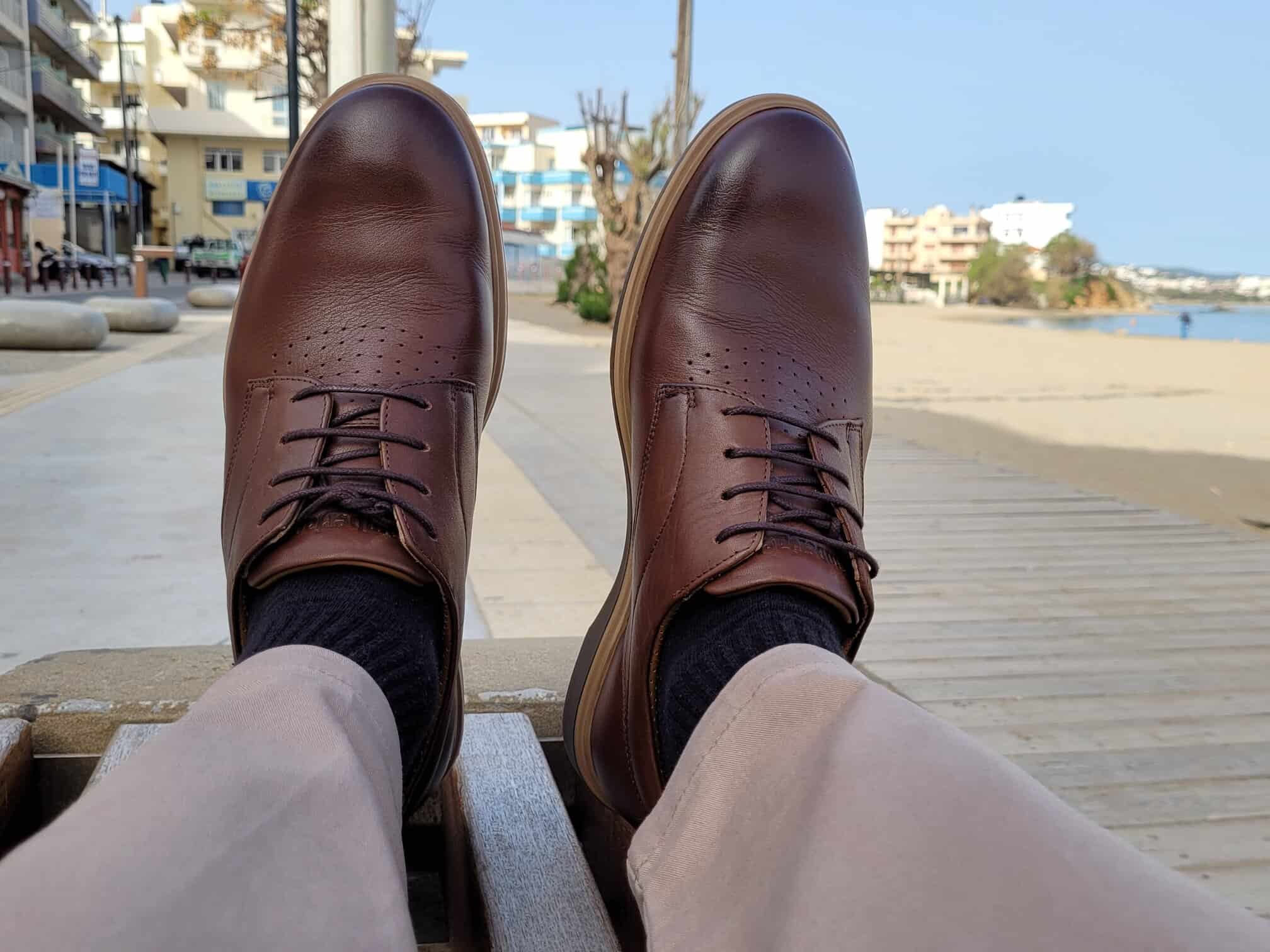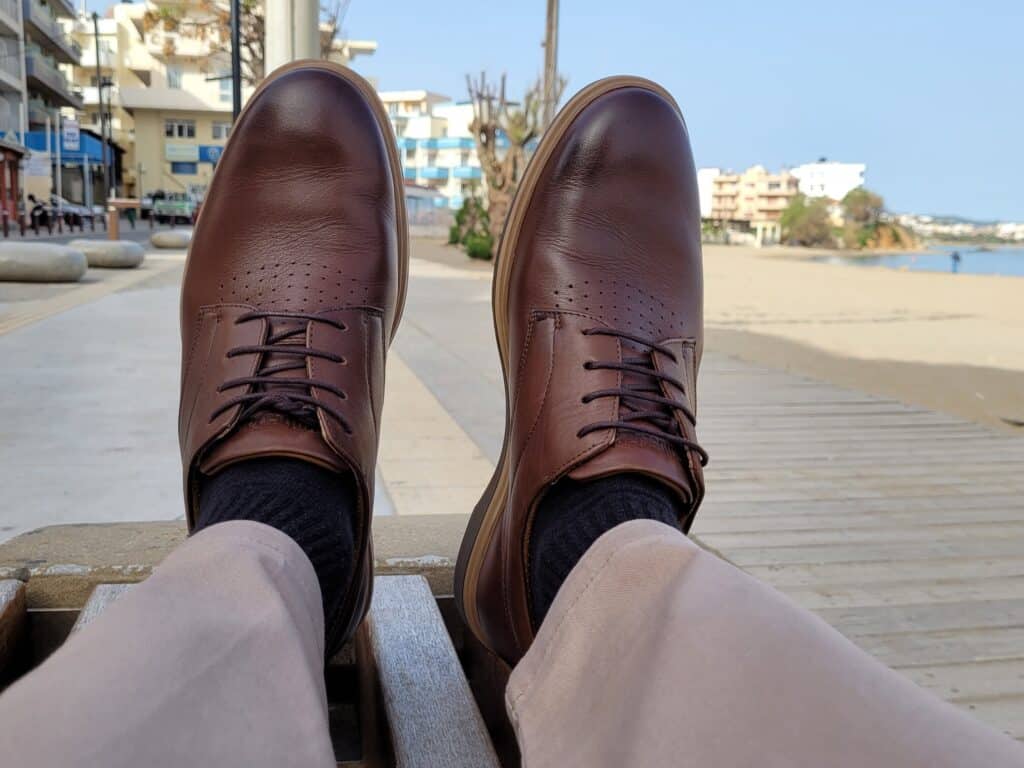 If you have wide feet, I would consider ordering any Amberjack shoe in your usual size and go from there. This shoe brand is quite spacious regarding size, and Amberjack mentions that on its website.
Read: How To Tell If Shoes Are Too Big?
Even with half a size bigger, I would say the shoes were very comfortable, but I felt my feet move inside, which can bring some discomfort during long-term use. You can even try the shoes with the laces done or undone if you want to try a more sneaker aesthetic. For a tighter fitter, I would definitely do the laces.
Care & Maintenance
To ensure a longer lifespan of your Amberjack shoes, you must take care of them. First, you want to treat the leather with a good conditioner to avoid any wrinkles (which we all know happens with dress shoes if you don't take the proper care).
I would also invest in a tree horn to ensure you keep the shape of your shoes when they are not being worn and to reduce moisture.
Value For Money
Considering everything I have mentioned before, I would say that Amberjack shoes are an excellent value for the money since you are purchasing a superb quality pair of dress shoes.
Excellent materials, outstanding craftsmanship, very comfortable, and will look fantastic in any casual, business, or formal outfit. Absolutely worth it to have, especially if you wear dress shoes all the time.
Review Of Amberjack Chelsea Boots
I have purchased the Amberjack original boot in the honey color, which I really like since it's a different shade from the chestnut I have in the shoe version. It complements some colors better.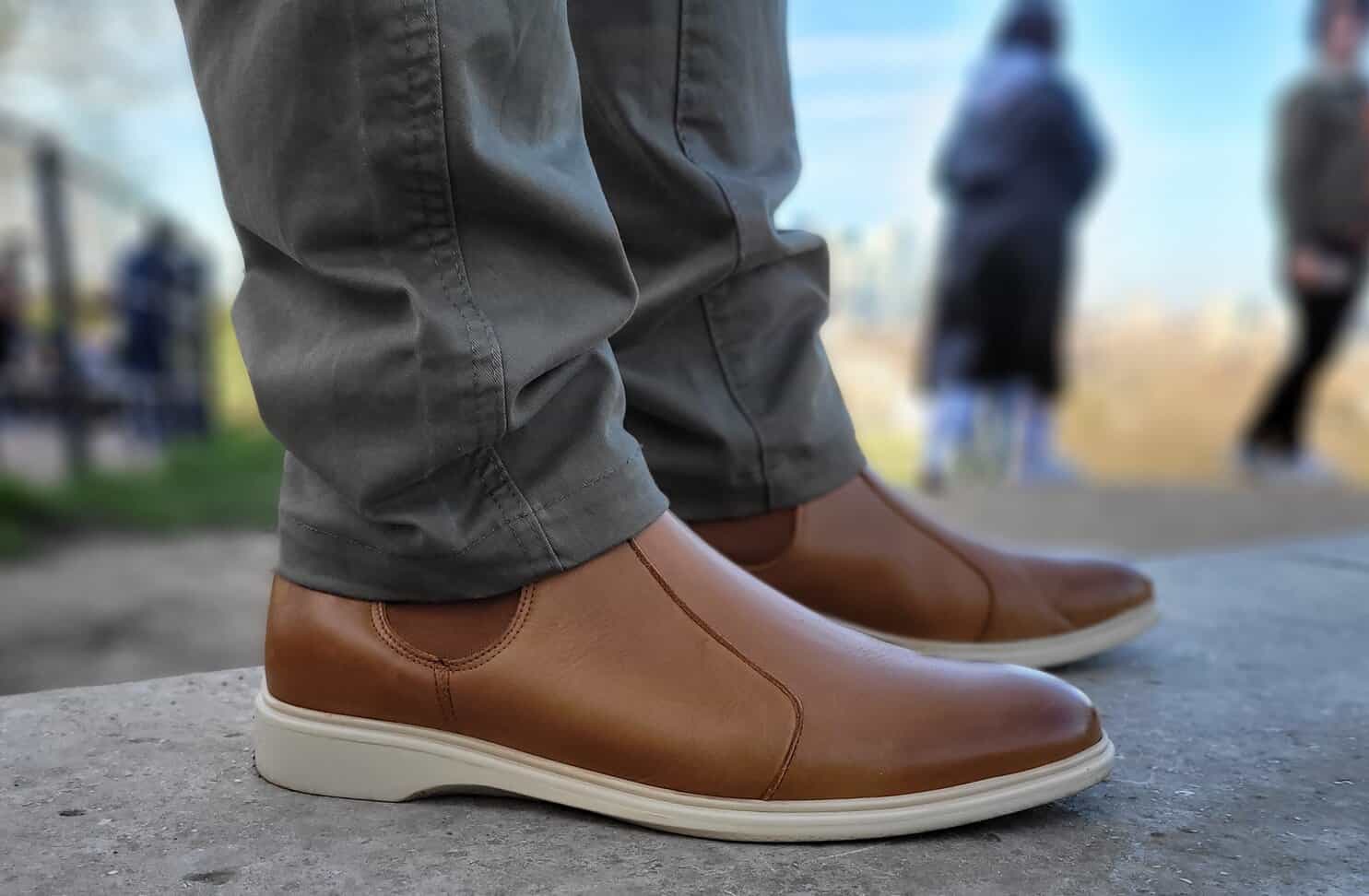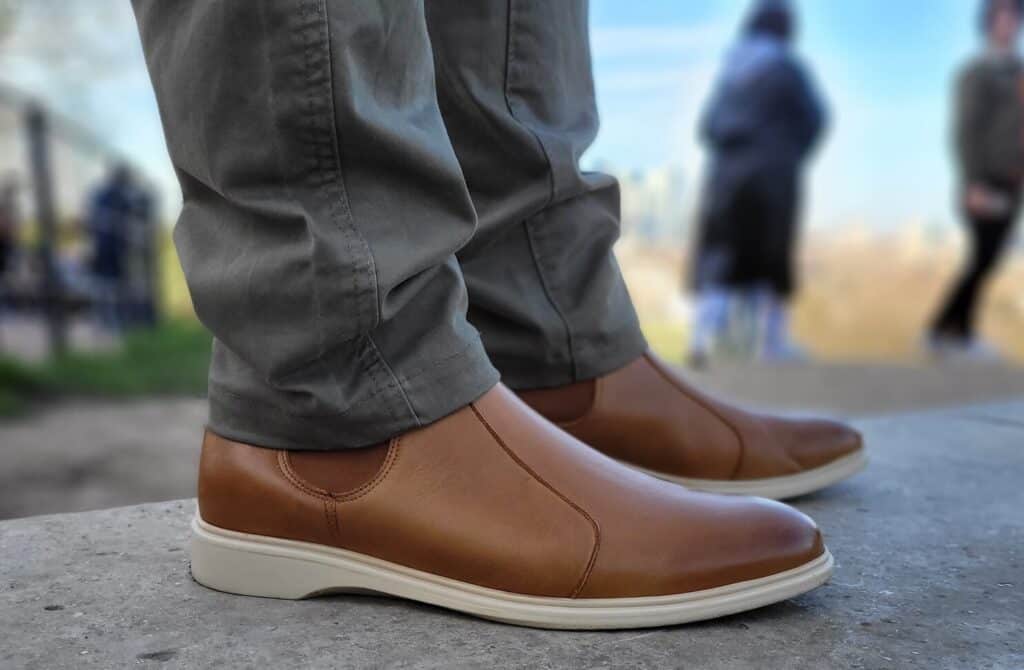 The Amberjack boots look amazing with chinos and give you that bright look without people feeling you are too dressed up for the occasion.
Unboxing
This is what you get when you unbox your Amberjack shoes (well, I have removed some things from the box, so you have a different perspective of what you have inside).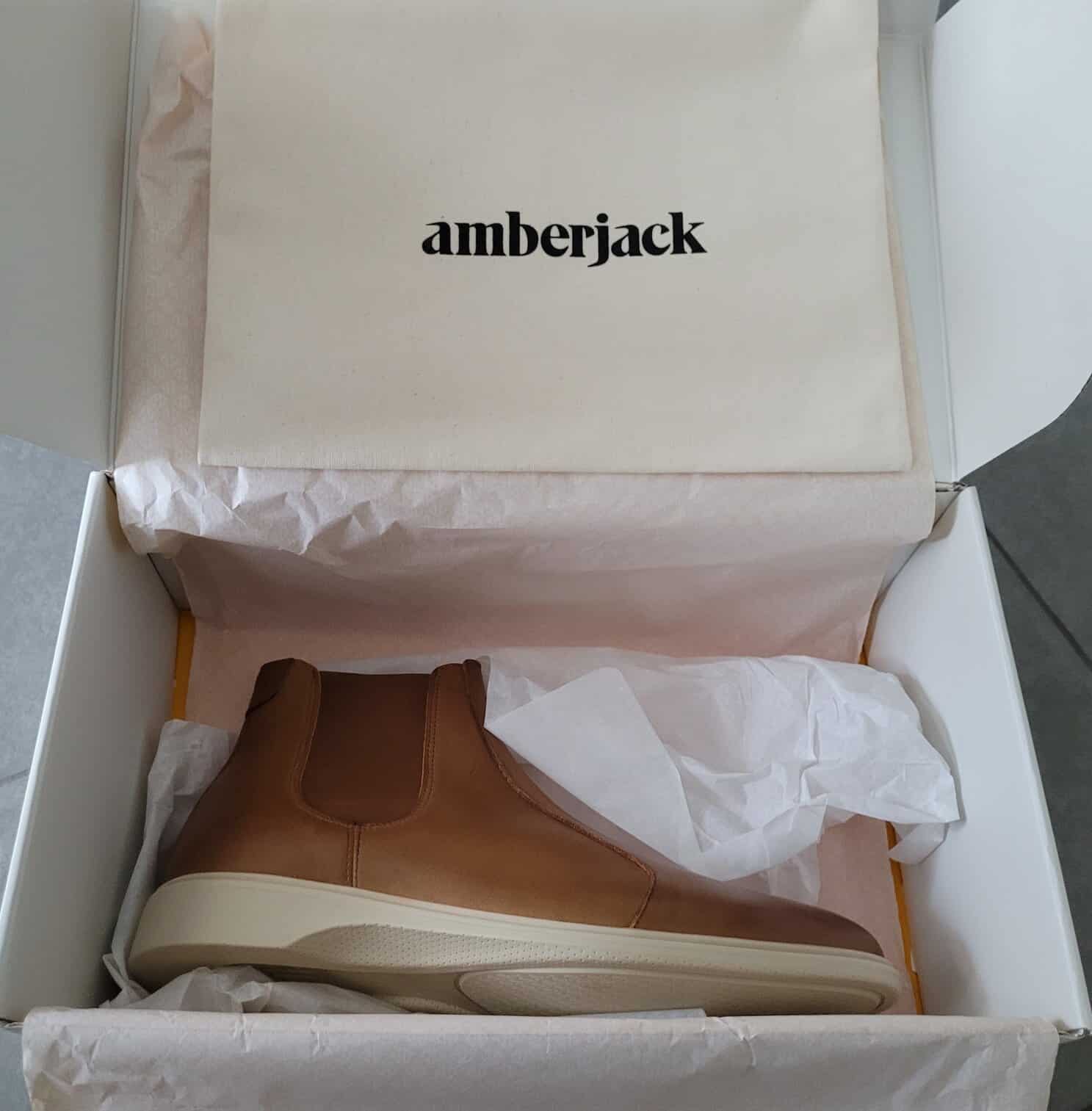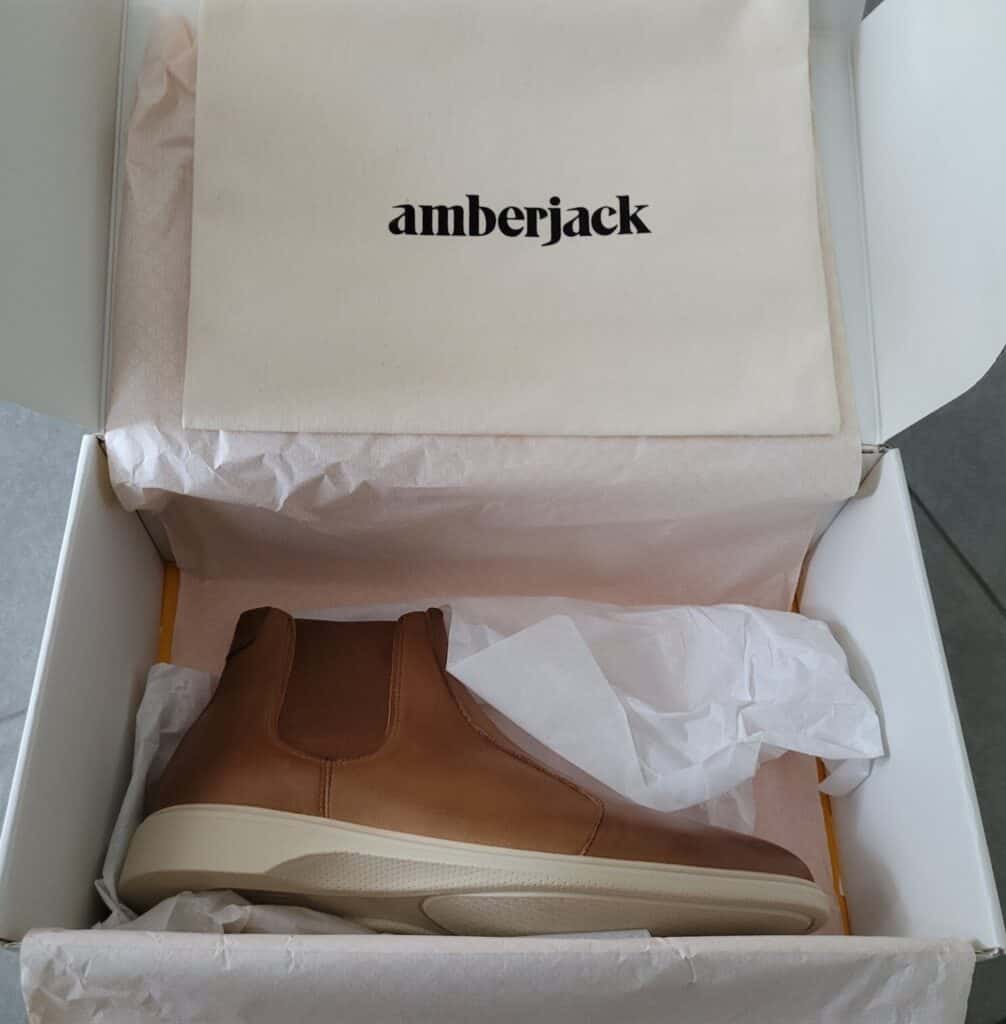 Unboxing your Amberjack boots is very similar to the experience you have with the shoes since you also get a thank you card and a shoe bag. The sense of unpacking a luxury item is there in any Amberjack pair.
Aesthetic & Design
Amberjack boots are less traditional than most Chelsea boots you find on the market. You can see that the mid and outsole are entirely different; for some people, that is a big no. However, I don't mind, and every time I wear them, I like the aesthetic more and more.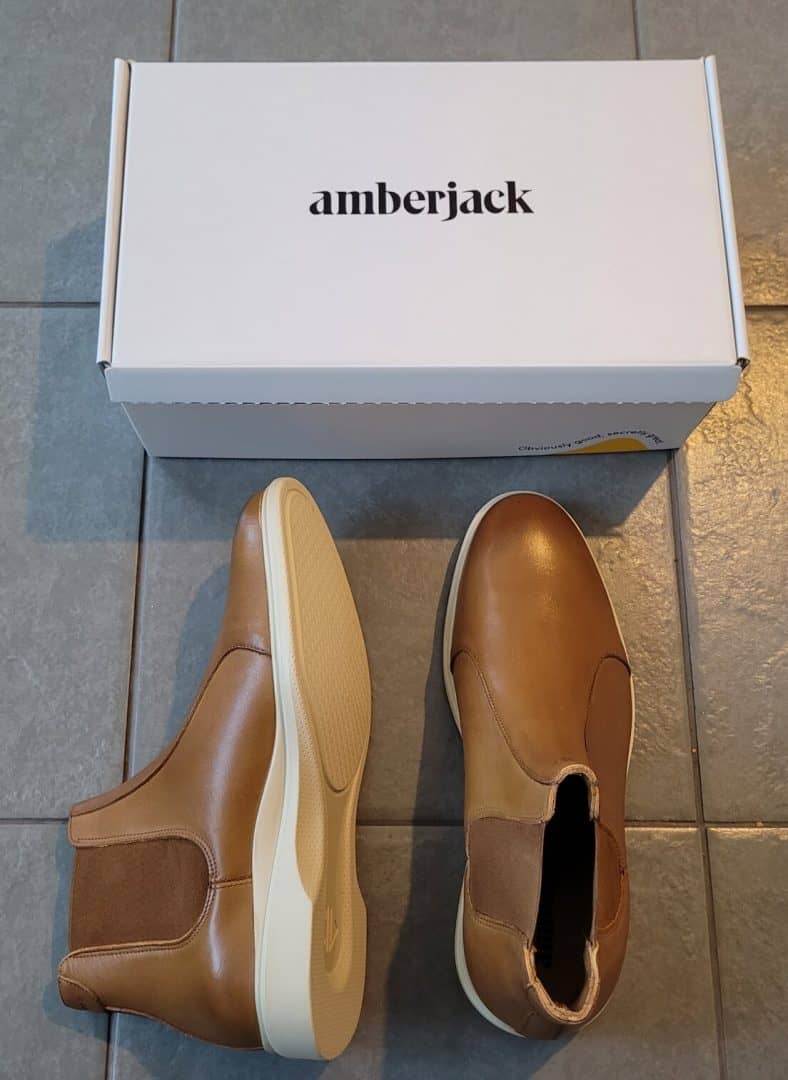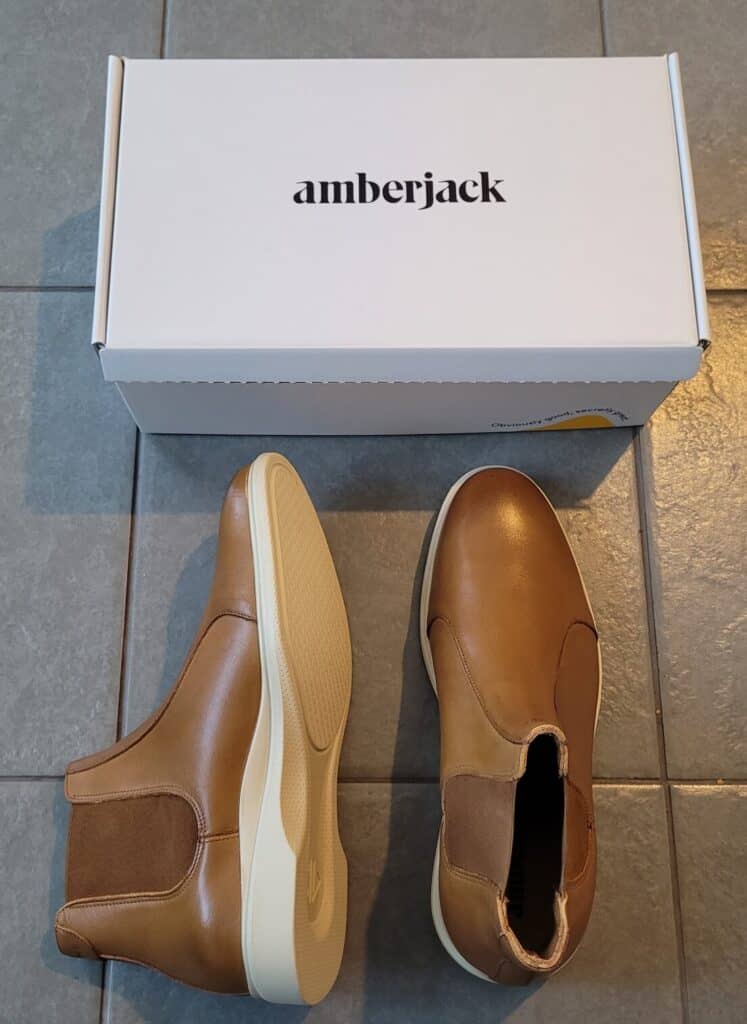 The boots look good with a pair of chinos for a casual but smart look when you walk with the family in the park or at a professional business meeting at the office.
Read: Why Are Doc Martens So Expensive?
Like the Amberjack shoes, the boots also have a design reminiscent of a sneaker. The top resembles a Chelsea boot, and the mid and outsole is an athletic sneaker. Don't forget the little heel loop to pull the boot on and avoid wrinkles.
Technology
The Amberjack boots have exactly the same technology as the shoes, which consists of the heat-activated arch support on its insole, and the outsole is made of TPU material.
Colors
Amberjack boots are available in nine colors: honey, chestnut, honey/cream, onyx, midnight, obsidian, copper, grizzly, and dune.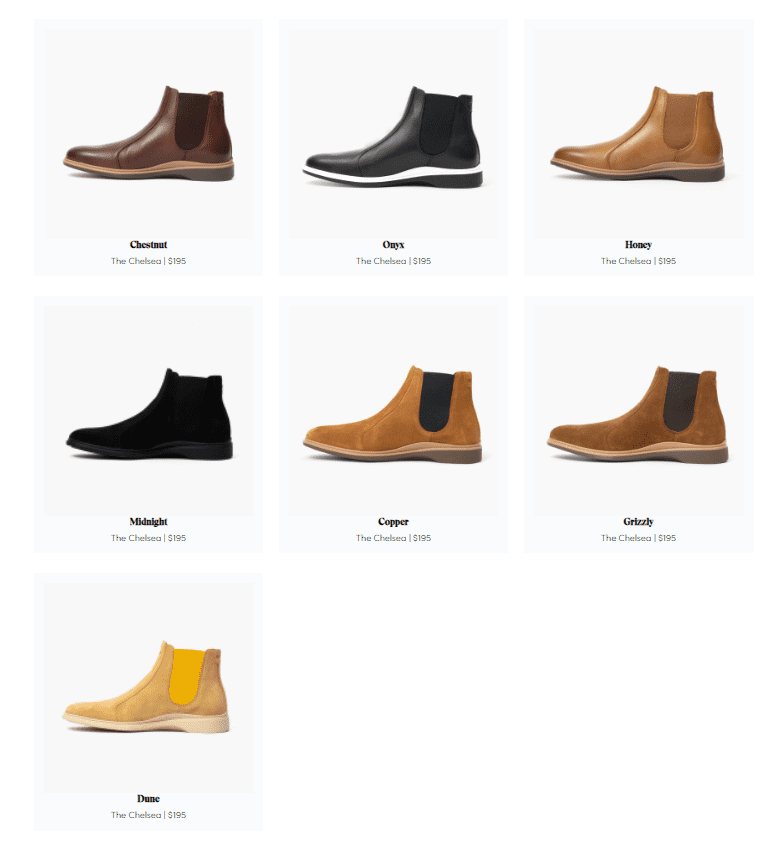 I would like to see some more differentiation when it comes to colors on the boot style. It's basically between different shades of brown and black.
Read: Where Are Clarks Shoes Made?
But to be honest with you, when I buy boots, I always buy them in brown or black, so I guess they nailed the customer's preferences. However, I would like to see a navy color.
Outsole
The outsole of the Amberjack boots is also made from TPU (like any Amberjack Original).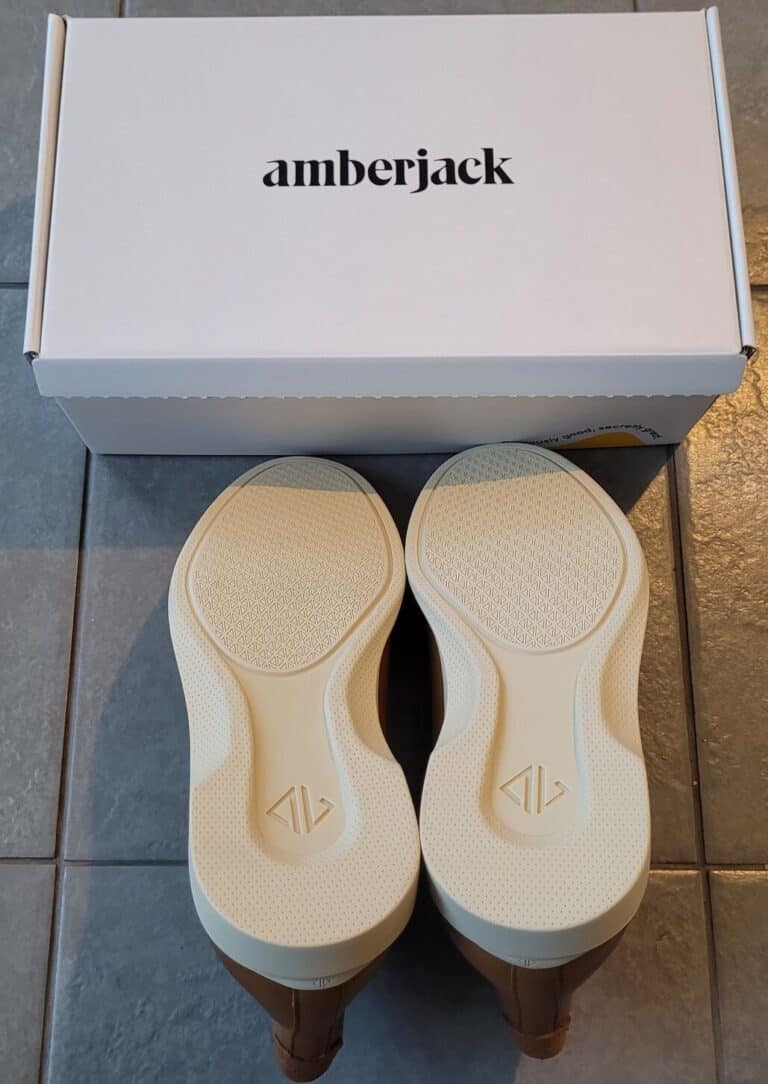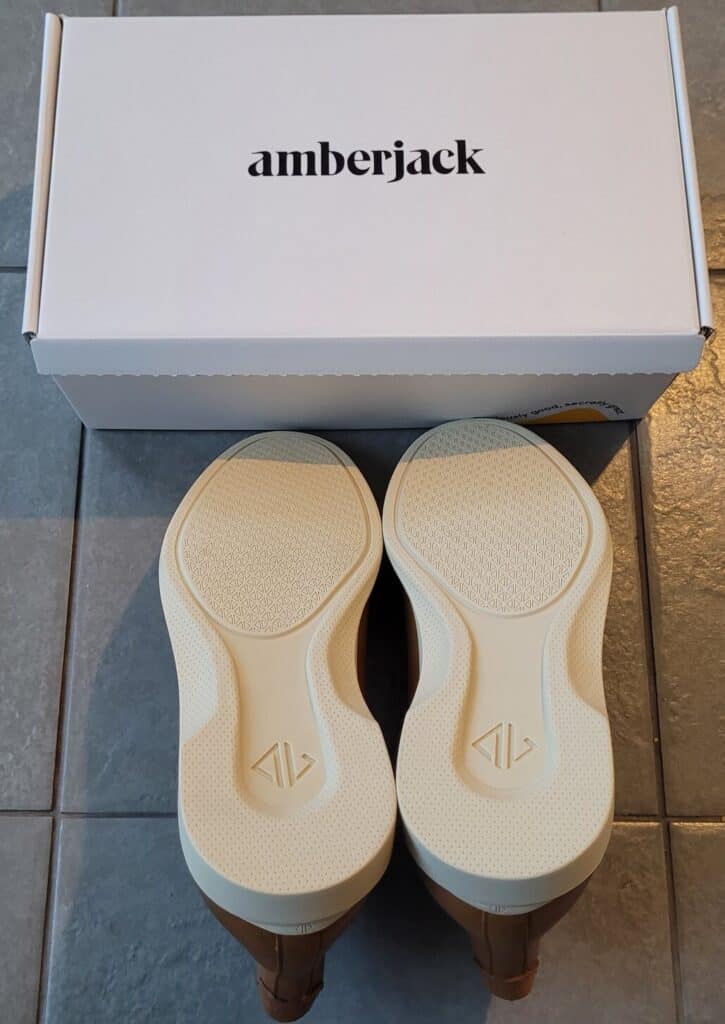 The TPU is a very soft material (if you touch the outsole of your boot, you know what I mean). One reason why I believe Amberjack chose the TPU material for the outsole is due to how easy they are to mold. It also has better abrasion performance than rubber and is more breathable.
Insole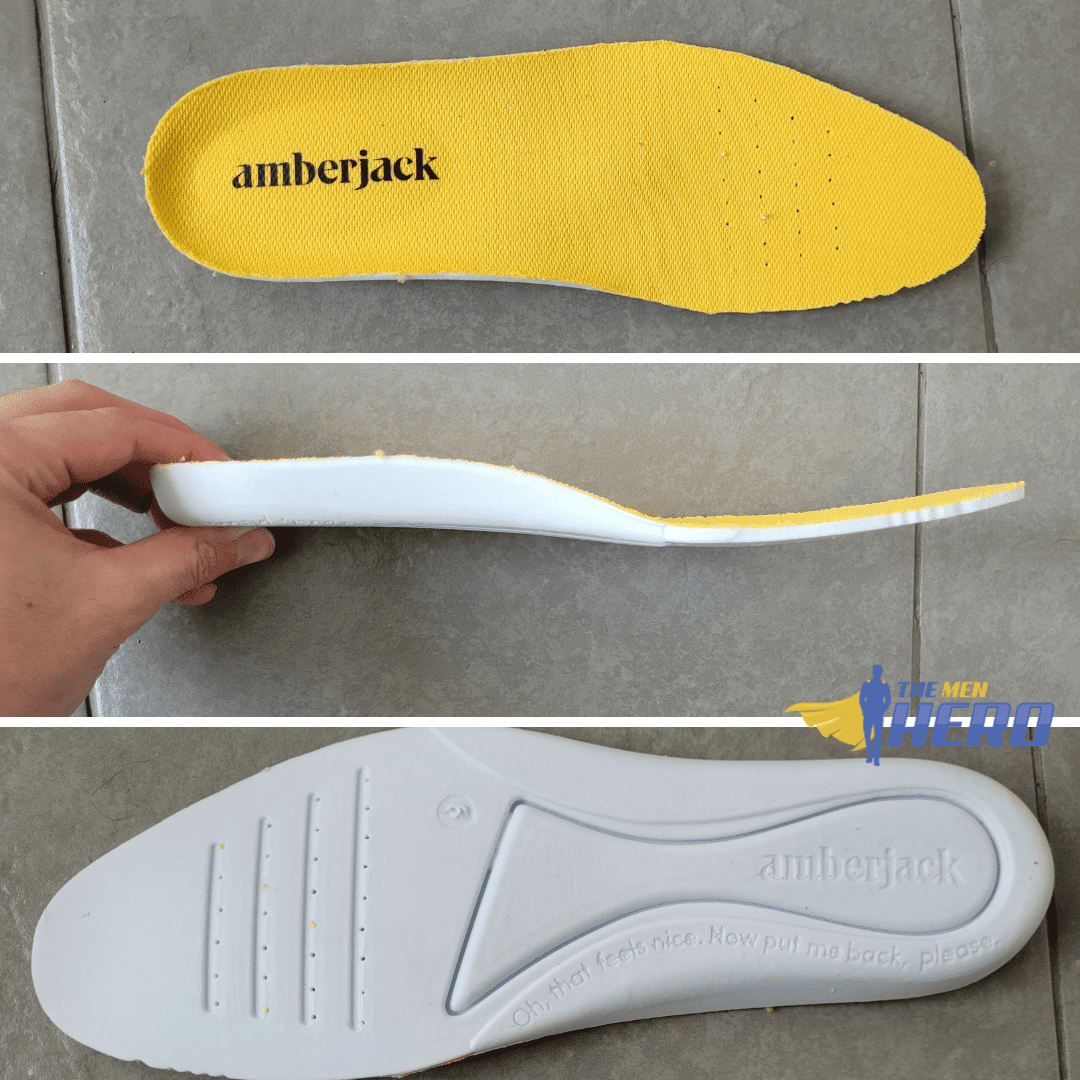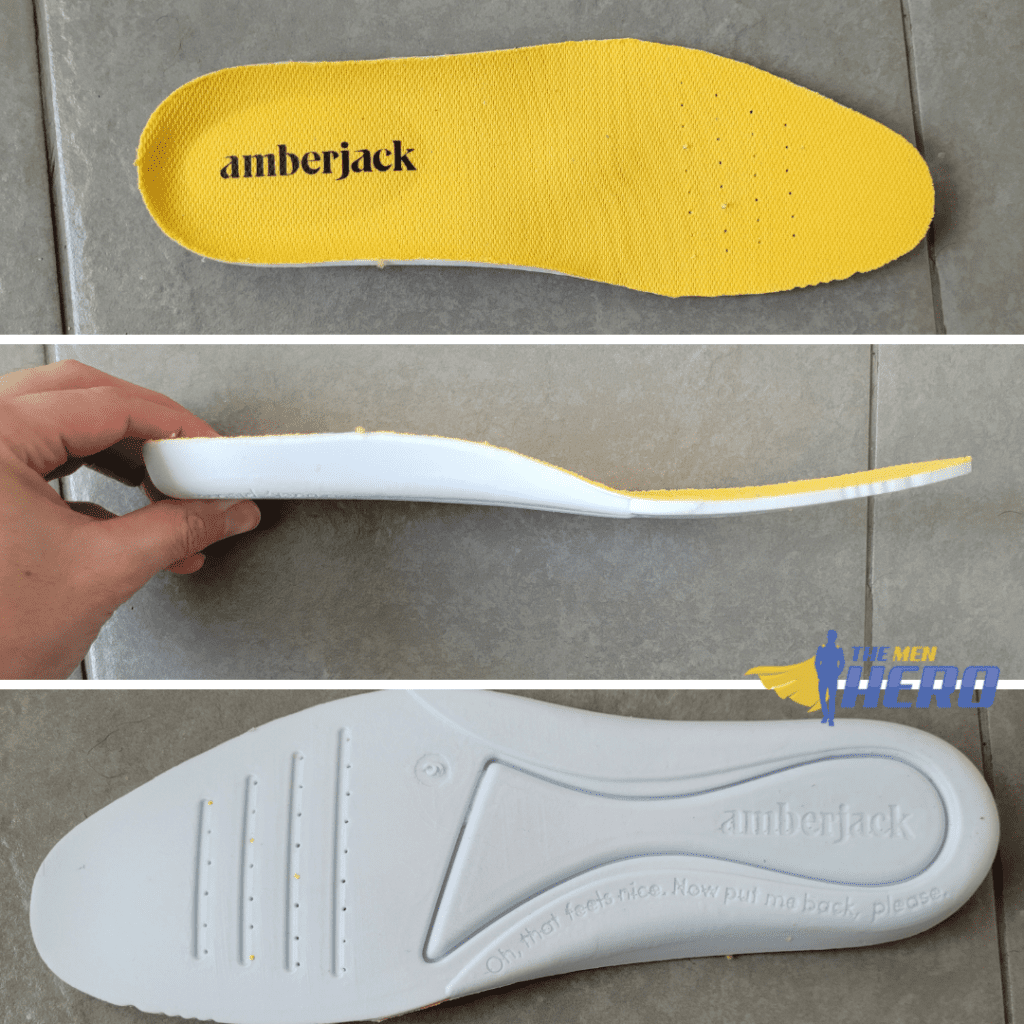 Read: Where Are Doc Martens Made?
The Amberjack boots' insole is also heat-activated, flexible in the front, and thick in the back. In fact, if you check any of your boots at home, you will realize that the Amberjack insole is three times thicker than any of your boot's insoles (unless you have a good hiking boot brand). This insole makes this pair of boots very comfortable.
Comfort
I first tried the Amberjack boots on a day when I was about to do a lot of walking in London. I was a little bit nervous because you never know how painful a pair of boots will be when they are new, and your feet are not used to them.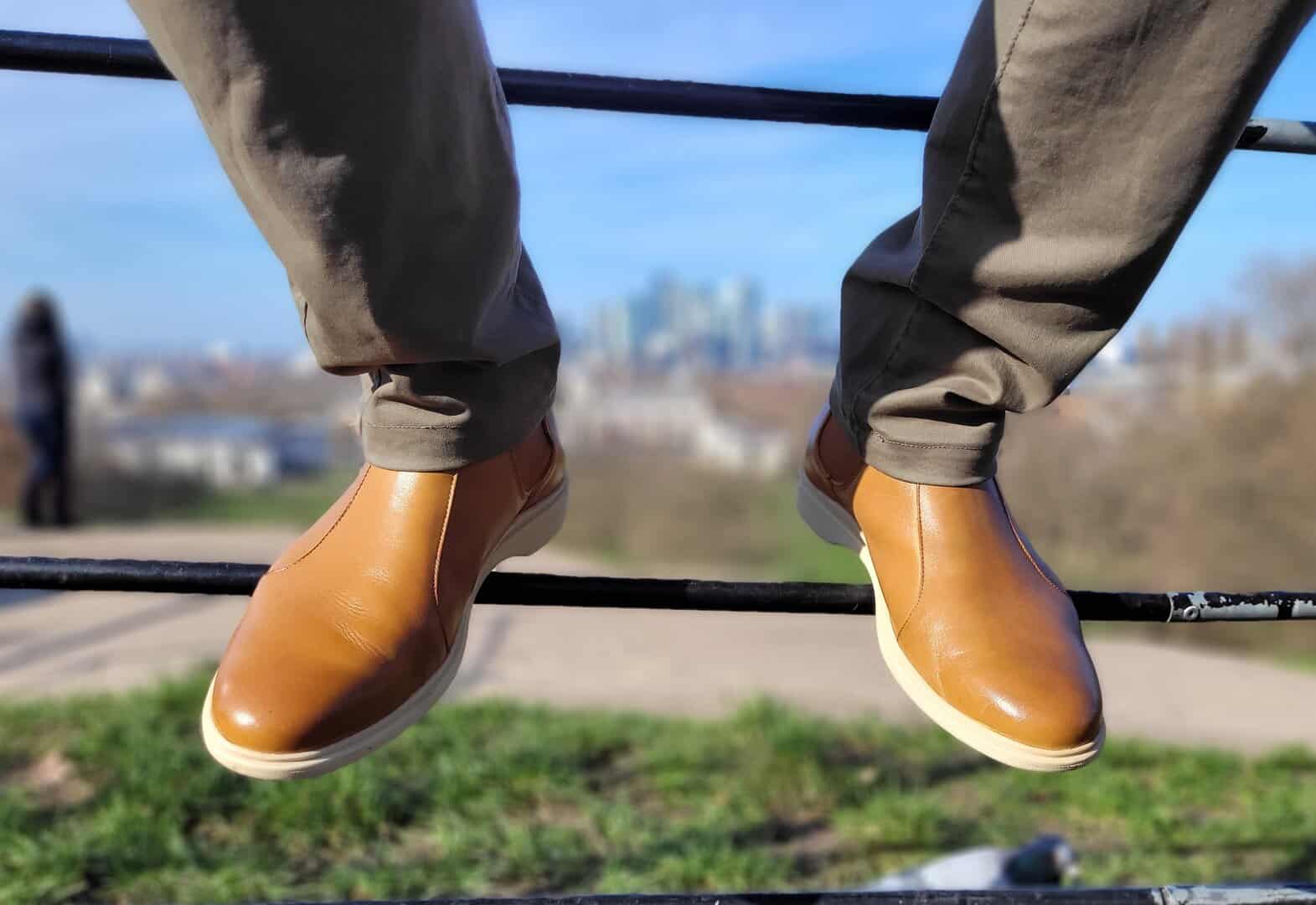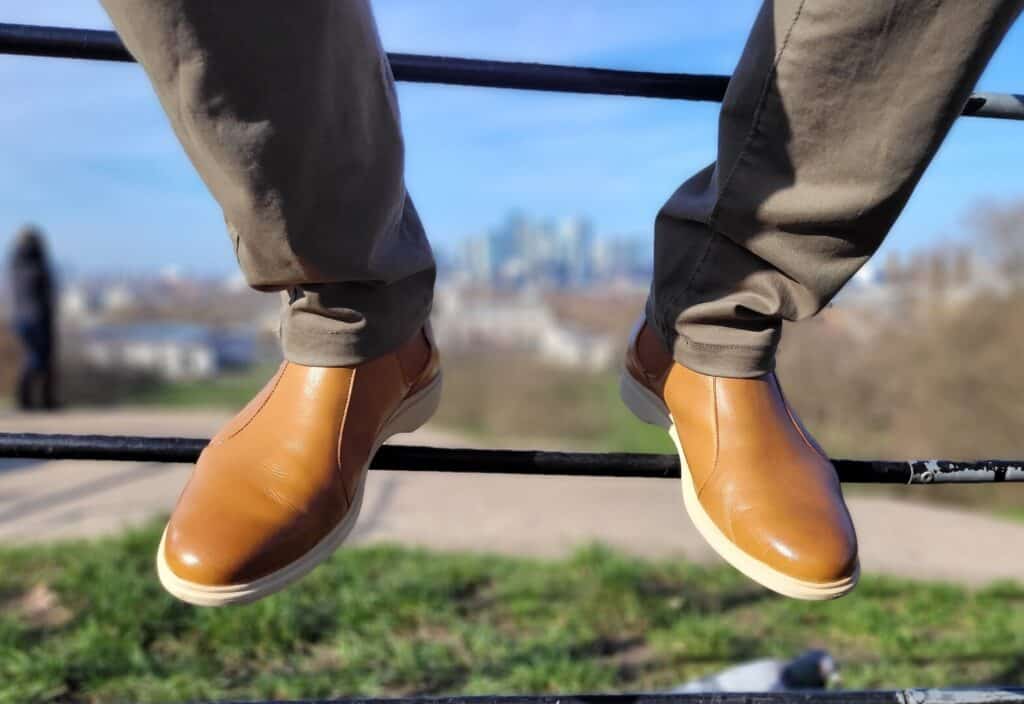 I'm glad to say that the boots were very comfortable all day, and I had zero problems with them. The perforations above the laces that help ventilate worked well since it was a hot day, and my feet didn't get hot, sweaty, or smelly.
Read: Loafers vs Boat Shoes
Wearing Amberjack boots is like wearing a pair of sneakers in a boot style. You can feel the cushioning around the ankle when you walk.
Quality
Amberjack boots are of excellent quality, and I do believe you are paying for less and getting more when it comes to great Chelsea boots style. If you check every inch of the boot, you will not find anything that is not perfectly done.
If you are looking for an excellent pair of Chelsea boots, consider investing in a pair of Amberjacks.
Fit And Size
I would also go for a half-size smaller or even a full-size small since my usual size, US 10.5, was slightly big but never uncomfortable, and I would still wear them.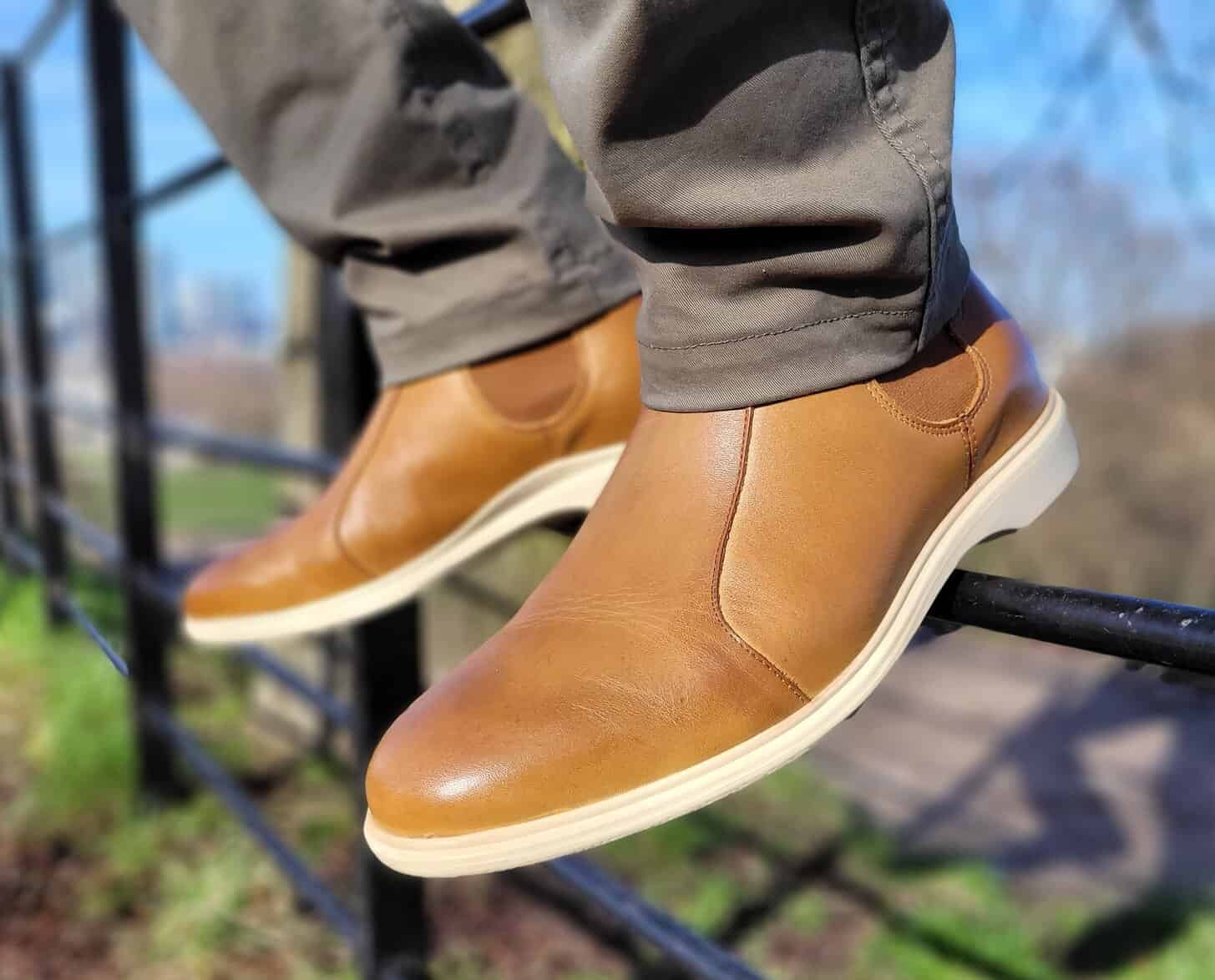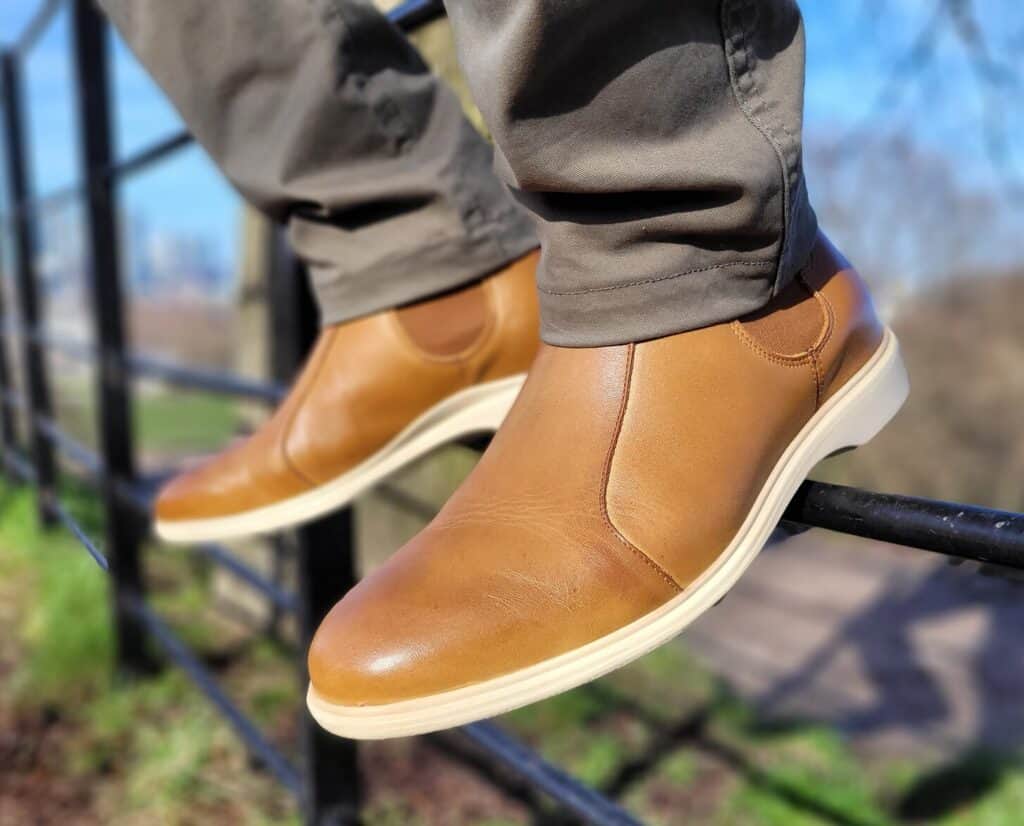 If you have wide feet, I would consider ordering any Amberjack boots in your usual size and go from there. This shoe brand is quite spacious regarding size, and Amberjack mentions that on its website.
Care & Maintenance
I have the same advice for Amberjack boots, which consists in using a tree horn to keep the boots in the same shape as you received them, wearing a good leather conditioner to avoid any wrinkles, and keeping them outside of sunlight or heat sources.
Value For Money
I have to say that Amberjack boots are also an excellent investment and worth every cent you pay. Premium quality and a distinct design set these boots apart from the competition. They are also incredibly comfortable, which is a central point for shoes and money value.
Read: Tommy Jeans VS Tommy Hilfiger
Amberjack Loafers
In August 2022, Amberjack launched its loafers collection, currently available in seven different colors: chestnut, honey, obsidian, grizzly, cobalt, tundra, and slate.
Read: Loafers vs Dress Shoes
I didn't buy or try the Amberjack loafers, but I can say they are precisely the same as the Originals, but with a different design. The Loafers are made with full-grain leather, sheepskin lining, and a custom TPU outsole, just like the Amberjack Originals.
Amberjack Tux
Amberjack Tux is the brand's most recent launch, and you can pick the Tux in two different colors, obsidian or onyx. The Amberjack Tux was basically made for the founder of the brand Jonathan Peters to wear during his wedding since he wanted to look good and stay comfortable during one of the most important days in his life.
Amberjack Tux is excellent if you need a pair of shoes for more formal occasions, like a wedding or a black tie event. This style will still provide the comfort of a walking trainer without the aesthetic of one.
Where Are Amberjack Shoes Made?
Both my Amberjack shoes and boots were manufactured in Felgueiras, Portugal.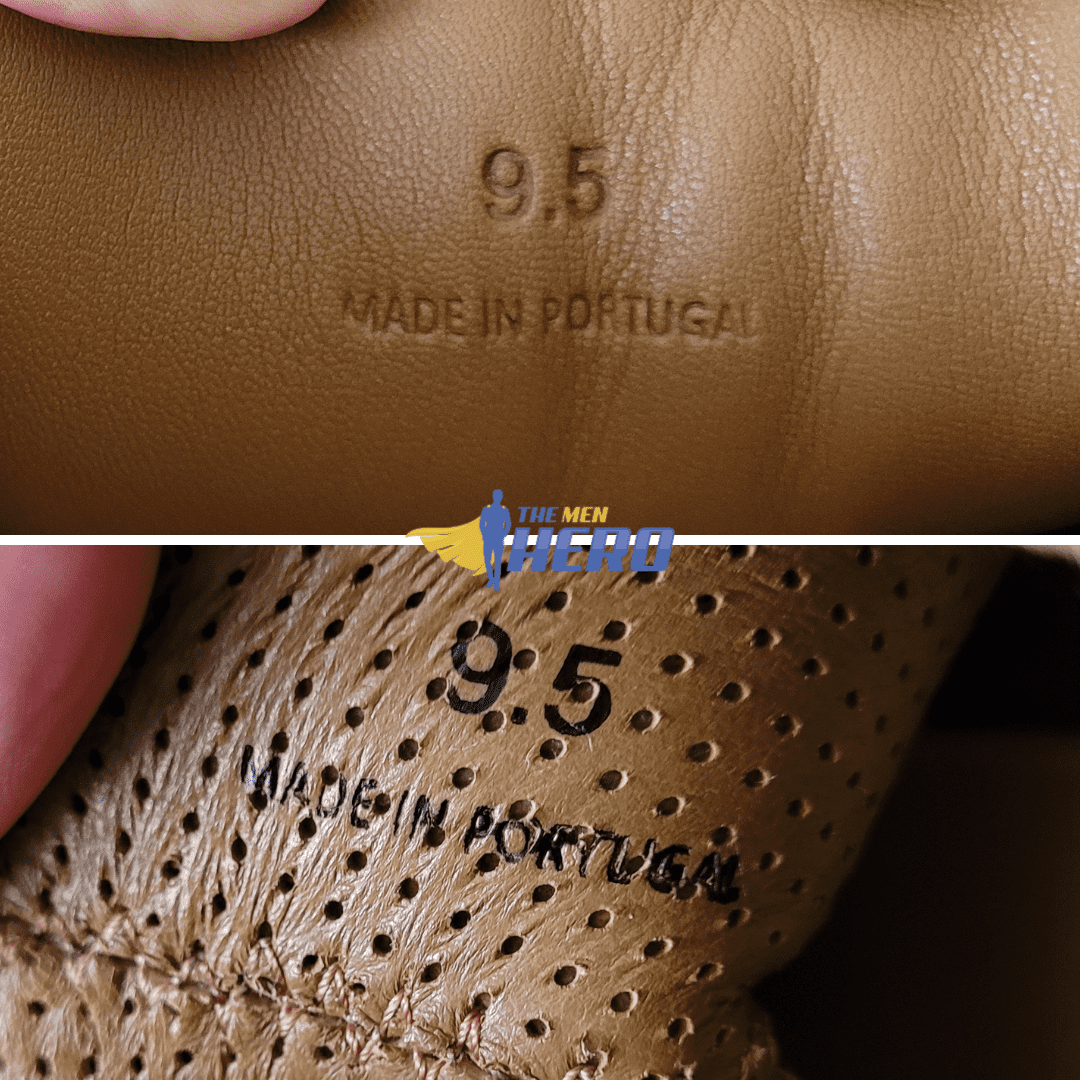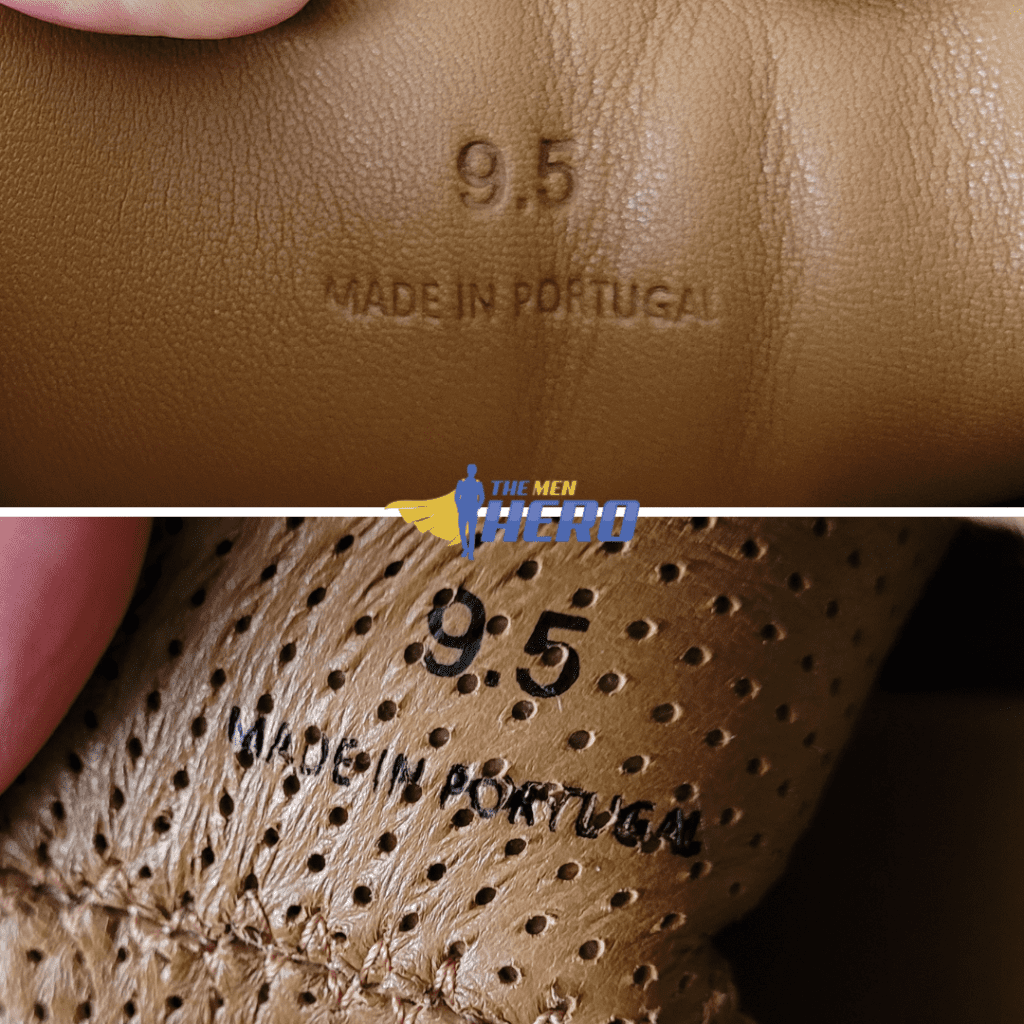 Portugal is used to manufacturing for some of the biggest luxury fashion brands globally, like Balmain, Givenchy, and Dior.
I am always glad to see any brand manufacturing in Portugal since it's my country, but let me tell you that Portugal has excellent craftsmanship for manufacturing shoes. The attention to detail and deep appreciation for the craft are present there.
If you check the lining of the shoes, you can tell how good it is, and that also contributes to making Amberjack shoes more expensive because you are paying for quality.
What Do Customers Say About Amberjack Shoes?
I have to say that almost every review I have read about Amberjack is incredibly positive, and you can barely find any negative comments about the shoes, which I am not surprised by that.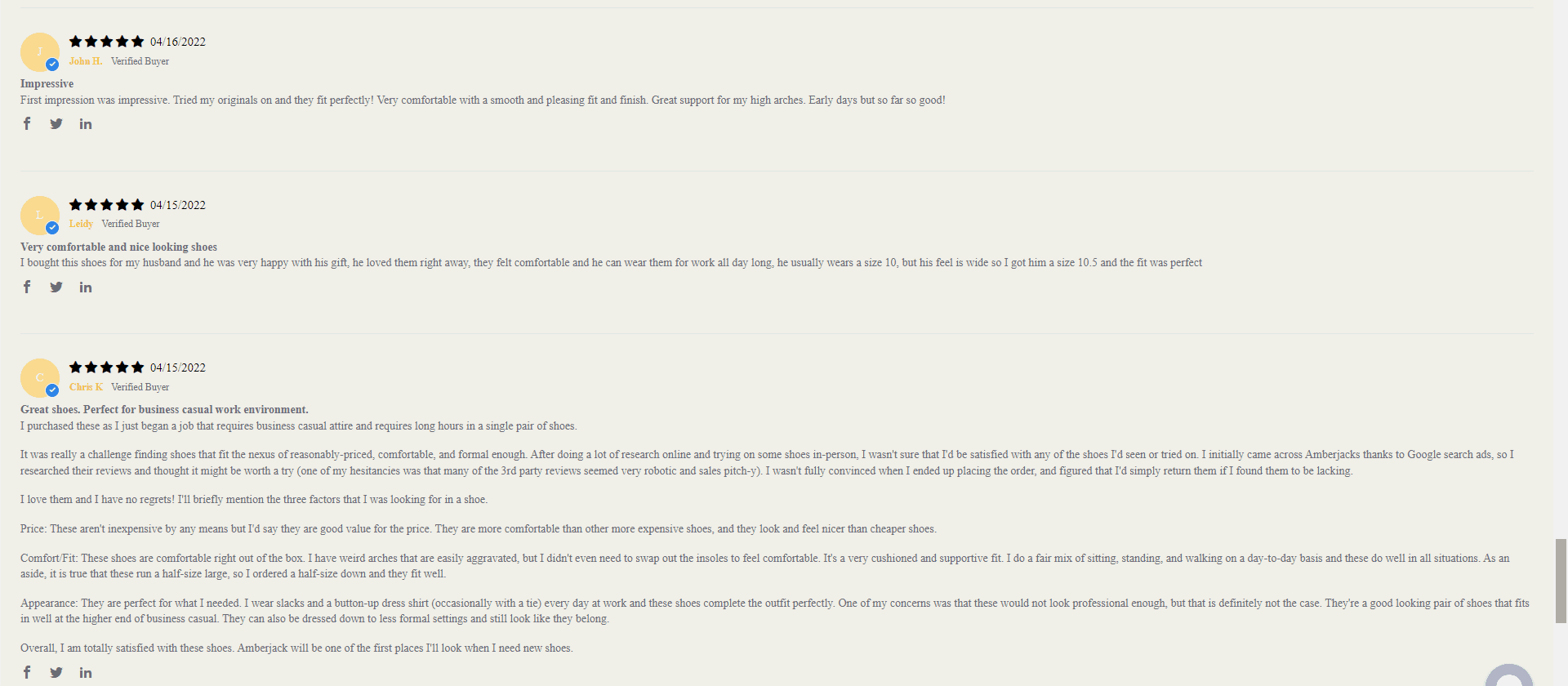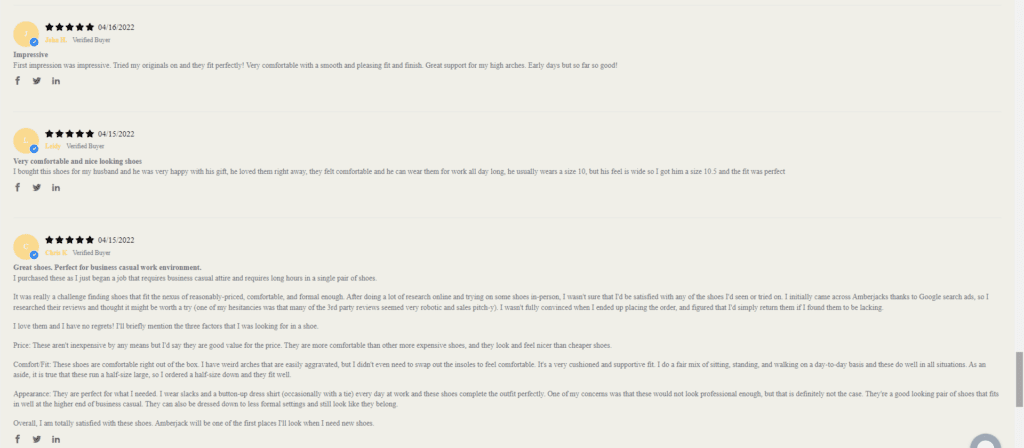 Most customers (if not all of them) are delighted with their Amberjack shoes and boots (just check the reviews on their website). One customer said, "I have never worn a more comfortable dress shoe in my life." I can fully agree and understand what he means since I felt the same when I walked one day with my Amberjack boots.
Read: Ralph Lauren Label Guide
The company's rare negative reviews are due to shipment issues that take too long, which is not something under Amberjack's control. I couldn't find anything negative about a feature of the shoe.
Amberjack Shoes Review Common Questions
These are the most common questions when someone is researching for the Amberjack shoes review.
Are Amberjack Shoes Worth It?
Yes, purchasing a pair of Amberjack shoes or boots is absolutely worth your money. You are basically paying less for more since other shoe brands offer the same quality, but you pay twice or three times the price. With Amberjack, you get quality materials, quality craftsmanship, and the most comfortable dress shoes you have ever had.
Are Amberjack Shoes Sustainable?
Yes, Amberjack shoes are sustainable and eco-friendly. The shoe brand sources all the leather from ISO-certified tanneries, is 100% carbon neutral, is plastic-free packing, is manufactured in Portugal with good manufacturing conditions, and pays fair wages.
Where To Buy Amberjack Shoes?
You can purchase any Amberjack shoe and boots on the brand's website.
How To Contact Amberjack?
To contact Amberjack customer support, visit their website and scroll down till the end. You can contact them by text, email, or Instagram.
Amberjack Shoes Review Conclusion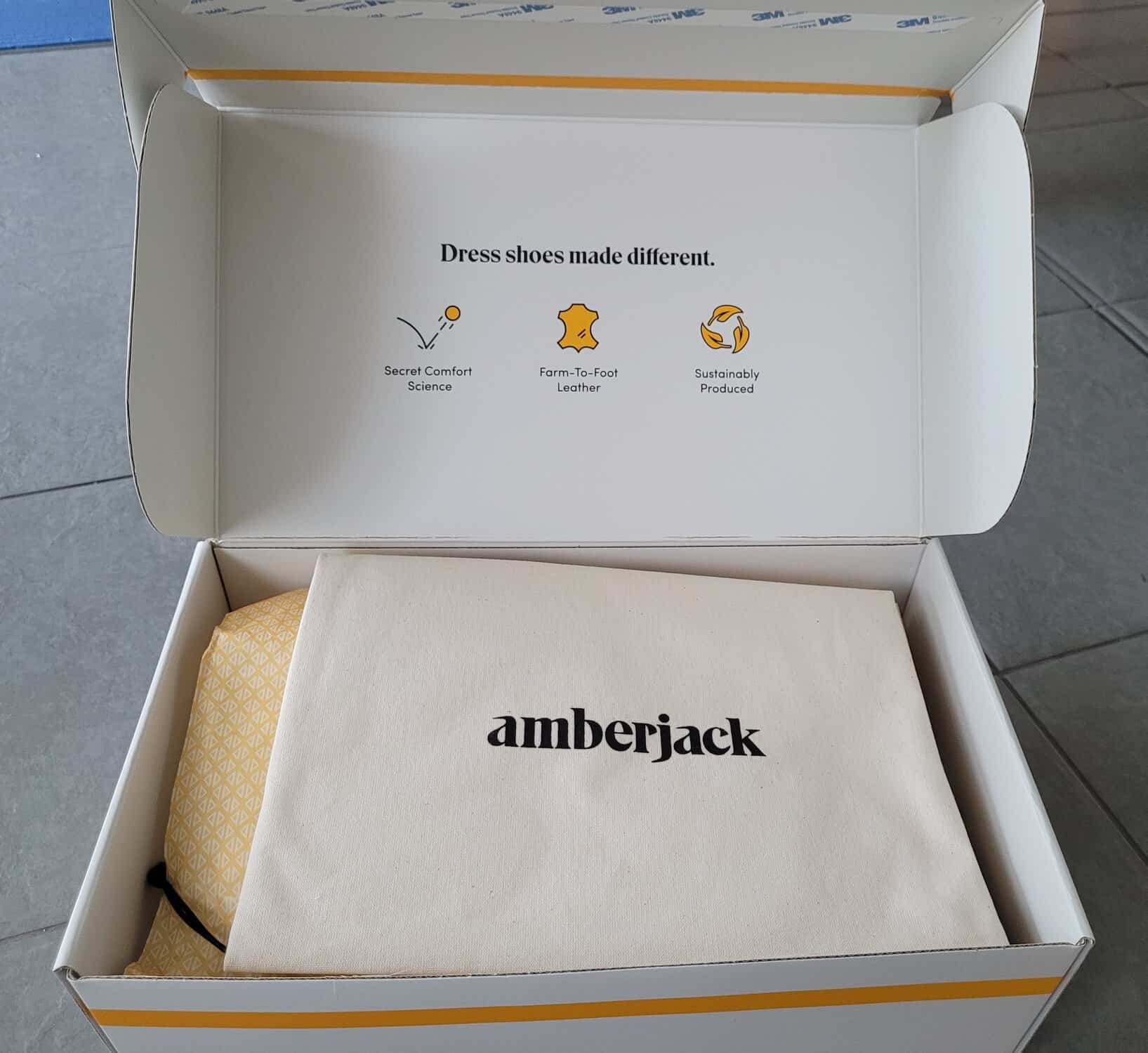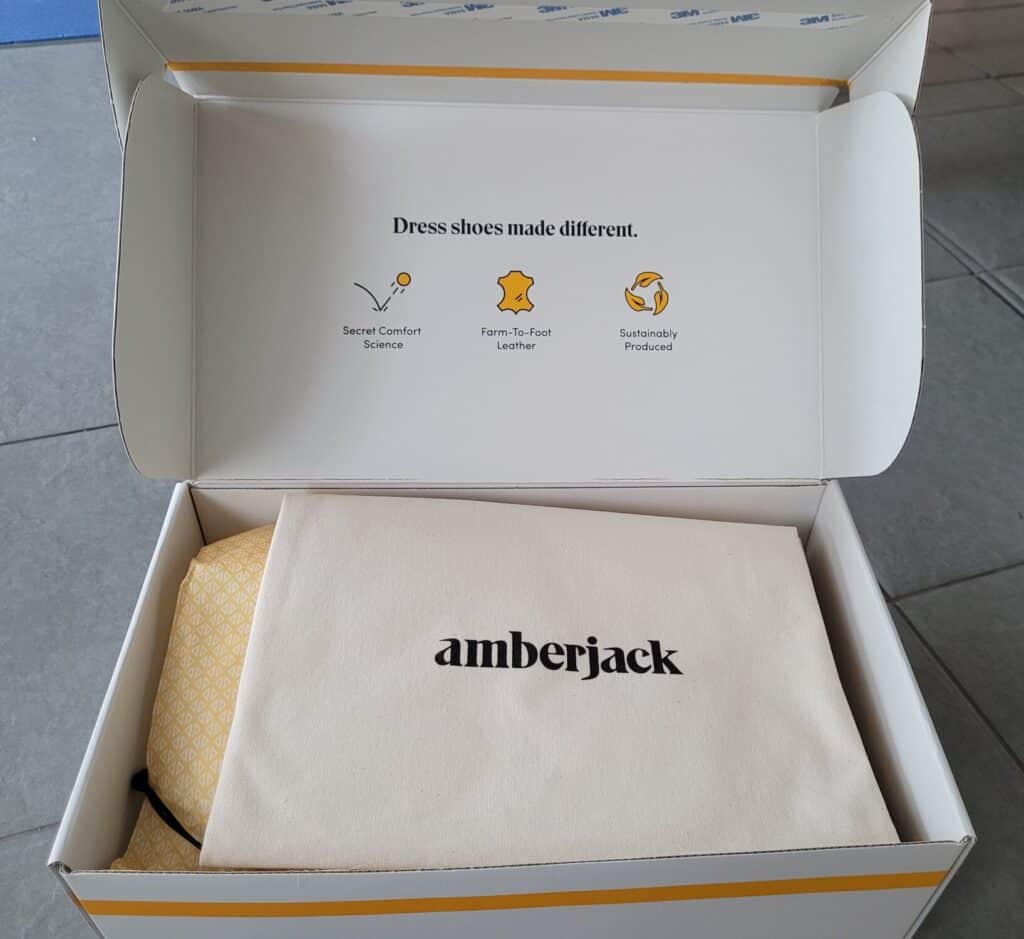 In conclusion, Amberjack shoes and boots are very impressive. You get a pair of dress shoes and boots for a very reasonable price without sacrificing comfort and quality.
If you care about the environment and love sustainable brands, Amberjack should be your number-one choice for dress shoes. They may be less traditional than the shoes you see on the market, but you will not regret trying them.