This post may contain affiliate links. That means if you click and buy from that link, I may receive a small commission (at zero cost to you), which helps me maintain the quality of this blog. Please see my full disclosure policy for details.
As someone who worked in the footwear industry for many years as a store manager and footwear manager, many customers have asked me one of the most popular shoe questions, do suede shoes stretch?
It's not difficult to understand why someone would ask this question since we know that some shoe styles and fabrics stretch over time, especially when we wear them all the time. But is it the same with the suede material, or is it different from most?
Read: Find Out The Best Men's Dress Shoes For Standing All Day
Suede is also one of the most delicate materials in shoes. As a result, they need special care to maintain them as new. So let's find out if suede shoes stretch or not.
Do Suede Shoes Stretch?
Yes, suede shoes tend to stretch out with wear and even mold to the shape of your feet. If you have wide feet, the chances of your suede shoes feeling tight and stretching are pretty high.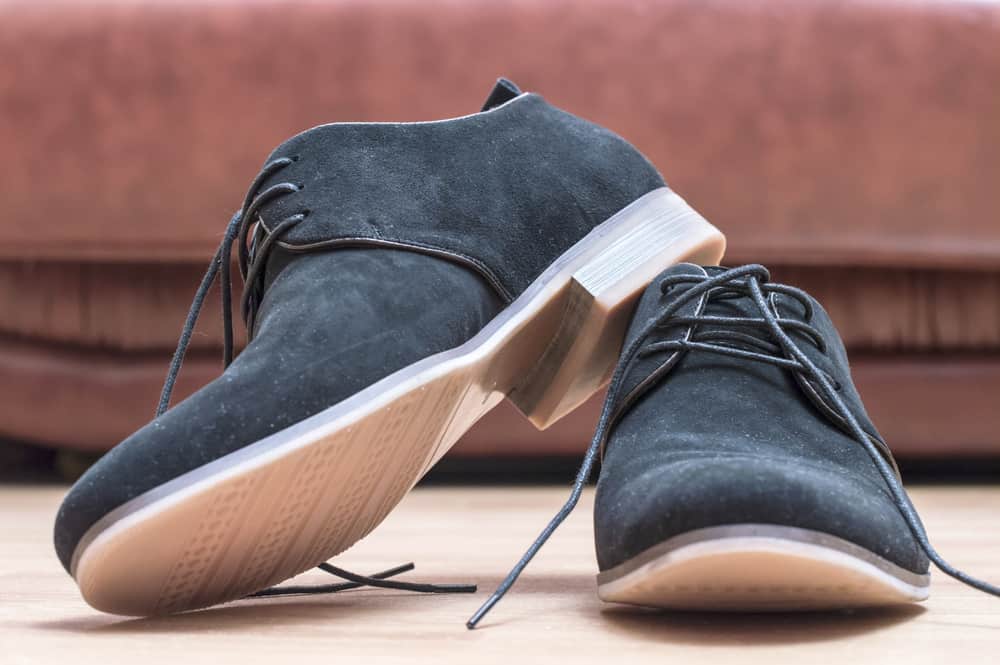 I want to assure you that if your suede shoes feel tight around your feet because you have wide feet, the shoes will stretch and be okay (unless they feel so tight that you can't wear them). Now, if you bought the wrong size length-wise, the best thing you can do is to swap to the correct size, since no matter how much the shoes stretch, they will never be that comfortable because they will always be too small.
Read: How To Wear Blue Shoes?
After one week or a few weeks, depending on how much you wear your suede shoes, you should feel that they are stretched already. That's why when a customer said the suede shoes were slightly tight but good length-wise, I would advise them to buy that size because the suede would stretch out and make the pair more comfortable.
Just be careful when buying suede shoes that are slip-on and don't have any laces since it can be challenging to walk on them when they stretch, losing the support and making you trip when walking.
How Much Do Suede Shoes Stretch?
Since suede is one of the best stretching fabrics for shoes, you can easily make them half a size bigger. That's why you should buy half a size smaller if the shoe fits perfectly because they will loosen up and may feel too big when walking. In addition, the smaller half-size should not feel tight, making your feet uncomfortable. Instead, it should feel like a snug fit.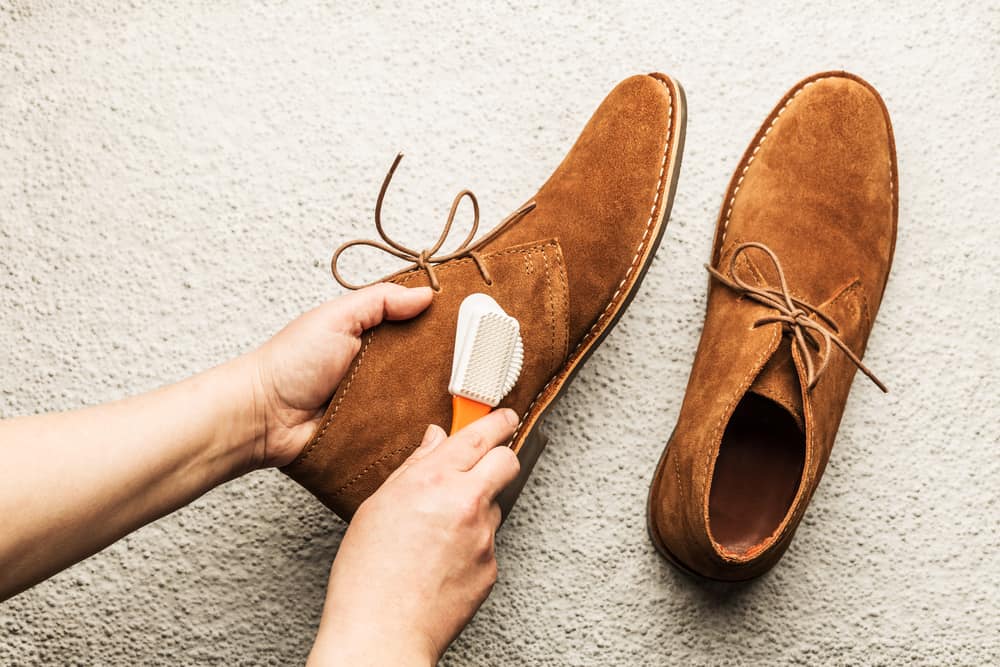 Read: How Long Should Shoes Last?
Remember that not all suede shoes are the same, and some may not stretch to that half a size, but my experience with thousands of customers says that most of them do. My knowledge also says that suede boots loosen up more than suede shoes due to the thick socks you wear
Can You Stretch Suede Shoes?
You can try to stretch your suede shoes in many different ways. For example, you can wear thicker socks when the shoes are new and feel too tight, wear the shoes all the time, rub alcohol on the shoe (be careful with this one), or use an adjustable shoe tree. I would avoid using a hair dryer since it can damage the suede and ruin your shoes.
Read: How To Tell If Shoes Are Too Big?
If your suede shoes are not crazy tight and don't make your feet uncomfortable, you can keep wearing them without doing anything, and the shoes will loosen up. This is because your feet swell during the day, so the suede material will keep stretching to adjust to the swollen feet. Of course, if you wear a pair of thick socks, you will stretch them way faster.
Also, you should be careful when stretching suede shoes because you can damage them. You can risk deforming the shoes and not be able to wear them anymore or even return them for a different size.
How To Stretch Suede Shoes?
Using a spray solution is the easiest and the most advised method that I would try if you want to get results quickly when it comes to stretching your suede shoes.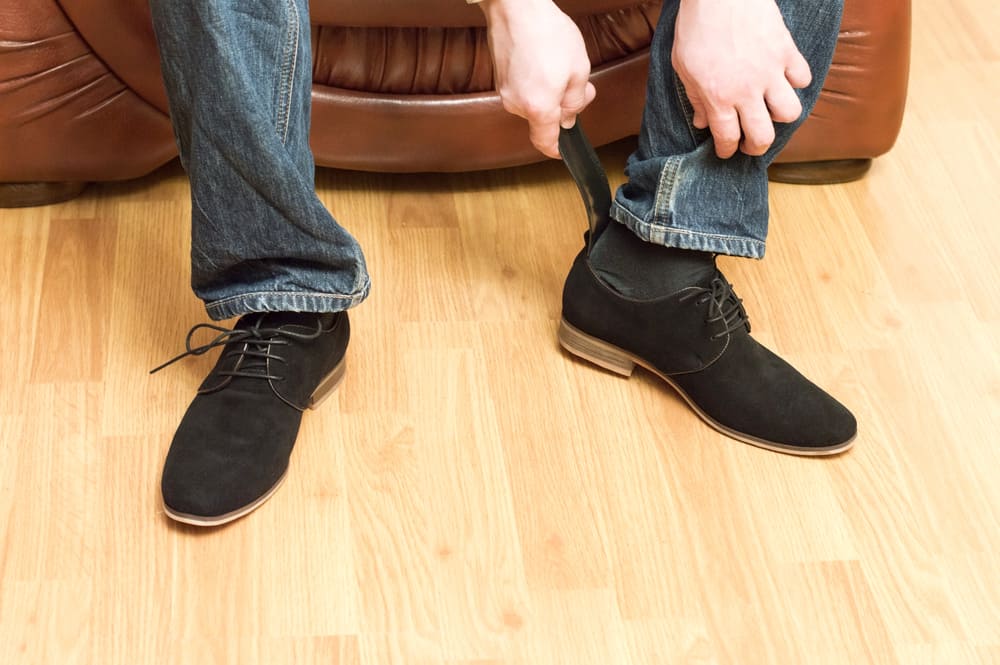 Read: Difference Between Loafers and Dress Shoes
Using A Spray Solution:
Purchase a solution marked for suede shoes
Spray the inside of your shoes lightly and use a cloth or your fingers to reach the crannies and nooks, spreading the solution evenly. Some sprays need to be applied outside, so check the product's instructions (spray a small portion of the shoe and leave it for 24h to check if it changes the color or not).
Wear the shoes for a couple of hours, at home, work, or even walking around your neighborhood. You can also wear a pair of thick socks when doing this step.
If you want to do this overnight, you can put a shoe tree inside of the shoe and let it stay there till the following day.
If your shoes are still tight after all these steps, you can repeat them (just check the product instruction to see if you can wear the spray more than once). If they only feel slightly tight, keep wearing them because they will loosen up.
Common Questions About Do Suede Shoes Stretch
These are the most common questions about do suede shoes stretch.
Does Suede Stretch Or Shrink?
Suede shoes tend to stretch over time, especially if you wear the shoes all the time or with thick socks. Suede shoes don't shrink unless you use a technique to make it happen.
Read: How To Make Shoes Non-Slip?
Do Suede Shoes Stretch With Wear?
Like leather, suede shoes also tend to stretch when you wear them. The more you wear your suede shoes, the more they will stretch over time until they arrive at a plateau where they will stay the same size.
Do Suede Boots Stretch?
Yes, suede boots stretch over time, especially if you wear them all the time. Also, people tend to use thicker socks when wearing suede boots, which makes them stretch even more than suede shoes.
Does Faux Suede Stretch?
When compared with suede, faux suede doesn't stretch that much. This is because faux suede is made from polyester microfiber. It's also a lot more durable than suede fabric.
Read: What Is A Shoe Mitt?
Do Suede Shoes Stretch More Than Leather?
Both leather and suede shoes stretch after you start wearing them, but I couldn't tell if one fabric extends more than the other since that also depends on how much you wear the shoes, if you wear thick socks with them, and how much you take care of them.
Can You Stretch Shoes With A Hair Dryer?
Yes, you can stretch suede shoes with a hair dryer. However, I would be careful with this option since it can damage the shoe or make the suede stiff and brittle.
Conclusion On Do Suede Shoes Stretch
Suede shoes tend to have the fame of being quite tight when you buy them and try them for the first time. But do suede shoes stretch? The answer is yes. They will stretch over time, intentionally or not.
If you keep wearing your suede shoes, they will stretch to accommodate your swollen feet and remain in the same shape after you wear them. If you need a quick fix, you can try to stretch the shoe yourself with some of the techniques I mentioned above.