This post may contain affiliate links. That means if you click and buy from that link, I may receive a small commission (at zero cost to you), which helps me maintain the quality of this blog. Please see my full disclosure policy for details.
Doc Martens is a British footwear and clothing brand famous for its boots. The first Doc Martens were working boots that sold for $3 a pair, but these days they can cost you over $200. Why are Doc Martens so expensive?
The English label is not the most expensive pair of boots on the market, but they are not the cheapest either. I did have a pair of Doc Martens in the past, which I found excellent and last a few years. Were those boots worth the money? I think they were, and I would purchase them again if I looked for something similar.
Read: Do Doc Martens Run Big Or Small?
So let's find out why are Doc Martens so expensive.
Why Are Doc Martens So Expensive?
Doc Martens are expensive because it's a premium and popular brand with iconic and stylish boots and shoes that appeal to the consumers since the idea is that most Doc Martens are made in England. The English label also has a loyal customer base and offers product sustainability.
Doc Martens Is A Premium Brand
I consider Doc Martens a premium brand because they are not as expensive as luxury brands but more costly than mass-market brands. Some people may be able to afford one Doc Martens pair every month, but not all the time, and that is perceived as a premium brand.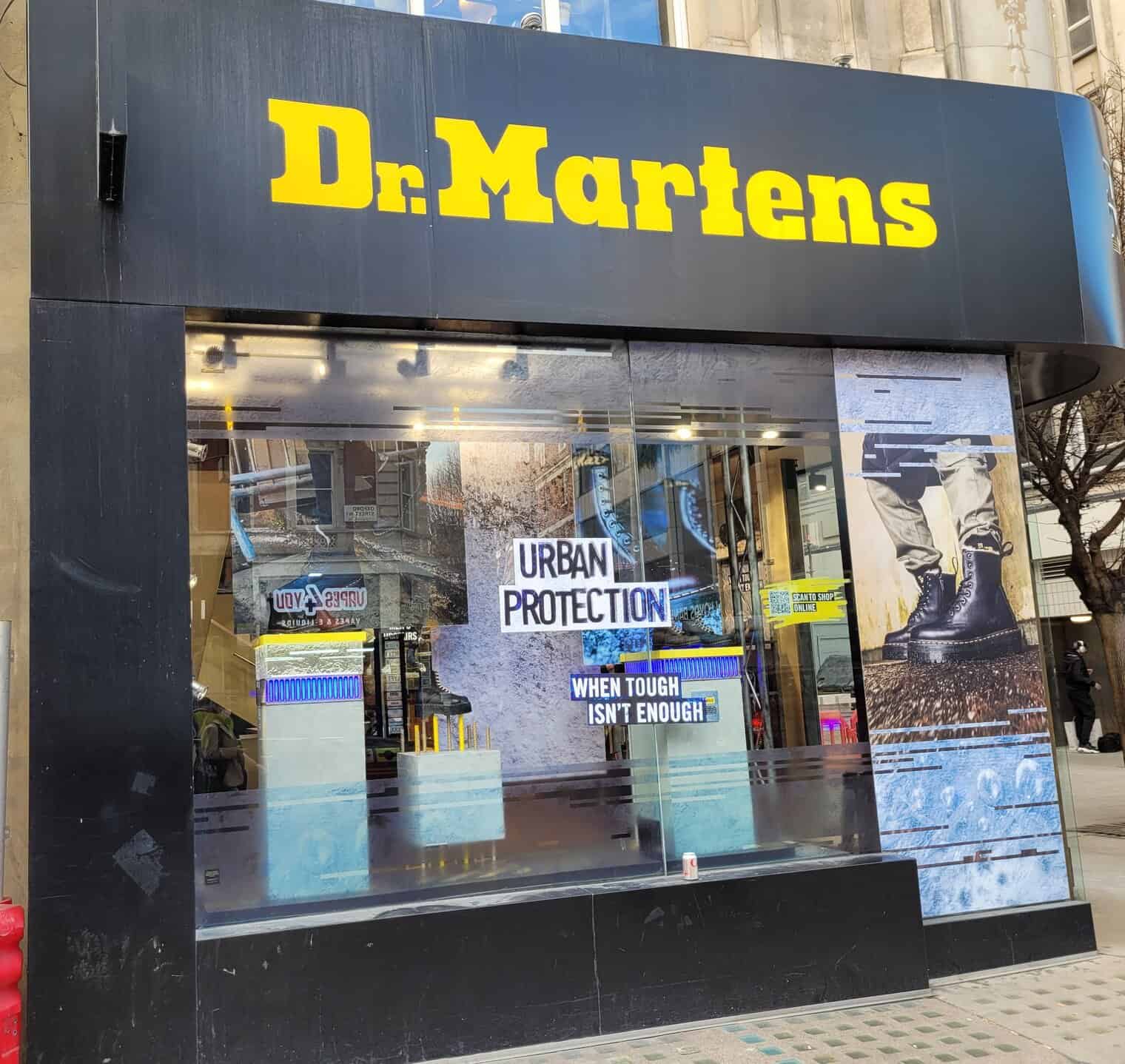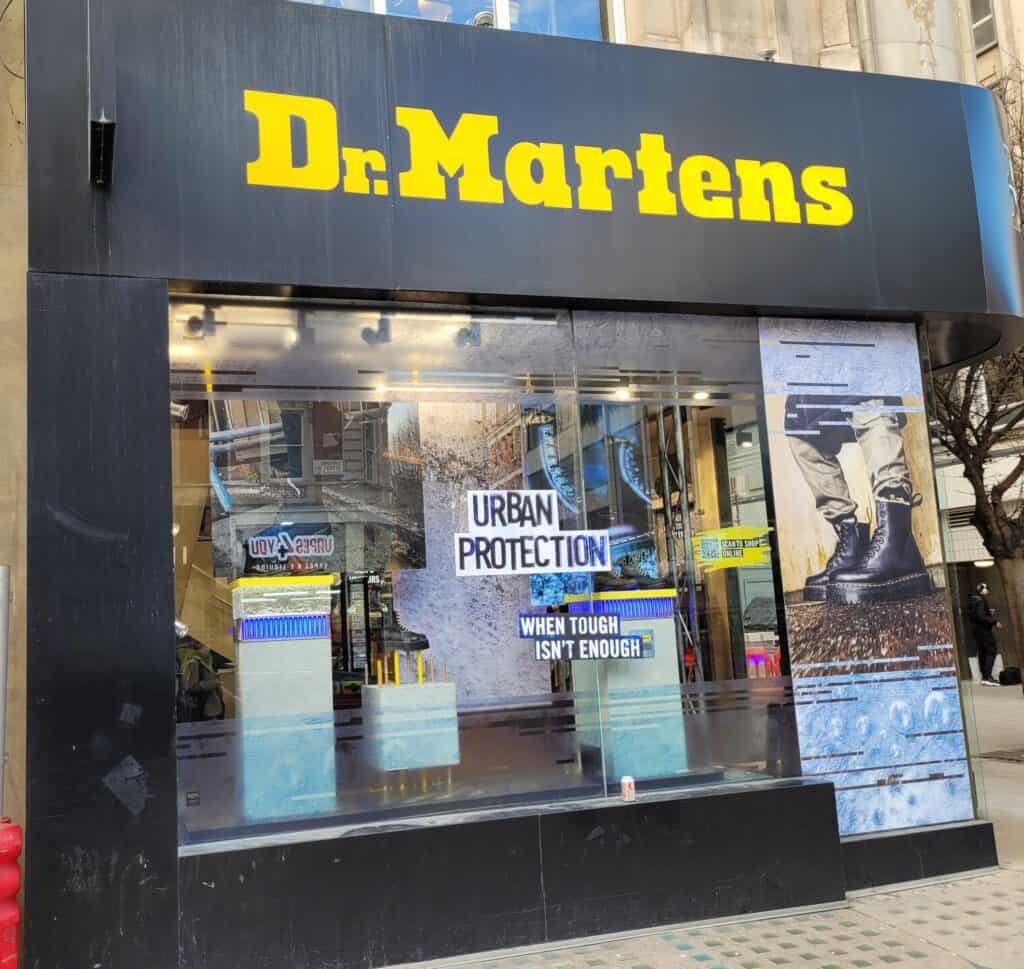 Doc Martens consumers can push themselves to pay more for a pair of boots than they would pay for an average product with the same functions. That's why the English label charges you more because they want to differentiate themselves from similar products in the market, but they also know that you can pay for any of their products.
Consumers think they will feel better if they buy a premium brand since they are wearing a quality product. Doc Martens boots are better than mass-market boots that will cost you $40 because the quality is better and because you pay the name of the brand.
Read: Why Are Timberlands So Expensive?
In the end, a premium brand like Doc Martens can boost your confidence and make you feel special when wearing it. Something a mass-market brand can't, and that's why Doc Martens can be so expensive for some people.
Doc Martens Footwear Is Popular
Doc Martens is one of those companies that likes to challenge the status quo and do something different from what you can find on the market. But, unfortunately, when a brand is popular, sometimes it can be more expensive if the demand is bigger than what is available, and that's what happens with Doc Martens Made in England, as you can read below.
Doc Martens started as a popular work boot. However, the London punk scene started to wear Doc Martens because they thought it was cool, setting a new trend for the company and making the English label part of their countercultural style.
Since Doc Martens embraced the punk appeal, the boots became more expensive since they targeted a different type of customer who didn't mind paying more for a pair of boots since they were trendy and different.
Today, Doc Martens are famous not only in the punk scene but all around the world with many different styles. That globalization made the brand more expensive since more consumers are purchasing it.
Doc Martens Are Iconic And Stylish
Doc Martens are expensive because they are iconic and stylish. You recognize a Doc Martens pair of boots or shoes when you see the yellow stitching (exclusive of them). So they went from an uncool work boot to an iconic and stylish unshakable boot.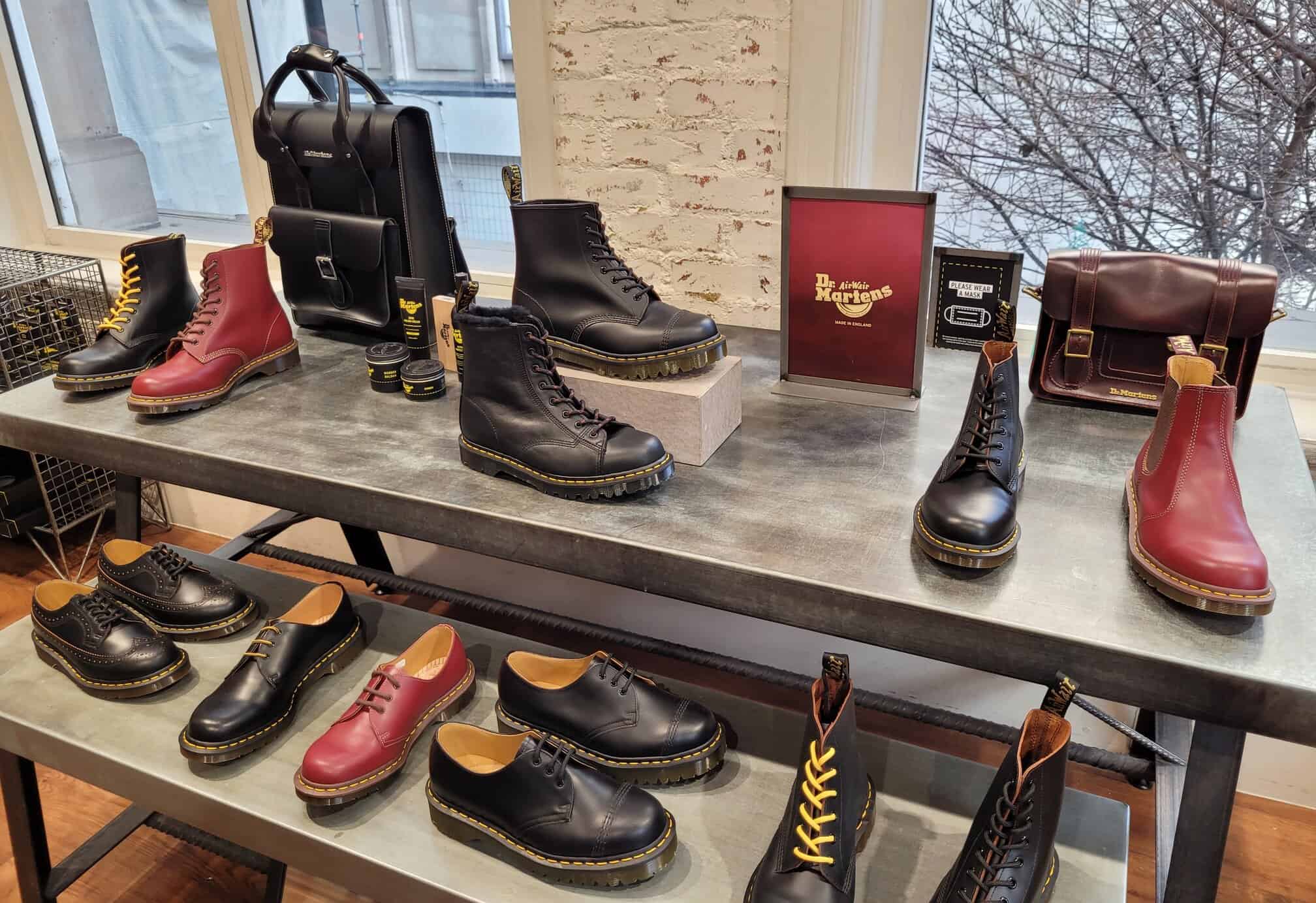 A pair of Docs were advertised as the perfect gardening shoes at some point many years ago because they were so comfortable for older women to wear when gardening. However, this changed when the company introduced the Airway technology and created the first pair of 1460 boots (one of the most iconic Doc Martens styles).
Read: Why Is Calvin Klein So Expensive?
Many consumers wear Doc Martens because they like the street style or want a refined look. As a result, you have a classic shape mixed with durability and comfort that you can wear in any season and weather conditions.
Doc Martens Has A Loyal Customer Base
Doc Martens is a label that makes many collaborations with many different brands and personalities. They have collaborated with Rick Owens, Hello Kitty, Marc Jacobs, Black Sabbath, The Sex Pistols, among many others.
Usually, these Doc Martens collaborations have a limited edition, so you don't have many pairs available. They are also manufactured in England, making them much more expensive than the standard pair.
The English label has a loyal customer base that makes the demand even higher, mixed with fans of the other brands and personalities they collaborate with. Take, for example, the Doc Martens X Hello Kitty collection. Someone on Twitter asked, "Are you gonna be restocking? They sold out instantly in my size," and Doc Martens answered, "Hi, unfortunately, this collaboration is limited and won't be receiving a restock in the future."
Doc Martens Made In England Appeal
Most people think that Doc Martens are manufactured in England, but that's not the case, at least not all shoes. Only a tiny amount of Doc Martens are made in England, like the vintage replicas and the collaborations between the Doc Martens and other brands/personalities.
However, the Doc Martens manufactured in England are more expensive than those made in Asia. That may be due to the labor, materials, and other costs being more expensive in England than in China or Vietnam, so the brand charges more money to maintain its profits.
Some consumers have said in the past that they prefer to pay more and have Doc Martens Made in England than anywhere else because they are more durable and made of better materials. I had a pair of Doc Martens Made in Vietnam, and I thought they were great and were definitely durable. It's up to you if you want to pay more or not.
Doc Martens Offers Product Sustainability
When a brand makes sustainable and eco-friendly products, they will charge you more for them since they are more costly to produce than traditional products. This is because the demand for these products is not as high as mainstream alternatives, and materials and manufacturing costs tend to cost more to companies.
By 2040, Doc Martens expect to be:
100% of footwear is made from sustainable materials.
100% of products sold have sustainable end-of-life options​.
100% of the natural materials in products from regenerative agriculture​.
Another reason Doc Martens is so pricey is that the English label is trying to trace where all the leather is coming from. They keep researching and developing more sustainable materials such as biodegradable alternatives without compromising the durability of their boots and shoes.
Common Questions Why Are Doc Martens So Expensive
These are the most common questions about why are Doc Martens so expensive.
Are Doc Martens Worth It?
Yes, Doc Martens are worth it if you look for an edgy boot style, different from what other brands offer. When it comes to comfort, they start becoming more and more comfortable once you break them in. In addition, they can be pretty durable if that's an essential feature for you or you wear them very often.
Are Doc Martens Good Quality?
Yes, Doc Martens is an excellent quality footwear brand, especially the Made in England collection that is handmade. Even the boots and shoes made in Asian countries are good, but some consumers have stated that the quality is inferior to those manufactured in England.
Conclusion On Why Are Doc Martens So Expensive
Why are Doc Martens so expensive? Doc Martens are expensive due to being a popular premium brand with a loyal customer base and some iconic and stylish footwear. In addition, the brand offers a Made in England appeal and product sustainability, making them more expensive.
If you are looking for a pair of iconic Doc Martens boots, I would advise you to buy a pair of the 1460 style. Doc Martens may be more expensive than some other brands, but they can be worth it if you look for something different.