This post may contain affiliate links. That means if you click and buy from that link, I may receive a small commission (at zero cost to you), which helps me maintain the quality of this blog. Please see my full disclosure policy for details.
Timberland company may not be considered a luxury brand but is definitely a premium brand for many people. Timberland is well known for its boots and even has accessories and clothes for you to choose from. This leads us to ask the question, "Why are Timberlands so expensive?"
I am a massive fan of Timberland shoes and always have one or two pairs in my collection because they always look smart with a pair of chinos. But are they worth the price, or are you paying for the brand marketing efforts?
Read: Where Are Timberlands Made?
In my opinion, Timberlands are expensive because they are durable (One pair typically goes for four or five years till you need a new one), made from high-quality materials, and have huge popularity. So the shoes are absolutely worth the price you pay.
Why Are Timberlands So Expensive?
If my opinion is not enough to satisfy your request to know why are Timberlands so expensive, let me give you a few more reasons in detail.
Timberlands Are Popular
The first Timberlands were created in 1973 and were so popular that the entire company was renamed Timberland in 1978. Its boots were quickly popular between professional trade workers and outdoor enthusiasts who needed protection in all weather conditions.
Read: Where Is Fred Perry Made?
Throughout the 90s, many New York rappers embraced Timberland in their style, and the yellow boots became very popular in the black and hip-hop community. For example, Biggie Smalls rapped about Timberland in his song Hypnotize and was photographed multiple times with the Timberland boots.
Timberland didn't embrace this change very well since they targeted people who worked in factories, construction, or loved the outdoors.
Read: Why Is Hugo Boss So Expensive?
A lot changed in the last 30 years, and these days, you have many celebrities like Rihanna, Kanye West, Jennifer Lopez, Jay Z, the Kardashians, Mark Walberg, Little Mix, etc. wearing Timberlands when they go out or some of them in big and popular events. What do all these celebrities have in common? They wear Timberland boots as a fashion statement. Not because their skin color is black or they work in construction, so Timberland has grown in popularity as a fashion brand.
Timberland boots are expensive because celebrities give a certain status to the brand when they wear its shoes, so people who like them will also buy the same products.
Timberlands Are Iconic and Stylish
The Timberland yellow boots are iconic. You look at them once, and you know what brand made those boots. If you Google yellow boots, Timberland will be the first brand to appear in your search.
Timberlands are expensive because people are willing to pay more to have an iconic peace in their wardrobe. In addition, it gives them status and to be part of an exclusive group since not everyone can afford Timberland footwear.
Timberland says, "In Europe, it became the symbol of the "Made in the USA" look, in Asia, it became a statement of individuality, and in America, you were as likely to see it on a boat-builder in Massachusetts as a college student in California." So, as you can see, it all depends on where you are.
Read: Why Are Doc Martens So Expensive?
These boots are also unique and timeless in fashion. It doesn't matter what year you are. Timberlands will look good on almost any clothes you try to mix.
Far are the days when these boots would be worn for work or specifically for the outdoors. Now you think about them as fashionable items that look good with denim, chinos, bomber jacket, a coat, or sweats.
When a brand becomes fashionable, it also becomes more expensive.
Timberland Provides High-Quality Leather Products
Timberland boots are expensive because they provide the best quality leather possible. Nubuck leather is full-grain leather that has its outer surface sanded down to become soft to the touch.
The process of how the nubuck leather is made is not that complex but contributes to charging more for Timberland boots. The nubuck leather needs to be split, put in the tanning machine, dried, softened, dyed, and dried again. It also needs to be sanded down before the final treatment.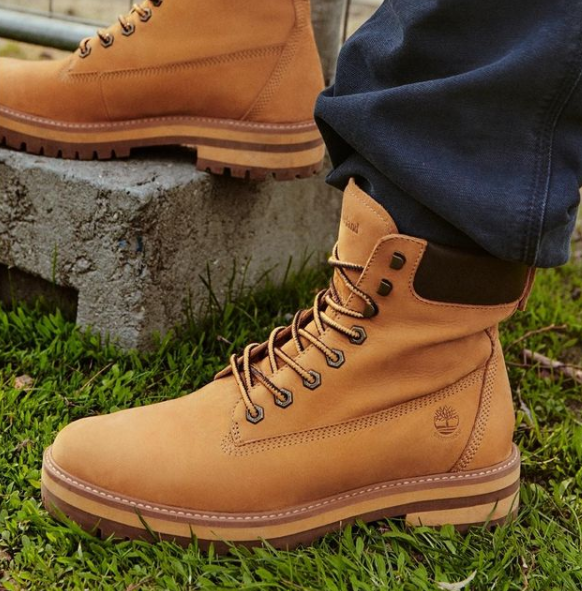 All this process makes nubuck leather more expensive than other boots materials and reflects on the price of your Timberland boots.
Read: Do Timberlands Run Big Or Small?
Timberland is trying to become more eco-friendly when it comes to the leather they use in their products. These are some examples of leather Timbs use in their boots, clothes, and some accessories:
Regenerative Leather – Sourced from farms that use regenerative agricultural practices. It gives the land a rest and minimizes any negative impact on it.
Recycled Leather – Made from discarded leather scraps collected, ground up, and pressed into durable sheets. Significant to reduce any waste.
Lite Leather – The leather is tanned with a process that uses less energy, water, and chemicals.
Better Leather – Sourced from a tannery rated Gold or Silver for environmental responsibilities by the Leather Working Group.
Easy Care Leather – It is tanned in factory-rated Gold for its environmental responsibility.
Higher quality leather products can have a longer tanning process than cheap leather, so it becomes more expensive. Naturally, that reflects on the price of your Timberland boots and leather jackets.
Timberland Offers Product Sustainability
Purchasing sustainable and eco-friendly items is more expensive than traditional products as the demand is not as high as mainstream alternatives. In addition, manufacturing costs increase, and raw materials are more costly for companies.
Timberland is becoming more eco-friendly every year with its responsible leather, responsive rubber use, and handling of renewable natural materials in its products. Let's look at what they've done (you already know what they've done with the leather in their products, so I'll skip it).
Greenstride Soles – This natural foam is made of 75% renewable natural materials.
Responsive Natural Rubber – The rubber used to make the outsoles are sourced from rubber plantations that use responsible land management practices.
Recycled Rubber – Consists of 34% recycled rubber used to make shoe outsoles.
Timbergrip Technology – Made from 50% bio-based content.
Read: Where Is New Balance Made?
Asking yourself the price of Timberlands? All the above contribute to making your Timberlands more expensive.
Timberland Offers Durability
Another reason why Timberland is so expensive is its durability.
The brands spend more money on technologies and high materials to its products more durable. You don't want to spend hundreds of dollars on something you can wear for only a few weeks.
All the pairs of shoes and boots I have bought from Timberland have a lifetime of 4 to 5 years.
I wear my Timberlands casually, maybe twice per week, with casual shoes to going out and boots every day during the Winter. With proper care (something I don't do very well), the shoes from this brand can last years.
Some features that make Timberlands more durable and expensive:
TimberDry – The waterproof linings works to keep water out.
Cordura Fiber – Make products last longer since its abrasion-resistant.
Polartec Fleece – Prodive durable versatility, moisture, repel and speed dry times.
Comfortemp Insulation – Provides comfort with high thermal insulation.
Common Questions About Why Are Timberlands So Expensive?
These are some of the most common questions about why are Timberlands so expensive?
Is Timberland a Good Brand?
Yes, Timberland is a good brand with high-quality leather and durable products, and also eco-friendly. However, when it comes to the yellow boots, I would say it's one of the best investments I have ever made in my wardrobe since the brand spends a lot of effort.
How Much Do Timberlands Cost?
You have a lot of different Timberland products like shoes, shirts, jackets, backpacks, etc. But, when it comes to the most popular item, its boots, the cost can be between $140 to $200, with some special collections being even more expensive.
Read: Why Is Balenciaga So Expensive?
Are Timberlands Worth It?
Yes, the price of Timberland boots is worth it. The boots are durable and made from high-quality materials. In my opinion, they are not much more expensive than a good pair of boots from a different brand. Buy a pair of Timbs and check for yourself how excellent and worth the brand is. Also, compare the cost of Timberland boots with other brands.
Do Timberland Boots Last Long?
Timberland boots can last a couple of years (mine usually last four or five years) with the proper care. The brand puts a lot of effort into its technology (high-quality leather, Cordura Fiber, and Polartec Fleece) to ensure the money you spend is well spent.
What Is The Most Expensive Timberland Item?
On the Timberland website (at least right now), the most expensive item is the American Craft 6 Inch Boot for Men in Black for $449.
Read: Why Is Tommy Hilfiger So Expensive?
Is Timberland a Luxury?
I wouldn't consider Timberland a luxury brand but a premium brand that is not as exclusive as Gucci or Louis Vuitton. It is also a brand that is not accessible to everyone, as Primark and H&M are. I would also say buying Timberlands is not a luxury since it can be necessary depending on your work and the weather where you live.
Why Are Timberland Boots So Expensive?
Timberlands are expensive due to the high technology and high-quality material the brand uses on its shoes and products. In addition, durability and sustainability are two factors that can inflate the prices of the brand. Also, with celebrities wearing the brand at popular events and the fact the yellow boots are stylish and iconic, you have a brand that can charge a bit more than others.
If you are looking to get a pair of Timberland boots, but you are in doubt because of the price, I would say for you to buy them (if you can) and try them. You will find that in the long run, it's an excellent investment since you will not need a new pair for the following years if you take care of the ones you have.
What is your opinion about why are Timberlands so expensive? Do you agree with Timberland boot prices? Share with me in the comments.