This post may contain affiliate links. That means if you click and buy from that link, I may receive a small commission (at zero cost to you), which helps me maintain the quality of this blog. Please see my full disclosure policy for details.
When you play football, you want to focus on one ball only. The last thing you need is to be worried about the other two balls. Thankfully if you wear the best underwear for football, you will get no distractions.
I played football for six years on a "professional" team when I was a teenager. You know the importance of underwear in football if you sweat a lot or if your waistband is constantly moving, a seam rubs the wrong way, or feels your junk all over the place. The proper undergarments are essential.
Read: How To Keep Your Balls Cool At Night?
Luckily for you, I have experienced all these problems until I found some of the best underwear for football players to prevent them. Let me show you everything you need to know.
What To Look For In Football Underwear?
If you are new to football, you might not know what features you need to look in underwear. When it comes to football, you need to check for three things.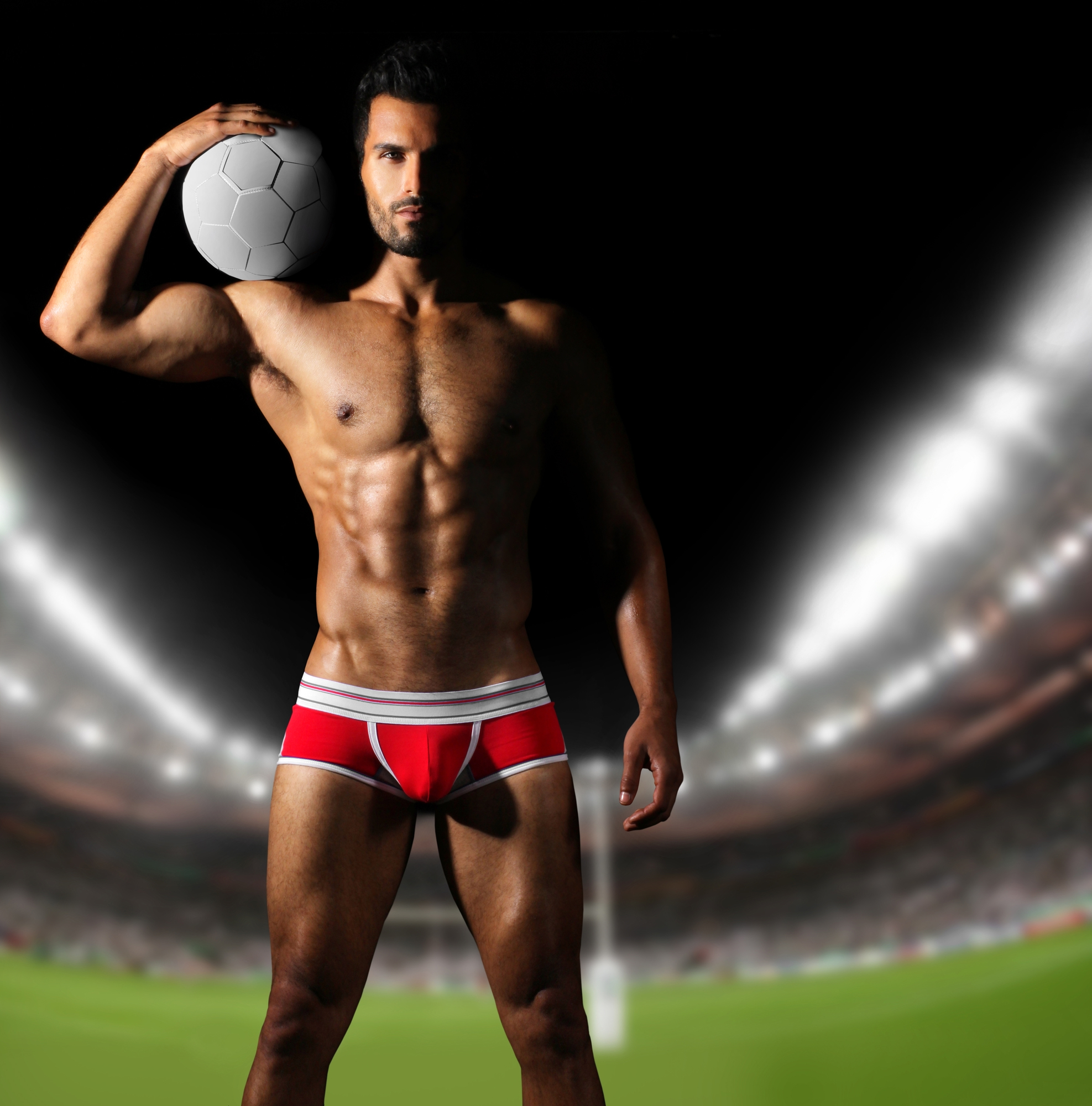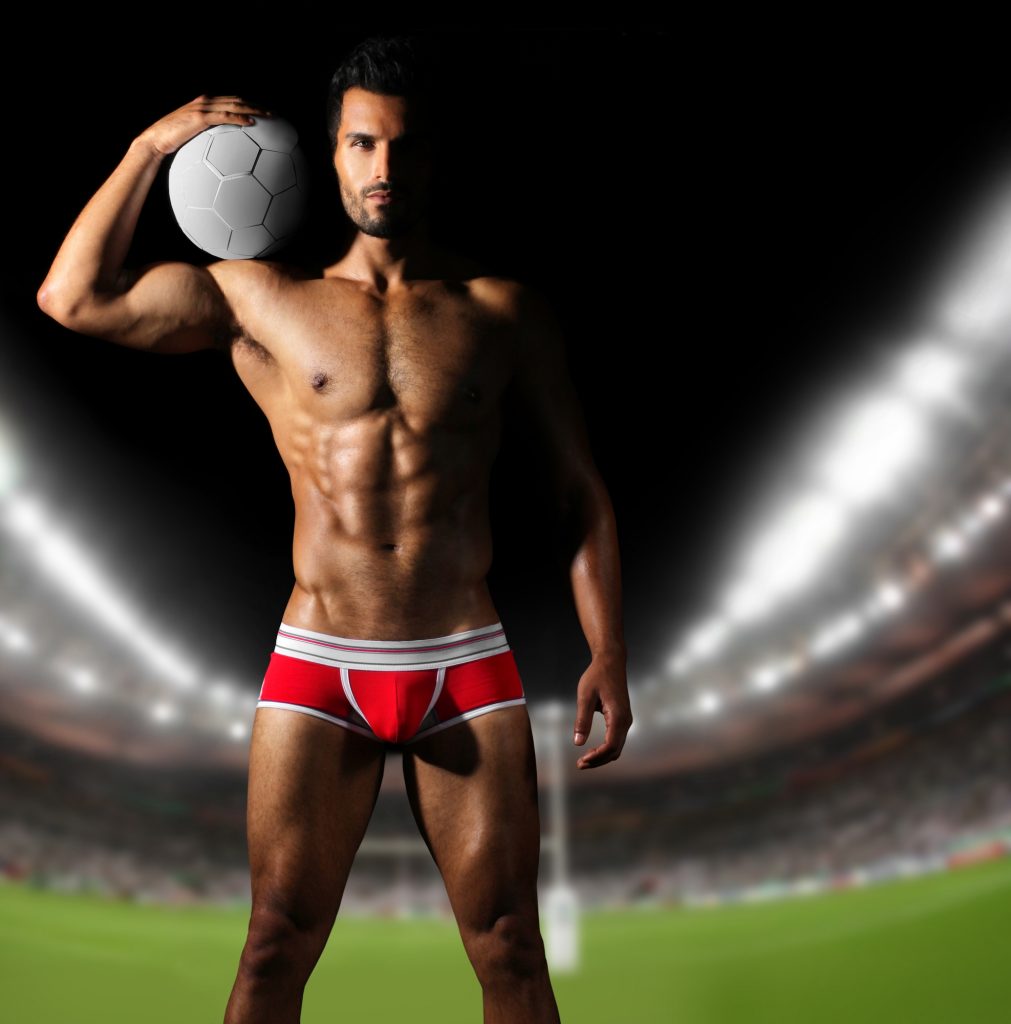 Style
I had a football coach that always said to us never to wear boxer shorts when playing football. Why was he constantly repeating that? When you wear boxer shorts, your balls and junk are always moving and don't have any support. This can make you uncomfortable and put your balls at risk if you fall to the ground in the wrong way.
Most football players wear briefs or boxer trunks because they provide you some support to your balls not to shift when running. It's also common to see them wearing tights.
I always played football with boxer trunks, and they were great for me. I had many colleagues wearing briefs because they enjoyed the support.
Check the best underwear for jock itch.
I would not be surprised if some players wear thongs or jockstraps (normal in American football), but since it's a "masculine" world, many would make you feel bad for those choices. The concept of masculinity changed a lot in the last few years, and you will not be less of a man if you wear a thong or a jockstrap.
Fabric
Football is a sweaty sport. You have to run a lot on what sometimes can be a very intense match. The fabric of your underwear it's a crucial choice.
A great choice is a moisture-wicking polyester fabric. This material allows sweat to wick away from the skin for more efficient evaporation. You will not feel your underwear is heavier because of the sweat, staying dry and fresh the entire game.
Mesh Polyester is not the most durable fabric but allows the air to circulate down there and maximize cooling.
Nylon, spandex, or wool are all great choices too. Keep in your mind that cotton is very breathable but absorbs the moisture making you feel damp and hot as you sweat.
Support
Support is critical to any football player. You don't want your balls and junk all over the place, but you also don't want to wear tight underwear that will compromise your movements.
If you chose compression garments, you know you can compress target muscle groups. It will add blood flow and reduce any micro-tearing in muscles that lead to fatigue later in the game.
Be careful when you buy tight underwear because it can affect your performance and speed.
Top 10 Best Underwear For Football
1 – TURQ Performance Underwear with Freestyle Fit
Features
74% Polyester/18% Nylon/ 8%Spandex
Turq performance underwear is superior to traditional compression shorts. This underwear is designed to be anti-chafing and provide cool comfort all day.
Silver-infused: The fabric for these boxer briefs is infused with silver ions that have natural odor-defying qualities.
These boxer briefs offer a smooth fit with an air-flow construction using a lightweight, chlorine-safe nylon/polyester/spandex blend. Allowing for ease of movement while offering comfortably close, non-compressive, supportive fit
Turq beats compression shorts as an outstanding sports base layer for running, cycling, hiking, soccer, snowboarding, skiing, and even lifting at the gym.
Without a doubt, the best underwear for football is the Turq performance. These boxers are designed to stop the chafe, odor-controlling, anti-bacterial, quick-drying, and supportive. They could have a little bit more compression, but apart from that, they are perfect for football.
2 – New Balance Men's Dry Fresh
Features
87% Polyester and 13% spandex
These briefs are tagless and breathable, providing you with the ultimate comfort. A lightweight 4-way stretch supports your every move.
A quick-wicking design and mesh gusset moves sweat away from your body which will keep you cool and dry. They are perfect for working out, running, skiing, skateboarding, football, baseball, basketball, tennis, volleyball, soccer, and hiking.
Superior Design: These boxers feature an elastic waistband for added flex. These briefs also feature a "no-ride" inseam. You will not have to deal with uncomfortable bunching or irritation.
I love the side pocket to securely hold your phone before and after games. These New Balance compression briefs quickly wick away any sweat and give you the proper ventilation to prevent you from overheating. The compression fit does not restrict your movement, and that's why they are perfect for football.
3 – Under Armour Men's Tech 6-inch Boxerjock
Features
Insanely soft, breathable fabric & articulated mesh fly panel & gusset
No side or back seams for ultimate comfort
4-way stretch construction moves better in every direction
Material wicks sweat & dries really fast
Anti-odor technology is a superlative innovation which helps prevents odor
When it comes to compression boxers, Under Armour is one of the best brands on the market. This pair is super comfortable and great for football (or any other sports). It's moisture-wicking and keeps your body dry. They also don't run down the butt or dig your skin, making an excellent choice for football players. They ride up a little bit from time to time in the legs.
4 – Icebreaker Merino Men's Anatomica Brief
Features
83% Merino Wool, 12% nylon, 5% LYCRA
Built with a super-soft, stretchy, and highly durable merino wool blend, and outfitted with the support and comfort you need for both daily life and weekend adventures.
Features core-spun fabric with nylon & elastane for next to skin softness. Flatlock seams eliminate chafing.
Designed and contoured pouch for added support.
Merino wool is one of the best materials for hot weather or very intensive sports like football since it will let your junk breathe and provide the support you need. Icebreaker is a great brand for you to try.
5 – Sumaba Long Leg Men Underwear Boxer Briefs
Features
94% Bamboo fiber + 6% Spandex
Classics underwear 6″ long leg,big and tall,fits well and no ride up
With 3D U-pouch design, can provide good support to men
Pocket open in front
Suitable for men, guys, athletes, and young people to outdoor sports, rock climbing, hiking, gym, work, running, and various activities.
Check the best antibacterial underwear for men.
6 – Adidas Men's Sport Performance ClimaCool
Features
92% Polyester, 8% Spandex
The Climacool 2-pack delivers breathability in ridiculous amounts with its all-over micro mesh fabric.
Moisture management to keep you dry.
The plush-soft tagless waistband and super smooth stitching deliver superior comfort.
No-ride-up leg construction keeps fit consistent and prevents bunching.
Mesh-lined pouch provides support and breathability.
7 – ExOfficio Men's Give-n-go Flyless Brief
Features
94% Nylon, 6% Lycra Spandex
Elastic closure
Antimicrobial treatment reduces odor in fabric to keep you feeling fresh
Breathable mesh allows for airflow, helping you feel cool and comfortable
Durable fabric and comfortable waistband keeps its shape and resists stretching
8 – David Archy Ultra Soft Mesh Quick Dry Sports Underwear
Features
91% Polyamide, 9% Spandex
High technology fast-drying fabric is breathable and quick-dry to keep you cool and fresh
3D pouch design gives you comfortable support with the greatest freedom of movement
Longer legs for full fitting support making a perfect choice for your favorite sports activity
9 -Bulliant Breathable Mesh Boxer Briefs
Features
84% polyester + 16% spandex
This boxer is made of specialized premium polyamide and spandex, very soft and elastically strong, super friendly to your skin
The mesh structure with full lining protection makes it super attractive but safe
The supreme flexibility of it material composition give you the best fit any time any occasion, sitting, sleeping, running or any other sports moving;
10 – Adidas Men's Sport Performance Boxer Briefs
Features
91% Polyester, 9% Spandex
The sport performance 2-pack is what you need if you're looking for all-purpose, do-anything underwear.
Super soft, stretchy and quick-drying.
Plush-soft tagless waistband and super smooth stitching deliver superior comfort.
No-ride-up leg construction keeps fit consistent and prevents bunching.
Double-lined pouch for support.
Common Questions About Football Players Underwear
These are the most common questions about underwear fot football players.
What Kind Of Underwear Do Football Players Wear?
In all my years of playing football, I have always seen football players wearing boxers or briefs. It is also common to see them wearing compression shorts to reduce muscle fatigue.
What Do Pro Football Players Wear Under Their Pants?
If you are a professional football player, you will wear compression shorts, boxers, or briefs. You will look for support and comfort.
Do Football Players Go Commando?
I never saw anyone playing football commando unless you are at the beach wearing your beach shorts. It would be best to restrict your junk and balls movements when playing football so having underwear is a must.
Do Football Players Wear Cups?
Most football players don't wear cups.
Best Underwear For Football Players
When choosing the best underwear for football players, you need to pay attention to the style, fabric, and support. Your comfort is the most important thing since you only want to worry about your performance.
Turq underwear might be expensive, but it's worth every cent. If you want to be the best you have to wear the best right?
What is the best underwear for football, in your opinion? Please share with me in the comments.