This post may contain affiliate links. That means if you click and buy from that link, I may receive a small commission (at zero cost to you), which helps me maintain the quality of this blog. Please see my full disclosure policy for details.
Nowadays, there seem to be just as many options for men's underwear as there are for women. However, there is a vast difference between the two when it comes to being comfortable.
Men experience much more comfort issues throughout the day, and therefore need to ensure that they always wear the right type of underwear. Boxer briefs have raised in popularity over the last decade, and knowing how to stop boxer briefs from riding up is going to save you from those daily comfort issues.
What Are Boxer Briefs?
The name boxer brief implies precisely that they are a combination of boxers and briefs. This underwear has the traditional shape of boxers but offers a cut and fit that is similar to briefs.
Boxer briefs have become a popular style choice for men because of their versatility. Additionally, they aren't as revealing as briefs but offer the same support without having to worry about chafing.
Read: Knowing Boxer Briefs: How Tight Should Boxer Briefs Be?
Boxer briefs are a versatile style that every man can benefit from when worn correctly, but they are especially beneficial to you if you're taller, or have a larger backside.
Because the fabric is stretchable, it can stretch over your thighs and bum without feeling loose.
As a taller man, you can benefit from the high waistband that isn't going to slip under your trouser line when bending over.
How to Stop Boxer Briefs from Riding Up
Brand and Material
There are few reasons why your boxer briefs are riding up, and unfortunately, you're going to notice the issue more if you aren't looking at the material and the brand. In most cases, more affordable boxer briefs don't have the same quality of material and don't last as long as name brands.
Studies and polls have shown that name brand boxer briefs tend to provide more comfort than those made specifically to be wallet-friendly. Then again, that's not to say that there are no affordable boxer brief options that won't ride up your thighs throughout the day.
All body types are different and are going to react differently to the kind of material that you wear. If you notice that your boxer briefs are consistently riding up, it's suggested that you look into a different brand that offers a different material.
Sizing
Undoubtedly, the most significant issue with a boxer brief riding up is sizing. When being blunt, many men enjoy wearing underwear that is going to show-off what they have in the front.
Regardless of the reason why, if you are one of these men, it's likely that you have chosen a size too small for you. If you decide to wear a boxer brief that's too small, you are automatically asking for the material to ride up.
Check How To Wear Boxers With Jeans
Many underwear guides are going to tell you just how vital sizing is. If you are noticing bunching in the thighs, or even in the crotch area depending on the type, you need to adjust the size of the boxer brief.
As an example, if you are wearing a size medium and notice your boxer briefs are riding up, the first step in preventing it is moving up to a large.
Type
There are two primary types of boxer briefs: mid-rise and low-thigh. Depending on the type that you're wearing, you might see a difference in the location of the chafing or ride up.
Mid-rise boxer briefs can ride up to the crotch area, which can be severely uncomfortable. On the other hand, low-thigh boxer briefs can ride up your thighs.
As a general rule of thumb, if you are having issues with your boxer briefs riding up to your crotch, try switching to the low-thigh type to see how they work for you. If you find that the chafing and ride up issue is still there after you change types, it's time to adjust your size so that you don't spend the day adjusting yourself.
Style
You might not think that the style of pants that you wear plays a part in how your underwear performs, but it does. The reason that boxer briefs have become popular is that modern fashion suggests that men wear tighter pants—and who doesn't want to be in style, right?
Check the best underwear for men with a small package.
The great thing about boxer briefs is that if you are wearing tighter trousers or jeans, you aren't going to see any underwear lines. However, as you and your pants move throughout the day, it's very easy for your boxer briefs to move with them.
If you want to know how to stop boxer briefs from riding up throughout the day when you're wearing tight-fitted pants, you can follow a simple trick.
It's been known that putting your boxer briefs inside of your trousers or jeans can work wonders. How can this be done, you ask? Simply put them inside and then pull your underwear and pants up together.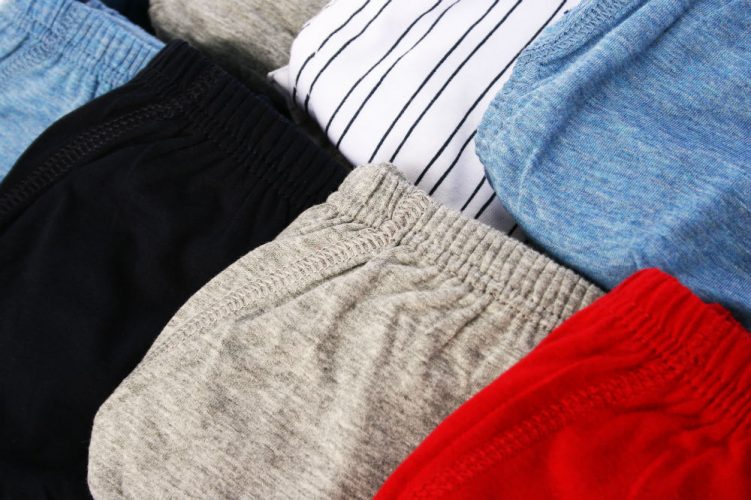 If you still experience issues with riding up, adjust your size or look into a different brand.
Conclusion
Wearing boxer briefs can benefit you in a lot of ways, and as soon as you find the right fit, material, and size, you're unlikely to go back to any other type of underwear.
Read: Best Underwear For Fat Guys
When you purchase your first pair of boxer briefs, you might notice they are a bit uncomfortable, especially if you are used to wearing boxers. All you need to do is take the time to get used to them and find the right ones for you.
Check my choices of boxers briefs that don't ride up.