This post may contain affiliate links. That means if you click and buy from that link, I may receive a small commission (at zero cost to you), which helps me maintain the quality of this blog. Please see my full disclosure policy for details.
Most men choose the first pair of underwear they see in-store without worrying about anything else. However, choosing new boxers or briefs is much more than selecting the perfect color. You also need to choose the most suitable material, and that's why you need to know the best fabric for men's underwear.
Finding the right pair of underwear can be more complicated than it seems if we put some thought into the textiles we need. After all, you must consider your lifestyle and which underwear materials are best for your needs.
Read: Why Do We Wear Underwear?
That's why I made this guide for you. You can not only discover the best fabric for men's underwear but also which materials will perform the best depending on your chosen activities. So let's find out.
Which Is The Best Fabric For Men's Underwear?
The best and most common fabrics for men's underwear are cotton, merino wool, silk, modal, polyester, nylon, bamboo, and spandex. Some other materials can be used during the manufacturing of men's underwear, like acrylic, mesh, organza, or satin, but they are not that common.
If you are in a hurry to find the best fabric for men's underwear, just check the guide below to narrow your search.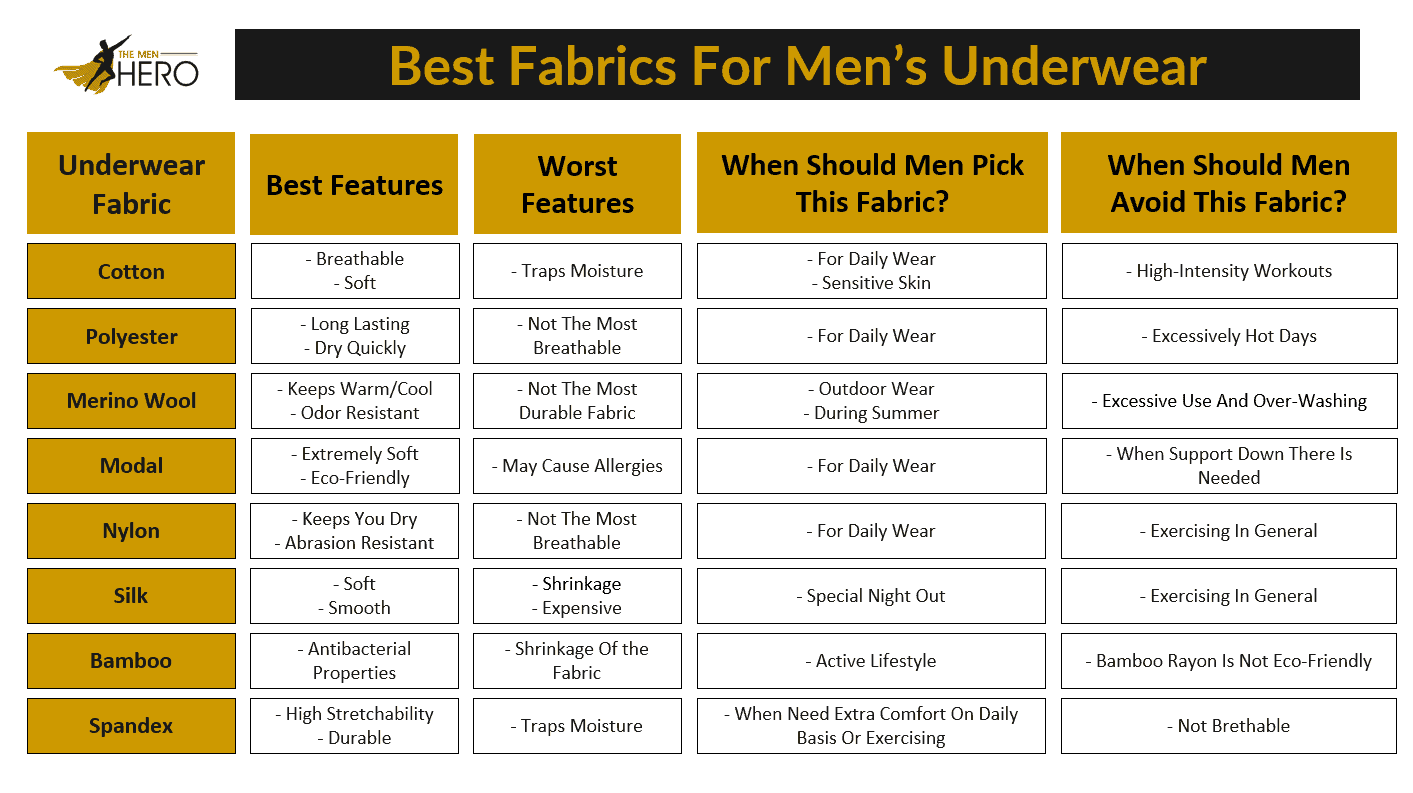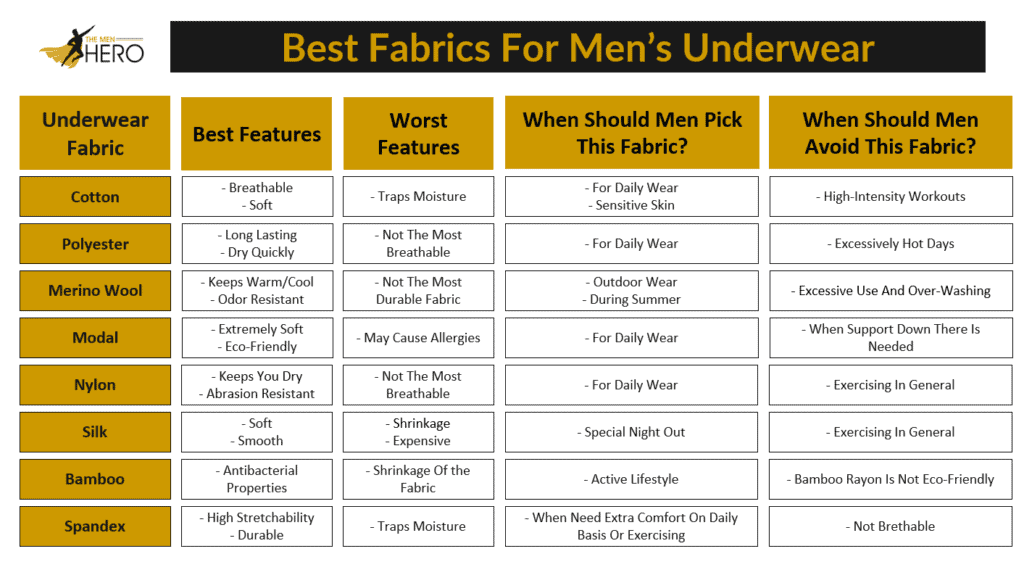 Keep in mind that each underwear fabric has its advantages and disadvantages, and none will be a perfect choice overall. However, you have some underwear materials that are better for your lifestyle, the time of the year, the climate, or even where you live.
Cotton
Cotton is the most popular fabric for underwear, not only for men but in general. It's usually inexpensive and easy to produce, being widely available for most men.
An essential feature of cotton underwear for men is its breathability. As guys, we sweat a lot around our genitals and crotch, so we need a breathable pair of boxers or briefs to prevent chafing, irritations, and infections. Breathable fabrics like cotton allow air to escape passively through the material.
On the other hand, cotton traps moisture, which means that the air passes through the material, but the water doesn't. These can lead to bad odor, infections, rashes, and chafing.
Cotton Best Features
Breathable
Very comfortable
Soft material
Great for sensitive skins
Cotton Worst Features
Traps moisture
It can shrink over time
Less durable than synthetic materials
Read: Best Underwear For Well-Endowed Men
When Should Guys Wear Cotton Underwear?
Cotton underwear is an excellent choice if you live in a hot or humid country because of its breathability. So you can pick a pair to wear during a working day in the office, a day shopping, or any moderate activity. Also, cotton is hypoallergenic, which is ideal for sensitive skin, especially down there. Finally, if you are circumcised, cotton is one of the best options due to being super soft.
When Should Guys Avoid Cotton Underwear?
You want to avoid wearing cotton underwear if you go to the gym and have an intense workout due to the fabric retaining moisture which becomes uncomfortable and can lead to chafing down there. I would avoid exercising in cotton underwear, whether in the gym, playing football, or golf.
Polyester
Polyester is a synthetic material made from a chemical reaction between alcohol and an acid. It's usually one of the most popular materials in men's underwear.
The best polyester feature is its durability since the polyester fibers are very strong. This means that a pair of boxers made of polyester is abrasion resistant and more durable than a pair of cotton underwear. It will also maintain its shape, which is essential since they are so durable.
Read: Difference Between Cotton and Polyester Underwear
Polyester is not the most breathable fabric, so it's usually mixed with other materials. This is essential since a pair of underwear made of 100% polyester will trap moisture and heat, making your day difficult.
Polyester Best Features
It retains its shape
Long-lasting
Less fading
Dries quickly
Polyester Worst Features
It's typically non-biodegradable
It doesn't have a very luxurious feel
When Should Guys Wear Polyester Underwear?
Polyester underwear is excellent for daily wear, especially when it's blended with other fabrics like cotton. The durability and abrasion resistance will make your underwear last longer, and when mixed with cotton, you will also have the breathability you need. Check some men's underwear made of poly cotton.
When Should Guys Avoid Polyester Underwear?
Avoid wearing polyester underwear during sweltering days since you need a breathable pair to ensure it doesn't get smelly. It wouldn't be my first choice for the gym during the summer.
Merino Wool
Merino wool is one of my favorite fabrics for men's underwear, and if you are an outdoor lover like me, you will understand precisely why. Unlike conventional wool, which can be itchy, merino wool is considerably softer and not itchy.
Read: Best Antibacterial Underwear For Men
Merino wool is excellent for temperature regulation, making a great fabric for underwear, whether the weather is cold or warm. This is because merino wool can absorb moisture and still retain its ability to insulate, keeping you warm and dry. It's also a lightweight fabric that draws moisture away from your skin and evaporates it into the air, keeping you cozy in the heat.
Merino wool is not the most durable fabric for underwear or in general. However, the more you wash your merino wool underwear, the quicker it will be gone. We all know you want to wash underwear daily and not wear the same pair more than once.
Merino Wool Best Features
It keeps you warm and cool
Odor resistant
Breathable
Moisture-wicking
Antibacterial properties
Merino Wool Worst Features
Not the most durable fabric
Doesn't give up moisture easily
When Should Guys Wear Merino Wool Underwear?
Merino wool is the best fabric for men's underwear for outdoor activities. You never know if it will be cool or warm, especially if you go on a hike, and the weather can vary according to your altitude. It is also an excellent choice for a hot summer day since it's breathable and keeps you dry.
When Should Guys Avoid Merino Wool Underwear?
Since merino wool is not the most durable material, you want to avoid wearing it daily, especially if you have an active lifestyle. Instead, you want to wear this underwear fabric occasionally on an outdoor journey. It may also cause allergies like red points and itching when mixed with chemical fibers.
Modal
Modal is considered one of the most eco-friendly fabrics for underwear. It's a bio-based material made from spinning beech tree cellulose.
Read: Do You Wear Underwear With Running Shorts?
The best feature of modal underwear is its softness, making it one of the most comfortable undergarments fabrics. Its breathability is also a plus since it doesn't trap odors and perspiration.
The biggest downside of underwear made of the modal material is the lack of support you feel down there. Your manhood and balls don't feel secure, leading to some uncomfortable moments.
Modal Best Features
Super soft
Breathable
Durable
Eco-friendly
Modal Worst Features
Lack of support
May cause allergies
When Should Guys Wear Modal Underwear?
Modal underwear is fine for daily wear if you don't have an active lifestyle. It's also an excellent choice for sleeping since it's very comfortable and breathable. Also, if you want to make eco-friendly choices regarding your garments, then modal is, for many, the best fabric for men's underwear.
When Should Guys Avoid Modal Underwear?
I wouldn't wear modal undergarments when doing aerobic sports like running, hiking, walking, or biking. I would also avoid this fabric when playing football, basketball, or other team sports involving running. The lack of support on your junk will become painful, and you will lose focus on the activity.
Nylon
Nylon is a synthetic material from the family of polyamides made from coal and petroleum. Nylon is an excellent choice as a fabric when blended with other materials.
Nylon is a durable fabric since its abrasion resistance, keeping its shape, and being known for being wrinkle-free. In addition, this fabric tends to hold on to color better than natural materials like cotton or wool, which results in the color of your underwear not fading after many washes.
Nylon is not the most breathable fabric since it's a synthetic material that tends to trap heat and sweat against the skin, causing odors and other problems you don't want around your genitals and balls.
Nylon Best Features
Soft
Keeps you dry
Doesn't shrink
Abrasion resistant
Nylon Worst Features
Not breathable
Not eco-friendly
When Should Guys Wear Nylon Underwear?
Nylon underwear is great for daily wear if you don't have a very active lifestyle and want a durable pair of underwear that will keep the original colors. Perfect to wear during winter or when the weather is not that hot. It can be a great choice when blended with other fabrics.
When Should Guys Avoid Nylon Underwear?
If you care about the environment and want sustainable choices, there are better options than nylon underwear since this fabric is made of petroleum. I would also avoid wearing it while exercising since it's not breathable and can lead to foul odors.
Silk
Silk is a fabric produced by silkworms when they turn into a cocoon, being harvested and treated. For many, silk is the best material for men's underwear regarding softness.
Silk is one of those fabrics that are very delicate, soft, lightweight, and smooth. Like most natural fabrics, it also has moisture-wicking capabilities. It also contains hypoallergenic properties, which is good if you have a sensitive manhood.
The price of one silk pair of underwear and the high maintenance barrier are usually two factors that make this material not one of the most popular fabrics among men despite its softness.
Silk Best Features
Extremely soft
Hypoallergenic properties
Smooth
Silk Worst Features
High maintenance care
Expensive
It shrinks
When Should Guys Wear Silk Underwear?
If your penis is very sensitive to friction, you may opt for a pair of silk underwear daily. Pay attention to the fabrics of the underwear because you want to mix silk with other materials. You can wear a pair of undies made of only silk for special night outs when you want to feel sexy.
Read: Do Men Wear Thongs?
When Should Guys Wear Silk Underwear?
I wouldn't choose to wear a pair of silk underwear daily because they are expensive and need extra attention when it comes to caring. It's also the wrong choice for the gym due to the abrasion when you exercise unless it's mixed with other synthetic materials.
Bamboo
Bamboo is another natural fiber made from bamboo grass. This material is 100% biodegradable when not mixed with chemicals. However, Bamboo rayon, which is very often used to make men's underwear, requires intensive chemicals.
Read: Check The Best Underwear For Small Penis
Like the other natural fabrics on this list, bamboo is also breathable, contains moisture-wicking properties, and is soft and lightweight. But bamboo's best feature is its antibacterial properties that inhibit bacterial growth, keep your manhood fresh, and maintain good hygiene.
Bamboo underwear tends to shrink if you wash them at high temperatures, so you should wash it at lower temperatures. It also tends to be less durable than most materials, so ensure you purchase some with bamboo and other fabrics blended.
Bamboo Best Features
Soft
Breathable
Antibacterial properties
Biodegradable when not mixed with chemicals
Bamboo Worst Features
Shrinks easily
Not eco-friendly when mixed with chemicals
When Should Guys Wear Bamboo Underwear?
Bamboo is one of the best men's underwear materials if you have an active lifestyle due to its antibacterial properties, breathability, and softness, making them very comfortable. So if you do many physical activities throughout the day and can't swap your boxers or briefs, bamboo undergarments are a great choice.
When Should Guys Avoid Bamboo Underwear?
If you want to make conscious lifestyle choices, you need to check what type of bamboo the undergarments are made from since sometimes they are mixed with chemicals that can impact the environment, like the bamboo rayon.
Spandex
Spandex, also known as elastane, is a synthetic fabric polymer called polyurethane with extraordinary stretchability. It's usually a material you can find when picking the best underwear for fat guys.
Spandex is not only very stretchable but also durable, lightweight, abrasion resistant, and stronger than rubber. Spandex can be stretched repetitively and keep its original length, which is fantastic no matter if you gain or lose weight.
Read: How Tight Should Boxer Briefs Be?
The worst feature of spandex is that it has a low heat resistance and traps moisture and heat, causing foul odors and possible infections if you spend the entire day with them. That's why you should choose spandex/elastane blended with breathable materials like cotton or bamboo.
Spandex Best Features
High Stretchability
Durable
Lightweight
Abrasion resistant
Spandex Worst Features
Traps moisture
Not breathable
When Should Guys Wear Spandex Underwear?
Any guy that needs extra space and comfort around the waist should pick a pair of spandex underwear. It doesn't matter if it's because you have excess fat or muscle or if you are overweight or into fitness.
When Should Guys Avoid Spandex Underwear?
Avoid It When
Any guys should avoid wearing spandex underwear if they don't need the extra space and stretching. That's because you will lose the supportiveness of the underwear, having that extra space you don't need.
How To Pick Up The Best Underwear Fabric For You?
When picking the best underwear fabric for you, you need to consider the fabric's features, your lifestyle, and where you live.
Consider Your Lifestyle
Distinct types of lifestyles ask for different fabrics on underwear. For example, suppose you have a very active lifestyle or love to do sports and go to the gym. In that case, you want to pick bamboo underwear or a mix of polyester and cotton to ensure you have the breathability and moisture-wicking properties you need.
Read: How Many Pairs Of Underwear Should A Man Have?
Conversely, if you have a chill lifestyle where you don't do many physical activities throughout the day, a pair of nylon or modal is enough. You can also have different types of underwear worn exclusively for certain activities, like a pair of merino wool boxers only for outdoor activities like hiking or a pair of silk undergarments for a sexy date.
Consider Where You Live
Where you live can also dictate what fabric of underwear you should purchase. If you live in freezing weather, you may want to choose a pair of merino wool to keep you warm. It's also a good option for warm weather, but here you can opt for breathable underwear like cotton, bamboo, or modal.
Consider The Price And Durability
Sometimes life doesn't let you choose a pair of merino wool, bamboo, or silk, usually considered the most expensive fabrics for men's underwear. If you are looking for a cheaper option, polyester and cotton are the picks. When it comes to the most durable underwear fabric, pick polyester, nylon, spandex, or modal.
What Is The Best Fabric for Men's Underwear?
It all depends on your lifestyle and needs. When picking men's underwear, you need to pay attention to support, breathability, and comfort. Most men's underwear is made of cotton and polyester because they are the cheapest materials.
Personally, I prefer merino wool underwear, but due to its durability, I tend to buy boxer shorts made of a mix of polyester and cotton for daily wear, leaving the merino wool fabric for when I hike. Always consider the fabric's properties before deciding on the best material for men's underwear because what is perfect for me could be different for you.