This post may contain affiliate links. That means if you click and buy from that link, I may receive a small commission (at zero cost to you), which helps me maintain the quality of this blog. Please see my full disclosure policy for details.
Most men choose the first underwear they see. If they like the color, consider a deal. This post will show you why you should care about something else and tell you what the best fabric for men's underwear is.
To choose the best men's underwear fabric, you need to consider your lifestyle. Do you need a breathable pair or something softer and lightweight? It all depends on the material you choose.
What Are Men's Underwear Made Of?
Men's underwear can be made of different materials like:
Cotton
Silk
Polyester
Nylon
Mesh
Modal
Jersey
Spandex
You have a lot more different materials, but I would say these eight are the most popular when men's underwear is made.
Choose Your Underwear Type
Before choosing the best men's underwear fabric, you need to select the best type of underwear for yourself. You keep asking yourself "should I wear boxers or briefs?"
Don't forget to consider your lifestyle before choosing the right type and fabric underwear. It all depends if you have a very active life or if you just need something to wear daily for work.
Boxer Shorts
If you like to feel some freedom, boxers shorts are the ones to pick, since they provide a lot of comfort and breathability.
It doesn't give so much support. Boxer shorts tend to ride, and it can be challenging to wear them with jeans.
Boxer Briefs
I always think of boxer briefs as a mixture of boxers shorts with trunks. It's between both. Ironically, they are called boxer briefs because you have the comfort of a boxer and the supportive fit of briefs.
You can also read How Tight Should Boxer Briefs Be?
Trunks
Trunks are my favorite piece of men's underwear and my leading choice for almost everything.
I like how they rest comfortably around my hips, and the leg length is shorter than boxers.
Briefs
Briefs are a type short of men's underwear with different styles.
A great choice if you are looking for a lot of support. It's also very sexy to see a man in briefs.
Men's Underwear Fabric
Each underwear material has its own advantages and disadvantages when it comes the time to choosing one.
If you buy your own underwear (and I hope you do, unless your partner buys something sexy for you to use on a special occasion), you will need to consider some things like comfort, support, and breathability.
Read: What To Wear Under Board Shorts?
Let's check the best fabric for men's underwear.
Cotton
For everyday wear, cotton is, by far, my favorite fabric for underwear. It's very comfortable, and the material is so soft.
The most important feature for me is that it is breathable, and that's important if you sweat a lot and live in a warm country. Cotton has small pores that permit respiration well.
Cotton is the king of materials.
Best Features
Breathable
Very comfortable
Soft material
Does not shrink in the wash
Great for sensitive skins
Ideal For
Cotton is the perfect choice to spend the day when you are chilling or working, etc. If you have very sensitive skin, cotton is the perfect choice for you.
Avoid It When
You are exercising. Since cotton is absorbent, it will absorb all your sweat, making the underwear heavier and uncomfortable.
Read: Best Underwear For Fat Guys
Silk
Silk is a natural fiber produced by insects. They use silk for their cocoons and nests. This fabric is best known for its shine and softness.
It's a very delicate fabric and doesn't benefit from washing or wearing it many times since it damages easily.
Best Features
Ideal For
It's the ideal fabric for winter or a special night when you want to feel sexy.
Avoid It When
Not the best when exercising because absorbs your sweat.
Polyester
Polyester is made using polyester fibers or yarns, being known as a synthetic material. When comparing with cotton, this material is 50% thinner.
Polyester underwear can last longer than most fabrics, and it's incredibly soft against your skin.
Ideal For
If you wear tight jeans, polyester is the fabric to choose from because it's light and thin.
Avoid It When
Since it doesn't have absorbent power, I would not recommend it for hot days.
Nylon
Nylon is an excellent fabric for color retention (it doesn't fade quickly). Its smooth texture had incredible abrasion-resistant. It's a type of material that dries quickly and has low permeability.
Ideal For
Great choice of material for exercising. In my opinion, it's the best material for the gym.
Avoid It When
I don't really have anything bad to say against Nylon, apart from would not be my first choice if you care about the environment.
Mesh
The mesh fabric can be made from nylon, polyester, or other structured materials. Mesh is one of the most popular fabrics in sportswear due to being able to regulate temperature strongly.
Ideal For
You can use mesh fabric underwear for exercising or if you tend to sweat a lot since it's very breathable.
Avoid It When
Mesh fabric has a notably negative impact on the environment.
Modal
Modal is a smooth and soft fabric on the skin, making it an excellent choice for those who don't need so much support.
This semi-synthetic fabric made from beech tree pulp allows you to use this material anywhere.
Ideal For
Daily-wear for work, doing daily tasks, or even to sleep.
Avoid It When
You need support since this type of material is not the most supportive.
Jersey
Jersey is a soft, stretchy knit fabric that can be made from synthetic fibers, cotton, or cotton blends.
If you are always on the go, this material is a good choice since it's lightweight, soft, and has a natural stretch fit.
Ideal For
If you want to relax or even exercise (even if it's not my first choice for exercising).
Avoid It When
If you are looking for support, a jersey wouldn't be my first choice either.
Spandex
Spandex is made up of polyurethane, which is produced by combining polyester with a diisocyanate. This material is often combined with other fabrics to give a better fit.
Men usually choose this material for its elasticity rather than its comfort.
Ideal For
Perfect for everyday wear or to use with a suit.
Avoid It When
I don't have any recommendations for you not to use.
What Is The Best Fabric for Men's Underwear?
It all depends on your lifestyle and needs. When picking men's underwear, you need to pay attention to support, breathability, and comfort.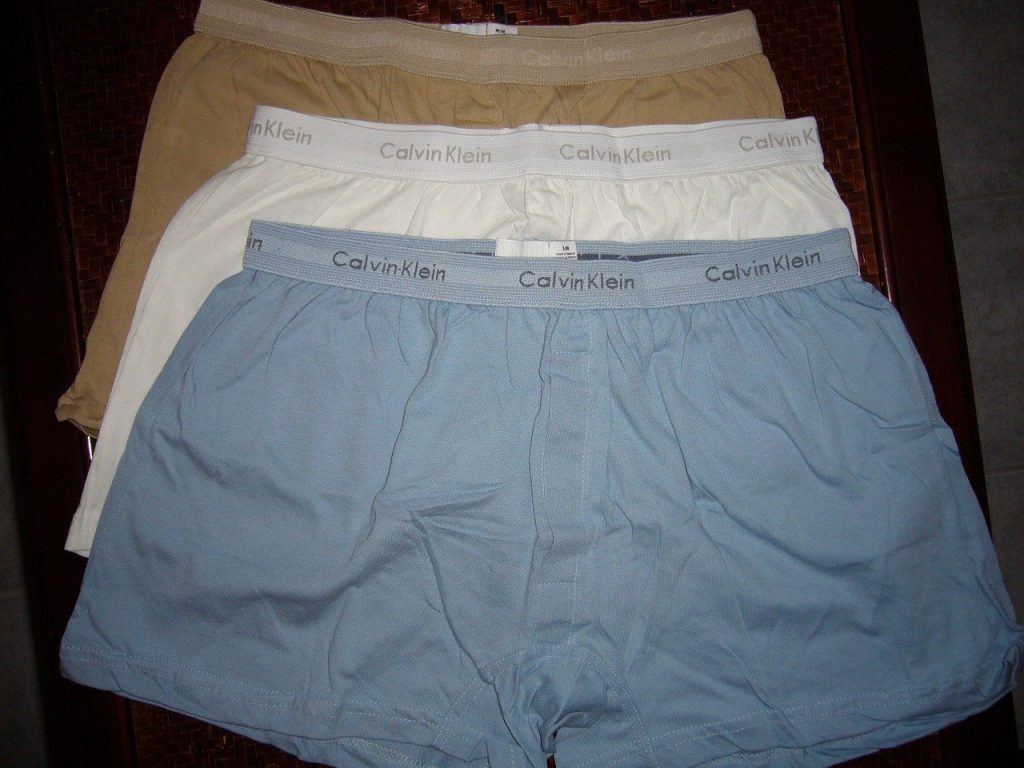 Most of the men's underwear will use cotton, jersey, and polyester as main fabrics. All these three materials provide the breathability, comfort, and support you need, but you can always add the other materials for your specific needs.
I personally am a big fan of cotton for work and daily wear. I like to use nylon underwear for exercising because of its microfiber construction.
What about you? What's the best fabric for men's underwear, in your opinion? What new materials will you try? Share all with me in the comments.