This post may contain affiliate links. That means if you click and buy from that link, I may receive a small commission (at zero cost to you), which helps me maintain the quality of this blog. Please see my full disclosure policy for details.
Many guys feel uncomfortable with the idea of wearing something different. So you ended up here because you wanted to get an answer to the question: do men wear bras?
Most of us grow up listening to that bras are only for girls and boys and men shouldn't wear them. I have personally never worn a bra, but that's because I don't need one. So if you want to know if guys can wear bras and why they use them, keep reading because I will explain it to you.
Do Men Wear Bras?
Yes, some men wear bras. I know it can be a bit shocking for you, but some guys don't have the choice to decide if they need to wear one or not. Also, bras are not exclusive to transgender people, cross-dressers, or drag queens since straight men can wear them.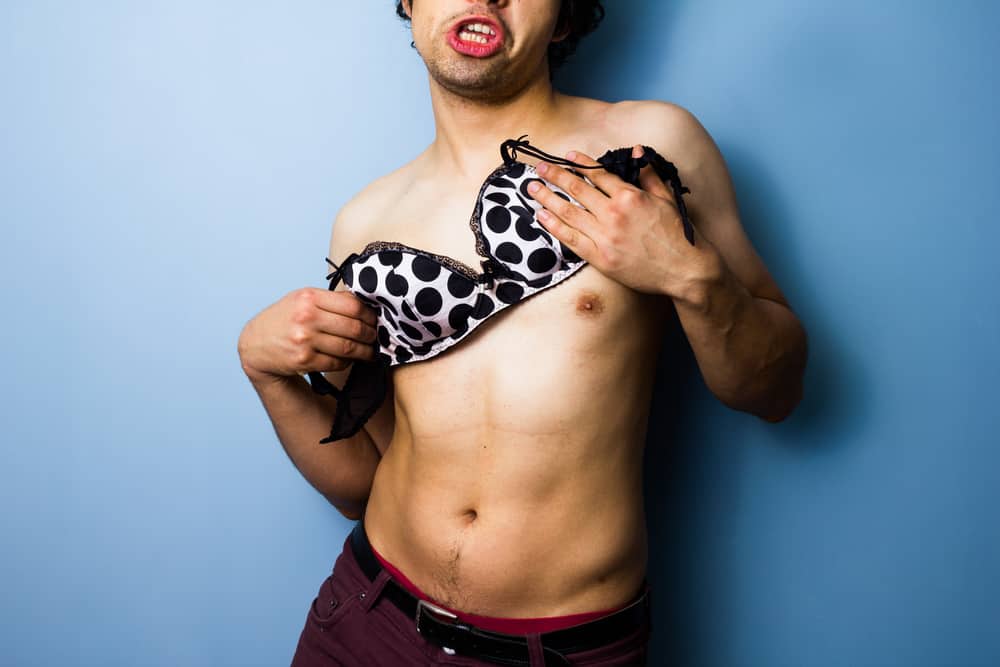 I had a friend that did wear a bra to have more support but would always be very careful with being shirtless around other guys. He was afraid of being mocked since it's not usual for guys to wear a bra. If you look around your gym locker room, you will probably not see any guy with a bra, but I want you to know that it is more common than you think. It's just something men don't like to share with others.
Read: Best Underwear For Fat Guys
Why Do Men Wear Bras?
Men can wear bras for different reasons. Some guys need to wear bras for medical reasons, and others require support or feel more comfortable with them. Other men like to wear lingerie designed for women because that's how they feel happy, and some wear it for sports reasons. As you can see, it doesn't matter what your sexual orientation as a guy is, since you can wear a bra for different purposes.
Gynecomastia
Gynecomastia is a health condition of overdevelopment or enlargement of the breast tissue in men or boys. This means that your breasts become more prominent and sometimes even grow unevenly.
In many cases, the cause of Gynecomastia is unknown, but many times is linked to hormone changes. The female hormone (estrogen) levels are higher than they should be, and the male hormone (testosterone) levels are lower.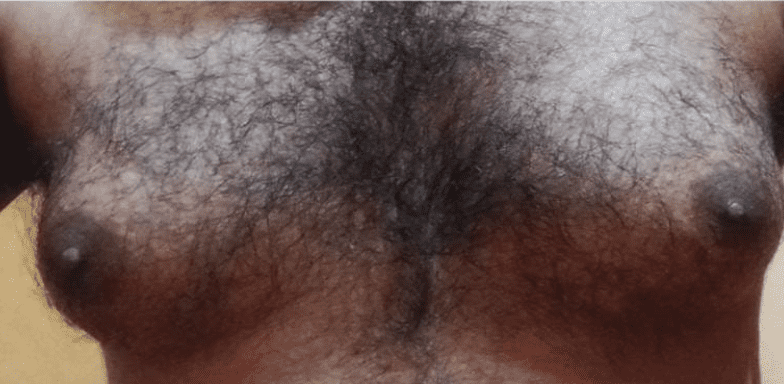 Most cases of Gynecomastia happen during the teenage years when the teenage boy is going through puberty. However, it can happen to babies and older men. It often disappears on its own, but sometimes men need hormone therapy to regulate the levels of the hormones.
Read: Do Men Wear Thongs?
Many guys wear bras when having this condition because they feel ashamed or self-conscious, so they wear bras to flatten and make the chest more manly, avoiding those bumps.
Comfort & Support
Some men wear bras because they have larger breasts and need a bra's support. The support is critical during sports activities like running, gym classes, team sports, or high-intensity interval training. Without the support of a bra, some men can feel uncomfortable.
Any guy can also feel embarrassed since he doesn't want anyone to know he has "man boobs," which I understand. However, remember that your priority is to feel comfortable daily, and men's bras can help with that.
Sports
These days, many team sports like football, basketball, or rugby have male athletes wearing bras to monitor the athlete's calorie-burning, heart rate, fatigue, energy spent, and other factors, depending on the sport.
It can also happen in individual sports where runners wear sports bras under their shirts to prevent nipple chafing (the excessive rubbing of the wet material of your top over the nipples). The medical condition called jogger's nipple can be particularly annoying because you will be focused on how uncomfortable you feel and not on your running course.
Read: Best Underwear For Football Players
Wearing a sports bra when you are doing sports activities can help you keep track of your health when you are engaged in them. It can prevent certain health complications in the future for sure.
Feminization
You also have some men that wear bras because they like the idea of being more feminine and wear products that are associated with the feminization of a male body. In my opinion, this can be divided into two different groups.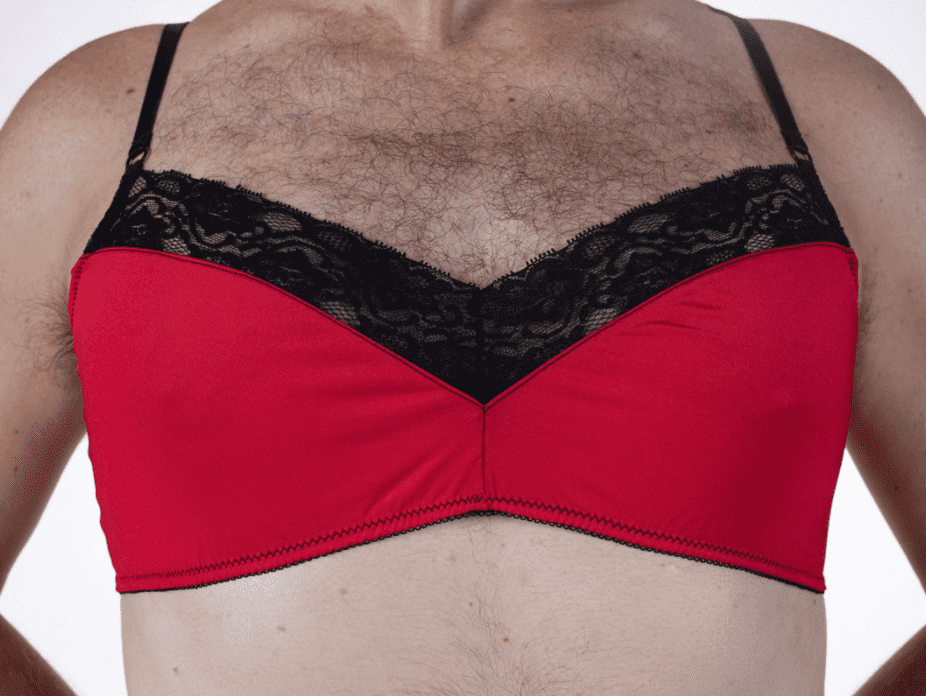 You have the drag queens in one group, men who ostentatiously dress up in women's clothes. These men need to wear bras to make us believe in a female fantasy since they perform as entertainers in female drag. If you watch Ru Paul's Drag Race, you know what I am talking about.
Read: Best Men's Nude Underwear
In the other group, you have the cross-dressers, men who like to wear clothing usually associated with the female gender. So men wear bras because they want and like to wear them.
How To Choose A Men's Bra?
Now that you know it's perfectly okay for you to wear a bra, no matter what reasons you have for it, I will give you some tips on choosing a men's bra.
Size
It's essential to buy the right size for a bra, but it can be challenging to know what size to pick if you have never bought one before.
The best way to choose the perfect bra size is to measure it. Follow these steps:
Measure your chest circumference 2 inches (5.08 cm) below your nipples.
Determine your band size by adding 4 or 5 to your chest circumference. If your number is even, add 4, but if your number is odd, add 5.
Get your natural cup size by measuring right across your nipples.
Subtract your first measurement with the second one to find out your cup size. If the difference is 0, you're a AA cup. If the difference is 1, you are an A cup. Difference of 2 (B cup), 3 (C cup), 4 (D cup), 5 (DD cup), 6 (DDD cup) etc.
Your band size is the number you want to buy, and the letters are the cup size. So, for example, if your band size (the second measurement) is 38, that means your bra size will be 38.
Read: Why Do We Wear Underwear?
Fit & Compression
The fit and compression are more of a personal preference, and it depends on how big your boobs are. A good bra should offer enough compression to reduce any bounce or movement in the chest area.
The fit should be the most comfortable possible. For example, to reduce the size, some guys want to have their chests the most flattened possible. Just ensure you feel comfortable since being tight in that area for many hours can bring health complications in the future.
Material
When it comes to the bra materials, you want a stretchy lace to ensure you have the space you need, made of mesh or spandex if possible, and memory foam since these fabrics can adjust to different breast shapes.
Best Bra For Men To Wear
Most men's bras I've come across are sexier than supportive. However, I have found one vest that provides the same support as a bra.
NonEcho Corset
Made of 70% nylon + 30% spandex, perfect fit, soft skin, men's tight compression shirt, three-row hooks, adjustable elasticity according to your needs
Provides a quick chest slimming look, specifically designed to reduce the appearance of Gynecomastia.
Compression undershirt works with the recovery after gyno surgery as well.
Super thin with seamless design, smooth, invisible compression vest. The wide round neck design makes it suitable for any clothing.
You can also wear it to run, play boxing, football etc.
The fact that it's made of spandex is an excellent indication since the fabric is elastic and will avoid any tightness. It's also a great choice if you need it for an entire day at work or if you decide to go play football or go for a run.
As I said, I couldn't find many men's bras (unless you are looking for something sexy, you can check these men's bras) that would give you support, so I hope the NonEcho corset can solve all your problems. At least you can expect some support and comfort.
Common Questions About Why Do Men Wear Bras
These are the most common questions about do men wear bras.
When Should Men Wear Bras?
Men should wear bras whenever they need more support and comfort around the chest area. It can happen if a guy suffers from gynecomastia, to avoid chafing when running, or simply because he likes it.
Can Guys Wear Women's Bras?
No, men should not wear women's bras. Men have wider chests, so they need wider bras. If you wear a tight bra, the straps will dig into your chest, back and shoulders, making you uncomfortable the entire time you are wearing it. Men should always buy bras explicitly designed for them.
Can Guys Wear Sports Bras?
Yes, guys can wear sports bras that are manufactured for men. However, some men defend that guys can also wear sports bras manufactured for women since they aren't different. So, in case you decide to wear sports bras designed for women, check if you feel the bra is tight or not. If you do, you need a bigger size or stick it with a men's sports bra.
Do They Make Bras For Men?
Yes, some bras are specially manufactured for men.
Read: How To Remove Poop Stains From Underwear?
Why Do Guys Wear Sports Bras In Football?
Some football players wear bras to check their calorie-burning, heart rate, fatigue, energy spent, etc., providing real-time statistics for specialized technicians to evaluate the players.
Conclusion On Do Men Wear Bras
Do men wear bras? Absolutely! You shouldn't be ashamed if you have never worn one because more men wear bras than you will ever know. I guarantee you have spoken with another guy wearing a bra, and you didn't even notice.
The best way to ensure you have the right bra for you is to measure your chest and band. Then, after buying your first bra, you can adjust what size to purchase and how comfortable you feel.