This post may contain affiliate links. That means if you click and buy from that link, I may receive a small commission (at zero cost to you), which helps me maintain the quality of this blog. Please see my full disclosure policy for details.
Having a big belly and extra fat can bring a lot of complications when buying the proper undergarments, and that's why you need to choose the best underwear for fat guys.
If you are here, you probably bought underwear that was too tight, not flexible, or supportive. It can happen if you choose the wrong design of underwear, the wrong fabric, or a pair that doesn't have the right features to support the extra weight you have.
During a stressful day at work or a relaxed moment with the family, the last thing you need is uncomfortable underwear that keeps you from focusing on what you need to do. Issues such as friction, excessive sweating, or tight underwear can bring different health problems to fat people, and that is why it is essential to choose the best underwear for fat men, as each body shape and size have different needs.
Luckily for you, I have put a guide with the best underwear for fat guys and what you need to look for when buying undergarments for yourself.
What To Look For In Fat Man Underwear?
When buying the best underwear for big guys, you must consider five crucial features.
Design
The style and design of your underwear is reasonably the most critical feature. For example, if you have a large waist, you want to buy boxer briefs or boxers, but if you have wide hips, you want to purchase trunks or boxer briefs.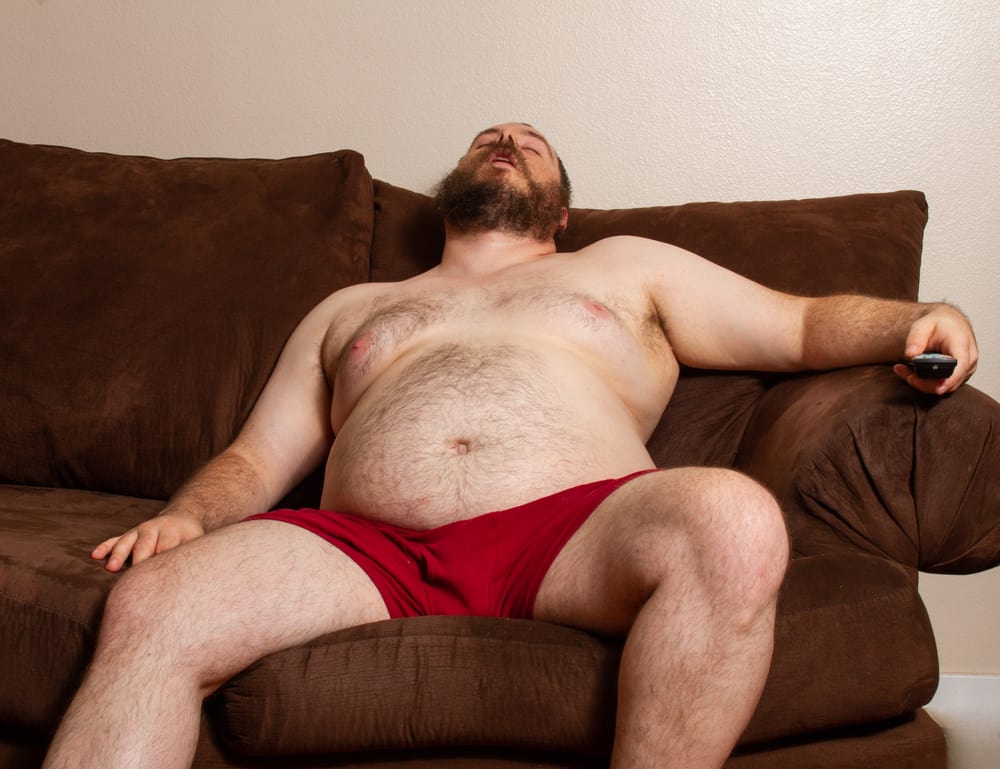 Briefs tend to stretch fast when overweight and can crush your balls, providing more pain than comfort. It is a very supportive undergarment style, but I wouldn't recommend it to fat men.
Read:
Boxer briefs are a great choice, especially if you don't like when underwear rides up (who does it?). They prevent chafing and give support without your penis and balls feeling too tight. However, they can feel a little bit snug if you don't buy a suitable material. Nevertheless, I still think this is the best underwear style for large men.
Boxers are a great option if you look for comfort and undergarments that don't restrict your movements, giving you a certain freedom. Yet, boxers are not supportive and often not stretchy, so you need to buy the perfect size. In addition, the friction between the material and your skin can make chafing an issue.
Read: Should I Wear Boxers or Briefs?
As you can see, choosing the right design and style of your underwear, it's crucial to avoid specific problems and getting the comfort you need.
Material
The underwear material is also essential because you want to avoid materials that are not breathable or don't provide enough elasticity. Again, you can check my guide on the best fabric for men's underwear.
Some of the best materials are cotton (breathable and soft but can be absorbent if you sweat a lot), nylon (it keeps the underwear dry), or spandex (which is a flexible fabric). If you can find a pair of boxer briefs blended with the three materials, it would be perfect since they all work very well together. But, I would avoid 100% cotton-made underwear because it absorbs sweat and if excessive, doesn't keep the underwear dry.
Read: Best Underwear For Small Penis
I would avoid silk fabric as it is very absorbent. I don't have a problem with polyester because it's a durable fabric, but I think you have better options like the three I mentioned.
The Fitting Of The Waistband
Some undergarments have a tight waistband with limited elasticity. That's why having some made of spandex can be a good thing for you. Having a massive belly can make you uncomfortable, especially if you are wearing tight underwear.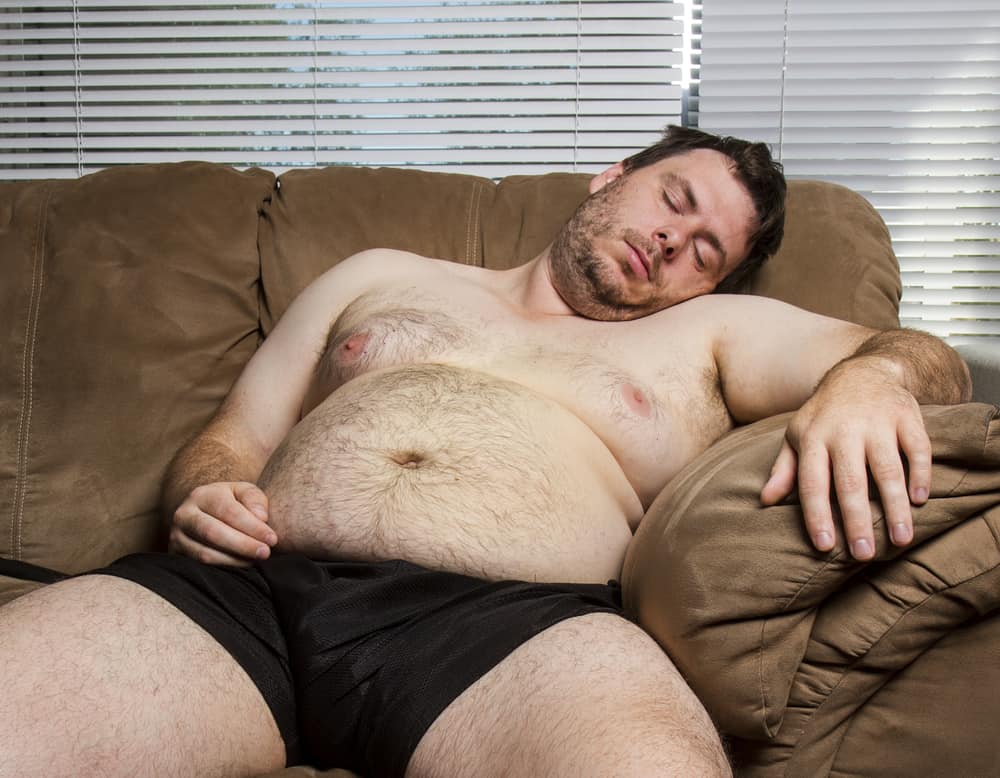 Read: How To Stretch Underwear?
The waistband should be soft and durable to give you the comfort and support you need. I had a pair of underwear that was so uncomfortable around the waist that I kept adjusting up and down all the time. Also, I had a rash around my waist, just so you guys understand the importance of a good-fit waistband.
Moisture
Fat men tend to sweat more, feeling hotter and taking longer to cool down than lean people, so moisture control is significant.
Moisture can ruin your day since the accumulation of sweat can make your underwear heavy and smelly which could cause fungal infections. If you sweat a lot, I would consider buying antimicrobial underwear made of modal, merino wool, or bamboo since they have antibacterial properties.
Chafing
I have mentioned chafing already, but I want to affirm how important it is to avoid it. You want to dodge any rashes or irritations in a sensitive area like your genitals. Breathable underwear and suitable fabric can make a huge difference in preventing chafing.
Top 5 Best Underwear For Fat Guys
These are, in my opinion, the best underwear for fat guys. I have avoided underwear made of 100% cotton.
1 – ZONBAILON Bamboo Underwear
95%bamboo 5%spandex
Pull-On closure
Wide elastic waistband with good stretchy and no chafing.
Lightweight and soft to the touch, like your second skin.
Tagless and seamless.
The Zonbailon boxer briefs are the best underwear for fat guys for many reasons. These undies are made of bamboo and spandex, so you have the moisture-wicking, antibacterial properties, breathability, and elasticity you need.
The boxers have a wide elastic waistband that is perfect if you have a big belly or extra weight around that area. It's also tagless and seamless, so you will feel more comfortable that way.
If you read the reviews of Zonbailon, you can see that many big guys are buying this underwear and are very happy with the purchase. They feel comfortable, sexy, and dry and have the support you need.
2 – MACOBER Boxer Briefs
94% Bamboo Fiber 6% Spandex
Cooling underwear for men with a pouch for balls
Soft stretch tag-free waistband
Men's compression underwear keeps the hem on the leg without feeling tight
Odor control and manages sweat due to its properties
The Macober boxer briefs are another option made from bamboo and spandex. It is crucial to have moisture-wicking and antibacterial properties to avoid bad smells and keep your underwear dry.
Since fat men sweat a lot more than lean people, and if you sweat excessively, I would choose these undies since they have a cooling effect technology.
3 – Terramar Boxer Briefs
86% Nylon, 14% Spandex
These briefs are tagless and breathable to provide you with the ultimate comfort.
A lightweight 4-way stretch supports your every move.
A quick-wicking design that moves moisture away from your body to keep you cool and dry.
Terramar is an outdoor brand with great boxer briefs made from nylon and spandex to ensure you keep them dry and have the elasticity you need to avoid any tightness. It would be even better if they had a little bit of cotton for breathability, but I had a pair, and they didn't smell after a very intensive and hot day out.
Read: Best Underwear For Jock Itch
What I like about the Terramar boxer briefs is that the boxers don't ride up and stay in place when you move. So it doesn't matter if you are exercising, sitting down, or walking. One of the best boxer briefs for fat guys.
4 – Ejis Micro Modal Boxer Briefs
Sweat Defense boxer briefs keep your pants bone dry and are 100% guaranteed to stop sweat marks on your butt, back of legs, and groin. 
Featuring ultra-thin waterproof layers in the areas you need most, our unfailing sweat-stopping power will keep you looking and feeling fresh.
The light, breathable, silky-smooth micro modal fabric feels up to 50% softer than regular cotton with 5% Spandex to add stretch.
Smell fresh all day with advanced SILVADUR technology embedded into every boxer brief.
The boxer briefs are designed with extra wide waistbands and an extra-large comfort pouch to keep you cool and comfortable all day long.
Ejis is one of my favorite underwear brands and my number choice for antimicrobial underwear. The modal fabric has antimicrobial properties that help prevent any foul odors. This is because the real silver ions in the material make you smell at your best and is also a more conscious alternative to nanotechnology.
Read: Do Men Wear Bras?
Most reviews about the Ejis boxer briefs say that this underwear doesn't ride up and is very comfortable.
5 – Levi's Boxer Briefs
No-Fly, Double-Layer pouch.
Made from 57% cotton, 38% Poly 5% Spandex. These men's briefs are tagless and breathable, with the ultimate comfort.
A lightweight 4-way stretch supports your every move.
Moisture-wicking, quick-drying design. It moves sweat away from your body which will keep you cool and dry.
These men's boxers feature an elastic waistband for added flex. Men's boxer briefs also feature a "no-ride" inseam. As a result, you will not have to deal with uncomfortable bunching.
These Levi's boxer briefs are made of cotton, polyester, and spandex. They are durable due to polyester properties, and you will have breathability from cotton and the elasticity from the spandex to avoid any tightness around your waist.
Read: How To Organize Underwear?
Levi's underwear has an excellent elastic waistband for added flex, so if you constantly buy underwear and feel they are always tight, you should consider trying this pair.
Common Questions About Underwear For Big Guys
These are the most common questions about the best underwear for fat guys.
What Underwear Should Fat Guys Wear?
The best underwear for fat guys is a pair of boxer briefs, usually made from bamboo or nylon blended with spandex and cotton, with moisture-wicking and antibacterial properties that prevent chafing and have a suitable elastic waistband.
Read: How To Get Smell Out Of Underwear?
How Do I Find The Right Underwear For My Body Type?
The best way is to try different types of underwear and check which are the most comfortable and better fit your needs. For example, briefs are suitable for thin, fit, and muscular men. On the other hand, boxers are better for fat or muscular men, and boxer briefs are ideal for every body type. So you can always start with boxer briefs and then try other styles.
What Kind Of Underwear Do Big Guys Prefer?
Big guys tend to prefer boxer briefs because they don't like underwear that restricts their movements. They also consider the material, the wicking moisture properties, the possibility of chafing, and the waistband.
Conclusion About Best Underwear For Fat Guys
You may be asking yourself, "What is the best underwear for fat guys?" Well, it turns out this question has an answer. To find your perfect pair of boxer briefs, some things need to be taken into consideration first. 
Read: How Many Pairs Of Underwear Should A Man Have?
The material should not chafe in any way, and it needs to wick moisture away from the body so sweat doesn't become uncomfortable or cause odor problems. A suitable waistband will also help keep everything in place while preventing discomfort around the stomach area and providing stability when moving. The best men's underwear for a fat belly is boxer briefs since they don't restrict your movements.
The best advice I can give you when looking for the best underwear for fat guys is to try different ones and stick with the most comfortable pair. I start with the Zonbailon boxer briefs since they are perfect for big guys.