This post may contain affiliate links. That means if you click and buy from that link, I may receive a small commission (at zero cost to you), which helps me maintain the quality of this blog. Please see my full disclosure policy for details.
If you have a job where you need to spend every second on your feet, you know that discovering the right pair of shoes is not easy. That's why I will show you the best men's dress shoes for standing all day.
Finding a pair of super comfortable shoes that can be worn with a smart outfit can be quite challenging since not all dress shoes have the features you need to be on your feet all day, five times (or more) a week. After all, not all shoemakers think about how you will wear the shoes. It would be best if you looked over essential aspects like the materials, the cushion, the fit, the weight, and the outsole.
Read: Best Shoes For Retail Workers
When you wear the right pair of dress shoes, you will prevent problems like plantar fasciitis, low back pain, bunions, muscle soreness and fatigue, poor posture, and many others. Unfortunately, you may already have these problems without even realizing some of them. It happened to me when I had to sell men's dress shoes for customers standing on their feet all day. So let me help you to choose the best pair for you.
What To Look For In Dress Shoes For Standing All Day?
I have worked in the footwear industry, so I have sold all types of shoes, you can imagine. In the six (or seven) years I worked with shoes, many people would share their stories and problems. Some of the biggest concerns would be having to stand all day on their feet with stylish and comfortable shoes or not finding the right pair that provides everything they need.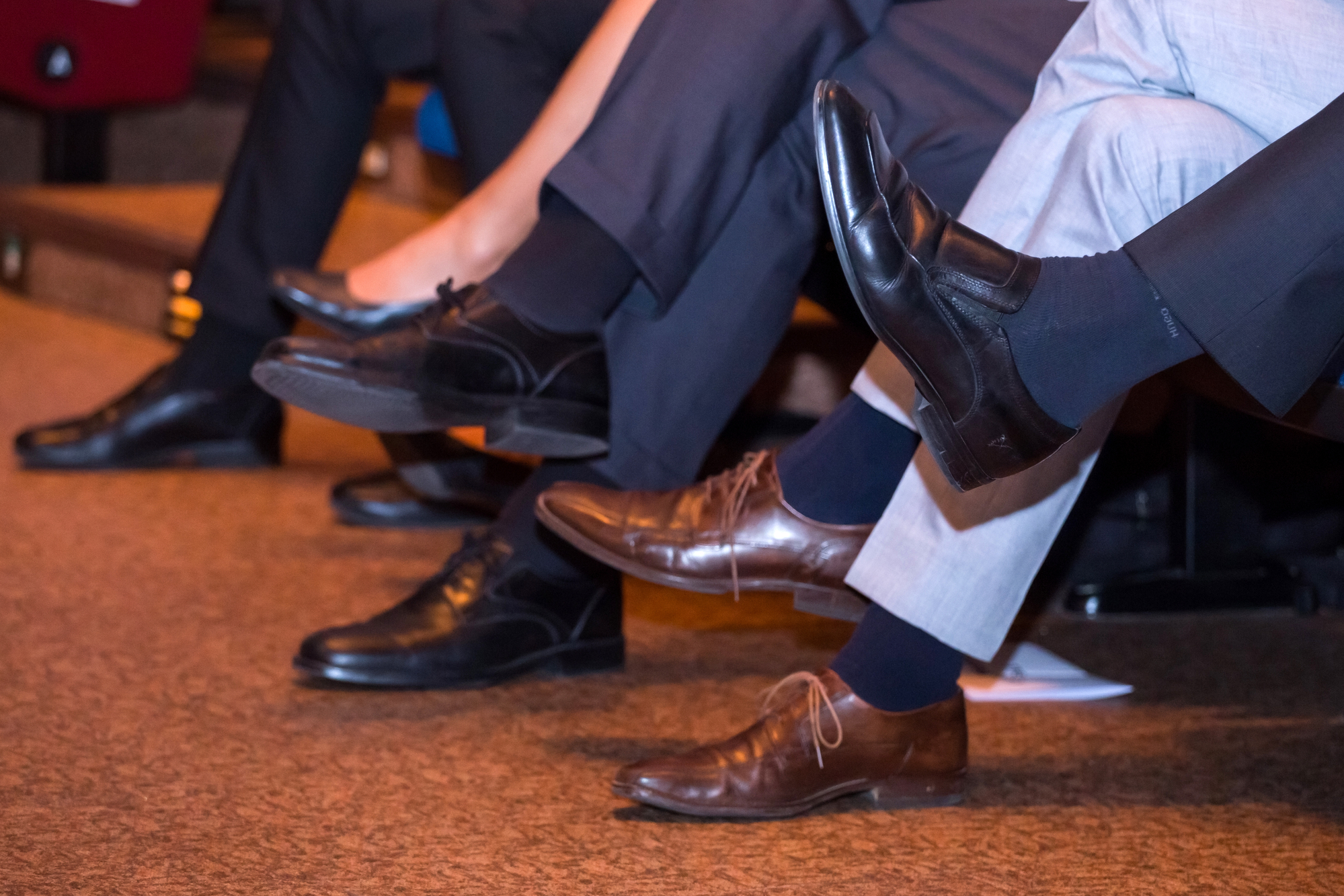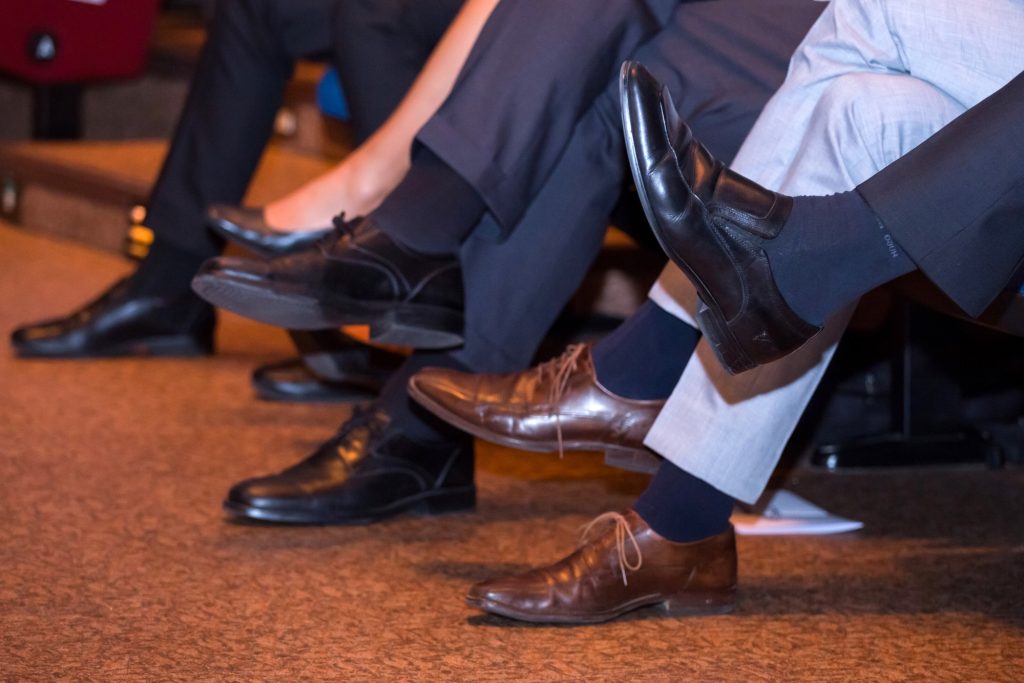 Read: How Many Pairs Of Shoes Should a Man Own?
We all know the wrong pair of shoes can do more damage than help. You need to check some essential features in a dress shoe that will provide you the comfort and support for you to stand all day and not suffer every time you remove the shoes at home, thinking the last thing you want is to wear them again the next day.
Standing all day on your feet can reduce blood flow to your muscles and stop the regular muscle movements that return the blood from the feet to the legs and heart. This can cause veins to inflame, and ankles and feet swell, causing muscle aches. You will move even less if your feet hurt from your shoes.
So if you are someone who needs a pair of dress shoes to stand all day at work, pay attention to the following features because they are essential for you. Also, don't be afraid to ask for help and advice from a sales assistant if you shop in-store.
Cushioning
When choosing the best men's dress shoes for standing all day, cushioning is the most crucial feature.
Independent of your heaviness, when you stand all day on your feet, you put all your weight and pressure on them. Usually, you should sit down for five to ten minutes every hour to release that pressure from your lower members. Unfortunately, some jobs require you to stand for hours without resting.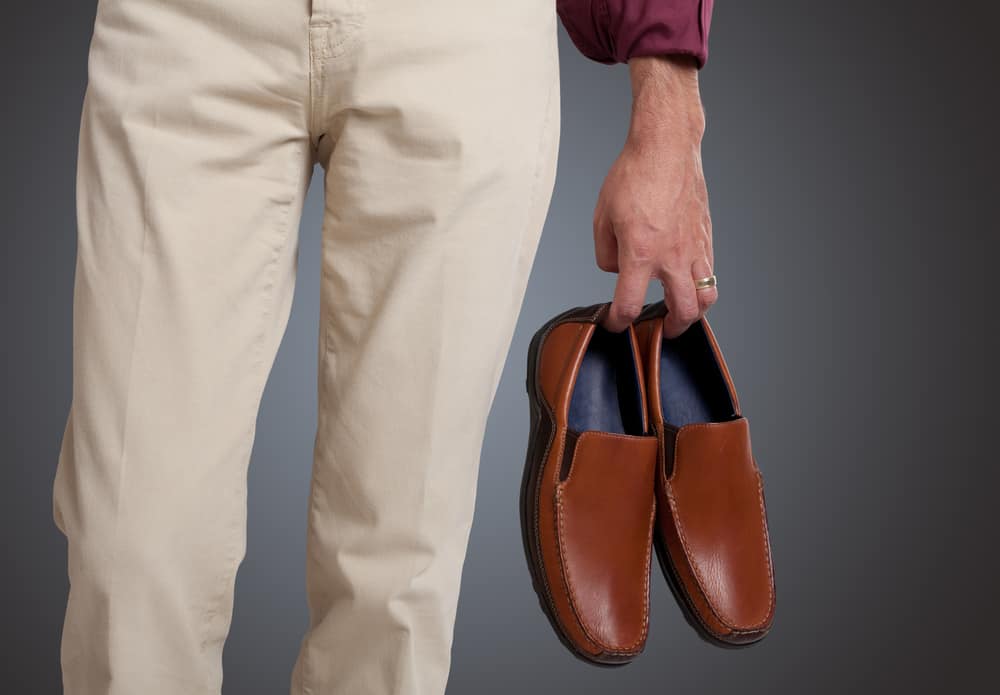 Read: How To Stop Shoes From Rubbing The Back Of Your Ankle?
That's why you need to find a pair of shoes that provide good cushioning to help you release the pressure you put on your feet and joints. Some of the most comfortable dress shoes for men are the ones that provide an excellent padded insole (especially on the hell area) that makes you stand for a long time on your feet without feeling any pressure.
The trick is, when you try a pair of dress shoes, they should feel comfortable straight away. If they chafe or rub anywhere, you need to understand if it's a problem of a particular style or if it's your feet and why it happens.
Support
When you are on your feet all day, you put a lot of stress on your lower extremities. Wearing a supportive pair of dress shoes, it's not exclusive to someone who suffers from joint paint, achy arches, or plantar fasciitis. You want to prevent all these problems from happening to you.
Most people think you can only find supportive shoes if you choose a running or hiking pair of trainers, but that's a misconception. Yes, those shoe styles can provide much more support than any other, but some dress shoes are now designed to support your feet.
Try to avoid utterly flat dress shoes since they don't provide any support to your feet and ankle. This can create some big problems for your lower extremities in the future, especially if you spend all day on your feet five times per week. If the shoe is too flexible, it won't be that supportive.
Weight
Many of us don't think about this because unless you wear steel boots, you assume all shoes are lightweight, and that is not true.
Dress shoes are usually heavier than sneakers, contributing to spending more energy when walking or standing still at your job. If you also need to go up and down, you want to wear something light that will not make your feet and you tired.
Read: How Much Do Shoes Weigh?
When you buy a pair of dress shoes, try them and walk a little bit to see if they seem heavy or not. If they do, I would try another dress shoe style since you have some great pairs that feel like sneakers nowadays.
Sizing and Fitting
After checking for the cushioning and support, you need to ensure the size and fitting of the dress shoes are correct since you will spend most of your day wearing them.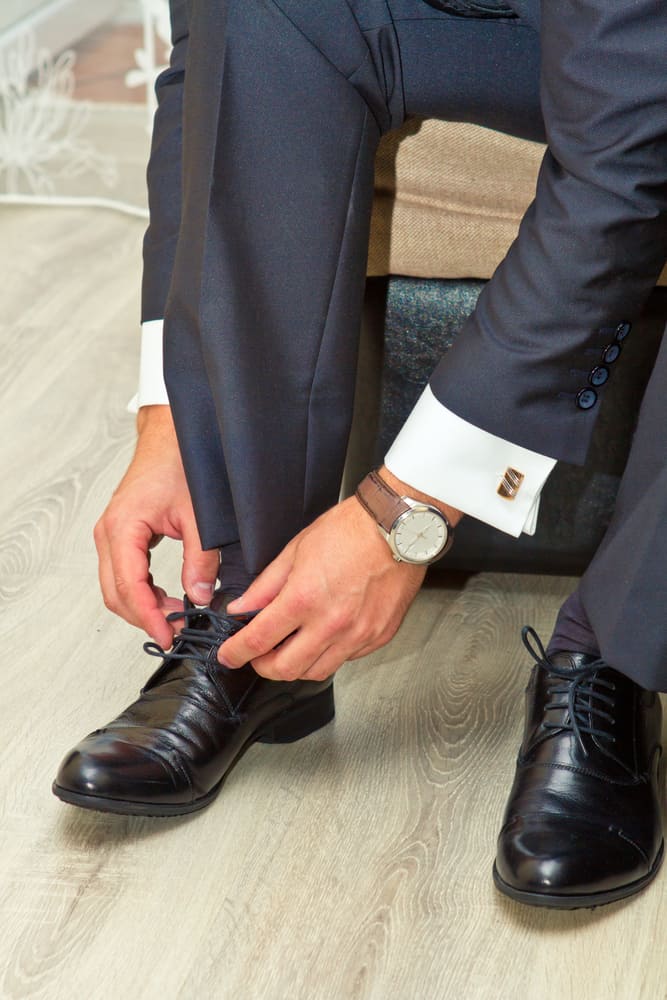 Getting the right shoe size can be tough sometimes. I lost how many times customers in-store thought they were buying the right size for them (because they were buying that size their entire life) when they bought a size too big or too small. The best way to find the correct size is to have your feet measured by a foot specialist in-store.
Read: How To Tell If Shoes Are Too Big?
Having oversized shoes can increase your chances of slipping and falling. If you purchase a size too small, it will be hard for your feet to "breathe," and you'll end up with sweaty feet plus blisters. Also, don't ignore that sometimes when your feet are hot and sweaty, they can swell up to half a size, needing more space. This can be a severe problem when standing on your feet because you will be uncomfortable and not focus on what you need to do.
I do have some guides for sizes when it comes to Timberland, or Doc Martens.
Ensure the fitting of the shoe is suitable, and one piece of advice I always give to all customers buying shoes is to try them at home for around a few hours to ensure they are the correct size.
You can check if the shoes feel tight, if your ankle slips when you walk if the material inside is soft or not or if the insole provides enough cushioning, etc.
Durability
Customers have always asked how long a pair of shoes will last, and that's a tricky question to answer (I have a post about how long shoes should last that you can read). The durability of a pair of shoes depends on a few factors, such as the quality of the shoe, the materials used, the way you walk, where you walk, how often you wear them, the weather, etc.
Read: Difference Between Loafers and Dress Shoes
One thing I can guarantee, if you buy a pair of shoes that best matches your needs, they will be more durable than any other pair. After all, the more long-lasting a pair of shoes is, the more features will remain untouched, providing everything you need to keep your feet healthy when standing at work.
Best Men's Dress Shoes For Standing All Day
1 – Amberjack The Original
Amberjack is a new shoe company that combines new technology with a unique mixture style for any guy that needs a comfortable pair of dress shoes.
If you are looking for a pair of dress shoes that offers comfort, quality, and sustainability to stay on your feet all day, this is the brand you want.
Technology – the shoe insole is inspired by the Adidas ultra boost sneakers since it has heat-activated arch support that responds to pressure and will mold to the shape of your foot after you wear it a couple of times.
Comfort – That comfort stays with you all day, no matter how many hours you have been using them or even if you walk for a few hours. All you need when you need a pair of dress shoes is to be standing for hours on your feet.
Padding and Support – The shoes' cushioning and support on the ankle area are excellent. The extra padding is due to the thick insole in the heel area. This shoe is a great option if you have problems with your ankles.
Eco-Friendly – Amberjack is an eco-friendly and sustainable brand since it sources all its leather from an ISO-certified sustainable tannery, is plastic-free packing and is 100% carbon neutral. All this is to help the planet.
Price – Not the cheapest dress shoes on the market, but they are worth the price because of their durability and comfort. Try and see it for yourself.
Aesthetic & Design – Amberjack is a less traditional dress shoe because it's a mix of casual and dress in its design. So if you need a pair of dress shoes that are super formal, this may not be the brand for your needs.
2 – Cole Haan Oxford Shoe
Cole Haan is an American brand selling men's footwear worldwide for almost 100 years. The brand has been working to become more sustainable and is a Leather Working Group member.
Responsive Cushioning – With systematic layers of cushioning between the insole and the outsole, you can feel how soft and padded the shoes are. A very comfortable pair of dress shoes if you need to be on your feet all day.
EVA and Flowerfoam Midsole – Two of the best materials on the market that provide you with a lot of padding to guarantee your comfort.
Read: How To Wear Blue Shoes For Men?
Lightweight Construction – These shoes are one of the lightest dress shoes I have worn. That's due to the materials used to manufacture this style.
Less Fatigue – The shoes are designed to provide less fatigue, improving walking motion in a way that makes you more efficient.
Midsole Design – I am not a big fan of the midsole design on this shoe (or any of the Oxford shoes of this brand). Every time I look at it, it reminds me of a sports sneaker.
Price – It's the most expensive dress shoe on the list, but you are paying for quality here. Also, you need to think you are paying for durability.
3 – Clarks Tilden Cap Oxford Shoe
Clarks has made footwear since 1825, being one of the oldest footwear brands worldwide. It's a well-known shoemaker and one of the most affordable men's dress shoes.
Read: Are Clarks Shoes Good?
Durable – The full-grain leather uppers are full designed to last as long as possible (if you take good care of the shoes). Don't forget you should rotate your shoes as much as possible to ensure they last.
Ortholite Insole – This pair will provide comfort for long days standing on your feet and wicks away moisture, fungus, and any odors.
Read: How Often Should You Polish Your Shoes?
Classy Looking – This pair is a must if you need a pair for a professional environment (high fashion stores, for example).
Not Flexible – These types of shoes are not flexible, which it's a nice feature to have on your shoes (but not too much, otherwise, the support is decreased)) when standing all day, especially if you need to continue walking around.
You can also check if Clarks run too big or too small here.
4 – Anthony Veer Truman Derby Shoes
Anthony Veer shoes is a newer brand on the market that proud itself of selling luxury shoes for an affordable price. With impeccable design and good quality, these shoes can make a difference when standing all day.
Handcrafted – The shoes are handmade, which means that you will not see any stitching errors or missteps since they are of great quality.
Comfort – This pair is very comfortable as the leather molds to the foot over time. You can feel that the materials used to manufacture the shoe are high-quality.
Excellent Outsoles – The outsoles are excellent quality and very durable. You can also replace them when needed, making the shoes last longer.
Price – I feel this is always the downside for me when it comes to dressing shoes, but you have cheaper pairs on the market. However, as I said before, you pay more for quality.
5 – ECCO Helsinki Bike Toe Loafer
ECCO is a Danish shoe manufacturer founded in 1963, specializing in comfortable footwear made from premium materials and quirky footwear technologies. It's considered one of the most innovative footwear brands in the world.
Very Comfortable – These shoes have a padded footbed which makes your feet feel comfortable all day, no matter how many hours you are on your feet or if you need to walk around.
Soft Squared Toe – If you have broad toes, you will love this pair since it provides enough space around the toe area to move freely without any restrictions.
Durable – I don't wear my ECCO shoes every day, but it's been three years since I have them, and they still look like new (I like to rotate my shoes).
Odor-Free – Sometimes, when you spend all day on your feet walking, your feet can become sweaty and smell. These shoes have a moisture-absorbent to keep your feet dry and odor-free.
No Laces – The only reason I am not the biggest fan of shoes without laces is that sometimes you don't feel the support you need during long days on your feet.
Common Questions About Best Men's Dress Shoes For Standing All Day
These are the most common questions about the best men's dress shoes for standing all day.
Read: What Color Shoes To Wear With Khaki Pants?
Can I Wear Dress Shoes Daily?
Yes, you can wear dress shoes daily. If you have excellent quality dress shoes that suit all your needs, like comfort, support, the right size and fit, and lightweight, it's not a problem if you wear them daily. Try to rotate your dress shoes and allow them to recover from an entire day of use as much as possible.
Are Dress Shoes Good For Feet?
Yes, dress shoes are suitable for your feet. Like any other footwear, it needs to be made of quality materials. Your dress shoes should offer good cushioning and support, have a quality insole and outsole, and be breathable and durable. Avoid flat dress shoes because they don't provide enough support, and without good arch support, you can tear or inflame the plantar fascia.
Should I Buy Dress Shoes A Size Smaller?
It depends on the shoe's style, and the brand since different footwear labels have different sizes. Even inside the same brand, you can wear different sizes, depending on your chosen shoe style. So, don't buy a pair of dress shoes smaller than your running shoes or sandals because it doesn't work that way.
Read: How To Make Shoes Smaller?
How Do You Make Dress Shoes Hurt Less?
First, you must ensure you purchase the correct size and fit for your feet. Next, measure your feet, check if you need a wide-fit shoe or not, and consider any problems you have and where you will be wearing them. You should also wear a comfortable pair of socks that provide some padding, and even consider using an insole for more cushioning.
Conclusion
There are many dress shoe options for men to wear independently of the occasion they will be used. If you are looking for a pair of dress shoes that will be a good fit for you to stand all day, you need to consider some features.
Your dress shoes should be comfortable, provide support, be lightweight, be the correct size and fitting, and be durable. These are the five features you should always look at when picking the best men's dress shoes for standing all day. The last thing you want is to purchase a pair that makes you uncomfortable since that can affect your work performance.
Sometimes it can be challenging to find all the features you need in a pair of dress shoes, and that's why now, you are ready to decide and purchase the correct pair of footwear. I would seriously consider Amberjack shoes since they are incredibly comfortable if you need to stand all day.