This post may contain affiliate links. That means if you click and buy from that link, I may receive a small commission (at zero cost to you), which helps me maintain the quality of this blog. Please see my full disclosure policy for details.
You need a new pair of shoes, but you are not sure what to buy. You end up between loafers vs dress shoes, but you don't know the best choice for your outfit. Don't worry because I have explained the difference between loafers and dress shoes in this article.
Men's shoes can be complicated since you have so many different styles that seem very similar but have minor differences. Thankfully, you can check a handful of parameters to compare different shoe styles and choose the best for your needs.
Read: Find Out The Best Men's Dress Shoes For Standing All Day
Let's find out the difference when it comes to loafers vs dress shoes.
Are Loafers Considered Dress Shoes?
All loafers are technically considered dress shoes since they can be worn with smart casual outfits and when used correctly, with formal outfits (depending on the material). However, loafers are more used with a smart casual outfit vibe.
Read: Difference Between Loafers And Boat Shoes
Dress shoes also include oxford shoes, derby shoes, and monk strap shoes. Loafers are the less formal between these three styles.
What Are Loafers Shoes?
Loafers are a type of dress shoes that are laceless slip-ons, usually made of leather or suede. They have a round toe design with a flat heel.
Loafers are great to wear with chinos, dress pants, jeans, shorts, or even suits if the occasion is not formal. However, never wear loafers with a tuxedo.
Read: What Color Shoes To Wear With Khaki Pants?
Loafers also have different styles like:
Loafers can also be worn without socks if you want that look. The occasion and weather can guide you on this decision. I know some guys that prefer to wear loafers with socks, especially dress loafers.
What Are Dress Shoes?
Dress shoes can be laced with a closed or open lacing system (oxford, derby) or laceless (loafers, monk straps). They are usually made of different types of leather and can have different shapes.
Read: Check Out My Review Of Amberjack Shoes
To choose what dress shoes to wear, you need to consider the occasion and the rest of the outfit. So if it's formal, you want a pair of oxfords. Suppose it's business casual, choose a pair of derby shoes. If it's casual or Summer, you can pick loafers.
Read: How To Wear Blue Shoes?
Dress shoes also have different styles like:
Dress shoes like oxford, derby, and brogues are usually worn with socks, but loafers and monk straps can be worn with or without socks.
Loafers vs Dress Shoes
The main difference between loafers and dress shoes (the other styles) lies in the shoe's design and purpose.
Read: How Often Should You Polish Your Shoes?
Since loafers belong to the category of dressing shoes, I will explain all the small details that make them set apart from the other styles.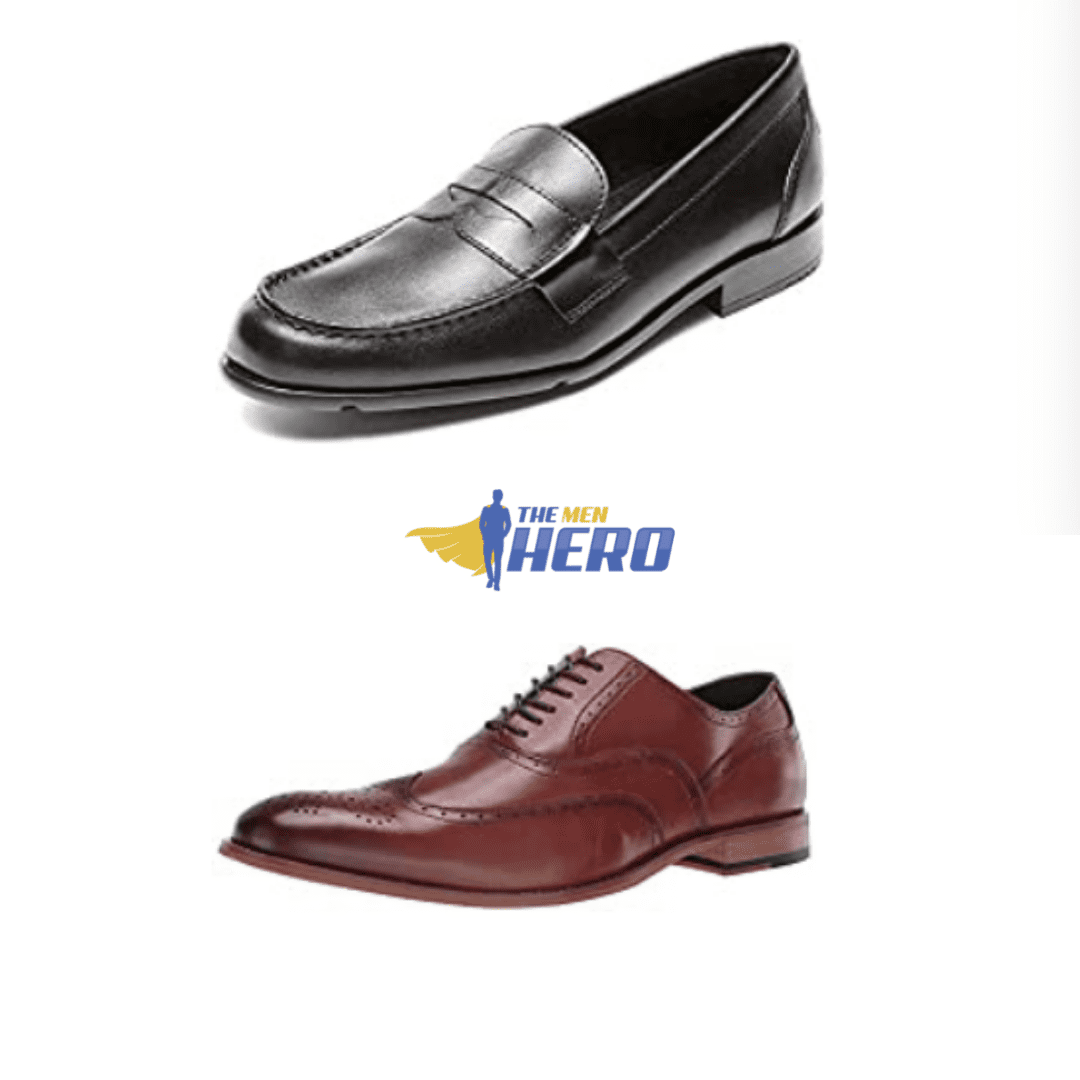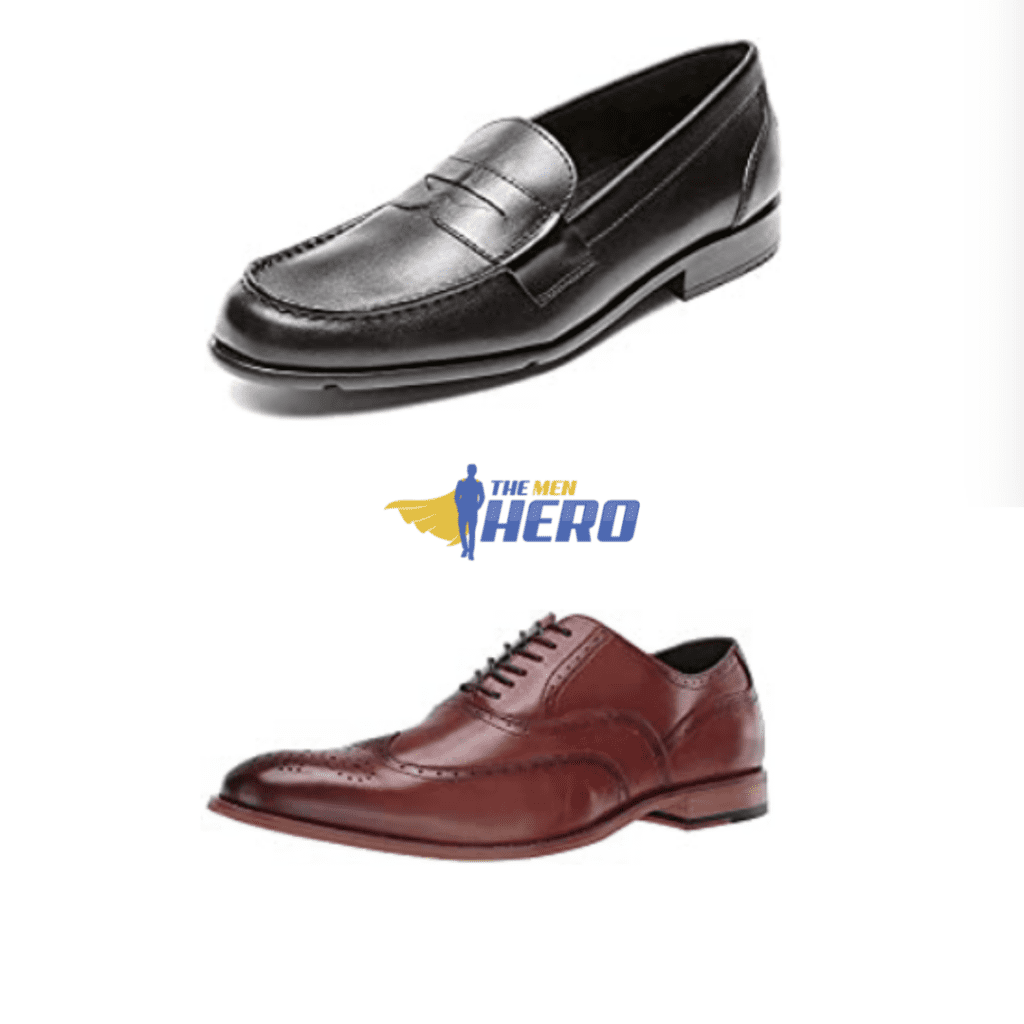 Read: Do Suede Shoes Stretch?
The Lacing
Loafers are easy to identify compared with other dress shoes because they don't have any laces and look like slip-ons. Monk straps are also laceless, but they have buckles or straps. Oxford and derby shoes have laces.
The Toe
Loafers tend to have round toes, which is the most traditional shoe shape. It can be pretty spacious, so a good choice for people with wide feet.
Read: How To Stop Shoes From Rubbing The Back Of Your Ankle?
Other dress shoes can have round, square, almond, pointed, or elongated toes. The appearance and construction of the toe area can affect the shoe's comfort and aesthetic.
The Formality
Loafers are usually worn more casually and not so formally. The business casual look can be appropriate for you to wear a pair of suede loafers, but a leather pair can be a better choice for a more formal occasion.
Dress shoes like the oxford, derby, and monk straps are great choices to wear with a suit or any formal event. Brogues are also an excellent option for a formal outfit, but more casual than the ones i previously mentioned.
Read: Slides vs Flip Flops
The Seams
Loafers usually have stitched upper seams, but I wouldn't be surprised if you find some glued together. Also, different types of dress shoes can have various seams in different locations.
The Brogueing
It's very rare to see brogued loafers, but they do exist. Usually, loafers have some decorative elements that don't leave much space for brogueing (dots/holes on the shoe).
Common Questions About Dress Shoes vs Loafers
These are the most common questions about loafers vs dress shoes.
Are Loafers Dress Shoes?
Yes, loafers are a type of dress shoe that can be worn formally or casually, depending on the occasion and the rest of your outfit.
Read: Are Clarks Shoes Good?
Are Loafers Business Casual?
Yes, loafers are the perfect pair of shoes if you are looking for a business casual look. They are the less formal among dress shoes and look great with trousers, khakis, polos, or casual shirts.
Is It OK To Wear Loafers With A Suit?
Personally, I would avoid wearing loafers with a suit, choosing a pair of oxford or derby shoes. However, you can wear a suit with a pair of horsebit loafers (leather material) since they are the most formal among loafers.
Can Loafers Be Worn Formally?
Yes, but it depends on the style of loafers you choose. The tassel and Belgian loafers are great for a casual outfit, but you should not wear them formally, especially with a suit. The horsebit loafers would be your best option.
Are Loafers And Oxfords The Same?
Both belong among the men's dress shoes, with some differences. Loafers are laceless and less formal than the oxford style, which has laces and is the most formal dress shoe style.
Read: Do Clarks Run Big Or Small?
Conclusion On Loafers vs Dress Shoes
Loafers are a style inside men's dress shoes with minor differences from other styles like the oxford, derby, or monk-strap. They can be a safe choice if you are looking for a more casual business outfit without losing your style.
When in doubt, choose a pair of oxford shoes for a more formal event or occasion, and go with loafers for a more casual smart day. You will never get it wrong.