This post may contain affiliate links. That means if you click and buy from that link, I may receive a small commission (at zero cost to you), which helps me maintain the quality of this blog. Please see my full disclosure policy for details.
Boxers are probably the most well-known type of men's underwear that is on the market. They come in all shapes, sizes, colors, and designs. What many men like about them is not only the fact that they are so comfortable to wear but also that they can show off their personality with all of the designs.
Then again, understanding how to wear boxers with jeans is another story. To help you out, allow us to clear the air and explain to you how you can wear one with your favorite denim.
What Are Boxers?
Boxers, or boxer shorts, are a type of men's underwear that is most known for their loose fit, elastic waist, and comfort. T
There are various kinds of boxers that have come on the market over recent years, but the majority of these styles are equipped with a more form-fitting fabric, whereas boxers are loosely fitted to accommodate movement.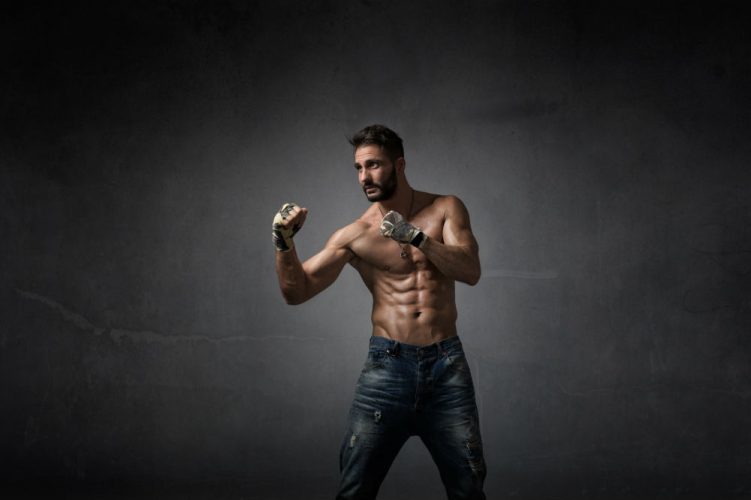 You can also read how to stop boxer briefs from riding up.
Boxer shorts are designed with a fly that is closed by either a metal snap or a button or two. Gripper boxer shorts, which is another type of boxer, are designed with one snap and one fly button. However, many boxers don't require any kind of closing because of an open-fly design.
Wearing Boxers with Jeans
There is a constant debate over whether or not boxers can or cannot be worn with jeans, so let's look at how you can wear them with your favorite pair of jeans.
Relaxed-Fit and Straight Leg Jeans
Straight and relaxed-fit jeans are considered your classic or normal style of jeans. They never go out of style, they can be worn with almost any shirt, and they are great for both comfort and play.
This type of design remains relaxed and opens up at the thigh, all while remaining straight to the ankles. It doesn't taper or get wider at the calf as other jeans do.
When wearing boxers, your choices are pretty much endless with this type of jeans. There is enough room inside to ensure that your boxer shorts don't bunch up once you've put them on. If you are a straight-to-the-point boxer shorts lover, wearing these jeans are going to give you the most comfort.
Read: Why do we wear underwear?
Low-Rise Jeans
Low-rise jeans are definitely modern because of their slimmer fit, but they are more susceptible to sliding down because the waist falls below your hip line. If you choose the wrong type of boxer to wear with this style of jeans, you're going to cause bunching, create an unattractive appearance, and make the slipping issue much worse.
If you are wearing boxers instead of briefs, there are fitted boxers that are looser than boxer briefs that you can wear with low-rise jeans. These boxers won't bunch up beneath the denim, but because they typically have a higher waist, you do see them when you bend over.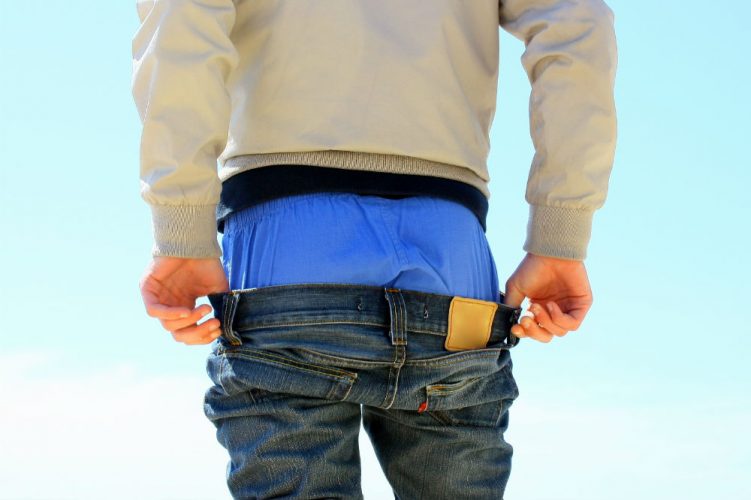 Wearing a properly fitted mid-rise boxer brief is the underwear that's most recommended for low-rise jeans. They are fitted to your thigh and can be found with waistlines that come below your hips. Wearing these boxer briefs with your low-rises will ensure that you are comfortable and that the waistline isn't going to show when you bend over.
Skinny Jeans
Over the past decade, the popularity of skinny jeans has increased astronomically. Regardless of your size or shape, you can now find a pair of skinny jeans that fit you. In the past, these types of jeans were designed only for those with a slim figure, but because of their popularity, the style has been capitalized on.
Unfortunately, you need to toss the idea of wearing your loose boxer shorts out of the window when wearing skinny jeans. Not only are you going to find it challenging to get the jeans on if you try, but if you do manage to get them on, you are going to notice bunching immediately. The bunching is caused by the extra fabric that boxer shorts have—skinny jeans have no room for excess.
Read also How Tight Should Boxer Briefs Be?
If skinny jeans are your preferred style, then lightweight briefs are highly recommended. However, if briefs aren't your thing, then wearing boxer briefs is just as acceptable. The most important thing that you need to consider with boxer briefs and skinny jeans is that you have to ensure that you wear the right fit.
Because skinny jeans don't have room for additional fabric, when they move, there isn't room for error. Make sure that you are wearing the right size of boxer briefs with a material that doesn't ride up.
Conclusion
Now that you understand how to wear boxers with jeans and how to pair them with specific kinds of jeans, you can take the time to ensure that the methods work for you. Everybody is different, so wearing particular types of boxers with one pair of jeans might not work as well for you as it does for someone else.
Read: Best Underwear For Well Endowed Men
Take your time experimenting with the fit of different boxers, and make sure that what you are wearing is comfortable. After all, you aren't going to feel or look good if you're uncomfortable beneath it all.