This post may contain affiliate links. That means if you click and buy from that link, I may receive a small commission (at zero cost to you), which helps me maintain the quality of this blog. Please see my full disclosure policy for details.
Clarks is a footwear brand that is very popular in England, especially when it comes to school and work shoes. But can you answer the question: where are Clarks shoes made?
Just because Clarks is a British brand, that doesn't automatically mean that Clarks shoes are manufactured in England. However, if you believe Clarks are made in England, you are about to get a big surprise.
To confirm, I have decided to review hundreds of product descriptions on the Clarks website to verify if the brand lists where the products are made. I also visited a couple of Clarks stores and some stores that sell Clarks products, checking multiple items. So let's find out where Clarks are manufactured.
Where Are Clarks Shoes Made?
Clarks shoes are manufactured in Vietnam, China, Portugal, Mexico, Indonesia, Romania, India, Thailand, Cambodia, Bangladesh, and Albania.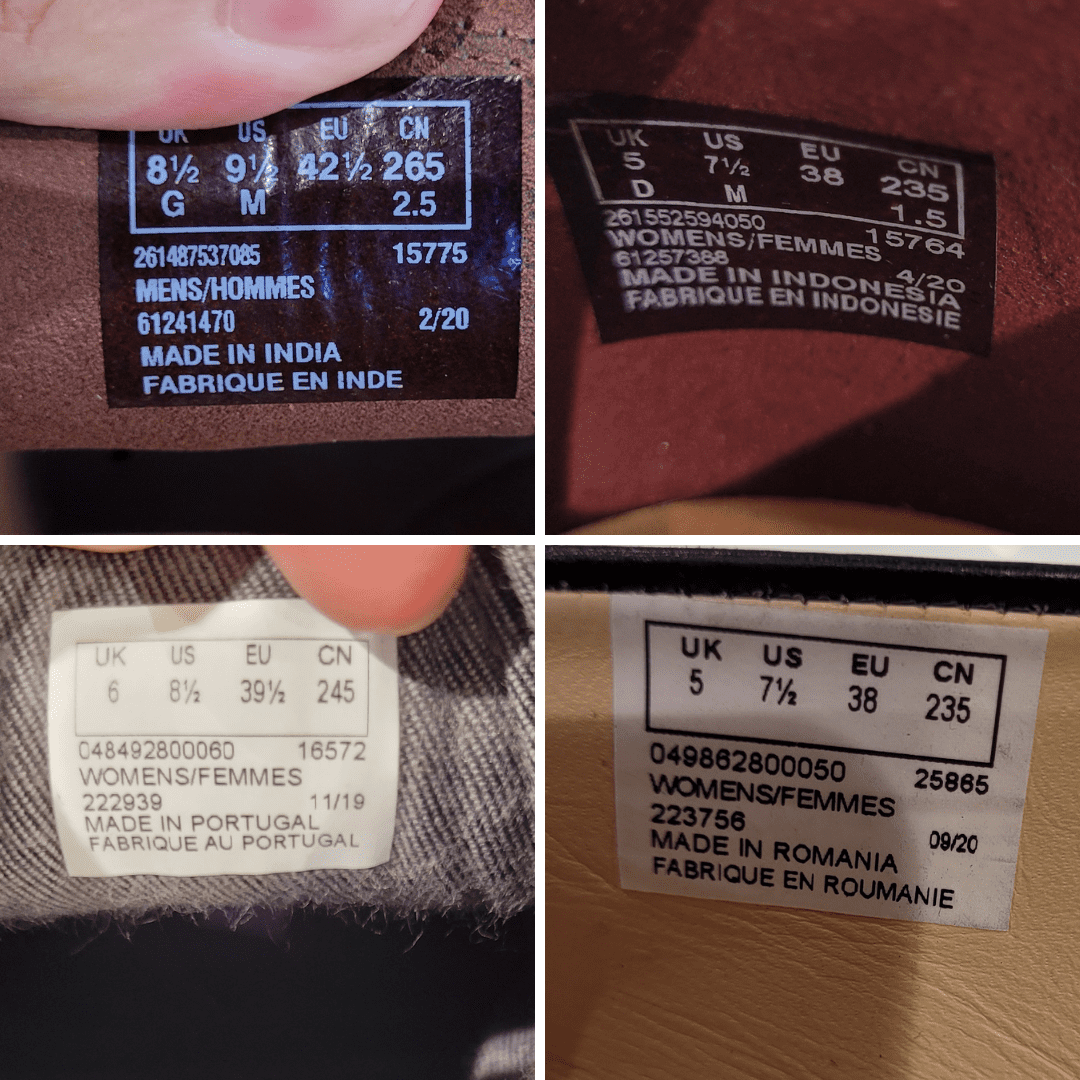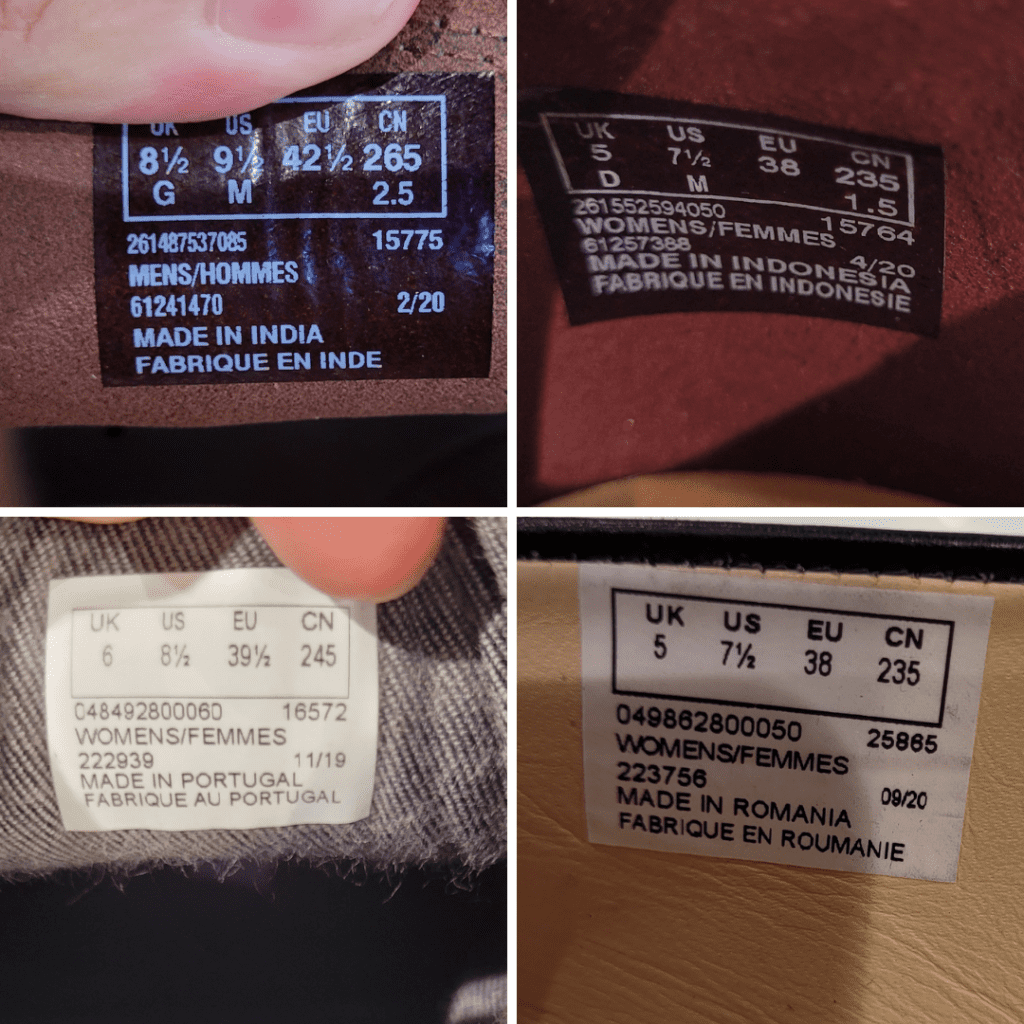 Clarks doesn't provide the country of origin for any product on its website (at least not on the product description). Most shoe brands don't want you to know that they are primarily manufactured in Asia countries since some people perceive them as low quality, and Clarks is no different.
Read: Are Clarks Shoes Good Quality?
However, Clarks provides information about where its shoes are manufactured in the corporate responsibility section. Clarks updates the countries where its products are manufactured for every season and year (Winter 2021, Spring 2022, etc.) It also says that over 80% of the footwear production comes from suppliers they have worked with for more than five years.
Clarks manufactures most of its products in Vietnam, followed by India, Cambodia, and China (which is a surprise to see so low production). I was expecting to see Vietnam and China as the two leading manufacturers of Clarks, but my in-store findings tell a different story.
If you buy a pair of Clarks online, when you receive the physical product at home, you can verify the country of origin. The US legislation and EU rules require the brands to determine the country of origin for any imported goods. So you will always find out where the products are made.
Are Clarks Made In England?
Clarks shoes are not manufactured in England at the moment.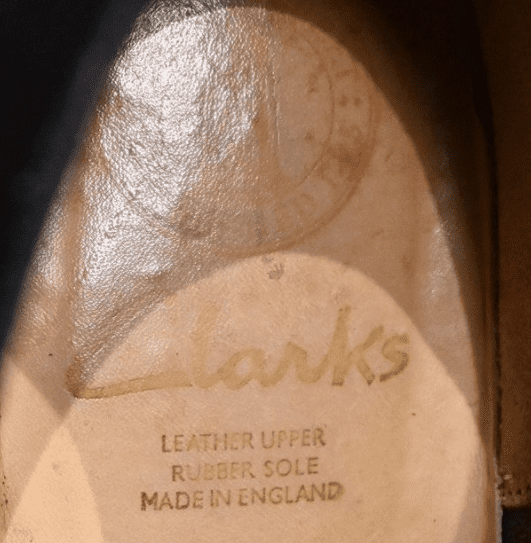 Clarks manufactured heavily in England when it started its shoe business. Still, it closed the last manufacturing site in England in 2006, moving most of its production to Asia and other European countries.
However, in 2018 Clarks started to make shoes in the UK again, with a new manufacturing unit in Somerset. This included a robot-assisted technology to help manufacture up to 300,000 pairs of its most popular footwear style, the Desert Boots.
Read: Do Clarks Run Big Or Small?
In 2019, Clarks ceased and closed the manufacturing facility in Street after missing manufacturing and cost targets. As we know, it's much more expensive to manufacture in England than in Asia countries, since the labor and costs are higher.
You can still find some Clarks made in England in some Clarks stores and even online, but much less than in any other country.
Are Clarks Made In Vietnam?
Yes, Vietnam is the leading manufacturer of Clarks shoes.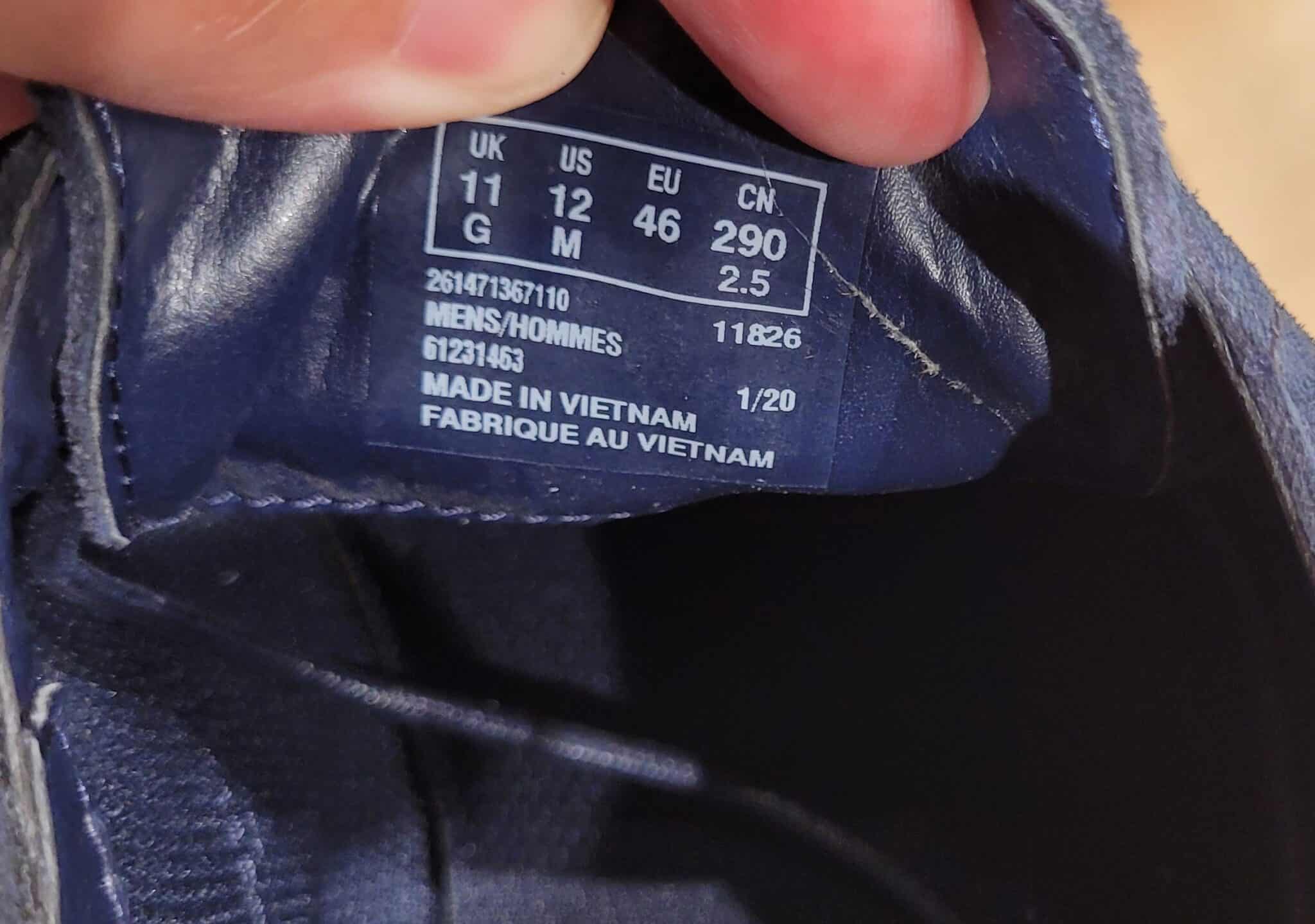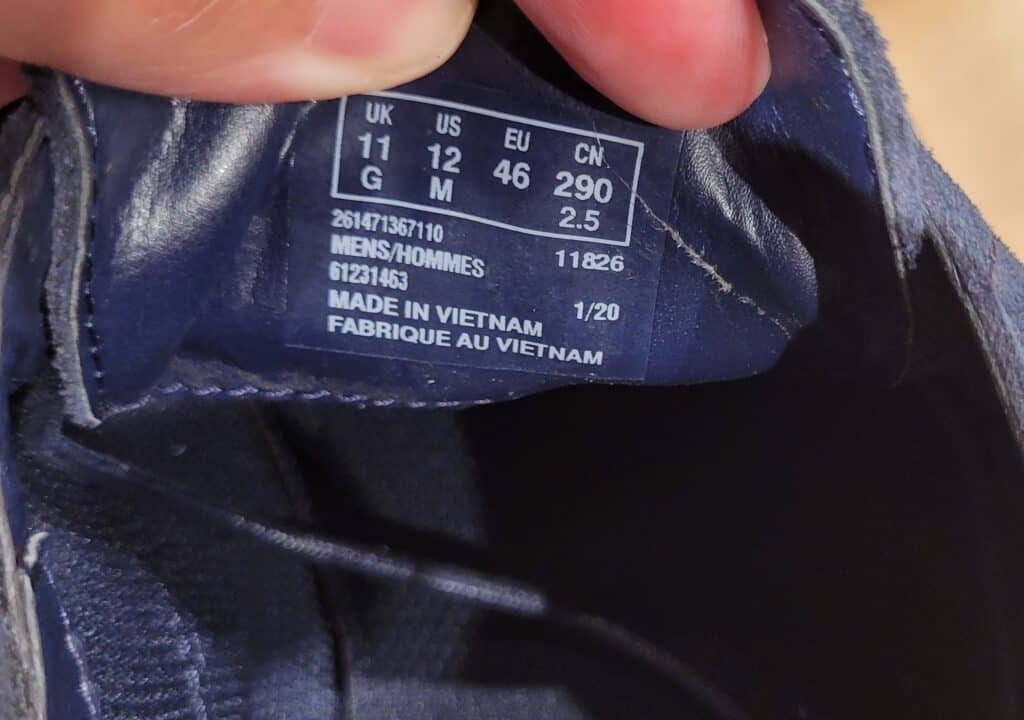 Shoe brands have been shifting their manufacturing from China to Vietnam in recent years due to the tariff war between China and the US, but also because it's cheaper and can improve their profits.
Vietnam factories can successfully recreate the production method for footwear labels to produce any shoe, maintaining the quality and quality standards the brands' desire. That's why most shoes I have found in-store were manufactured in Vietnam.
Read: Difference Between Loafers and Dress Shoes
A study led by Natixis SA decided the seven emerging Asian economies as manufacturing options for China, and Vietnam was ranked number one. So don't be surprised anymore if your Clarks (or any other footwear brand) has a made in Vietnam label.
Are Clarks Made In China?
Yes, some Clarks are manufactured in China.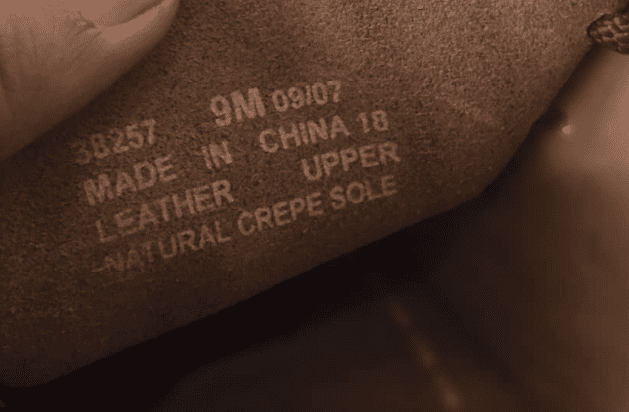 For me, the biggest surprise was to find out that China is not even in the top 3 of the leading manufacturers for Clarks. Usually, China and Vietnam have the majority of the manufacturing, especially in the footwear industry, but not in Clarks.
However, the manufacturing of Clarks in China may increase over the next few years since 51% of the British company was sold to the Chinese Olympian Li Ning and private equity group LionRock, after years of struggling with refinances and debts.
Read: How Many Pairs Of Shoes Should a Man Own?
I didn't find many pairs made in China when I checked the shoes in various Clarks stores.
Common Questions About Where Are Clarks Shoes Made
These are the most common questions about where are Clarks shoes made.
Are Clarks Shoes Made In The USA?
As far as I know, Clarks shoes as never been manufactured in the USA.
Are Clarks Shoes Made In India?
Yes, Clarks shoes are manufactured in India. In fact, India is one of the biggest manufacturers of Clarks, surpassing China (usually on the top two of any brand manufacturer).
Read: Where Are Ariat Boots Made?
Where Are Desert Clarks Made?
Clarks Desert Boots were heavily manufactured in the UK in the past, but at the moment, they are manufactured in Vietnam, India, and Cambodia (at least those are the three countries I have found in-store). You can also find some handmade in Italy, but they are a lot more expensive and not so easy to find.
Where Are Clarks Wallabees Made?
Clarks Wallabees are manufactured in Vietnam and India, but some are manufactured in Italy (usually part of limited-edition collections.)
Conclusion On Where Are Clarks Shoes Made
Where are Clarks shoes made? The shoes can be manufactured in many different countries, but most are made in Asian countries like Vietnam, Cambodia, India, and China.
Read: How Often Should You Polish Your Shoes?
Don't worry if your Clarks are made in Vietnam, China, or India, since you can expect them to be of good quality. Recognized global brands want to keep their reputation of high-quality products, so they have a lot of measures that factories and independent contractors need to follow.