This post may contain affiliate links. That means if you click and buy from that link, I may receive a small commission (at zero cost to you), which helps me maintain the quality of this blog. Please see my full disclosure policy for details.
Clarks is one of the most popular and oldest shoe brands in England. It's usually the brand and store to go to when you need to buy school shoes or comfortable smart shoes for work. However, you want to know the answer to the question: are Clarks shoes good?
I only had one pair of Clarks shoes in the past, which I often wore to daily activities like shopping or spending time with friends. So my opinion is quite positive about the brand. I also know someone that worked for me in the past and then as a supervisor in a Clarks store, so I have asked for help to ensure I was writing the best article possible about are Clarks shoes good or not. I even read reviews on Amazon to ensure I could provide all information possible.
Are Clarks Shoes Good?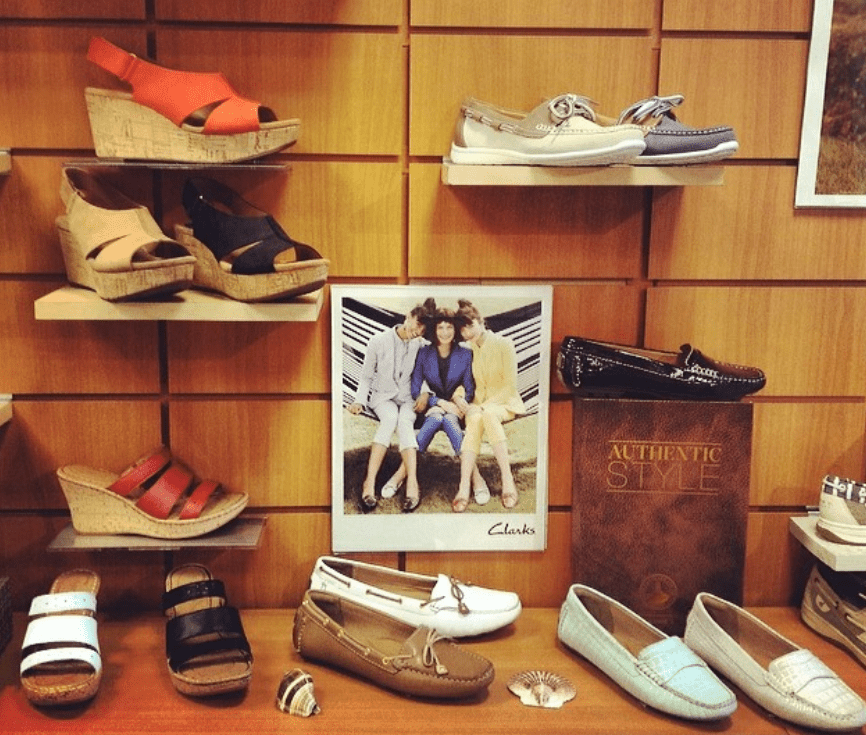 In general, Clarks shoes are a good brand when it comes to the number of styles available, the different types of shoe fittings, the comfort of the shoes, the various sizes available with the possibility of feet measuring, the weight is not too heavy, and the durability is great. Clarks also provides some additional features that make its shoes even better.
Read: Do Clark Shoes Run Big Or Small?
Clarks could improve when it comes to cushioning since not every shoe has the cushioning technology, and also when it comes to supporting since the brand doesn't have any specific style for support or arch support.
Is Clarks A Good Brand?
As I said before, to understand if Clarks shoes are a good brand or not, I have mixed my own experience with wearing Clarks, asked for the experience of a friend that worked for them, and read Amazon reviews of different Clarks styles.
As a shoe expert, I considered nine distinct areas when evaluating and answering the question: are Clarks shoes good?
The Style
Clarks sells different styles of shoes. It's a brand with shoes for every occasion, no matter what you need. You have different styles that are suitable for nurses, businessmen/women, retail workers, chefs, hairdressers, students, etc. No matter what you do, Clarks provides a pair of shoes for it.
Read: Where Are Clarks Shoes Made?
When it comes to men's shoes, you can pick different styles from black shoes, brogues, loafers, trainers, sandals, slippers, different types of boots, etc. Women's and kid's shoes also have a wide variety of styles to choose from.
Verdict: Clarks is a good brand when choosing shoe styles because you have many to choose from.
The Fitting
So we know Clarks have different styles, and the shoe brand also has different fits for distinct feet types.
Some Clarks styles will be more narrow than others, especially those without laces (you can't lose the laces to make them broader or even tighter if they feel wide). But you need to understand that some styles are narrow for some feet and broader for others. So you will have to try and check it.
Read: How To Make Shoes Non-Slip?
Clarks knows that many people have wide feet, so the British shoe manufacturer has many wide fit options for men, women, and kids. So when in a Clarks store, just ask for the wide feet version of the shoe you want because the chances of Clarks having one are high.
Verdict: Clarks is a good brand for fitting since they have different fits for different types of feet.
The Cushioning
When buying a pair of shoes, cushioning is always one of the most critical features to consider because it's usually the difference between having a pair of comfortable shoes or not.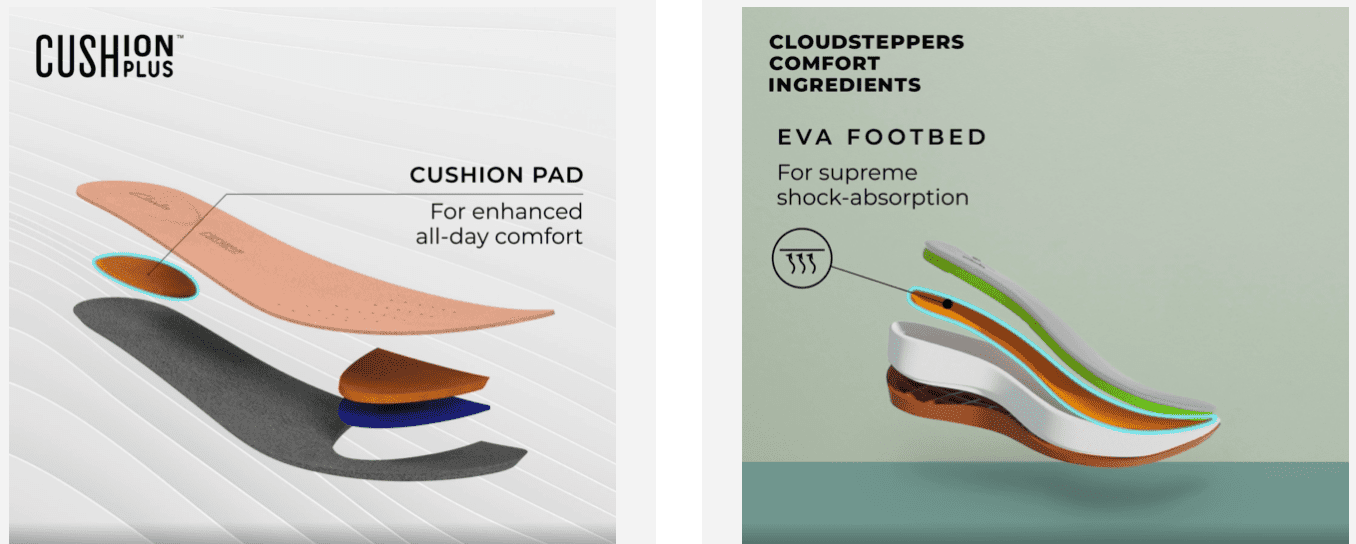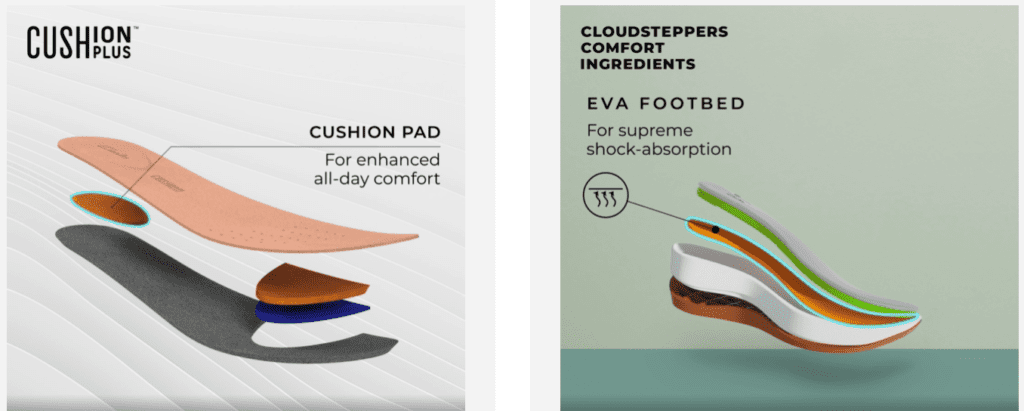 Clarks provides some shoes with an insole and outsole that absorb any impact you put on your feet when walking (remember, your feet take a lot of abuse during a day out).
Read: Check Out My Review Of Amberjack Shoes
Cushion Plus – This insole will provide enough cushioning for you to stand all day comfortably. It also supports the biomechanics of your foot to reduce strain. It also has breathable leather linings.
Cushion Soft – It offers comfort and softness. The high-rebound foam inlay is concealed inside the shoe to absorb impact on every step you make. It's made of EVA, lightweight material, and one of the best for shock absorption.
Ortholite© – An open-cell foam that helps absorb impact, providing long-last cushioning and breathability.
I was lucky enough because my Clarks had the cushion soft technology, which was great for standing all day or walk a lot.
Verdict: Clarks could be much better when it comes to cushioning since most of the shoes don't have at least one of the cushioning features above.
The Support
When you look at a shoe that provides support, that means you want a shoe that stops the excess motion of your foot and ankle without restricting their movement when walking.
Support and stability are usually two features that runners look at on their running shoes, and brands like Asics, Nike, or Adidas have many different types of support. In addition, Merrell and Timberland offer support in their walking shoes and Skechers on almost every shoe type.
Read: Find Out The Best Men's Dress Shoes For Standing All Day
Clarks doesn't seem a very supportive brand when it comes to stopping the excess motion of your foot and ankle. The brand does have some shoes with a padded collar on the durable laced upper that adds support around the ankle, but this may not be enough for some people.
Cushion Plus and Cushion Soft technologies may give some support, but they are designed to provide cushioning. Unfortunately, I couldn't find any shoes that provide arch support either.
Verdict: Clarks is not the best shoe brand for providing support to your feet. You have better ones on the market.
The Comfort
Comfort is another subjective point since a shoe can be incredibly comfortable for me but not for you. It all depends on our feet' health. People who need supportive shoes or arch support may find shoes uncomfortable without these features. The same happens with specific shoes if they don't provide enough cushioning and you need to stay all day on your feet.
When it comes to Clarks, I would say the pair I had was very comfortable. In England, it's a very reputable brand, and I've always heard many customers talking about how comfortable their shoes are. Also, on Amazon reviews, you have many people saying the shoes are incredibly comfortable, and they recommend them to other customers.
Verdict: Clarks shoes are a good brand for comfort, but you need to ensure you buy the right shoes for your feet.
The Size
One of the most significant points when buying a pair of Clarks in-store is having your feet measured and ensuring you are purchasing the correct size.
Read: How To Tell If Shoes Are Too Big?
Some shoe brands and stores don't measure your feet in-store, which can make the shopping experience a little more difficult if you are not sure about the size of the shoe, even after you have tried it.
If you buy your Clarks online, you can check the Clarks size chart and figure out the best size.
Verdict: Clarks is a good brand because they make it easy to find the right size of shoes since they measure your feet in-store.
The Weight
The shoe's weight depends on the size, material, and type of shoe you choose. So with Clarks is no different.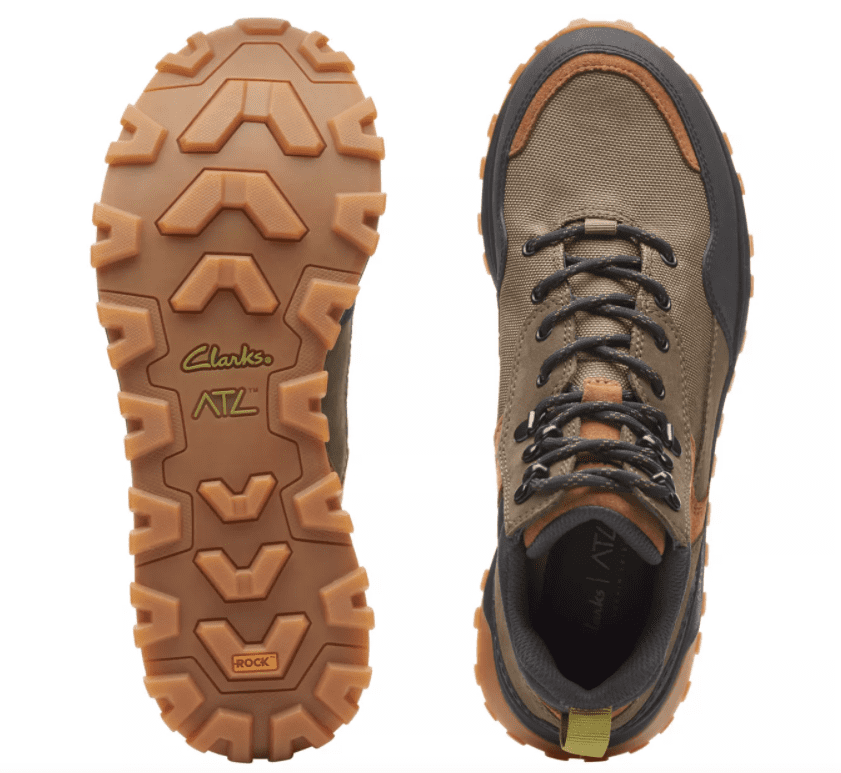 In my opinion, deciding if Clarks are too heavy or too light depends on you as a person. For example, in Amazon reviews about the Clarks Men's Tilden Cap Oxford Shoe, some customers think the shoe is a bit heavy, while others say it's a lightweight shoe.
When I tried Clarks boots in-store and my Nike and Timberland boots, I couldn't see a lot of difference in the weight between the three, but Clarks didn't seem a bit heavier than my Timberland Classic boots.
Verdict: Some Clarks shoes will be heavier than others, which is normal on any brand.
The Durability
The durability of any shoe depends on many different factors. I often got the question, "when will I need to replace these shoes?" and the answer is always "it depends." It would help if you thought about how often you will wear the shoes, where you walk, how you walk, how long you wear them, and what weather. I would advise you to read this article on how long shoes should last.
If you read any reviews about Clarks, you will know some people say the shoes were very durable and others don't. My experience says Clarks shoes are long-lasting, but of course, if you wear them every day for everything, they will last less long than they should.
Most Clarks are made of leather, with stitch-down construction (much better than gluing the shoe), and strong outsoles, making them more durable.
Verdict: Clarks shoes are good quality and durable, but it all depends on how you wear them.
Additional Features
As a footwear brand, Clarks has developed a combination of technologies that can help with all the factors we have checked. A few examples:
GORE-TEX® – This membrane allows water vapor to pass through pores and prevents water drops from coming in, maintaining the Clarks GORE-TEX® products dry.
C•SHELL – Clarks own waterproof membrane that keeps water out while allowing heat to escape.
Rock Engineered Rubber – It uses abrasion-resistant rubber soles to provide a better grip and stability in all conditions and fields.
Aqua DX – It uses small ducts in the sidewall to quickly expel water, reducing the risk of slipping. It delivers a better grip.
My Clarks shoes had the GORE-TEX®, and no water came inside when it was raining, so I loved that feature.
Verdict: Clarks is a good brand because it has enough additional features to make its shoes more unique and valuable. The downside is that not all Clarks shoes have these features.
Why Are Clarks Shoes So Expensive?
Clarks shoes are expensive because most of them are made of leather, making them good quality and more durable than suede/fabric material. Sometimes you will see non-leather Clarks shoes with the same price as the leather ones, and I always say those are not worth the price you pay.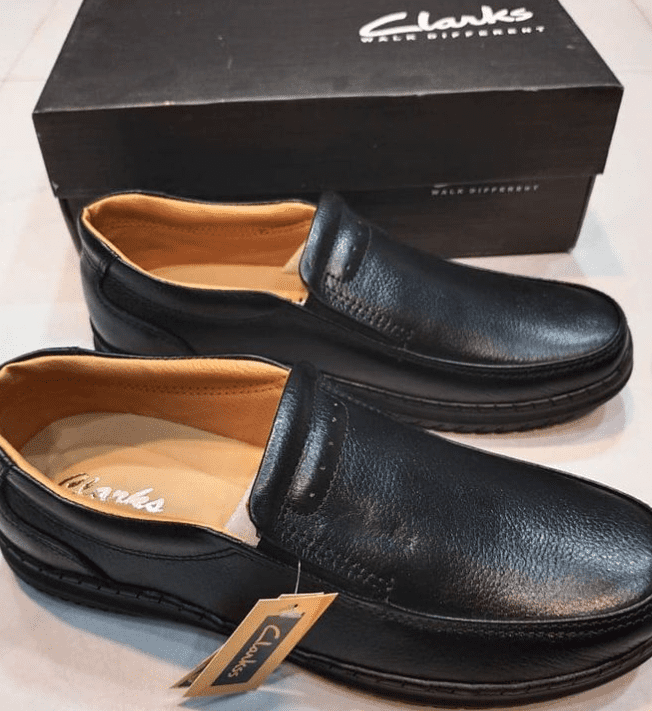 Clarks also have an excellent reputation in the shoe community, and usually, it's where parents go to buy kids' school shoes or work shoes for the office. So the British label knows it can charge more than some of its competitors.
Common Questions About Are Clarks Shoes Good
These are the most common questions about the quality of Clarks shoes.
Are Clarks Shoes Good For Your Feet?
Yes, Clarks shoes are good for your feet if you choose the right size, fit, and features you need. For example, if you have wide feet, Clarks wide-fitting shoes will be great. Also, any shoe with Ortholite, Cushion Plus, or Cushion Soft will be great for your feet if you need extra cushioning. You just need to know what to choose according to your foot needs.
Are Clarks Shoes Good For Plantar Fasciitis?
No, Clarks shoes are not a great option if you suffer from plantar fasciitis. This is because you need to look for shoes that provide arch support or more support, improving the foot mechanics during walking, which is not the case with most Clarks shoes.
Read: Loafers vs Dress Shoes
Are Clarks Cloudsteppers Good For Plantar Fasciitis?
No, the Clarks Cloudsteppers do not provide the support you need if you suffer from plantar fasciitis, even if they are very comfortable. However, you can remove the insole and add one that gives more support.
Are Clarks Sandals Good For Plantar Fasciitis?
No, Clarks sandals are not suitable for plantar fasciitis because they don't provide the support or arch support you need.
Are Clarks Good For Wide Feet?
Yes, Clarks shoes are suitable for wide feet because they have many different options in various styles. It doesn't matter if you want men's, women's or kid's shoes.
Are Clarks Shoes Good Quality?
Yes, in general, Clarks shoes are of good quality, with room to improve in certain areas like the support and cushioning.
Are Clarks Shoes Good For Walking?
Yes, Clarks shoes can be good for walking, depending on the shoe style you choose. I would advise any shoe with Ortholite, Cushion Plus, or Cushion Soft technology.
Conclusion On Are Clarks Shoes Good
Are Clarks shoes good? Yes, they are, and they have many positive points, like the variety of styles, durability, and comfort. However, Clarks need to improve in some areas, like the cushioning technology only available on specific shoes and the fact they don't offer a lot (barely any) of supportive options.
In general, I would say Clark shoes are a good option if you are looking for a brand that provides great quality school and work shoes.