This post may contain affiliate links. That means if you click and buy from that link, I may receive a small commission (at zero cost to you), which helps me maintain the quality of this blog. Please see my full disclosure policy for details.
Ariat boots and shoes were founded in 1993 by Pam Parker and Beth Cross in Union City, California, where the company still has its headquarters today. So the question you have is, where are Ariat boots made? Are they made in the US since they are an American sports brand?
The western boots company also makes work boots, men's and women's shoes, and riding boots. Horseback riding is the passion of the founder of the brand.
This brand sponsors more than just cowboy events. Ariat is the official sponsor of the United States Equestrian Federation and also the Federation Equestrian International. As you can see, Ariat is deeply rooted in some of the most famous American traditions. That doesn't mean the western cowboy boot brand makes its boots in the US, so let's dig and find out where Ariat boots are manufactured.
You can also check out the best American, Italian, Australian, and British sports brands.
Where Are Ariat Boots Made?
Ariat boots are not made in the USA. The prototypes of the boots are designed in the United States, but production is carried out in China, Vietnam, and Mexico, where the brand maintains its production units.
Read: How Much Height Do Shoes Add?
Check the two pictures below (apologies for the quality of the pictures, but they were the only two I could find).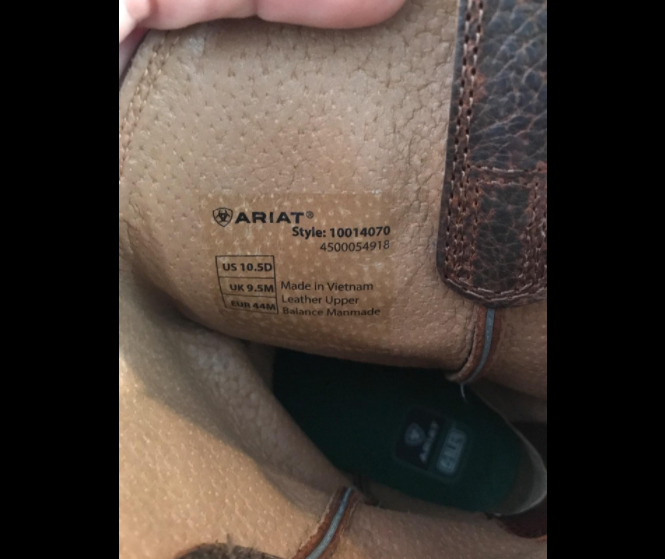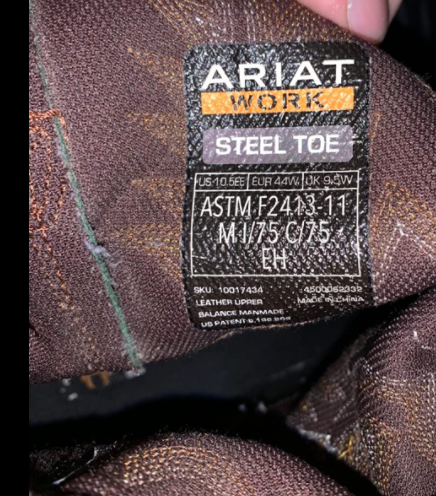 As you can see in the pictures, one Ariat boot was fabricated in Vietnam and the other in China. Unfortunately, since Ariat doesn't provide any information on its website about where its shoes are made, I have researched and read hundreds of Amazon reviews about its boots. This is what I found:
Read: Check Out My Review Of Amberjack Shoes
"I noticed the boots I bought at the store were made in Vietnam, and the pairs I ordered were made in China."
"When he opened the box, we saw they were made in China."
"It may be due to the fact they are made in China, and the other styles I wear are made in Mexico."
"I was gifted a different pair of Ariat boots that are made in China."
"Mine says Made in Vietnam."
"Note that these boots are made in China. Some of Ariat's boots are made in Mexico, and after speaking with their customer support line, it turns out that the boots made in Mexico are the higher-end leather-soled boots."
"This pair was made in Mexico."
"The pair I'm wearing today were made in Vietnam."
Read: Where Are Clarks Shoes Made?
No Information On Ariat Website
Brands like Skechers, which made their shoes in Vietnam, claim this inside of the shoe and in the shoebox, but Ariat seems to want to hide where their boots are made at all costs.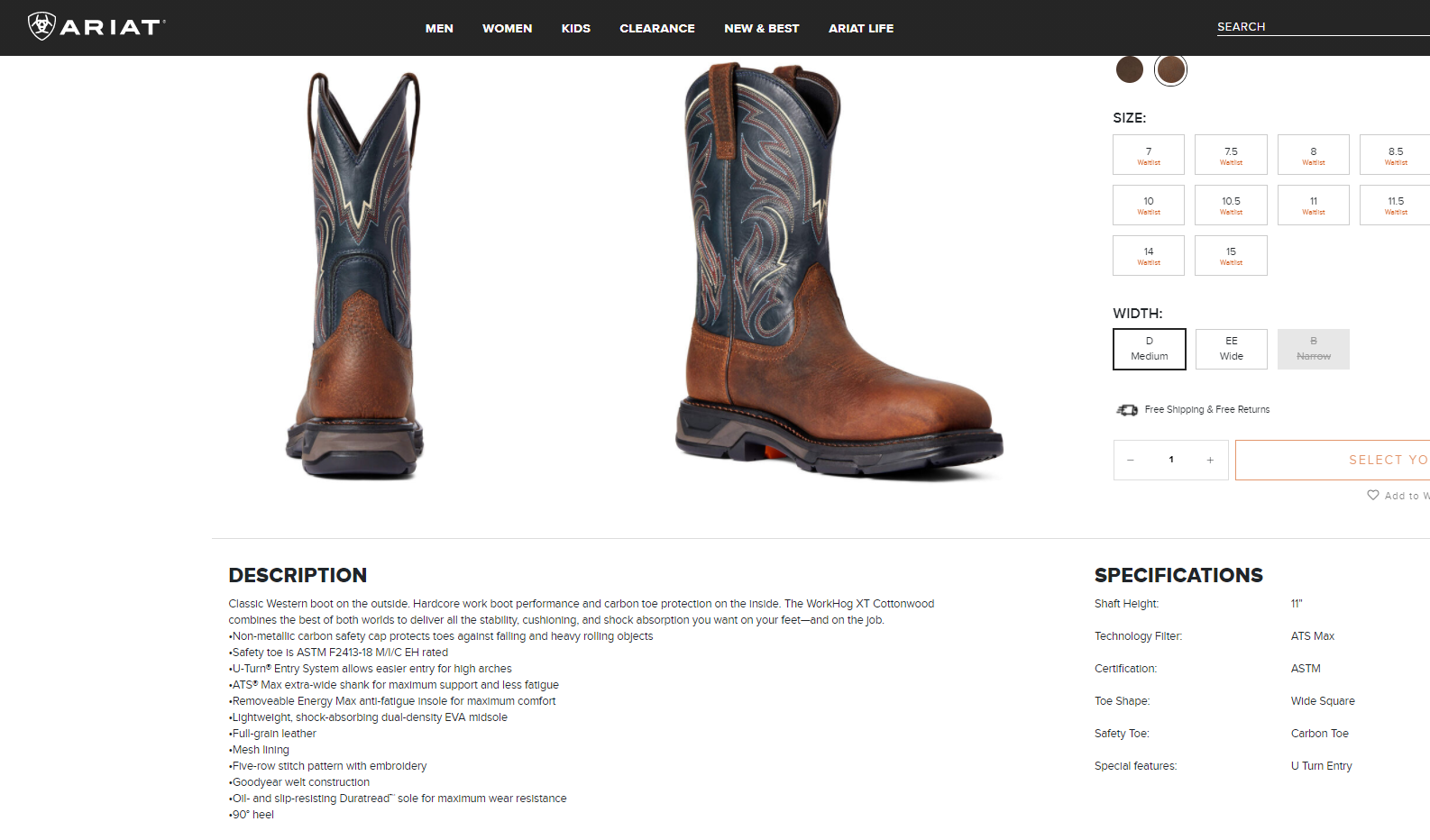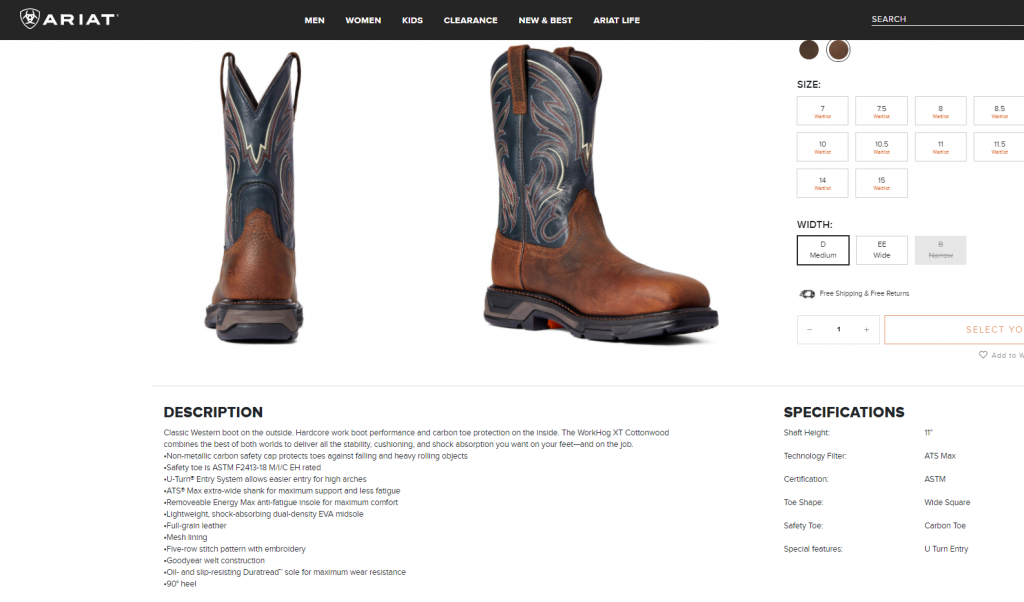 You can see no information is provided on the product description where the shoes were made, and the same with the shoe box. The only reason why you find a label inside claiming where the boots were made is that the US legislation requires a clear country of origin for imported products.
It's not a surprise that most products these days are made outside of the US or EU due to how cheap the labor is. The problem is that some people associate products made in China or Vietnam with low quality and don't purchase them.
Read: Do Doc Martens Run Big Or Small?
Many of the Amazon reviews I have read mention that they wouldn't have bought the boots if they knew the shoes were made outside the US. This can be the reason why Ariat avoids telling its customers where the shoes are made.
Are Ariat Boots Good Quality?
Are Ariat Cowboy Boots Made in the US? No, they are not American-made. Are they low quality because of that? Also no.
Aria boots are high quality since every single shoe is made of 100% leather (very rarely, you will find some with a bit of suede material), rubber outsole, and a combination of cushioning EVA midsole and Duratread outsole that provides the ultimate durability and comfort.
I have read many reviews saying that a pair of Ariat shoes last for about four or five years (some even more).
Read: How Long Should Shoes Last?
I want to declare that just because a product is made in China doesn't mean it's terrible quality. Remember that all these big companies have a strict quality control system to maintain the high standards of their products.
Conclusion
Where are Ariat boots made, you ask? They are made in China, Vietnam, or Mexico, depending on the boot. Due to how cheap the labor and costs are in these countries, it's not a surprise that Ariat produces the shoes there.
However, keep in mind that Ariat has a strict quality check and ensures that only the best-finished boots and shoes will be sold to customers. You don't need to worry about paying so much for a pair of boots, and find the quality is not good enough.
Read: Where Are Doc Martens Made?
You also have a twelve-month warranty, so you are covered if something happens to your boots due to a manufacturing problem.
What about you? Have you purchased some Ariat boots, or are you about to? Share with me in the comments.