This post may contain affiliate links. That means if you click and buy from that link, I may receive a small commission (at zero cost to you), which helps me maintain the quality of this blog. Please see my full disclosure policy for details.
When you work in retail, you can spend hours standing on your feet or walking continually. So finding the best shoes for retail workers is a must to ensure your feet are healthy and comfortable.
As someone who worked in retail for many years (I have worked as a shoe supervisor, footwear manager, and store manager of a shoe store, so I also understand about shoes a lot), I can tell you I have tried a little bit of everything when it comes to shoes before knowing the best brands and shoes for working in retail. So when I discovered how much difference wearing the right shoes could make, I was amazed.
When I started working in retail (some shifts were 12 hours), my feet would hurt the entire time before, during, and after I had finished work. If the same happens to you, you are wearing the wrong pair of shoes for work. Believe me when I say you need to look a lot further than just the look of the shoe.
I know that looking for the best shoes for retail workers can be overwhelming, especially if you are unsure what to look for in shoes designed for this purpose. So I have put together a list of things that will help you understand what to look for when shopping around.
Let's find out the best shoes for retail workers.
What To Look For In Shoes For Retail Workers
So luckily for you, you don't need to find out alone what to look for in shoes if you work in retail. I can share with you my tips and experiences with some sneakers that you can give a try.
When it comes to choosing the best shoes for retail workers, there are some features that you need to take into consideration, like your foot type, the way it fits, the materials used to manufacture the shoe, between others.
Foot Type
Before you understand what the best shoes to work in retail are, you need to understand your feet. This can make a big difference when choosing the right pair of shoes. Remember that feet are highly individual, so a pair of sneakers can be suitable for someone but not for someone else.
Foot Arches
When I worked for Asics, I had to do a lot of gait analysis to provide the essential information about the customers running style, and checking the foot archer was one of them.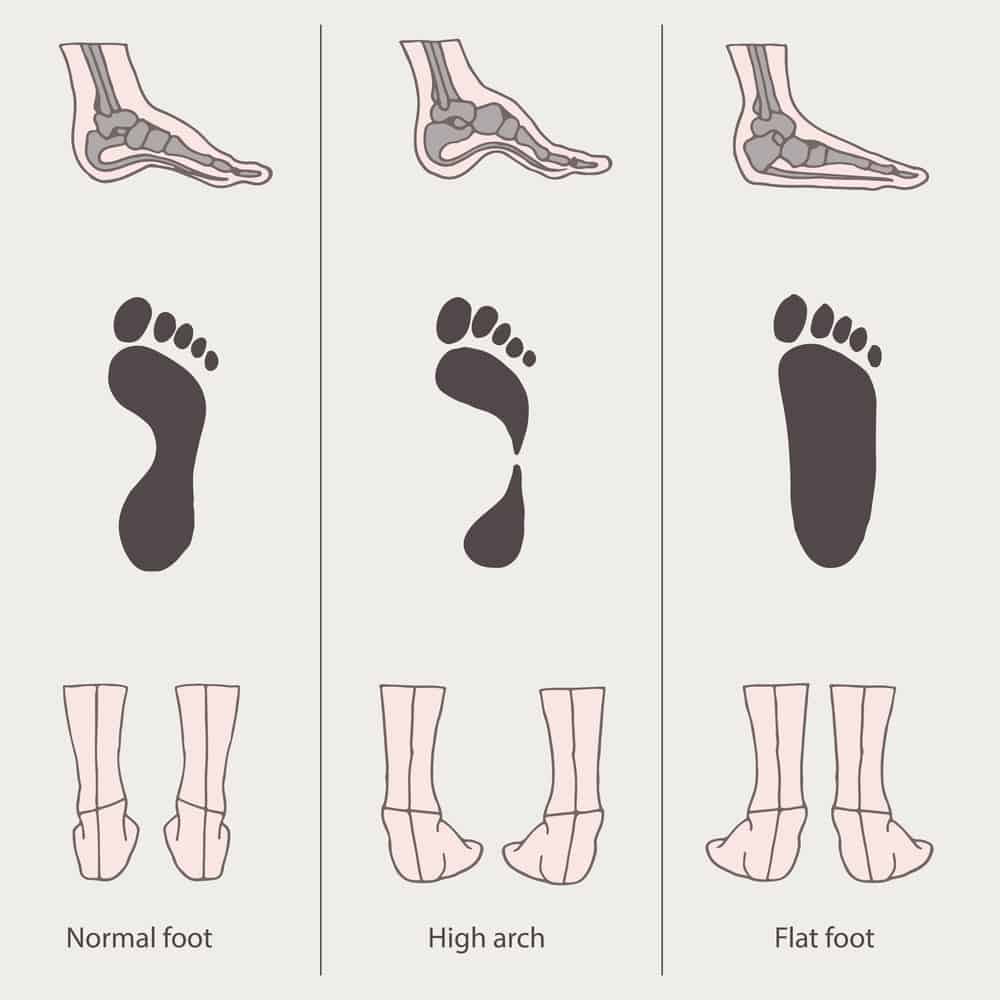 You have three types of foot arches:
Normal Arche – Your arches are at the proper height so they can absorb and distribute any impact from walking or standing all day.
High Arche – It's hard for your feet to absorb any impact since part of your feet doesn't touch the floor. You will need arch support and extra cushioning.
Flat Arche – Your feet touch totally on the floor (great to absorb impact) but not the best for your knees and legs. You pronate more, so you need more stability and cushioning on the heel zone.
You can measure your arch type by wetting the bottom of your foot and stepping on a piece of cardboard to check your footprint.
Pronation And Supination
Pronation and supination refer to the side-to-side motions your foot takes out as you walk or run.
Pronation – Your foot moves inwards when you walk. It tends to be more on the inside of your foot.
Supination – Your foot moves outwards when you walk. It tends to be more on the outside of your foot.
If you pronate, you need more stability, but if you underpronate (supination), you will need a more flexible shoe.
Materials
Now that you are aware of your foot type, you need to decide what materials you want on your shoes. Different materials can bring benefits for some and drawbacks for others.
First of all, the perfect shoe material doesn't exist, but you can still choose the most suitable for your needs. These are some of the most popular materials:
Leather Shoes – The most popular material among consumers when I worked in retail and the most durable. It's a promising material so that it will cope in more abrasive areas. However, it's also a heavier material when compared with fabric, for example.
Canvas Shoes – This is a very lightweight and soft material. If you wear Converse or Vans, you will like this material. However, it is not the most durable material and can get dirty very quickly.
Rubber Shoes – This is a long-lasting material that enhances the shoe's durability and longevity, especially when it comes to the shoe's outsole. It also prevents your shoes from slipping.
EVA/Rubber Walking Shoes – EVA (Ethylene Vinyl Acetate) is a lightweight material with superior shock absorption features. Allying EVA with rubber is great because you have shock absorption and non-slip soles. However, this is not the most durable material.
Try to mix some of these materials when you buy a pair of shoes. For example, you can choose leather for durability, canvas for a lightweight pair, rubber to avoid slipping, and EVA for the shock-absorbing properties.
Sizing and Fitting
The next step is to choose the size of your shoes. This is very important because you will spend the entire day in your sneakers when working.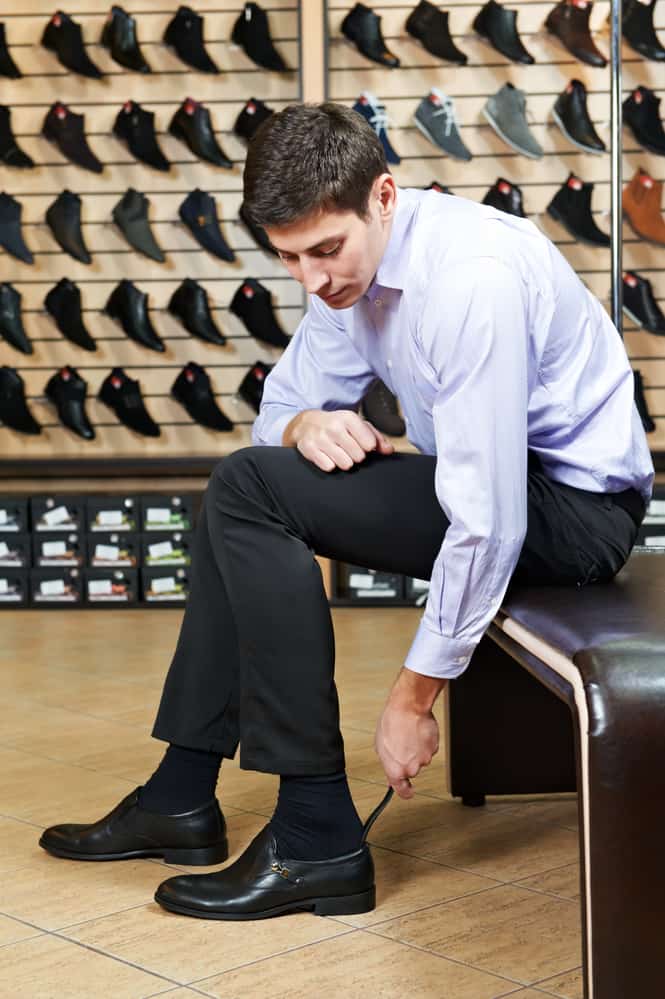 Getting the correct size can be tricky sometimes. I lost how many times customers in-store thought they were buying the right size for them (because they were buying that size their entire life) when they were buying a size too big or too small. The best way to find out the right size is to have your feet measured by a foot specialist in-store.
Having oversized shoes can increase your chances of slipping and falling. In addition, retail can be a very busy workplace where you sometimes have to walk very fast, so having the correct size is a must to make you confident when walking at a fast pace.
If you buy a size too small, it will be hard for your feet to "breathe," and you'll end up with sweaty feet plus blisters. Also, don't forget that sometimes when your feet are hot and sweaty, they can swell up to half a size, needing more space. This can be a severe problem when working in retail since you will be on your feet all the time.
I do have some guides for sizes when it comes to Skechers, Timberlands, and Vans.
Ensure the fitting of the shoe is suitable, and one piece of advice I always give to all customers buying shoes is to try them at home for around a few hours to ensure they are the correct size.
You can check if the shoes feel tight, if your ankle slips when you walk if the material inside is soft or not or if the insole provides enough cushioning, etc.
Cushioning
Cushioning is one of the most crucial features of a shoe when working in retail because it will ensure your feet are comfortable the entire day. The most cushioning a shoe have, is the best for you since it will absorb any impact you put on your feet, ankles, knees, and legs.
I always chose a pair of sneakers with a lot of cushioning, which helped me forget the pain I had in my ankles (retail destroyed my ankles).
Always check the insole inside of the shoe if it is made of memory foam that adapts to the shape of your feet or if you have an insole that bounces when you walk to provide more comfort. I also check for the cushioning on the heel area since it can help avoid any pressure on your ankles and heels.
Durability
Customers have always asked how long a pair of shoes will last, and that's a tricky question to answer (I have a post about how long shoes should last that you can read). The durability of a pair of shoes depends on a few factors, such as the quality of the shoe, the materials used, the way you walk, where you walk, how often you wear them, the weather, etc.
One thing I can guarantee, if you buy a pair of shoes that best matches your needs, they will be more durable than any other pair.
Weight
Many of us don't think about this because unless you wear steel boots, you assume all shoes are lightweight, and that is not true.
When I started working in retail in England, it was raining all the time, so I wore waterproof boots to protect my feet from getting wet, but that was a painful experience since my feet started to hurt, my ankles were in pain (10 hours shifts walking up and down stairs on boots wasn't funny), the cushioning wasn't good, and I had no support.
Read: How Much Do Shoes Weigh?
When choosing a pair of shoes, try to choose a lightweight pair since you don't need the extra tension and stress on your feet (spending 8 hours standing already does that). I have learned my lesson, and I still don't understand why I didn't change from boots to sneakers every time I arrived at the store.
Appearance
The appearance of the shoe will depend on the type of retailer you are working for. For example, a store like Hugo Boss or Gucci will need dressy and stylish shoes since it's a professional environment, but you can wear a pair of running shoes for total comfort if you work in a sporty store.
Best Shoes For Retail Workers
These are some of the best shoes for retail workers, in my opinion. I have tried all of them, so I know what works for retail and what doesn't.
1 – Asics Gel-Nimbus 23 Running Shoes
Asics is a Japanese brand founded in 1949 as Onitsuka Tiger. Everyone knows the brand because of its fantastic running shoes.
Products manufactured and marketed by Asics include footwear (sneakers, sandals), clothing (t-shirts, jackets, hoodies, compression garments, pants, shorts, socks), and accessories (bags, backpacks, caps).
Excellent Cushioning – These are the most comfortable and cushioning shoes I have ever tried in my life. They are perfect for working if you have to stay on your feet all day or if you need to walk around the store a lot to serve customers due to the GEL™ technology cushioning.
Excellent Shock Absorbing – When you walk around the store all the time for 8 hours (with only a little bit of rest), you put a lot of stress on your joints and articulations. The GEL™ technology cushioning around the heel area and insole will absorb all that impact, protecting your feet, joints, knees, etc.
Read: Do Asics Run Small Or Big?
Great Fit – The Nimbus 23 fits great, and I didn't experience any heel slip, and the sneaker hugs the foot nicely. The mesh upper is soft and didn't rub against my feet. However, Asics tend to be a bit narrow when compared with other brands, so be careful.
Durable Outsole – The Nimbus are designed with TRUSSTIC technology, a thermoplastic material that can be found under the shoe's arch, increasing stability. It works differently for men and women, offering more inward support for men (men tend to collapse more inward) and forward support for women (women tend to collapse their arch vertically.
Price – These are some expensive shoes for work. When you run, you want the best shoes because you are keen on your running, but for work, people tend to look for a cheaper option, which you have some on the list. If you are looking for the most comfortable shoes for retail work, the Nimbus is the shoe you want to have. If you're going to pay a little less, you can wear Asics Cumulus (I also recommend this and have worn them multiple times).
2 – New Balance 847 V4 Walking Shoe
New Balance is an American sports footwear company founded in 1906. New Balance is one of the world's most famous sports manufactured.
Many people associate New Balance with running footwear, but this style is designed for walking. This brand is known for its comfort, cushioning, quality, and stable shoes.
Rollbar Stability – It delivers the structure you need to have support and stability when walking. Great if you over or under pronate when walking around the store.
Read: Do New Balance Run Big Or Small?
Trufuse Midsole – This premium performance technology insole provides responsive foam cushioning for softness whether you need to stand all day or walk everywhere at work. It combines two different foams to give you the padding you need. These are very comfortable shoes, I must say.
Comfort – These are some seriously comfortable shoes. The comfort collar also helps to prevent any irritation on your ankle. Perfect if you have to walk a lot at work.
Durable – If you have a very active job (sometimes in retail, you just stand at the same place), you will be happy to know that these sneakers are durable. It took me almost one year to swap them, and I wore them about 60 hours per week (I walked home).
Price – You usually pay over $100 for a pair of running shoes, which is quite expensive for walking shoes. I can understand why because they are incredibly comfortable and perfect for working in retail.
3 – Brooks Addiction Walker Walking Shoes
Brooks is one of the best running shoes on the market, and the company was created in 1914 in the US.
Brooks shoes have been named the best winter running shoes in publications like Runner's World and Sports Illustrated.
Motion Control Shoe – If you have flat feet or over-pronation issues, this shoe will be perfect to be on your feet all day at work. It's also great if you suffer from plantar fasciitis.
Excellent Support – The extended progressive diagonal rollbar located at the medial arch will provide advanced pronation control. In addition, when you walk at work, your arches will be protected due to the shock-absorbing capability.
Excellent Cushioning – The BioMoGo DNA Foam is capable of retaining the shoe cushioning for an extended period, providing the comfort you need for an 8-hour shift on your feet. I found these shoes very comfortable.
Slip-Resistant – The innovative outsole is slip-resistant and provides excellent traction. If you work in a fast and wet surface environment, these shoes are perfect to avoid any slipping.
Sporty Smart Look – If you need a pair of black shoes to look more professional and a bit less sporty, this shoe will be a perfect choice. I am not the biggest fan of the style of the shoe.
4 – Amberjack Shoes
Amberjack is a new shoe company that combines new technology with a unique mixture style for any guy that needs a comfortable pair of dress shoes.
If you are looking for a pair of dress shoes that offers comfort, quality, and sustainability to stay on your feet all day, this is the brand you want.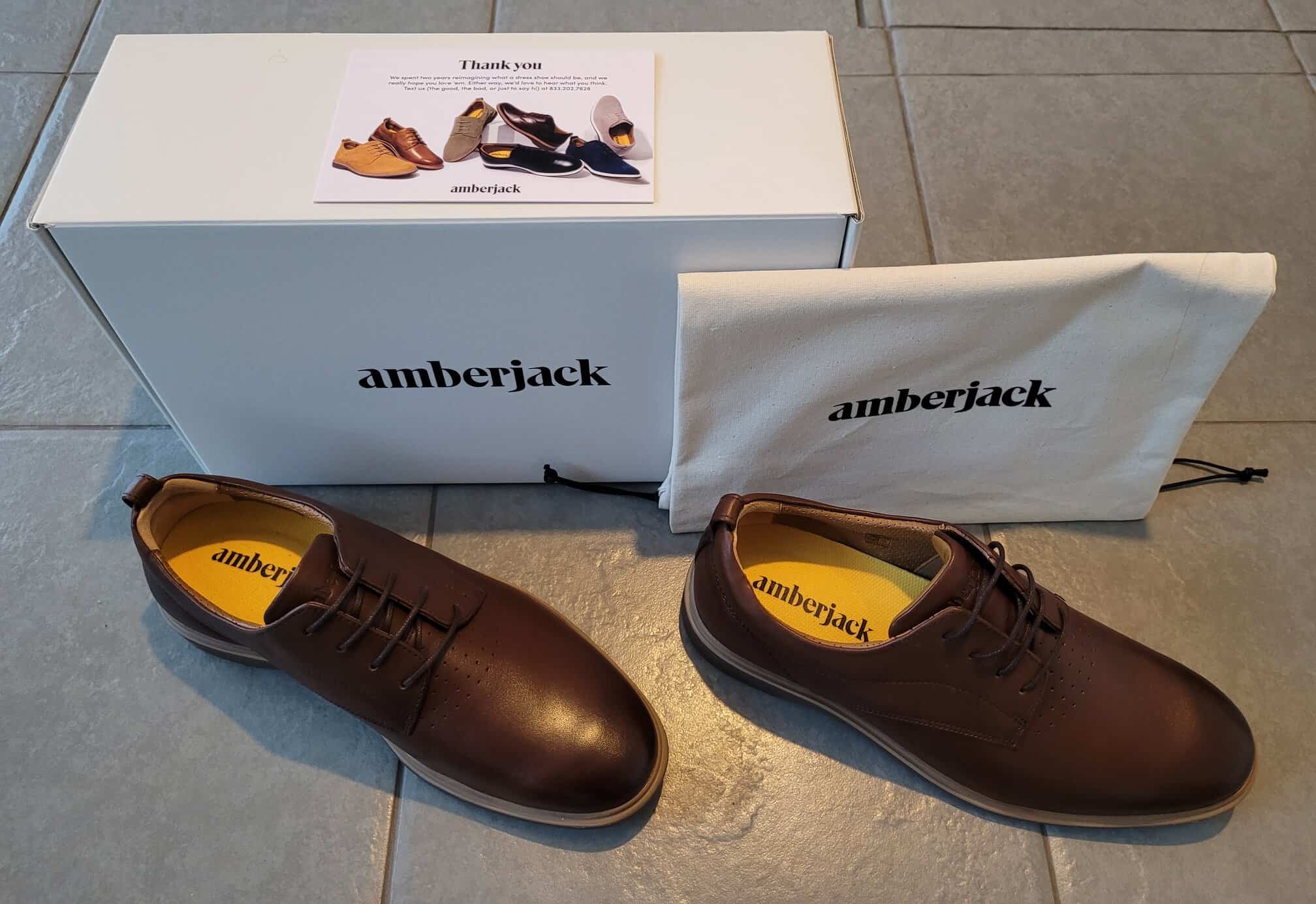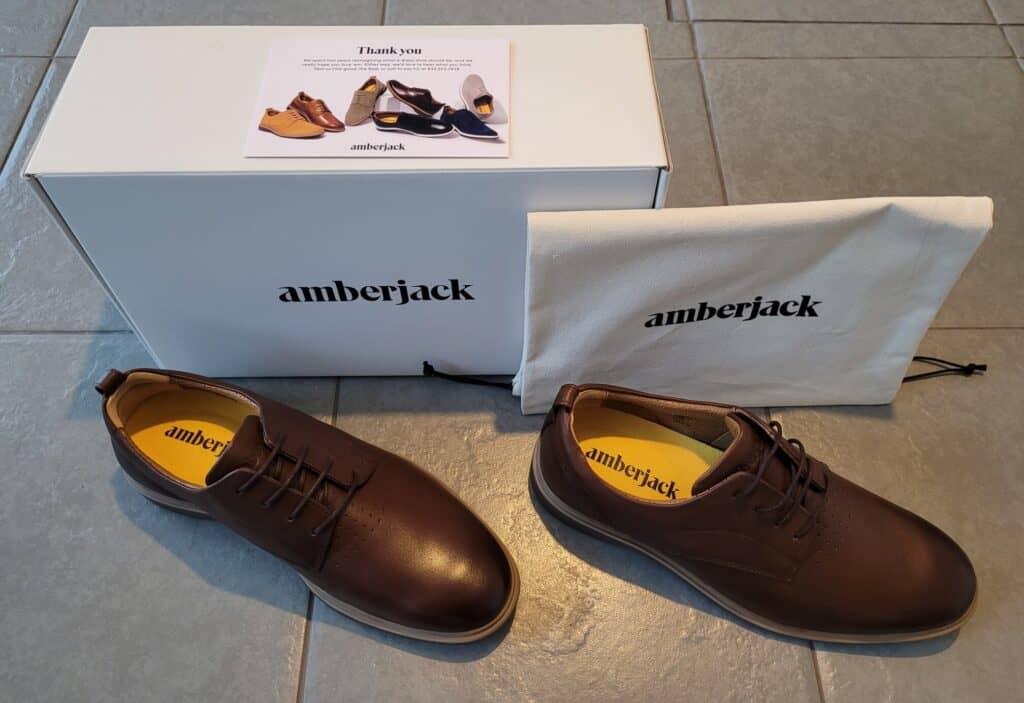 Technology – the shoe insole is inspired by the Adidas ultra boost sneakers since it has heat-activated arch support that responds to pressure and will mold to the shape of your foot after you wear it a couple of times.
Comfort – That comfort stays with you all day, no matter how many hours you have been using them or even if you walk for a few hours. All you need when you have to be standing for hours on your feet working in retail.
Padding and Support – The cushioning and support the shoes provide on the ankle area are excellent. The extra padding is due to the thick insole in the heel area. If you have problems with your ankles, this shoe is a great option.
Eco-Friendly – Amberjack is an eco-friendly and sustainable brand since it sources all its leather from an ISO-certified sustainable tannery, is plastic-free packing, and is 100% carbon neutral. All this to help the planet.
Price – Not the cheapest dress shoes on the market, but they are worth the price because of their durability and comfort.
Aesthetic & Design – Amberjack is a less traditional dress shoe because it's a mix of casual and dress in its design. Some people will love it, and some won't. (I actually like the design and aesthetic, but I decided to put it here since some don't).
5 – Skechers Go Walk 5
Many people know Skechers because of its memory foam that adapts to the shape of your foot, providing increased comfort.
The Skechers Go Walk 5 is the best seller in the entire company, and it's easy to understand why. They are ultra-comfortable.
Goga Mat Insole – This is my favorite insole from Skechers. These shoes' insole has the Goga Mat technology, which includes a high rebounding cushioning insole for better shock-absorbing. From the moment you wear these shoes, you can feel the bouncing and the cushioning on your feet.
In my opinion, the Goga Mat insole is superior to the Memory Foam because it's more resilient and flexible. Goga Mat is also great if you have to stay on your feet all day.
Rubber Sole – The shoe's sole is made from rubber, which will prevent you from slipping wherever you walk. It also has extra cushioning that bounces when you walk.
Breathable – The mesh fabric in the upper part makes these shoes breathable preventing any bad smells. The Air Cooled insole also makes your feet cool because sometimes your feet can become warm when rubbing against the insole.
Price – You have many shoes on the market that are very expensive. I love Skechers because of how affordable they are and how much they offer at such a low price.
The Style – I am not a big fan of the shoe style since it looks basic, but I would choose comfort over style every day of the year, especially when you have to stay 8 hours on your feet.
6 – Clarks Tilden Cap Oxford Shoe
Clarks has made footwear since 1825, being one of the oldest footwear brands worldwide.
If you are looking for a smart pair of shoes because you work in a store where you need to look your best, this is the pair for you.
Read: Are Clarks Good Shoes?
Durable – The full-grain leather uppers are full designed to last as long as possible (if you take good care of the shoes)
Ortholite Insole – Will provide comfort for long hours shifts and wicks away moisture, fungus, and any odors.
Classy Looking – If you need a pair for a professional environment (high fashion stores, for example), this pair is a must.
Not Flexible – These types of shoes are not flexible, which it's a nice feature to have on your shoes when you need to walk fast or up and downstairs.
You can also check if Clarks run too big or too small here.
7 – Asics Gel-Kayano 27 Running Shoe
Another pair of Asics is without any surprise since they are some of the most comfortable shoes on the market for retail workers.
Best Stability Shoe – Asics Kayano has to be the best stability running shoe on the market. It's incredible. If you pronate when you walk around the store, this is the shoe you want to wear because of its dynamic DuoMax support system, which enhances stability and support. So your feet will not hurt after a day at work.
Excellent Cushioning – Its shock absorption (GEL technology cushioning system) is one of the best on the market (if not the best), and that's why you have a running shoe on this list because it offers a lot of padding to your heels. Kayano's feel softer and more responsive.
FlyteFoam Propel Technology – Asics energetic foam formulation that provides supreme bounce thanks to a unique elastomer compound. If you have to take stairs at work all the time, these shoes will protect your feet from any impact.
FlyteFoam Midsole Technology – The FlyteFoam technology provides exceptional bounce back and responsiveness no matter the distance, utilizing super organic fibers to help reduce packing out that traditionally happens with softer, low-density foams.
Specific Style – If you don't pronate, this is not the shoe for you because you don't need so much stability. You need cushioning. The good news is that you have the Nimbus version for neutral runners and walkers.
8 – ECCO Helsinki Bike Toe Loafer
ECCO is a Danish shoe manufacturer founded in 1963, specializing in comfortable footwear made from premium materials and quirky footwear technologies. It's considered one of the most innovative footwear brands in the world.
Very Comfortable – These shoes have a padded footbed which makes your feet feel comfortable all day, no matter how many hours you are on your feet.
Soft Squared Toe – If you have broad toes, you will love this pair since it provides enough space to move around freely without any restrictions.
No Laces – The only reason I am not the biggest fan of shoes without laces is that sometimes you don't feel the support you need when the store is busy, and you need to walk faster.
Common Questions About The Best Shoes For Retail Workers
These are some of the most common questions about the best shoes for retail workers.
Why Do You Need Good Shoes for Retail Work?
It would be best if you had good shoes suitable to your foot type and needs because working in retail means that you can spend many hours on your feet without resting, putting a lot of pressure and stress on your joints and articulations. This can cause some severe and irreversible foot problems.
What Are The Best Shoes For Cashiers?
If you have to stay on your feet the entire day without moving, you can put a lot of stress on your feet, having a lot of pain after a few days of that. Any running shoe or walking shoe with a lot of cushioning is a good choice, like the Asics Gel-Nimbus 23 or the New Balance 847 V4.
Are Flip Flops Appropriate For Retail Workers To Wear All Day?
I am a big fan of flip-flops but wearing them when working in retail is a bad idea on all levels. First, you barely have any cushioning, support, a layer of protection, or slip resistance properties. Second, you can develop severe problems like tendonitis in your toes, bunions, or hammertoes.
Conclusion About The Best Shoes For Retail Workers
There are many shoe options for retail workers. The key is to find the best fit based on your foot type and needs. As a general rule of thumb, you should try shoes on in-store or at home around the house (in case you buy them online) to check they are the right size for you.
It's also important to consider materials, cushioning, durability and weight when purchasing new footwear and how it will look with your uniform at work.
The best shoes for retail workers will have these characteristics, but sometimes it can be challenging to have all of them in one shoe, so you need to prioritize what you think is the most important for your comfort.