This post may contain affiliate links. That means if you click and buy from that link, I may receive a small commission (at zero cost to you), which helps me maintain the quality of this blog. Please see my full disclosure policy for details.
The snow starts to fall, and everything is covered in white. Timberland is your favorite brand, and you are ready to rock those shoes in the snow, but you are not sure if you can. Are Timberlands good for snow?
I get you. You want to wear your favorite shoe brand because they give you some status and style, but you also want to keep your feet warm and not slip all over the place. Nobody wants to sprain an ankle or break a leg.
Read: Where Are Timberlands Made?
I am a massive fan of Timberland shoes and boots and had a few different styles in the last couple of years. Let me tell you that not all styles from this brand are suitable for the snow.
Are Timberlands Good For Snow?
It depends on the style of Timberlands you pick. Some Timberlands are perfect to wear on snow, and some other styles are not suitable. The best Timberlands for snow are the ones that are waterproofed, contain warm insulation, and have a good grip.
Read: Do Timberlands Run Big Or Small?
All of Timberland's work boots and hiking boots are waterproof, so they are an excellent choice for walking or working in the snow. However, not all Timberland boots offer insulation, so you must always check the product description. Also, Timberland hiking and working boots provide a lot more grip than casual Timberland boots, which makes them ideal for snow and winter.
Not All Timberlands Are Good For Snow
Some Timberlands are not fit for snow because they weren't designed with that in mind. When I visited Milan, I visited Como and climbed a mountain full of snow for hours with my Timberland Newmarket Fulk LP Oxford Yellow (which I can't find online anymore). If I knew this was the plan, I would have picked another pair of shoes, so please don't judge me).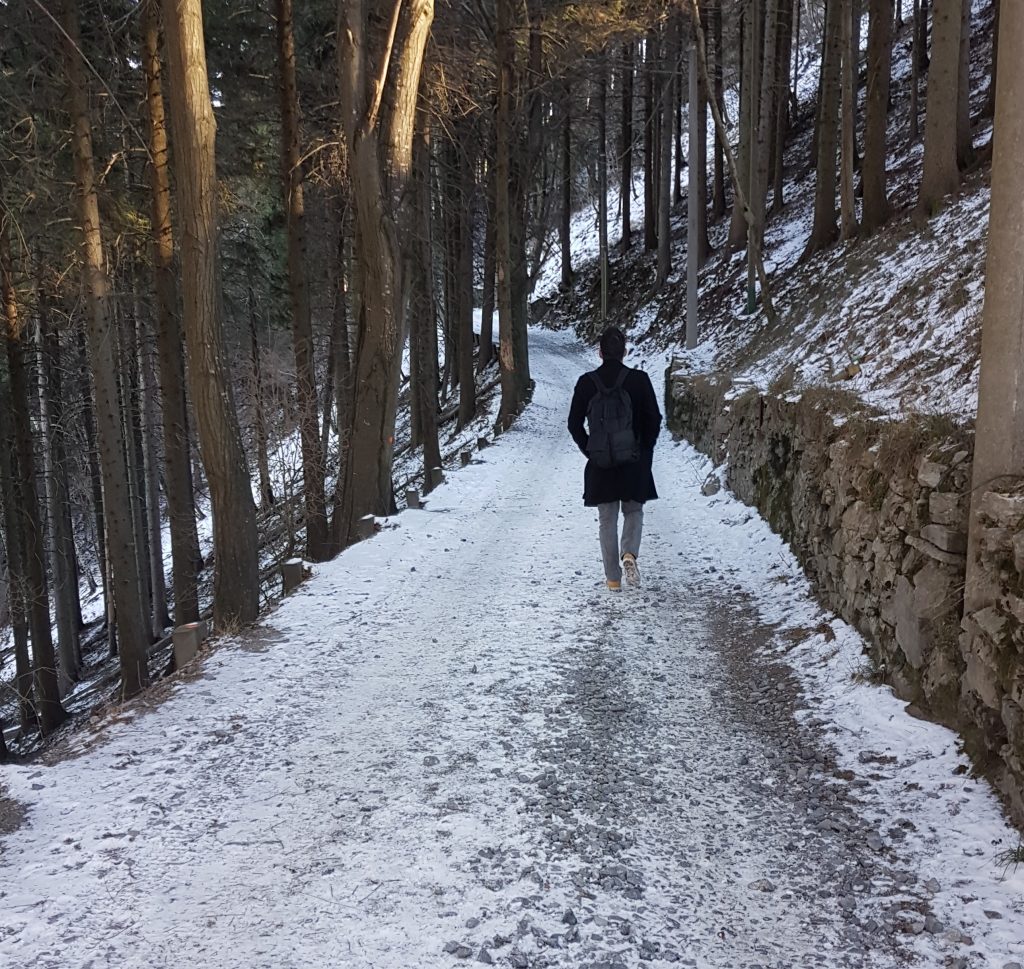 The problem with this Timberland style is that it isn't waterproof, doesn't offer insulation, and the grip is not the best. The snow was minimal (as seen in the picture above), but the one that came into contact with my Timberlands (suede material) made them very dirty and wet, and my feet were freezing. They were also very slippery when I climbed. So as you see, not all Timberlands are suitable for snow.
Read: How To Find Shoes From A Picture?
What To Look For When Buying Timberlands For Snow
If you want to wear the right Timberlands to face the winter and snow, you must pay attention to these five features. Remember to confirm that your new Timberlands will fit your lifestyle and wardrobe if you care about fashion.
Waterproof Protection
The first thing you should check in the Timberlands boots and shoes description is if they are waterproof, fully seam-sealed, and made of specially treated fabrics that protect in wet and rainy conditions. Some footwear will say TimberDry (waterproof membrane made of 50% recycled plastic bottles).
Also, check for leather materials, which are great for water resistance and durability. After all, leather is a natural water resistance.
Read: Why Are Timberlands So Expensive?
You can also use a waterproof spray for any Timberland shoes that aren't good for bad weather or snow (like my Timberland suede shoes). I use this one, and it is good enough to keep my shoes dry.
Warm Insulation
When searching for Timberland boots or shoes for the snow, you should choose a pair crafted with insulating fabrics that retain warmth for long periods.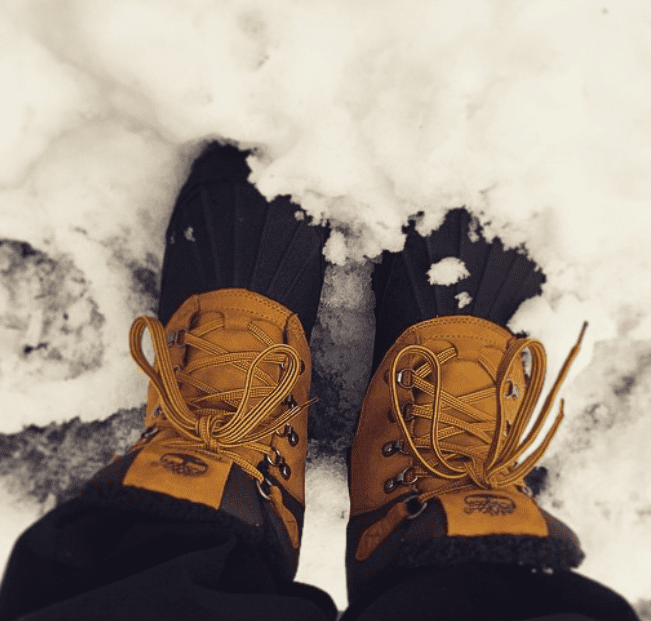 Boots with insulation trap air molecules in their fibers, blocking the entrance of the cold outside air and preventing the heat from escaping the inside of the shoes, keeping your feet warm and pleasant.
Check in the description if the shoes say PrimaLoft Eco Insulation. It's crafted from synthetic fibers that form a dynamic insulation structure. These compression-resistant fabrics maintain and retain warmth even when your boots are wet.
Read: Where Are Clarks Shoes Made?
The leather material used to make Timberlands is also a natural insulation provider. If you add some thick heavy socks, it will be the perfect combination.
Strong Support
Icy surfaces and snowy conditions can be tricky, so you need footwear that provides front support so you won't twist an ankle. Timberland boots usually have arch support and support through the heel. This is an excellent feature if you suffer from plantar fasciitis or heel spurs.
Read: Why Are Doc Martens So Expensive?
If you also choose a style that crosses the ankle, that gives you extra stability, which can be effective on slippery surfaces. This is because boots with a cuff that rises above the ankle bone let you tight laces, giving you a snug fit and more support when walking.
Good Grip and Outsoles
Your footwear needs to have an excellent grip to avoid you slipping on ice. When you walk on snow, you quickly lose control with the wrong shoes and end up on the floor. Any shoes with flat soles have absolutely no grip, and that's why they are slippery on ice.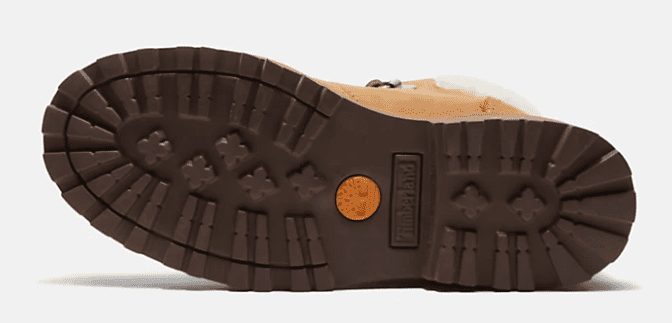 When buying Timberlands, have a look if they include the technologies Gripstick rubber or Vibram rubber outsoles since they both provide maximum grip and minimize slip. Keep in mind the different grips can affect how tall you look.
Comfy Fit
You want the boots to feel snug to your feet to keep them warm and comfortable enough that they don't get pinched.
Read: Where Are Doc Martens Made?
I personally like my Timberlands (and any brand) big enough in the toe area where the toes never touch the front of the shoe, but I want to feel the support around my ankle and tighten the laces more tightly. Also, I found it very uncomfortable to walk long distances on snow or any other pavement with no ankle support.
Please don't buy your Timberlands or any other brand too tight because it can cause circulation problems in that area. Your feet also expand and swell when they're hot, so you need extra space. You'll likely be wearing thicker snow socks, so consider the extra space you'll need for them.
Timberland Boots For Snow Top Picks
These are some of the best Timberland boots you can wear in snow for walking, hiking, or working.
Timberland 6-Inch Basic Waterproof Boots
100% Leather
Rubber sole
400 Grams Of PrimaLoft insulation
Waterproof
Rustproof hardware and durable rubber lug outsoles
Excellent Grip
Read: Amberjack Shoes Review
Timberland Men's Snowblades
Rubber sole
The shaft measures approximately ankle-high from arch
Waterproof leather
400 grams of PrimaLoft insulation
Timber Dry waterproof membrane
Take Care Of Your Timberland Boots
To ensure you keep your Timberland properties intact and enjoy your boots again next year, you need to do three things.
Air Dry Your Boots
Always dry your boots after you wear them. You can air dry them with a fan, direct sunlight, or heat in a well-ventilated area. Avoid putting your boots in front of an open fire to dry them because that can dry out the leather making the shoes stiff.
When I was a kid, I always saw my mom putting newspaper inside my boots when they were wet to absorb it quicker.
Clean Them
Once per week, you want to check your boots (if you wear them daily) and check if they need care and cleaning.
Grab a brush and scrub it dry. Don't use water because it can dry the leather. If you have difficult stains, you might need to use a specific cleaner to remove them. Check this Timberland kit I have used.
Protect Them
You want to protect your boots from extending their life every year. In the Winter, pavements are covered with snow, salt, and slush, so you need to be careful with your boots.
With leather Timberland boots, you can use a leather conditioner or wax to maintain their waterproof features without jeopardizing their breathability.
Common Questions About Are Timberlands Good For Snow?
These are some of the most common questions about wearing Timberlands in snow.
Are Timberlands Good For Cold Weather?
Yes, Timberlands containing PrimaLoft Eco Insulation are perfect for cold weather because they retain warmth, even if the boots are wet. If they are made of leather material, they will also keep your feet warm, perfect for the Winter.
Are Timberlands Good For Hiking?
Timberland boots are suitable for hiking since they designed some models specifically for that sport. They combine breathability, waterproofing, shock-absorbing, and an excellent grip to make you walk miles without feeling pain in your feet.
Some of their classic boots are slightly heavier and not ideal for hiking because you will put more pressure on your knees and back. It all depends on the style you choose. Avoid the classic boots and choose the ones specifically designed for hiking.
Are All Timberland Boots Waterproof?
No, not all Timberland boots are waterproof. It will say on the product description if they are Waterproof, Gore-Tex or TimberDry. If you see any of these three in the product description, you can be assured the boots are waterproof.
How Do You Protect Timberlands From Snow?
To ensure your Timberlands retain their waterproof quality, you need to take care of the material of the shoe. You want to apply a leather wax or conditioner if it's leather. Don't forget to brush off any ice or snow after you wear the shoes. This is how you protect your Timberlands.
Are Timberlands Good For Canadian Winter?
Yes, Timberland boots are great for Canadian winters because they combine all the factors you need in one place: comfort, dryness, waterproofing, warmth, and good grip.
Can You Wear Timberlands In The Snow?
Yes, you can wear Timberland in the snow and severe winter if you choose the styles with the right features. They need to be waterproof, have warm insulation, give strong support, have a good grip, and have a comfy fit. All these five features make a good pair of boots for snow.
Always check the Timberland product's features, descriptions, and reviews from other buyers to check if the boots will be a good fit for what you need. Many reviews will mention the buyer's experiences with wearing them in snow.