This post may contain affiliate links. That means if you click and buy from that link, I may receive a small commission (at zero cost to you), which helps me maintain the quality of this blog. Please see my full disclosure policy for details.
I have heard the question "are these shoes non slip?" thousands of times when I worked as a store manager for Skechers and footwear manager for Sports Direct. The question now is, are Vans non slip?
Maybe you have started a job at McDonald's, helped at a restaurant, cleaned houses, worked in a hospital, or been a roofing contractor. Do you know what all these jobs have in common? They all need you to wear slip-resistant shoes. Why? Because when busy, you walk faster (the surface can be slippery or wet), and wearing the incorrect type of shoes can be a mistake you can pay later if you slip.
Read: Where Are Vans Made?
If you are thinking of wearing Vans as your non slip shoes for work, but you are not sure if Vans are the best choice, I can help you decide. After all, I had worn this American sports brand before (even if it was a long time ago).
Are Vans Slip Resistant Shoes?
The good news is that Vans shoes are non slip. The outsoles of Vans shoes are made from vulcanized rubber that provides excellent traction to any surface, preventing you from sliding or falling.
The Vans also have a tread pattern along the soles that restricts water or any other liquids from sticking to the shoe, increasing the slip resistance.
Are All Vans Slip Resistant?
We can say all Vans are slip resistant because all Vans outsoles are made of rubber. I have read over fifty Vans shoe product descriptions, and the brand never says the shoes are non slip. Instead, vans state the outsoles are made of rubber (as we know, rubber is resistant to water and cold flow).
My personal experience with Vans says the shoes don't slip and don't leave marks on the floor. However, I had only tried one style years ago, so I have searched what customers were saying about this on Amazon, Reddit, and Quora.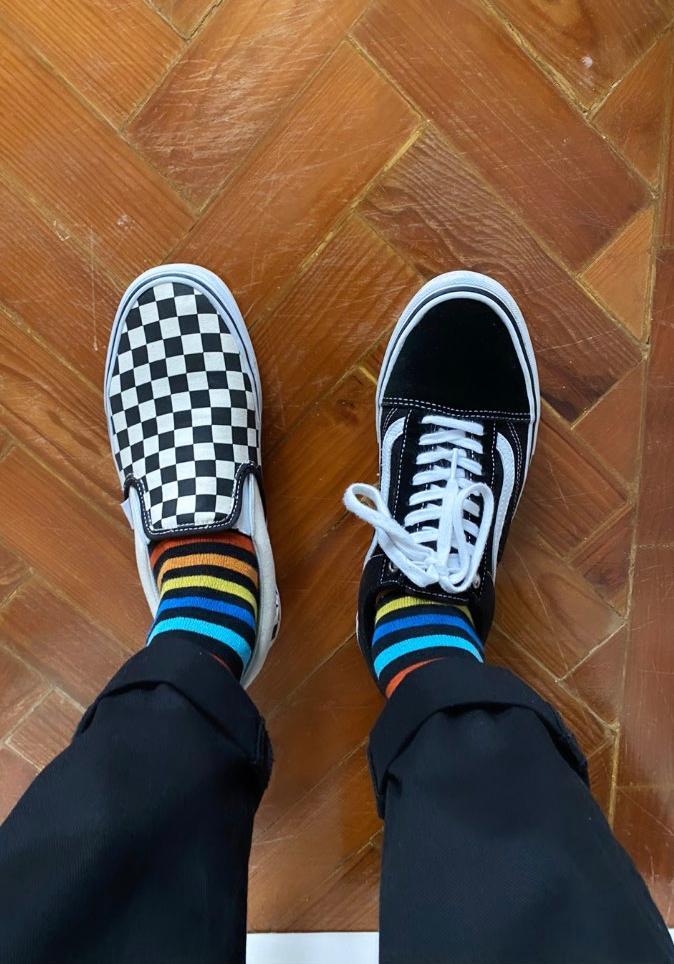 Read: How To Make Shoes Smaller
"This is a perfect work shoe for those of you in the service industry who need nonslip shoes!"
"I bought them for my son, and he wears them in the gym at school, and he doesn't slip on the wood floor."
"College student daughter chose these as her new job required non-slip work shoes. These work perfectly for her as they are comfortable and more stylish than traditional Oxford-style work shoes."
Like any product, you also have some negative reviews like:
"My biggest complaint is that they're described as "slip resistant" when they are not slip resistant by any means."
I would say there are far more positive comments about Vans being non-slip than negative comments. My personal experience agrees with it, but every experience is different.
Vans Non Slip Styles
Even if all Vans styles are non slip, you still need to choose the shoes according to your situation and needs. For example, some shoes are more suitable for kitchen work and wet surfaces than others.
Best Vans For Kitchen Work
Vans collaborated with No. 7 chef Tyler Kord to tweak the Classic Slip-On for advanced professional kitchen work.
They are great for kitchen work due to the better traction on slippery kitchen floors, and they also repel liquids, food, and grime.
Best Vans For Waiters
The Vans Low-Top Trainers are great to provide you comfort during your entire shift, especially if you stand for hours.
The rubber outsoles are also great for slippery floors in case a customer messes up.
Best Vans For Roofing Work
Vans Old Skool is an excellent choice for roofing work since the soles are flat, keeping your balance.
The rubber soles will also prevent you from slippering when you move.
What Features Make Vans Slip Resistant?
Vans shoes are very popular among skateboarders, snowboarders, and BMX riders. Why? Because the Vans shoes provide an excellent grip and are slip resistant (perfect for all these sports).
Read: Do Vans run big or small?
Why are Vans non slip, you ask? Because of the following two features.
High-Quality Rubber Outsoles
First of all, not all rubber-soled sneakers are great for wet floors. If the outsole is made of softer rubber (designed to offer more floor grip when confronted with oil, moisture, or grease), you will be fine. Some shoes are non slip but intended to grip on dry surfaces like basketball or tennis shoes.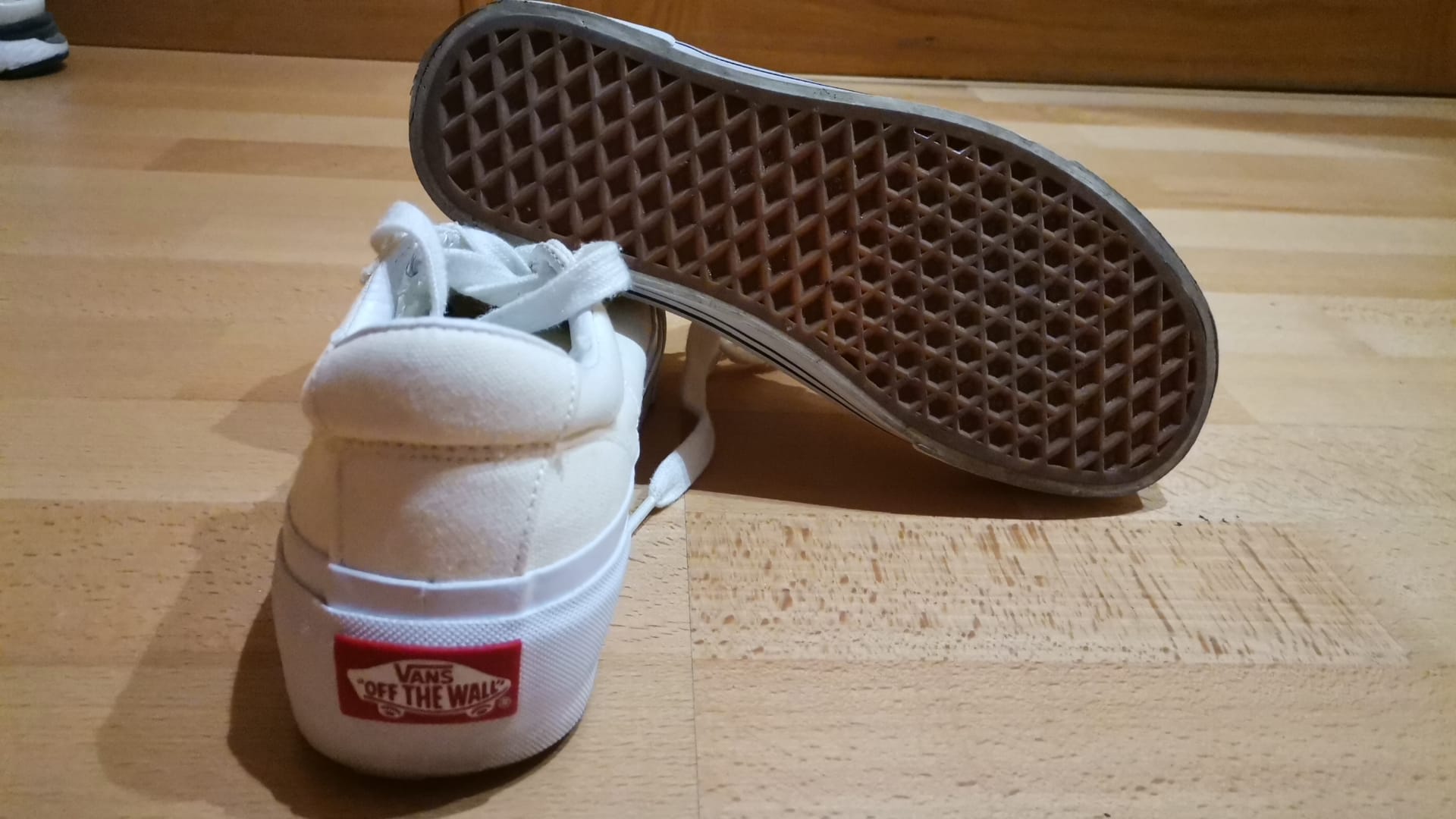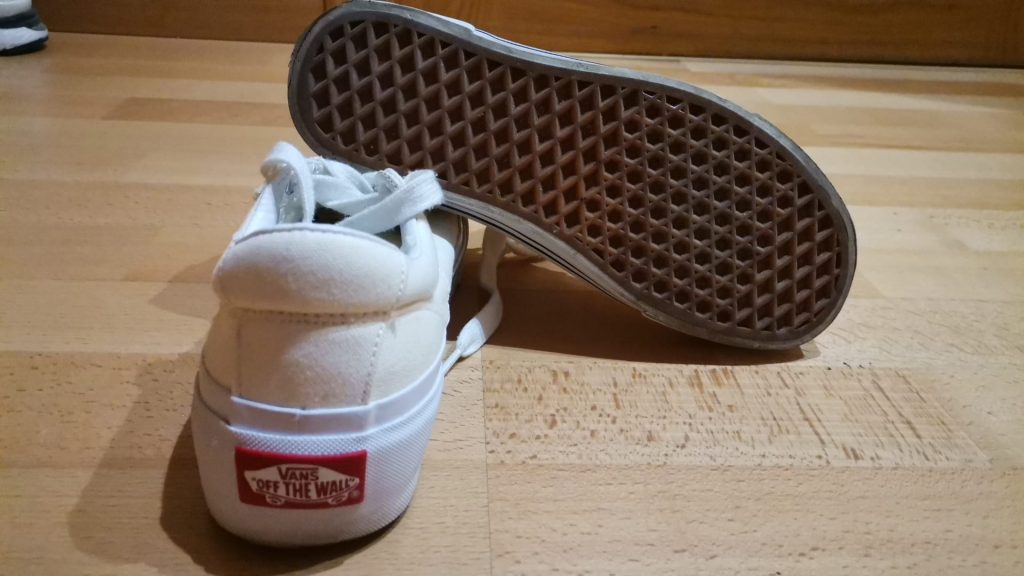 The rubber itself is one of the best non slip materials to use to fabricate a shoe. It provides traction, excellent grip on wet or grease surfaces, and prevents you from slipping. But not all rubber is high quality (Vans do provide quality rubber).
Read: Are Timberlands Good For Snow?
Vans use a combination of synthetic and natural rubber in the soles and sides of their shoes. Synthetic rubber can be produced in any country since it isn't that difficult to make. Natural rubber comes from countries like Thailand, Indonesia, or Vietnam.
Vans also adopt a special vulcanization process during the construction of its shoes. During production, the rubber is "baked" on the shoe in two steps. In the first phase, it's cured by heat and compressed before it's steam-baked in step two.
Some of the benefits of vulcanizing rubber:
Exceptional resilience.
Low water absorption.
Returns to its original form.
Resistant to organic solvents.
Good electrical insulator.
High resistance to oxidation and abrasion.
Vans don't use synthetic materials like EVA foam since it would melt during the vulcanizing process. That's why your Vans are made of rubber, canvas, or suede (both used as uppers) since they can withstand the high heat during the manufacturing of the shoes.
Read: How To Find Shoes From A Picture?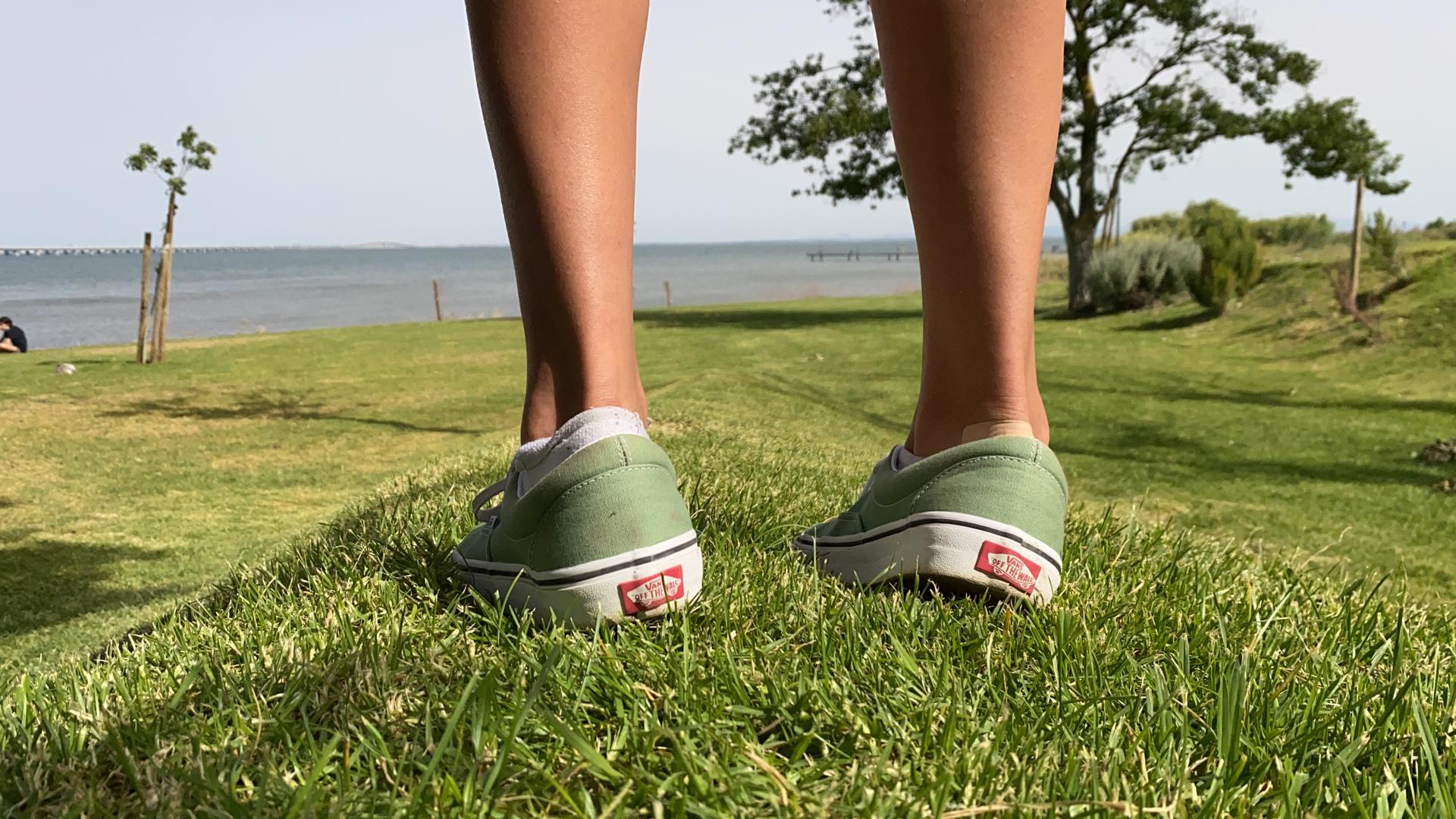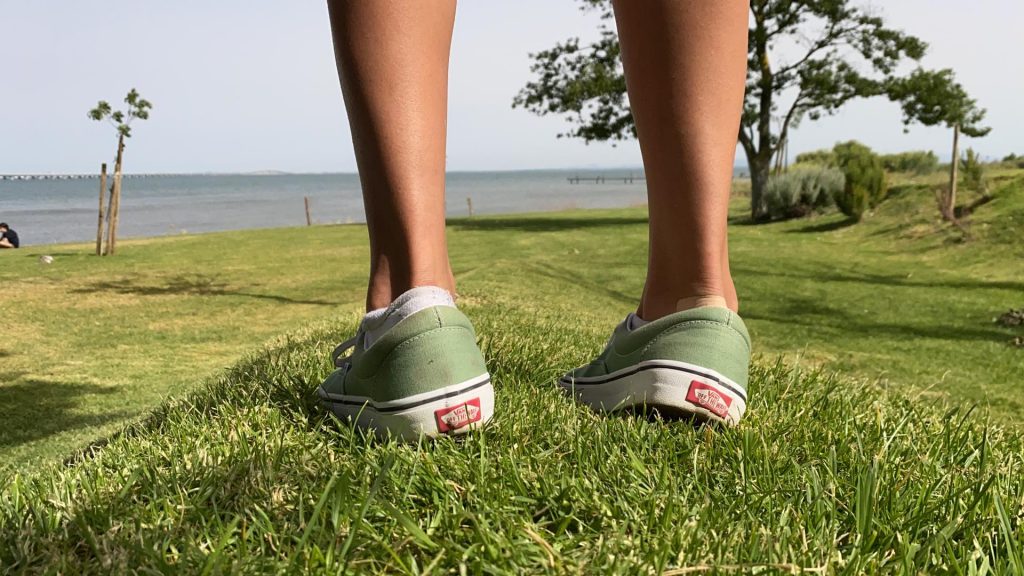 Non-Slip Tread Patterns
The other non slip feature on the Vans shoes is the tread pattern. As you know, the tread is the part of the shoe that touches the ground.
The design of Vans treads is a mix of circles and rhombus (diamond shape) across the sole. Why? Because it prevents the water and grease from sticking to the shoe, maximizing the grip between the shoes and the ground.
Read: How To Clean Skechers Shoes?
It's common to have the circle patterned close to the top area of the outsole since it's the part that provides more slippery when you walk.
Common Questions About Are Vans Non Slip
These are some of the most common questions about Vans shoes being non slip.
Are Old Skool Vans Slip Resistant?
Yes, Old Skool Vans are slip resistant. These shoes are the most popular Vans shoes on the market, so many people ask specifically about them. The rubber outsoles and the tread pattern make the shoes non slip.
Are Vans Non Slip Shoes For Work?
Yes, Vans shoes are non slip for you to work with them. So it doesn't matter if you work in a restaurant at a fast pace, in a kitchen with a wet floor, or in a roof where slipping means you fall from a high altitude. I have seen a lot of people wearing Vans in kitchens and restaurants (pay attention to the waitress's shoes next time you eat out).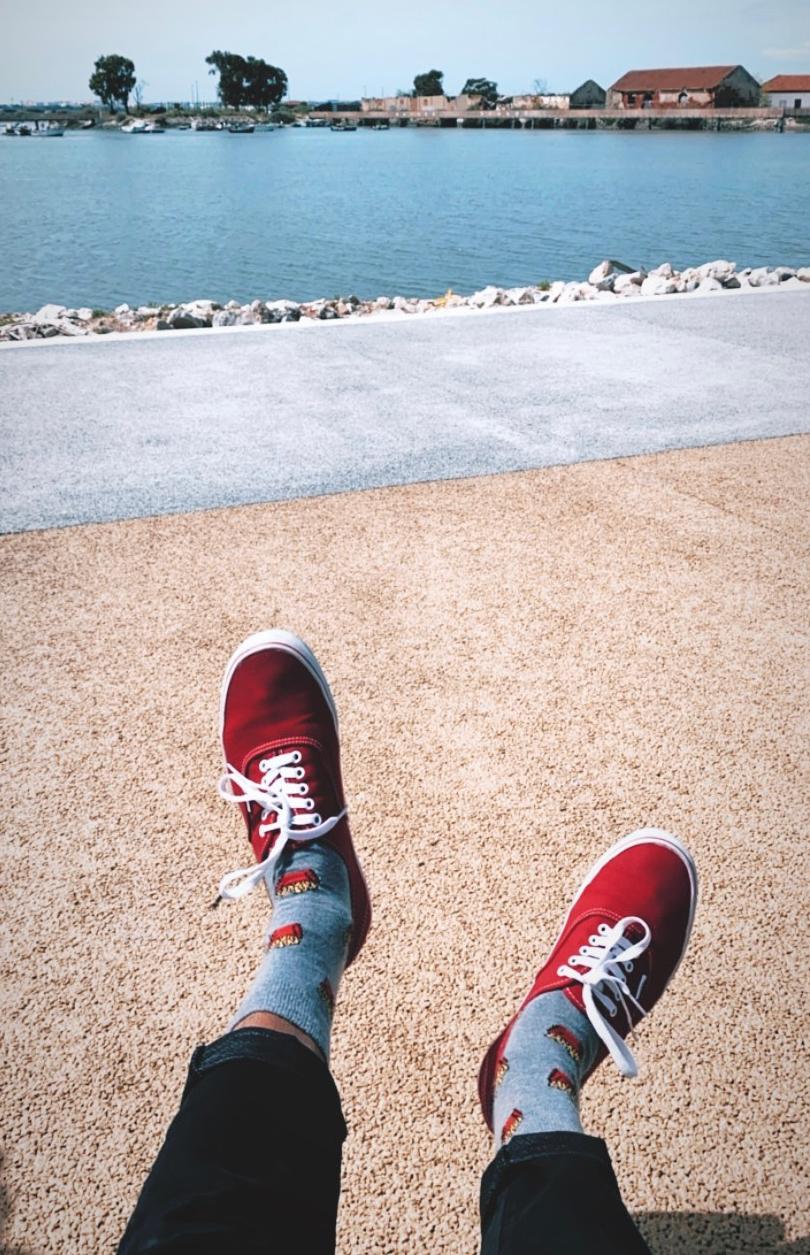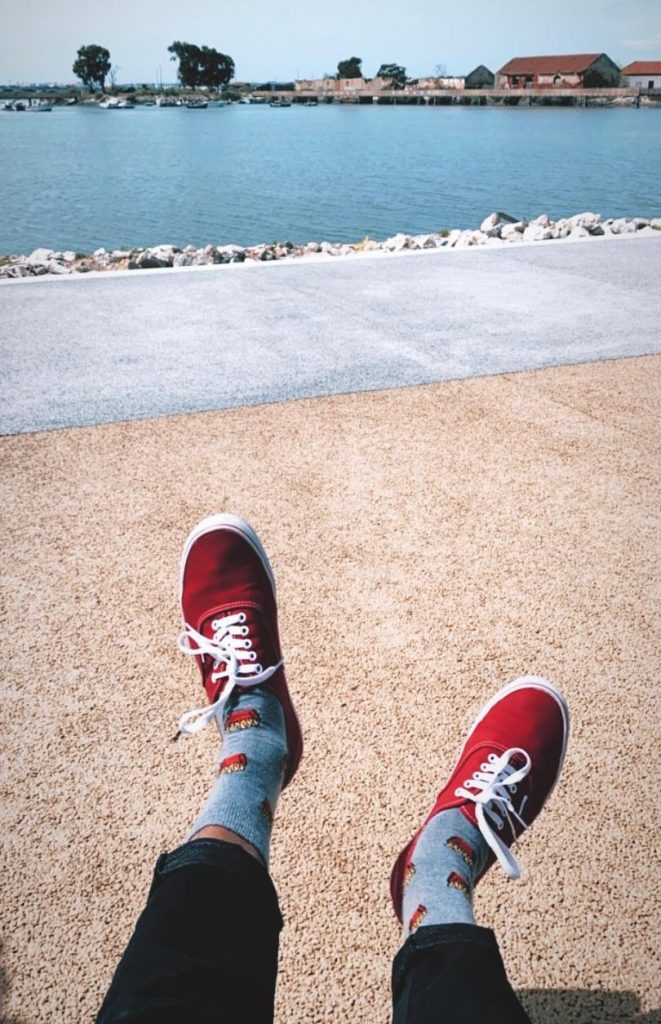 Are Vans Grippy?
Yes, Vans shoes are grippy due to the rubber outsole. This non slip material makes the shoes more grippy on a slippery floor. That's why skaters love Vans because its vulcanized rubber construction has a superior grip and support (perfect for your shoes to stick on the board).
Read: Do Timberlands Run Big?
Are Vans Non Slip Shoes?
Are Vans non slip? The answer is yes. Vans are non slip shoes and a great choice if you need a pair of shoes that will not fail you when you work on a slippery kitchen floor, a wet roof, or a busy restaurant.
The rubber soles and the circular tread patterns are two factors why Vans have such a good grip and are a good choice for those looking for slip resistant shoes.
What about you? Do you wear Vans at work because of the non slip features, or have you chosen a different brand? Share with me in the comments.