This post may contain affiliate links. That means if you click and buy from that link, I may receive a small commission (at zero cost to you), which helps me maintain the quality of this blog. Please see my full disclosure policy for details.
Wearing the right pair of shoes can be tricky, especially when they look similar. That can be even more difficult if you don't know or see the subtle distinctions between some types. For example, when it comes to loafers vs boat shoes, you need to know when to wear both.
Being educated on different kinds of everyday footwear is crucial to look at your best and not make a fashion mistake. In men's style, shoes can tell a lot about someone, and that's why it's so crucial to wear the right pair.
Loafers and boat shoes can look similar in some details and quite different in other features. So let's find out the difference between loafers vs boat shoes.
Are Boat Shoes Loafers?
No, boat shoes are not loafers. The number one characteristic of loafers is no laces, and boat shoes have laces. They can be very similar in certain aspects, but loafers belong to dress shoes and boat shoes to casual shoes.
Read: Difference Between Loafers And Dress Shoes
What Are Loafers Shoes?
Loafers are a type of dress shoes that are laceless slip-ons, usually made of suede or leather. They have a round toe design with a flat heel.
Loafers are lovely to wear with dress pants, jeans, chinos, shorts, or even suits if the occasion is not formal. However, never wear loafers with a tuxedo.
Loafers also have different styles like:
Read: How To Wear Blue Shoes?
I know some guys who like to wear loafers with socks, especially dress loafers. However, if you want to go for a sockless look, loafers can be worn without them. Always let the occasion and weather guide if you should wear loafers with or without socks.
What Are Boat Shoes?
Boat shoes are a type of casual shoes that have laces, usually made of canvas or leather. The soles have a siping pattern to provide good traction.
Boat shoes are perfect to wear with shorts, jeans, or chinos. A great option if you want an outfit for a day close to the beach or sea.
Read: How To Stop Shoes From Rubbing The Back Of Your Ankle?
Boat shoes can be laced differently:
Surgeon's Knot – results in a visible shoelace knot (what we call the traditional knot).
Barrel Knot – results in looped and twisted laces.
Fishtail Knot – results in no visible knot but rather neatly crossed-over laces.
Tassel Knot – results in a twist on the traditional barrel lace look.
Boat shoes tend to be worn sockless by most men, but you can find some who like to wear them with socks.
Loafers vs Boat Shoes
The main difference between loafers and boat shoes lies in the shoe's design and purpose.
Boat shoes and loafers can be similar in many features, but they have a big difference in one aspect that makes them different straight away after one look. Let's find out.
Read: Check Out My Review Of Amberjack Shoes
The Lacing
Loafers are not too difficult to identify because they don't have any laces and look like slip-ons. Boat shoes always have laces, but with different knots, depending on the style you bought.
The Outsoles
Boat shoes are designed with rubber outsoles since they were initially made to keep people working on the docks safe, avoiding slippering and allowing them to have a slip-free movement when moving quickly. I have checked loads of boat shoes, and they all had a rubber outsole.
Now, most people think that all loafers have a leather outsole, but that's not true. I have found loafers with a rubber outsole or a synthetic one (usually a combination of leather and rubber). That's why some loafers look much more casually than others.
Read: How To Make Shoes Non-Slip?
Usually, rubber outsoles are razor-cut to allow a better grip, and leather soles tend to be flat and slippery if you walk on wet pavement. Vans shoes are non-slip and tend to be a prevalent choice if you are looking for a more sporty style.
The Toe
Loafers tend to have round toes, the most classic shoe shape. It's also spacious and a good choice for people with wide feet and looking for a casual-smart style.
Boat shoes have a moc-toe, an additional piece of leather sewed on the upper of the shoe that extends till the toe.
The Formality
Loafers are more formal than boat shoes. However, loafers are not the most formal pair of shoes you can have (oxford and derby shoes do that). Loafers are more of a semi-casual or smart-casual style.
Read: What Color Shoes To Wear With Khaki Pants?
Boat shoes are more casual and relaxed. They have an informal aesthetic, and you can use them on most everyday activities, depending on the time of the year.
The Seams
Both loafers and boat shoes can be stitched upper seams or glued, depending on the quality and brand you purchase.
When To Wear Loafers?
You can wear loafers in both casual, semi-casual, and even on some formal occasions (depending on what you are wearing). So wear loafers when going on a date, shopping, having dinner, walking, traveling, casual business meeting, or even in a more formal arrangement.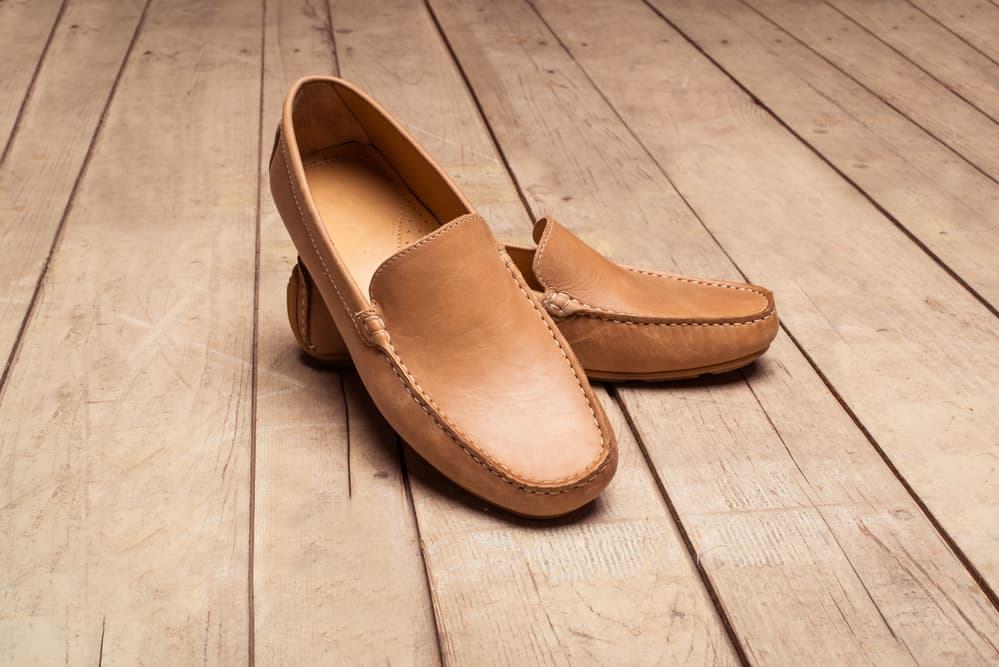 You can wear loafers during any time of the wear, no matter if it's summer, winter, warmer or cold weather.
Read: Are Clarks Shoes Good?
Loafers look great with dress pants, jeans, chinos, shorts, or even suits if the occasion is not formal. However, avoid wearing them with a tuxedo since that type of garment asks for a more traditional shoe style.
As I mentioned before, you can wear your loafers with or without socks. Just let the weather and the occasion guide you on what to do.
When To Wear Boat Shoes?
You can wear boat shoes on the beach, during maritime activities, on a date, traveling, casual walks, or casual day activities. However, you want to avoid wearing boat shoes at formal dress code events or in the office.
Read: How Often Should You Polish Your Shoes?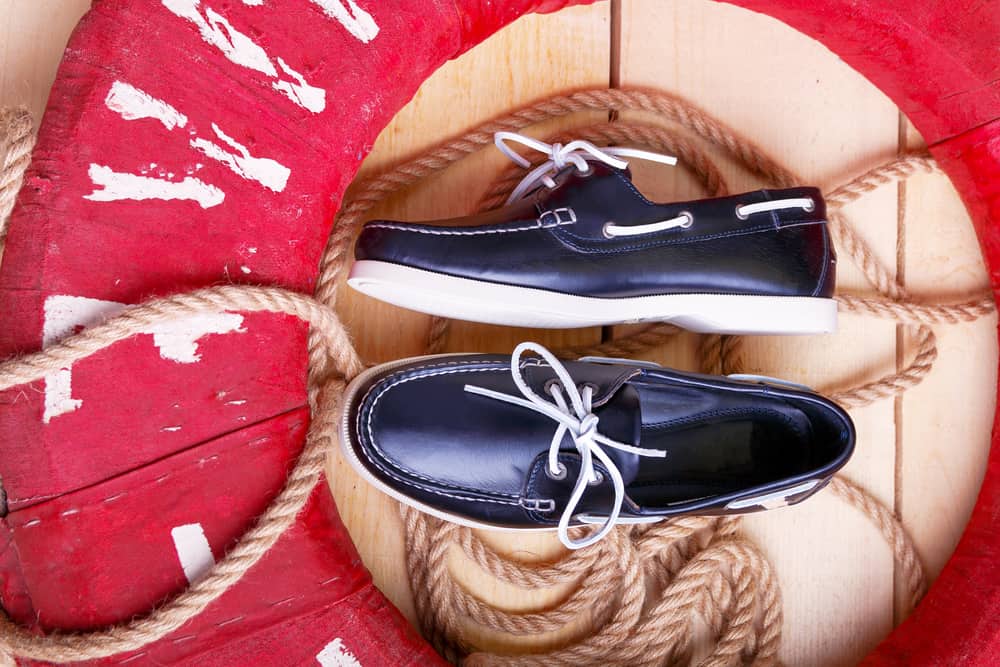 Boat shoes are an excellent choice for the summer, but even spring or autumn if the weather is sunny and warm. Yet, never wear boat shoes during winter months because they are not suitable for that time of the year, at least when it comes to fashion.
Read: How To Find Shoes From A Picture?
Boat shoes look great with lightweight pants and shorts. Jeans (boat shoes look great with denim), shorts, khakis, t-shirts, and polo shirts are also a great option if you wear light materials and the correct colors. Avoid wearing boat shoes with any kind of thicker or formal clothes.
Some boat shoes users think it's criminal to wear socks with this shoe style. I understand why they feel that way since I don't like to see boat shoes with visible socks. However, I always have to wear socks with any shoes because I find this way more hygienic. Also, I wear invisible socks with boat shoes to avoid any bad scents.
Personally, I would try the different types of knots I have mentioned for boat shoes and vary according to your style.
Common Questions About Boat Shoes vs Loafers
These are the most common questions about loafers vs boat shoes.
Read: Do Suede Shoes Stretch?
Are Boat Shoes A Type Of Loafer?
No, boat shoes are not a type of loafers. All loafers are laceless and look like slip-ons. However, all boat shoes have laces with different kinds of knots.
Should You Wear Boat Shoes Or Loafers With Shorts?
You can wear both loafers and boat shoes with shorts. Always let the occasion, dress code, and material of the shorts decide which one is the best option. Go for loafers if it's a formal/casual-business event and boat shoes if it's a casual event.
Conclusion On Loafers vs Boat Shoes
When choosing between loafers vs boat shoes, you need to consider the occasion, the weather, and your outfit. The most significant difference is that boat shoes have laces, and loafers are laceless. Other differences like the outsoles, seams, and toe area can also dictate your preferences.
Read: What Is A Shoe Mitt?
When in doubt, choose a pair of boat shoes for a casual event in the summer and sunny days or a pair of loafers for a casual-business event in winter or any other season of the year.