This post may contain affiliate links. That means if you click and buy from that link, I may receive a small commission (at zero cost to you), which helps me maintain the quality of this blog. Please see my full disclosure policy for details.
C Ring underwear is becoming more and more popular over the years since men are experimenting more with choosing sexy and erotic underwear. I say erotic because when you wear C Ring undies, you (and anyone you show) can see your bulge.
I have tried a couple of C Ring briefs a few times to understand how it works, how comfortable it is, and how the bulge on my packaging worked. Just reading the reviews wasn't enough on this one, where you need to try the product to write about it.
You can use this article as your to-go guide about C Ring underwear.
What Is C Ring Underwear?
C Ring underwear will enhance your bulge since it positions your junk and testicles slightly up and away from the center of the crotch. In regular underwear, your balls are often clinging between your legs, and sometimes that can be uncomfortable if you have big balls. You also need specific underwear if you are hung to ensure you are comfortable.
Read: What Is The Best Men's Nude Underwear
On the underwear, you have a ring attached to the front pouch where you can place your penis (that has the perfect anatomy for this type of underwear). You don't need to worry since the c ring doesn't get in the way and doesn't feel itchy or uncomfortable. It feels strange for a few minutes, but you get used to it quickly.
C Ring Underwear Is Different From Cock Rings
To clarify, C Ring underwear and cock rings are two different things, but many guys confuse them as being the same.
Cock rings are not a piece of underwear. Instead, they are plastic, rubber, silicone, or metal rings that you put around your penis (and sometimes balls) to make erections bigger, harder and longer-lasting. The primary function of a cock ring is to help to maintain an erection.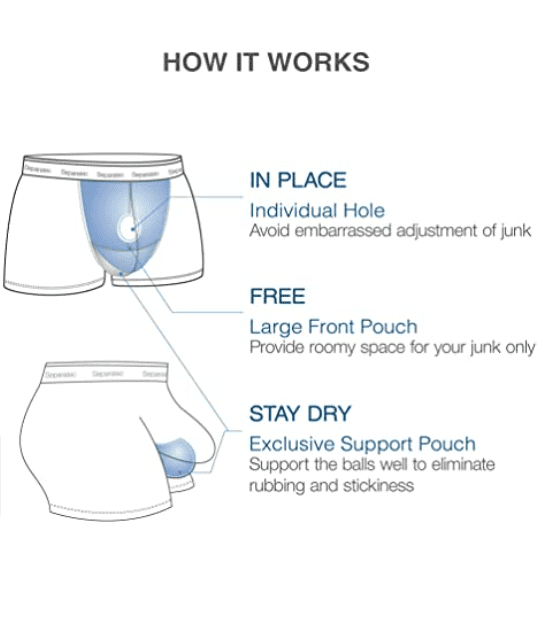 Read: Best Underwear For Well Endowed Men
In a pair of C Ring undies, you have a ring attached to enhance your bulge and your penis to look bigger, not to help with an erection. That's the main difference between both.
How Does C Ring Underwear Work?
C Ring underwear is easier to use than you think. You just wrap the strap around your scrotum and the base of your penis and adjust it without feeling tight. Some don't have a strap and just have the metal ring where you put your penis.
As you can see, you have different types of C Ring undergarments. Also, with the strap, you have more support since your balls will be more elevated.
How To Wear C Ring Underwear?
Follow these steps if you have bought a C Ring pair and find it complicated to put it on.
Step 1 – Put on the underwear like you usually do with other pairs.
Step 2 – Stretch the strap to be easier to put your junk on it.
Step 3 – Put your penis and balls through the strap and stop near the base. Wrap it around till you fill it snug but never tight.
Step 4 – If it feels tight, keep adjusting the strap until it is comfortable and firm.
Read: Why Do We Wear Underwear?
The underwear should never feel too constricting against the skin. The C Ring undergarments should enhance your bulge and make you feel sexy. Not to be in pain or uncomfortable.
If you feel some tingling sensations, remove the underwear straight away because that is what the cock ring is supposed to do, not the underwear.
Tips When Wearing C Ring Underwear
To ensure you are making the best of your new erotic pair of undergarments, you should consider some points.
Don't Wear It Too Tight
When it comes to any underwear, enhancement or not, you don't want to have a tight pair. It will restrict your movements, and you will not feel comfortable.
Read: Best Underwear For Small Penis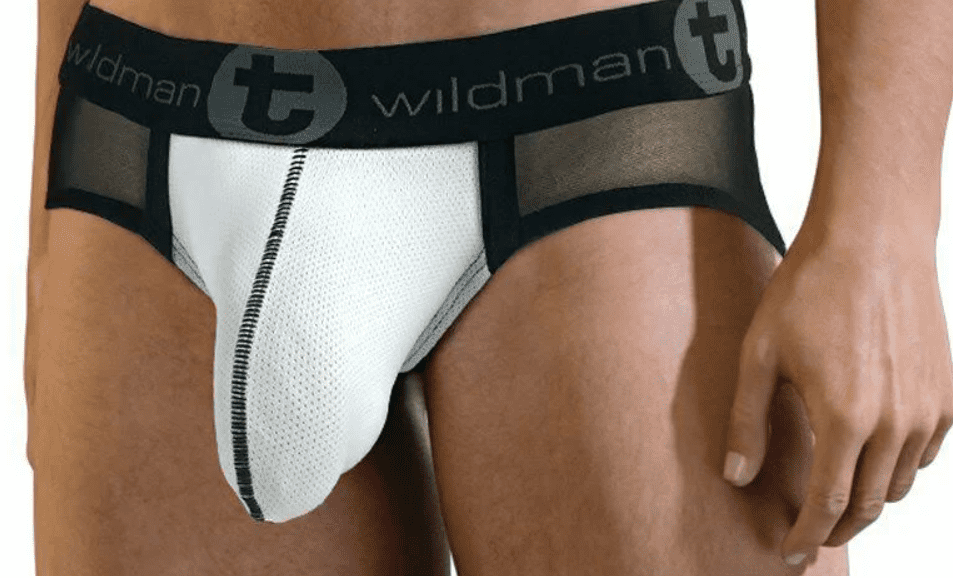 When it comes to C Ring underwear, the tighter the strap, the worst for you since you are cutting the blood flow to the penis, and that can bring some irreversible problems. In addition, it can cause itching, rashes, swelling, or irritation.
I did make it tight just to see how it feels, and I can tell you it's not comfortable at all. I would give up in minutes if it was supposed to feel that tight.
Don't Wear It For More Than A Few Hours
Don't think of your C Ring underwear as a pair you will wear all day, but something you will wear for a few hours for a more intimate moment with someone.
Read: Do Men Wear Thongs?
I did wear my C Ring underwear pair for 8 hours one day to see how it felt, and it was a bit painful. I just wanted to take it off, and I felt so relaxed when I finally did it. Definitely not the type of underwear you need for a day at work or a few hours at the gym.
Best C Ring Underwear
As I said, I have tried a few C Ring underwear brands, but one was the most comfortable and the one I felt the best on all levels. That was the MSemis boxer briefs.
The MSemis boxer briefs are made of rayon and spandex. They provide excellent support to your balls and junk. It's like someone is holding your balls when you walk (in a good way). They also make the bulge something everyone will pay attention to. They are not the sexiest since you have many different designs on the market, but they were the most comfortable and visually appealing for me.
Read: What To Do With Old Underwear?
Remember that you are using this C Ring undies pair to spice up things with your partner or date, not everyday wear. In case of doubt between sizes, go for the bigger one.
Conclusion
If you are looking for a sexy way to enhance your junk, why not try C Ring underwear? They make your bulge look more prominent, give more support to your balls, and definitely will make your partner or date want more.
However, this is not the type of underwear you want to wear for many hours or on daily activities, and you need to keep that in mind, or you will feel a lot of discomforts. Give it a try and let me know what did it work for you.