This post may contain affiliate links. That means if you click and buy from that link, I may receive a small commission (at zero cost to you), which helps me maintain the quality of this blog. Please see my full disclosure policy for details.
Crocs were invented by Lyndon Duke Hanson and George Boedecker Jr. in Quebec City, Canada, but can you answer the question: where are crocs made? In fact, Crocs doesn't manufacture in Canada at all.
Crocs is a very recent brand since it was created this century (in 2002), but it quickly became very popular and sold millions of footwear. So does it mean Crocs manufactures every single piece of footwear or outsources to independent manufacturers? And where do they outsource all their production?
Read: Where Are Primark Clothes Made?
I have sold a lot of Crocs (and cheap imitations like Hotuna), but customers always wanted Crocs if we had them since the materials are better, more resistant, and more comfortable. So, where crocs are manufactured is essential for consumers.
Read: Where Is Carhartt Made?
To confirm, I have decided to review hundreds of product descriptions on the Crocs website to check if the brand lists where the products are made. I also visited a couple of Crocs stores and some stores that sell Crocs products, checking multiple items. So let's find out where Crocs are made.
Where Are Crocs Made?
Crocs footwear is manufactured in China, Vietnam, Italy, Bosnia, Mexico, and Indonesia.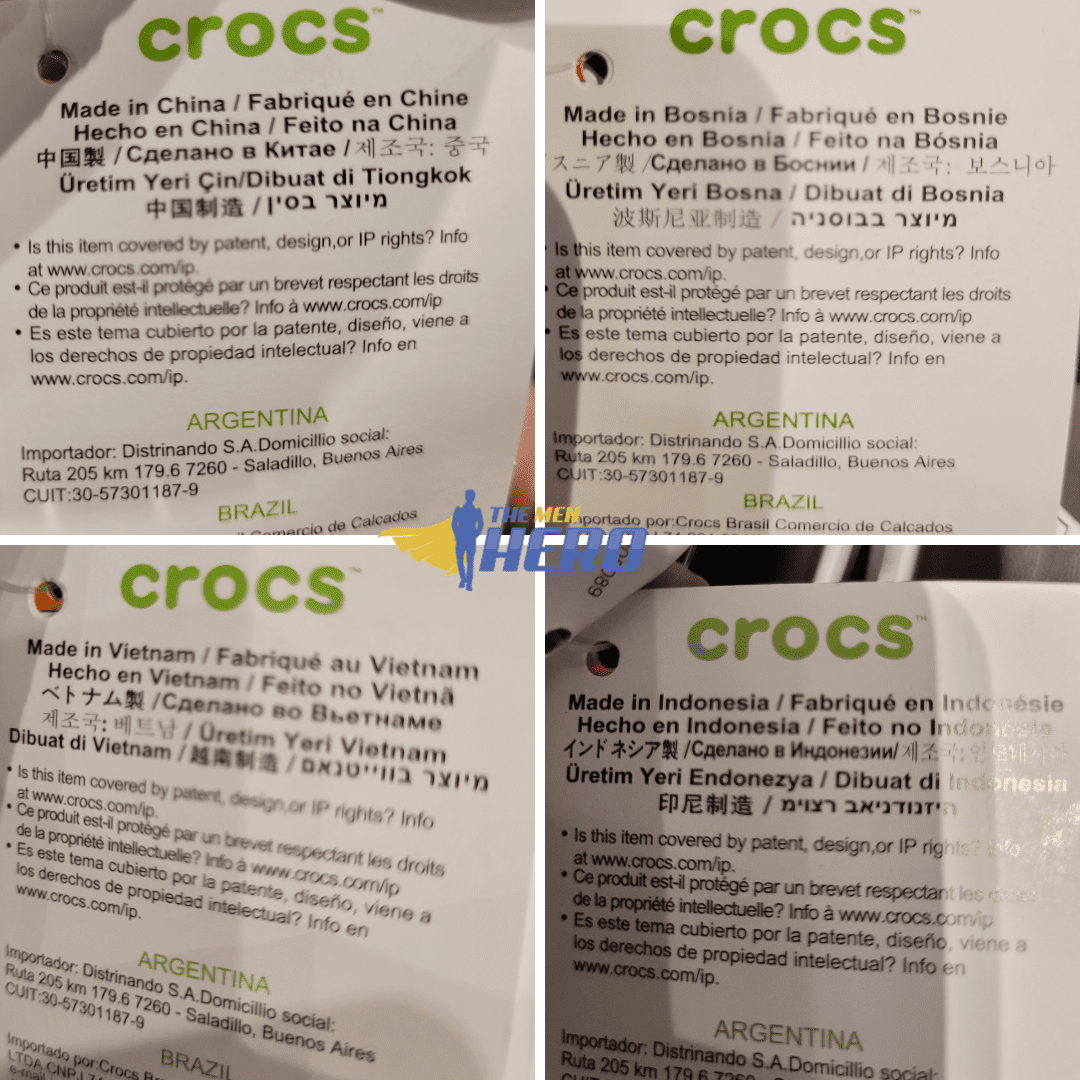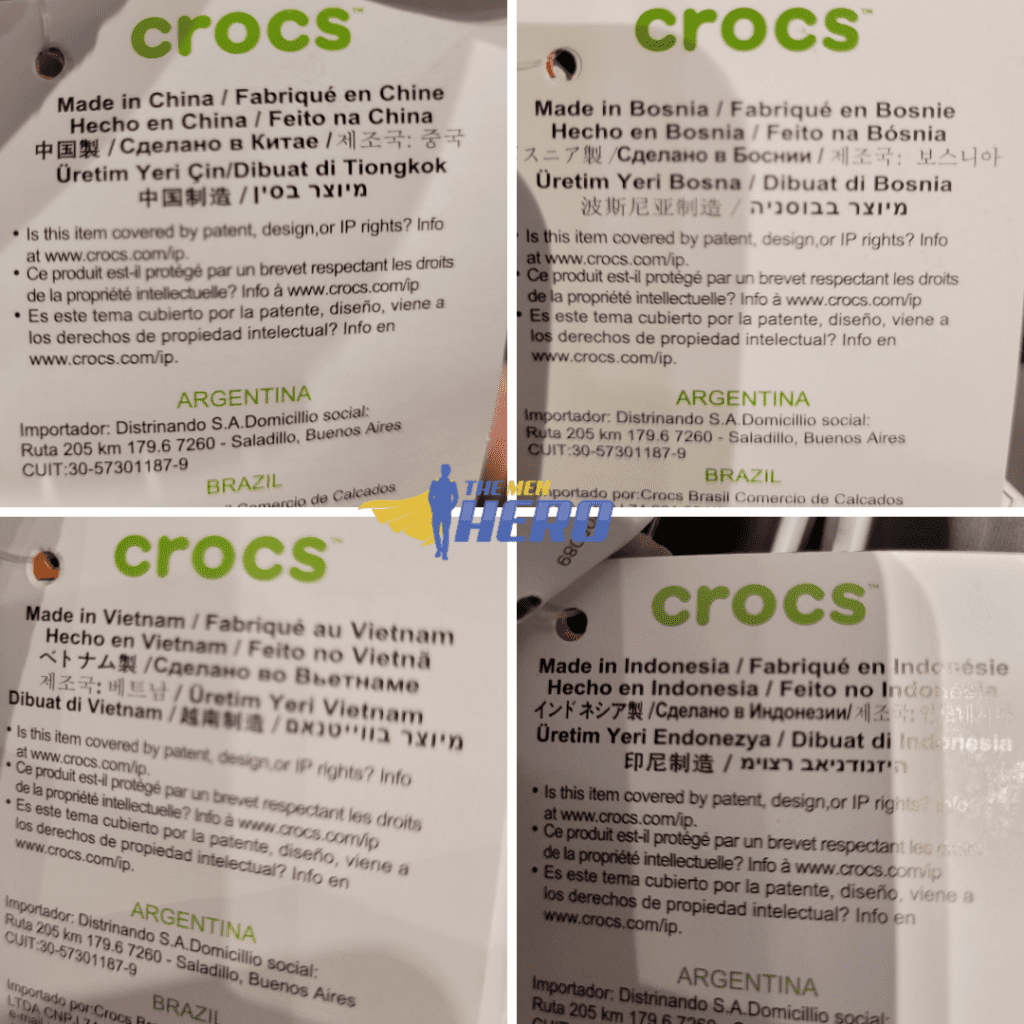 The crocodile brand doesn't list where crocs are manufactured on the product descriptions of the shoes. However, if you click on the "FAQs" and "Country Of Manufacture," they list the countries where they make Crocs. Unfortunately, they don't have Indonesia on the list, and I have found Crocs "Made In Indonesia" in-store. This makes me not feel 100% confident in trusting that list of countries.
Read: Where Are Havaianas Made?
Sometimes when you pay more for a brand than another that offers the same products, where they are made can be the difference for some people. However, brands know that buying a "Made In China" item doesn't have the same impact as "Made In Italy" for many consumers.
That's why many brands don't state on their website where the products are manufactured. I have found so many Crocs "Made In China" and "Made In Vietnam" that I am not surprised that Crocs doesn't list the countries in the product description.
When you buy a product in-store or online, you can check where it was manufactured since the US and EU legislation requires brands to indicate the country of origin. Unfortunately, it's not always the case since brands like Lacoste didn't have many products with this information (something that doesn't seem right).
Read: Where Are Jack Wills Clothes Made?
I could also not find any Crocs "Made In Italy" or "Made In Mexico," and in 2018, Crocs closed their own manufacturing facilities in both countries. So I am not sure if they stopped manufacturing in Mexico and Italy or still outsource to independent factories there.
Are Crocs Made In China?
Yes, a big part of Crocs footwear is made in China.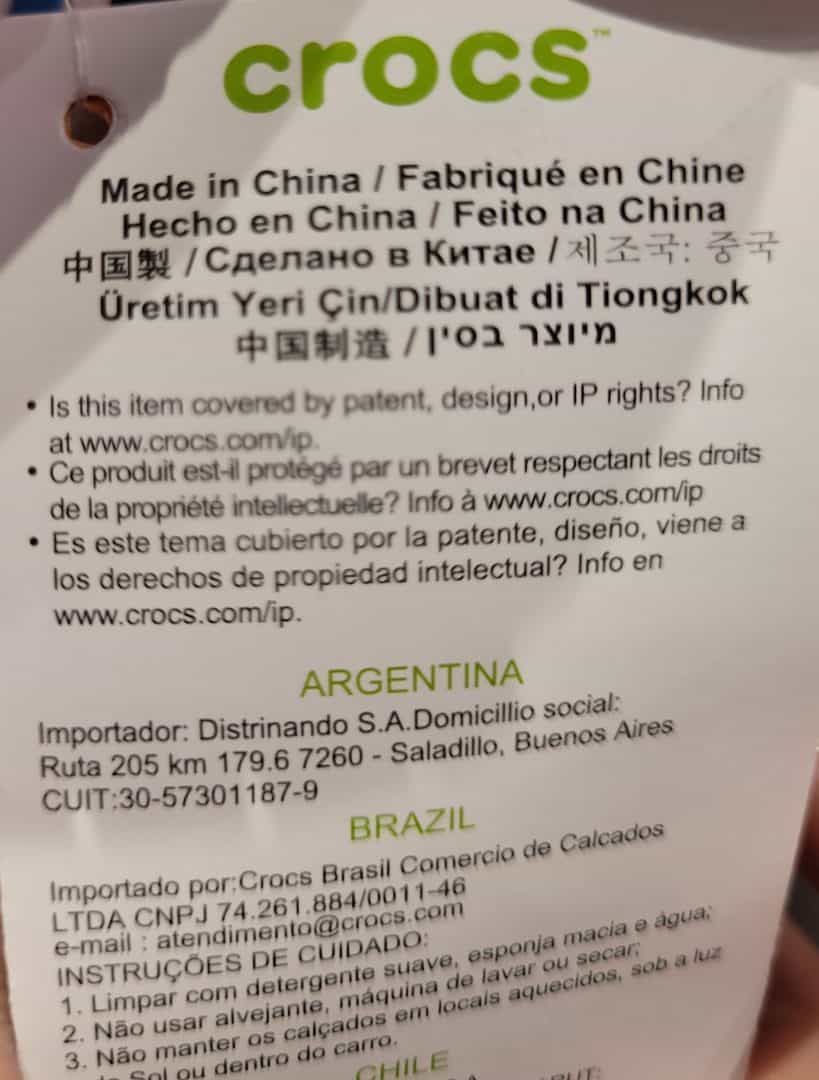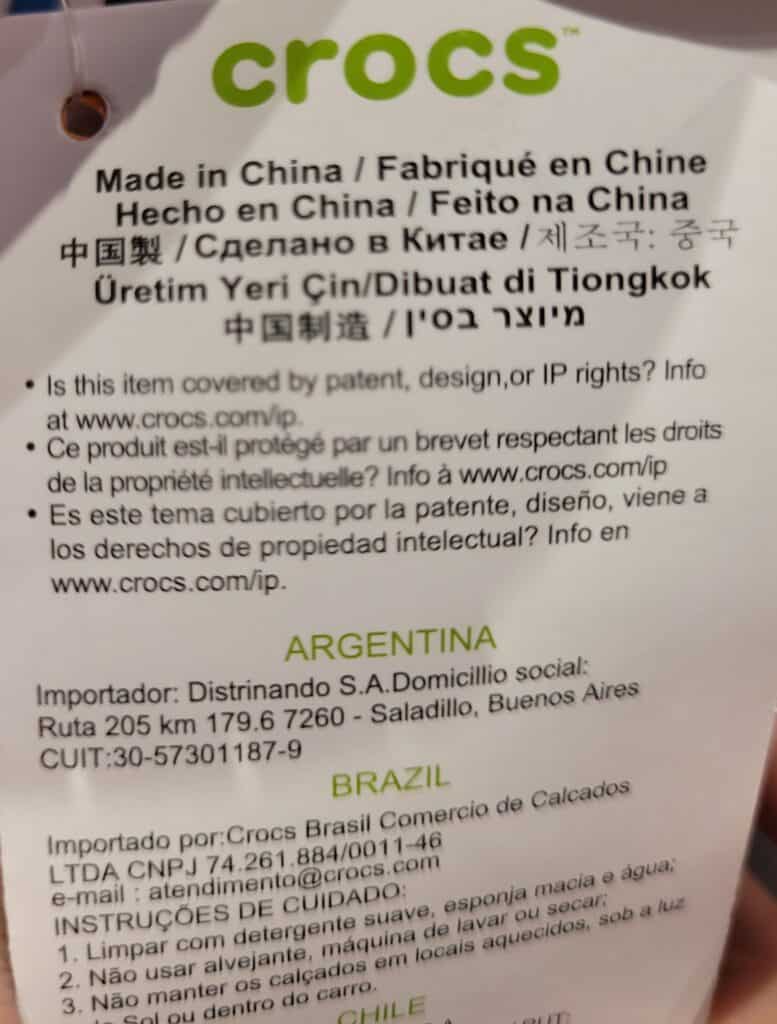 First of all, let me say that you shouldn't be afraid of products "Made In China" since brands have strict quality controls to ensure the products are made according to their guidelines. If a product doesn't tick all the points on the quality checklist, the product is not sold to consumers. For example, Superdry is an English label that manufactures a lot in China, and its products are of excellent quality.
I have great products "Made In China" that are incredibly durable, and Crocs is the same. So many customers came back to buy Crocs "Made In China" because the shoes were very comfortable and the material was superb.
Read: Where Is Abercrombie And Fitch Made?
However, many brands (American ones or with headquarters there), like New Balance, are shifting the manufacturing of their products from China to other countries (especially Vietnam) due to the US imposing import duties on imports from China. Crocs are one of those brands manufacturing a lot less in China and a lot more in Vietnam.
Are Crocs Made In Vietnam?
Yes, Crocs footwear is made in Vietnam, being one of the most important manufacturing sites.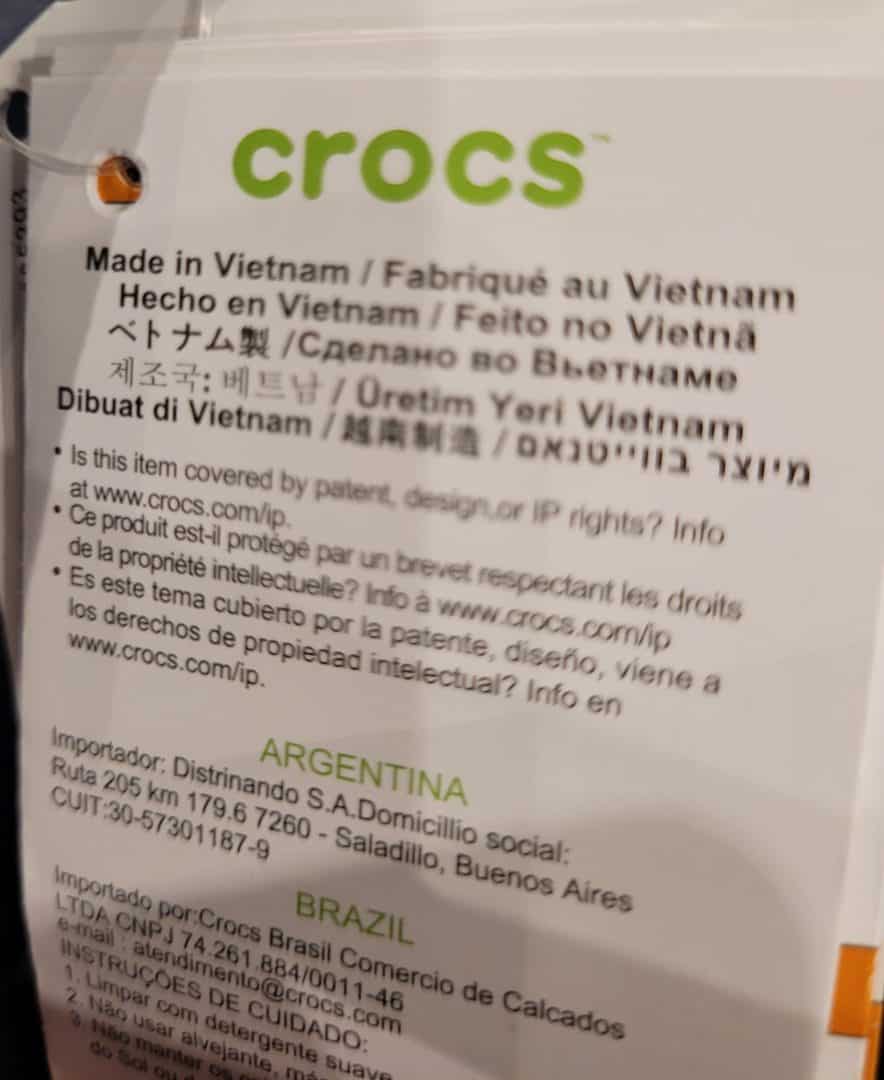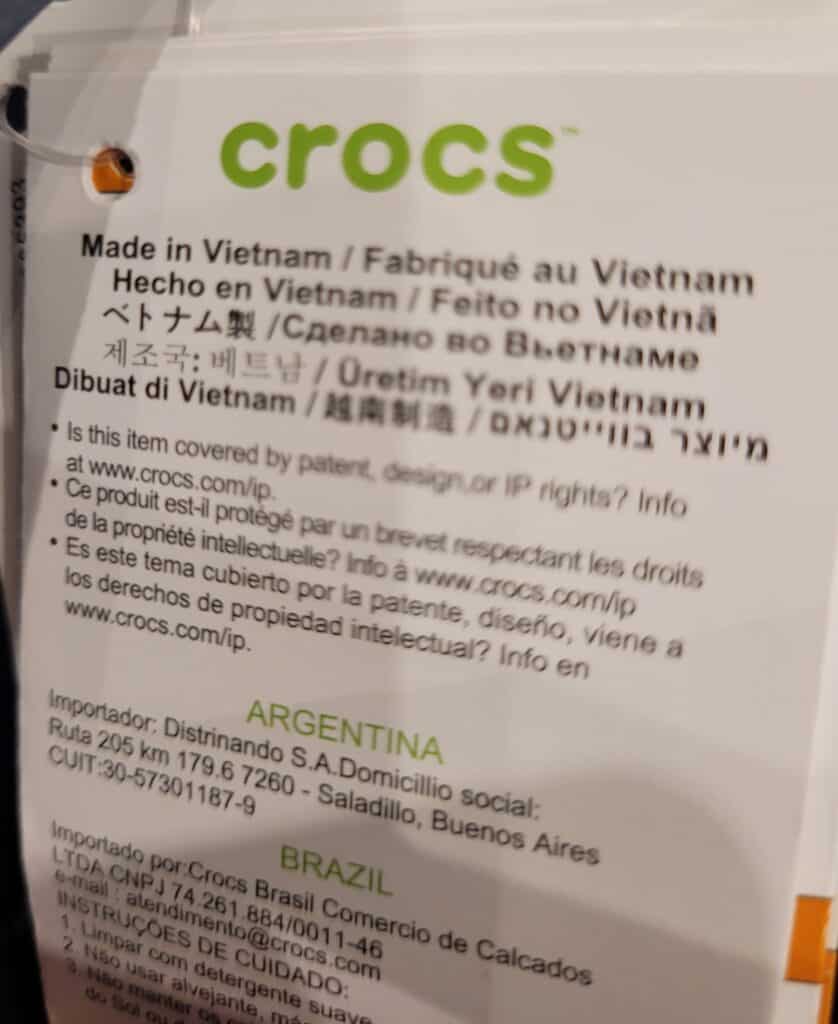 Due to the tension between the US and China, many brands are choosing Vietnam to manufacture their products. However, that's not the only reason, since Natixis SA considered Vietnam the number one of seven emerging Asian economies as a manufacturing option for China.
Read: Where Are NEXT Clothes Made?
Vietnam also has cheaper materials, rents, and labor, reducing the costs of brands like Crocs and improving its profits. Adidas and Reebok are doing the same thing.
I'm not surprised that Crocs has closed its own factories and outsourced to other countries and independent manufacturers since that can increase the manufacturing capacity of the brand.
Common Questions About Where Are Crocs Manufactured
These are some of the most common questions about where are crocs made.
Are Crocs Made In The USA?
As far as I know, Crocs doesn't manufacture any of its footwear in the USA. It's a general question since the company's headquarters is in Broomfield, Colorado.
Who Are Crocs Made For?
Crocs were initially developed as boating shoes but quickly became a success between doctors, nurses, kitchen workers, or even the house or garden. As you can see, you can wear original Crocs on multiple occasions.
Where Are Real Crocs Made?
Authentic Crocs can be made in China, Vietnam, Italy, Bosnia, Mexico, and Indonesia. Always ensure you buy your Crocs in-store, on the company's website, or from authorized retailers.
How Can You Tell If Crocs Are Fake?
A few things you can notice in fake crocs: they have a sticker placed on a button, not the shiny logo on their surface. Your crocs should also have several labels providing information about the shoes, like the size, model name, materials, etc.
Conclusion About Where Are Crocs Made
In conclusion, when it comes to answering the question "where are crocs made?" you can be sure that more than 60% are manufactured in China and Vietnam, with the last one growing and becoming the number one manufacturing site for the crocodile brand.
You can also find Crocs manufactured in Indonesia, Bosnia, Italy, or Mexico. Wearing crocs can make your life easier in specific jobs and give you the breathability your feet need. The fact that they are made of Croslite can be an excellent option if you are also looking for some shock absorption footwear.