This post may contain affiliate links. That means if you click and buy from that link, I may receive a small commission (at zero cost to you), which helps me maintain the quality of this blog. Please see my full disclosure policy for details.
Carhartt is an American workwear brand from Detroit founded in 1889 that became stylish in terms of fashion. But, do you know the answer to where is Carhartt made?
I always associate Carhartt clothing with dads or men in their forties because it's such a simple but comfortable brand to wear. It's also not the most expensive brand on the market, which can be due to where the brand is manufactured.
Read: Where Are Primark Clothes Made?
To confirm, I have decided to review hundreds of product descriptions on the Carhartt website to check if the brand lists where the products are made. I also visited Carhartt stores and several multi-brand stores that sell Carhartt products, checking multiple items. So let's find out where Carhartt is manufactured.
Where Is Carhartt Made?
Carhartt is manufactured in the USA, Mexico, Tunisia, Bangladesh, China, Vietnam, Cambodia, India, Bulgaria, and Myanmar.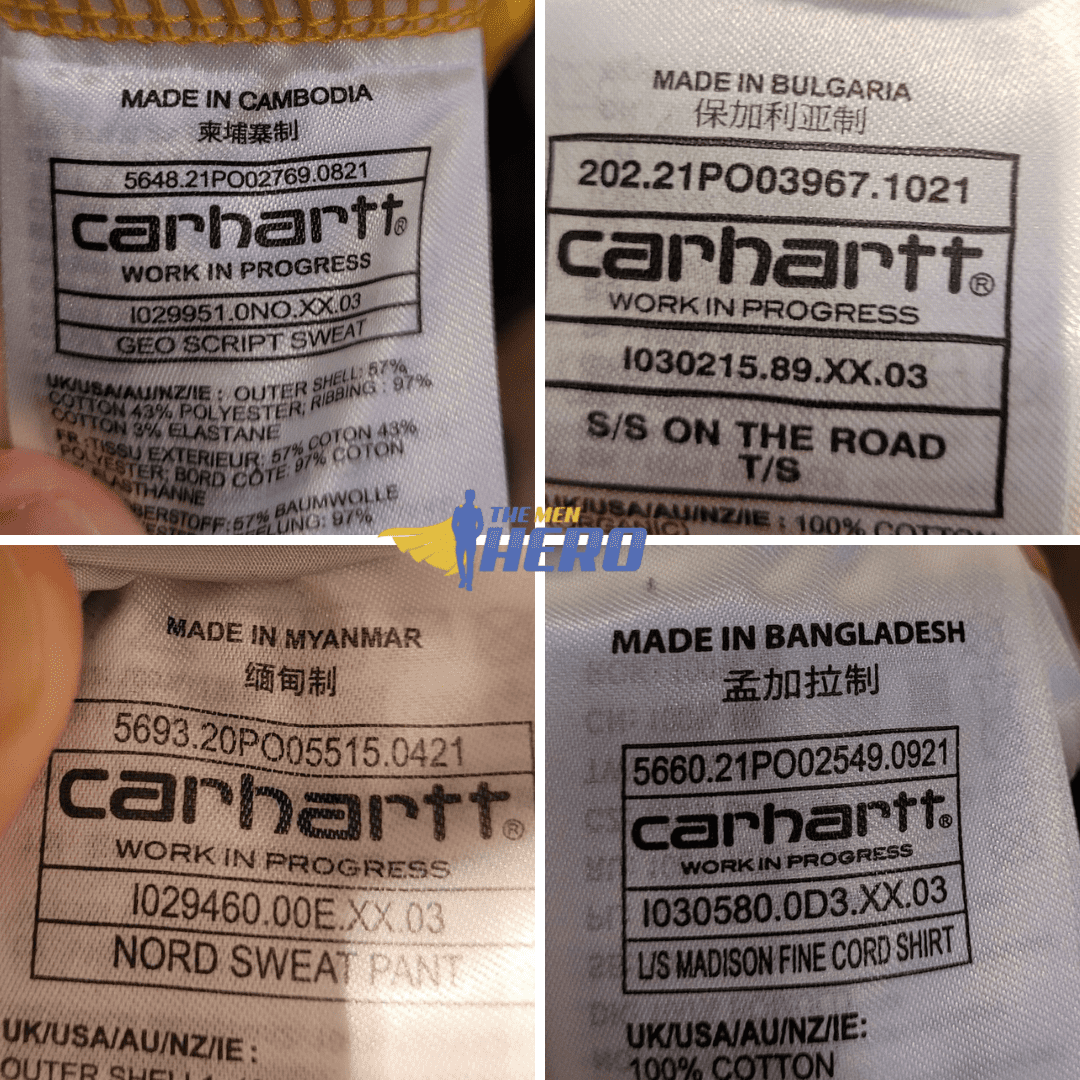 Carhartt doesn't list where its products are manufactured on the product descriptions on its website unless the item is made in the USA. I always have a problem with fashion brands that try to hide where their products are made. Carhartt is not the only brand that tells you only the most convenient countries since Doc Martens, Timberland, Armani, The North Face, and Ted Baker do the same.
Read: Where Is Superdry Made?
So why would Carhartt state all the products made in the USA but not those manufactured in China or Bangladesh? Because Carhartt wants to be perceived as an American workwear brand that manufactures in the USA. Many consumers believe that products manufactured in America are better than those manufactured outside of the country.
I see many websites claiming that most Carhartt is manufactured in the USA and Mexico, but when checking the products in-store, most of them were manufactured in Asia, and I did check a lot of them. But, of course, I haven't inspected all the products, so I may have missed some countries.
Read: Where Are NEXT Clothes Made?
If you want to purchase some Carhartt products online, you will have to check the item's country of origin when you receive it. Every Carhartt good will have the country of origin on the product's label. The US and EU legislation requires brands to indicate the country of origin of any goods.
Is Carhartt Made In The USA?
Yes, Carhartt manufactures some products in the USA.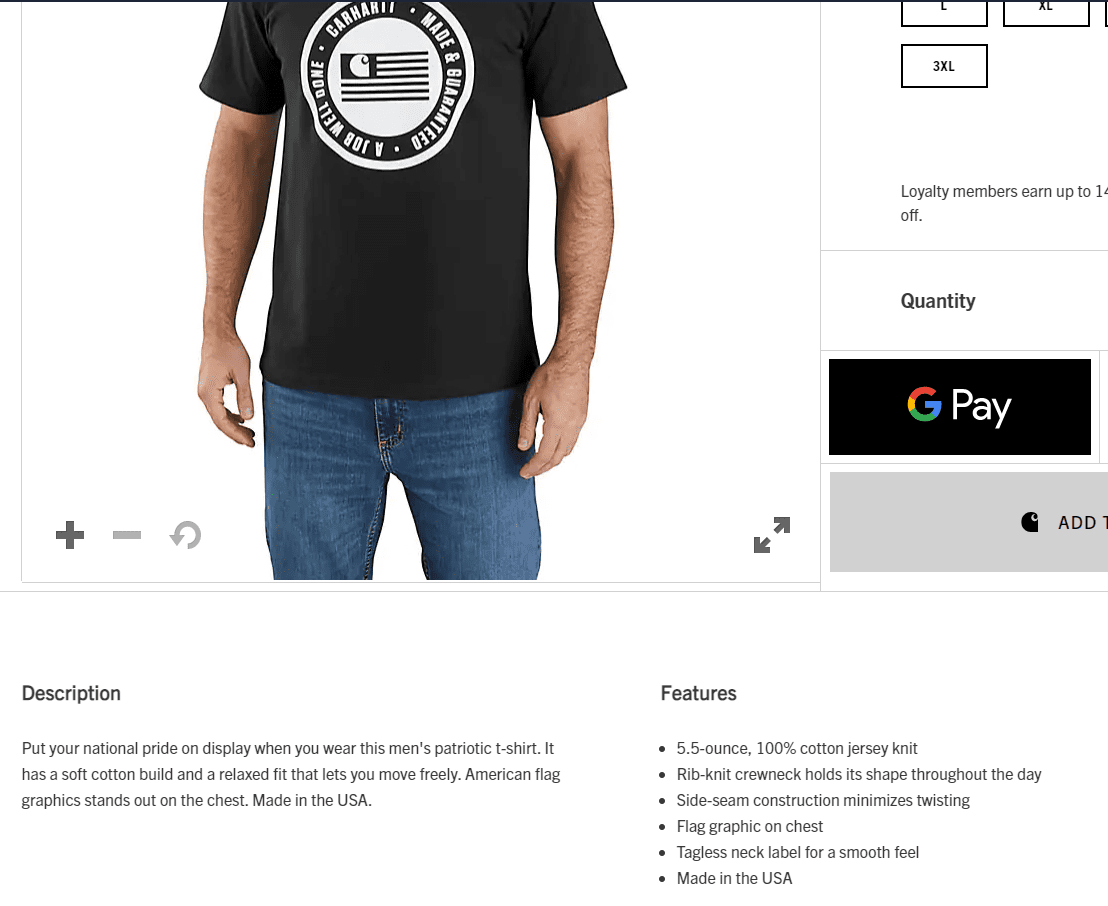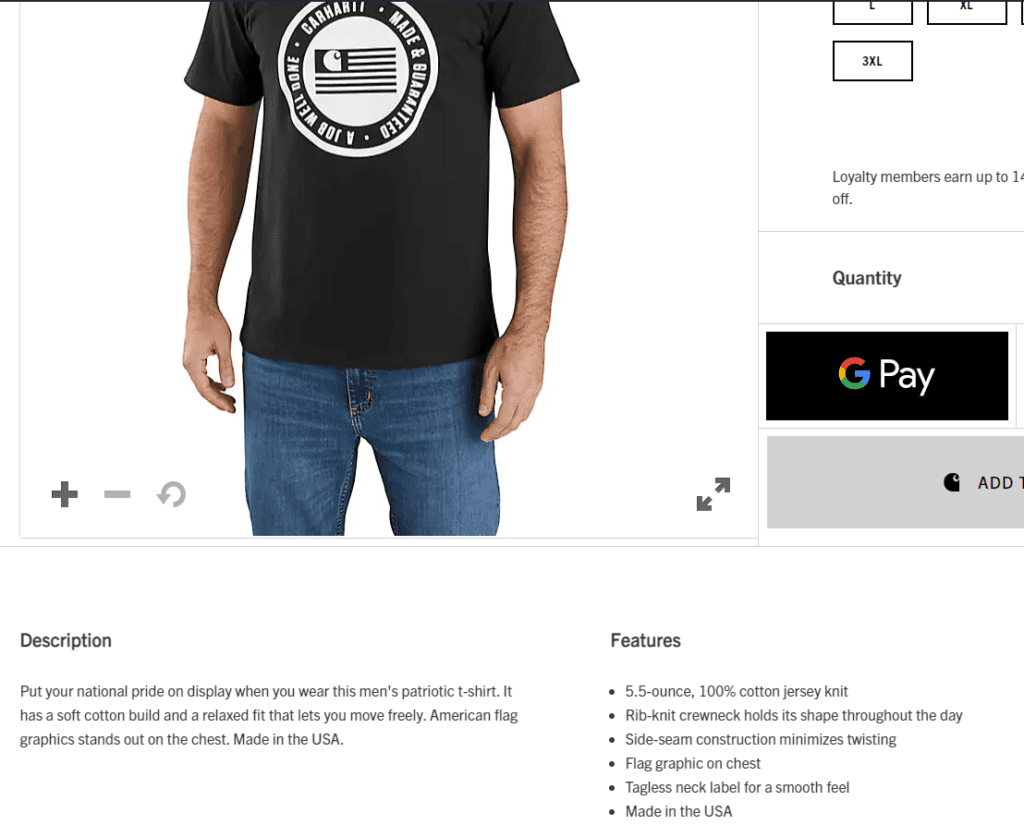 Carhartt states on its website, "Production is centered in company-owned factories in the U.S. and Mexico, and in a network of supplier and licensee factories around the world." However, after two Carhartt and some multi-brand stores, I still didn't find any products manufactured in the USA or Mexico.
Read: Where Are Zara Clothes Made?
On its website, Carhartt states that it has factories in Dallas, California, Tennessee, New York, and Kentucky. However, you don't find as many made-in-USA products on the American brand website, which is strange since they claim more factories in the USA than in any other country.
Since Carhartt is not a very expensive brand (at least when compared with premium and luxury brands), I don't think they would manufacture heavily in the USA since the costs are higher and the profit margins are lower.
Is Carhartt Made In China?
Yes, some Carhartt products are manufactured in China.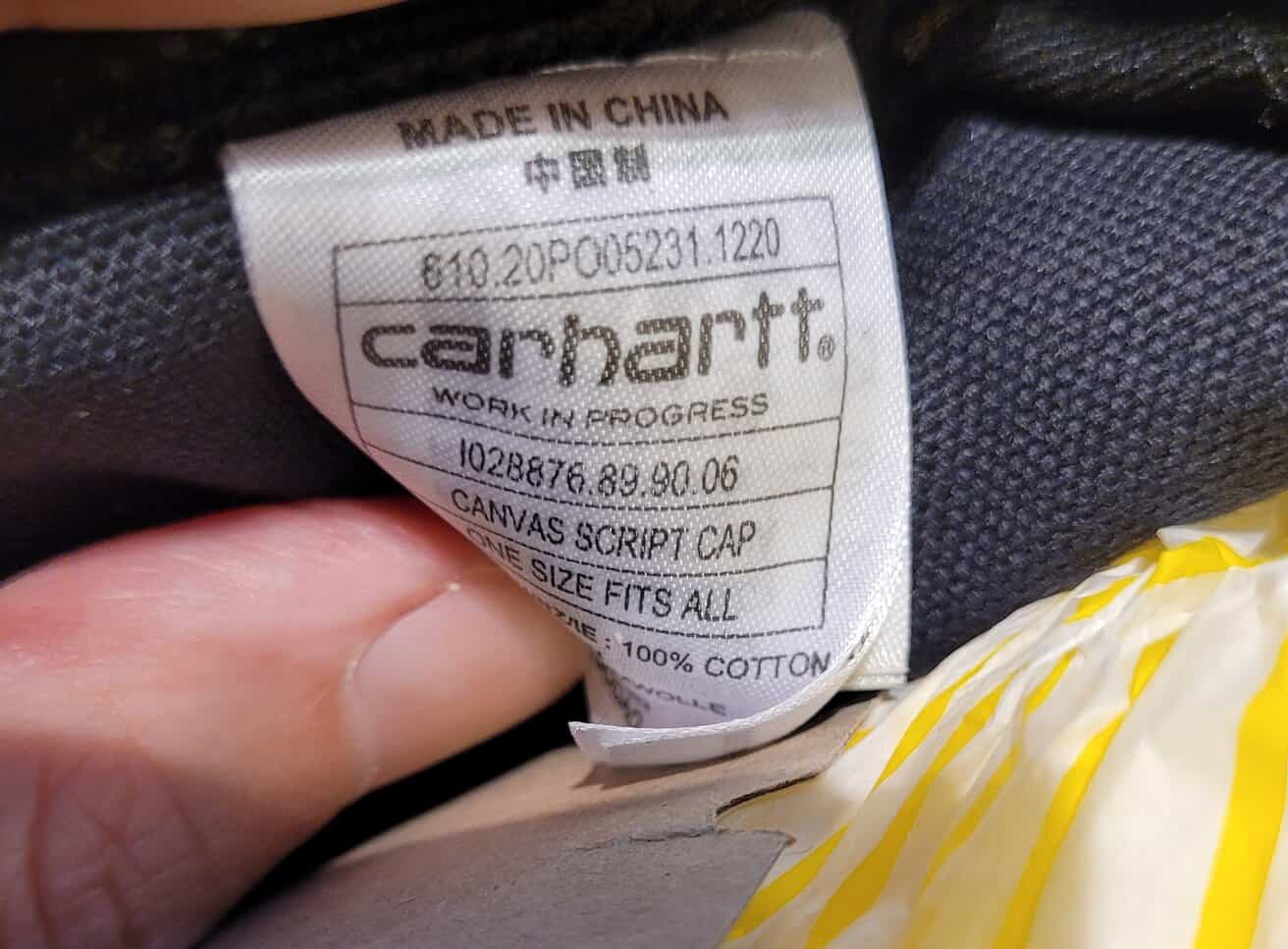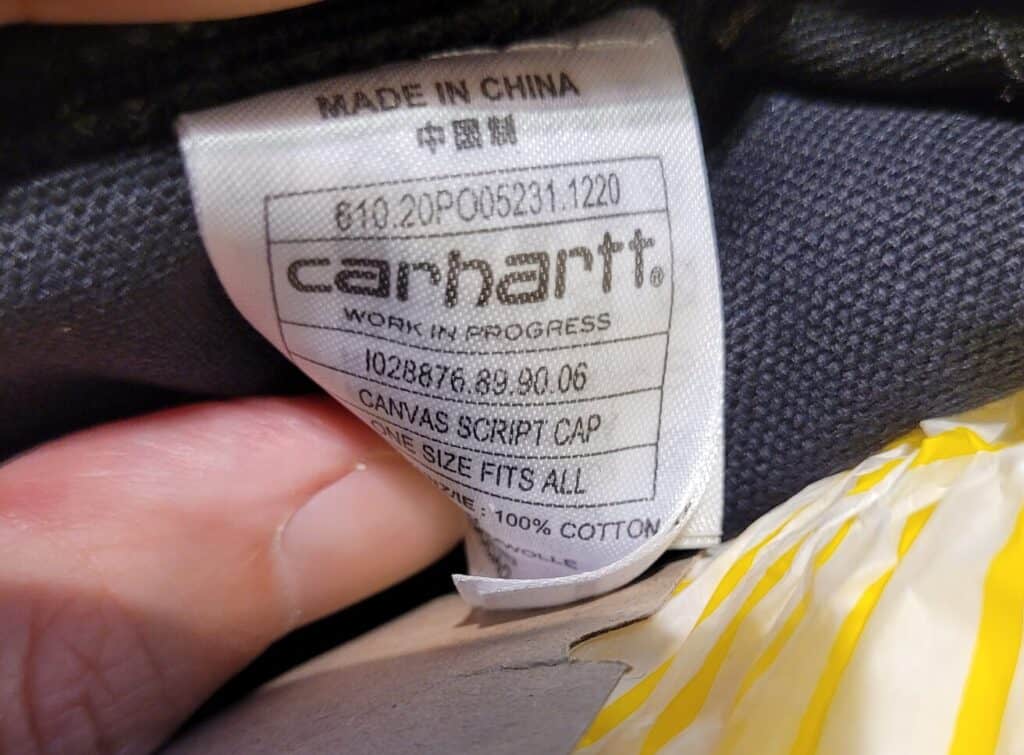 I have found many Carhartt items made in China, but I would say it was a balance between China and some other countries like Cambodia, Vietnam, India, and Bangladesh. Carhartt seems well-balanced when manufacturing its products, not depending too much on one country.
Read: Where Are Pull And Bear Clothes Made?
It's also not a surprise why Carhartt manufactures in China since the labor, materials, and facilities costs are cheaper than in America or Mexico. This way, the American brand can have lower costs and higher profits. Other American brands like Columbia, Calvin Klein, and Vans also manufacture in China but sell the "made in USA brand" to their customers.
Most accessories like hats, belts, and gloves are manufactured in China. I can confirm this claim since all Carhartt accessories I checked in-store were made in China. Most Carhartt products state "imported" on the product descriptions, which usually means made in China and other Asian countries.
Is Carhartt Made In Vietnam?
Yes, Carhartt manufactures some of its products in Vietnam.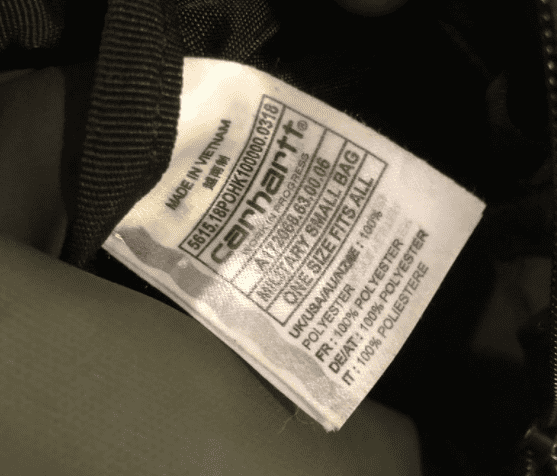 Carhartt manufactures in Vietnam and has manufacturing partners in Ho Chi Min City, Tam Kỳ, and some places close to Hanoi. In-store I have found many Carhartt items manufactured in Vietnam.
Many fashion brands have been shifting manufacturing from China to Vietnam, like Adidas, Nike, Asics, and others, due to the tariff war between China and the USA. Vietnam does have cheaper labor and materials than China, so brands like Carhartt can profit more if they keep the same price range.
Read: Where Are Jack Wills Clothes Made?
Vietnam factories have developed a flexible production method for fashion brands to produce apparel, footwear, or accessories. They can effortlessly duplicate any technique to ensure the items are made as the brand wants.
Common Questions About Where Is Carhartt Made
These are the most common questions about where is Carhartt made.
What Carhartt Items Are Made In The USA?
According to its website, Carhartt manufactures apparel, footwear, and accessories in the USA. You can find jackets, t-shirts, pants, boots, hats, and socks.
Read: Where Is Jack Wolfskin Made?
Where Is Carhartt Made In Mexico?
Carhartt manufactures some of its products in Mexico, with manufacturing facilities in Durango, Penjamo, and the majority in Puebla.
Is Carhartt Made In India?
Yes, Carhartt manufactures in India, and I have found some products in-store, like t-shirts and jackets, manufacture there. Carhartt has manufacturing partners in Moti Bhoyan, Karnataka, and Krishnagiri.
Where Are Carhartt Jackets Made?
Carhartt jackets can be manufactured in the USA, Mexico, China, Bangladesh, Vietnam, and Cambodia.
Read: Where Is Abercrombie And Fitch Made?
Where Are Carhartt Pants Made?
Carhartt work pants can be manufactured in the USA, Mexico, China, Bangladesh, Bulgaria, Vietnam, and Cambodia.
Conclusion
Where is Carhartt made? It depends since it's manufactured all over the world. Most of the items are made in Asian countries, but you also have the USA, Mexico, and even some African and European countries.
Carhartt may want to be perceived as an American company that manufactures mainly in America, but that couldn't be farther from the truth.