This post may contain affiliate links. That means if you click and buy from that link, I may receive a small commission (at zero cost to you), which helps me maintain the quality of this blog. Please see my full disclosure policy for details.
Abercrombie & Fitch is an American fashion label focusing on casual wear. However, the question you have is: where is Abercrombie and Fitch made?
I never purchased anything from Abercrombie & Fitch since the American brand wasn't famous in Portugal, but I did find their store in a London shopping center and decided to check what they had. I have also watched their documentary on Netflix, so I was curious.
Read: Where Are Pull And Bear Clothes Made?
To confirm, I have decided to review hundreds of product descriptions on the Abercrombie & Fitch website to verify if the brand lists where the products are made. I also visited one Abercrombie & Fitch store in London and some multi-brand stores that sell Abercrombie & Fitch products, checking multiple items. So let's find out where Abercrombie & Fitch is manufactured.
Where Is Abercrombie And Fitch Made?
Abercrombie & Fitch is manufactured in Vietnam, India, China, the Philippines, Indonesia, and Bangladesh.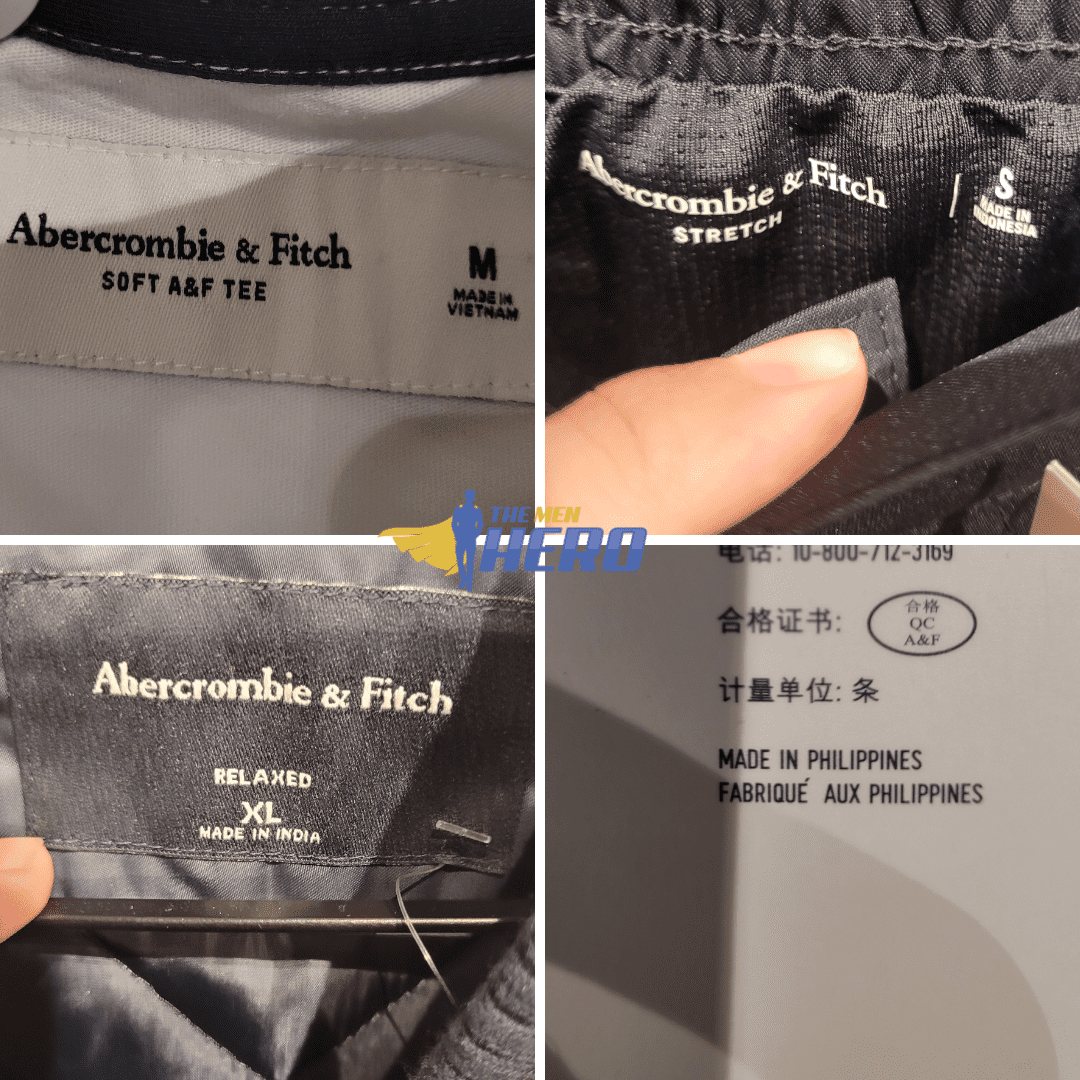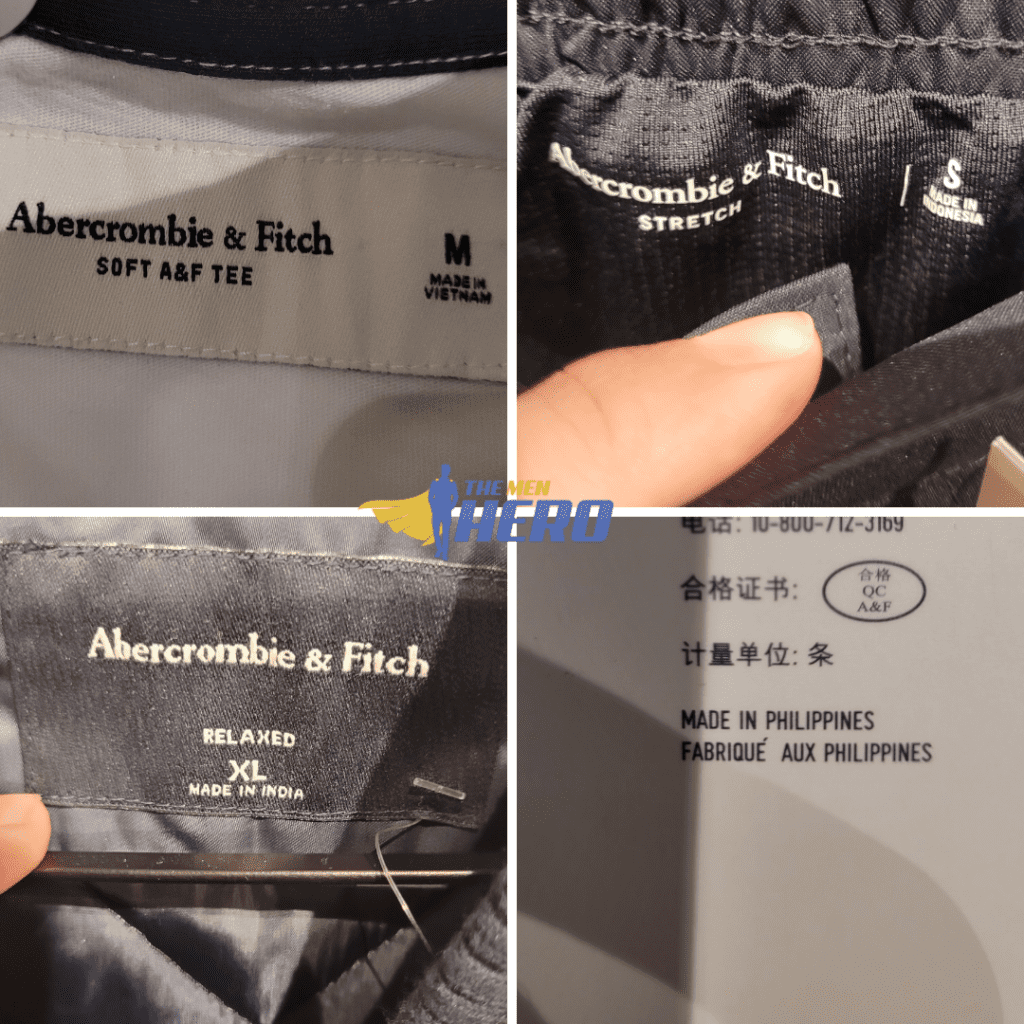 Abercrombie & Fitch doesn't list where its products are manufactured on the product descriptions on its website. I wasn't really expecting Abercrombie & Fitch to detail where its products are manufactured since I know the same happens for Hollister (the teenager label part of this brand).
Read: Where Is Carhartt Made?
This American label also doesn't provide a supplier list anywhere on its website, so if you want to know where Abercrombie & Fitch clothes are made, you need to check the label of the physical product. If you purchase online, you can check the country of origin when you receive the goods. This is because the US and EU legislations require the brands to tell the country of origin for any imported products regarding physical goods.
I have found fewer products manufactured in China for this label than for Hollister, but that doesn't mean Abercrombie & Fitch manufactures less in China. On the contrary, both labels seem to manufacture heavily in Vietnam.
Read: Where Are Zara Clothes Made?
Abercrombie & Fitch Co doesn't own any plants that manufacture their designs. They say that on their corporate page. Instead, they operate with independent subcontractors that assist with the supply and manufacturing.
I want you to know that I have checked many different products in-store. However, I am sure I have missed some countries since other stores have additional items, and I can't check every single one. So don't be surprised if you find a country that it's not on this list.
Is Abercrombie And Fitch Made In America?
No, Abercrombie and Fitch is not made in the US. If you think about it, Abercrombie and Fitch's clothes aren't that expensive. They are more costly than some mass-market brands but not expensive enough to justify manufacturing in the US.
Read: Where Are Crocs Made?
So for the American brand to have higher profit margins, it needs to cut manufacturing expenses, which are costly in the US. The cost of labor, materials, and facilities is more expensive in the US than in Asian countries.
Also, Abercrombie and Fitch (same as Hollister label) is a clothing company that needs a large factory that can manufacture on a large scale, implicating multiple people. So it doesn't need the same attention to detail luxury brands like Louis Vuitton or Gucci need. Luxury labels sometimes have numerous people participating in manufacturing one item. Still, those brands can justify those costs since they charge much more for their products.
Read: Where Are Primark Clothes Made?
It may be challenging for manufacturers to have enough workers in the US since the number of people operating in the fashion industry (manufacturing clothes) has declined yearly. It would also be much more expensive, so Abercrombie and Fitch's profits would fall.
Is Abercrombie And Fitch Made In China?
Yes, Abercrombie and Fitch manufactures apparel, accessories, and footwear in China.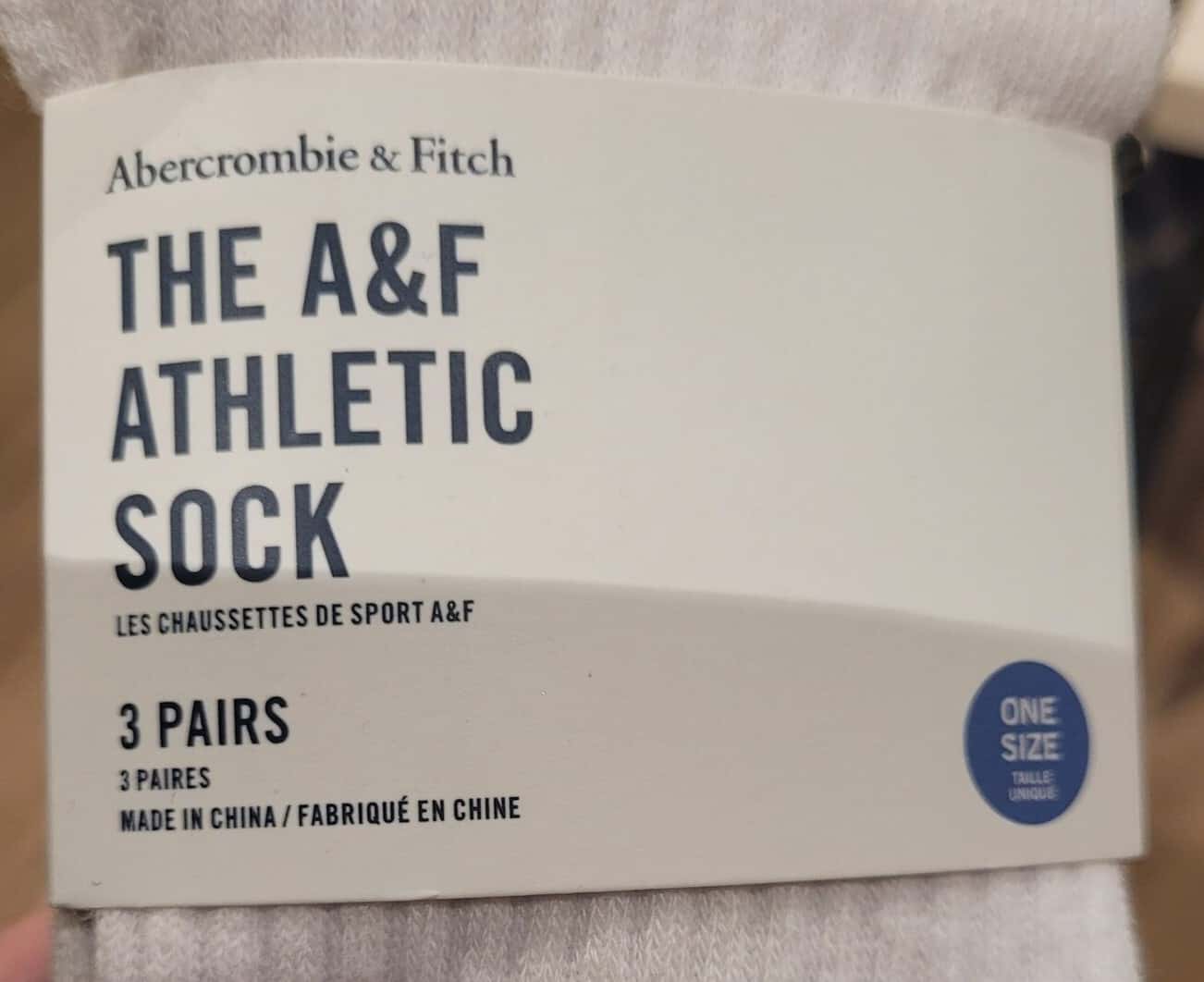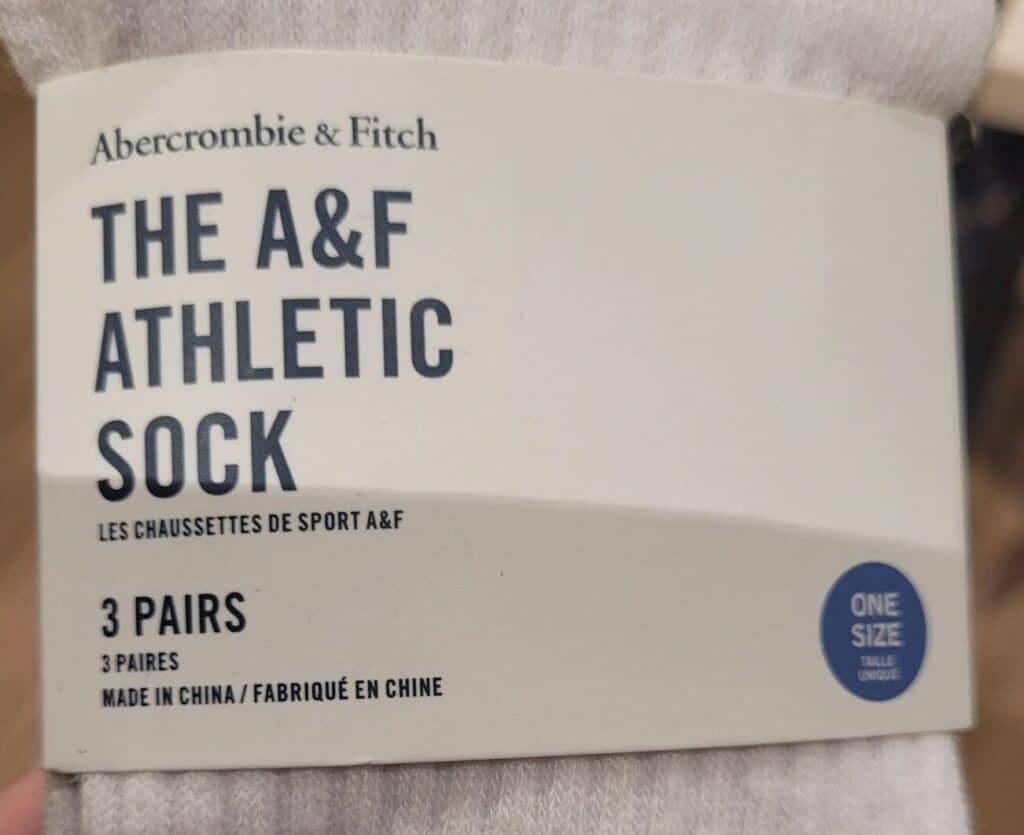 Contrary to the Hollister label, I didn't find as many Abercrombie and Fitch clothes manufactured in China, which was a big surprise. However, I would say that most accessories were made in China, especially socks, underwear, and caps. Usually, brands manufacture accessories in China, but other countries like Vietnam have grown in manufacturing them.
Read: Where Are H&M Clothes Made?
As I said before, manufacturing in China is not something new for fashion brands. Some of the biggest labels on the market, like Nike, Prada, Michael Kors, Puma, and Converse, manufacture heavily in China.
Some of the biggest brands on the market are also shifting their manufacturing from China to other Asian countries (especially Vietnam and Bangladesh) due to the tariff war between US and China. That could explain why I didn't find so many Abercrombie and Fitch items made in China (but I did with their other label, so I can't really be sure).
In the end, don't be surprised to see China or any other Asian country on your new Abercrombie and Fitch clothes label.
Is Abercrombie And Fitch Made In Vietnam?
Yes, Abercrombie and Fitch manufactures apparel, footwear, and accessories in Vietnam.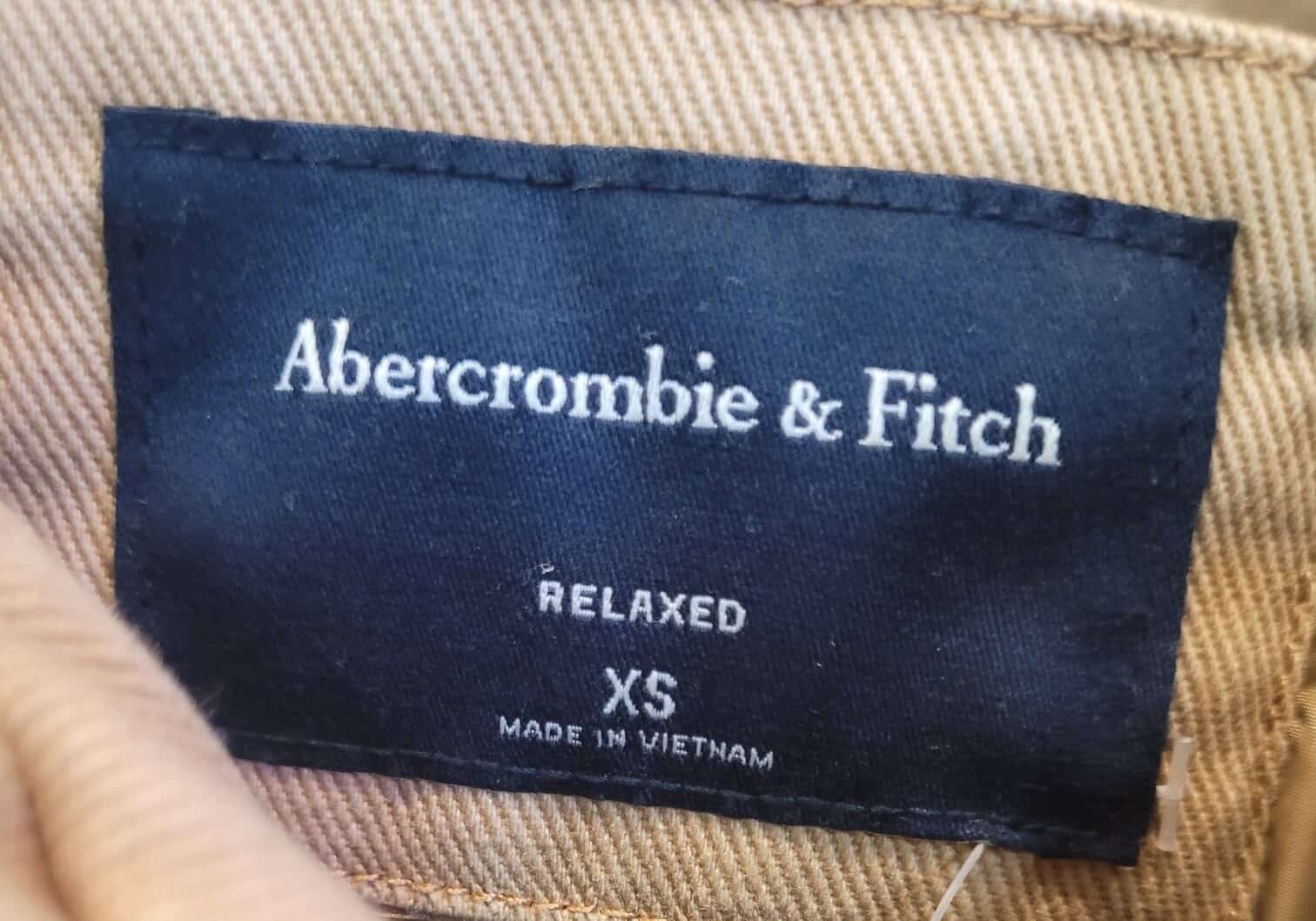 Brands don't want to rely on one country to manufacture most of their items. You never know if something political happens in the country and your manufacturing stops. That's why many fashion brands have been choosing Vietnam to manufacture their products, especially footwear brands.
Read: Where Are M&S Clothes Made?
After all, Vietnam has been called the number one nation for rising Asian economies as a manufacturing option over China, according to an investigation led by Natixis SA. Currently, many fashion brands manufacture more in Vietnam than in China. This is because the labor, materials, and facilities costs are cheaper, which improves the profit for the brand.
Common Question About Where Is Abercrombie And Fitch Made
These are the most common questions about where is Abercrombie and Fitch made.
Where Does Abercrombie Get Their Jeans From?
Most Abercrombie and Fitch jeans I have found in-store were manufactured in Vietnam. I have also seen some made in Indonesia.
Read: Where Are Jack Wills Clothes Made?
Is Abercrombie A Luxury Brand?
No, Abercrombie and Fitch is not a luxury brand since most people can get an item from this American label. Luxury means something that is not accessible to everyone, like a Louis Vuitton bag or a Gucci belt.
Conclusion
Where is Abercrombie and Fitch made? Mostly in Vietnam, but also in many other Asian countries like Bangladesh, China, India, the Philippines, and Indonesia.
It's not the cheapest brand on the market, but it's also not the most expensive, which could justify higher prices and manufacturing outside of Asia. That's why you will keep finding Asian labels in every label of this American fashion brand.