This post may contain affiliate links. That means if you click and buy from that link, I may receive a small commission (at zero cost to you), which helps me maintain the quality of this blog. Please see my full disclosure policy for details.
Superdry is a very new English fashion brand founded only in 2003 by Julian Dunkerton and the designer James Holder, but if you are here, you want to know the answer to the question: where is Superdry made?
I will be honest with you. I thought Superdry was a Japanese brand for years. Living in the UK, I have seen many Superdry stores, but it never crossed my mind that it could be an English brand. Many consumers have the same thoughts since most of them think the brand is Japanese. This is because the English brand has Superdry written in Japanese in every single product.
I have two Superdry jackets (they are very warm for cold weather), two t-shirts, one backpack, and it's a brand that I like if I am looking for a casual look. So I have decided to find out where Superdry clothes are manufactured.
Read: Where Are UNIQLO Clothes Made?
I have reviewed hundreds of product descriptions on the Superdry website to check if the brand lists where the products are made. I also visited a couple of Superdry stores and some stores that sell Superdry products, checking multiple items. Finally, I also checked all the Superdry products I have at home. So let's find out where Superdry is made.
Where Is Superdry Made?
Superdry is made mainly in China. You can also find products manufactured in Turkey, India, Cambodia, Sri Lanka, and Vietnam.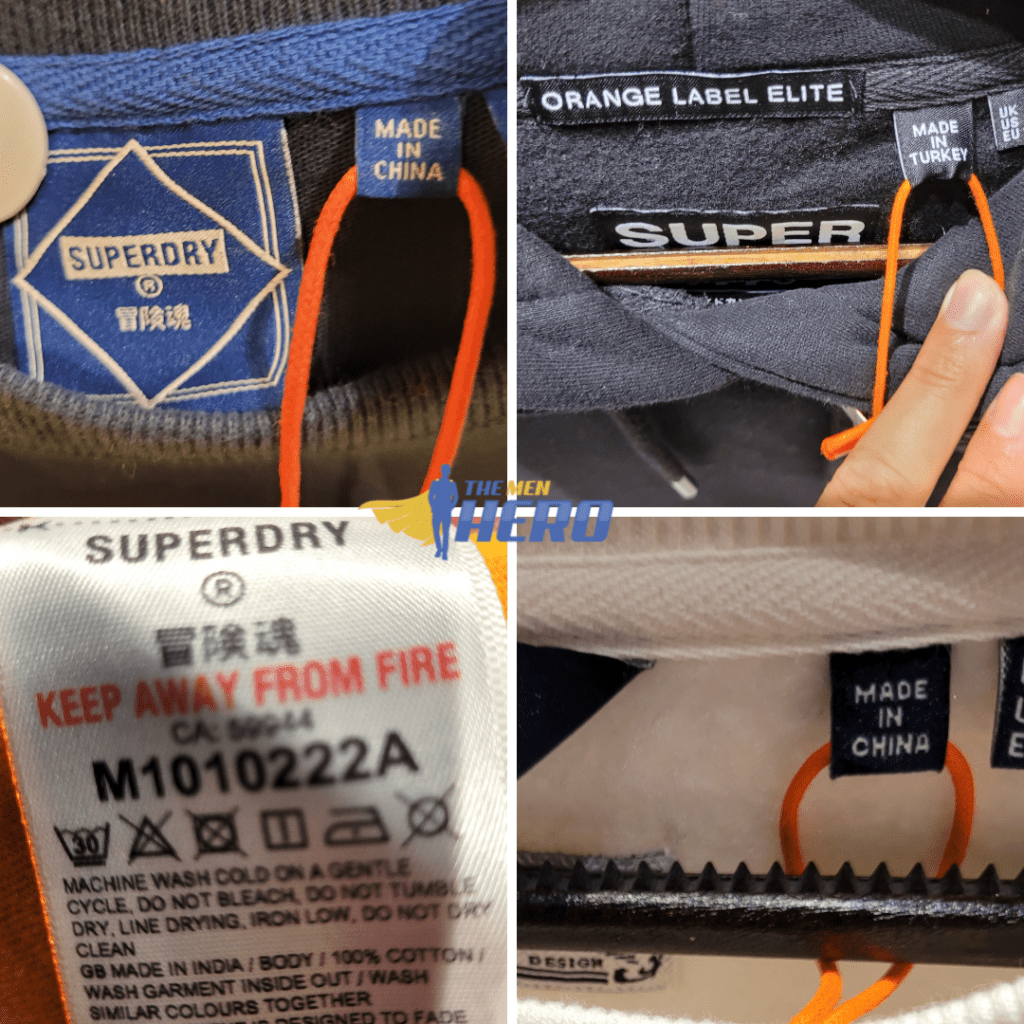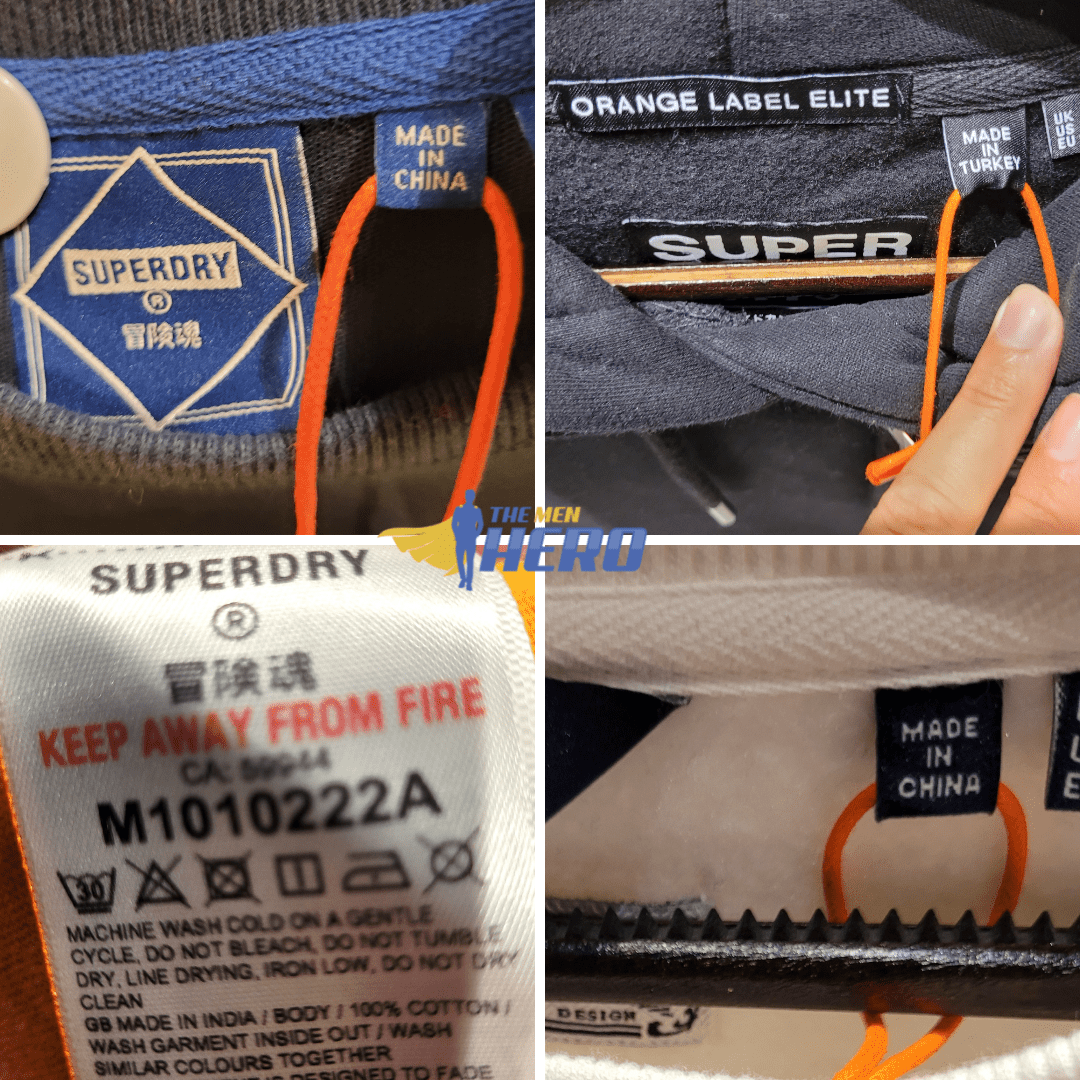 Superdry doesn't list where its products are manufactured on the product descriptions on its website. This is not a surprise since all products are manufactured in Asia (Turkey lies partly in Asia and partly in Europe). The English fashion brand is not hugely expensive that you will never be able to afford an item from Superdry. Anyone in the UK can buy something from Superdry.
Read: Where Is Columbia Clothing Made?
Most of the products I have checked were made in China, from clothing to accessories. I also found products made in India and Turkey, but not any other country. For example, my Superdry jackets and backpack were manufactured in China, and my t-shirts in India.
In its annual report from 2021, Superdry states that "The split of manufacturing in FY21 (i.e., the Spring/Summer 2020 (SS20) and Autumn/Winter 2020 (AW20)) was 25% in India, 19% in Turkey, and 46% in China with the remainder largely coming from Sri Lanka, Vietnam, and Cambodia." So, as you can see, 90% of Superdry manufacturing is between China, India, and Turkey.
You can always check where the product was manufactured on the label of the physical products since the US and EU legislation requires brands to indicate the country of origin.
Read: Where Is Carhartt Made?
Is Superdry Made In The UK?
No, Superdry doesn't manufacture in the UK. I couldn't find any products or information that says Superdry ever manufactured in England, Scotland, Wales, or Northern Ireland. Check the image below.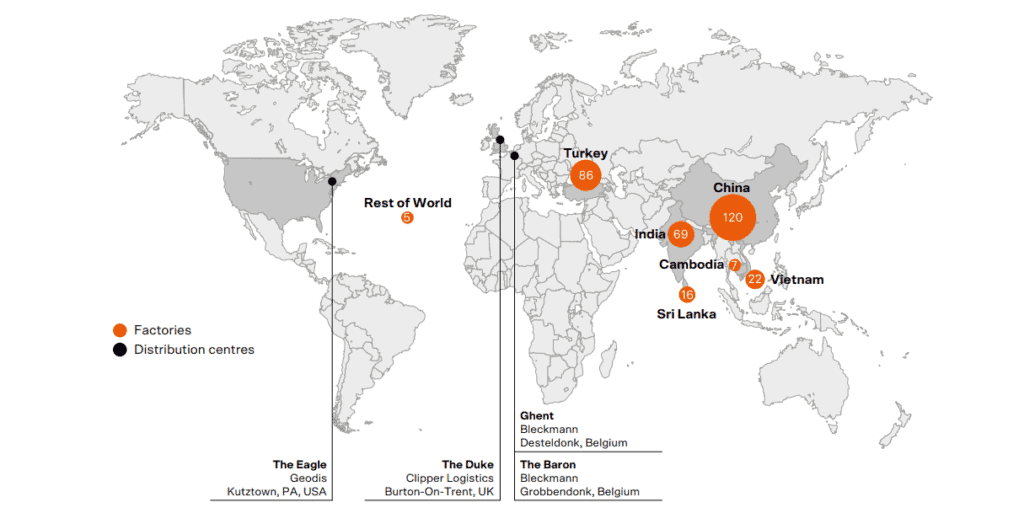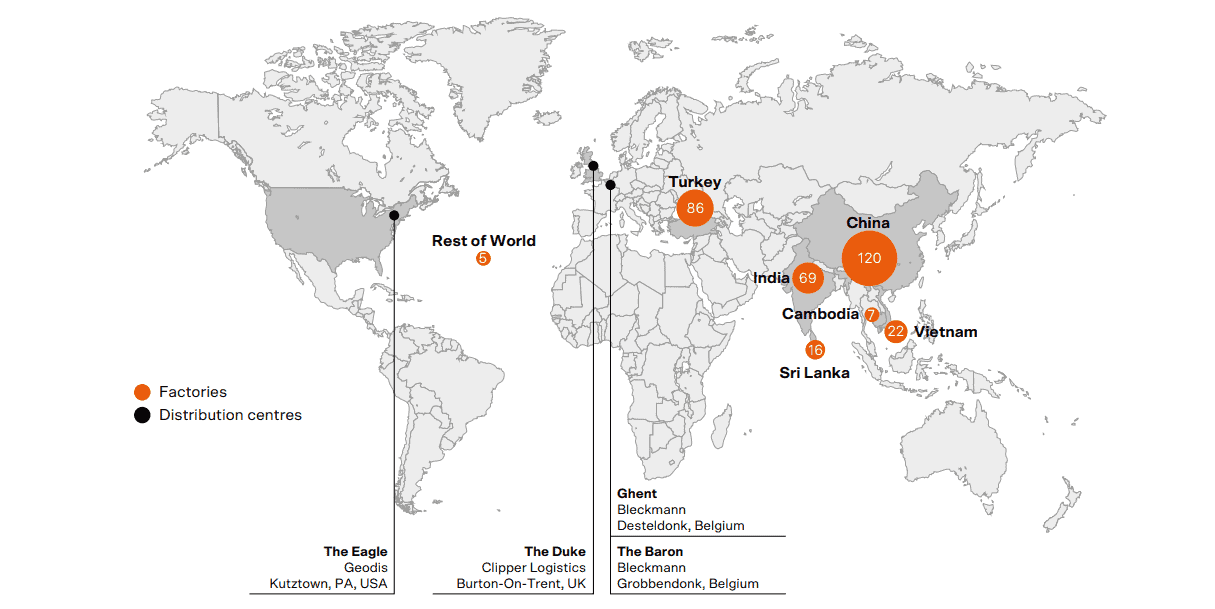 As you can see, apart from five warehouses in the rest of the world that Superdry doesn't disclose, all products are manufactured in Asia.
Read: Where Is Lululemon Made?
You can also check that Superdry has a distributing center in the Uk, another in Belgium, and one in the USA. These logistic centers don't manufacture any products. They only distribute them to stores and online shipments.
I wasn't expecting to see any Superdry products manufactured in the UK, because this is not a premium or luxury brand. I could understand Burberry (another English brand), but they manufacture almost everything outside the UK. The labor in the UK is much more expensive than in any Asian country.
Is Superdry Made In China?
Yes, Superdry manufactures most of its apparel, footwear, and accessories in China.
Read: Where Are Jack Wills Clothes Made?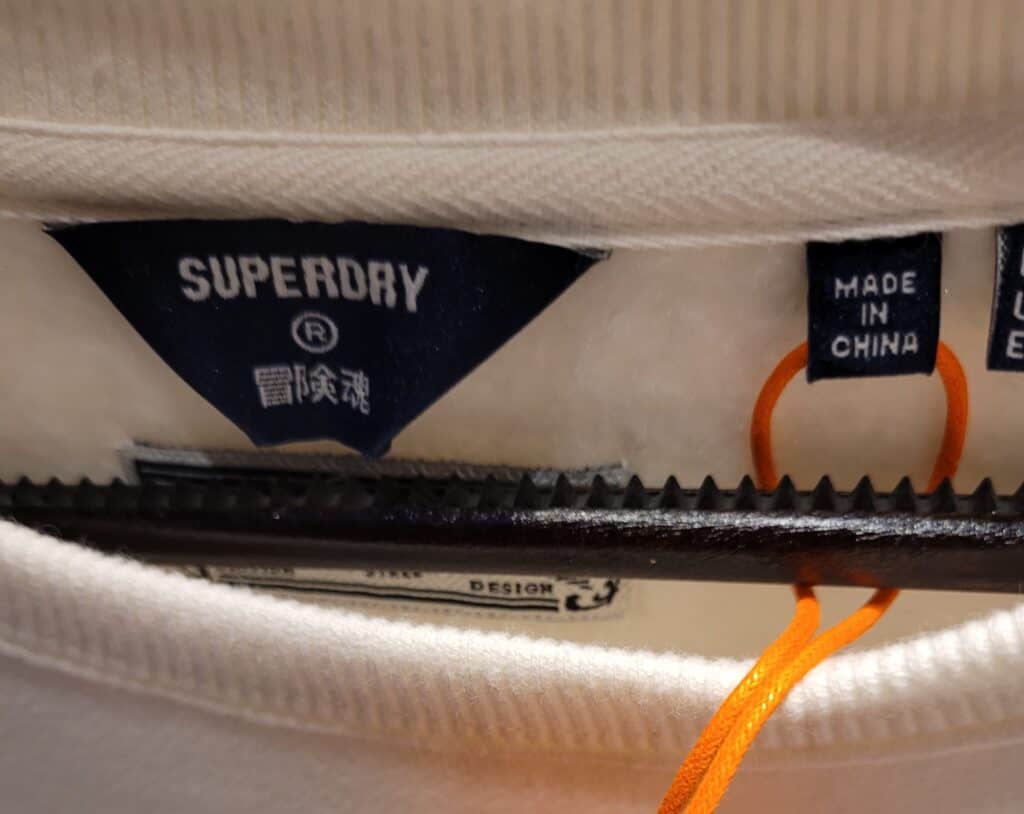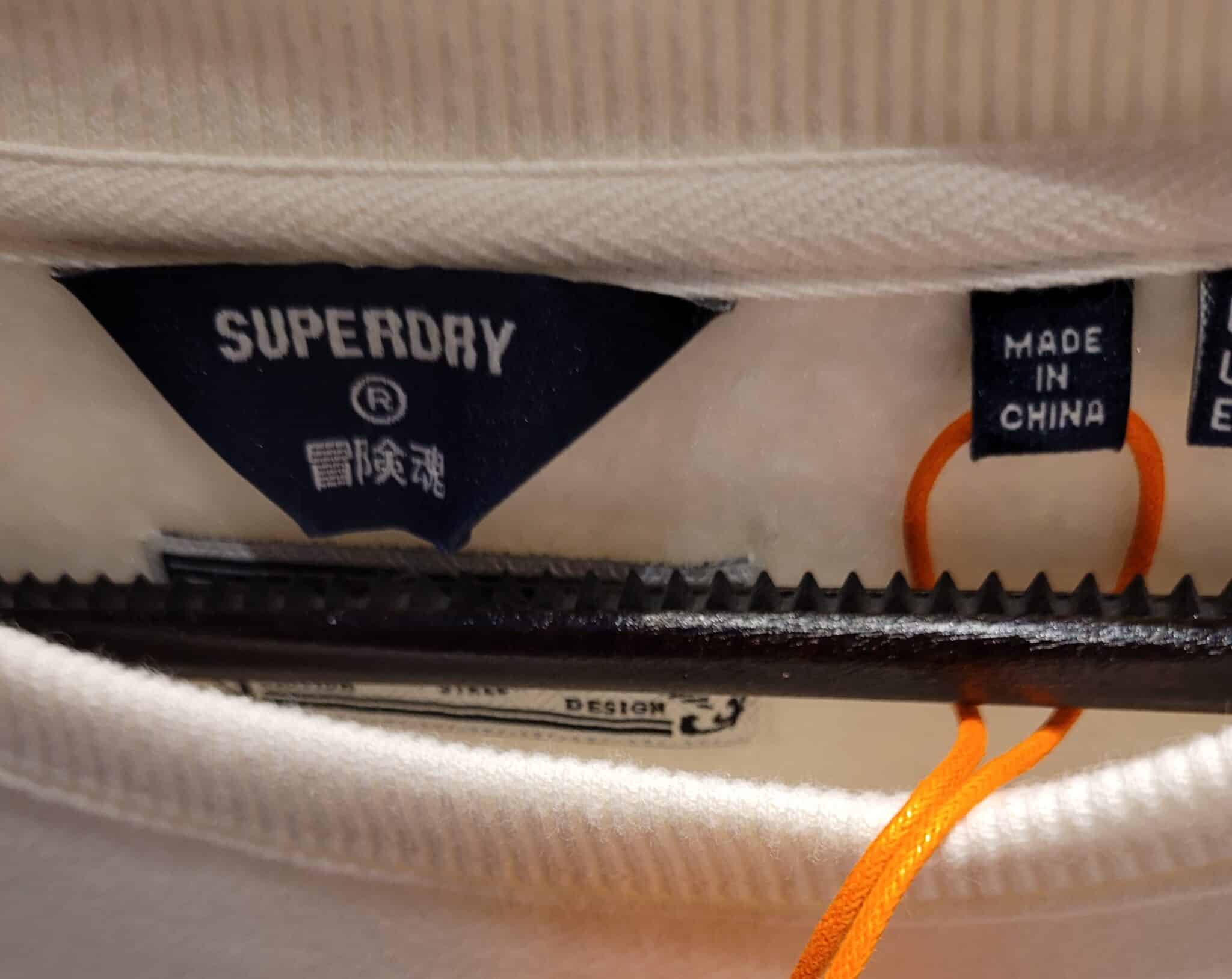 As I said, manufacturing in the UK would be costly, but not in China. I have reviewed enough fashion brands to understand why they manufacture in China and other Asian countries. Because it's cheaper and that makes their profits bigger.
Read: Where Is The North Face Made?
China has cheaper labor and materials, so new brands like Superdry (new when compared with other fashion brands) don't want to take unnecessary risks with expensive manufacturers and reduce the chances of profit more. New brands must invest the money they earn, so reducing the costs (like labor) is crucial, and that's why Superdry is mainly manufactured in China and other Asian countries.
All accessories I have found in-store were manufactured in China, without exception.
Common Questions About Where Is Superdry Made
These are the most common questions about where is Superdry made.
Read: Where Is Reiss Clothing Made?
Is Superdry Japanese?
No, Superdry is not Japanese. I understand why so many people think that since I was one of them. But, in my opinion, it's the Japanese letter's fault, and that's why everyone associates Superdry with Japan. The Superdry name was decided in a brainstorming session in a Tokyo bar where all shops had super written in their names. Hence, the brand decided to give its designs a Japanese touch by adding the words "super dry" in Japanese letters above the English name.
Read: Where Is Adidas Made?
Is Superdry Made In Japan?
No Superdry is not made in Japan. I couldn't find any products or information about Superdry manufacturing in Japan. Asics is a Japanese brand and is also not manufactured in Japan.
Where Is Superdry Clothing Made?
Superdry clothing is mainly manufactured in China, India, and Turkey. However, you can also find some made in Cambodia, Vietnam, and Sri Lanka.
Read: Where Is Canada Goose Made?
Is Superdry Made In Turkey Fake?
No Superdry made in Turkey is not fake. If you buy any Superdry products in an official store, website, or authorized partners, all those products will be authentic. However, when I visited Turkey, many stores (non-official stores) there sold fake products from famous brands, including Superdry. You just need to be careful where you buy the products.
Conclusion On Where Is Superdry Made
Where is Superdry made? Now you know the answer. Most Superdry products are manufactured in China, India, and Turkey. You will not find any products made in the UK and Japan.
Read: Where Are Havainas Made?
If you are looking for a casual jacket, give it a try at Superdry, since they will keep you warm and in style.