This post may contain affiliate links. That means if you click and buy from that link, I may receive a small commission (at zero cost to you), which helps me maintain the quality of this blog. Please see my full disclosure policy for details.
Hugo Boss is one of the most popular premium brands for men. You have the Boss suits, watches, colognes, and many other items. Also different collections like Boss Green or Boss Orange in this fashion brand. So the question you have is: why is Hugo Boss so expensive?
I started buying Hugo Boss because my name is Hugo (what a great reason to buy something), and quickly the brand became my favorite on polos, suits, and cardigans. Of course, it's not as cheap as brands like H&M, Zara, or Mango, but is it worth the price you pay?
You may think I am a bit biased (and you are probably right) when answering why Hugo Boss is so expensive, but I mix my personal opinion with my research in this article.
Read: Where Is Hugo Boss Made?
Why Is Hugo Boss So Expensive?
Hugo Boss is expensive because it provides a certain status and exclusivity, makes you stylish, is a premium brand, celebrities love the German brand, and men love the suits. In addition, the brand uses the highest quality materials in its items.
Hugo Boss is also one of the five brands that rich guys prefer to buy. The other four are Ralph Lauren, Calvin Klein, Burberry, and Giorgio Armani.
Hugo Boss Is a Premium Brand
Hugo Boss is a premium brand. I wouldn't consider a luxury brand like Gucci or Louis Vuitton, and I will tell you why. When I was a store manager for Skechers, I could afford to buy a Hugo Boss polo or cardigan every month, but the same would not be possible if I wanted to buy a Gucci polo because they are much more expensive.
Read: Versace Jeans Couture vs Versace
A premium brand like Hugo Boss provides a better quality product than brands like Zara or H&M. You have some features you can't find on non-premium brands (like better materials, better sewing, warranty). You pay extra for all these features, and that's why Hugo Boss is so expensive.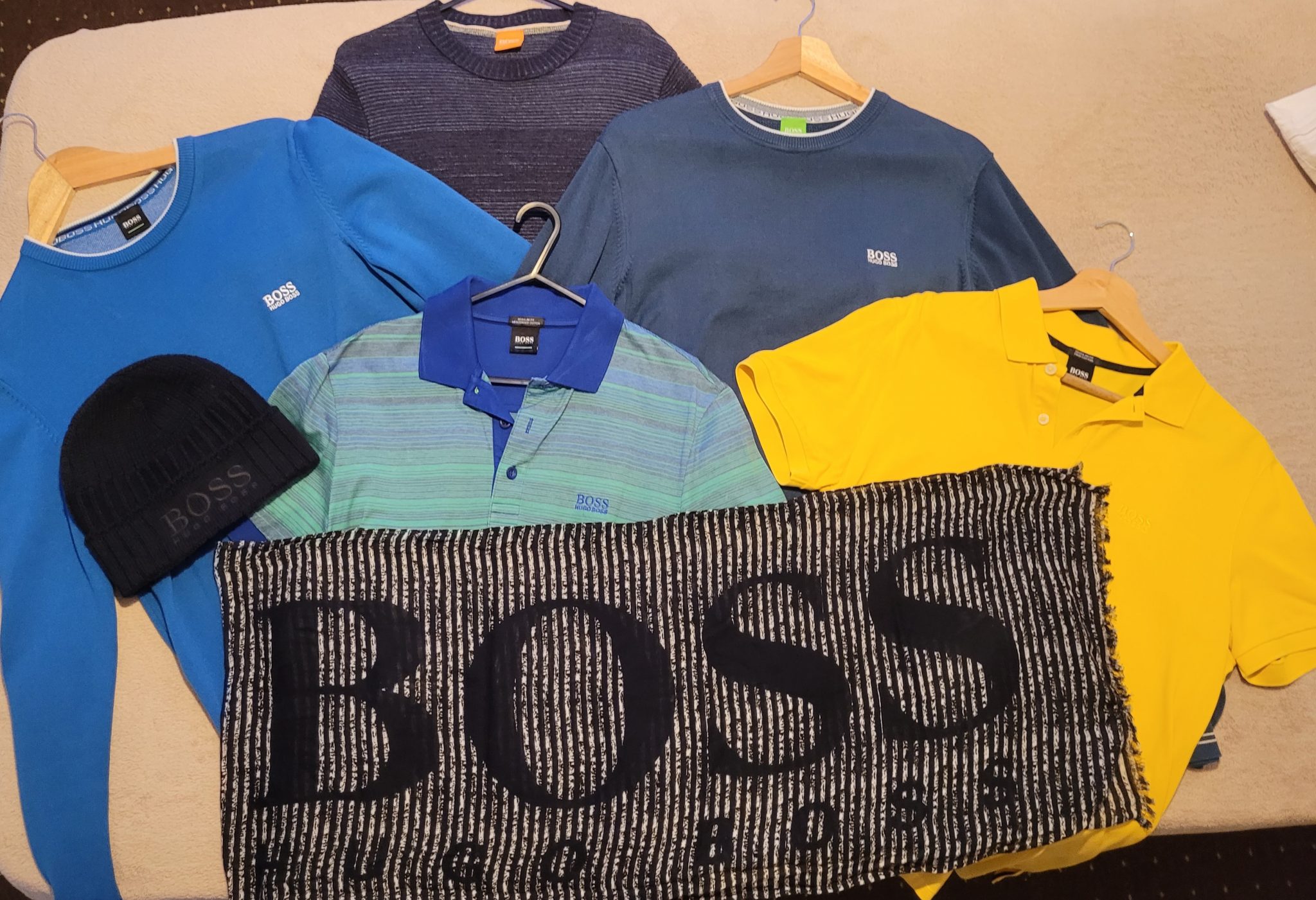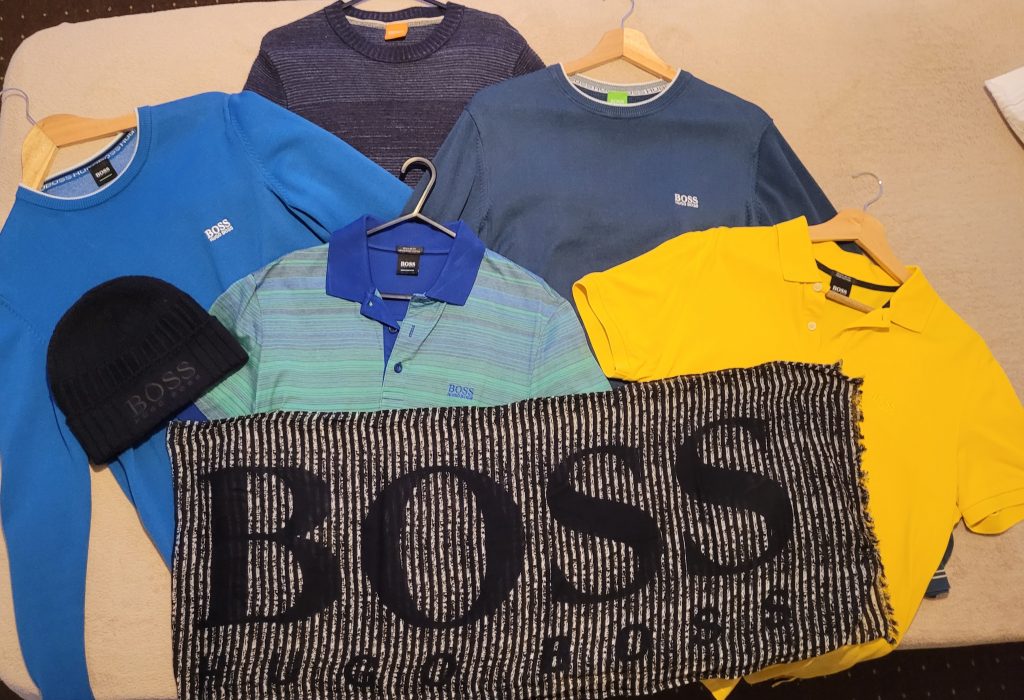 Read: What is the difference between BOSS and HUGO.
In 2020 the Global RepTrak™ 100, a global survey with more than 100,000 participants, showed that Hugo Boss was ranked number 58 in brand popularity. We are speaking about thousands of brands here. This indicates that Hugo Boss can purchase more for its items since the excellent perception of the company can affect the purchasing behavior of its customers (and make new ones).
Hugo Boss Provides Status and Exclusivity
Why is Hugo Boss so expensive? Because the brand makes you feel exclusive and part of a specific group of people that can purchase the label. If you see someone with a Hugo Boss watch or a Hugo Boss polo, you know that person is wealthy and can spend extra money on clothes. Hugo Boss cost money.
Since the Boss brand is associated with exclusivity, they can maintain their high prices and charge more for it since they know people will buy it. But, unfortunately, not everyone can buy Boss products, and the brand knows it, providing the status. This is one of the reasons Hugo Boss is so popular among men.
Read: Why Is Gant So Expensive?
We, men, like to look fashionable and sharp, but that doesn't mean to wear dressy clothes all the time. Hugo Boss is a great option to look smart. Boss products provide an image of masculinity, confidence, and a je ne sais quoi (a quality that cannot be described easily). Would you not pay more to feel like that and belong to that private group? The answer is yes, so the brand charges more for its products.
Celebrities Love Hugo Boss
Hugo Boss has some of the hottest men as brand ambassadors like Chris Hemsworth. You can also spot other male celebrities like Liam Payne, Jamie Dornan, Ryan Reynolds, or Gerard Butler wearing the brand products.
Hugo boss can be very popular belong men celebrities, but women also like to wear it. Victoria Beckham, Gwyneth Paltrow, Anne Hathaway, or Kylie Jenner are some examples of female stars wearing Hugo Boss in events or daily basis.
Celebrities wearing Hugo Boss will create brand awareness, build credibility, and impact people's emotions to buy the brand's products.
If you think Miguel Angel Silvestre looks good wearing a Hugo Boss suit, you will try to copy the style and end up buying the product. He brought credibility and influenced you to buy something you didn't know you need it.
That's why Hugo Boss is so expensive because celebrities endorse the brand (many for free when they wear it in big events) and people try to copy them.
Men Love Hugo Boss Suits
In general, men love a nice Hugo Boss suit (we love a nice suit to wear in general, no matter what brand). Hugo Boss has an expensive suit collection because it has a rich guy connotation. We associate it with the image of the wealthy guy being on the red carpet of a big event.
Remember the GQ Men of the Year Awards 2019 when Richard Madden, Sebastian Stan, Sam Smith, Michael Sheen, Jon Kortajarena, and a few more appeared with a Hugo Boss suit? Just imagine the hype the brand had on that event.
Read: Difference Between Armani Labels
Hugo Boss understands that connotation and charges more for you to feel the same way. That's why their smart suits are designed for the contemporary man and also for the younger guy. This way, their target customers have the money to buy Boss suits, but not everyone can afford them, maintaining a certain status and exclusivity.
Hugo Boss Provides Highest Quality Raw Materials
Hugo Boss produces 20% of its products in its own factories. The other 80% of its goods are sourced from suppliers worldwide, with the majority in Europe. The brand also provides training to ensure only high-quality materials are used and the proper processing techniques are in place.
Cotton is probably the most critical material Hugo Boss uses in their products. The brand states that 86% of the cotton used in their products in 2020 came from sustainable sources.
Wool and Leather comprised 18% of all Hugo Boss materials, trying to use sustainable materials when possible. For example, in 2016 the brand stopped using farmed furs and exotic leather types.
Purchasing sustainable products is more expensive than traditional products, as the demand is lower than the mainstream alternatives. Since the manufacturing costs increase, the brand also charges more, and that's another reason why Hugo Boss is so expensive.
Common Questions About Why Is Hugo Boss So Expensive?
Some of the most common questions about why is Hugo Boss so expensive?
Why Are Hugo Boss Suits So Expensive?
Hugo Boss clothing is expensive because the brand has a particular reputation for making high-quality clothing. It also provides a certain status and exclusivity to who wears the brand.
Read: Why Is Lacoste So Expensive?
Boss suits are made with a specific machine that handles all the tailoring steps and is supervised by knowledgeable seamstresses who check the final product's seams. Another reason is that many celebrities wear Boss suits on red carpets, bringing the rich guy connotation.
Are Hugo Boss Shirts Worth The Money?
Yes, in my opinion, Hugo Boss shirts are worth the money. You are not just paying for the Boss logo, but you are paying for high-quality material (100% cotton).
Read: Why Is Tommy Hilfiger So Expensive?
Why Is Hugo Boss Clothing So Expensive?
Boss clothes are expensive because the brand has a particular reputation for making high-quality clothing. It also provides a certain status and exclusivity to who wears the brand.
Is Hugo Boss a Luxury Brand?
No, Hugo Boss is not a luxury brand. Instead, it is considered a high-end brand since it targets customers who can push themselves to pay higher than they would pay for an average product. A luxury brand is for people who don't care about how much they pay for something (they want to feel special).
Conclusion Why Is Hugo Boss So Expensive?
Hugo Boss is an expensive brand because only certain people can buy their products, providing exclusivity and status to who wears them. In addition, the fact that so many male and female celebrities love and wear the brand at significant events, like the case of men with Boss suits, makes the appeal even bigger to buy.
Hugo Boss is a premium brand that produces clothes with high-quality materials. The price is justified since the brand is not as expensive as Gucci, but not so cheap that everyone can purchase it.
What is your opinion? Why is Hugo Boss so expensive? Share with me in the comments.