This post may contain affiliate links. That means if you click and buy from that link, I may receive a small commission (at zero cost to you), which helps me maintain the quality of this blog. Please see my full disclosure policy for details.
Gucci is one of the most popular and successful luxury brands in the world, whether for men or women. Gucci provides some of the best contemporary and eclectic creations of the fashion industry with a vast amount of different products like handbags, perfumes, clothes, sunglasses, and many other accessories. The question that doesn't leave your head is, why is Gucci so expensive?
You have a distinctive logo, high-quality material, exclusivity, brand status, and durable items. All these factors and features contribute to a brand like Gucci being expensive and charging higher prices than some of its competitors.
If you want to know why Gucci is so expensive in more detail, read the rest of the article. You can also check out the best French, British and American luxury fashion brands.
How Did Gucci Become So Expensive?
Gucci stands out for status and prestige, power, and desirability. Let's find out the reasons why Gucci became such a valuable and expensive brand.
Read: Why Is Loro Piana So Expensive?
1 – Rich Heritage
Gucci was founded in 1921 in Florence, Italy, by Guccio Gucci. He worked at the Savoy Hotel in London, learning what wealthy hotel clients liked about fashion. He also worked for Compagnie des Wagons-Lits, a European rail company that let him socialize with people with a luxurious lifestyle.
All these experiences let Guccio learn what people wanted to buy when it came to fashion and travel. A long list of celebrities like Grace Kelly, Jonh F. Kennedy, Elizabeth Taylor, Blake Lively, Harry Styles, or Rihanna had worn Gucci. Grace Kelly has one of the most memorable pictures with a Gucci scarf.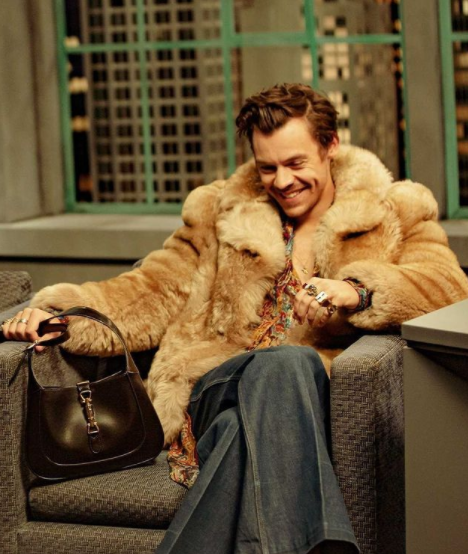 Read: Why Is Hermès So Expensive?
Gucci brand has a rich heritage that has been passed from celebrity to celebrity and from wealthier people to wealthier people through generations. As a result, Gucci has been associated with high value and high status through the years.
2 – Gucci Provides Status and Exclusivity
Gucci is not selling only a product. Instead, it is selling status and a specific image of exclusivity and wealthy people. Therefore, not everyone can buy and wear Gucci, which gives a particular position to the brand.
Read: Why Is Moncler So Expensive?
Many people will pay more than $500 if that means having the Gucci logo in their clothes. This is because they want to show other people they can afford any Gucci they want. The company is happy with this exclusivity since they can maintain their higher prices. Don't forget that you pay for the logo on your clothes most of the time and not strictly for the material. The same happens with other luxury brands like Louis Vuitton, Kiton, Givenchy, Loewe, and Dior.
Why is Gucci so expensive? Because they don't want everyone to buy their clothes and products. If everyone could afford Gucci, the brand would become like a Primark where everyone could buy its clothes, and rich people don't like that. They don't like it because they don't want to wear clothes that everyone can buy. They want the exclusivity and status that the brand provides. That's why Gucci is expensive.
One example of this status and exclusivity was when Gucci produced only 100 watches for the collection Gucci/Fnatic. Can you imagine something more exclusive than being one of the 100 people with that watch? That shows power.
Read: Why Is Burberry So Expensive?
3 – Gucci Has a Loyal Customer Base
According to Business Insider, Gucci and Louis Vuitton are the only two luxury companies to consistently rank among the world's most valuable brands for the last 20 years. Gucci has been one of the fastest-growing luxury brands in the world.
Something that shows how Gucci has an extensive customer base is when they launch a collection that sells in less than 48 hours. For example, the Gucci/KAI collection sold out on the launch day. We are talking about a luxury brand that sells items at a very high price.
Read: Why Is Balenciaga So Expensive
As you can see, Gucci is expensive because they know they have a loyal customer base that will buy their products, no matter the price. You also pay the marketing costs.
4 – Gucci Has a Higher Consumer Demand
Consumer demand is when a consumer purchase some goods and services in a given period. The desire to buy a Gucci product must be supported by the ability to pay (in this case, a higher price). The consumer income determines the purchasing power concerning the product's current price.
Over the years, Gucci has targeted celebrities, fashionistas, wealthy people, and the upper class. However, in the most recent decade, Gucci targeted people between 18-34, representing over 40% of the traffic to their website. So it's not surprising that Gucci's audience these days is most likely to be 18-24 years old, followed by 24-35 years old.
Read: Why Is Bottega Veneta So Expensive?
This study says millennials like to buy luxury products because they are of excellent quality and makes them feel good. Great news for Gucci, which can keep their prices high since millennials don't care about it. Gucci has higher consumer demand, and the prices will not stop people from purchasing its products.
5 – Gucci Provides Highest Quality Raw Materials
Gucci has high standards for its products, and one mistake will make the item unwearable. The Gucci products are made from the highest quality raw material such as leather, bamboo, exotic skins from crocodiles, pythons, ostriches, or anacondas (not the most animal friendly). In 2021 the brand launched its first vegan shoes, made from Demetra, a leather alternative.
Read: Why Is Moschino So Expensive?
Gucci also uses cotton and polyester (I have found many clothes on their website with these two materials, some of them 100% cotton), so sometimes you pay for the logo you are wearing and not for the material.
When it comes to Gucci bags, they are expensive not only because of the logo but they are also made of leather.
6 – Gucci Has an Elite Level of Craftsmanship
Gucci states on its website FAQs that most of its products are made in Italy, except for watches (manufactured in Switzerland), fragrances (manufactured in France), and cosmetics (come from the EU). You can expect Gucci clothes to be made in Italy. The same happens with Versace.
Read: Why Is Tom Ford So Expensive?
Why is Gucci so expensive? Because the products are not made in China, and the labor is more costly in European countries.
The brand also works with some of the most desirable and renowned top fashion designers on the market. The work behind the scenes is not cheap when it comes to Gucci. They also put time and care into each product they created, with some items made by hand. They also test the products multiple times, like opening a bag's zipper to check if it will not break after a few times.
Gucci spends a lot of money on manufacturing the products through its quality process, reflected in the price you have to pay.
7 – Gucci Offers Product Sustainability and Durability
Gucci products are durable and can be maintained in an excellent state for years, even if you wore them multiple times. It's like everything in life. If you like a brand that you think is the best, you will keep buying from them, no matter what price they ask.
Read: Why Is Balmain So Expensive?
If you read some Gucci reviews, you can check that most people state the product's durability is excellent. For example, one customer says, "And as far as durability goes, this bag looks as new as the day I got it!! The leather is amazing quality and super durable, but to help maintain its shape, I always store it stuffed."
Common Questions About Why Is Gucci So Expensive?
These are some of the most common questions about why Gucci is so expensive.
Why Are Gucci Bags So Expensive?
Gucci bags are so expensive because they are made of Italian leather (consider the best in the world), and all bags are handmade, with incredible attention to detail. Also, Gucci provides a certain status, so just the fact you have the logo on the bag makes it more expensive. Let's also be honest and say Gucci bags makes Gucci even more desirable.
Why Are Gucci Belts So Expensive?
Gucci belts are so expensive because they provide prestige and exclusivity by having the signature Double G buckle. In addition, all belts are handmade and made of leather. For all these reasons, Gucci belts are so expensive.
Is Gucci Really Worth The Price?
If Gucci is a brand you like, I would say it's totally worth it since they provide well-crafted clothes and accessories with high-quality materials that cheaper brands like Primark and H&M can't offer. Gucci clothes also have a concrete look, when you see someone with a Gucci shirt, you know it's Gucci even before you see the logo. Gucci is expensive but worth the price you pay (at the end of the day, it's a personal choice if you think it's worth it or not).
What Is The Most Expensive Item At Gucci?
The most expensive Gucci item ever sold was the Gucci Stuart Hughes Belt for $250,000. That's a massive difference from the second most expensive item, the Jackie Crocodile Shoulder bag for $37,400.00 (some websites say $32,000.00).
Read: Why Is Versace So Expensive?
Is Gucci Cheaper In Italy?
Gucci is not cheaper in Italy than in other countries. So what happens is when you travel to Italy from outside of the EU (like the US or UK), you can claim the VAT of the product when you leave the country, making it cheaper. It also depends on exchanging your currency for euros and if that makes you gain or lose money.
Why Is Gucci So Expensive?
Gucci is expensive due to its rich heritage, provides status and exclusivity, has a loyal customer base that will pay any price, a higher consumer demand, excellent quality material and craftsmanship, and durable products.
The fact that you wear a product that has Gucci's logo suggests you are high class and wealthy with a solid financial background. Gucci is expensive because the brand is not for everyone. After all, we are speaking about one of the most valuable luxury brands in the entire world.
As the founder of Louis Vuitton once said, "Any fine luxury item or collectible piece is worth only as much as the buyer is willing to pay." We all know how some of Gucci's collections sold out after one day, so the demand is there, and people are not afraid to buy it.
Read: Why Is Prada So Expensive?
What about you? Why is Gucci so expensive, in your opinion? Do you think the hype is justifiable, or do you think Gucci is a banal luxury fashion brand? Also, do you buy Gucci products? Share with me in the comments.