This post may contain affiliate links. That means if you click and buy from that link, I may receive a small commission (at zero cost to you), which helps me maintain the quality of this blog. Please see my full disclosure policy for details.
Sometimes brands have distinguished sub-brands with different customer segmentation and objectives. For example, the difference between HUGO and BOSS is precisely that.
I am not surprised that you are confused (I was too) since a few years ago, Hugo Boss had the BOSS Orange, BOSS Green, BOSS Red, and BOSS Black. Now you only have HUGO or BOSS.
This differentiation inside of a brand is not something new. Ralph Lauren brand architecture has many different labels (Polo Ralph Lauren, Ralph Lauren Collection, Polo Collection, Lauren Ralph Lauren, etc.), each differentiated with a specific targeted customer segment.
Same with Armani, who markets different products under several labels (Emporio Armani, Giorgio Armani, Armani Exchange). Tommy Hilfiger also differentiates Tommy Jeans from Tommy Hilfiger.
That's why it is not surprising that the German brand is doing the same but in a much more simplistic way. Are you ready to understand the difference between HUGO and BOSS? Let's dig in.
Read: Where Is Hugo Boss Made?
What Is The Difference Between HUGO and BOSS?
The difference between HUGO and BOSS is the price, the customer segmentation, the events and campaigns, the shopping experience, and the designs.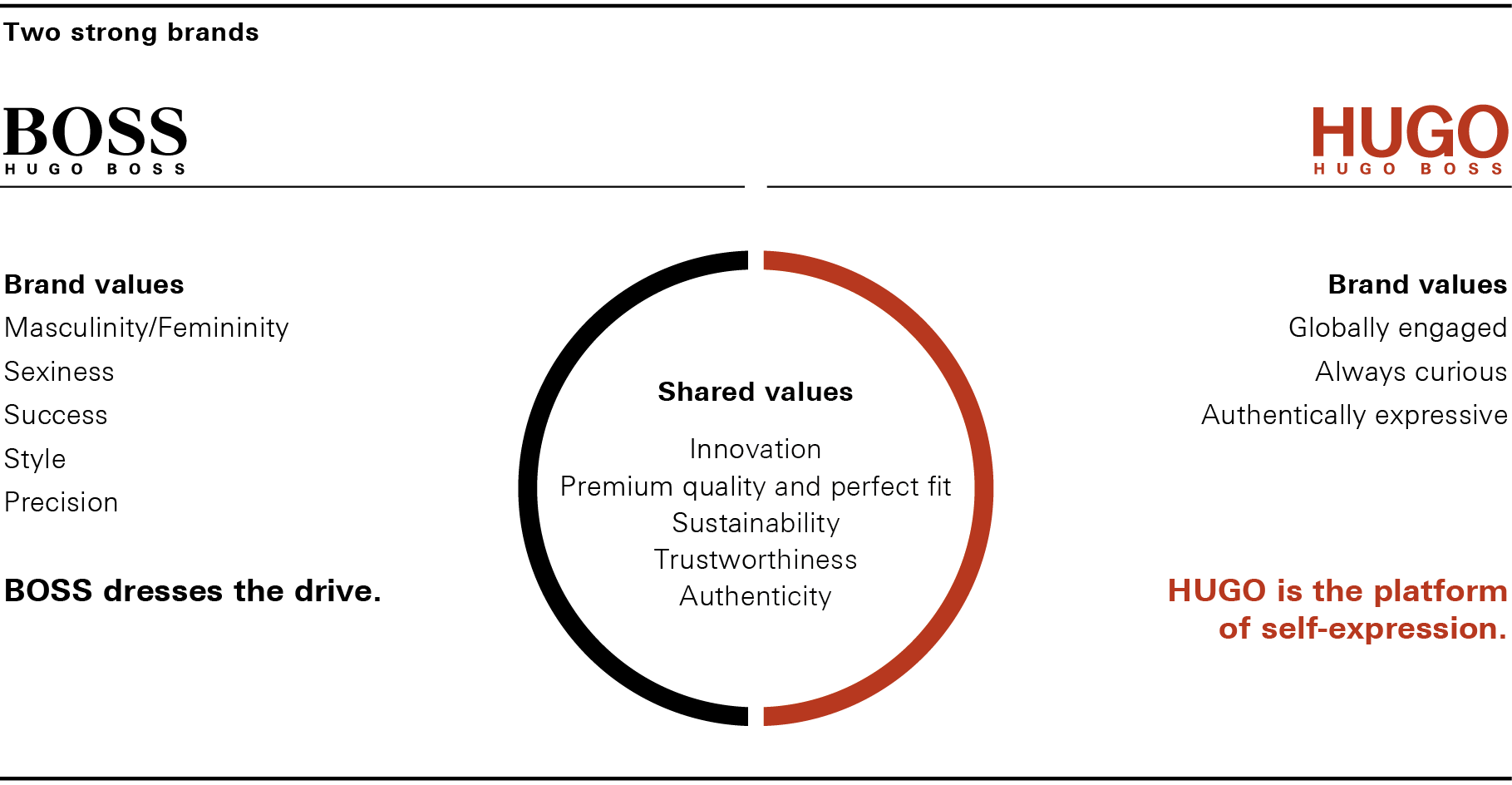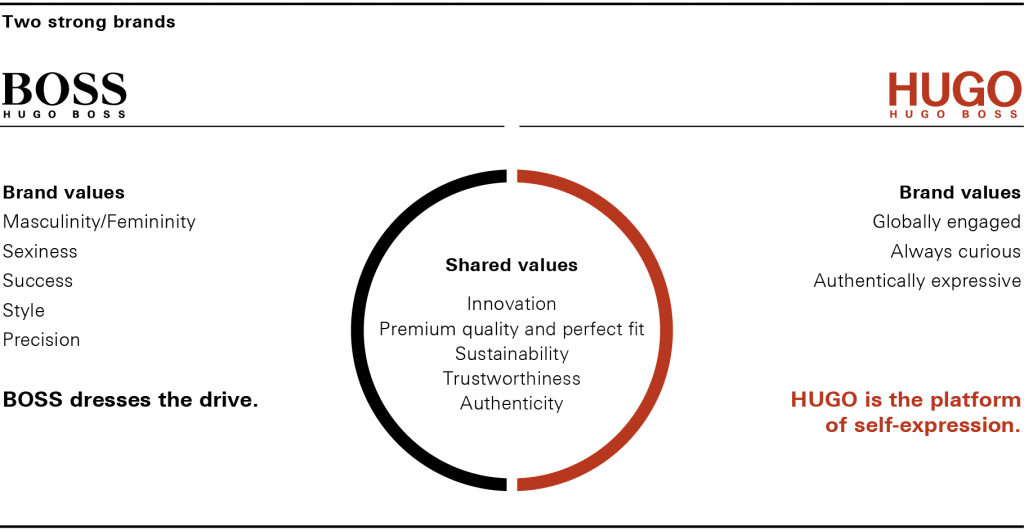 HUGO prices are up to 30% cheaper than the BOSS collection. However, they both target different customers, with HUGO targeting the youngest and BOSS the wealthier men and women with more status. BOSS core brand customers prefer a more personalized shopping experience in person, but the buying behavior of the HUGO customers are more digital orientated.
Hugo Boss has announced that the Hollywood actor Chris Hemsworth has become the first global brand ambassador for BOSS Menswear. On the other end, Liam Payne was declared the ambassador for the HUGO line of fragrances and created a casualwear capsule.
Read: Why Is Hugo Boss So Expensive?
Having two different men as ambassadors of both brands tells you a lot about their differences. Chris Hemsworth brings the look of a mature and classic man with a sophisticated look. Liam Payne is the total opposite, bringing irreverence, freshness, and a youthful look to target the younger men.
What Is The BOSS Brand?
The BOSS brands are split into three categories: business, casual and athleisure.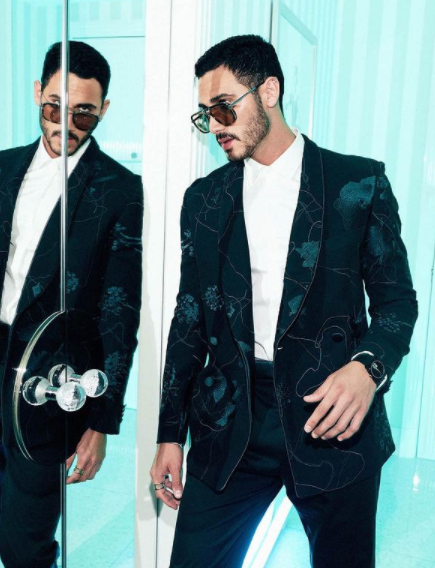 Who Is The BOSS Brand For?
The BOSS brand is for everyone who likes a certain status and wishes to dress in a classic/modern, high-quality style. It is for anyone who knows exactly what they want when it comes to fit and high quality.
The BOSS customer likes to have a personal shopping experience with the highest standards. The sophisticated customer can expect excellence when it comes to casualwear or businesswear.
BOSS Business
Known as HUGO BOSS Black, the most traditional style among the three. BOSS Business is the more formal style, with well-designed, elegant, and self-confident business suits. You also have classic t-shirts, belts, ties, business shoes, and document cases.
BOSS Casual
Known as HUGO BOSS Orange previously, and the most contemporary style of the three. The designs are inspired by the vibrant and diverse big city life. So you can expect a lot of mixed colors on your modern design casual clothes or just plain ones.
Read: Where Is Gucci Made?
T-shirts, jeans, trainers, jackets, hats, or shoes are all excellent choices in this collection if you want to feel comfortable and enjoy a relaxing day with a vital fashion element on your clothes.
BOSS Athleisure
Known as HUGO BOSS Green previously, it's the most sporty of the three. BOSS Athleisure targets people looking for casual clothes with a fitness and sports vibe. The golf influence is noticed when it comes to the polo shirts. You have a bit of everything from trousers, trainers, shirts, polos, t-shirts, etc.
What Is The HUGO Brand?
HUGO is the youngest and cheapest sister of BOSS.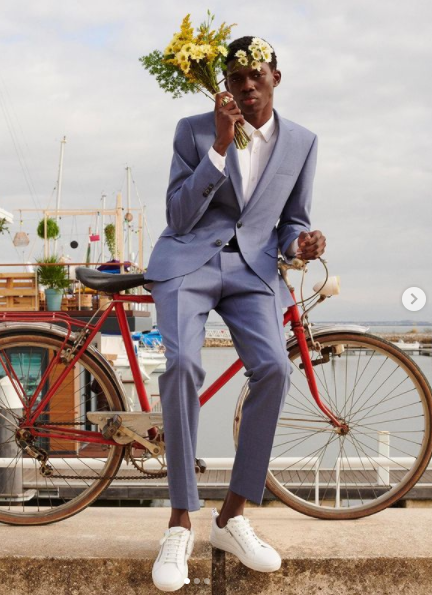 Who Is The HUGO Brand For?
The HUGO collection is for any person who is more fashion-conscious and considers their style of dress a critical element of their personality and lifestyle.
It targets the younger customer base, an open-minded and spontaneous person who likes to shop frequently via online and mobile channels. You can find casual and businesswear with a progressive design and clear fashion statement.
HUGO Brand
HUGO focuses more on fashion trends and weaves between casual and smart, including jeans, printed t-shirts, innovative sweatshirts, and trendy trainers.
Read: Where Are Levi's Made?
You can also find trousers and jackets with a precise cut in a modern slim fit way. Expect elegant and bright colors, micro patterns, and saturated hues, all designed to make you stand out in the crowd.
HUGO tailoring brings the best suits for younger individuals with attitude. You can select your suit with fresh cuts and shapes or the classics to build a tailored look that fits your life and suits your style.
Common Questions About The Difference Between BOSS and HUGO
These are some of the most common questions about the difference between the HUGO boss and BOSS brand.
Is HUGO The Same As Hugo BOSS?
HUGO and BOSS are two different brands inside of the leading trademark Hugo Boss. HUGO is targeting the youngest individual who likes to shop digitally and likes fashion trends. On the other hand, BOSS targets the more mature individual who wants to have a personalized shopping experience and wear high-quality clothing.
What Is BOSS Green Label?
The BOSS Green label was created in 2004 and ended in 2018 when it became BOSS Athleisure. It was a more sporty collection with a heavy golf influence.
Read: Where Is Adidas Made?
Which Hugo Boss Is The Best?
It all depends on your needs. If you are young and like to make a fashion statement, I would choose the HUGO collection. If you are a little bit more conservative and prefer a more classic approach, I would pick the BOSS collection.
Does BOSS Orange Still Exist?
The BOSS Orange does not exist anymore, at least with that name. Today is known as BOSS Casual.
What Is Hugo Boss Red Label?
The Hugo Boss red label is now known as the HUGO collection.
HUGO vs BOSS
Until you started reading this article, you probably didn't know the difference between HUGO and BOSS. You didn't even know the difference existed since they are both Hugo Boss. I was in the same boat but learned about the green and orange labels. I didn't know what they stood for.
Read: Versace Jeans Couture vs Versace
Just because the HUGO collection is more directed at the younger generation doesn't mean you can't wear it if you are in your fifties. If you like it and looks good, go for it. That's my motto, and I think you should adopt it.
Which collection do you like the most? BOSS or HUGO? Share your opinion with me in the comments. I have always bought from the BOSS collection because I like the classical approach, and I prefer to have my personal shopping experience in-store than digitally.