This post may contain affiliate links. That means if you click and buy from that link, I may receive a small commission (at zero cost to you), which helps me maintain the quality of this blog. Please see my full disclosure policy for details.
When you buy a piece of clothing, you probably don't think about the different Armani labels, and you may think they are all the same since they all belong to the same brand. However, even if all Armani products belong to the same brand, they all have significant differences. Armani Exchange vs Emporio Armani vs Giorgio Armani are not the same.
The differentiation is widespread among premium and luxury labels since they all have different segmentations and objectives. Just check the case of Hugo Boss, Versace, Ralph Lauren, or Tommy Hilfiger regarding their various labels. They all have specifically targeted customers, and with Armani, it's not any different.
Read: Where Is Armani Made?
Over the last few years, we have seen Armani decrease the number of labels inside its brand and merge some of them into one tag. So right now, we can say that the Armani brand is split into three separate labels.
Armani Labels Guide
Armani currently has three different significant labels inside its brand:
Giorgio Armani
Emporio Armani
Armani Exchange
You also have the Armani Lifestyle, which includes labels like beauty, home, or restaurants. However, I wouldn't consider it a label but more a category. Finally, don't forget the Armani Privé that I didn't include because it's more like an annual event than a label.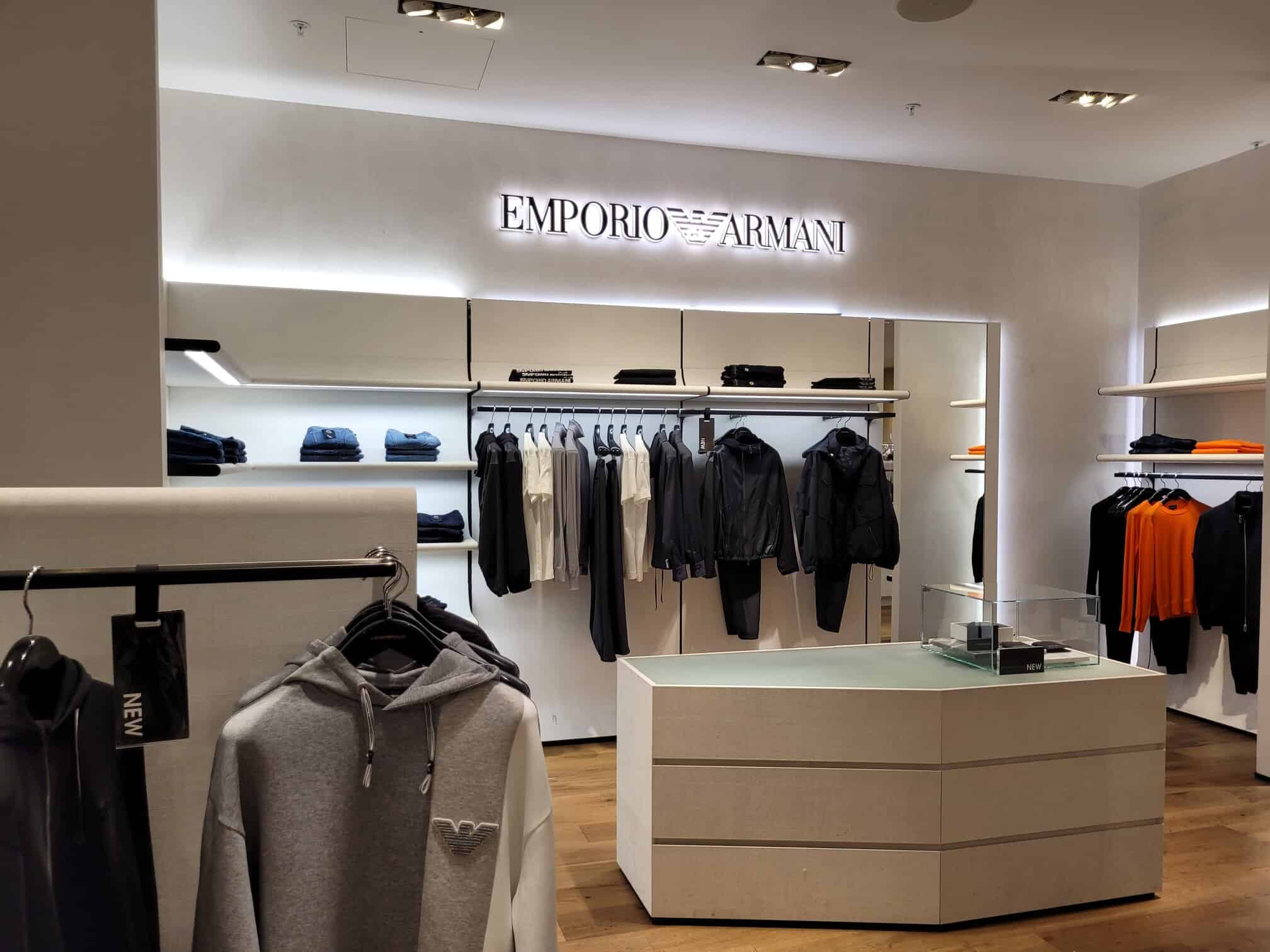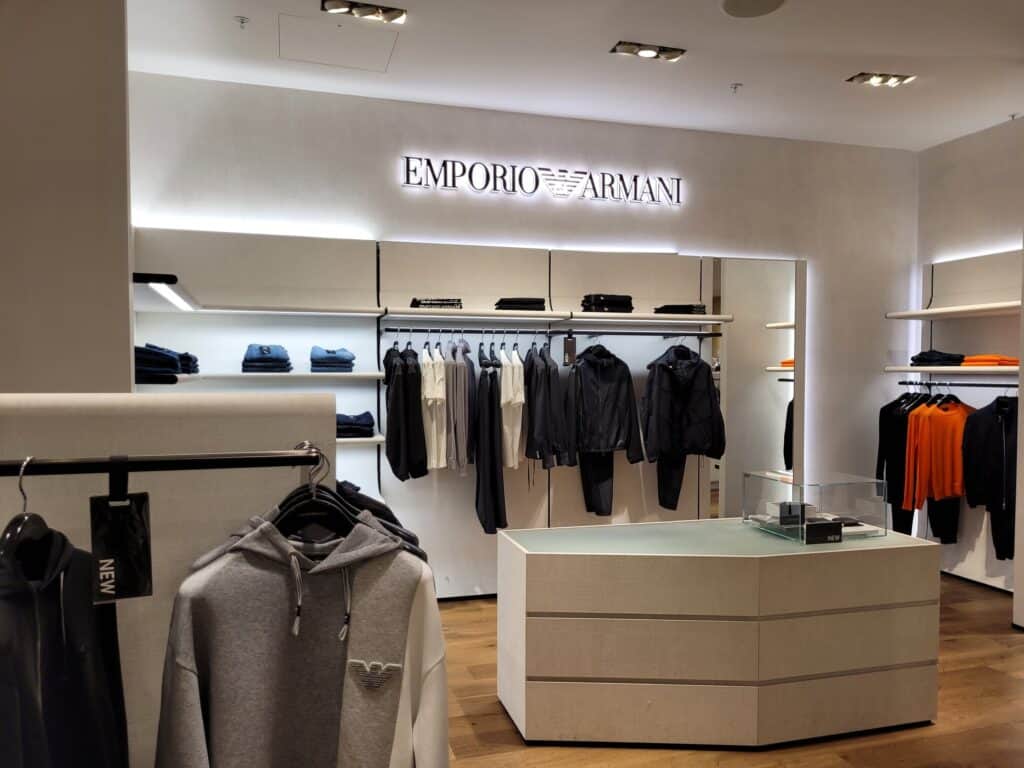 It can be challenging inside some brands to understand where you belong since some have too many different labels. That's why I like the approach of Armani with fewer labels because it's less confusing for its customers and also for brand segmentation.
Read: Where Is Karl Lagerfeld Made?
Labels are usually differentiated according to their price tiers (some are more expensive than others), targeted customers (inside of a brand, you can have different types of customers), shopping experience (digital vs. personal), and even the materials used.
What Are The Different Armani Labels?
The three different Armani labels are Giorgio Armani, Emporio Armani, and Armani Exchange (which includes EA7).
Keep in mind that Armani has discontinued specific labels like Armani Jeans and Armani Collezioni. So let's check the differences between the three leading Armani labels and what distinguishes each one.
Giorgio Armani
Giorgio Armani is the most expensive label and also the most famous one.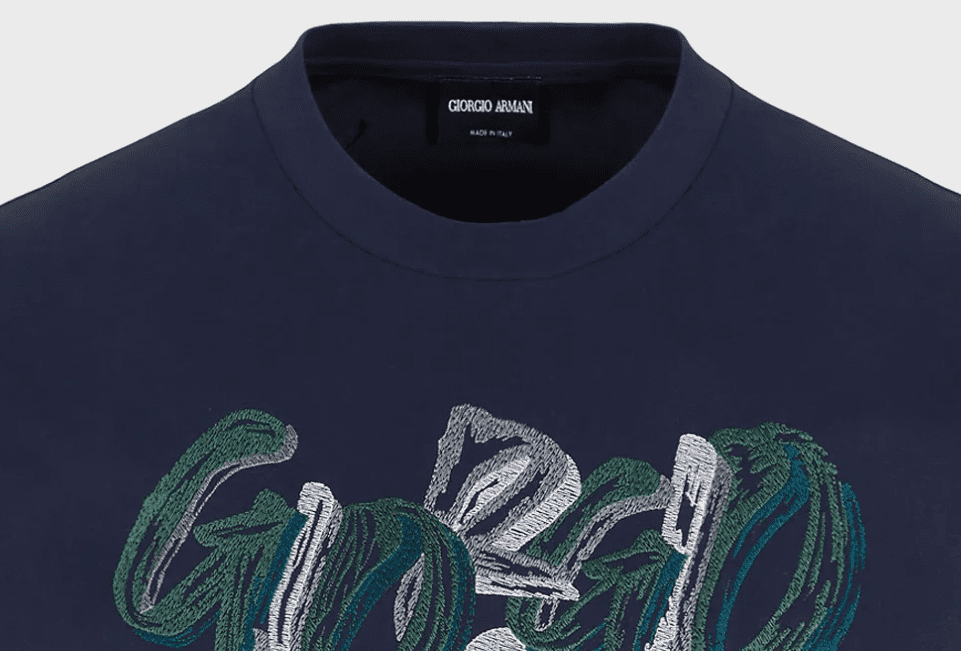 Giorgio Armani label price ranges from $50 (a pair of socks) to over $11,000 (a leather jacket) and is considered the poshest Armani label, due to its prices.
Giorgio Armani is believed by many to be the primary collection of the Italian brand since it uses high-quality materials and classic designs. Consumers would wear this label on special occasions like weddings, bar mitzvahs, awards ceremonies, or political events.
Since the items under the Giorgio Armani label are costly, it targets an older group of customers, usually between 35 to 50 years old or older. The Giorgio Armani customers like a personal shopping experience with the highest standards.
Emporio Armani
Emporio Armani is one of the original sub-labels of Armani and is very famous in the US.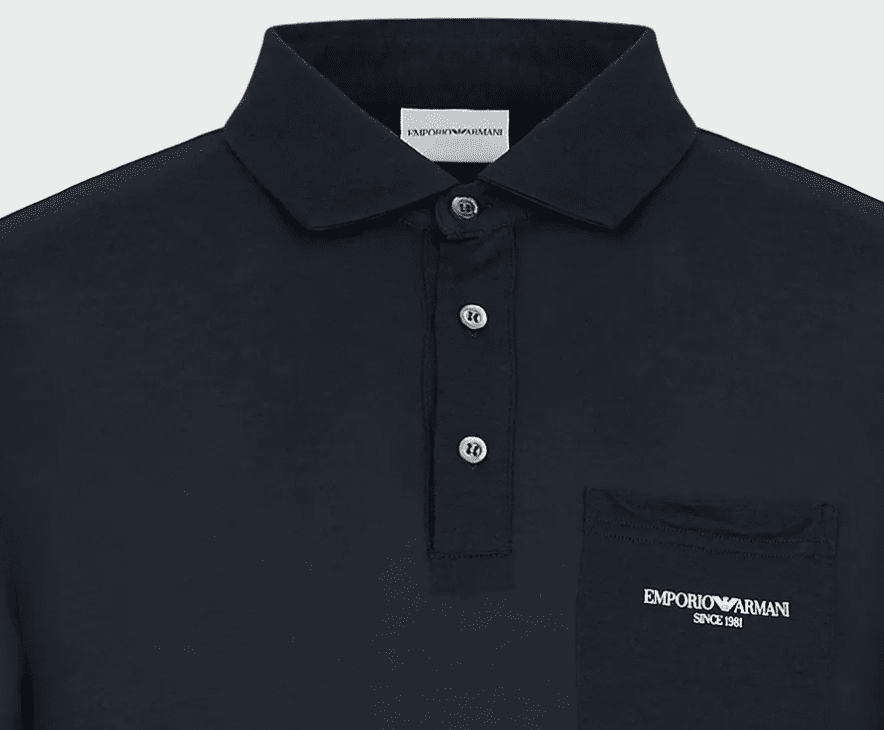 Emporio Armani is much more accessible than the Giorgio Armani label regarding the price tag. Its prices range from $12 (a pair of socks) to over $3,700 (a sheepskin jacket). This label is the bridge between the luxury aesthetic of the Giorgio Armani label and the sporty/accessible Armani Exchange label.
Many consider Emporio Armani an affordable luxury label, but I would say it's more like a high-end premium label since luxury is not accessible to most people. It's much more affordable than the Giorgio Armani label and offers contemporary designs to wear daily or in a professional environment.
The customers targeted by this label are the young professionals aged 25 to 35 years old who don't have much money to invest in their wardrobe but still want to dress well. So you have everything, from suits to t-shirts, underwear or shoes.
EA7
EA7 is a sublabel inside of the Emporio Armani label. It's considered the sports version of the EA.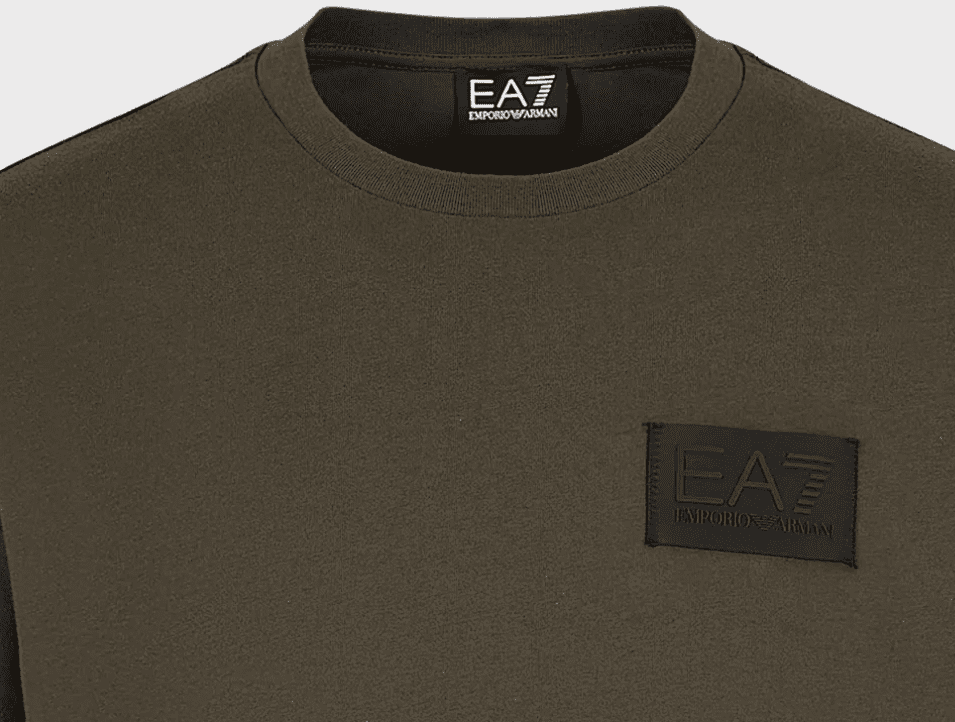 Andriy Shevchenko inspired EA7 since Giorgio Armani was a massive fan of him when the Ukrainian footballer played for AC Milan. The 7 symbolizes the shirt number Shevchenko used in the Rossoneri.
Technically, EA7 is cheaper than Armani Exchange (the most affordable main label), but they target entirely different customers. The price range goes from $10 (a tennis racquet) to over $500 (ski jackets).
Read: Where Are Levi's Made?
This label targets consumers that want a high-end sportswear brand. It targets the young professionals aged between 25 to 35 that like to look good when playing sports and care about the image they pass.
EA7 has many different sports clothes, from t-shirts, shorts, socks, and leggings, to sports equipment for golf, football, swimming, running, skiing, fitness, and tennis. You can also expect some shoes manufactured together with Reebok for this label.
Armani Exchange
Armani Exchange is the cheapest label of Armani.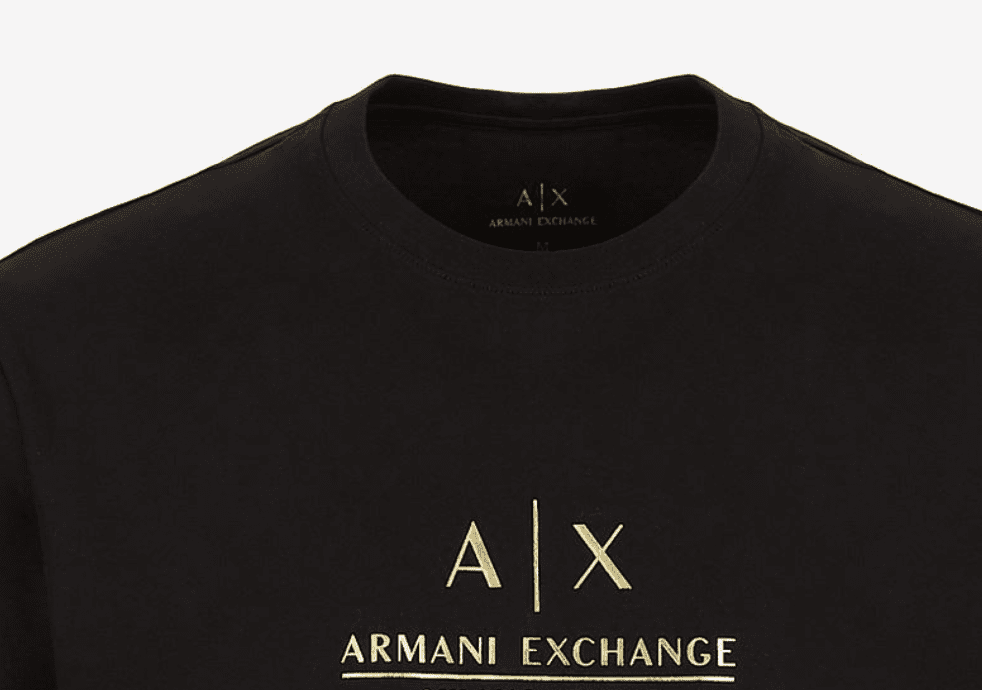 Armani Exchange is the most accessible label from Armani, being the cheapest by far. Its prices range from $10 (pair of socks) to over $650 (leather jacket). You can see that it's much cheaper than the other two leading Armani labels.
Read: Where Is Ralph Lauren Made?
The A|X letters are synonymous with the Armani Exchange label. Cheaper materials are used in the products of this label, full of trendy designs and pieces like t-shirts, jackets, bags, sweaters, or joggers. It's also known as the casual label of Armani.
This label targets young customers who are style conscious but don't have money to purchase the other Armani labels. The Armani Exchange customers like to shop often via online and mobile channels.
Common Questions About Armani Labels
These are the most common questions about Armani labels.
Which Armani Is Higher End?
Giorgio Armani label is considered the higher end since the price range is much higher than the other two.
Are Emporio Armani And Giorgio Armani The Same?
Emporio Armani and Giorgio Armani belong to the same brand but have different customer segmentations, prices, shopping experiences, and designs.
Read: Why Is Calvin Klein So Expensive?
Is EA7 A Luxury Label?
No, EA7 is not a luxury label. Instead, it's a premium label that sells sports clothes under the Emporio Armani label, maintaining that status that some customers like.
What Is Armani Privé?
Armani Privé is part of a fashion event where Armani gives you the best when it comes to haute couture. It's a gala and award-show wear that is unsuitable for every wallet. It's mainly clothes for rich and famous people.
Conclusion
The next time you shop for this high-end brand, you will know that Armani has different labels according to a distinct customer and marketing segmentation. Giorgio Armani label targets wealthy people, Emporio Armani labels target the young professionals that have enough money to purchase the line, and Armani Exchange is the most casual and affordable label inside Armani.
I wouldn't say I am the typical Giorgio Armani customer since I prefer brands like Hugo Boss, Tommy Hilfiger, and Ralph Lauren over Armani. However, I would be Emporio Armani's ideal customer if I was. What about you? Which Armani label do you prefer?