This post may contain affiliate links. That means if you click and buy from that link, I may receive a small commission (at zero cost to you), which helps me maintain the quality of this blog. Please see my full disclosure policy for details.
Gucci is a luxury Italian fashion brand based in Florence, Italy that belongs to the Kering Group (which owns Balenciaga, Bottega, and Yves Saint Laurent). Does this mean that Gucci is made in Italy? If not, where is Gucci made?
Read: Why Is Gucci So Expensive?
Gucci products are some of the most desirable and loved in the world. Handbags, footwear, clothing, scarves, you name it, and the Italian brand sells successfully. But do the place where they are manufactured and the materials sourced influence the buyers' decision? I believe it does, but not massively.
I have checked hundreds of product descriptions on Gucci's website to verify if the brand lists where the products are made and researched a lot online to bring the best outcomes possible in this article.
Let's find out if Gucci takes pride in its owns roots and manufactures all its products in Italy or if, like many other luxury brands, Gucci outsources to China and other Asian countries. You can also check out the best French, British and American luxury fashion brands.
Read: Where Are Christian Louboutin Shoes Made?
Where Is Gucci Made?
Gucci is mainly made in Italy (I would say 99% of the products are made there). However, the brand also has some watches manufactured in Switzerland, perfumes in France, a few jackets in Vietnam, some sunglasses in Japan, and some portions of its footwear in Spain.
Read: Where Is Saint Laurent Made?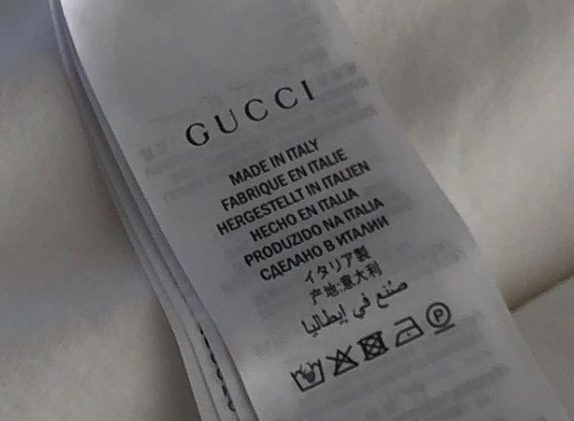 I love to see a brand manufacturing most of its products in its country of origin. For example, Gucci is Italian and produces practically everything in Italy. However, it was surprising to find a few jackets made in Vietnam. I almost gave up finding where clothing was made since "Made in Italy" was a constant.
Read: Where Louis Vuitton Is Made?
The Gucci website doesn't provide any information on where perfumes and makeup products are made. The same happened when I was researching where Dior is made.
This is what I have found in my research over hundreds of different Gucci products for men, women, kids, and homeware:
Italy – Every category in Menswear, Womenswear, Kids, Accessories, and Homeware
Switzerland – Watches
Spain – Construction of the shoes, since the materials are made in Italy
Vietnam – Some Jackets
France – Perfumes
Japan – Some sunglasses
Read: Where Is Palm Angels Made?
Bear in mind that I didn't check every single product on Gucci's website, and I could have missed some countries, but after so many "Made in Italy," I doubt it.
Is Gucci Made In Italy?
Yes, almost every Gucci item is manufactured in Italy, except the watches (Swiss-made), some perfumes (made in France), some footwear (some made in Spain), and jackets (some made in Vietnam).
Read: Where Is Hermès Made?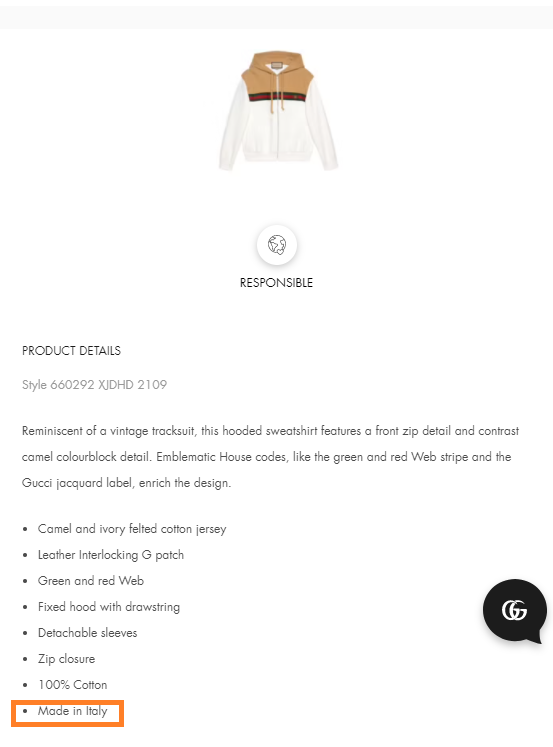 According to the Kering Group, 95% of the Gucci manufacturers are based in Italy. The brand uses a small percentage of suppliers outside of Italy for specific phases of component production. For example, some shoes' materials are all from Italy, but the shoe's construction is made in Spain.
Read: Where Is Balmain Made?
Gucci has factories in Scandicci, Tuscany, and Marche. In 2021 the Italian luxury brand opened a new hub in Trecate, in the Piemonte region of Northern Italy. It's close to the brand's headquarters in Milan (also new and huge). Gucci also has a site based in Padua, in the Veneto region, developing and producing all the Kering eyewear collections. Gucci grabs all its leather materials from factories in Prado.
Why Is Gucci Made In Italy?
Like its sister Balenciaga, Gucci is made in Italy not because it's an Italian brand but because the concept of "Made in Italy" brings a certain refinement and prestige to the brand. It expresses the excellence of craftsmanship and tells clients that the best materials are used. Italian brands like Dolce & Gabbana and Versace are also Made in Italy.
Read: Where Is Balenciaga Made?
Some customers become a bit skeptical when they pay thousands of dollars for a luxury item and don't see "Made in Italy." Gucci knows that and keeps producing all its collections in its country.
Is Gucci Made In China?
No, Gucci is not made in China. However, you may find many counterfeit Gucci products on the market, so be careful.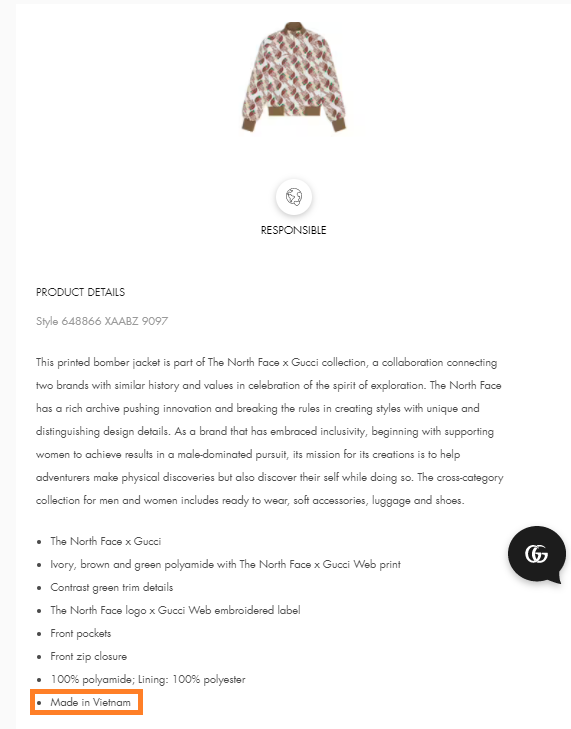 You may think, "why would Gucci be made in China if it is a luxury brand?" Because many high-end brands like Marc Jacobs, Armani, Burberry, Prada, etc., have some of their products manufactured in China.
Read: Where Is Givenchy Made?
As you know, it was surprising to find some of the Gucci jackets made in Vietnam and for the brand to write that on its website. Some luxury fashion brands would write "Imported" in the product description.
Why Is Gucci Not Made In China?
Over the years, items manufactured in China acquired a negative reputation. People have the perception that poor quality and harmful materials are used when the products are manufactured.
When Balenciaga decided to move the Triple S shoe production from Italy to China, the company suffered a backlash. But, as part of the same group, Gucci learned not to infuriate its customers.
Read: Where Is Tom Ford Made?
A New York Times article from 2007 stated that many warehouses in Italy have Chinese labor paid very poorly. So many Gucci products can have the Made in Italy label but are made by the Chinese. Many years had passed, and I could be sure if the situation had changed or not.
Common Questions About Where Is Gucci Made?
Some of the most common questions about where is Gucci made?
Read: Where Is Valentino Made?
Where Are Gucci Bags Made?
All Gucci bags are exclusively made in Italy and should have a leather tab located at the top of the inside of the bag saying "Made In Italy." If not, you probably have a fake Gucci bag.
Where Are Gucci Belts Made?
All Gucci belts are made in Italy and will be marked as so with a Made in Italy.
Where Are Gucci Watches Made?
All Gucci watches are made in Switzerland, in an atelier situated in La Chaux-de-Fonds. You can expect excellent quality from a Gucci watch since it's equipped with either ETA, quartz automatic, or Ronda movements.
Is Gucci Made In Turkey?
No, Gucci products are not made in Turkey. When I visited Turkey, I noticed that many Gucci clothing and bags were sold there, and they were all fake. You could tell because of the price and the quality of the products.
Is Gucci Made In Japan?
No, there are no Gucci products made in Japan, and if you have some, look out for the Gucci stamp to check if they are authentic. Unfortunately, they will be fake.
Read: Where Is Bottega Veneta Made?
Is Gucci Made In Bangladesh?
No, Gucci products are not made in Bangladesh. However, you can find some jackets made in Vietnam.
Conclusion About Gucci Made In
Where is Gucci made? Gucci is an Italian luxury fashion brand that manufactures almost all its products in Italy, except for a few items. The costs of its products are so high that customers expect the goods to be handmade in Europe and be of the finest quality possible.
Read: Where Is Off-White Made?
Do you have any Gucci products? Please share with me in the comments where they were made.