This post may contain affiliate links. That means if you click and buy from that link, I may receive a small commission (at zero cost to you), which helps me maintain the quality of this blog. Please see my full disclosure policy for details.
Hugo Boss is a premium fashion brand that Hugo Ferdinand Boss founded in 1924 in Germany, but do you know: where is Hugo Boss made?
I am a massive fan of the Hugo Boss brand and have a lot of my wardrobe is from the German fashion brand. I have t-shirts, polos, long sleeves, scarves, hats, perfumes, jackets, shoes, etc. If Hugo Boss manufactures an item, I probably have it. Did I start buying all those items because my name is Hugo? Absolutely. Why did I keep buying? Because the quality is excellent.
Some people think that for a brand to manufacture quality items, they need to be manufactured in Italy, but that is not necessarily true. Many fashion premium brands and even luxury brands manufacture their products outside of Europe. So is it different when it comes to Hugo Boss? Let's find out.
Read: What Is The Difference Between Hugo and Boss?
I have decided to review hundreds of product descriptions on the Hugo Boss website to check if the brand lists where the products are made. I also visited a couple of Hugo Boss stores and some stores that sell Hugo Boss products, checking multiple items. Finally, I also checked all the Hugo Boss products I have at home. So let's find out where Hugo Boss is made.
Where Is Hugo Boss Made?
Hugo Boss is manufactured in China, Vietnam, Germany, Italy, Tunisia, Bangladesh, Spain, Turkey, Poland, Portugal, Romania, Serbia, Bulgaria, Ukraine, Macedonia, Laos, Indonesia, Thailand, Sri Lanka, India, Macedonia, Bosnia, Peru, and Egypt.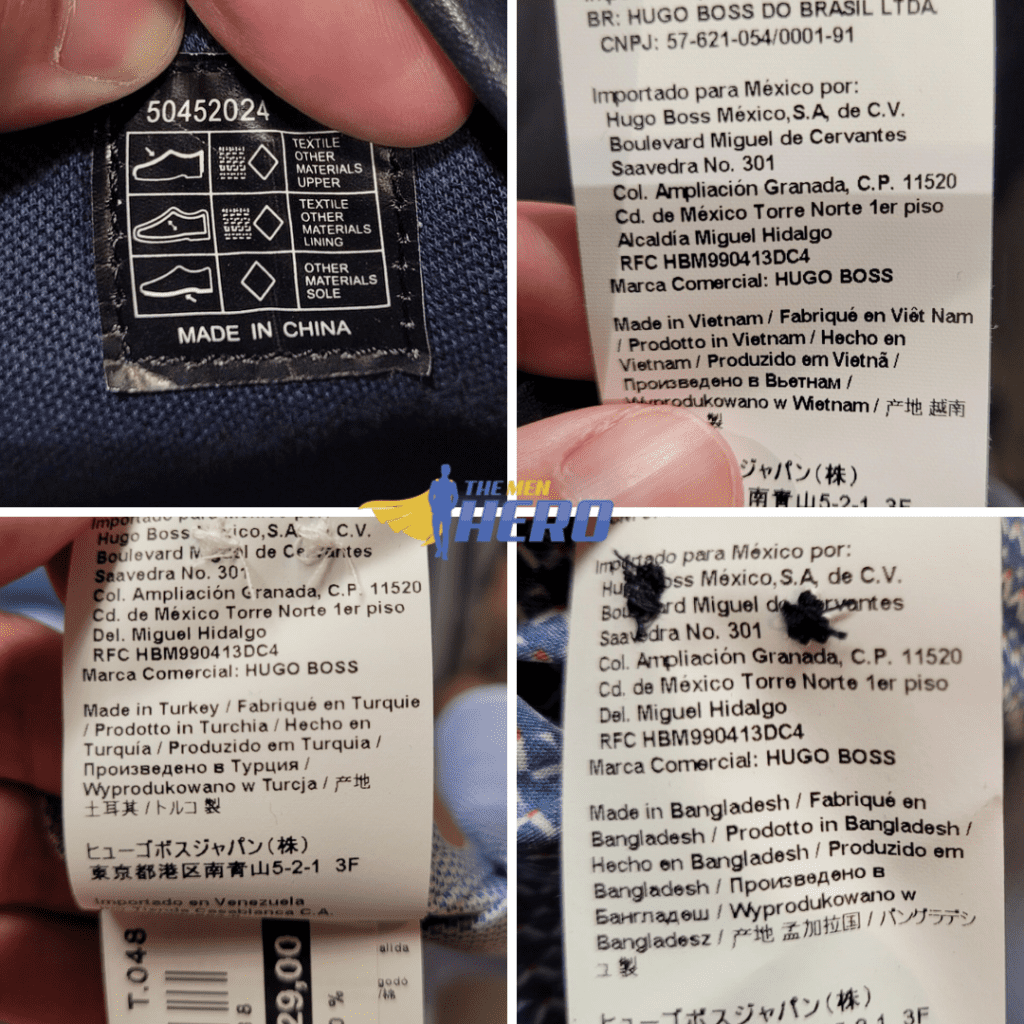 So Hugo Boss doesn't list where its products are manufactured on the product descriptions on its website. Instead, they have a page on the Hugo Boss Group website where the German fashion brand specifies the countries that produce its goods. As a customer, I would prefer to know straight away where the product I am buying is from and not try to guess which country has produced it.
For your knowledge, any physical product has the information where it was manufactured since the US and EU legislation requires brands to indicate the country of origin.
Hugo Boss owns four factories in Germany, Poland, Turkey, and Italy, representing 20% of the brand's manufacturing. The other 80% is outsourced from suppliers around the world.
Read: Why Is Hugo Boss So Expensive?
So between the items I have at home and the ones I have checked in-store, I have found China, Vietnam, Germany, Italy, Tunisia, Bangladesh, Spain, Switzerland, and Turkey. The majority of the products were manufactured in China and Vietnam.
A quick list of what I found by items:
China – Polos, t-shirts, shoes, caps, shirts, pants, and belts
Vietnam – Polos, t-shirts, shoes, shirts, and pants
Germany – Perfume and deodorant
Spain – Perfume
Switzerland – Watches
Italy – Hats, scarves, and belts
Tunisia – Long sleeve tops
Bangladesh – T-shirts
Turkey – T-shirts, and polos
I haven't checked every store item and could eventually add many more items for each country. However, I checked over most items in-store and tried to diversify different fashion items, from accessories to clothes and shoes.
Is Hugo Boss Made In Germany?
Yes, Hugo Boss manufactures some products in a factory in Metzingen, Germany.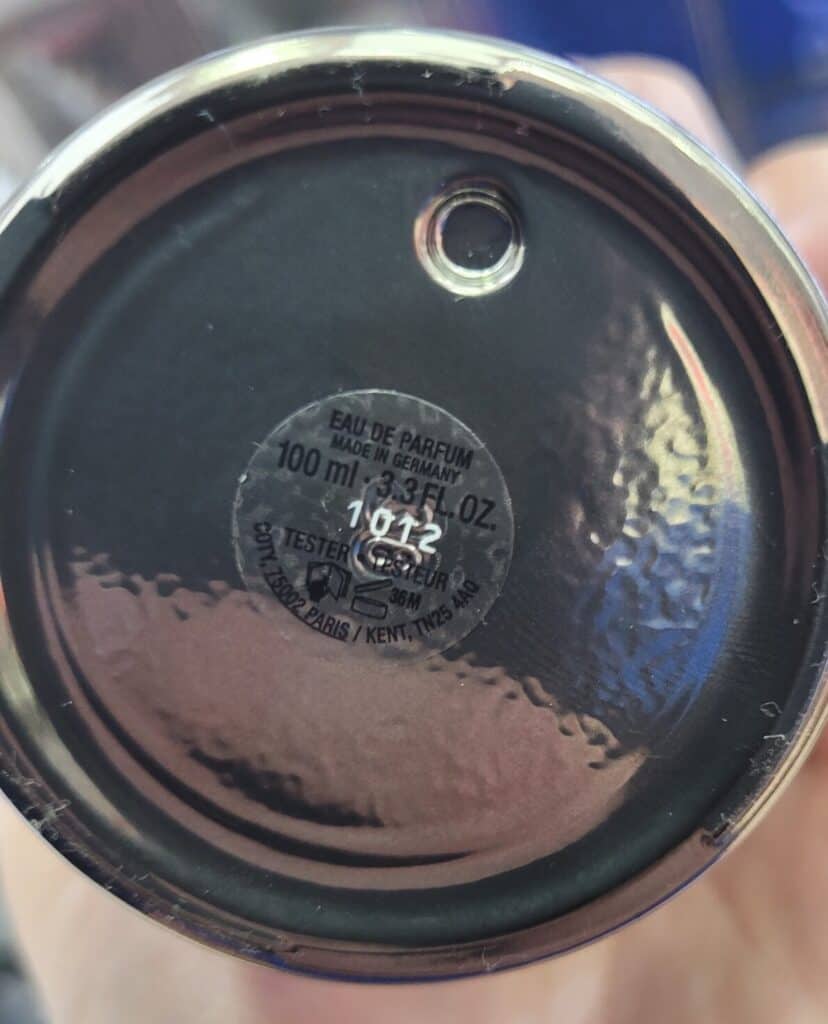 It's not that I expected to find a lot of Hugo Boss clothes, accessories, or shoes made in Germany, but I knew the brand was producing there. So it was disappointing only to find "Made In Germany" perfumes (both in-store and some of the ones I have at home) and deodorants.
Read: Best Hugo Boss Perfume For Men
In the past, Hugo Boss produced and sold uniforms to the German soldiers during World War II and many other organizations. Eventually, after its founder's death, the German brand ditched the production of the uniforms and focused on men's suits. Today, manufacturing in Germany is much smaller, as Hugo Boss outsources most of its production from Asia and Eastern Europe.
Is Hugo Boss Made In China?
Yes, Hugo Boss manufactures clothing, accessories, and shoes in China with independent suppliers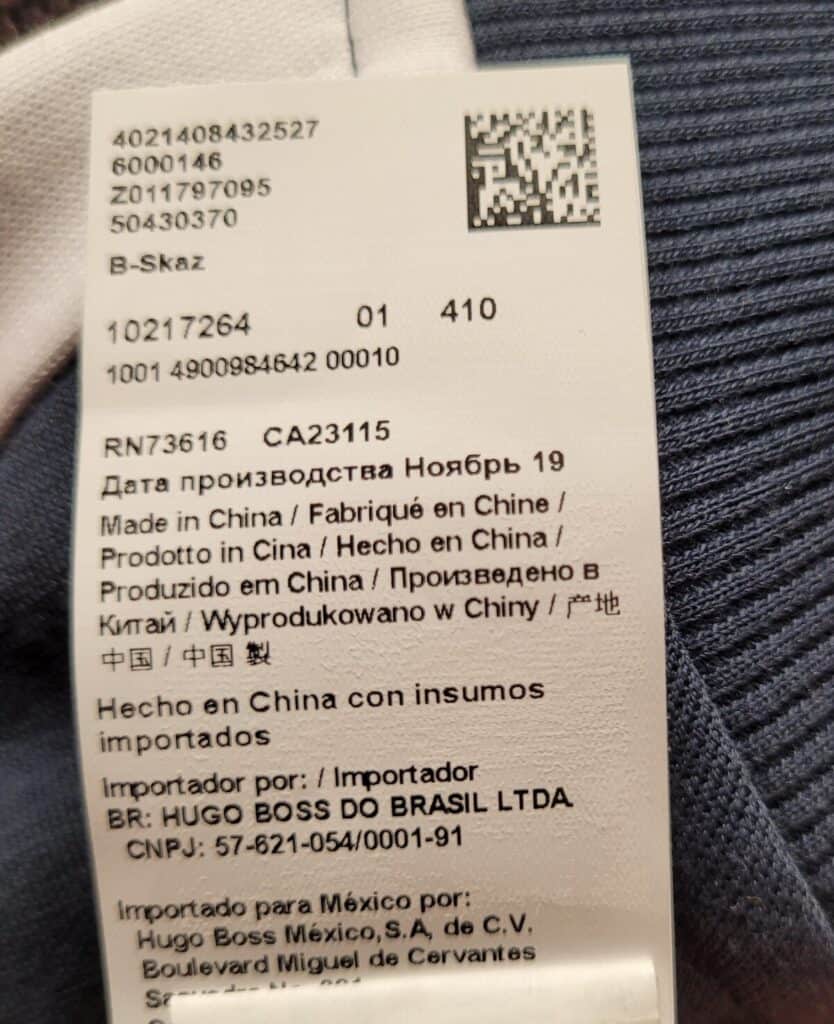 Was I expecting to see Hugo Boss manufactured in China? Yes, but not as many items as I found. After reviewing so many different premium and luxury fashion brands, this shouldn't surprise me or anyone anymore. Premium fashion brands that men love, like Calvin Klein and Gant, are also manufactured mainly in China. So why would it be different with Hugo Boss?
Manufacturing the majority of its products in Germany would be very expensive for labor and materials, but not in China. China is cheaper, and the quality remains (at least for premium and luxury brands) since these brands have strict quality guidelines the suppliers need to follow to deliver a final quality product.
Read: Where Is Ralph Lauren Made?
Almost every fashion brand manufactures something in China, except for some luxury brands like Gucci or Versace. Manufacturing in China is synonymous with better profits. The costs from manufacturing in Germany are lower than in China, so if you sell a Hugo Boss Polo at the same price (for both countries), you will profit more from the one manufactured in China. This is why a lot of Hugo Boss is manufactured in China.
Just a quick note to say I was expecting hats and scarves to be made in China, but the majority is manufactured in Italy (at least the ones I checked in-store).
Is Hugo Boss Made In Vietnam?
Yes, Hugo Boss manufactures many of its products in Vietnam, like apparel, footwear, and accessories.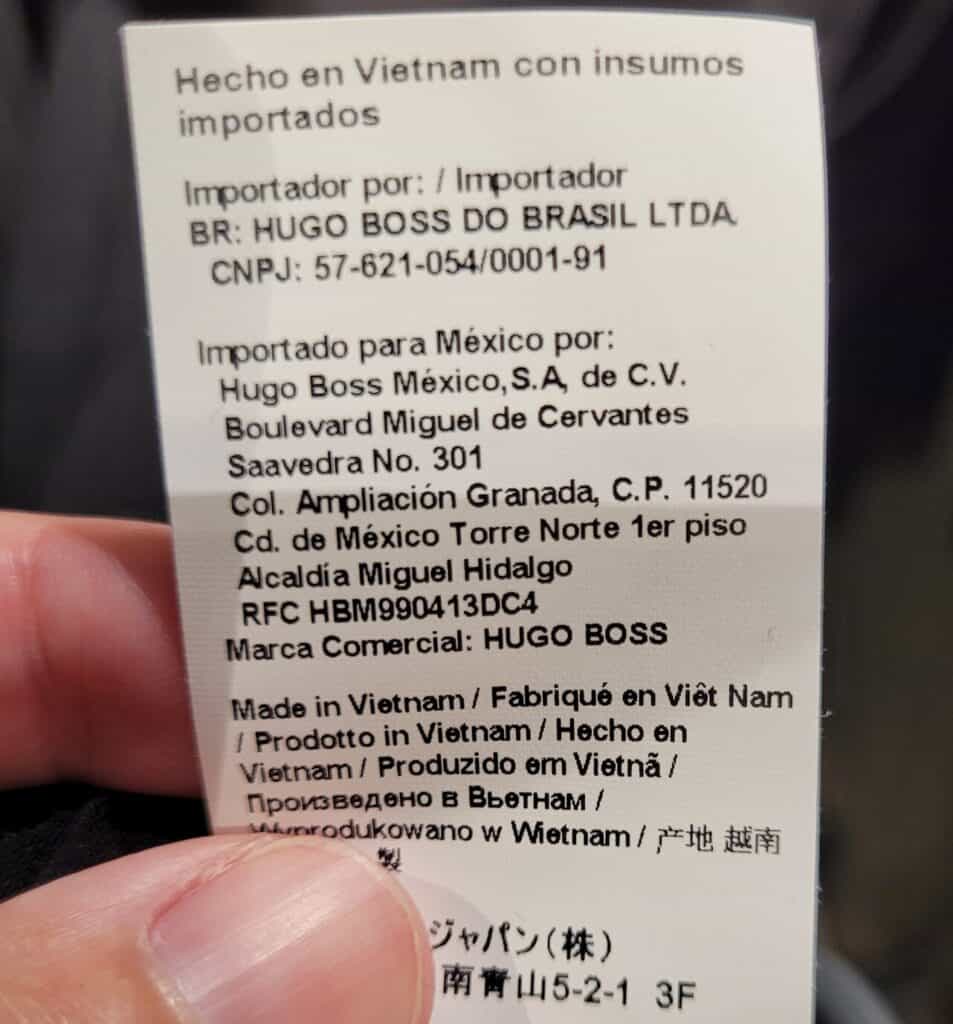 In recent years, many premium and luxury fashion brands have been shifting their production from China to Vietnam, mainly American fashion brands that wanted to find a solution for the tariff war between the US and China.
Read: Where Is Tommy Hilfiger Made?
If you check some of the labels for high-end brands in your wardrobe, I guarantee you will find many products made in Vietnam. This is because Vietnam gained a reputation for being as good as China in manufacturing fashion items and being cheaper in labor and materials. As a result, fashion brands' profits can be even higher, so the move makes sense.
I would not be surprised if we find a lot more Hugo Boss products manufactured in Vietnam than in China in a couple of years.
Common Questions About Where Is Hugo Boss Made
These are the most common questions about where is Hugo Boss made.
Read: Where Is Ted Baker Made?
Is Hugo Boss Made In Turkey?
Yes, one of Hugo Boss four factories is in Izmir in Turkey. I have also found some Hugo Boss t-shirts and polos made in Turkey in-store.
Where Are Hugo Boss Shirts Made?
Hugo Boss shirts are manufactured in Italy, China and Vietnam.
Where Are Hugo Boss Watches Made?
Hugo Boss watches are manufactured in Switzerland by the MGI Luxury Group. I have three Hugo Boss watched, and they were all manufactured in the same place.
Where Are Hugo Boss Shoes Made?
Hugo Boss shoes can be manufactured in China, Vietnam, or Italy. I only found shoes manufactured in China and Vietnam in-store, and the ones I have at home were made in Vietnam.
Read: Where Are Timberland Shoes Made?
Where Are Hugo Boss Suits Made?
Hugo Boss suits are mainly manufactured in Germany, Italy, and Turkey.
Are Hugo Boss Clothes Made In China?
Yes, many Hugo Boss clothes are manufactured in China, and I have found a lot in-store, especially Summer items.
Conclusion Where Is Hugo Boss Made
Hugo Boss manufactures its products in many different countries. The majority of the items I found were made in China and Vietnam. Still, several other countries manufacture Hugo Boss goods, including Italy, Switzerland, Bangladesh, Spain, Turkey, and many others.
Read: Where Is Armani Made?
Regardless of where Hugo Boss products are manufactured, I can guarantee that they are of excellent quality. I have some Hugo Boss items made in China and Vietnam that last for years and still look brand new. Remember that these brands have rigorous quality control checks to ensure they deliver the quality you expect when paying for their products (that are not cheap).