This post may contain affiliate links. That means if you click and buy from that link, I may receive a small commission (at zero cost to you), which helps me maintain the quality of this blog. Please see my full disclosure policy for details.
Gant is a Swedish American brand founded in 1949 by Bernard Gant. I would say Gant is a premium brand for men (you do have women's clothes, but not so famous), but can you answer the question: where is Gant made?
I have some polos and Gant shirts. I like them because they're simple, but they make you look good. I can feel an American vibe from this brand, the same vibe I get from Tommy Hilfiger. The difference is, I think Gant is more for mature men.
Read: Why Is Gant So Expensive?
I have checked hundreds of product descriptions on Gant's website to verify if the brand lists where the products are made and researched a lot online to bring these conclusions to you in this article. I also went to a Gant store and checked my own Gant products labels.
Let's find out where Gant is made.
Where Is Gant Made?
Gant is made in different countries such as China, Vietnam, India, Turkey, Portugal, Morocco, and Tunisia. Although, I have to say I found more items made in China than in any other country.
Read: Where Is Ted Baker Made?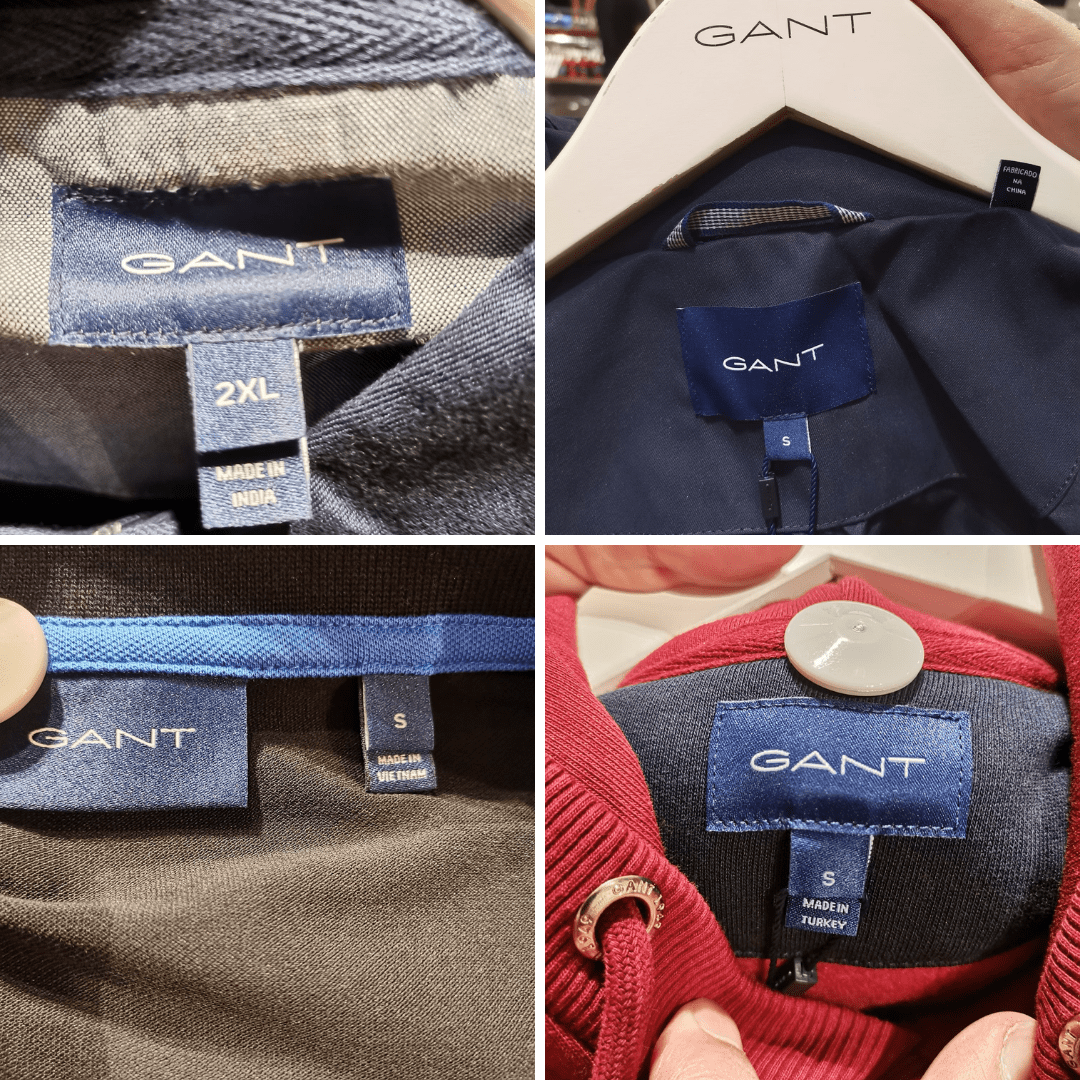 It's not a surprise to see a premium brand manufacturing its products in Asian and African countries since the labor is cheap and the brand can maximize its profit margins.
Read: Where Is Ralph Lauren Made?
I always expect a brand to manufacture some items in its country of origin (in this case, in the US and Sweden), but I couldn't find any products made there.
I didn't check every item in the store (the people working there were already looking at me strangely since I was taking so many pictures), but I don't think I would find many different countries from those on my list.
Is Gant Made In The US?
I am sure some Gant items are made in the US, even if I didn't find any through my research. Brands always manufacture something in their country of origin.
Read: Where Are Diesel Clothes Made?
Let's just check Gant's website.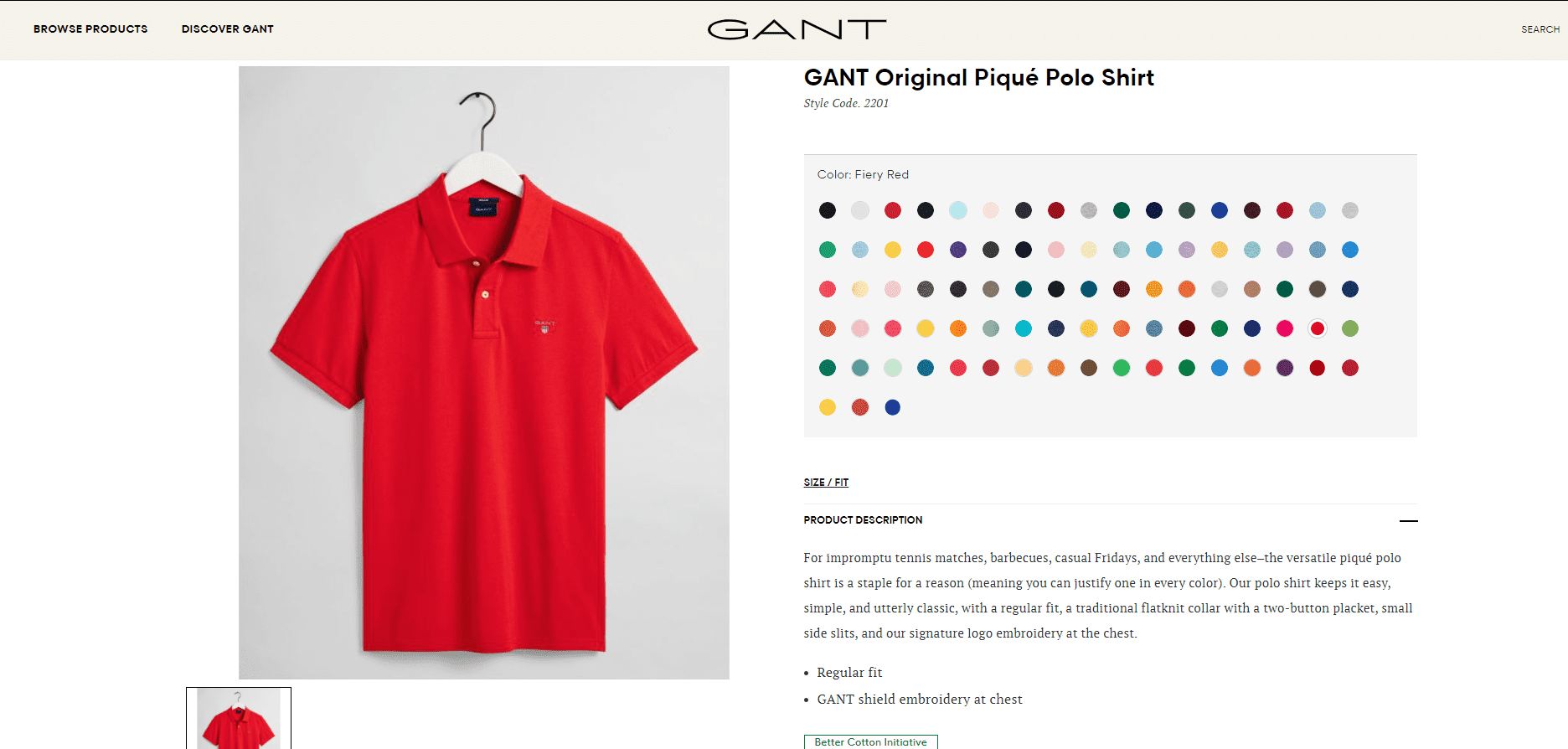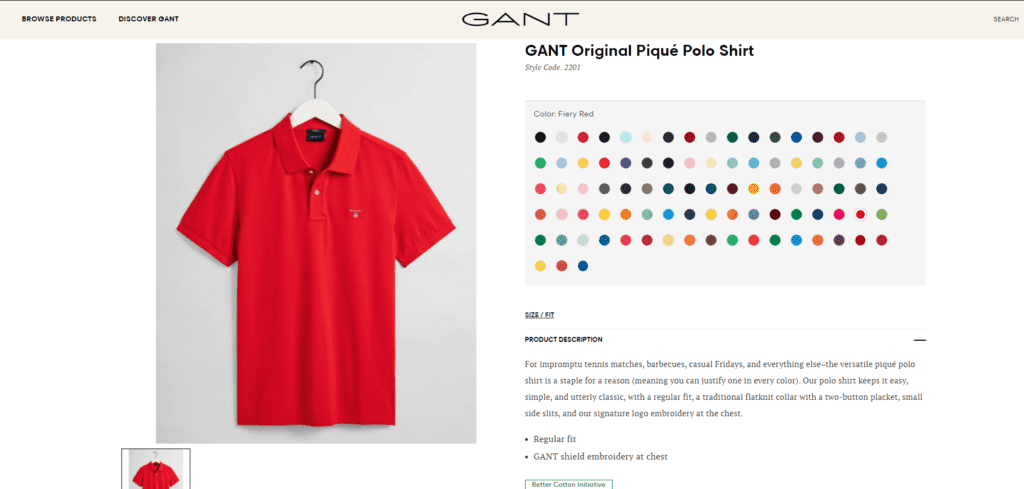 As you can check, Gant doesn't provide any information about where its items are made on its website. I couldn't even find one saying "Made In…" from the hundreds of products I have reviewed.
My experience says that when a fashion brand doesn't say where their products are made, it is because they don't want you to know. In Gant's case, it's because they don't want you to know they manufacture everything in countries like China, Vietnam, or India. After all, people perceived them as low-quality products, and Gant is not a cheap brand.
Read: Where Is Michael Kors Made?
For example, Burberry describes the products as "imported" on its website, but when they are made in Italy, they write "Made in Italy." If Gant products were made in countries like Italy or the US, they would put that in the product description (just my opinion). The same happens with Armani which says what products are manufactured in Italy but not the ones manufactured in Asian countries.
The US legislation requires a clear country of origin for the imported products, and the same happens under EU rules. So when you receive the products, you can check where they are made.
I have the same red polo in the picture above, and it's Made in China (in case you are wondering).
Is Gant Made In Sweden?
This is a common question since the brand is also Swedish. However, I want to believe that a small portion of items is made in Sweden, even if it's only a couple of shirts or polos.
Read: Where Is Belstaff Made?
I didn't find one single item made in Sweden in-store, on the website, or even online.
Is Gant Made In China?
Yes, Gant has many products made in China, from polos to shirts, jackets, underwear, socks, and jeans.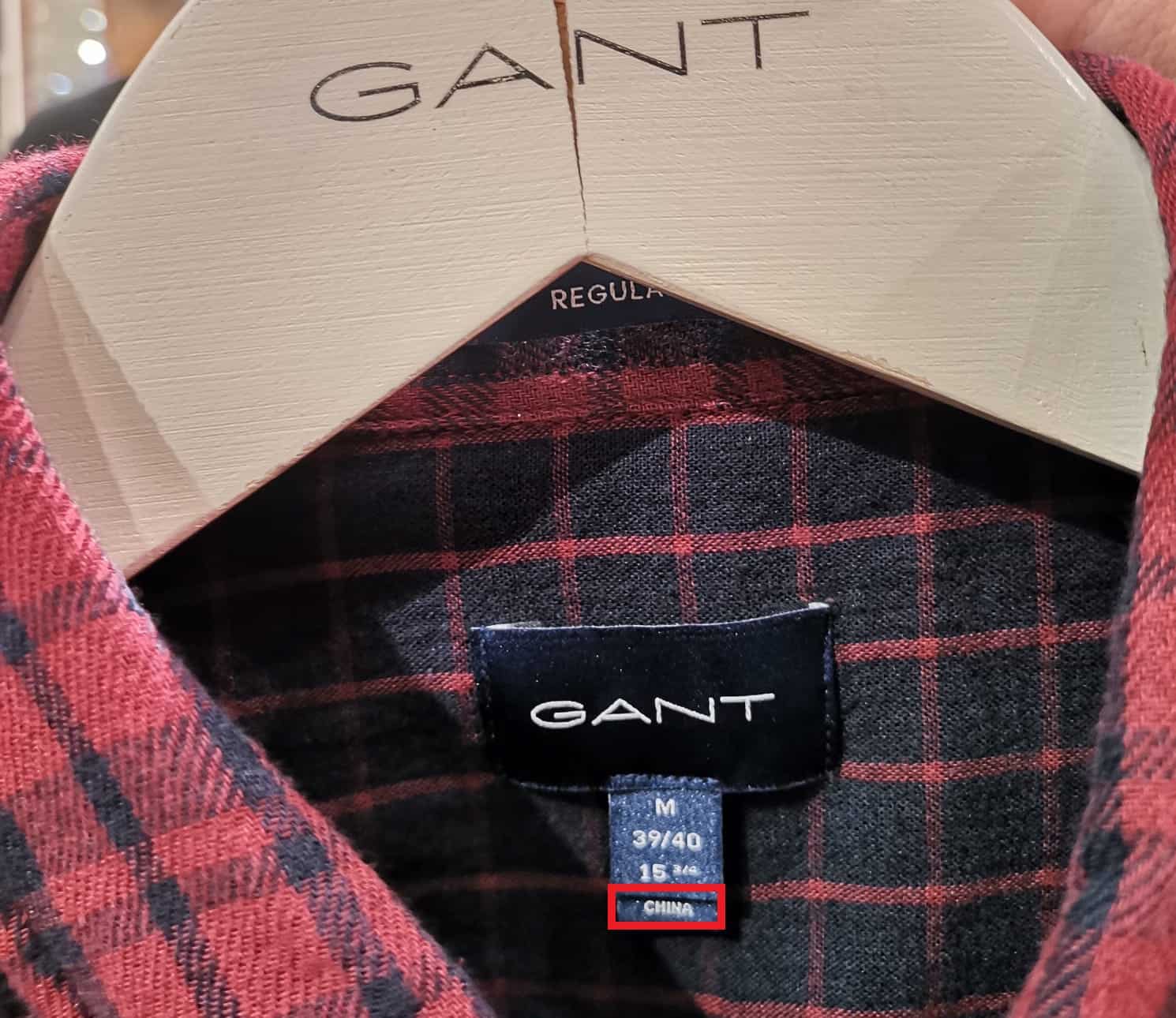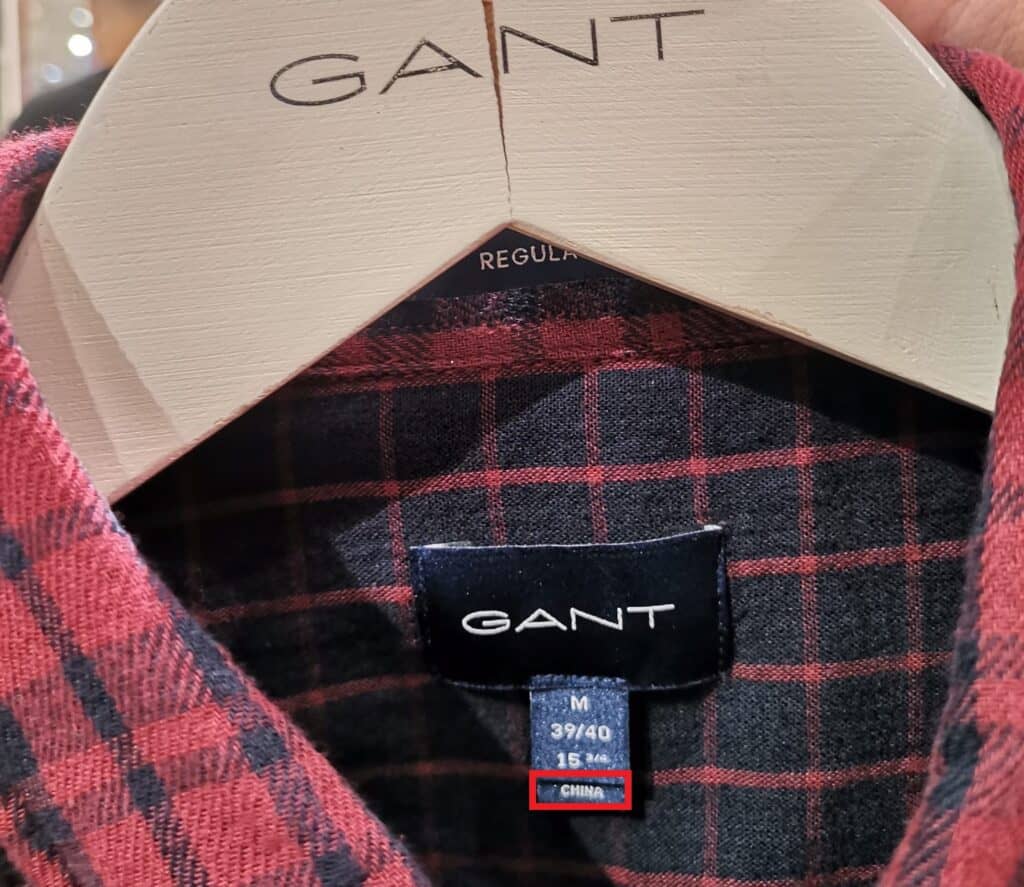 Calvin Klein is one of the only premium brands not afraid of having "Made in China" on its website. I like this kind of transparency when it comes to buying clothing online.
Most consumers need to understand that items manufactured in China are not of bad quality because they are from there. In addition, premium brands have strict quality guidelines that ensure the quality of their products.
Some people had bad experiences with products Made in China with cheaper brands, where the products are manufactured without eyeing quality or people are not trained.
Read: Where Is Lacoste Made?
My experience with premium brands Made in China is excellent, and my clothes often last very long. However, when it comes to cheaper brands with cheap materials, I have to say my experience is not that great. In the end, we all pay for quality when it comes to premium brands.
Conclusion About Where Is Gant Made
Now you can answer the question: where is Gant made? The Swedish American fashion brand clothes are made in many different countries. Some of them are manufactured in China, Vietnam, India, Turkey, Portugal, Morocco, and Tunisia. But, of course, China is the most prominent of all these countries, and we all know that shouldn't be a surprise.
Gant clothing items are not cheap, and for some people, the country of origin can be a deal-breaker if it's not made in Italy, England, the US, or any European country. However, you would be surprised with the quality of some products made in Vietnam, China, or India, at least for premium or luxury fashion brands.
Read: Where Is Hugo Boss Made?
Do you have any Gant clothes or other items? Where is Gant made? Check the labels and share the manufacturing country with me in the comments.