This post may contain affiliate links. That means if you click and buy from that link, I may receive a small commission (at zero cost to you), which helps me maintain the quality of this blog. Please see my full disclosure policy for details.
Belstaff is an English premium brand that became known for its jackets with a certain sporty British elegance, becoming one of the best British Heritage brands in the world. But where is Belstaff made?
These English brand designs are primarily for motorcyclists since the brand became the first to create a motorcycle jacket made from waxed cotton. However, everyone has worn the brand since it became pretty trendy.
To confirm, I have decided to review hundreds of product descriptions on the Belstaff website to verify if the brand lists where the products are made. I also visited the Belstaff store in London, checking multiple items. So let's find out where Belstaff products are manufactured.
Where Is Belstaff Made?
Belstaff is manufactured in Italy, Portugal, China, Turkey, Albania, Vietnam, Slovakia, Bangladesh, Pakistan, India, and Moldova.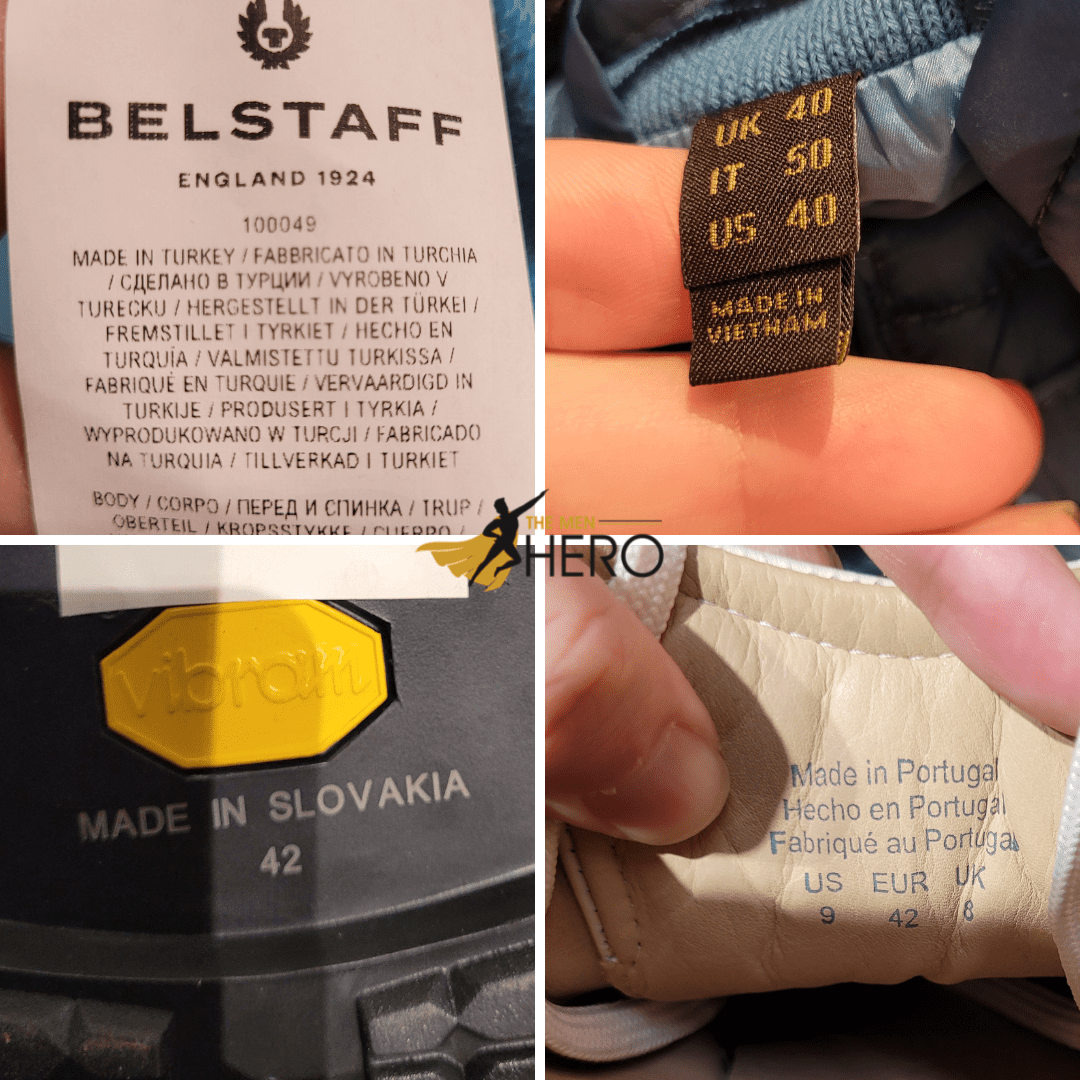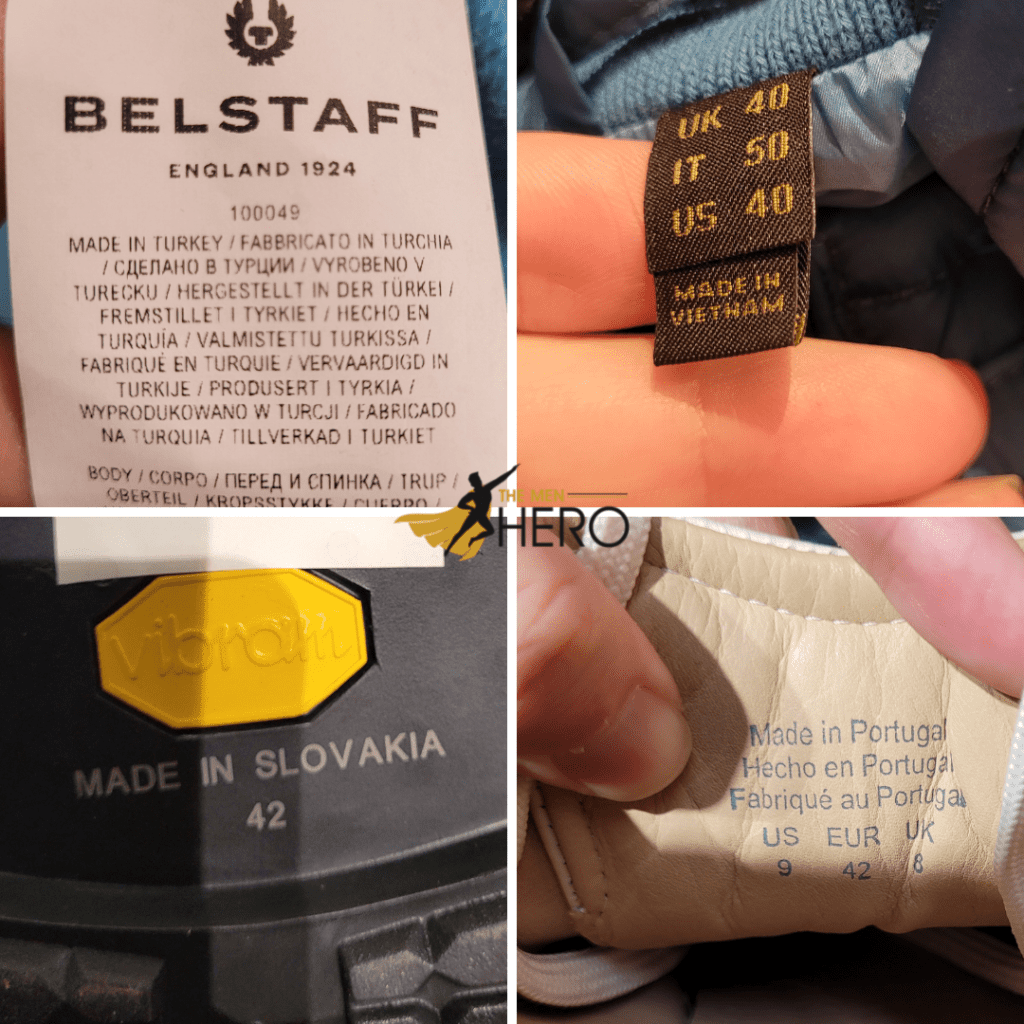 Belstaff doesn't list where its products are manufactured on the product descriptions on its website. Even if Belstaff manufactures quite a lot in Italy, the brand also makes products in many different countries that some customers may not approve of. Premium brands like Ralph Lauren, Hugo Boss, Tommy Hilfiger, Reiss, Diesel, and Lacoste adopt the same strategy and don't provide any information on their website about where the manufacturing happens.
Read: Difference Between Tommy Hilfiger And Tommy Jeans
Some premium labels like Fred Perry, Ted Baker, and Michael Kors only state the countries of origin if the products are manufactured in Italy, France, or the UK. However, these brands don't say if the items are made in China or other countries perceived as low-quality manufacturing. At least Belstaff is consistent with the information on its website. The English label doesn't say anything about the goods made in China, Albania, or Moldova, but it also doesn't brag about the ones manufactured in Italy.
However, don't worry if you purchase a Belstaff jacket or any other item online. You can still find the country of origin when you receive the product. This is because the EU and US legislations require the brands to tell the country of origin for any imported products when it comes to physical goods.
Most Belstaff products I checked in-store were manufactured in Italy and China. However, I have to say that I found quite a bit of Belstaff products made in different countries, which I find really clever. These will prevent any disruptions in manufacturing if something happens to a country or factory.
Read: Where Is Armani Made?
I checked many different products and styles in-store as I could to ensure I had the most countries possible. However, some stores in other cities and countries sell various products that I didn't have access to it. So Belstaff probably manufactures in some other countries that we don't know, but if I had to guess, I would say that over 70% of Belstaff products are made in Italy and China.
Is Belstaff Made In The UK?
No, Belstaff is no longer manufactured in the UK.
When Belstaff was founded, the brand manufactured most of its products, if not all, in the UK. The brand owned a manufacturing site in Longton in 1924 and opened another one in Silverdale in 1953. The brand closed both factories in the 1990s, being affected by the textile crisis, and moving the manufacturing to other countries.
Read: Where Are Levi's Made?
In-store I have easily checked over fifty different Belstaff products and styles labels. I didn't find one Belstaff item with the made in the UK tag. I couldn't find any information about the brand occasionally manufacturing in the UK, and I don't believe it happens anymore due to the higher price costs.
Is Belstaff Made In Italy?
Yes, many Belstaff products are manufactured in Italy.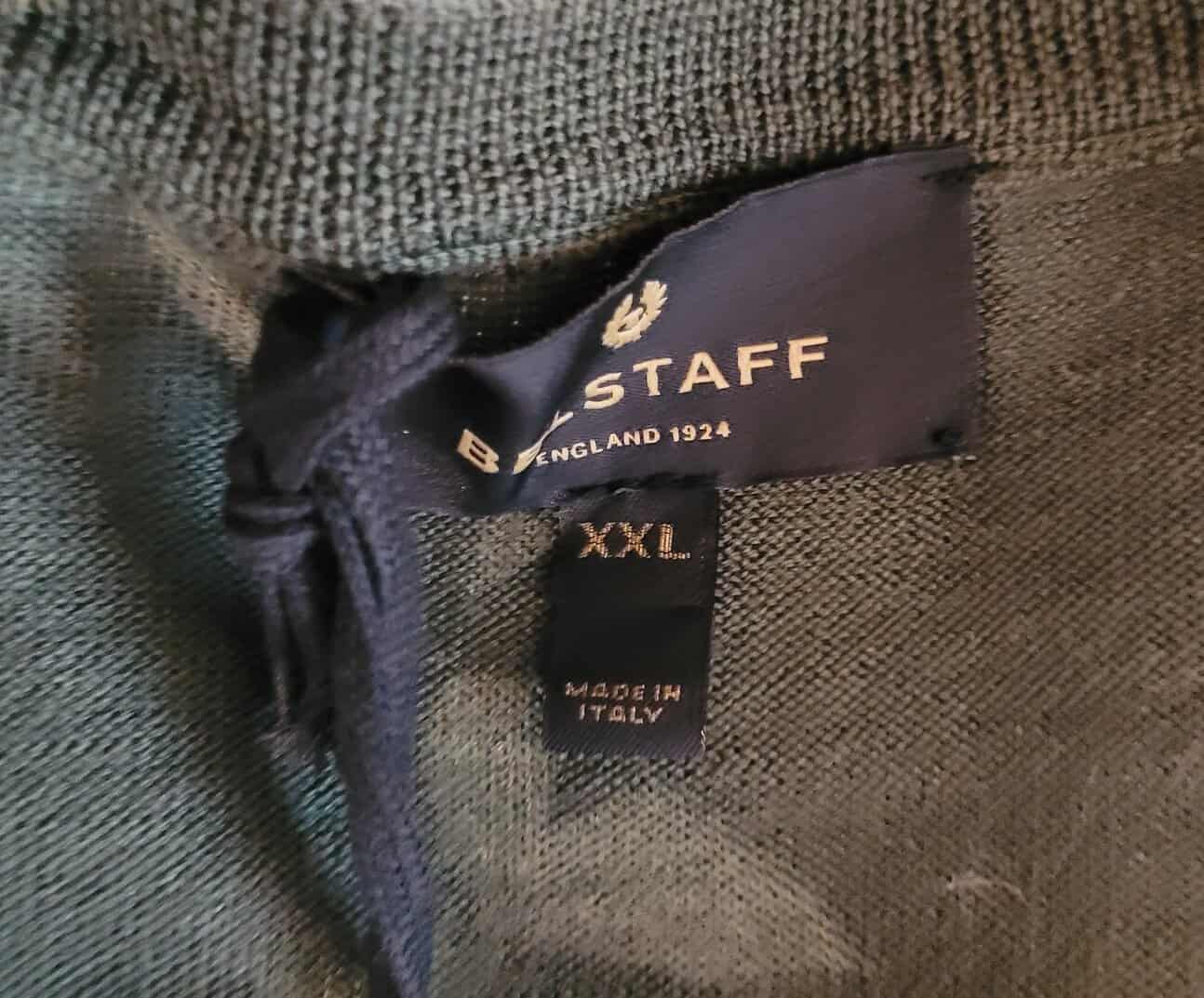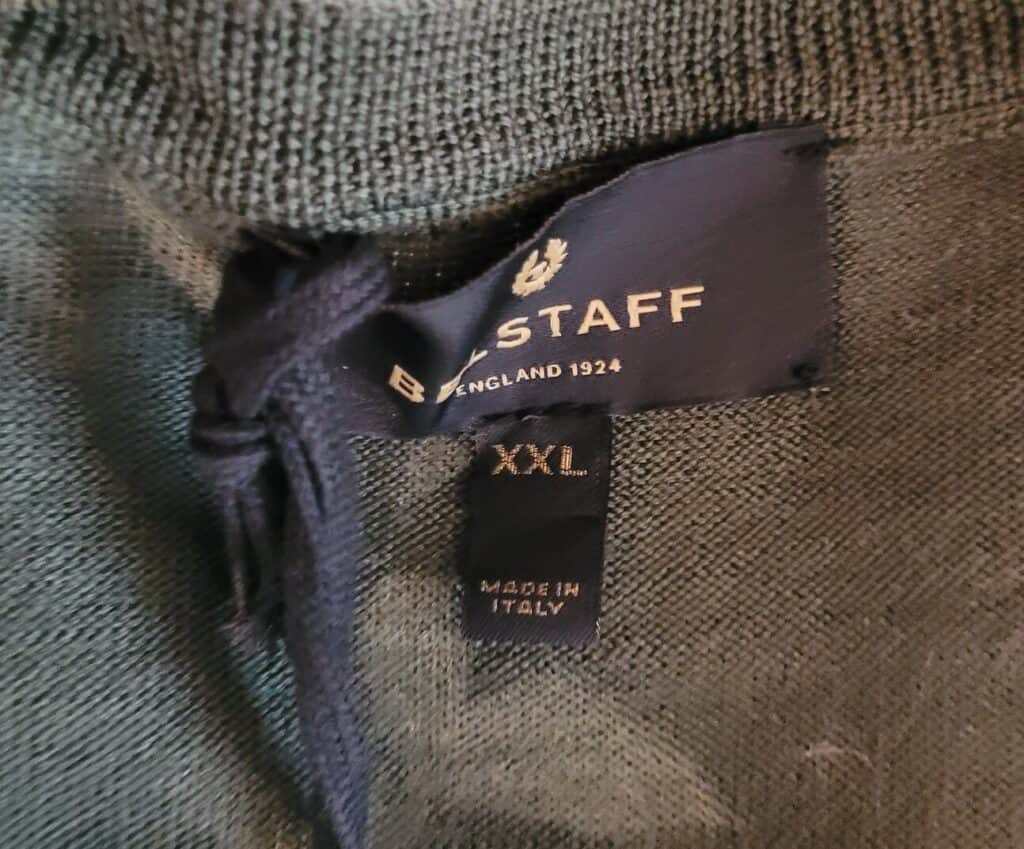 Unfortunately, I can't say precisely where Belstaff manufactures its products in Italy because I didn't find any information about it. However, it's probably in the North of Italy since it's where most fashion labels manufacture.
Read: Where Is Karl Lagerfeld Made?
When checking Belstaff items in-store, I found many with the made-in-Italy tag. Apparel, including the brand's trendy leather jackets, are made in Italy. I have also seen some Belstaff shoes made in Italy.
It's not a surprise to see Belstaff being made in Italy, but considering this is a premium label and not a luxury one, it can definitely be a shock for some shoppers. Manufacturing in Italy is a lot more expensive than in Asian countries, which can justify that some Belstaff products are a lot more costly than others.
Is Belstaff Made In China?
Yes, some Belstaff products are manufactured in China.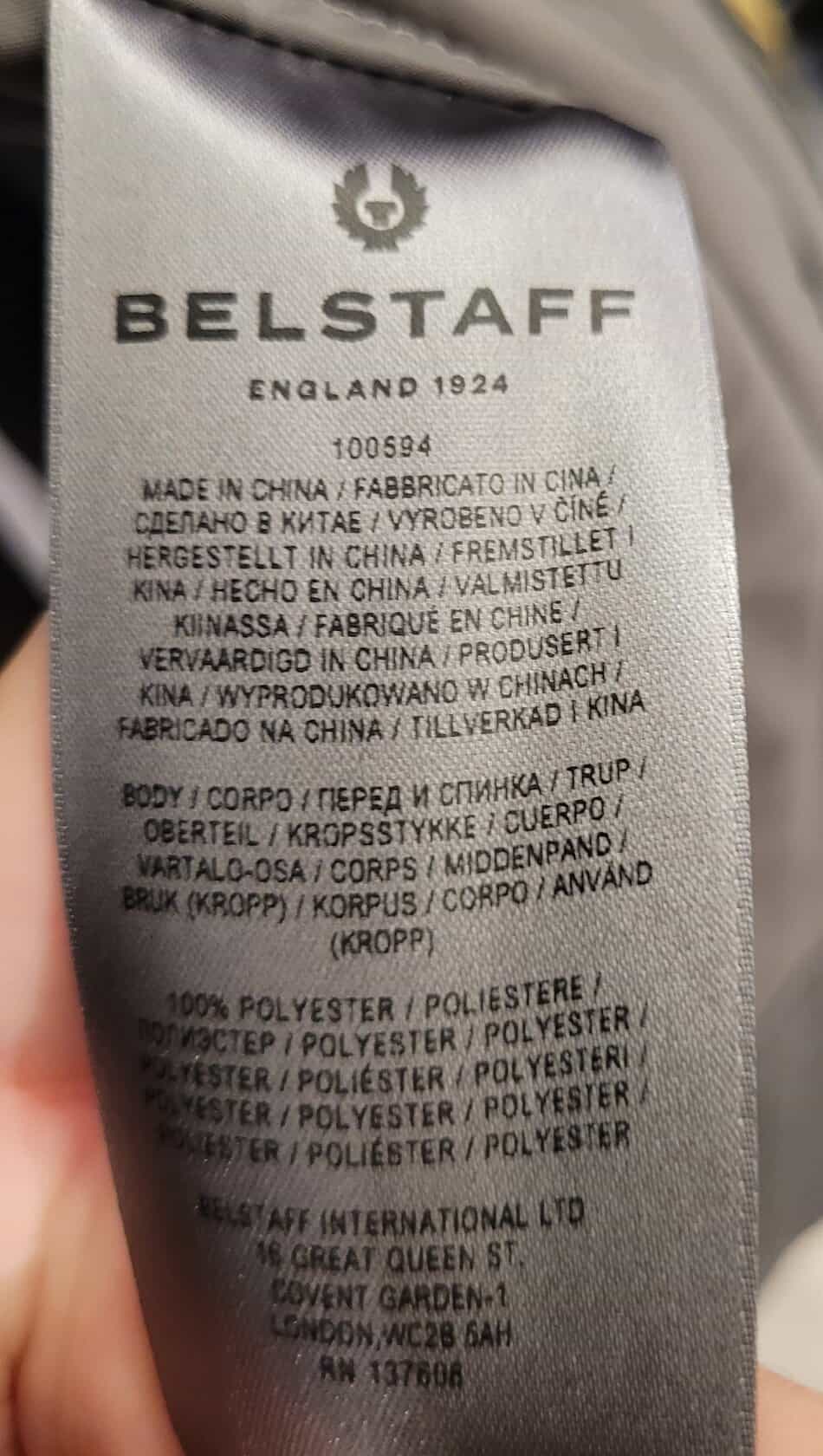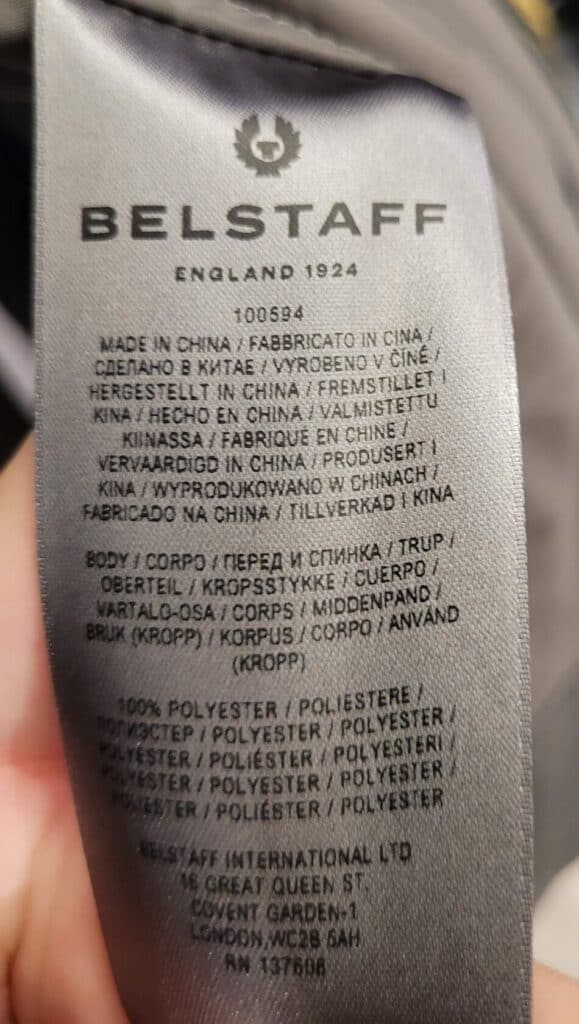 Almost every single premium brand manufactures in China. Even some luxury labels like Burberry and Balenciaga do it. Belstaff understands that manufacturing in China increases the brand's profit and reduces some production costs. Unfortunately, I didn't find precisely where Belstaff manufactures in China.
In-store China was one of the two countries I found the most on the labels of Belstaff products (the other one was Italy). This doesn't mean that Belstaff products manufactured in China are inferior quality or flawed since this is a premium fashion brand, and it has some quality standards that are in place to ensure the quality of its products.
Common Questions About Where Belstaff Is Made
These are the most common questions about where Belstaff is made.
Where Are Belstaff Jackets Made?
Belstaff jackets are manufactured in Italy, Albania, China, India, and Vietnam. These were all the countries I found when checking Belstaff jacket labels in-store.
Is Belstaff Made In Portugal?
Yes, Belstaff is manufactured in Portugal. When checking Belstaff products in-store, I found shoes and some apparel with the made in Portugal tag.
Is Belstaff Made In Albania?
Yes, Belstaff is manufactured in Albania. When checking Belstaff products in-store, I found quite a few items made in Albania, like jackets and some other apparel, which was a surprise.
Conclusion
Where is Belstaff made? Mostly in Italy and China, but you can expect some products manufactured in Portugal, Turkey, Albania, Vietnam, Slovakia, Bangladesh, Pakistan, India, and Moldova.
I know some people hope Belstaff manufactures again in England one day, but due to the high cost of manufacturing in the UK compared to Asian countries, I find it difficult. However, since the brand manufactures in Italy, for many, the best manufacturer when it comes to fashion, never say never about the brand going back to its origins.