This post may contain affiliate links. That means if you click and buy from that link, I may receive a small commission (at zero cost to you), which helps me maintain the quality of this blog. Please see my full disclosure policy for details.
Ted Baker is a British premium brand that is very popular in England, especially if you are looking for a contemporary men's shirt. However, the question you have is: where is Ted Baker made?
I have never been too keen on Ted Baker like I have with Hugo Boss, Tommy Hilfiger, or Gant, but I did have a shirt from them since one of my friends always spoke about the British label. But was my Ted Baker shirt made in England?
Just because Ted Baker is English doesn't mean all the manufacturing is in England. The "No Ordinary Designer Label" offers a range of collections manufactured worldwide.
To confirm, I have decided to review hundreds of product descriptions on the Ted Baker website to verify if the brand lists where the products are made. I also visited a couple of Ted Baker stores and some stores that sell Ted Baker products, checking multiple items. So let's find out where Ted Baker is manufactured.
Where Is Ted Baker Made?
Ted Baker is manufactured in the UK, China, India, Turkey, Portugal, Romania, Bulgaria, Germany, Indonesia, Italy, Lithuania, Moldova, Morocco, Peru, Spain, Philippines, Taiwan, Tunisia, Vietnam, Bangladesh, Cambodia, Frace, Egypt, Hong Kong, Netherlands, Pakistan, Sri Lanka, and Thailand.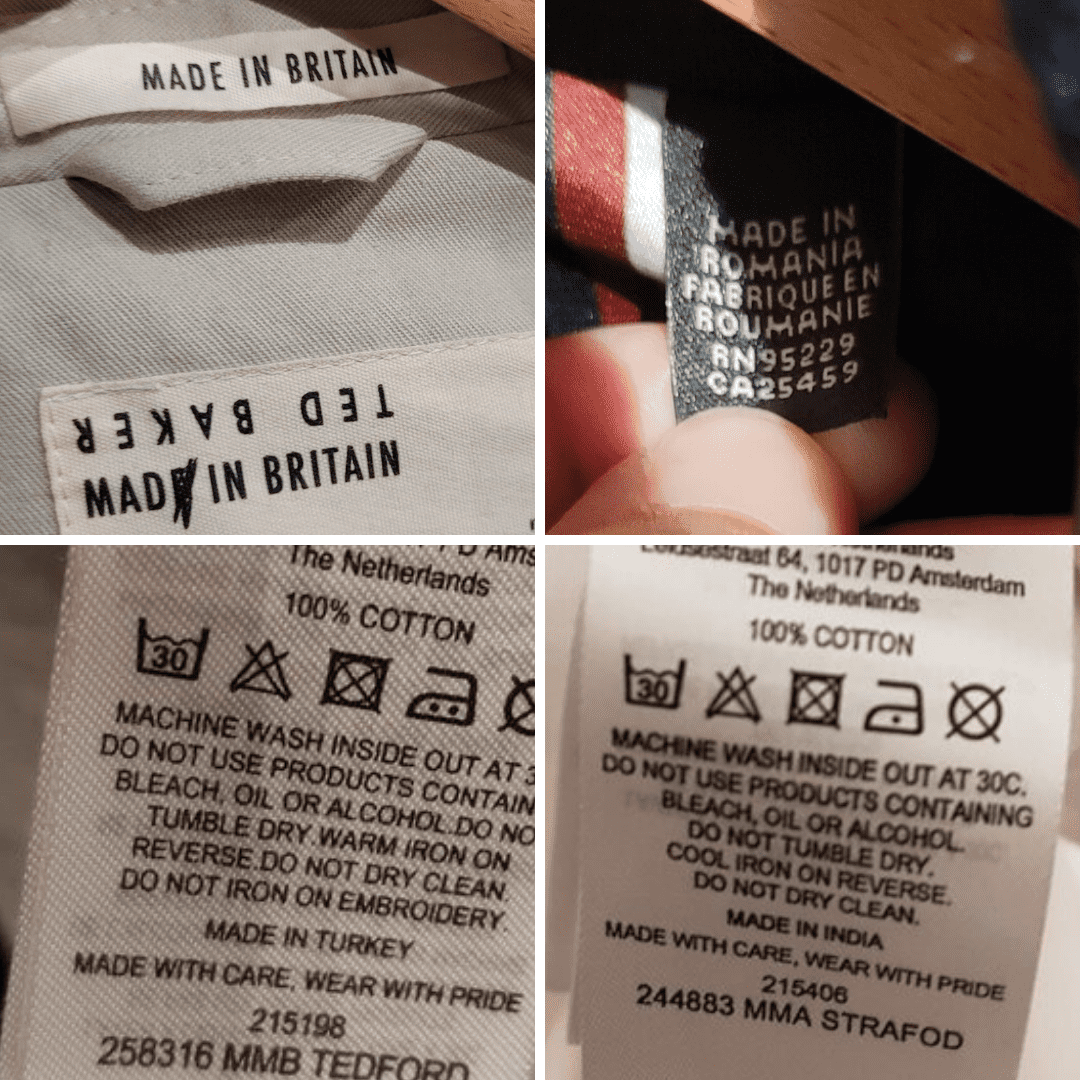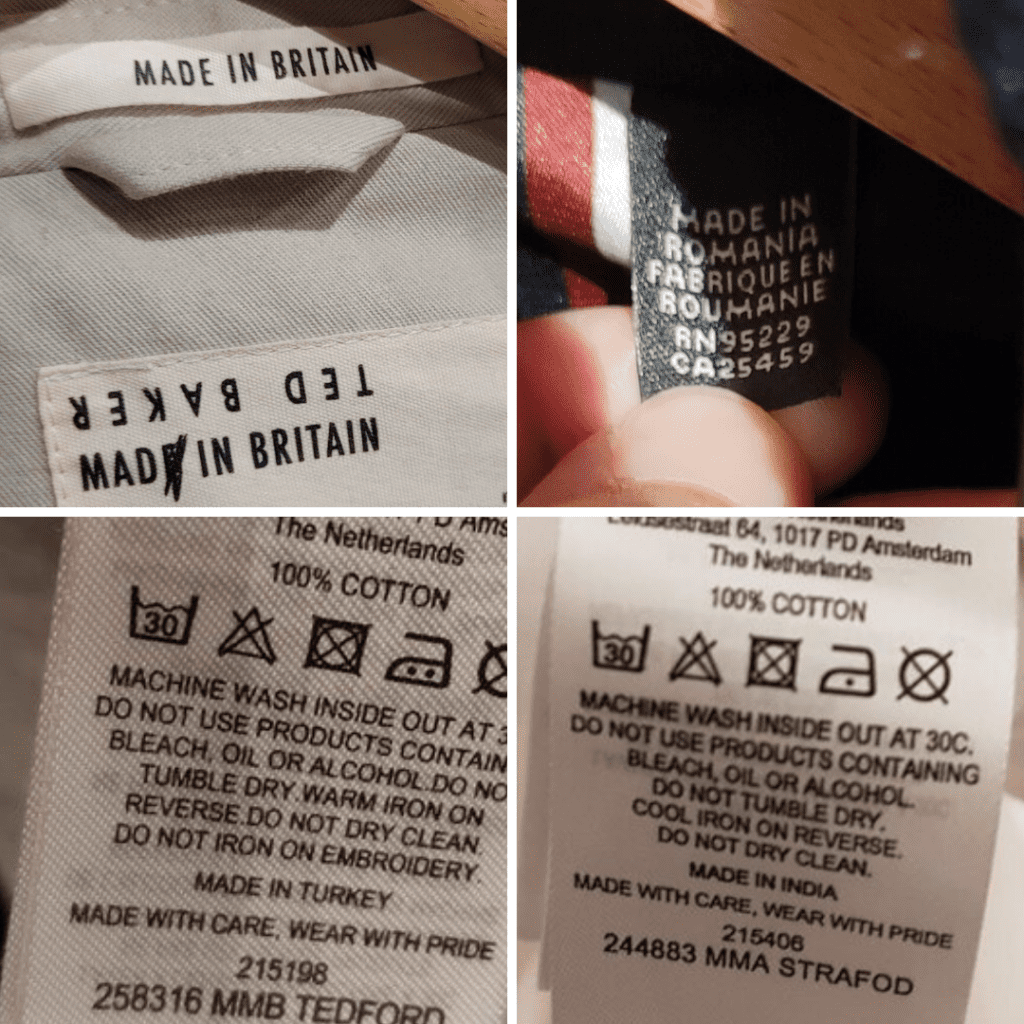 Ted Baker doesn't list where its products are manufactured on the product descriptions on its website unless the goods are made in Britain. I always find it disappointing when a brand does this. Other brands like Doc Martens, The North Face, Versace, and Timberland also only indicate the country of origin that is most convenient.
Why would Ted Baker state that some products are manufactured in Britain but forget those made in China or India? That's because Ted Baker wants to be perceived as a British brand that manufactures in the UK. However, when I checked the Made In Britain collection on its website, many products don't state where they are made, which is very confusing. Something Ted Baker can improve for sure.
Read: Where Is Hugo Boss Made?
People tend to believe that products made in Europe are better than those made in Asia. Sometimes that's true, and other times that's completely false. That's another reason why Ted Baker doesn't state the countries in the product description since a lot of them are manufactured in Asia.
Let me also say that Ted Baker provides a list on its website of the countries (all the ones I mentioned above) the brand sources directly and the ones the brand works indirectly through global licensee partners that manage their own supply chains.
When checking Ted Baker goods in-store, I found items manufactured in the UK, China, Portugal, India, Turkey, Spain, Romania, and Vietnam. I definitely missed some countries since I didn't check every single product in all these different stores.
Read: Where Are Zara Clothes Made?
Also, if you are curious to know where a product is made, but the website doesn't provide that information, you can always check the label when you receive the physical product. The US and EU legislation requires brands to indicate the country of origin of any goods.
Is Ted Baker Made In Britain?
Yes, some Ted Baker products are manufactured in Britain.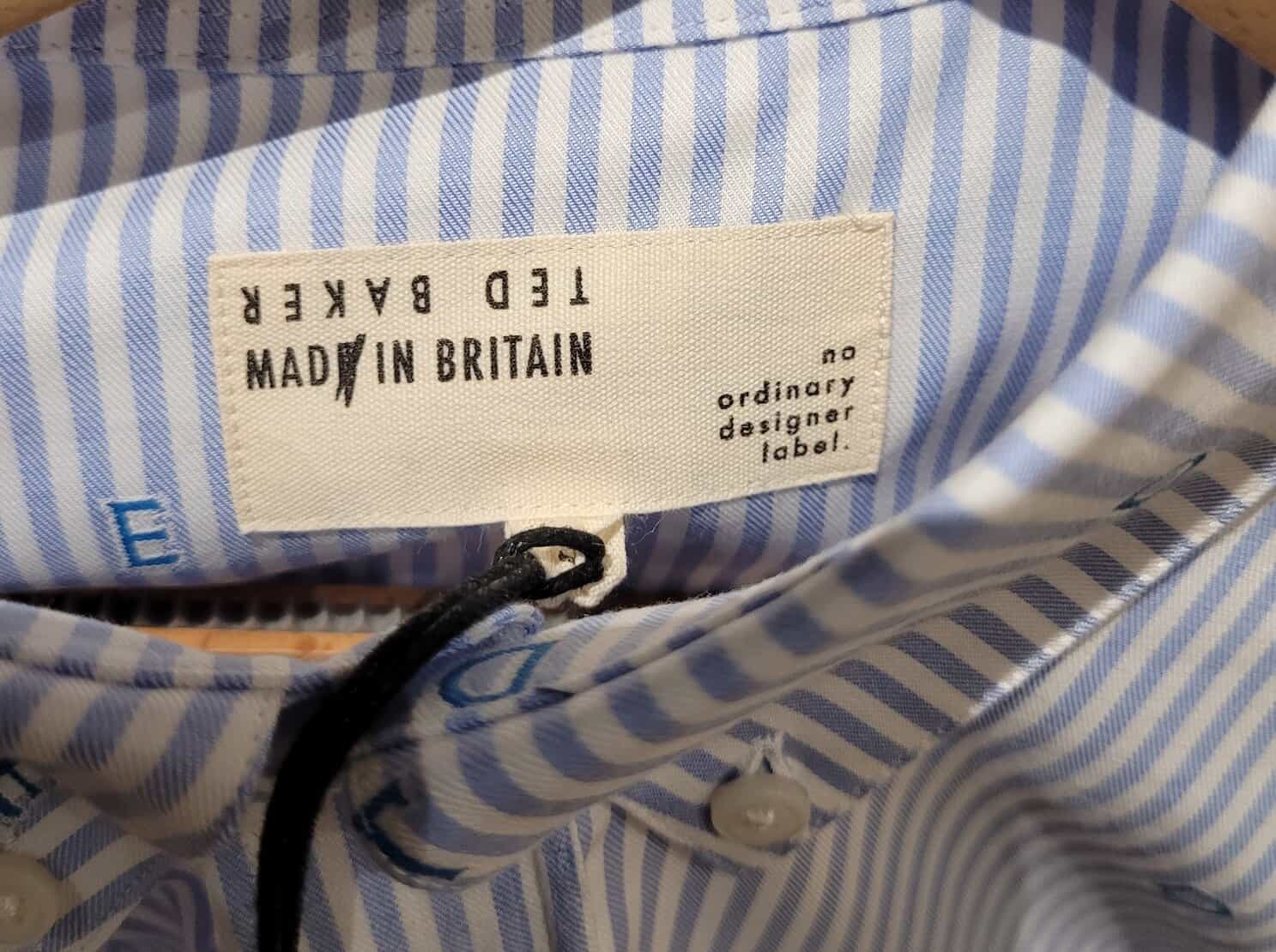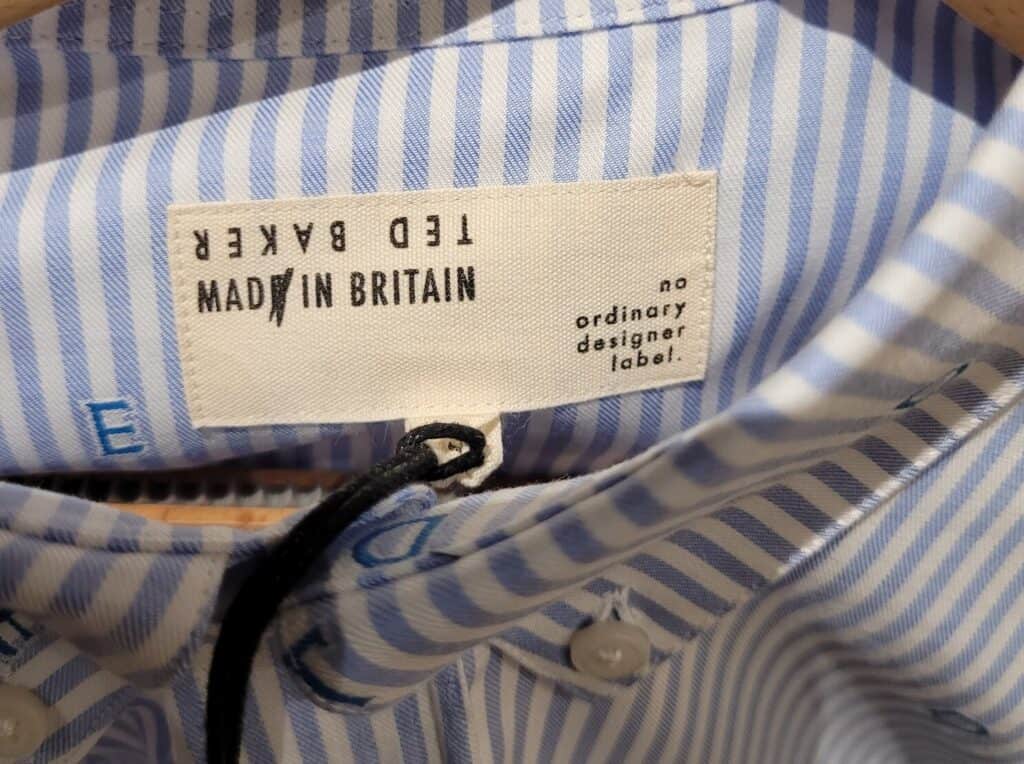 Many consumers have the idea that Ted Baker is manufactured in England, at least that's what some declare in some forums. So they feel disappointed when they don't see a "Made in England" label.
As a response, Ted Baker decided to launch a made in Britain collection with four statement drops a year. Ted Baker considers the MIB collection a range of premium products closer to what the company thinks is contemporary luxury fashion.
Read: Where Is Ralph Lauren Made?
The made in Britain collection can be more expensive when compared with the none made in Britain products. However, I have checked on the Ted Baker website, and some items from the MIB collection are not that expensive. I also have to say that the most costly Ted Baker items belong to this collection, so you have a very flexible price range.
To homage the traditional Great British manufacturing, all Ted Baker items manufactured in England take place in London and Leicester. However, the British label also manufactures some non-apparel items in Scotland.
Read: Where Is Fred Perry Made?
Is Ted Baker Made In Portugal?
Yes, Ted Baker manufactures apparel and non-apparel products in Portugal.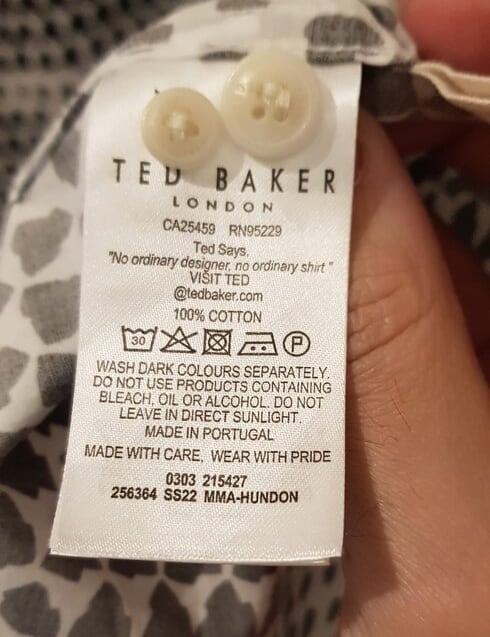 Since I am Portuguese, I always become thrilled when I see a brand manufacturing in my country. I am not even surprised by this since many brands also manufacture there, including some luxury ones like Dior, Tom Ford, Kenzo, Balenciaga, and Balmain.
Portugal is not as cheap as other countries like China or Vietnam but is definitely not as expensive as England or Italy. Also, the quality of the garments manufactured in Portugal is excellent. Portuguese craftsmanship is considered one of the best globally.
Read: Where Is Calvin Klein Made?
In a way, manufacturing in Britain and Portugal is how Ted Baker moves away from low-cost mass production to focus on quality and design. This can increase its prices to become more exclusive.
Is Ted Baker Made In China?
Yes, Ted Baker manufactures apparel and non-apparel products in China.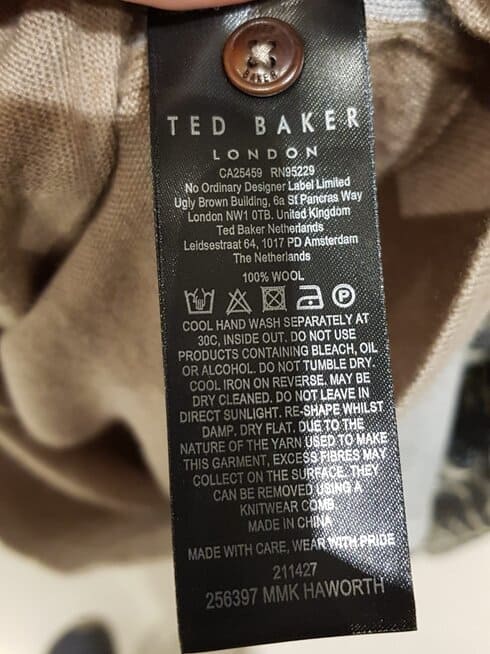 I have found many Ted Baker products in-store manufactured in China, which is not surprising for me since I have seen many British labels (and non-British) outsourcing most manufacturing to Asia countries, especially China.
Read: Where Is Ralph Lauren Made?
Ted Baker is not crazy expensive, and it's affordable for a larger amount of consumers than luxury brands are. In addition, production in China is a lot cheaper than in European countries since the materials, labor, and warehouse costs are much cheaper. Therefore, it's easier to understand why Ted Baker outsources a lot of its manufacturing to China.
Many fashion brands have been shifting manufacturing from China to other countries like Vietnam, Thailand, and Indonesia, but that doesn't seem to be the case with the English label. It may be because Ted Baker has many manufacturing sites in different countries, and it's not so dependent on China.
Read: Where Is Belstaff Made?
Common Questions About Where Is Ted Baker Made
These are the most common questions about where is Ted Baker made.
Are Ted Baker Shoes Made In China?
Yes, some part of Ted Baker footwear is manufactured in China, but I also found some shoes made in Vietnam in-store.
Is Ted Baker Made In London?
Yes, part of the made in Britain collection is manufactured in London, England.
Read: Where Is G-Star Raw Made?
Where Are Ted Baker Suits Made?
Ted Baker suits can be manufactured in Italy, Portugal, or China.
Where Are Ted Baker Bags Made?
All the Ted Bakers bags I have found in-store were manufactured in China.
Who Makes Ted Baker Watches?
Ted Baker watches are designed and manufactured by the Timex Group.
Is Ted Baker Made In Turkey?
Yes, some Ted Baker products are manufactured in Turkey. I have found t-shirts and shirts made in Turkey when checking in-store.
Conclusion On Where Is Ted Baker Made
Where is Ted Baker made? It depends since the English label has a vast number of countries manufacturing its products, directly or indirectly. I always like to see fashion brands producing in their country of origin, so I am glad to see Ted Baker creating a made in Britain collection.
Read: Where Is Karl Lagerfeld Made?
Even though Ted Baker predominantly manufactures in Asian countries, and the prices of its products are not the cheapest on the market, remember that the English label has strict quality control guidelines in place to ensure that you only have access to the best products.