This post may contain affiliate links. That means if you click and buy from that link, I may receive a small commission (at zero cost to you), which helps me maintain the quality of this blog. Please see my full disclosure policy for details.
Calvin Klein is an upper-middle American brand that almost every man loves, but where is Calvin Klein made? The brand belongs to the American group PVH group, which owns brands like Tommy Hilfiger, Arrow, Van Heusen, and Olga by Warner.
I guarantee that if you are a guy, you have worn Calvin Klein underwear at least once in your life, and if you didn't, you know someone who did. This is because they are comfortable, look sexy, and bring some status among men.
Read: Why Is Calvin Klein So Expensive?
I have checked hundreds of product descriptions on Calvin Klein's website to verify if the brand lists where the products are made and researched a lot online to bring these conclusions to you in this article. Let's find out where Calvin Klein is manufactured.
Where Is Calvin Klein Made?
Calvin Klein is made in many different countries, depending on what you buy. It's made majority in China. Calvin Klein's website mentions other countries: Sri Lanka, Vietnam, Italy, Romania, Cambodia, Indonesia, India, Tunisia, Turkey, Kenya, and Bangladesh.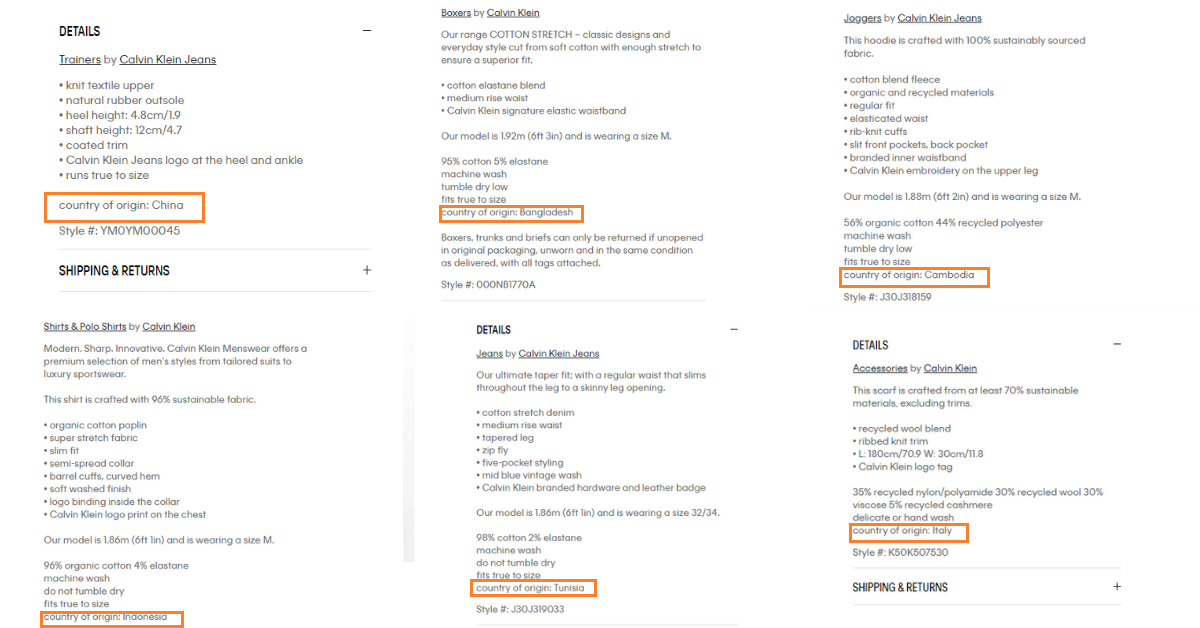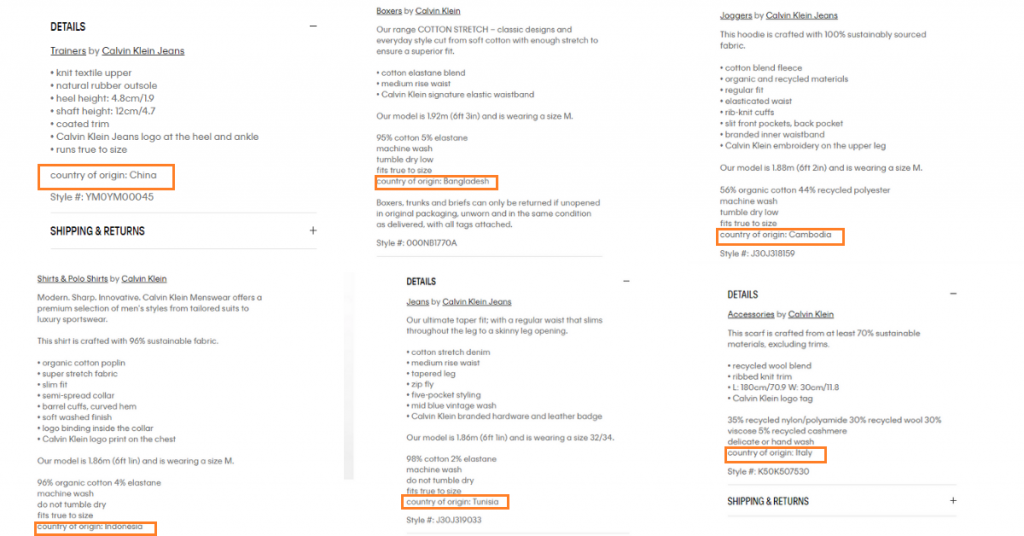 Many products on the website have no information about where they are made, so till you order them and check the physical label, it's challenging to be 100% sure.
Read: Where Is Hugo Boss Made?
To make it easy for you, this is what I have found in my research of hundreds of different Calvin Klein products for men and women:
No Country – Every single category.
China – Every single category.
Sri Lanka – Pyjamas, Bikinis, Menswear and Womenswear
Vietnam – Shoes, Menswear, and Womenswear.
Italy – Some Scarves
France – Some Perfumes
Romania – Some Belts
Switzerland – Watches
Cambodia and Indonesia – Menswear and Womenswear.
India – Sweatshirts and T-shirts
Turkey and Tunisia – Jeans
Kenya and Bangladesh – Underwear
Now, I didn't check every single item on Calvin Klein's website, so the possibility that I have missed some countries is real. I also checked other websites that sell Calvin Klein, but they barely had any information about the country of origin.
Read: Where Is Ralph Lauren Made?
Is Calvin Klein Made In The US?
Calvin Klein is not made in the US, except for some perfumes for women and men.
I couldn't find any information about where the Calvin Klein fragrances are made, except this forum and the colognes my brother used before (I offer him Calvin Klein, from time to time on his birthday). So some perfumes are made in the United States, and others are made in France.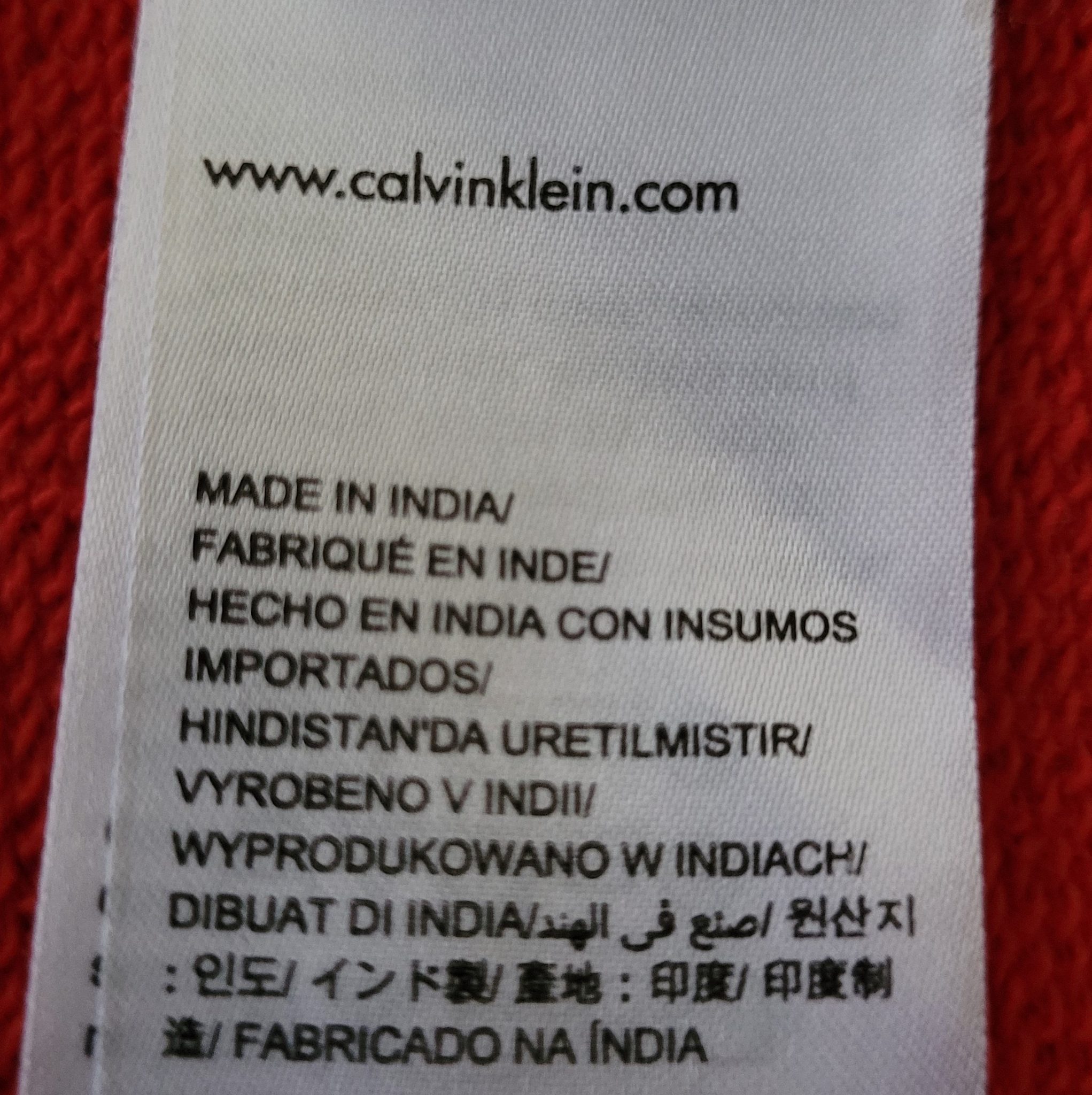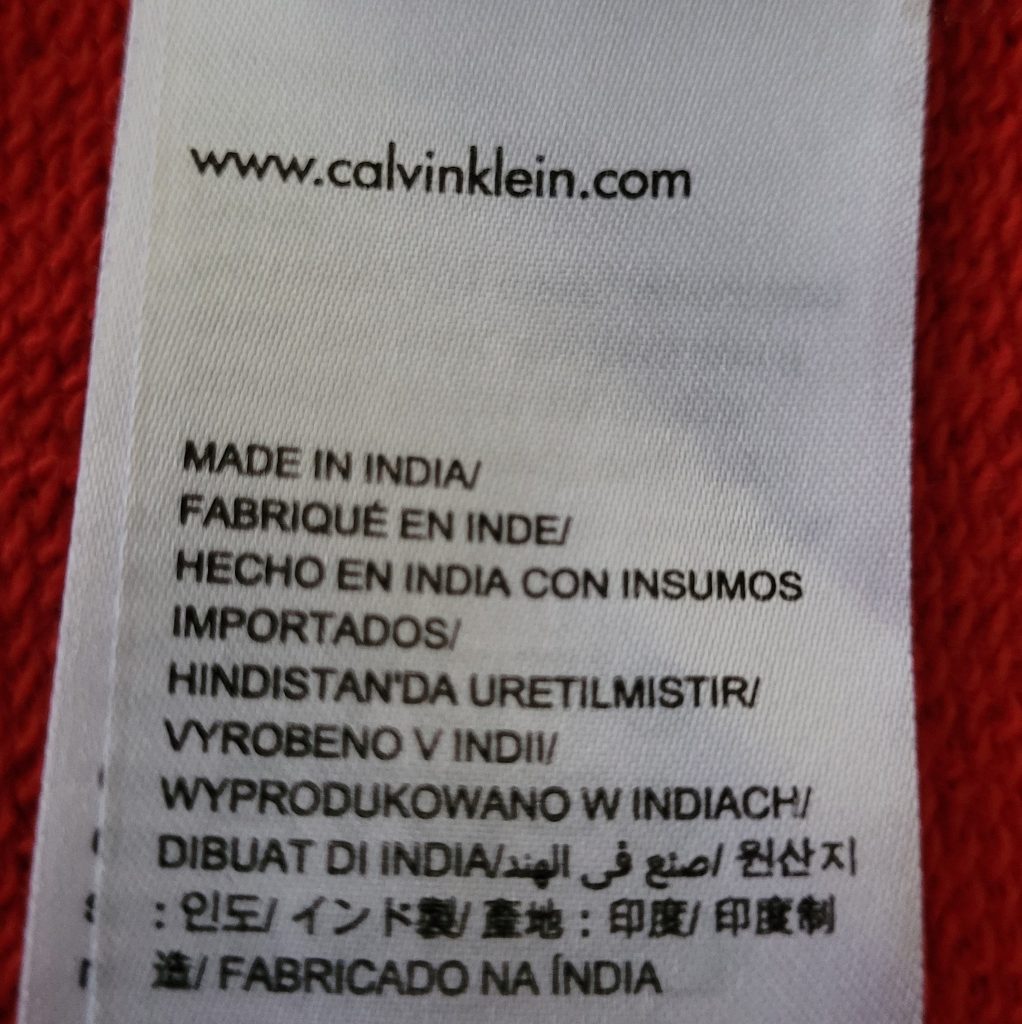 When I visited New York City, I shopped in Macy's and bought two Calvin Klein t-shirts and one jacket. Both of them said, made in India, as shown in the picture.
Remember all those products on Calvin Klein's website that don't say the product's country of origin? I thought they might be produced in the US, but why would the brand not brag about that? Why would they put made in China but not made In the USA?
Read: Why Is Tommy Hilfiger So Expensive?
I have decided to order a T-shirt and a pair of boxers, both of which say made in China, so I guess the company only produces some of its perfumes in the US.
I have seen some clothes with made in the US tags, but none of those websites seemed legit to me, so I didn't consider them as original Calvin Klein items.
Is Calvin Klein Made In China?
Yes, Calvin Klein produces a lot of its products in China.
What I like about Calvin Klein is the transparency on its website. The brand is not afraid to tell people where their products are manufactured, including China, even if they have many products without the country of origin. For example, when I researched where Burberry is made, the brand never mentioned China on its website because it wants to sell luxury and British-made.
Read: Difference Between Tommy Jeans VS Tommy Hilfiger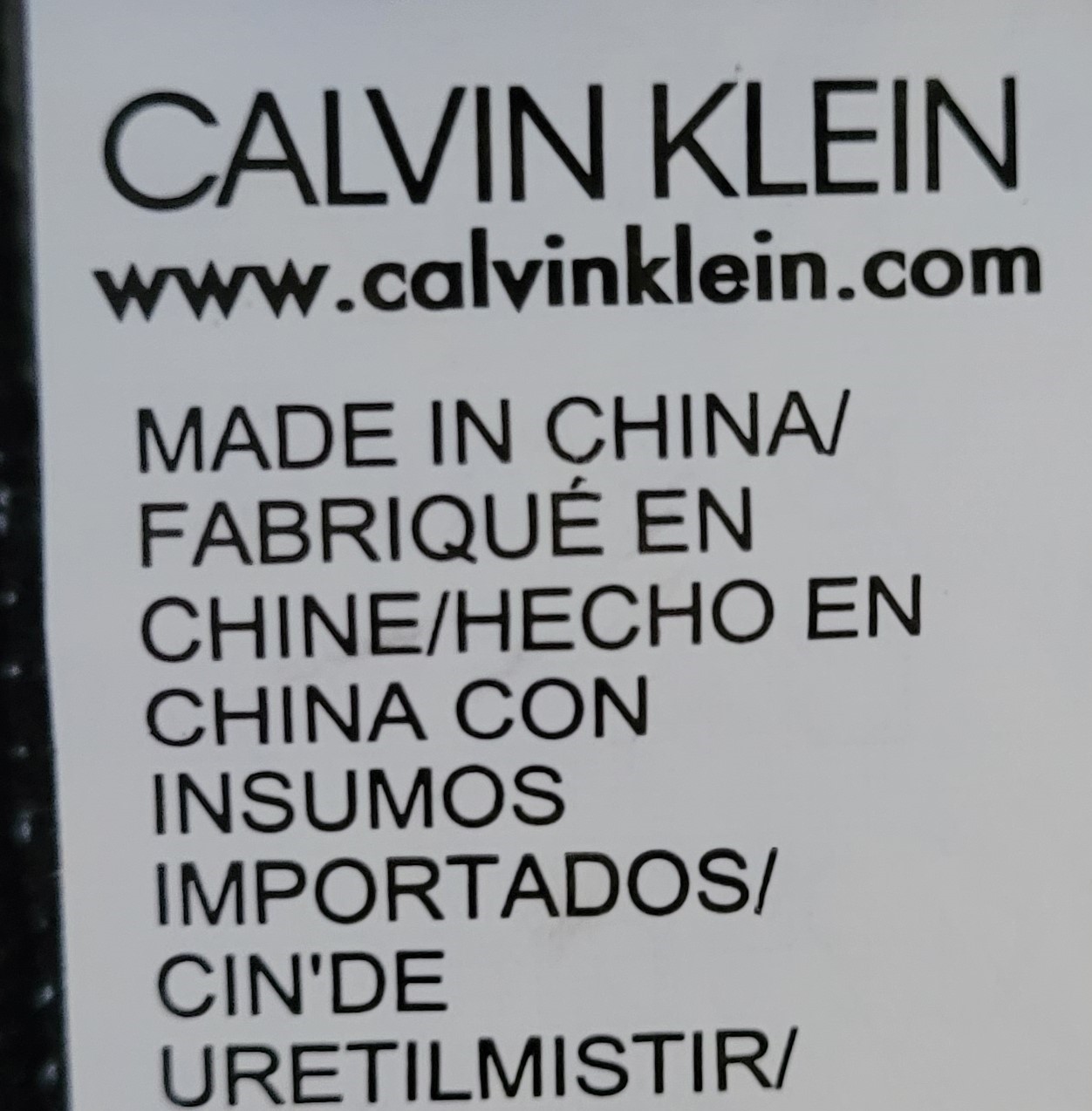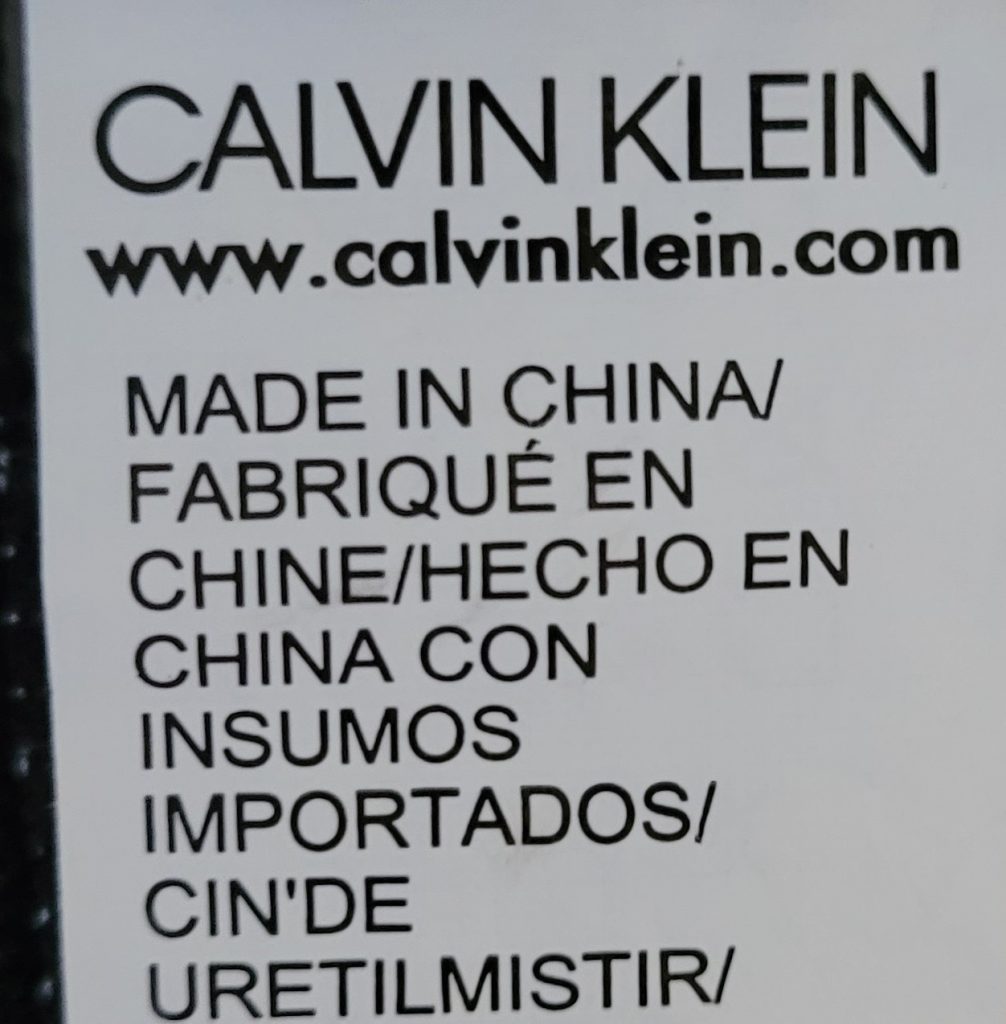 All the Calvin Klein items (underwear, swimming shorts, and socks) I bought in the UK are made in China. You can also check a picture of my Calvin Klein shorts below.
Read: Where Is Belstaff Made?
The US and EU legislation requires countries to indicate the country of origin of the products, so you will always find out if the product is made in China or another country.
Just because it's made in China doesn't mean it's low quality. These brands have specific quality guidelines these warehouses need to follow. They also have a quality process the items need to pass to be sold since the brand wants to protect its public image. Keep that in mind.
Calvin Klein Origin From Other Countries
You know by now that Calvin Klein's origin can be in different countries like Sri Lanka, Vietnam, and Cambodia in Asia, and even European countries like Italy, France, or Romania.
Read: Best Hugo Boss Perfume For Men
Many brands are starting to manufacture their products in Africa to avoid some Asian countries' uncertain times. For example, Calvin Klein produces some garments in Kenya and set up a factory in Ethiopia in 2016.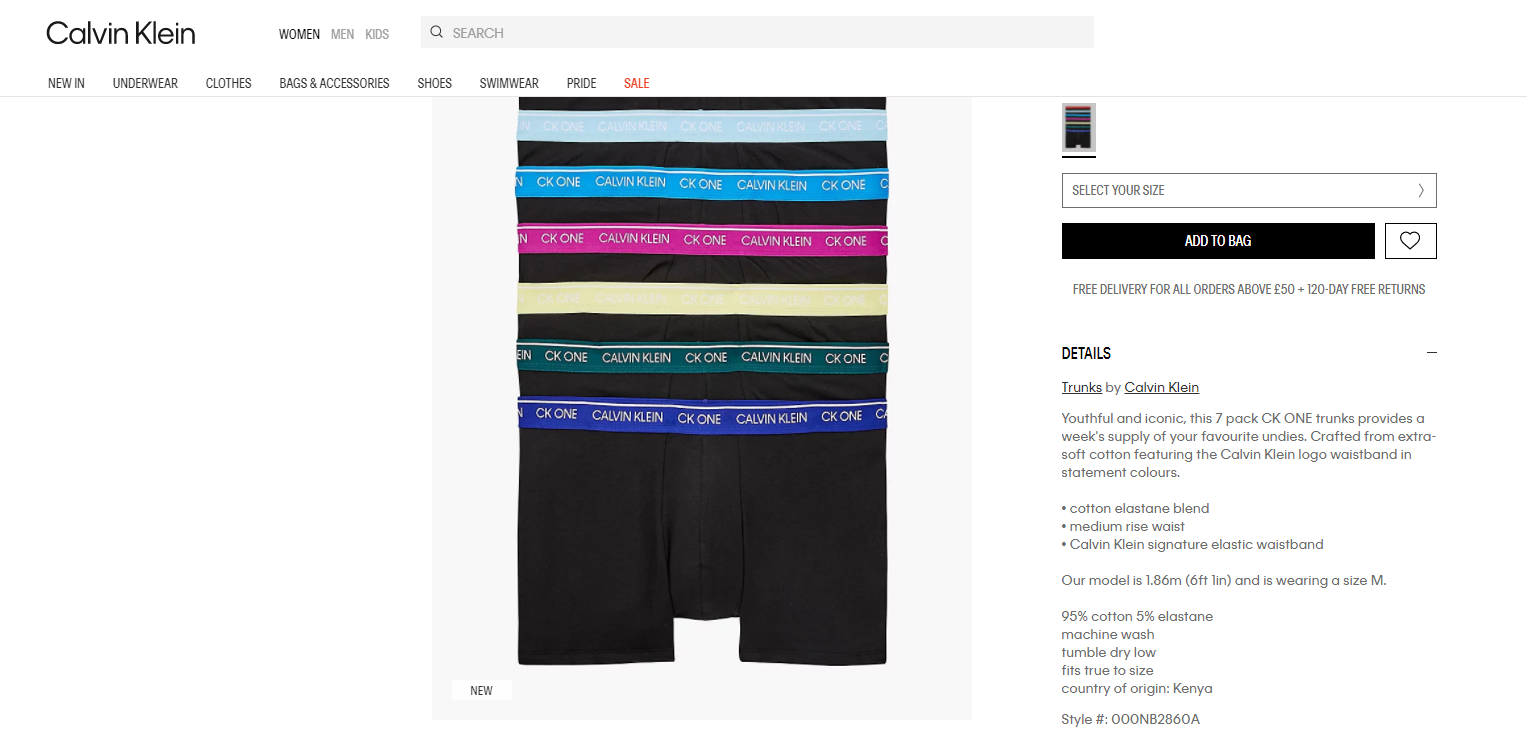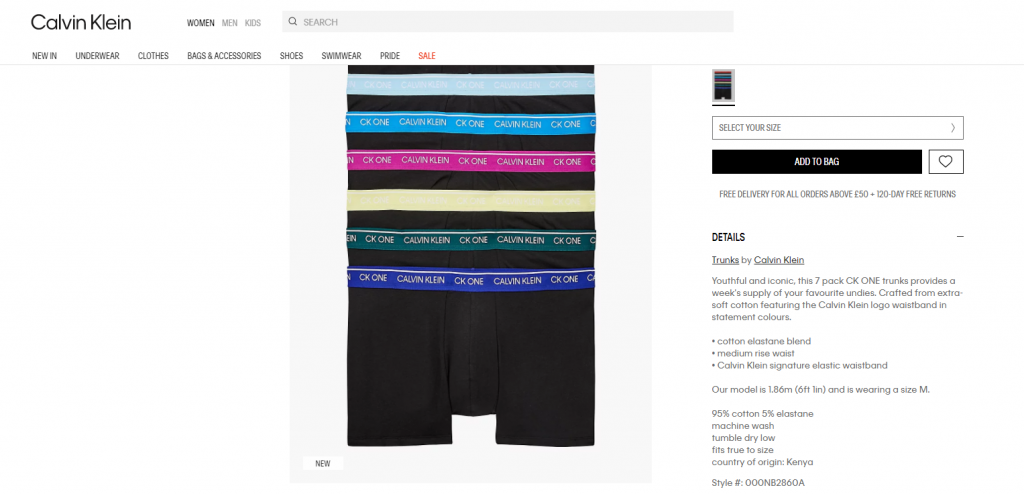 Ethiopians also receive more than ten times less money than, for example, China or even three times less than Bangladesh. Ethiopians get paid $26 per month, attracting brands to grow their profits (even more). Don't be surprised if you start seeing many of your Calvin Klein clothes Made In Ethiopia or other African countries.
Read: Where Is Ted Baker Made?
Common Questions About What Country Is Calvin Klein Made In
These are some of the most common questions made about where is Calvin made.
Where Is Calvin Klein Perfume Made?
Calvin Klein perfumes are made in France, the US, and Spain. Some people say both fragrances are based on the same extraits but use different waters when blended, so the duration of the scent can vary based on the country made.
Where Is Calvin Klein Clothing Made?
Calvin Klein clothing is made in China, Sri Lanka, Vietnam, Cambodia, Indonesia, India, Turkey, Tunisia, Kenya, and Bangladesh.
Read: Where Are Levi's Made?
Where Are Calvin Klein Underwear Made?
Calvin Klein underwear is made in China, Kenya, and Bangladesh. All the underwear I have from this brand was made in China.
Where Are Calvin Klein Bags Made?
Calvin Klein bags are made in China.
Where Are Calvin Klein Watches Made?
The Calvin Klein watches are made in Switzerland by the Swatch group. You can expect high-quality Swiss movement.
Conclusion About Calvin Klein Made In
Discovering where your favorite brand is made can be surprising or disappointing if you expect it to be made in its origin country. When searching "Where is Calvin Klein made," it is no different.
Read: Are Timberlands Good For Snow?
Most Calvin Klein products are manufactured in China, but you have a long list of European and Asian countries to add to that list. You also have some African countries manufacturing the brand, depending on the product you buy.
Do you have any Calvin Klein products? Would you mind checking the label and sharing with us where they are made?