This post may contain affiliate links. That means if you click and buy from that link, I may receive a small commission (at zero cost to you), which helps me maintain the quality of this blog. Please see my full disclosure policy for details.
Italian sports brands may not be as well known as Italian luxury labels, but they still contribute to the fashion sports market on a small scale. Emporio Armani 7 and Fila are definitely the two biggest names on this list, and you probably do not know any of the other labels.
Nevertheless, just because all these brands are Italian doesn't mean all these labels manufacture in Italy or are widespread worldwide. So let's find out some of the best Italian sports brands.
If you like to discover which country sports brands are from, you can check some American, Australian, and UK sports brands you should know.
What Are The Best Italian Sports Brands On The Market?
When it comes to Italian sports brands, you have quite a few on the market. Some of them are better known than others. So I decided to check eight Italian sports labels: Emporio Armani 7, Fila, Diadora, Kappa, Lotto, Vibram, Macron, and Nordica.
EA7

Founded In: 2012 by the Emporio Armani label
What Emporio Armani 7 Sells: Apparel, footwear, accessories, and equipment for golf, football, swimming, running, skiing, fitness, and tennis
Most Popular Items: EA7 Polo Shirts
EA7 is a sublabel inside the Emporio Armani label and is considered the sports version of the Emporio Armani. It has been rumored before Andriy Shevchenko inspired EA7 since Giorgio Armani was a big fan of him. The 7 symbolizes the shirt number Shevchenko used during his time in the Rossoneri.
We can say that EA7 is not like your usual sports brand since it provides a lot less technology than many sports brands offer to differentiate themselves from their competitors. Some products have VIGOR7 technology (it guarantees explosive power behind the movement, reducing muscle vibration and increasing endurance).
Read: Where Is Armani Made?
EA7 7 is a premium sportswear label that offers premium clothes blended with the latest sports designs. It has several sports clothes, from t-shirts, socks, shorts, and leggings, to sports equipment for football, golf, running, swimming, fitness, skiing, and tennis. You can also expect some shoes manufactured together with Reebok for this label.
Fila

Founded In: 1911 by Ettore and Giansevero Fila in Piedmont, Italy
What Fila Sells: Lifestyle footwear, apparel, and accessories.
Most Popular Items: Fila Disruptor
Read: Where Is Fila Made?
Some people could consider Fila as a Korean label since Fila Korea purchased the brand in 2007, and its headquarters are in Seoul. And maybe today, Fila is a Korean label with Italian roots, but I still think it's one of the most iconic Italian sports brands, and I wanted the brand to make this list. After all, it's open to interpretation if you decide if Fila is Italian or Korean.
Fila is a brand that had a meteoric rise during the 90s, then was left behind in the 2000s by brands like Nike and Adidas. Today we have the reascension of Fila, coming back with some of its classics from the 90s, becoming trendy again.
Read: Do Fila Shoes Run True To Size, Big Or Small?
Depending on which Fila product you purchase, you will have some technology incorporated into them, like the CoolBest® (allows you to stay cooler longer), UV Protection (apparel items to have either 30+ or 50+ UV protection added to materials allowing for better UV ray range in hot, sunny weather) or the Forza Ball Short (made with Lycra Sport™ fabric and CoolMax® fabric to enable freedom of movement and enhance the fabric drying rate).
Diadora

Founded In: 1948 by Marcello Danieli in Veneto, Italy
What Diadora Sells: Footwear, apparel, accessories, and equipment for football, running, tennis, fitness, futsal, and beach volley.
Most Popular Items: Football Boots
Diadora was a very popular Italian sportswear brand in the 2000s, signing many partnerships with iconic football players like Roberto Baggio, Francesco Totti, Roy Keane, George Weah, Antonio Cassano, and Giuseppe Signori.
This Italian sports brand only entered the football (soccer) and tennis market in the mid-1970s, despite being founded in 1948. Diadora was a huge football brand in Italy, with AC Milan striker Marco Van Basten becoming the face of the company and being the official kit supplier of AS Roma and other Italian football teams. Later the brand was bought by another Italian label, Geox.
I remember when I was a teenager and played football in the 2000s that Diadora was a big label on this market. Not as big as other sports brands, but big enough to have different boot models available for you to pick from. I also remember playing with Diadora football balls. Diadora is not as popular nowadays, but it is still considered a good sports brand in Italy.
Kappa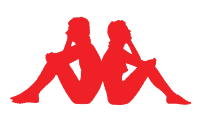 Founded In: 1978 by Marco Boglione in Piedmont, Italy
What Kappa Sells: Lifestyle footwear, apparel, and accessories.
Most Popular Items: Kappa Tracksuits
Kappa sportswear is predominantly known for football (soccer if you are American) since the brand was famous among people who played football, being a lot more popular in Europe and Asia than in the US. In the US, Kappa is known more as a lifestyle brand than a sports one.
In the past, Kappa sponsored football teams like Juventus, Barcelona, Ajax, AC Milan, and Napoli, among others. However, this Italian sports label has lost its market share when battling against the giants of the sports market. Today, the two biggest football teams they support are AS Monaco and Fiorentina.
I remember seeing Kappa football equipment when I was young, but I paid little attention to the brand. When I worked in the UK for Sports Direct, Kappa was considered a cheap brand with low quality, but in Italy, Kappa is regarded as a good brand with some quality.
Lotto Sport Italia
Founded In: 1939 by Caberlotto family in Trevignano, Italy
What Lotto Sells: Footwear, clothing, and accessories for sport and leisure time
Most Popular Items: Lotto Boots
Lotto is a sports Italian label mainly focused on football and tennis apparel, footwear, and accessories. Lotto first concentrated on the Italian tennis market and sponsored later professional tennis players like Boris Becker, Martina Navratilova, and Thomas Muster. However, Lotto became famous with football, sponsoring players like Dino Zoff and Ruud Gullit and football teams such as AC Milan, Juventus, Napoli, and the Dutch national team.
Involving Lotto with athletes' public images helped the company become a football and tennis leader. Lotto sponsored Dino Zoff, who was the captain when Italy won the World Cup in 1990, the Brazil football national team in 2002 that wore Lotto football boots, and the same when Italy won the World Cup in 2006. Lotto is also visible in all Grand Slam Tennis tournaments through sponsorships. Also, many tennis players wear Lotto equipment.
I had a pair of Lotto boots when I was a kid and played football for an amateur team. These days I believe that Lotto focuses a lot more on being known as a tennis label than a football one. Just check this Italian sports brand's website, and you will see that their main focus is selling tennis products over anything else.
Vibram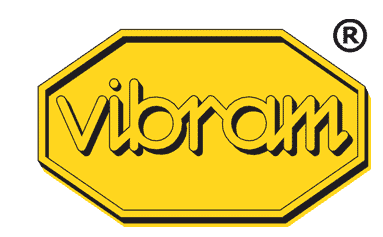 Founded In: 1937 by Vitale Bramani in Italy
What Vibram Sells: Different types of footwear for outdoor, watersports, training &fitness, and running.
Most Popular Items: Running Shoes
Vibram is an Italian sports brand that fabricates and licenses the manufacturing of Vibram-branded rubber outsoles for footwear. Reebok, Brooks, Saucony, New Balance, HOKA, Merrell, Under Armour, and The North Face are some of the most famous brands that wear Vibram rubber outsoles on their shoes.
Vibram started after the death of six of Bramani's friends who died climbing due to inadequate footwear. This tragedy led Bramani to develop a new climbing sole and give mountainers a better grip, no matter what weather and surfaces they would face.
Read: Where Is Lululemon Made?
Vibram® shoe soles are widely used in the footwear industry because of their prestige for quality, traction, comfort, and durability. This Italian sports brand provides distinct types of grip to its shoes, such as the MEGAGRIP, ICETREK, XS GRIP, IDOGRIP, etc. In addition, each Vibram outsole has different technology components depending on each surface's needs.
Macron Sportswear

Founded In: 1971 in Bologna, Italy
What Macron Sells: Sporting apparel, and accessories for multiple sports.
Most Popular Items: Football Official Kits
This Italian sporting apparel label identifies itself as a manufacturer of teamwear (for football, basketball, baseball, rugby, etc.), merchandising (official kits and accessories of teams sponsored by Macron sports), and leisurewear (apparel to wear outside of the sports fields).
Read: Where Are Skechers Made?
Macron sportswear was created in Italy as a distributor of American sportswear brands, providing later sports clothes to professional football teams in Italy, expanding to international markets a few years later. Today the brand sponsors many different squads in different sports. However, Macron sportswear needs a big sponsorship deal with an elite team to become more famous worldwide.
Nordica

Founded In: 1939 by Adriano and Oddone Vaccari in Veneto, Italy
What Nordica Sells: Ski apparel, footwear, and accessories
Most Popular Items: Nordica Dobermann
Nordica is a manufacturing label of winter sports, focusing the most on skiing. The brand is known for its well-built, durable sticks and excellent value for what you pay, making it a prominent label among skiers that remain loyal to Nordica.
This Italian ski brand started with two brothers with years of fur trading experience. In its first years, Nordica specialized its production in ski boots and continued to make climbing boots. The brand experienced a bit of success when Zeno Colò became the World Champion in the downhill and the giant slalom of the 1950 World Championships in Aspen wearing Nordica boots. After being purchased by Tecnica Group, Nordica focused even more on ski racing products.
Conclusion
Italian sports brands may not be as famous as Italian luxury labels worldwide, but they have a word to say in the competitive sports market. EA7, Fila, Diadora, Kappa, Lotto Sports, Vibram, Macron Sportwear, and Nordica are some of the best and most famous Italian sportswear you should know.
I believe EA7 and Fila will still be the top Italian sports brands on the market since they are untouchable compared to their Italian sports competitors.