This post may contain affiliate links. That means if you click and buy from that link, I may receive a small commission (at zero cost to you), which helps me maintain the quality of this blog. Please see my full disclosure policy for details.
I would say Reebok is still one of the biggest sports brands globally, but can you answer the question: where is Reebok made?
Reebok was one of my favorite brands in the '90s when I was a kid. I remember always having a pair of white Reebok classics to wear with jeans, or one of those classic t-shirts with the brand logo stamped in the center. The quality of Reebok products was untouchable.
Reebok is an American brand purchased by Adidas in 2005 but sold to Authentic Brands Group in August 2021. So the manufacturing of its products can shift to other countries in the following years.
To confirm, I have decided to review hundreds of product descriptions on the Reebok website to verify if the brand lists where the products are made. I also visited a couple of Reebok stores and some stores that sell Reebok products, checking multiple items. So let's find out where Reebok is manufactured.
You can also check out the best Italian, Australian, and British sports brands.
Where Is Reebok Made?
Reebok manufactures mainly in China and Vietnam but also in Cambodia, Bangladesh, Indonesia, the Philippines, Pakistan, India, and Sri Lanka.
Read: Where Is Fila Made?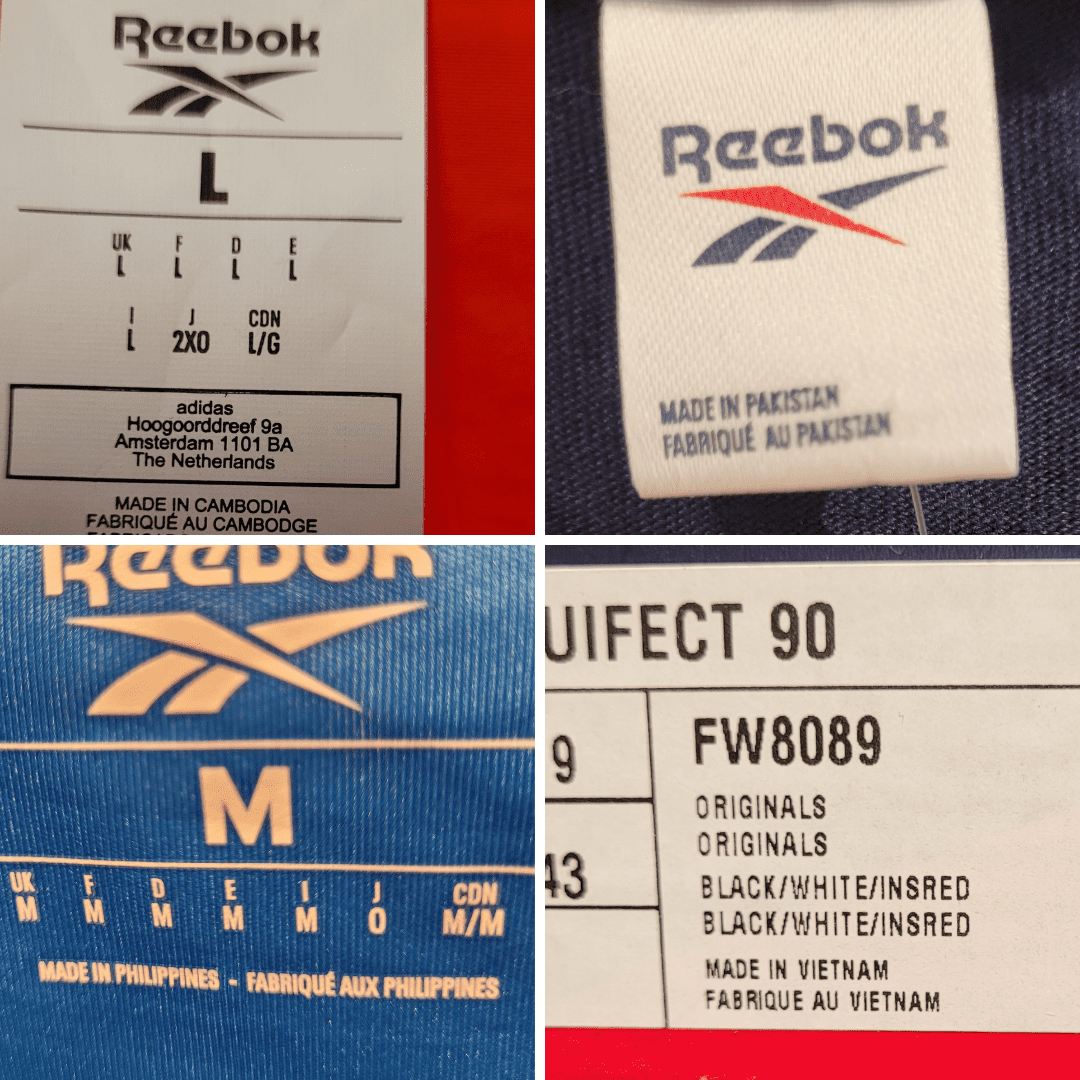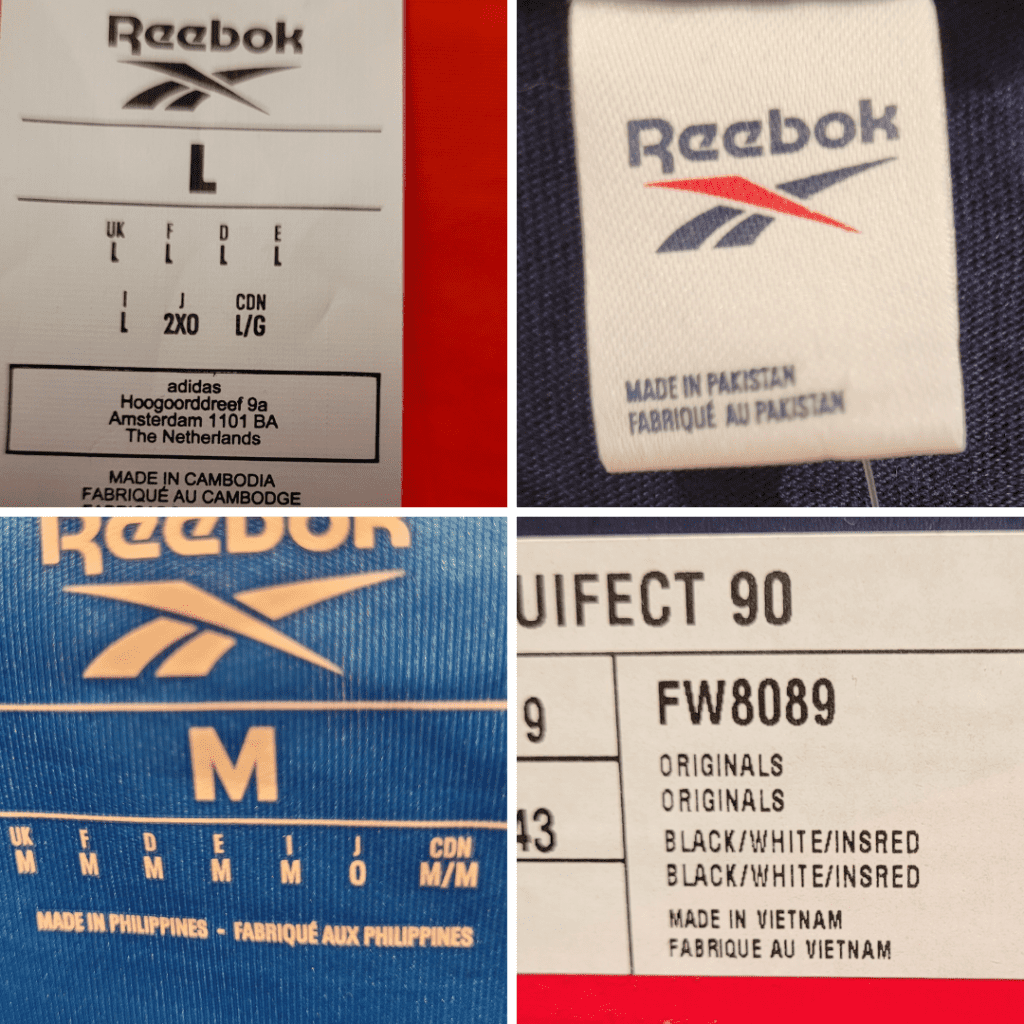 So Reebok doesn't provide the country of origin for any product on its website. This is very common among sports brands that don't want you to find out the products are manufactured in Asian countries since some people perceive them as low quality.
Reebok competitors Nike, Adidas, and Puma, don't state the country of origin in the product description of the items on their website, but both brands provide a list of all the countries where they manufacture. I couldn't see the same information on Reebok's website.
Read: Where Is Lululemon Made?
However, when you receive the physical product at home, you can verify the country of origin. The US legislation and EU rules require the brands to determine the country of origin for any imported goods.
I am also not surprised that Reebok produces mainly in Asian countries, especially in China and Vietnam. I have visited 3 Reebok stores and multiple multi-brand stores with Reebok products, and they were all manufactured in Asian countries. I was expecting Reebok to have the odd manufacturing site in Europe, but I couldn't find any in-store products or information on the internet.
Is Reebok Made In England?
In the past, most Reebok sneakers, apparel, and accessories were manufactured in Bolton, England. However, most brands started to shift manufacturing to Asian countries to reduce costs and improve their profit margins.
Read: Where Is Under Armour Made?
When Adidas acquired Reebok as a subsidiary in 2005, both brands kept their separate names and manufacturing sites. However, in 2009, Adidas decided to end the 116 year Reebok collaboration with the town of Bolton, where most of its products were manufactured. As a result, this was the end of Reebok made in England.
You can still find some pairs manufactured in England on certain websites, but they are fake, or in some cases, shoes that people bought years ago and never wore.
Is Reebok Made In China?
Yes, a lot of Reebok footwear, apparel, and accessories are manufactured in China.


If you are used to scrutinizing where some brands are manufactured, you can't be surprised at this point when you find that Reebok manufactures a lot of its products in China. In-store made in China label was the most common.
Read: Where Is Speedo Made?
Compared to American and European manufacturing factories, China has the cheapest labor, materials, and locations, becoming much more appealing to brands to reduce costs and improve profits.
However, many fashion brands (not only sportive ones) are shifting their manufacturing to Vietnam for different reasons. Brands like Nike, Adidas, Skechers, Converse, New Balance, and Asics don't want to depend on only one country to manufacture most of their products.
Read: Where Are Vans Made?
I also have to say that I had some Reebok products manufactured in China, and the quality was great.
Is Reebok Made In Vietnam?
Yes, a lot of Reebok footwear, apparel, and accessories are manufactured in Vietnam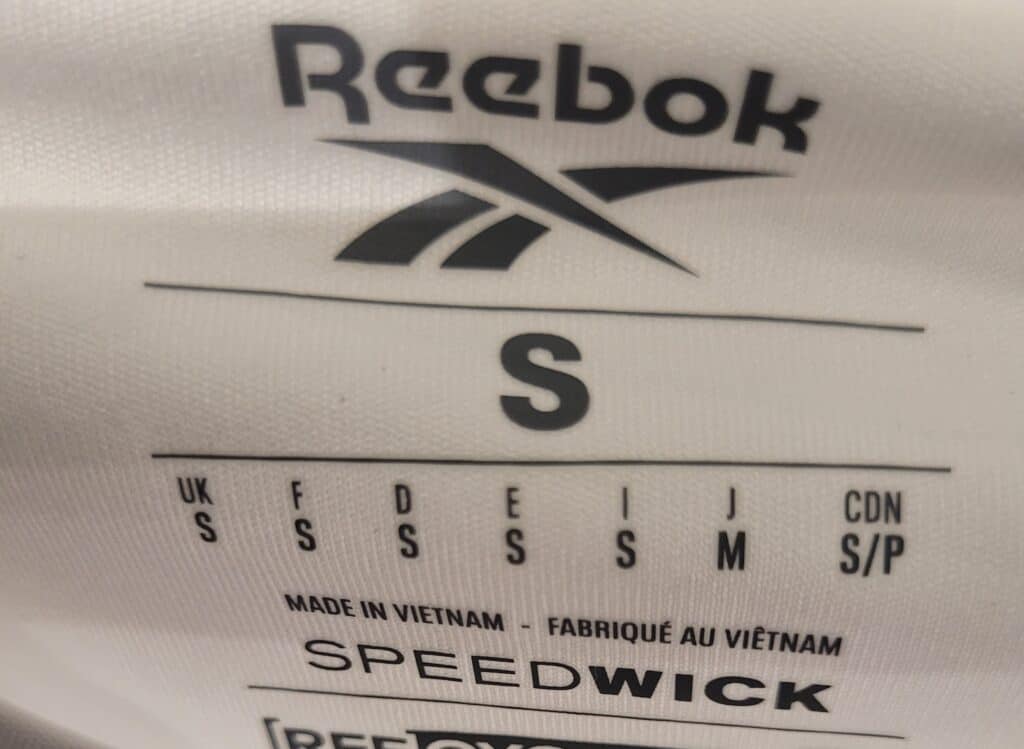 Most brands are moving to Vietnam because their factories can successfully recreate the production system for fashion brands to produce footwear, apparel, and accessories.
Vietnam it's also cheaper than China when it comes to wages and materials. A study led by Natixis SA decided the seven emerging Asian economies as manufacturing possibilities over China, and Vietnam was ranked number one.
Read: Where Is Quiksilver Made?
So don't be surprised to see a growth in Reebok products manufactured in Vietnam. When I checked Reebok products in-store, I would still say that I have found more made in China than in Vietnam.
Where Are Reebok Shoes Made?
Reebok shoes are manufactured in China and Vietnam.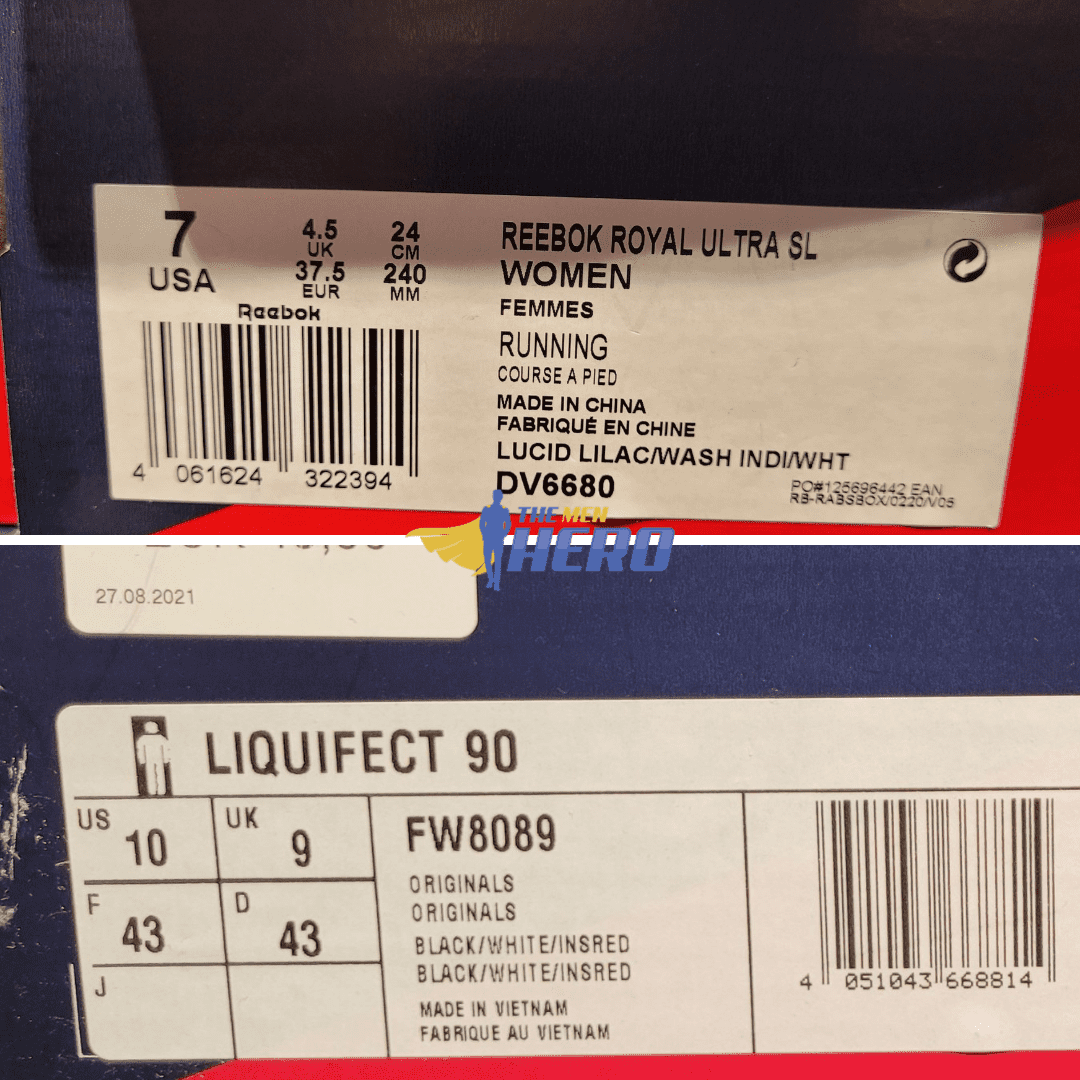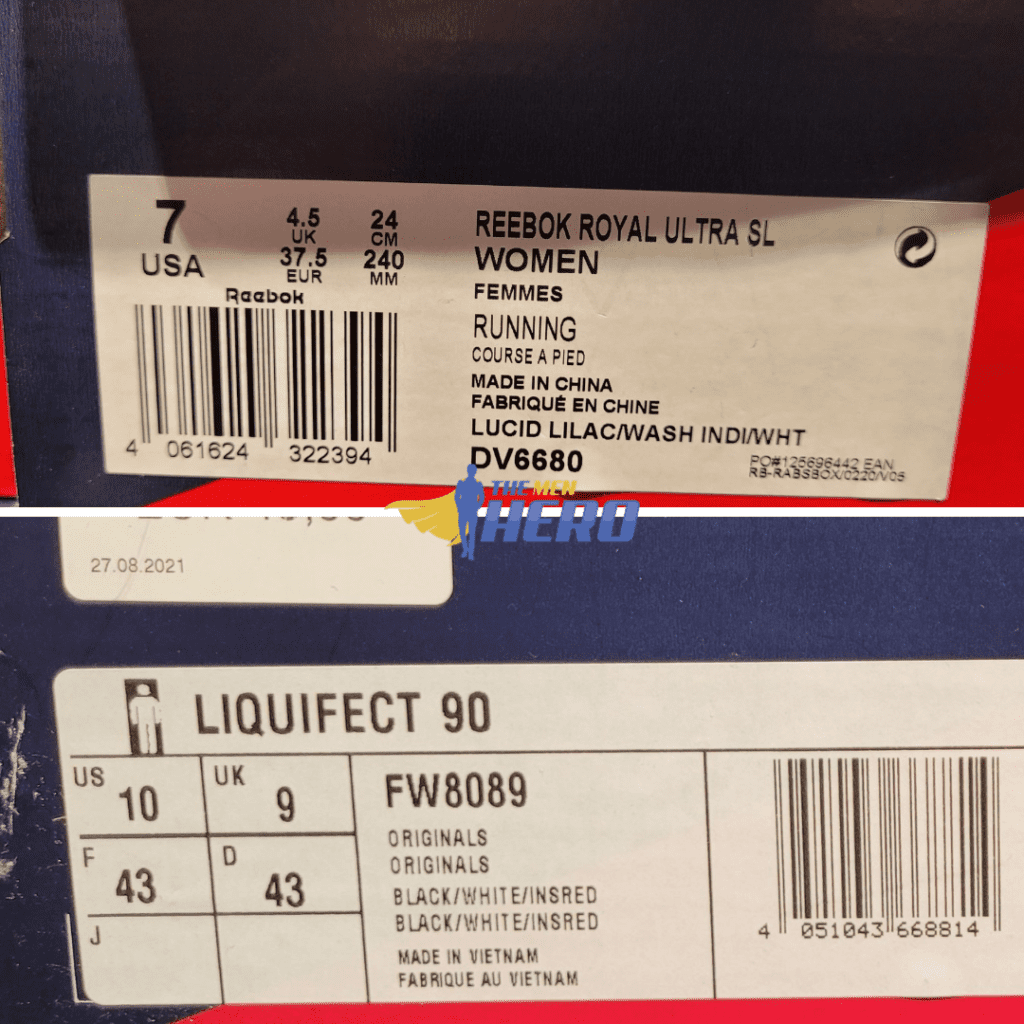 I knew most Reebok shoes would be manufactured in China and Vietnam, but I was surprised not to find any other country in three different Reebok stores. I am sure that other countries will manufacture Reebok shoes even if it's in a small proportion compared to Vietnam and China.
Read: Where Is Billabong Made?
I have researched a lot about where Reebok shoes are manufactured. Still, apart from my findings when I checked them in-store, I only found one customer on Amazon, saying his Reebok trainers were manufactured in Indonesia. Since I didn't see any pics and I can't confirm this affirmation, I didn't consider it for the article.
Common Questions About Where Is Reebok Made
These are the most common questions about where is Reebok made.
Does Adidas Make Reebok?
No, Adidas doesn't manufacture Reebok. Even when Reebok belonged to Adidas, the brands had still separated businesses with different manufacturing sites.
Where Are Reebok Tennis Shoes Made?
Reebok tennis shoes are made in China and Vietnam.
Is Reebok Made In the USA?
It's difficult to answer this question, and I will explain why. In 2016 Reebok said they were opening the Liquid Factory (where a machine could draw the components of a Reebok shoe) in Rhode Island, USA. In 2018 they were selling the Liquid Floatride Run, a performance running shoe that applies Reebok's ground-breaking Liquid Factory technology.
Read: Where Is Gymshark Made?
Now, some shoe components are imported from other countries, but I can't find any Reebok shoes manufactured in the USA. I also don't see any information about this factory since 2018.
What Country Is Reebok From?
Reebok was founded in England and currently has headquarters in the USA. It belonged to a German brand (Adidas) and was acquired by Authentic Brands Group, an American company.
Conclusion On Where Is Reebok Manufactured
Where is Reebok made? Mainly in China and Vietnam, from shoes to apparel and accessories, with some other Asian countries manufacturing a small part of the Reebok goods.
Wherever Reebok items are manufactured, you can expect them to see good quality since the brand has high-quality standards that factories and independent contractors need to follow.