This post may contain affiliate links. That means if you click and buy from that link, I may receive a small commission (at zero cost to you), which helps me maintain the quality of this blog. Please see my full disclosure policy for details.
In the last few years, you have seen more and more people wearing Fila shoes, but do you know the answer to the question: where is Fila made?
I like the casual style of Fila shoes. Chunky sneakers have become not only trendy but also fashionable. Fila was founded in Italy, becoming one of the most famous Italian sports brands that later was sold to Fila Korea, which acquired the entire brand. However, this doesn't mean that Fila manufactures in Italy or South Korea.
Read: Do Fila Shoes Run True To Size, Big Or Small?
To confirm, I have decided to review hundreds of product descriptions on the Fila website to check if the brand lists where the products are made. I also visited several multi-brand stores that sell Fila products, checking multiple items (I couldn't find a Fila store in London). So let's find out where Fila is manufactured.
You can also check out the best American, Australian, and British sports brands.
Where Is Fila Made?
Fila is manufactured in China, Vietnam, Italy, India, Dominican Republic, and Mexico.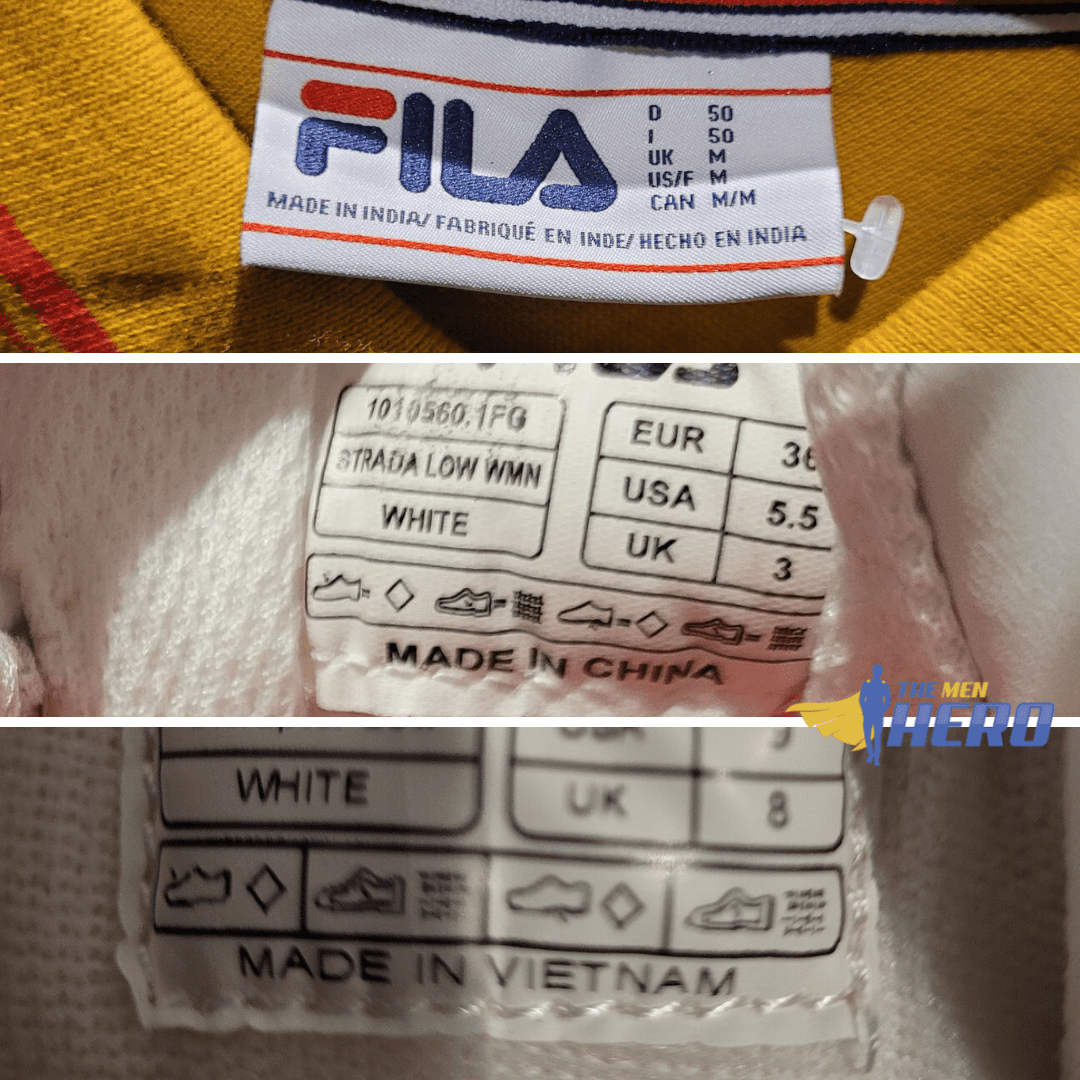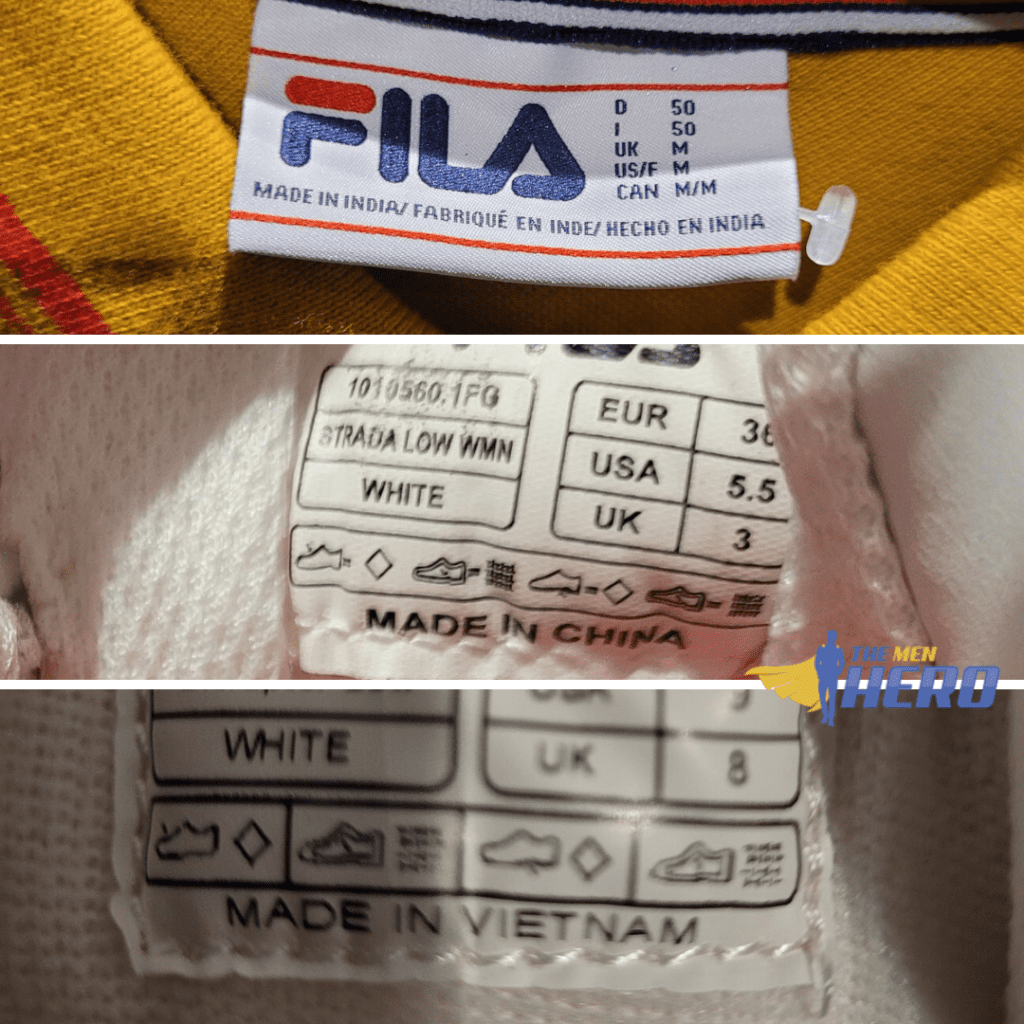 Fila doesn't list where its products are manufactured on the product descriptions on its website unless the item is made in Italy. I particularly dislike it when fashion brands try to hide where their products are made. This is often seen in luxury and premium brands. Carhartt, Doc Martens, Timberland, New Balance, or Armani are brands that only tell you the most convenient countries and forget the ones they don't want you to know about.
Read: Where Is Reebok Made?
These brands, including Fila, want to hide where the products are manufactured because they are charging you more for products made in China, Vietnam, or other Asian countries. Most customers perceive products manufactured in those countries as not durable or the best.
Since most Fila products are manufactured in Asia, and the website doesn't state that in the product descriptions or anywhere on its website, you can only check the physical product to check that information. Every Fila item will have the country of origin on the product's label. The US and EU legislation requires brands to indicate the country of origin of any goods.
I have checked a lot more Fila footwear than apparel in-store, but I can confidently say that most products are manufactured in China and Vietnam, with some apparel made in India. I didn't find any products in-store manufactured in Italy.
Read: Where Is Under Armour Made?
I didn't find any products made in Mexico or the Dominican Republic in-store, but Fila has production facilities in these countries (I have read their annual report).
Is Fila Made In Italy?
Yes, Fila manufactures a tiny portion of its products in Italy.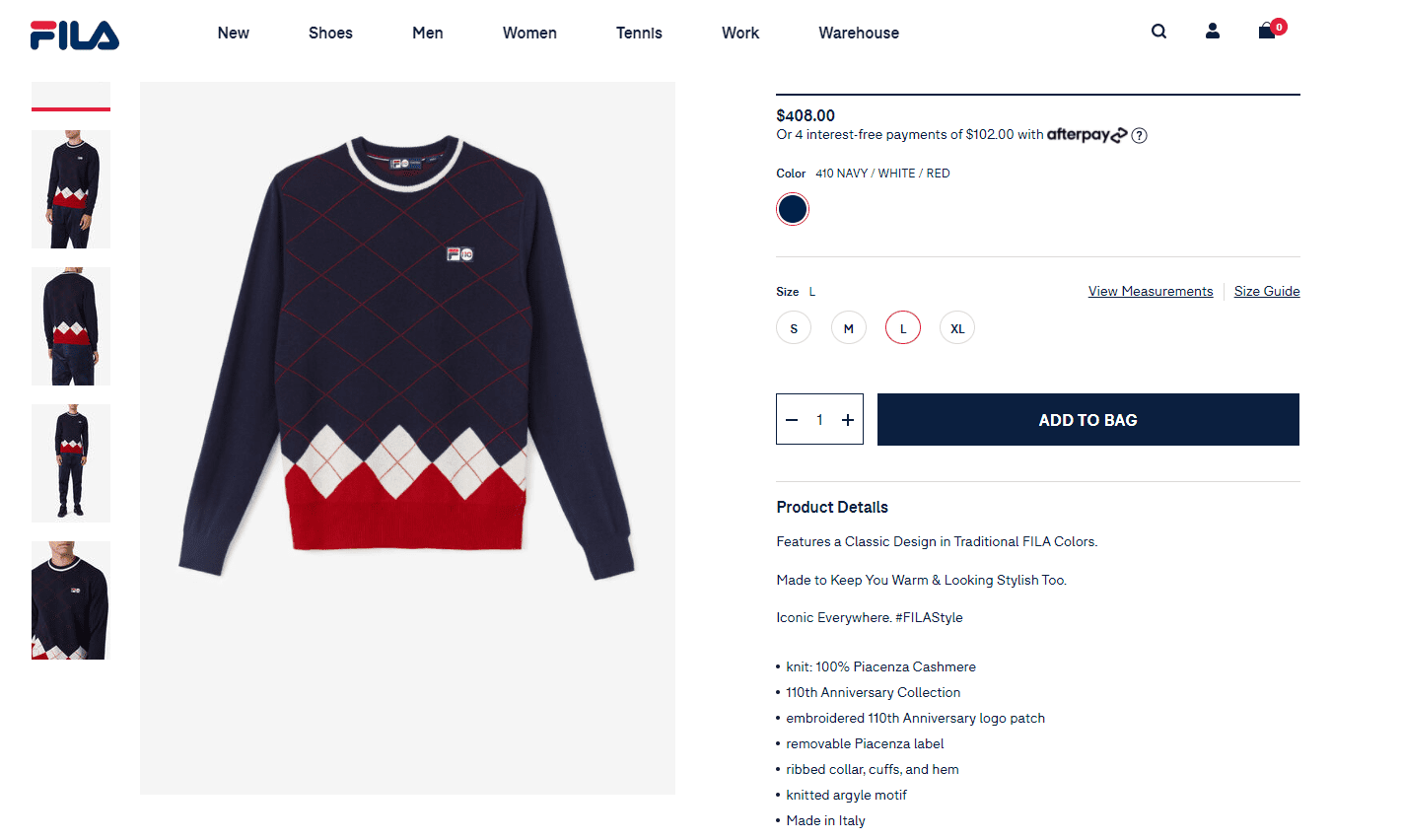 If you expect to find Fila products manufactured in Italy, you will be very disappointed. As I said before, I didn't find any Fila items made in Italy in-store, but you can find some on its website.
Read: UK Sports Brands You Need To Know
I didn't find any Fila shoes made in Italy, and I presume they are manufactured for exceptional collaborations or styles. On the other hand, some of the clothes manufactured in Italy are the most expensive items on the Fila website. This is because they are mostly made of cashmere (which explains the price and why they are manufactured in Italy).
In the past, Fila did manufacture most of its products in Piedmont, Italy, including shoes. However, due to financial struggles, the brand moved most of its production to Asian countries, where production costs are much lower. They still produce a minimal number of items in Italy.
Is Fila Made In China?
Yes, most Fila products are manufactured in China.
Read: Where Are Vans Made?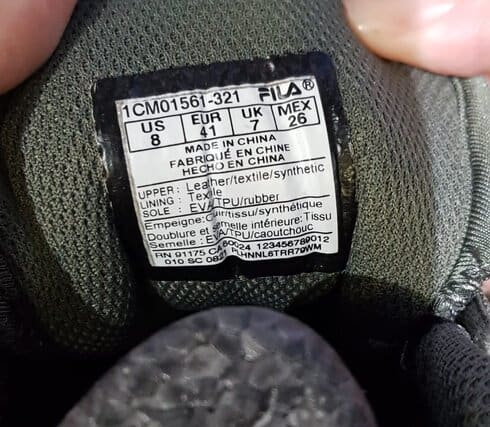 You can't really be surprised to find out that most Fila goods are manufactured in China. The labor, materials, and costs with facilities are lower when compared with European countries (especially Italy).
Read: Where Is G-Star Raw Made?
All the Fila shoes made in China I have checked in-store seemed good quality, but you can't expect these shoes to last forever (no shoes do). However, Fila does have on-site supervisory offices to help independent manufacturers follow the quality guidelines of the brand to ensure they sell the best quality products possible.
Many shoe brands are shifting manufacturing from China to Vietnam. For now, China still has more Fila factories and independent contractors than Vietnam, but I believe this will change in the next decade.
Is Fila Made In Vietnam?
Yes, a lot of Fila products are manufactured in Vietnam.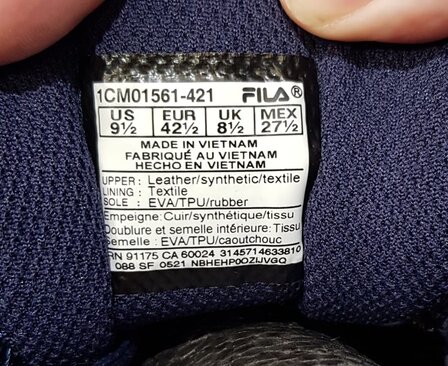 As I said, many fashion brands, especially shoe brands like Adidas, Nike, Skechers, Asics, and New Balance, are shifting their manufacturing from China to Vietnam.
Read: Where Are Converse Made?
There are a few factors why shoe brands are going to Vietnam, like the capability of the country to copy successfully any production system and the cheaper labor, materials, and facilities costs. Therefore, when checking footwear brand labels, I always expect most shoes to be manufactured in Vietnam.
A study conducted by Natixis SA decided the seven emerging Asian economies as manufacturing opportunities for China, and Vietnam was ranked number one. The low wages, demographics, logistics, and business rankings were some of the features considered in the study.
Where Are Fila Shoes Made?
All Fila shoes are manufactured in China and Vietnam.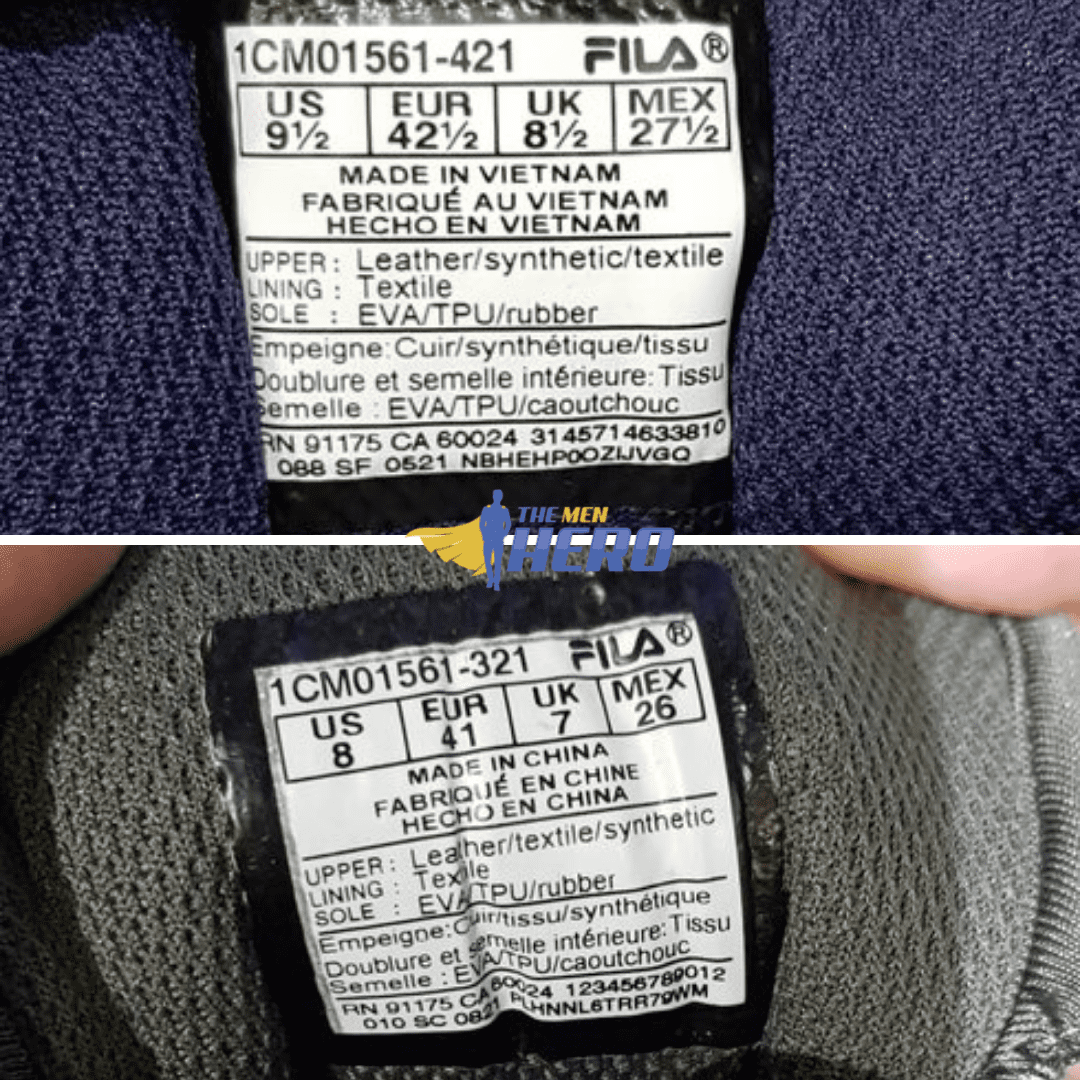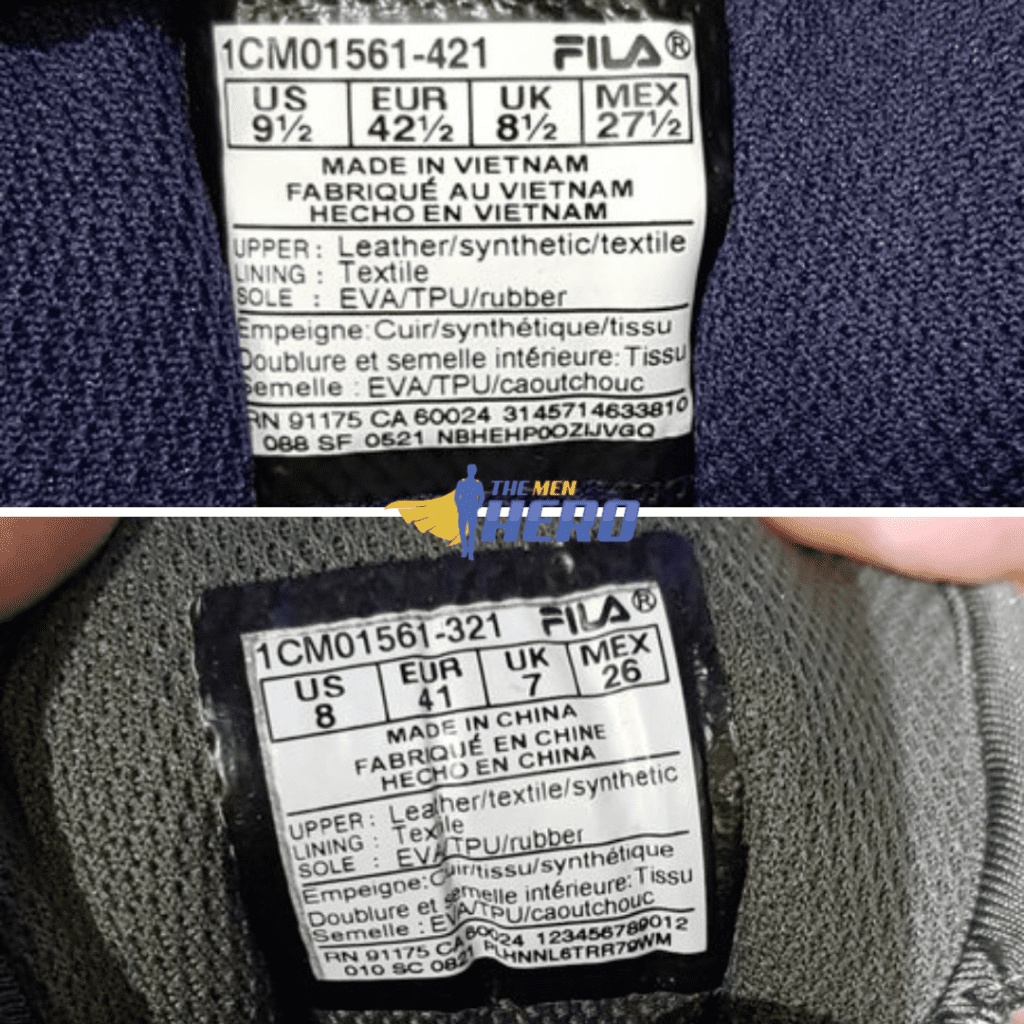 I have checked a lot of Fila sneakers (believe me, I have checked all styles) in different multi-brand stores, and I only found them manufactured in China and Vietnam. I didn't find any other country, but that is not surprising since China and Vietnam are usually the two leading countries manufacturing footwear.
Read: Where Is Puma Made?
I wasn't expecting to find any Fila shoes manufactured in Italy, but I was disappointed not to see any on the website. It seems only special Fila shoe collections are made in Italy.
Common Questions About Where Is Fila Made
These are the most common questions about where is Fila made.
Where Is Fila Clothing Made?
Fila clothes are manufactured in China, India, and Vietnam.
Is Fila A Good Brand?
Yes, Fila is a good brand with a clear focus and targeted audience. Fila shoes are durable and comfortable, which makes them of great quality. In addition, the affordable price (not the cheapest, but not the most expensive) brings value for money.
Is Fila A Chinese Brand?
No, Fila is not a Chinese brand. Fila Korea acquired the brand in 2007. In 2009, ANTA Sports (a Chinese sports equipment multinational corporation) bought the rights to the brand in China, Macao, and Hong Kong.
Is Fila Popular In Italy?
Yes, Fila shoes are very popular in Italy, like they are in most countries like the US, China, and South Korea. This is due to millennials being interested in retro styles, bringing back products and brands from the past.
Conclusion
So where is Fila made? Mainly in China and Vietnam, especially when it comes to Fila sneakers. However, if you are worried about quality, you shouldn't, since both countries have guidelines to ensure the products are perfect to be sold to consumers.