This post may contain affiliate links. That means if you click and buy from that link, I may receive a small commission (at zero cost to you), which helps me maintain the quality of this blog. Please see my full disclosure policy for details.
Balenciaga is a Spanish luxury brand owned by the Kering Group (which owns Gucci, Bottega Veneta, and Saint Laurent) with headquarters in Paris, France (the brand was closed in 1972 and was reopened under new ownership in 1986). But the question that remains is: Where is Balenciaga made?
We all know luxury brands love to outsource their products in Italy and China, with some production (usually minimal) in the brand's country of origin. Maybe Balenciaga is different and makes most of its products in France or Spain.
Read: Why Is Balenciaga So Expensive?
Balenciaga might be more prevalent among women, but it's increasing in popularity among men, especially millennial shoppers. This explosion of sales made Balenciaga the fastest-growing brand in the Kering group.
I have checked hundreds of product descriptions on Balenciaga's website to verify if the brand lists where the products are made and researched a lot online to bring these conclusions to you in this article. I also checked Balenciaga product labels in some department stores in London. Let's find out where Balenciaga is manufactured. You can also check out the best French, British and American luxury fashion brands.
Where Is Balenciaga Made?
Balenciaga is mainly made in Italy and China. The brand also manufactures its products in Portugal, France, Japan, Tunisia, Slovenia, and Madagascar.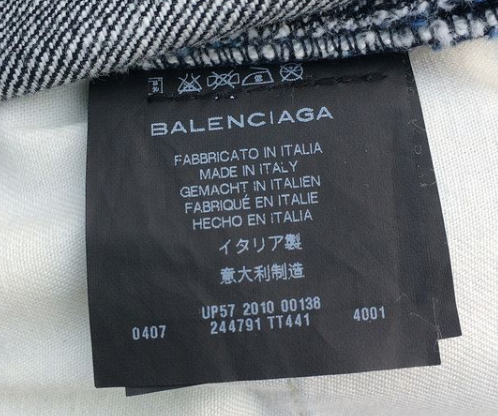 Most luxury brands try to hide the fact that they manufacture outside of Italy, France, or even Portugal. Versace and Burberry only let customers know about the products manufactured in Italy and don't provide any information about other countries. However, Balenciaga is different and has no problem having the country of origin on every product on its website.
Read: Where Louis Vuitton Is Made?
I didn't find one Balenciaga item without the country of origin, which is impressive since this luxury label manufactures heavily in Italy and China. Of course, we all know luxury fashion brands avoid putting made in China in the product description of their website, so it was quite refreshing.
When checking Balenciaga products in-store, most of the products were made in Italy or China, which wasn't surprising after I analyzed the brand's website.
If for some reason, you find one Balenciaga item online without the country of origin; you will have that information on the product since the EU and US legislation require brands to indicate the country of origin of any goods.
Read: Where Is Hermès Made?
To make it easy for you, this is what I have found in my research of hundreds of different Balenciaga products for men and women:
Italy – Every category in Menswear, Womenswear, and Accessories
China – Menswear, Womenswear, and Accessories
Portugal – Trousers, Coats, Socks, and almost every T-Shirt
Japan – Sunglasses and Denim
France – Jewelry, Coats, Perfumes, and Shirts
Tunisia – Denim,
Madagascar – Shirts
Slovenia – Face Masks
Remember that I didn't check every product on Balenciaga's website or in-store, and I could have missed some countries, but I have reviewed most of them.
Is Balenciaga Made In France?
Yes, some Balenciaga products are manufactured in France, like perfumes and some shirts, coats, and jewelry.
Read: Where Is Off-White Made?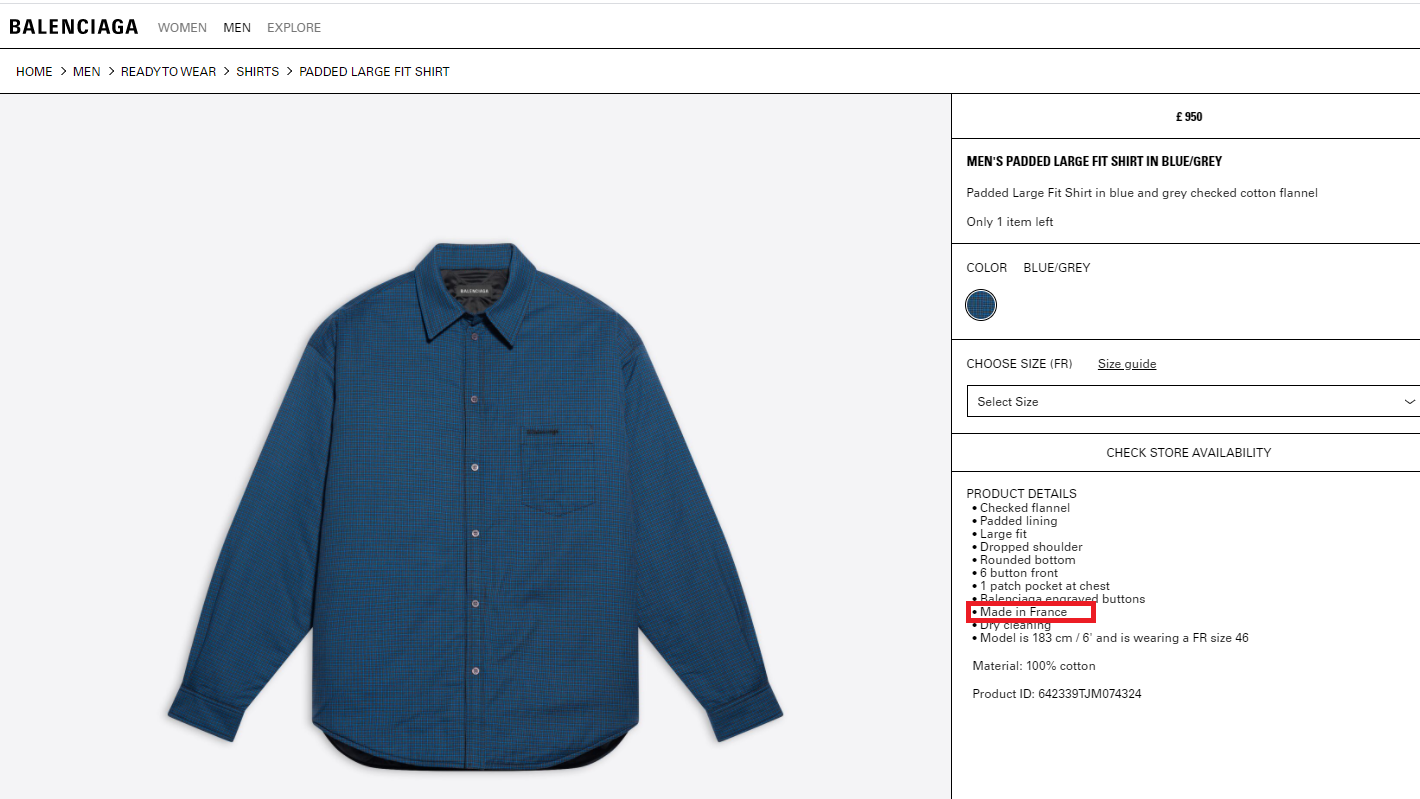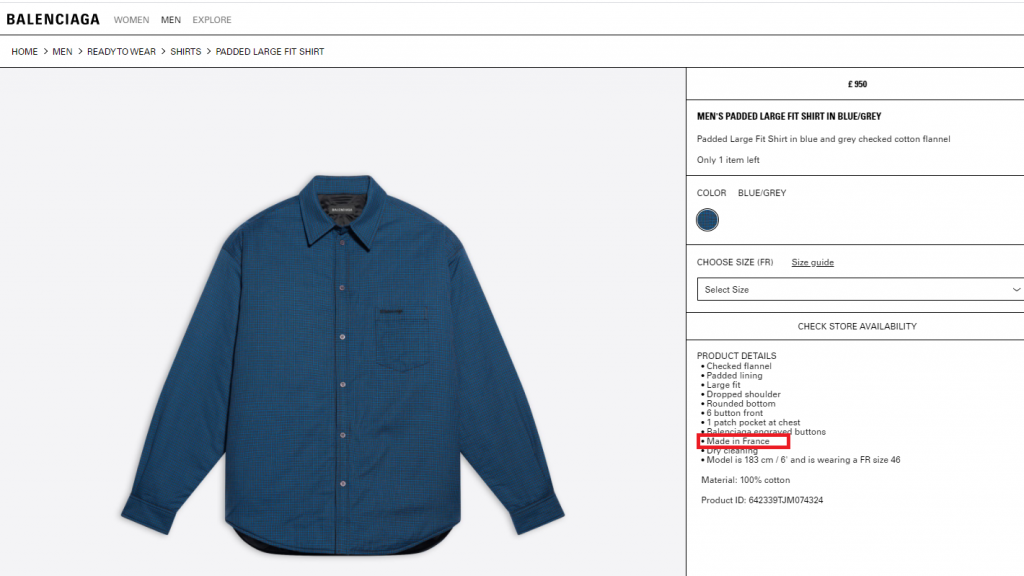 It's not a surprise that the Spanish brand doesn't produce any products in Spain since it moved to France. I tried looking for it where precisely in France Balenciaga manufactures, but I didn't find any information. However, considering the Kering Group is French, and I have found products on the website and in-store with the made in France tag, we know this luxury brand makes some items in France.
Read: Where Is Givenchy Made?
I was expecting a lot more Balenciaga products made in France since it's a luxury label we are talking about, but only perfumes and some coats, shirts, and jewelry. I wouldn't be surprised if some handbags were manufactured in France too, but I didn't find any with the made in France label.
Is Balenciaga Made In Italy?
The majority of Balenciaga products are made in Italy. Belts, Caps, Scarves, and Underwear seem to be made exclusively in Italy. At least I couldn't find any from other countries.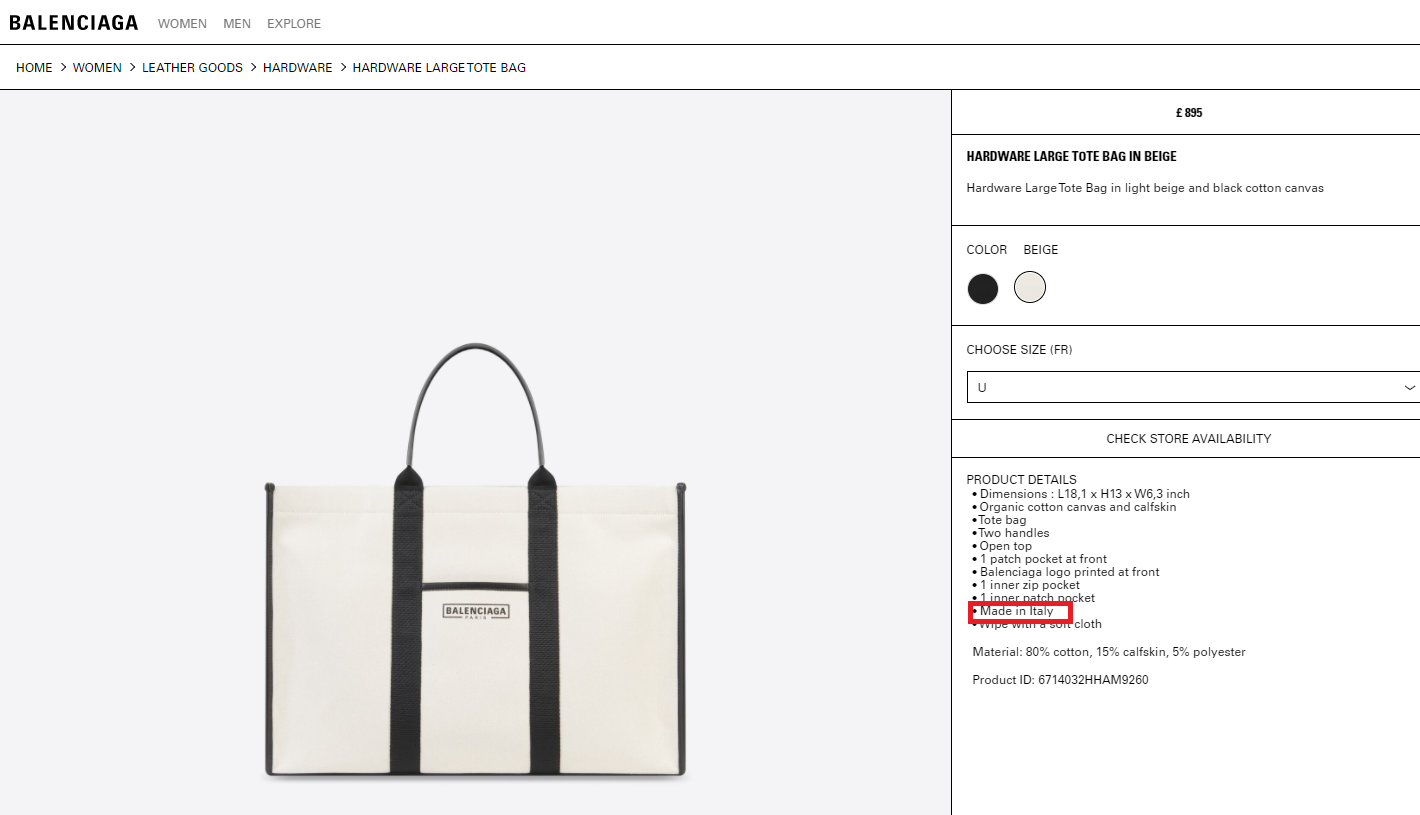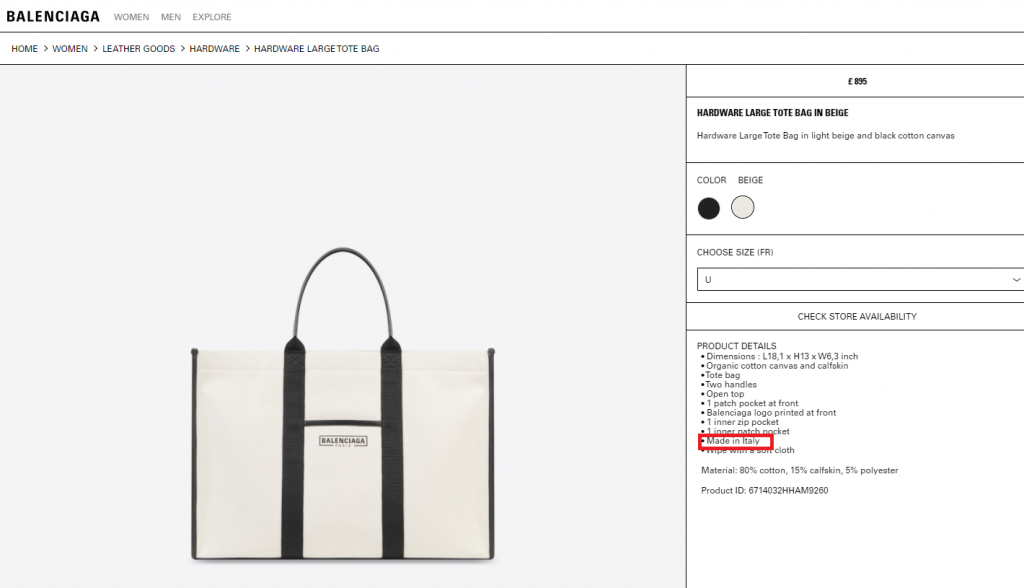 Balenciaga opened in 2021 a leather goods factory and training center in Cerreto Guidi in Tuscany, Italy. This addition to the production center in Scandicci will ensure that Balenciaga will keep manufacturing the majority of its leather products in Italy.
Read: Where Is Dior Made?
Like the other fashion luxury brands, Balenciaga will keep manufacturing in Italy for many years. The concept of made in Italy brings prestige and refinement that expresses the excellence of craftsmanship and the use of the best materials in Italy, which is everything a luxury brand asks for. Gucci, the Balenciaga sister, manufactures almost everything in Italy.
Is Balenciaga Made In China?
Yes, many Balenciaga products are made in China, from menswear to womenswear and accessories.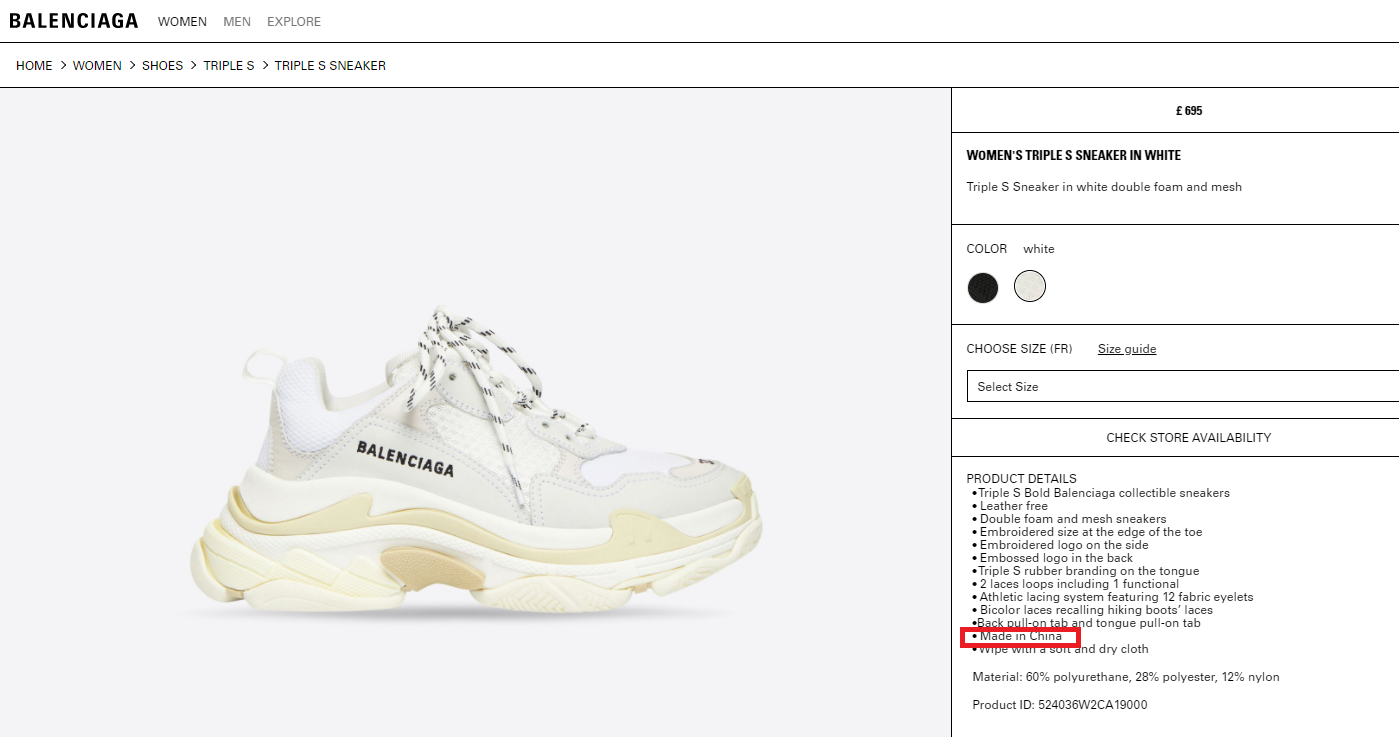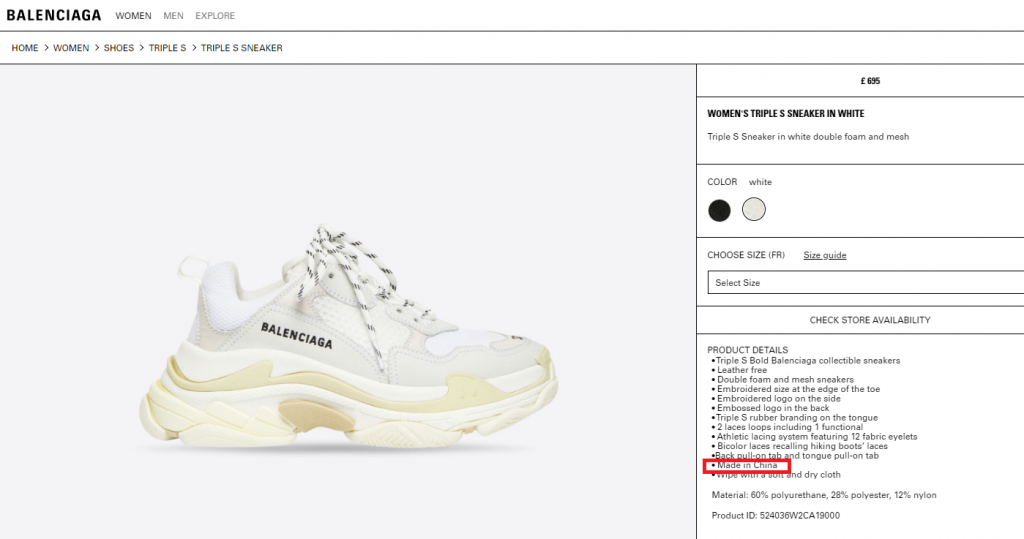 I have praised Balenciaga for not being afraid of writing made in China on the product descriptions on its website. However, the brand was still in trouble when it moved the super-popular Triple S shoe production from Italy to China. Some customers have noticed that the price remained the same. The product is original, but the brand omitted the change.
Read: Difference Between Versace and Versace Jeans Couture
On Balenciaga's website, the sneakers still had made in Italy tag in the product description, so customers were unhappy, and we can all understand why. I don't think Balenciaga tried to deceive its customers since the brand is very upfront it where each product is manufactured. I checked all Triple S shoes on Balenciaga's website in January 2023, and all of them were fabricated in China
Why Is Balenciaga Made In China?
The reason why Balenciaga outsources to China is that they "have the savoir-faire and capacity to produce a lighter shoe," said a representative of the brand. Also, the labor, energy, and materials are cheaper than in most countries, so the brand can profit more since the production is more inexpensive.
Common Questions About Where Is Balenciaga Made In
These are some of the most common questions about where is Balenciaga made in.
Where Are Balenciaga Shoes Made?
Balenciaga shoes are made in Italy and China. The Speed collection and Boots are made exclusively in Italy. The Triple S, X-Pander, and Track collections are made solely in China. The Runner collection and Sandals are made in both countries.
Where Is Balenciaga Clothing Made?
Balenciaga clothes are made mainly in Italy and China. Portugal, Japan, France, Tunisia, and Madagascar also manufacture clothing for the Spanish brand.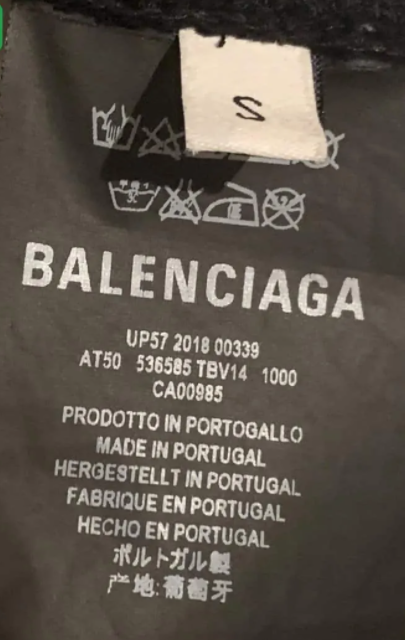 Read: Where Is Balmain Made?
Where Are Balenciaga Bags Made?
Balenciaga bags are made in Italy (usually the most expensive) and China (usually the cheapest).
Is Balenciaga Made By Nike?
No, Balenciaga is not made by Nike. Some people find similarities between the Balenciaga Triple S and Nike Air Jordan, so this question comes up quite often.
Is Balenciaga Made By Gucci?
No, Balenciaga is not made by Gucci. Both brands belong to the Kering group, and recently, they have been incorporating and mixing brand names and patterns in their collections. That was a very creative show and collection and will definitely be repeated.
Conclusion
So, where is Balenciaga made? Regardless of where it is manufactured, Balenciaga continues to grow in sales and popularity year after year. It doesn't matter if you buy a pair of shoes made in Italy or wear a dress Made In China. The quality of Balenciaga doesn't change because of where it is manufactured (the material and the price do).
It's always surprising to realize that brands like Balenciaga don't manufacture almost any products in the country of origin (none in Spain and nearly none in France). We all know that Burberry outsources most of its products outside of the UK too, and Balenciaga is no different.
Read: Where Is Versace Made?
Did you know where Balenciaga was manufactured or find out now? What are your thoughts? Please share with me in the comments. The time to buy Balenciaga is now.