This post may contain affiliate links. That means if you click and buy from that link, I may receive a small commission (at zero cost to you), which helps me maintain the quality of this blog. Please see my full disclosure policy for details.
Zara is a fast fashion and mass-market Spanish label (that belongs to the Inditex group, which includes brands like Zara, Massimo Dutti, Bershka, Pull and Bear, Stradivarius, and Oysho) selling clothes, accessories, shoes, beauty, and perfumes since 1975. However, the question you have is: where are Zara clothes made?
I have been wearing Zara since I was a teenager because, in Portugal, Zara is considered a good brand compared to many other mass-market brands. Of course, it's not the cheapest fast fashion brand, but its designs and prices are reasonable compared to high-premium brands.
Read: Where Are Primark Clothes Made?
To confirm, I have decided to review hundreds of product descriptions on the Zara website to verify if the brand lists where the products are made. I also visited three Zara stores (London, Madrid, and Napoli), checking the label of multiple items. So let's find out where Zara clothes are manufactured.
Where Is Zara Made?
Zara is manufactured in Spain, Portugal, Turkey, Bangladesh, China, Vietnam, Bulgaria, Albania, Morocco, Mauritius, Myanmar, India, Cambodia, and Egypt.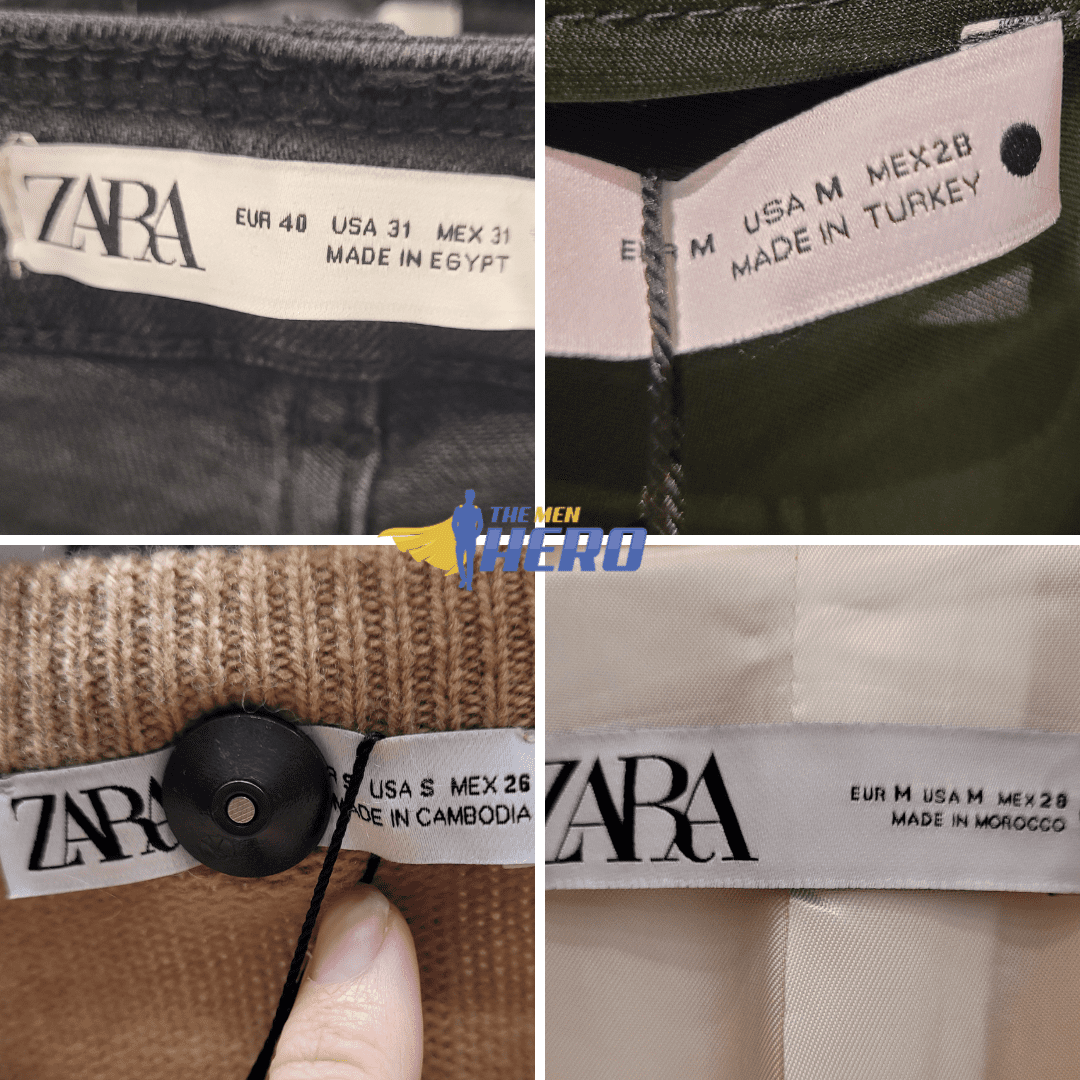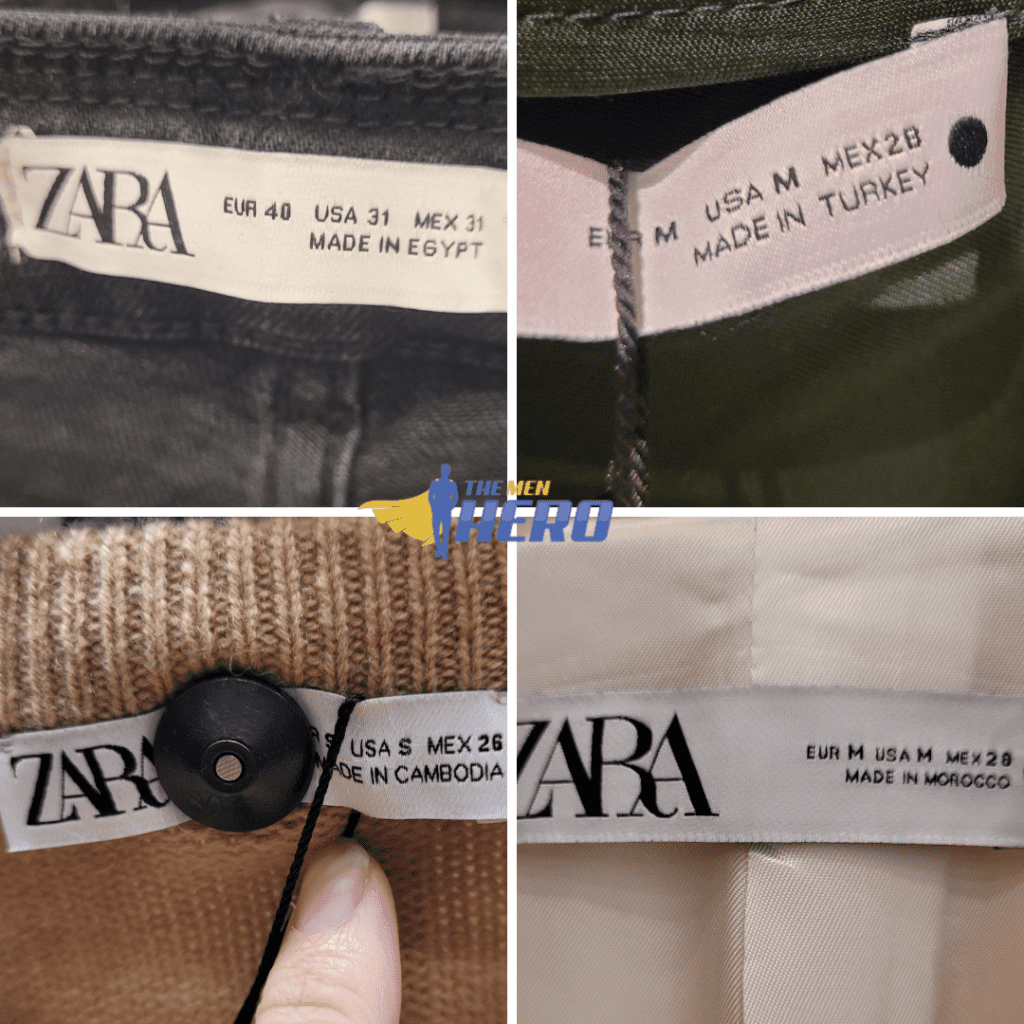 Zara is one of those brands that list where its products are manufactured on the product descriptions on its website. I have to say I was shocked by this since I was so sure Zara wouldn't list where the products are manufactured, considering a lot of them are in Asia.
Read: Where Is Carhartt Made?
After all, you have so many luxury and high premium fashion labels who try to hide any products manufactured in Asia but like to state the country of origin if the items are made in Italy, France, or Portugal on their website. Some examples are Burberry, Versace, Doc Martens, and Ted Baker.
When I checked Zara goods in-store, the countries I found the most were Portugal, Bangladesh, Turkey, and China. I have to say that I was also surprised to see that Zara doesn't produce as much in China as some other brands. The Spanish label splits most of its manufacturing between these four countries, which is very intelligent.
Read: Where Are H&M Clothes Made?
Also, if you purchase online, you can check the country of origin when you receive the goods. This is because the EU and US legislations require the brands to tell the country of origin for any imported products regarding physical goods.
Is Zara Made In Spain?
Yes, Zara manufactures some items in Spain.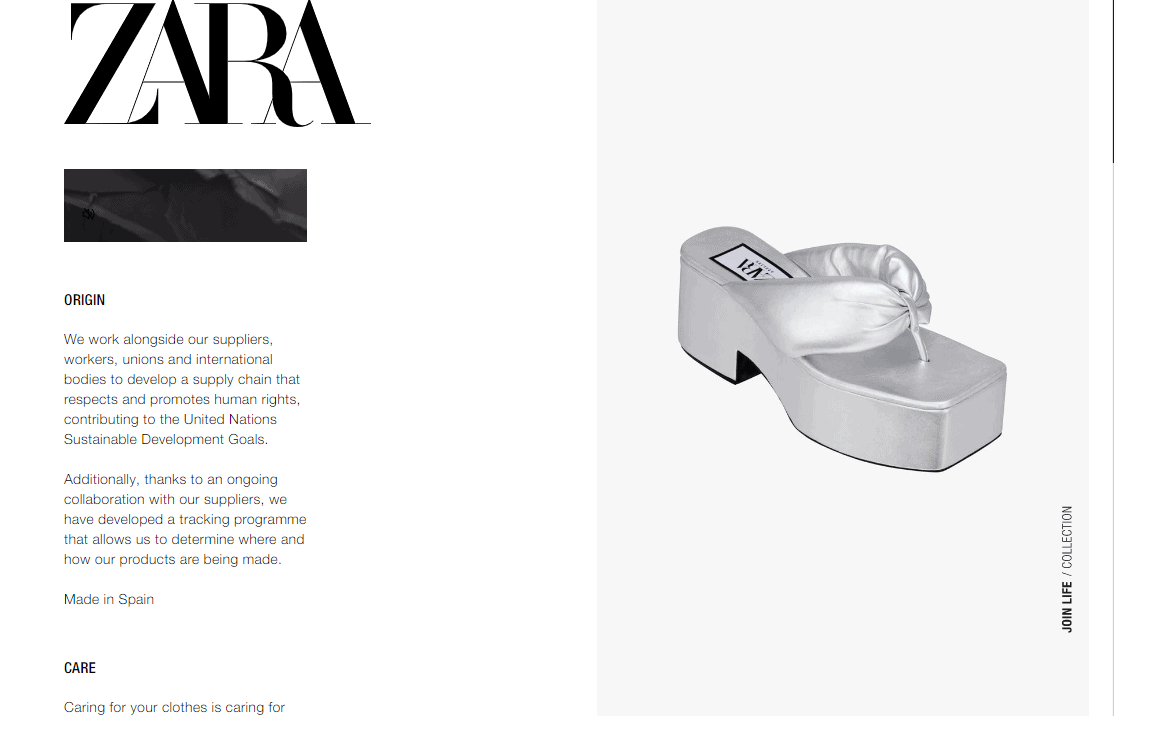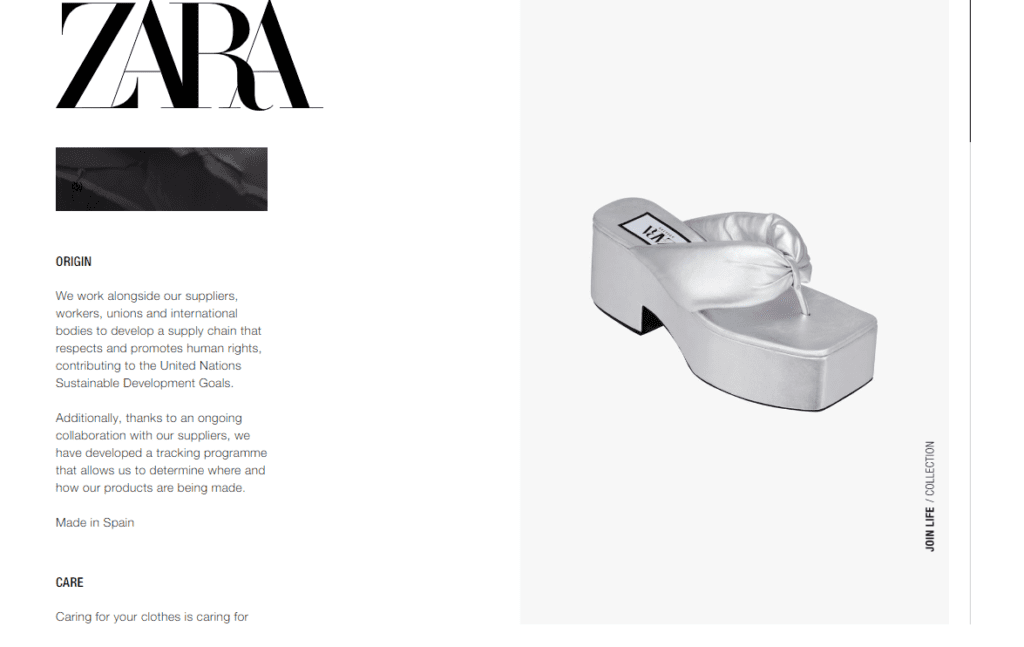 I expected Zara to be manufactured in Spain, but I also expected the Spanish label to manufacture much more there. Unfortunately, when checking products in-store, I didn't find one product made in Spain. Even on the Zara website, you barely see any items made in Spain.
Spain is well known to be a fantastic manufacturer of shoes, and that's the Zara item you can find the most with the label made in Spain.
Read: Where Are Jack Wills Clothes Made?
I have read on a couple of websites that Zara has a vast campus in Arteixo, Coruña, that is home to ten different factories. Those factories manufacture Zara's most fashion-forward clothing items and the ones that need more attention to detail. However, I find it hard to believe that Zara produces that much in Spain since I barely have seen anything made there when checking the labels in-store.
Is Zara Made In China?
Yes, Zara manufactures some apparel, accessories, and footwear in China.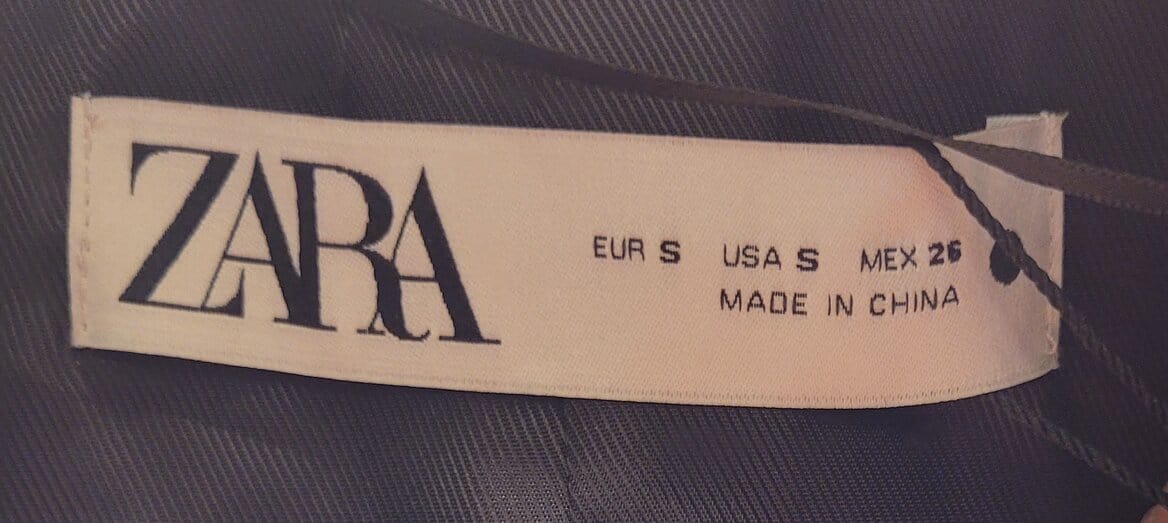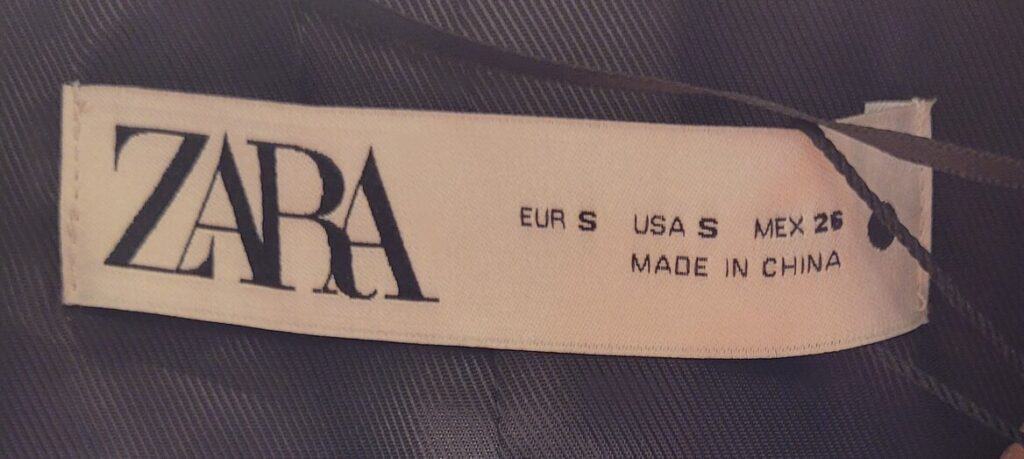 It was quite a surprise to discover that China is not the number one manufacturer of Zara. On the contrary, it might not even be the second or third biggest producer for the Spanish label.
Read: Where Are NEXT Clothes Made?
Usually, brands prefer China since the labor and materials are much cheaper there. Still, with the passing of the years, China is becoming more and more expensive, and alternatives like Vietnam, Bangladesh, and India are becoming more attractive to fashion brands. I guess even Turkey is becoming a cheaper option.
Who doesn't remember Zara's problems when an article about Chinese workers' conditions in its factories became public? It just makes obvious the disparity between the brands and the supplier factories in those countries. The cheaper the materials and salaries are, the more profit Zara can have.
Is Zara Made In Portugal?
Yes, Zara manufactures some apparel, accessories, and footwear in Portugal.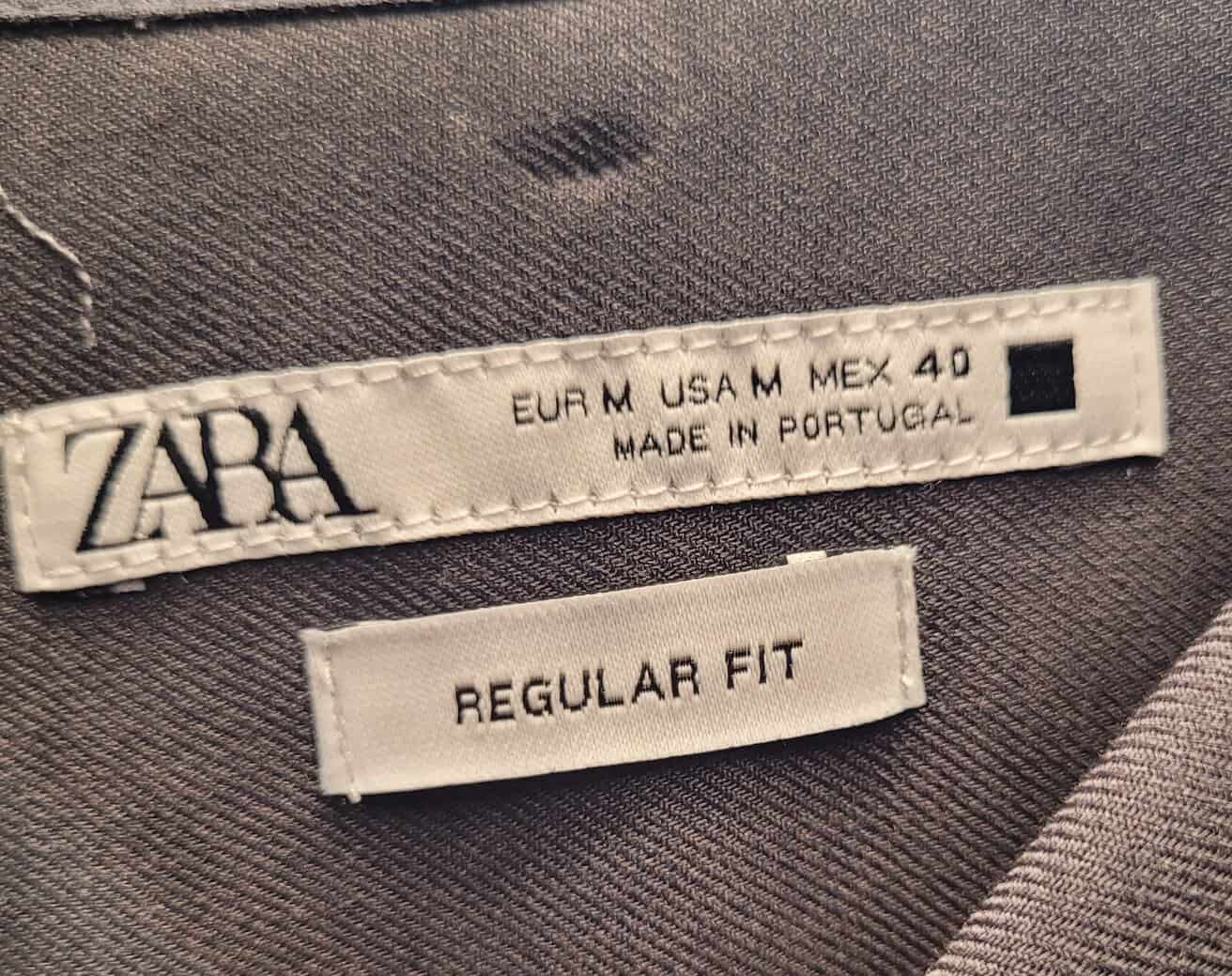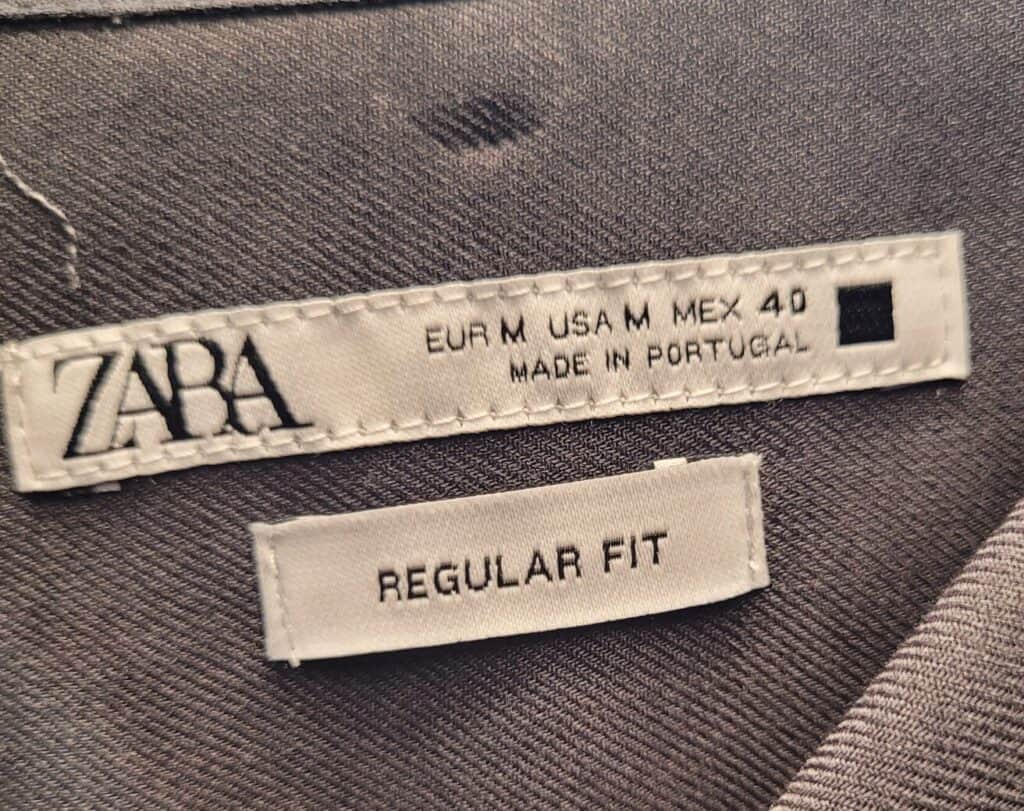 I wouldn't say I was surprised to see Zara manufacturing in Portugal, considering how close both countries are, but I was surprised to see how made-in-Portugal labels I have found in-store.
Read: Where Are M&S Clothes Made?
Zara uses an independent site production in Santo Tirso in the North of Portugal, which has been manufacturing for the brand for a long time. Moreover, Portugal can also replicate any production system easily, offering the quality standards fashion brands often look for in a manufacturer partner.
You have many luxury brands currently manufactured in Portugal, like Moschino, Alexander McQueen, Balmain, and Givenchy. So it's incredible to see a fast fashion brand also manufacturing in Portugal and maintaining its prices relatively low compared to those luxury labels.
Common Questions About Where Is Zara Made
These are the most common questions about where are Zara clothes made.
Where Are Zara Jeans Made?
Zara jeans are mainly manufactured in Bangladesh and Turkey (the countries I have found the most when checking them in-store). However, you can find some other countries manufacturing Zara jeans.
Read: Where Is Superdry Made?
Where Are Zara Shoes Made?
Zara shoes are manufactured in Spain, Portugal, India, China, Vietnam, and Albania. In-store I have found Zara shoes made in China, Vietnam, and Portugal.
Are Zara Clothes Made In Bangladesh?
Yes, Bangladesh is one of the leading manufacturers of Zara clothes and one of the countries I have found the most when checking Zara labels in-store.
Are Zara Clothes Made In Turkey?
Yes, many Zara clothes are manufactured in Turkey. I would even say Turkey is one of the four leading manufacturers of Zara since I have found many Zara products with the made in Turkey label.
Are Zara Clothes Worth It?
Yes, Zara clothes are worth it, depending on many factors, since it's subjective to each person. Compared with some other fast fashion brands, my experience says that quality-wise, Zara is one of the best and most durable mass-market brands.
Conclusion On Where Are Zara Clothes Made
Where are Zara clothes made? Mainly in Portugal, China, Bangladesh, and Turkey, with many other countries manufacturing in small quantities. If you think Zara is produced primarily in Spain, you just had a big shock because it isn't.
I may not wear Zara as much as I did before. However, I still consider the Spanish label a great and affordable brand for casual-smart outfits independently of where it's manufactured.