This post may contain affiliate links. That means if you click and buy from that link, I may receive a small commission (at zero cost to you), which helps me maintain the quality of this blog. Please see my full disclosure policy for details.
Givenchy is a French luxury label founded by the designer Hubert De Givenchy in 1952. The French brand is owned by the LVMH Group, which owns Louis Vuitton, Loro Piana, Loewe, Celine, Marc Jacobs, Dior, and Kenzo (among other brands). However, the question you have is: where is Givenchy made?
Givenchy is well known for its haute-couture clothes, accessories, perfumes, and cosmetics, which can be very expensive. For example, some Givenchy dresses are sold for over $15,000. Does this mean that some dresses are manufactured in France and the cheapest ones in China? Or are most Givenchy items manufactured in Italy?
Read: Why Is Givenchy So Expensive?
To confirm, I have decided to review hundreds of product descriptions on the Givenchy website to verify if the brand lists where the products are made. I also visited the Givenchy store in New Bond Street London and their department stores in Selfridges, Harrods, and Harvey Nichols, checking multiple items. So let's find out where Givenchy products are made.
You can also check out the best British and American luxury fashion brands.
Where Is Givenchy Made?
Givenchy is manufactured in Italy, Portugal, France, China, Tunisia, Japan, Hong Kong, Bulgaria, and Slovakia.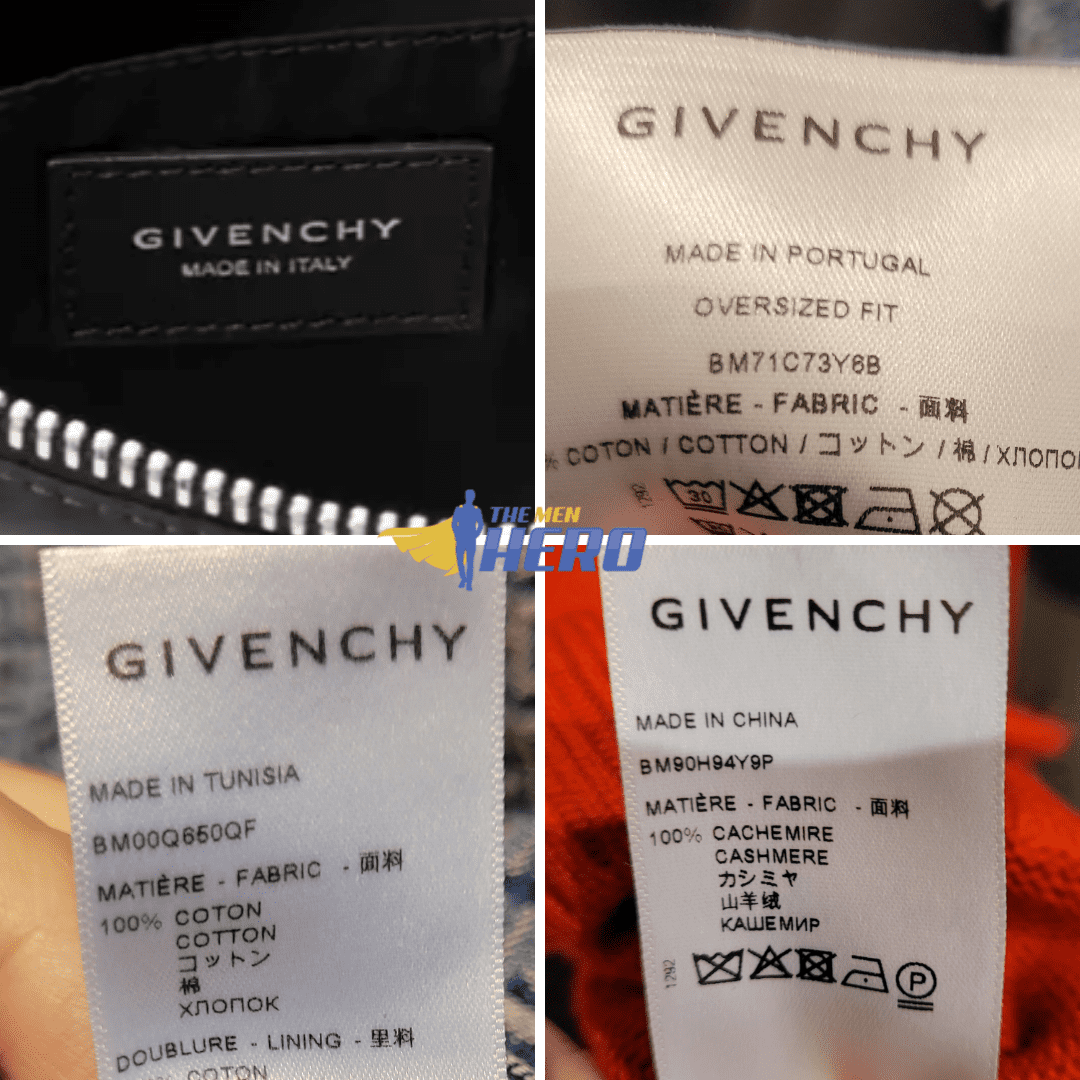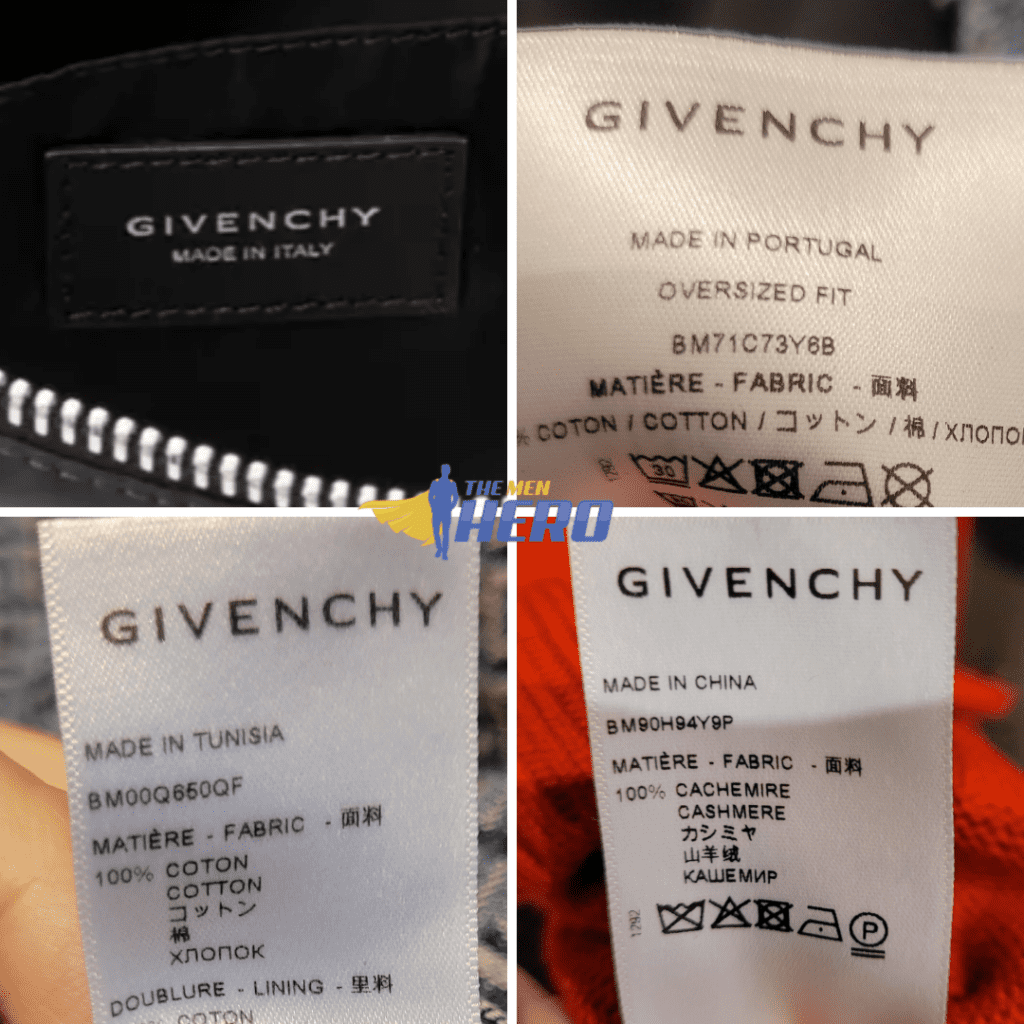 Givenchy is one of those luxury brands that list where its products are manufactured on the product descriptions on its website. I didn't find one product without the country of origin, and I love that. Other luxury labels that also state where their products are manufactured on their website are Moncler, Canada Goose, Burberry, Saint Laurent, Valentino, and Kenzo.
Read: Where Is Louis Vuitton Made?
Some luxury labels don't like to state any items are manufactured in China, even if most of their products are not made there (Prada and Palm Angels are some examples of that). They want to be perceived as labels that manufacture in Italy or France.
Portugal and Spain are also well known to be excellent manufacturers with attention to detail, and that's why many luxury brands manufacture in these two countries.
Read: Where Is Chloé Made?
This is what I found in my research on the Givenchy website:
Italy – Belts, Bags, Shoes, T-shirts, Dresses, Gloves, Scarves, Jewelry, Ties, Sunglasses, Hats, Pants, Underwear, Sweaters, Jackets, and most accessories.
Portugal – Shoes, T-shirts, Hats, Pants, Jackets, Shirts, and Sweaters.
France – Dresses, Sweaters, and Fragrances.
China – Phone cases, Sunglasses, Pants, and Sweaters.
Japan – Shirts, Pants, and Jackets.
Hong Kong – One bag
Tunisia – Pants and Shirts
Bulgaria – Jackets
Slovakia – Jackets
In-store I did see a lot more ready-to-wear manufactured in Portugal than in Italy, which was a surprise since I was expecting most clothes to be made in Italy. I also found some clothes manufactured in China and Tunisia.
Read: Where Is Hermès Made?
However, if I were only focusing on checking the Givenchy website, I would think that the French brand manufactures much more in Italy than in Portugal. I guess it's safe to say they are manufacturing heavily in both countries.
Even if Givenchy didn't put where each product was manufactured in the product descriptions on its website, the EU and US legislation requires brands to indicate the country of origin of the goods. So when you receive any product, you can check the label inside and find out where the item was made.
Read: Where Is Jimmy Choo Made?
Is Givenchy Made In Italy?
Yes, Givenchy manufactures apparel, footwear, and accessories in Italy.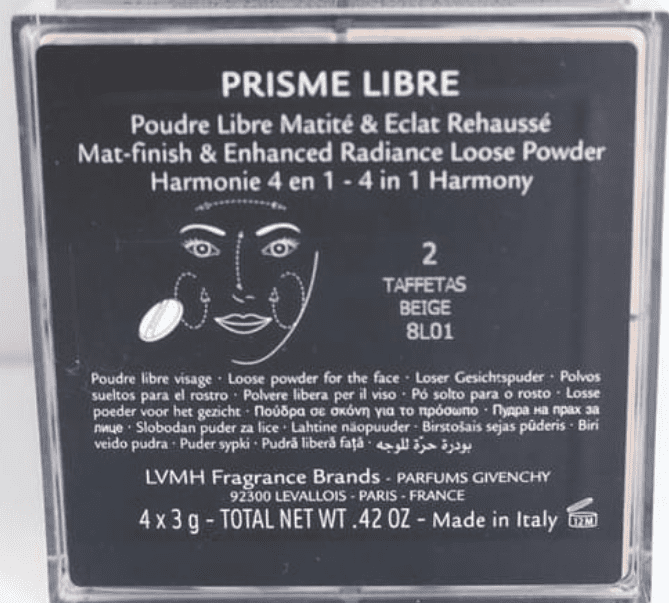 Givenchy is manufactured in Scandicci, Firenze in Italy. This Italian region is well known for manufacturing different pieces for luxury labels. Some other luxury labels that manufacture almost exclusively in Italy are Gucci, Versace, Dolce and Gabbana, and Stone Island.
Most luxury labels want to manufacture in Italy because the finest materials are used, and experienced artisans are proud of their assignment. As a result, workers tend to be positively devoted to each item's manufacturing phases. This is why products made in Italy are usually flawless because every detail matters.
Read: Where Is Bottega Veneta Made?
For many consumers, the mere fact that a product says "Made In Italy" is enough to justify any price. Individuals want to settle for the best, so they have no issues paying thousands of dollars for a Givenchy product made in Italy.
Is Givenchy Made In Portugal?
Yes, some Givenchy apparel and footwear are manufactured in Portugal.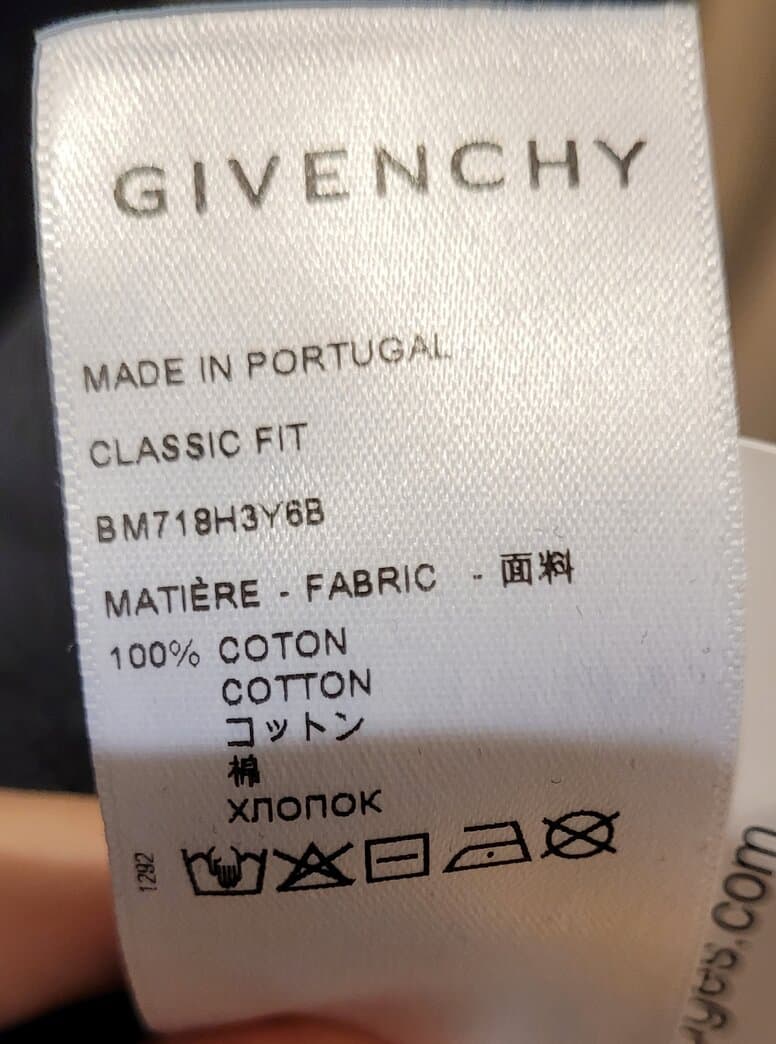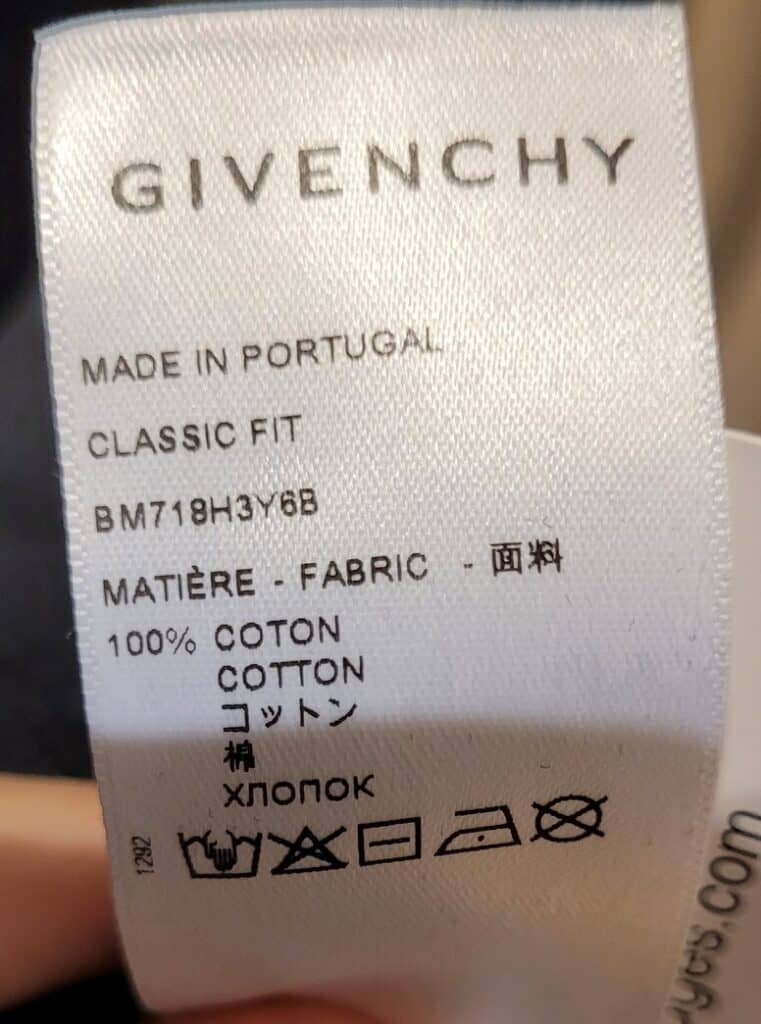 Givenchy doesn't own a manufacturing site in Portugal, but it seems to be working with an independent factory in Porto that produces all its products in Portugal.
Many luxury brands manufacture in Portugal, like Alexander McQueen, Kenzo, Moncler, Canada Goose, Tom Ford, Palm Angels, Balmain, and Dior. Since I am Portuguese, I am always proud to see my country manufacturing for some of the biggest fashion labels globally.
Read: Where Is Loewe Made?
Portugal's craftsmanship and fabrics are excellent, and the country can replicate any production system easily. Many luxury brands keep investing in production centers in Portugal, and that's why I believe the manufacturing of Givenchy in Portugal will keep increasing.
Is Givenchy Made In China?
Yes, some Givenchy items are manufactured in China.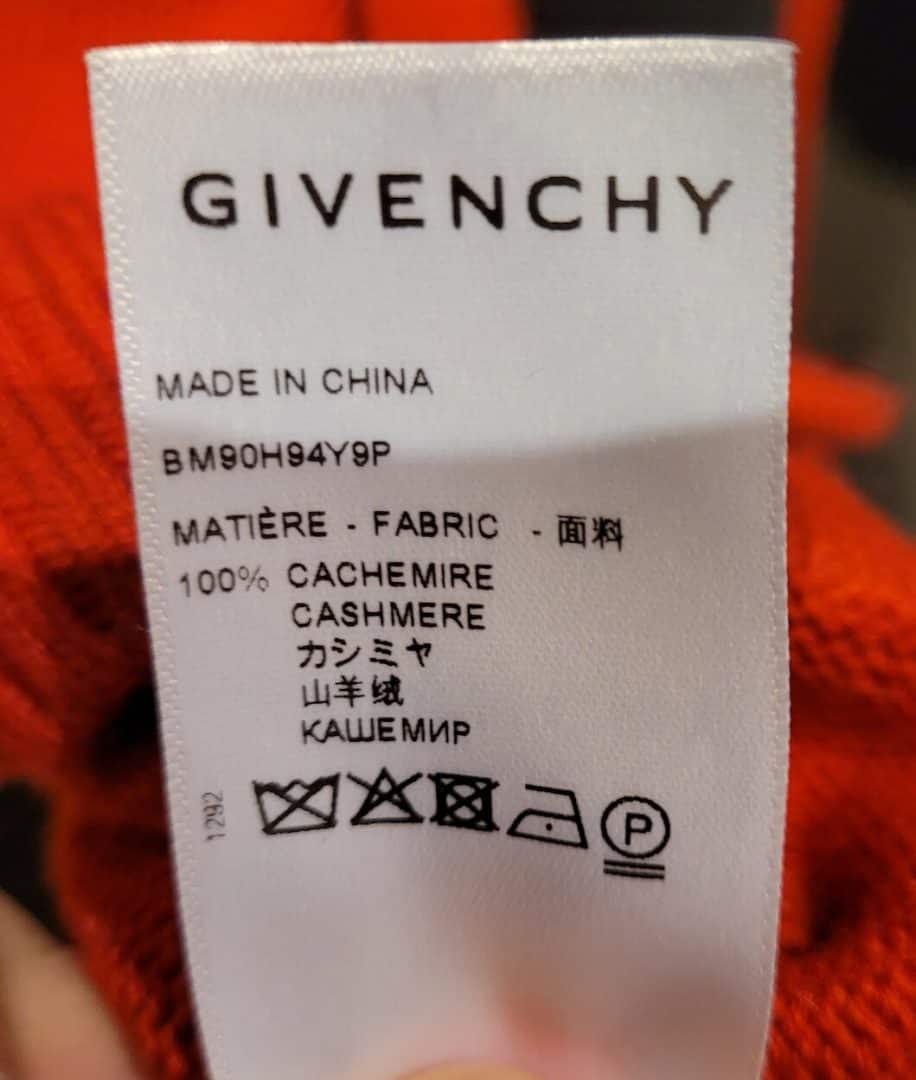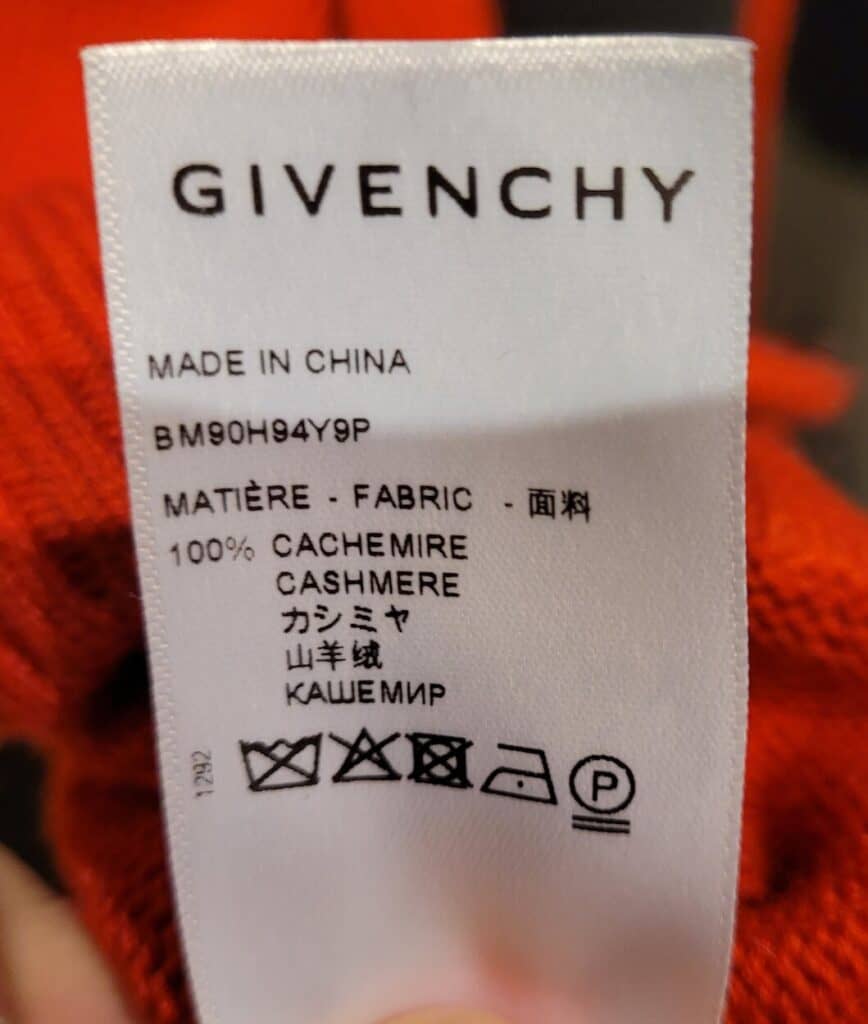 I have to say I was very surprised to find some Givenchy apparel manufactured in China. Of course, I know some luxury labels like Balenciaga and Burberry manufacture heavily there. Still, I guess I wasn't expecting a brand from LVMH to be doing this (none of the others I have checked are manufactured in China), even if it's on a small scale.
The LVMH group is very conscious about its image and reputation, and manufacturing in China is not seen as a good thing for many luxury shoppers.
Read: Where Is Moschino Made?
Compared with European countries, China's labor, materials, and facilities costs are much cheaper, so the brands have a higher profit. Sometimes that reflects the quality of the product, and sometimes it doesn't.
I do think Givenchy has a considerable reputation in the fashion world, so all garments manufactured in China should be of excellent quality.
Common Questions About Where Is Givenchy Made
These are the most common questions about where is Givenchy made.
Where Are Givenchy Bags Made?
Givenchy bags are predominantly manufactured in Italy. All bags I have checked in-store had a made-in-Italy label, but I found one manufactured in Hong Kong on Givenchy's website.
Where Are Givenchy Shoes Made?
Givenchy footwear is manufactured in Italy and Portugal. I have found both countries in-store and on the website product descriptions.
Where Is Givenchy Perfume Made?
All Givenchy perfumes are manufactured in France. At least, that's the country I found on every Givenchy perfume for men and women.
Is Givenchy Made In France?
Yes, Givenchy manufactures in France, including some of the most expensive Dresses. You can also find perfumes and sweaters. I wouldn't be surprised if you find some Givenchy bags manufactured in France.
Is Givenchy Made In Turkey?
As far as I know, Givenchy doesn't manufacture any of its products in Turkey. So if you have one, it could be counterfeit.
Is Givenchy Made In Romania?
As far as I know, Givenchy doesn't manufacture any of its products in Romania either. However, I wouldn't be surprised if you find some since Givenchy also have some items manufactured in Slovakia and Bulgaria.
Conclusion
Where is Givenchy made? Most Givenchy products are manufactured in Italy and Portugal. France, China, and Japan also manufacture some items for the French label. You can even expect some products made in Tunisia, Bulgaria, Slovakia, and Hong Kong from time to time.
In the end, it's not surprising that Givenchy manufactures mainly in Italy and Portugal. The only surprise is that some items are manufactured in China, and the brand is not afraid of stating that on its website.